This post may contain affiliate links. Please see my disclosure policy for more details.
If stunning white beaches, turquoise waves, ancient forests and being at one with nature is your sort of thing, you will love, love, love this Perth to Adelaide drive itinerary. While the east coast of Australia is a well-trodden backpacker haven, the south coast of Australia between Adelaide and Perth is definitely the path less travelled.
To fully enjoy everything this natural wonderland has to offer, why not grab some travel buddies and a car and tent or campervan, and follow this epic self-drive itinerary like I did? The coastline may be unspoilt, but this coastal road trip is packed with campsites and caravan parks for the budget traveller.
This comprehensive Perth to Adelaide drive itinerary lists all the best attractions along the way, the drive time and distance between each stop, fuel cost, campsites and those all-important Nullarbor roadhouses to fill up on fuel. Perfect to help plan your journey.
---
Perth to Adelaide Drive Itinerary Overview
Here's each drive stop I took on the journey, along with the time I'd recommend spending there. Of course, you can stay for longer if you have the time!
To skip straight to a destination, just click on the links in the list below. Or, read my overview of the total journey time, distance and costs first.
2. Yalgorup National Park: 1 day
17. Adelaide: 2 days to 1 week
---
Perth to Adelaide Drive Time & Distance
How long you spend on this road trip depends on how much time you have to spare. The total distance is over 3,500km, and it takes over 35 hours to drive.
I know people who did it in five days, but this allows very little time to explore and very long days of driving. I spread the trip over five weeks, with two to three nights in most places I stayed. There's so much to see that this still felt a bit rushed!
The total petrol cost for us came to $815, but we detoured into a lot of places. Read a full breakdown of my road trip costs for each journey I took in this post:
The Cost of Backpacking Australia
You can roughly split the Perth to Adelaide drive itinerary into the following three sections, but note that these distances don't include detours to campsites, town centres and national parks, which can add a huge amount onto your journey.
Section 1. Perth to Esperance coastal drive: 13 hrs – 1,166km
The coastal drive between Perth and Esperance is packed with beautiful national parks, stunning beaches, ancient rainforests and Australian wildlife.
You've also got a lot of populated towns along the way. I spent over three weeks in this section, and I'd recommend allocating up to two-thirds of your journey time here.
Section 2. Esperance to Ceduna via the Nullarbor: 14 hr 30 min – 1,406km
The middle section from Esperance to Ceduna takes you inland to Norseman then east across the Nullarbor.
This is by far the most monotonous part of the journey with little to see, and you will probably want to pass through as quickly as possible. I did this in three days with two overnight camping stops.
Section 3. Ceduna to Adelaide via Port Lincoln: 11 hr – 1,042km
The final section of the journey, between Ceduna and Adelaide, gets a lot more interesting, with some beautiful national parks and beaches, and the opportunity to swim with wild dolphins and sea lions in Baird Bay.
I'd allocate about a third of your time here. It took me a week, but I would have liked longer to add on the Yorke Peninsula.
---
---
1. Perth
Whether you're starting or ending your road trip in Perth, it's a beautiful city to enjoy. I lived there for five months when I first arrived in Australia and had an amazing time.
Perth has a much smaller feel than Sydney or Melbourne, but plenty of cafes, restaurants and nightlife as well as pretty scenery and beaches. Read more about Perth's attractions in this blog post:
15 Things to Do in Perth, Australia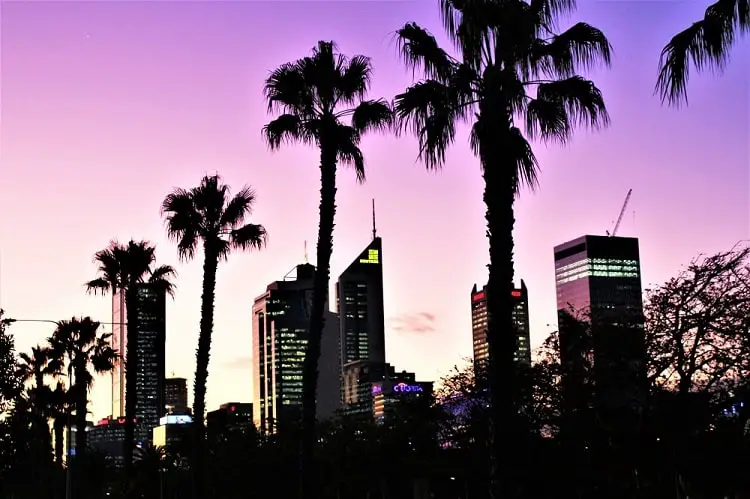 PERTH ACCOMMODATION:
There's a huge choice of accommodation in Perth, whatever your budget. The city centre is fairly compact and easy to walk around, and there's also a free CAT bus service to get about.
PERTH HOTELS & MOTELS
Enter your holiday dates into the search box below to look through Perth hotels, apartments and hostels.
---
PERTH BACKPACKER HOSTELS
If you're looking for a hostel in Perth, I've stayed at the two below, and would recommend either if you're looking for somewhere social but not a party place.
Wickham Retreat Backpackers – I stayed here when I arrived in Perth, and moved into one of the landlord's share houses with a friend I made for a few months afterwards. It's a small place in East Perth with a homely feel and dorms starting from $18 per night;
Spinners Hostel – I also spent a couple of weeks here before setting off for my road trip and really liked this one too. It's in a great location in Northbridge, walking distance from cafes and nightlife, but far away enough to be quiet. It looks like it's been refurbished since I stayed too. Dorms start at $25 per night.
PERTH AIRBNB
If you prefer the idea of staying in a home instead of a hotel or hostel, take a look on Airbnb.
---
2. Yalgorup National Park
Once you've left Perth, Yalgorup National Park is a pleasant place to stop at if you have the time, with tuart and peppermint woodlands, elongated lakes and the Lake Clifton thrombolites – living, rock-like structures made from micro-organisms.
If you're on a tight schedule, I'd skip this area and head straight down to Busselton or Margaret River. To find out more, read about my experience in this blog post:
Camping in Yalgorup National Park
ON THE WAY:
Penguin Island: A mere five-minute ferry ride from Rockingham, Penguin Island in the Shoalwater Islands Marine Park is a beautiful place to visit. I left Perth early in the morning, watched the sunrise from Kings Park and then spent the day on Penguin Island before driving down to Yalgorup to camp for the night.
Read more in this blog post: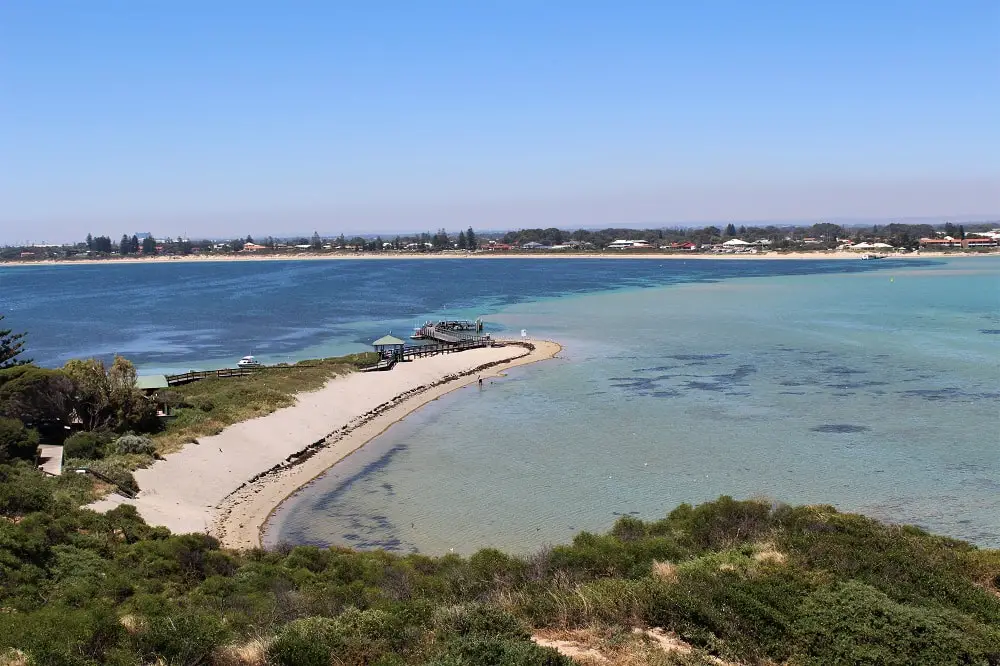 DISTANCE:
Perth to Preston Beach, Yalgorup National Park: 1 hr 30 mins – 127km (allow extra time for the unsealed road to the campsite if staying overnight).
YALGORUP ACCOMMODATION:
Martin's Tank Lake Campground – we camped at this site in Preston Beach. Prices are around $11 per adult per night.
---
3. Busselton
Known for its 1.8km-long jetty that leads to the Underwater Observatory, the city of Busselton is a popular spot for holiday makers.
Busselton boasts beautiful sheltered beaches, a busy foreshore, whale-watching tours from Geographe Bay and scenic drives and walks through the only pure tuart forest in the world.
Read more in my guide: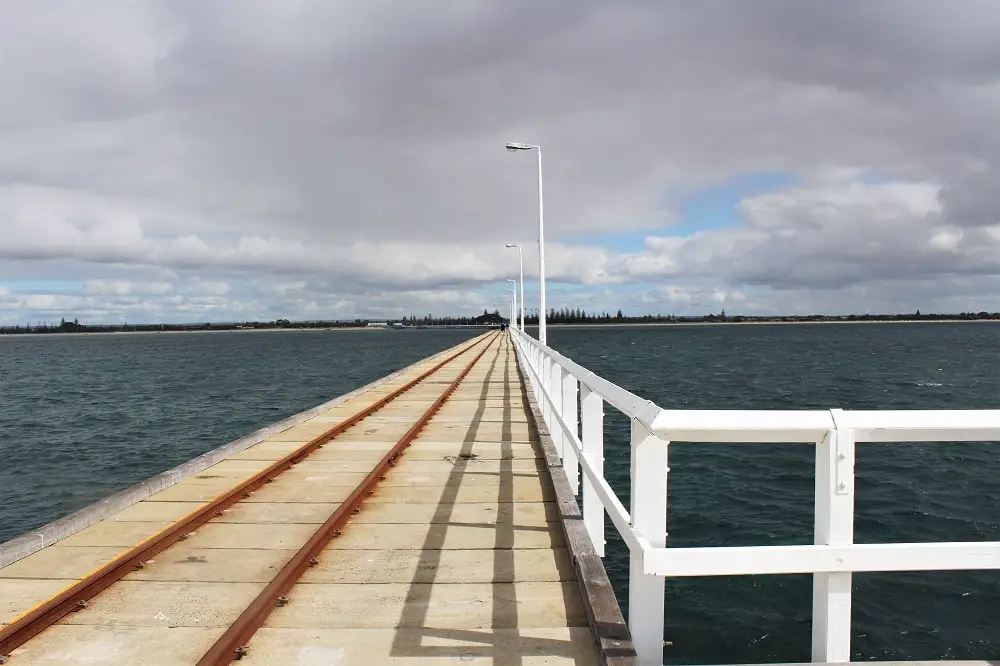 ON THE WAY: 
Bunbury: this is Western Australia's third largest city and a good stop-off point for lunch, coffee on the waterfront or to stock up on food. Climb the Marlston Hill Lookout if you have the time.
DISTANCE:
Perth to Busselton: 2hr 30 min – 223km
Preston Beach to Busselton: 1 hr 20 min – 116km
BUSSELTON ACCOMMODATION:
BIG4 Beachlands Holiday Park – Busselton, from $43 per site per night;
Ithaca 1896 Manor – located 400m from Busselton Beach, this 3* guest house has gardens, free Wi-Fi, a/c, and double rooms from $75 per night;
Abbey Beach Resort – this 4*, beachfront resort has a gym, hot tub, sauna, two swimming pools, children's playground and studios and apartments with kitchenettes from $205 per night.
---
4. Yallingup & Dunsborough
Popular with surfers, Yallingup is a coastal town with great beaches, heaps of art galleries, cave formations and easy access to the stunning 135km Cape to Cape Track that runs from the Cape Naturaliste Lighthouse down to the Cape Leeuwin Lighthouse.
I'd highly recommend walking some short sections of this track as the coastal views from Leeuwin-Naturaliste National Park are absolutely amazing. I walked from Cape Naturaliste Lighthouse to Sugarloaf Rock, which has amazingly clear water to swim in – albeit a bit chilly!
Nearby Dunsborough is well worth a visit too, with beautiful white beaches, whale-watching tours and much calmer water that's perfect for swimming and snorkelling. Here's my guide for more information:
The Best Things to Do in Dunsborough and Yallingup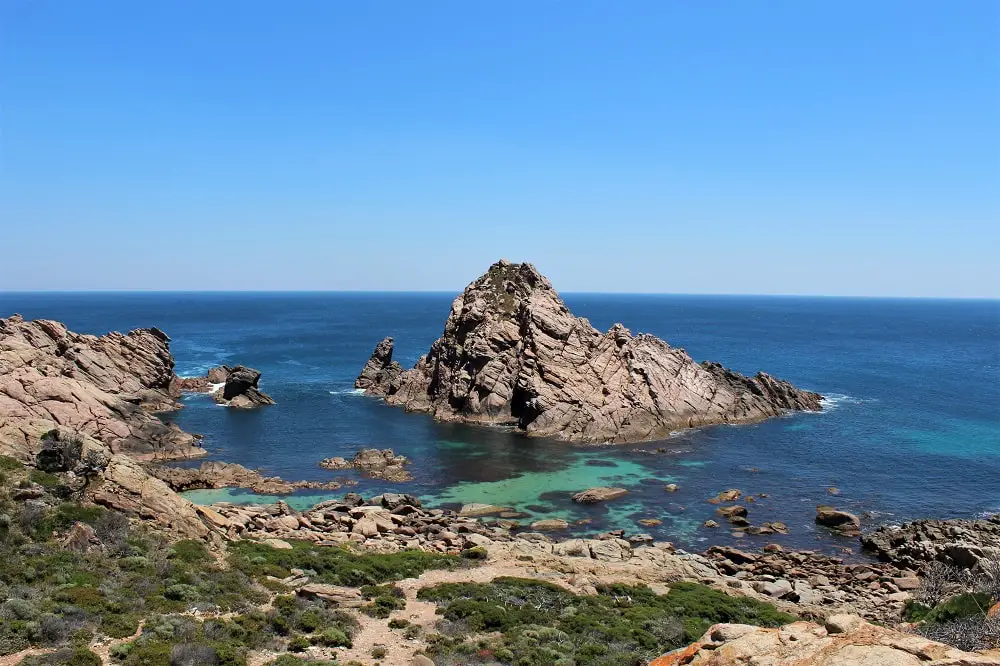 DISTANCE:
Busselton to Yallingup: 35 min, 35km
YALLINGUP & DUNSBOROUGH ACCOMMODATION:
Caves Caravan Park – this is the caravan park we stayed at in Yallingup. It's in a beautiful leafy location and has camping sites from around $30 per night as well as glamping tents, chalets and en-suite sites for caravans.
Dunsborough Beach Lodge Hostel – if you're backpacking, this hostel by the beach in Dunsborough has dorm beds from $35 per night as well as private rooms;
Dunsborough Central Motel – this 4* motel is a five-minute walk from Dunsborough Beach and has an outdoor pool and hot tub. Double or twin rooms start at $175 per night.
---
5. Margaret River
Probably the most well-known area in south-west Australia, holiday hotspot Margaret River is famous for fine food, wine, surfing and its general arty vibe; it's definitely worth a visit. It has a small town centre surrounded by forest and plenty of amazing beaches.
You can enjoy a guided tour around Lake Cave, Mammoth Cave or Ngilgi Cave, or stop-by some of the beautiful vineyards for wine tours (go to the visitor centre for information). I visited the Voyager Estate which was incredibly fancy but still very welcoming of us scruffy backpackers!
To plan your visit, read this post:
Top Margaret River Attractions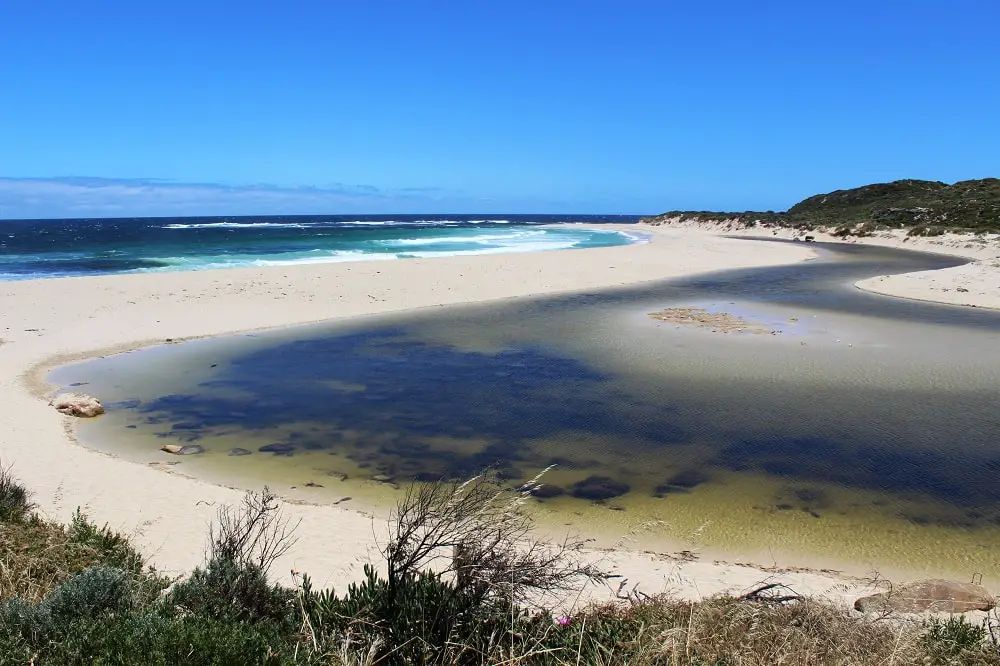 DISTANCE:
Busselton to Margaret River: 40 min – 51km
Yallingup to Margaret River: 40 min – 42km
MARGARET RIVER ACCOMMODATION:
RAC Margaret River Nature Park – this resort is where we camped, and it was so memorable that I wrote a whole blog post on what it was like to stay at the Margaret River Nature Park (formerly called Wharncliffe Mill Bush Retreat). The park is in a beautiful, forested setting in Bramley National Park. There's lots of hiking and cycling trails as well as a camp fire and Wi-Fi. As well as camping sites, you can stay in dorms, eco safari tents and self-contained cabins! We paid $30 per night to camp, but if you're in a group, you could book a 5-bed dorm from $147 per night or a 5-bed safari tent from $175 per night;
Margaret River Backpackers YHA – if you're backpacking Australia or want low-budget accommodation, this YHA has dorm beds starting at $30 per night. I haven't stayed here myself, but YHAs tend to have pretty good facilities;
Bridgefield Guest House – this quaint and quirky guest house is a 10-minute walk into town and has a shared lounge with log fire and private rooms starting at $140 per night.
---
6. Pemberton
You're now entering Tall Timber Country! Surrounded by national parks, this leafy area is home to ancient forests of Australia's hugely tall Karri trees. Although it's not a long drive there's so much interesting stuff to see it took us a whole day!
If you're not afraid of heights you can climb one of the fire lookout climbing trees. I took on the 75m Dave Evans Bicentennial Tree (which I hadn't planned on doing but found much less scary than expected)! The views were  stunning! Read all about the natural sights I saw in this post:
Self Drive Through Pemberton on the Karri Explorer Drive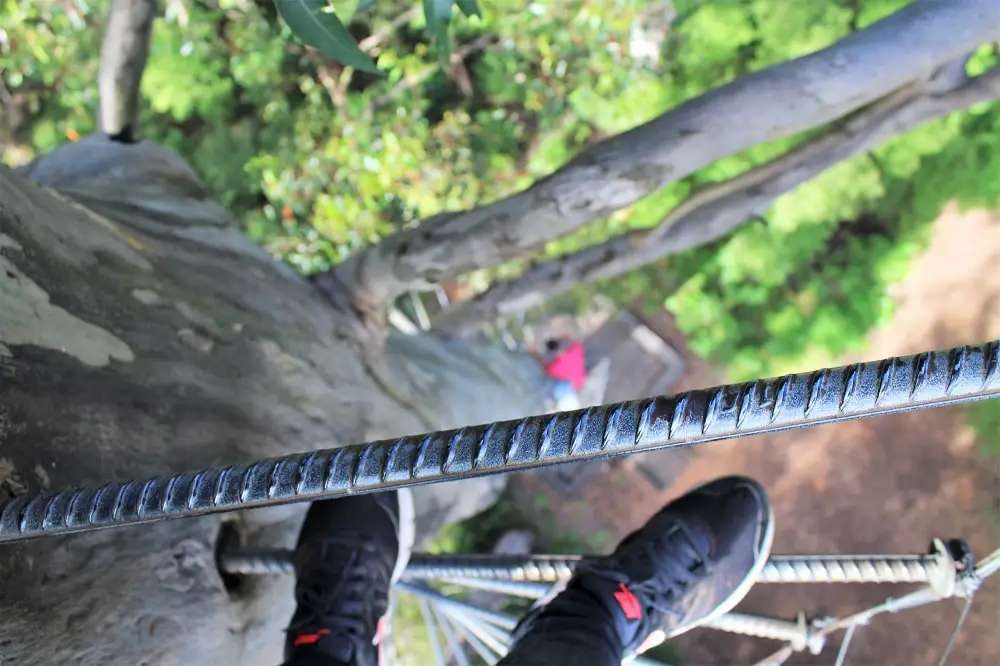 ---
Whatever you do in Pemberton, make sure you visit the Yeagarup Dunes in D'Entrecasteaux National Park, the largest land-locked mobile dune system in the southern hemisphere. I can't even explain how beautiful this area was – definitely one of my favourite sights on the whole trip. See all the amazing pictures from my sunset visit in this article:
Stunning Sunset at Yeagarup Dunes in D'Entrecasteaux National Park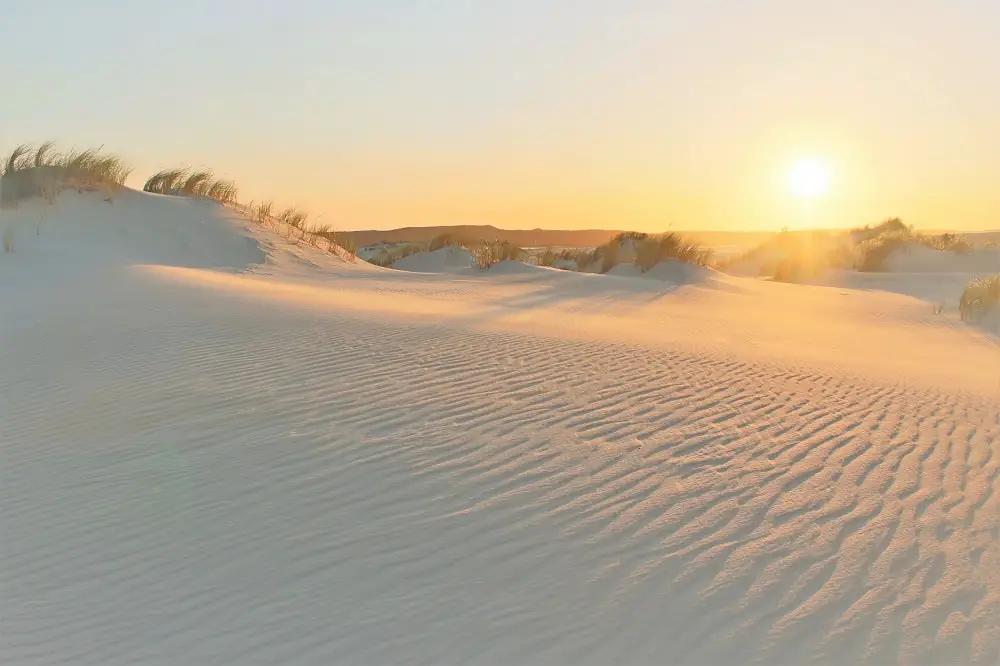 ON THE WAY:
Hamelin Bay: known for its sting rays, wooden jetty ruins and gorgeous turquoise water, it's worth nipping down here before you head east. You can also head down to the Cape Leeuwin Lighthouse and waterwheel at Australia's most south-western point.
Check out my blog post for more:
Photo Diary of Hamelin Bay and Cape Leeuwin
Augusta: a pretty spot for a waterside picnic lunch (I saw dolphins and pelicans) but only if you have the time. We tried to visit the Jewel Cave too but unfortunately it was closed due to a power cut!
DISTANCE:
Margaret River to Pemberton: 1 hr 40 min – 135km
PEMBERTON ACCOMMODATION:
Big Brook Arboretum – we stayed at this national park bush camp for $7.50 per adult per night;
Leaning Marri – we also bush camped here at Yeagarup Lake for $7.50 per adult per night. You can walk to Yeagarup Dunes from here, or drive if you have a 4WD;
Karri Forest Motel – if you're not a camper, this 3.5* motel has a swimming pool, fitness centre and free Wi-Fi. Double room start at $120 per night;
Treenbrook Cottages – for those on a higher budget, these cute self-contained cottages made from mudbrick or timber are set amongst 12 acres of native gardens. Each cottage has a log fire, kitchen, lounge with TV and undercover carport. Prices start around $220 per night.
---
7. Walpole
The Walpole Wilderness Area is still Tall Timber Country, but is known for its famous tree top walk through the 400-year-old red tingle forest in the Walpole-Nornalup National Park.
It's a pretty cool place to visit, with ancient, burnt out trees and a forest walkway suspended 40m above the ground. Here's my blog post about my experience there:
Valley of the Giants Tree Top Walk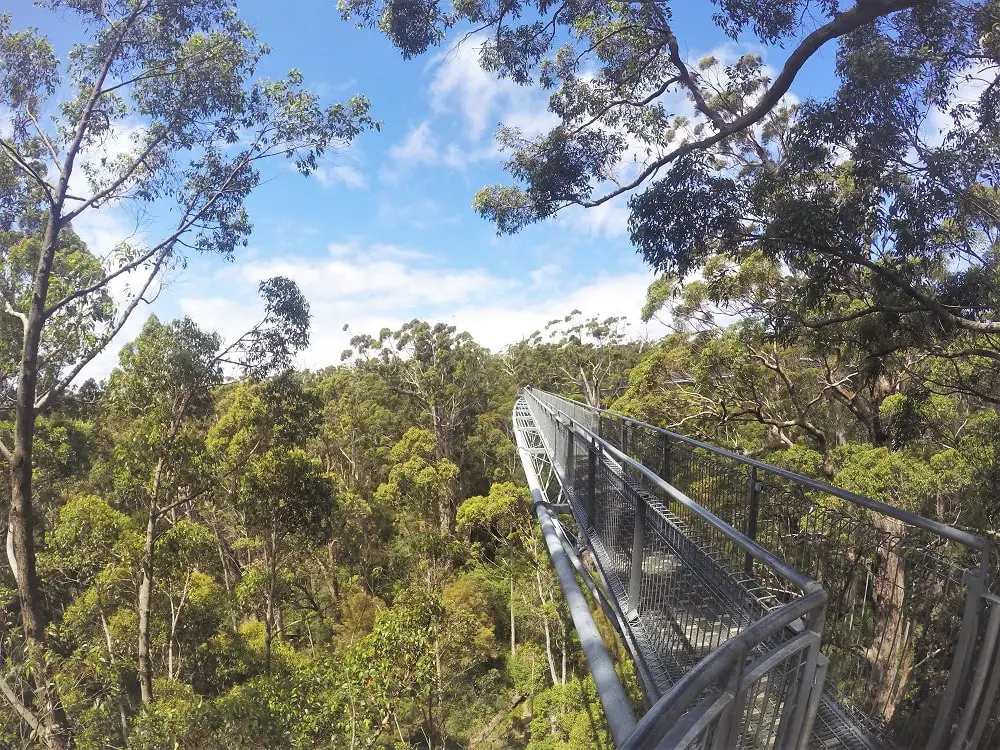 ON THE WAY:
Mount Chudalup: climb the 187m-high granite outcrop for 360-degree views of D'Entrecasteaux National Park and the coastline.
DISTANCE:
Pemberton to Walpole: 1 hr 30 min – 126km
WALPOLE ACCOMMODATION:
Coalmine Beach Holiday Park – we camped here, which cost $38 per site per night. It's a beautiful, relaxing, leafy site with excellent reviews. It's right by the beach too! You can also stay in chalets or luxury glamping tents from $152 per night.
Tingle All Over Budget Accommodation – this hostel has free bikes, free Wi-Fi and a shared lounge and garden. Dorm beds start at $30 per night, singles at $50 and doubles at $70.
Tree Top Walk Motel – if your budget's a bit higher, this 4* motel has an outdoor pool, bar and Wi-Fi. Twins and doubles start at $135.
---
8. Denmark
Situated on Western Australia's Rainbow Coast, Denmark is a beautiful place to explore, with amazing beaches, Karri forests and a cute town centre.
I highly recommend the arty Bibblumun Café – the free Wi-Fi and plug sockets came in very useful after all the forest camping! Read all about what to see in Willian Bay National Park in thi post:
Green's Pool, Elephant Rocks & Camping at Parry Beach
ON THE WAY:
Shelley Beach:  nip down to West Cape Howe National Park and visit this stunning beach and amazingly located campsite. This was one of the ultimate highlights of my Perth to Adelaide journey.
Here's my eventful story of meeting a baby kangaroo and losing my phone down the compost toilet there!
Camping at Shelley Beach in Western Australia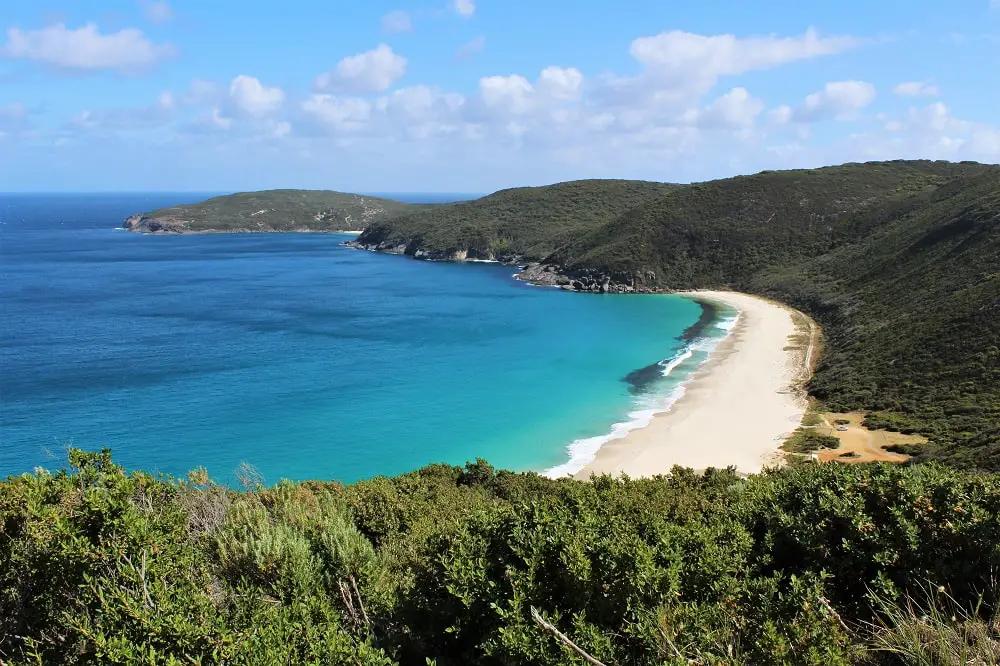 DISTANCE:
Walpole to Denmark: 1 hr – 74km
DENMARK ACCOMMODATION:
Parry Beach Campground – we stayed at this popular campsite that has a hippy vibe and plenty of facilities. Prices start around $15 per site per night.
Shelley Beach – we also stayed at this absolute beachfront bush camp in West Cape Howe National Park, halfway between Denmark and Albany. The cost is around $7.50 per adult per night.
The Koorabup Motel – this motel is a 2-minute drive from Denmark town centre and has a range of rooms, from studios to 2-bedroom apartments. Prices start at $135 per night.
---
9. Albany
Less than an hour's drive east of Denmark is the port city of Albany. It's home to beautiful beaches and a great place to get out of the wilderness and make use of the shops if you need to stock up on anything during your road trip.
Be sure to visit Torndirrup National Park to admire the beaches, coastal granites and blowholes. If you prefer to travel with a guide, you can book a tour of Torndirrup National Park, a guided tour of Albany Whale Station and Torndirrup National Park, or a guided Granite Skywalk trip in Pongorup National Park.
Here's my guide on Albany for more ideas on things to do:
What to See and Do in Albany & Torndirrup National Park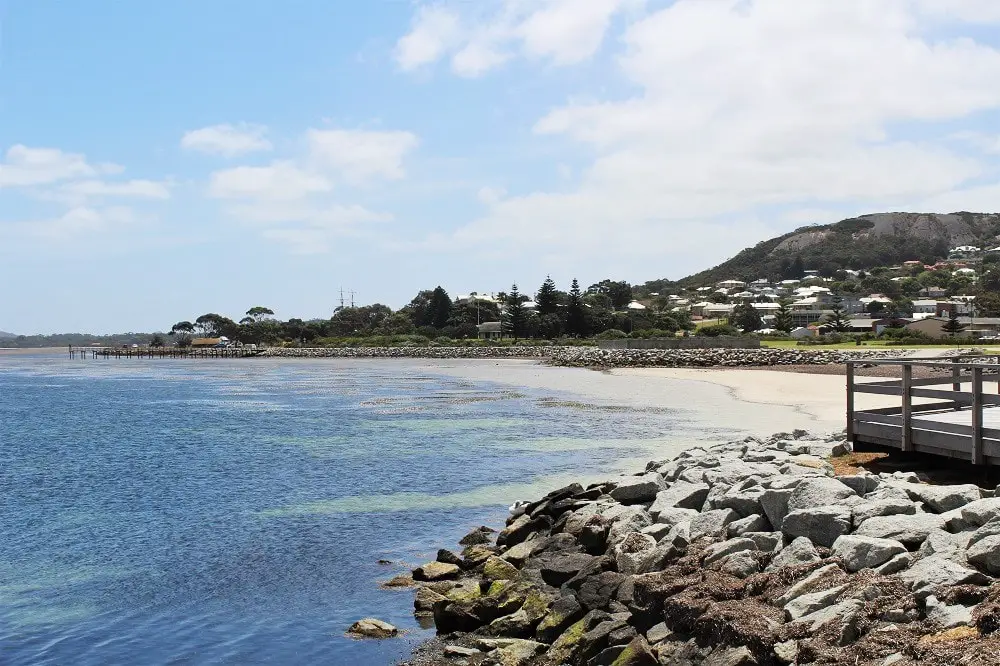 DISTANCE:
Denmark to Albany: 45 mins – 56km
ALBANY ACCOMMODATION:
Acclaim Rose Gardens Beachside Holiday Park – we stayed at this coastal holiday park in Emu Point, Albany, for around $15 per site per night;
Betty's Beach – we also stayed at this beachside bush camp on Betty's Beach Road, Many Peaks, 49km east of Albany, which was free;
Albany Bayview Lodge YHA – this hostel, built in 1882, has harbour views, free breakfast and free Wi-Fi. Dorm beds start at $33 per night and private rooms at $88;
Albany Apartments – if you prefer self-contained accommodation, these apartments have a/c and free Wi-Fi. Some also have a fully equipped kitchen and spa bath. Prices start around $115 per night.
---
10. Bremer Bay
A tiny coastal town at the mouth of the Bremer River, Bremer Bay is known for its amazing beaches. Unfortunately we had thunderstorms during our night there, but we did manage to catch a beautiful sunset during a dry spell! Check out my guide below, which includes how to see killer whales!
If you're interested in saving some dollars on your road trip, here's my post on a couple of nearby free camping grounds:
Beautiful Free Camping Grounds from Albany to Bremer Bay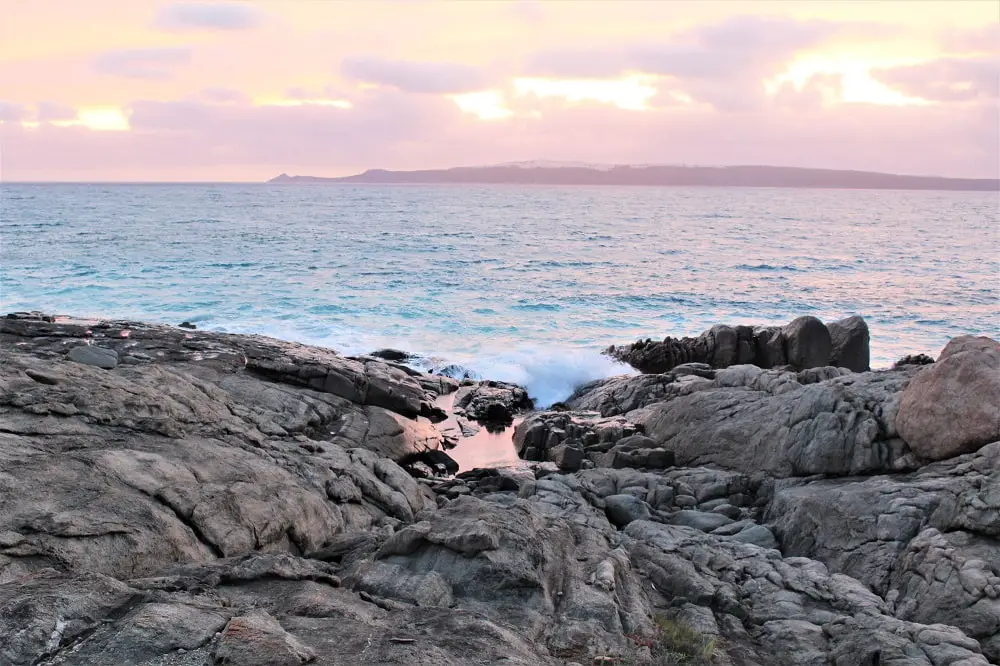 DISTANCE:
Albany to Bremer Bay: 2 hrs – 181km
BREMER BAY ACCOMMODATION:
Miller's Point Reserve – we bush camped here on Millers Point Road, Beautfort Inlet, 50km west of Bremer Bay, and paid $7.50 per person per night;
Bremer Bay Beaches Resort & Tourist Park – we also camped here for $35 per site per night;
Bremer Bay B&B – this modern, waterside B&B has rooms with sea views, a shared lounge and great ratings. Rooms start at $169 per night.
---
11. Esperance
The snowy white beaches of Esperance with their pale turquoise water are world famous, as are the kangaroos that like to hang out at Lucky Bay! It's a lovely town to stay in for a while, and Cape Le Grand National Park is well worth a visit. You might also want to make use of the free Wi-Fi in the Dome café and stock up on supplies before you make the journey across the Nullarbor!
Here are my recommended attractions in Esperance, plus the story of my disastrous night camping in a thunder storm!
Things to Do in Esperance (Even in the Rain!)
Optional activities in Esperance include  a day trip to Woody Island, a scenic flight over pink Lake Hillier in the Recherché Archipelago, or a visit to Pink Lake (that unfortunately isn't always pink).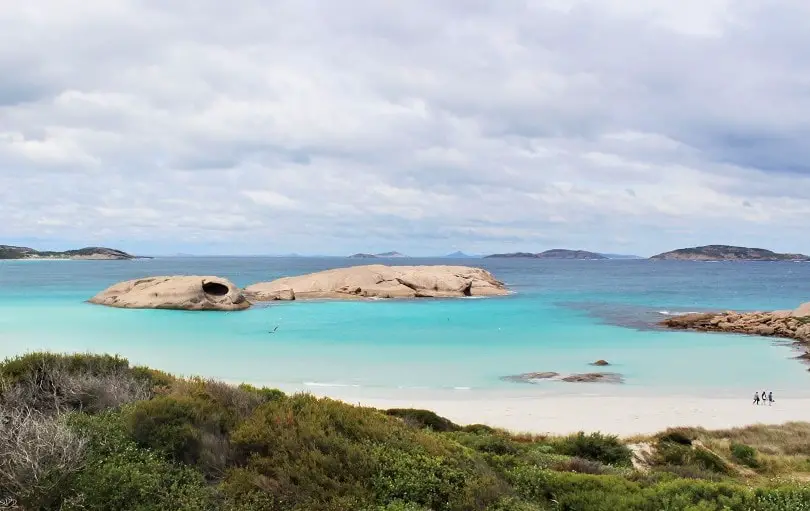 DISTANCE:
Bremer Bay to Esperance: 4 hr – 398km
ESPERANCE ACCOMMODATION:
Cape Le Grand Campground – 50km SE of Esperance, around $10 per adult per night;
Pink Lake Tourist Park – from $30 per site per night;
Esperance YHA – from $30 for a bed in a dorm room;
Hospitality Esperance SureStay Best Western – this modern, beachfront hotel has a lovely swimming pool, bar, restaurant and free Wi-Fi. Rooms start from $134.
---
12. The Nullarbor Plain
This is where your Perth to Adelaide drive gets interesting, or to be more accurate, uninteresting. The Nullarbor, Latin for "no trees", is 200,000 square kilometres of limestone bedrock, and is monotonous to say the least. There's isolated, and then there's the Nullarbor.
While there are a few sights to enjoy (such as a ruined telegraph station half buried beneath sand dunes), and crossing the Nullarbor is a once in a lifetime experience that carries a bit of a badge of honour in terms of Australian travel, you'll probably want to get across it as quickly as possible.
I've written a very comprehensive Nullarbor guide, linked below, which includes everything from where to stay overnight and where to get petrol to interesting attractions and driving tips. Do give it a read if you're going to do this journey.
Guide to Crossing the Nullarbor Plain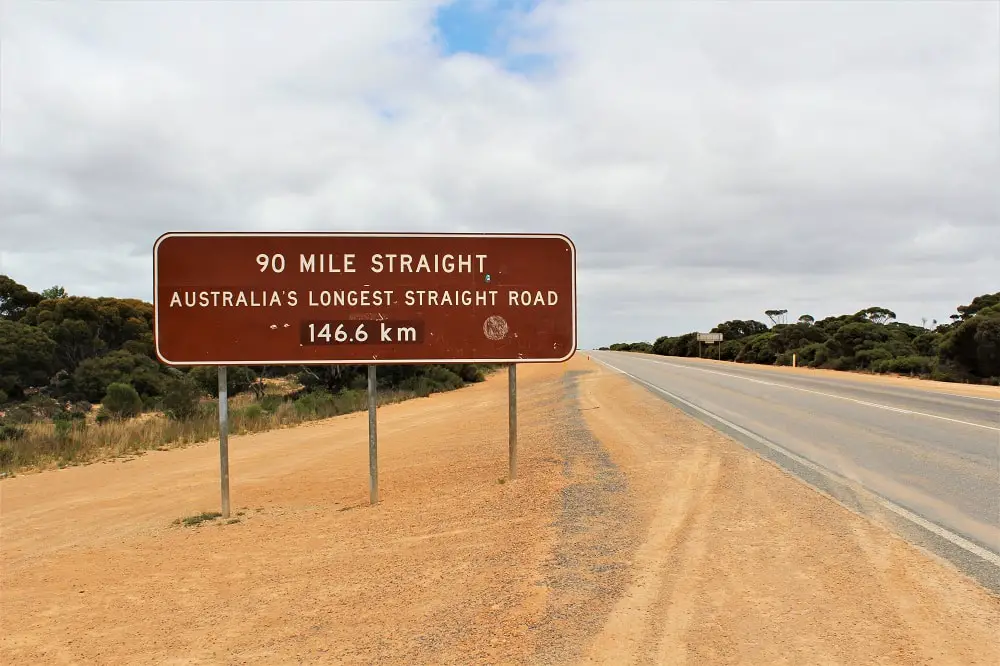 You'll pass plenty of road trains on the Nullarbor, a few other travellers and a handful of road houses – basically petrol stations with cafes, overnight accommodation and usually metered showers. You can either stay the night at these or use the many free camping areas like I did.
You'll want to split the drive over a few days; I did it in three, with two overnight stops at the free camping areas listed below. I would heavily advise against driving after sunset because of the high risk of hitting kangaroos and having to navigate around road trains in the darkness.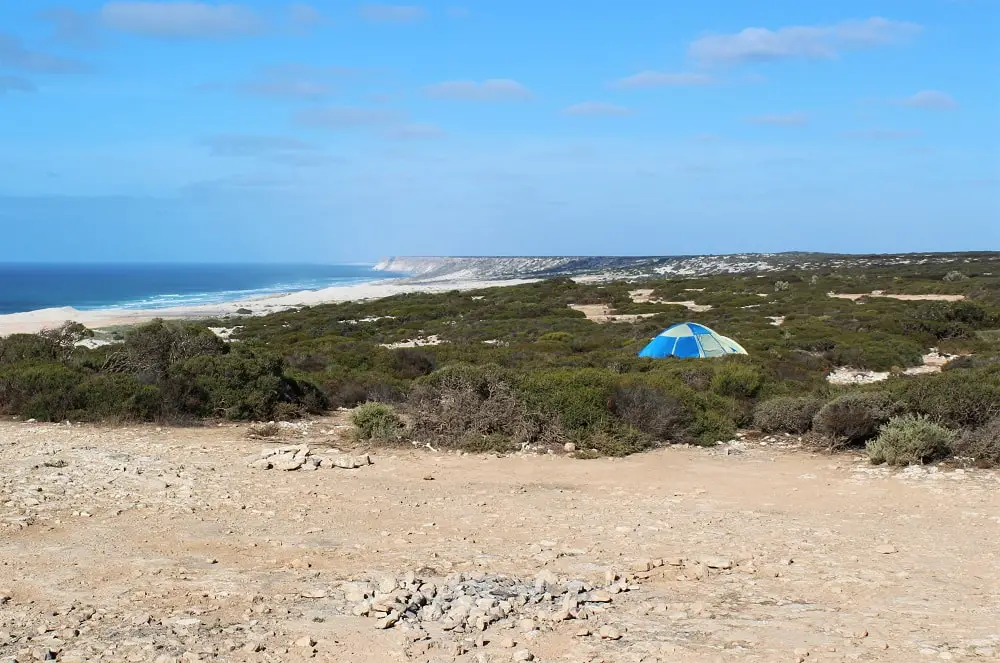 DISTANCE BETWEEN NULLARBOR ROADHOUSES:
Esperance to Norseman: 2 hr – 205km
Norseman to Balladonia: 2 hr – 191km
Balladonia to Caiguna: 1hr  50 min – 181km
Caiguna to Cocklebiddy: 40 min – 65km
Cocklebiddy – Madura: 1 hr – 91km
Madura to Mundrabilla: 1 hr 10 min – 116km
Mundrabilla to Eucla: 40 min – 65km
Eucla to Border Village: 10 min – 12km
Border Village to Nullarbor Roadhouse: 1 hr 50 min – 184km
Nullarbor Roadhouse to Ceduna: 3 hr – 297km
Total (Esperance to Ceduna): 14 hr 20 min – 1,406k
NULLARBOR ACCOMMODATION:
Acclaim Gateway Tourist Park, Norseman – camping and caravan sites from $39, or cabins from $138
Baxter Rest Area – Eyre Highway, 114km east of Balladonia, 67km west of Caiguna, free
Border Village Roadhouse – unpowered caravan sites from $15, backpacker rooms from $55, motel rooms from $120
Nullarbor Roadhouse – unpowered camping and caravan sites from $20, motel rooms from $139
Bunda Cliffs Lookout – Eyre Highway, 168km west of the Nullarbor Roadhouse, free – no toilets though!
---
13. Ceduna
Back to life! Ceduna is an isolated port town at the eastern edge of the Great Australian Bight, home to an IGA supermarket and actual people, yay! It was so weird and quite a relief to see humans and buildings again after the Nullarbor. I camped at Wittelbee, a convenient location to get to Baird Bay the following day.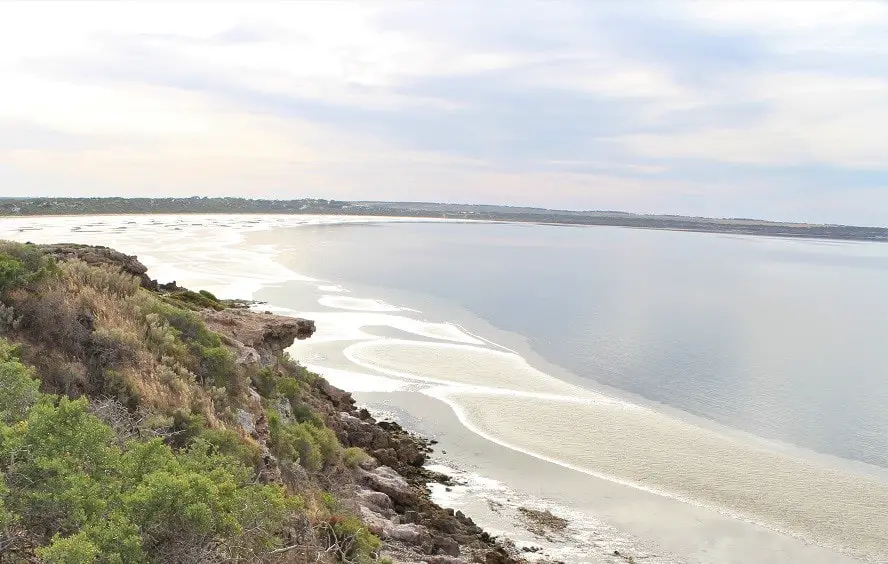 DISTANCE:
Esperance to Ceduna: 14 hr 20 min – 1,406km
CEDUNA ACCOMMODATION:
Wittelbee Conservation Park – $13 per vehicle, no facilities or toilets;
BIG4 Ceduna Tourist Park – you can choose to camp or stay in a 1, 2 or 3-bedroom cabin at this tourist park. Cabins start at $110 per night;
East West Motel Ceduna – just five minutes' drive from Shelly Beach, this budget motel has free parking and rooms starting at $90 per night.
For more accommodation options in Ceduna, browse using the search box below.
---
14. Elliston
I pretty much chose to stay here because it was a "proper" town, and I had a desperate desire for showers, flushing toilets and civility after crossing the Nullarbor! The beach was lovely and I got to enjoy the most crimson sunset I've ever seen, teamed with a sting ray in the shallow waters and a rainbow behind me! Perfect!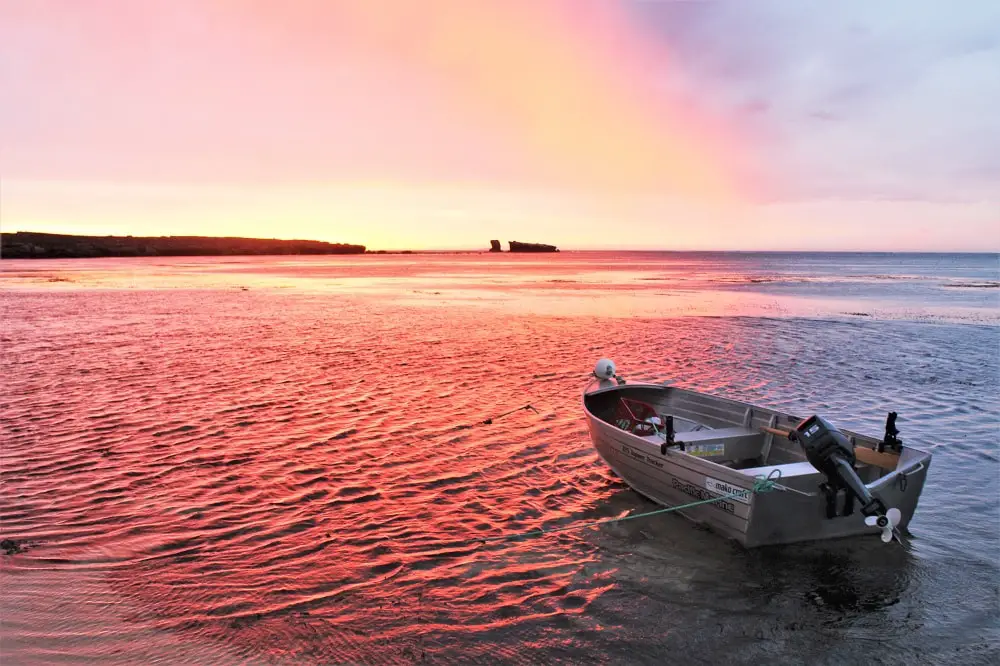 ON THE WAY:
Baird Bay Ocean Eco Experience: this was actually the attraction that made me choose to travel from Perth to Adelaide. This eco-friendly company is run by a local couple who take small groups out on their boat to swim with wild dolphins and sea lions.
I can't recommend this trip enough. Read my Baird Bay blog post for more details and inspiring pictures:
Baird Bay Sea Lion & Dolphin Swim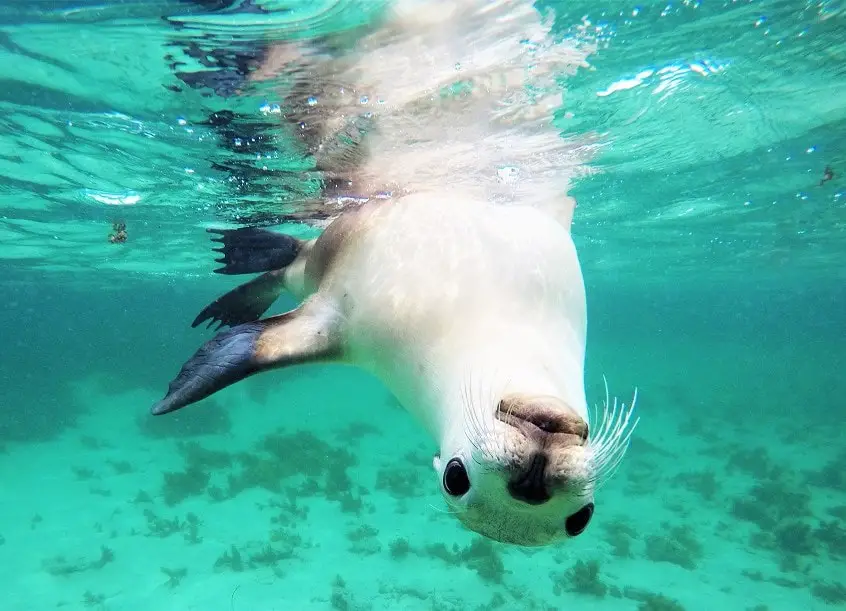 DISTANCE:
Ceduna to Elliston: 2 hr 30 min – 235km
ELLISTON ACCOMMODATION:
Waterloo Bay Tourist Park – from $27 per site per night
---
15. Port Lincoln
If you have the time, it's definitely worth exploring the Eyre Peninsula and checking out Lincoln National Park and Coffin Bay National Park. The coastal scenery there is absolutely stunning, and Coffin Bay is famous for oysters!
Read more in my article below:
Things to Do in Port Lincoln & the Eyre Peninsula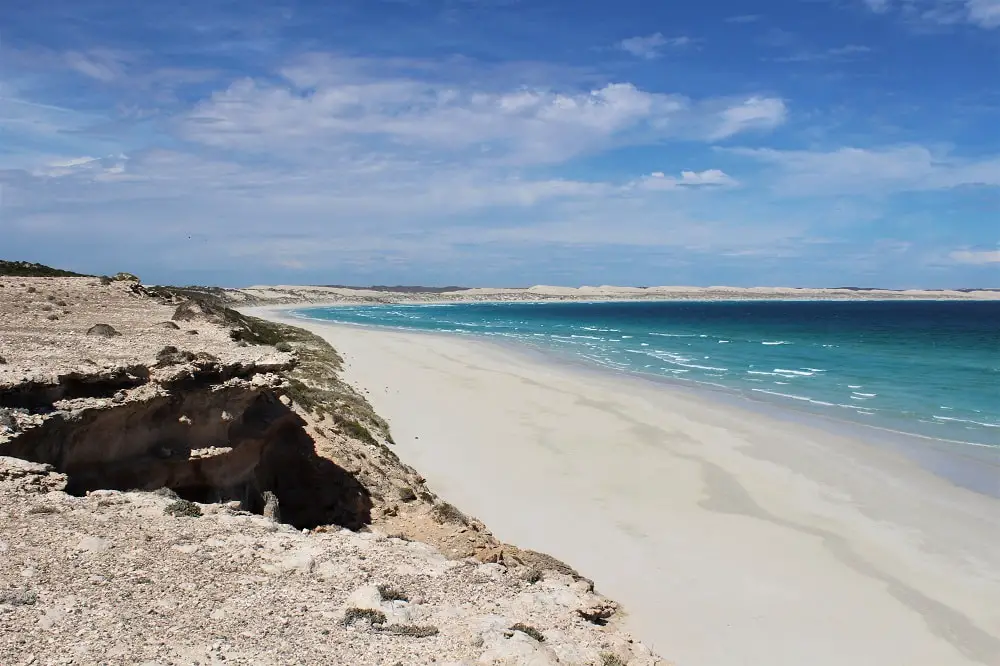 DISTANCE:
Elliston to Port Lincoln: 1 hr 45 min – 168km
PORT LINCOLN ACCOMMODATION:
McKechnie Springs Farmstay – camping spots on a farm from $20 per site per night;
Port Lincoln Tourist Park – this waterfront tourist park, where we stayed, offers camping, cabins and waterfront apartments, as well as free Wi-Fi, a children's playground and a camp kitchen. Prices start at $30 per site per night for camping, $115 per night for cabins and $230 per night for apartments;
Port Lincoln YHA – this central, award-winning hostel has free parking, internet and wheelchair-friendly fittings. Prices start at $33 per night for a dorm room and $82 per night for a private room;
Blue Seas Motel Port Lincoln – if you prefer the facilities of a motel, this budget option has free Wi-Fi, air-con and family rooms. Prices start at $100 per night.
---
16. Whyalla
I chose Whyalla based on a picture of a beautiful white beach I'd seen in a brochure, along with the fact that it was a town and I was sick of bush camping at that point. I have to say we were a bit underwhelmed on arrival – the tide was out which made the sand squelchy and the sea look unswimmable, the beach looked nothing like the picture and the town is more industrial than we'd realised.
However, we ended up having a brilliant time! The caravan park was one of the best we stayed in (it even had a pizza oven) and right on the beach. The sea was deep enough for a swim in the mornings, and so close to our tent we could just stroll across in our swimwear!
Read more in this blog post:
How Whyalla Turned Out to Be the Perfect Place to End Our Trip.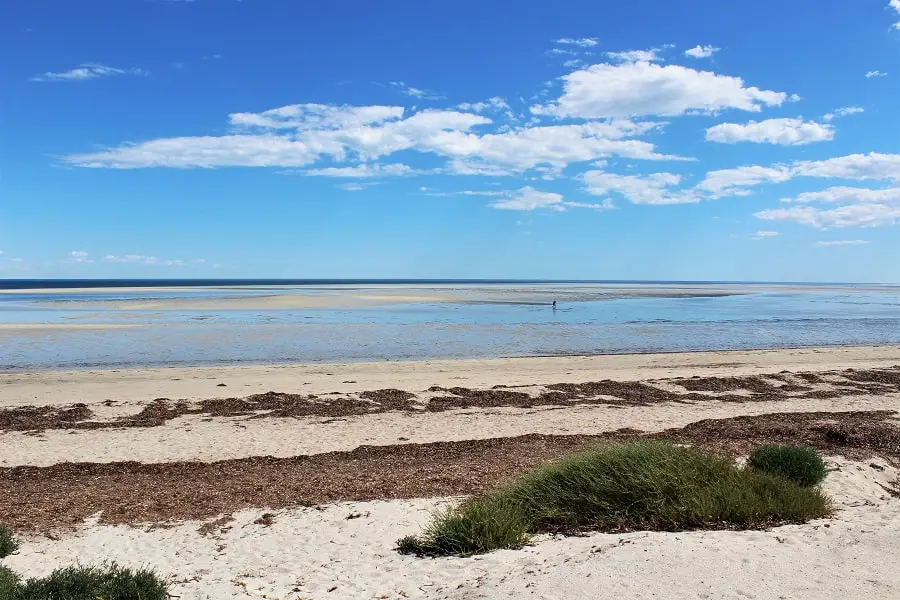 DISTANCE:
Port Lincoln to Whyalla: 2 hr 45 min – 268km
WHYALLA ACCOMMODATION:
Discovery Parks – Whyalla Foreshore – we stayed at this fantastic, beachfront holiday park which has heaps of facilities. Prices start at $35 per camping site per night and $136 per night for a cabin;
Foreshore Motor Inn – this beachside inn has a restaurant, barbecues and swimming pool. Rooms start at $160 per site per night.
---
17. Adelaide
You made it! Time to be utterly flabbergasted by all the noise, traffic and life of a big city after your time with nature. We drove straight from Whyalla to Adelaide as we had a house sit arranged for Christmas and New Year, but there are more places to see in between if you have the time.
Check out this post to find out what to do there:
Top 10 Things to Do in Adelaide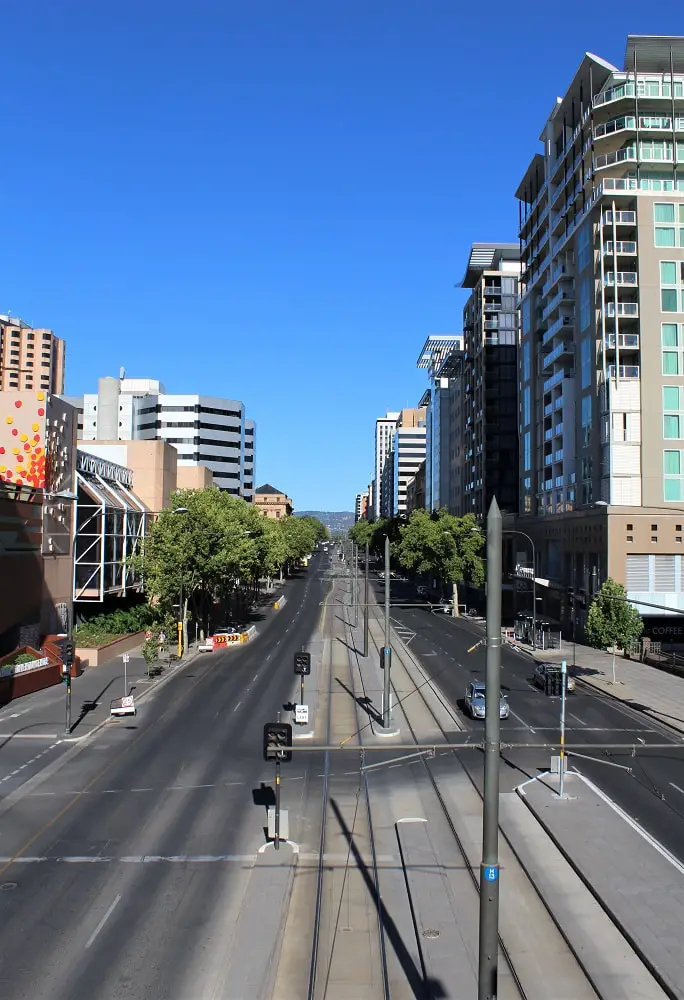 ON THE WAY:
Yorke Peninsula: There are plenty more beaches & national parks in this area too if you have the time. Unfortunately we didn't.
DISTANCE:
Whyalla to Adelaide: 4 hr 15 min – 382km
ADELAIDE ACCOMMODATION:
Use the search box below to browse through Adelaide hotels, apartments and hostels, or choose from my top picks below.
BIG4 Port Willunga Tourist Park – for those of you camping or caravanning, this holiday park near McLaren Vale vineyards lies a one-hour drive from the city. It offers an outdoor pool, barbecues and a choice of villas as well as camping sites;
Adelaide Central YHA – located in the heart of the city, this backpacker hostel has dorms, doubles and family rooms, as well as free Wi-Fi, large lockers, a communal lounge and kitchen;
The MAC Boutique Hotel – this modern 3-star hotel in Adelaide city is only 200m from The Art Gallery of South Australia and has air-conditioned rooms with fridges and tea/coffee-making facilities.
ADELAIDE AIRBNB:
Airbnb is one of my favourite accommodation options when I'm travelling. You can either hire a whole property to yourself or rent a local's spare room if you're on a lower budget.
ADELAIDE HOUSE SITS
We house sat for two weeks in Adelaide, which saved us loads of money over Christmas and New Year! Check out my blog post on how to become a house sitter if you fancy free luxury accommodation instead of forking out for hostels. To start house sitting yourself, join one of my recommended house-sitting websites linked below.
Join Aussie House Sitters – for house sits in Australia.
Join Trusted House Sitters – for worldwide house sitting.
---
If you've been inspired by my Perth to Adelaide drive itinerary and decided to do the trip yourself, you'll have an unforgettable experience and take home a bucket load of great memories.
If you want to treat yourself to some free luxury accommodation after all the camping like I did, why not read my blog post on how I saved $50k house sitting across Australia? It's full of tips on how to become a house sitter with no experience. It was amazing to arrive in Adelaide and have a three-bedroom house with a jacuzzi bath and a place to clean all the camping gear after five weeks of living in a tent! 
Here are my other Australian drive itineraries if you're planning another trip too. Happy travels!
Adelaide to Melbourne Drive Itinerary via the Great Ocean Road
Melbourne to Sydney Drive Itinerary: An Unforgettable Coastal Journey
Sydney to Brisbane Drive Itinerary: Amazing East Coast Australia Adventure
Tasmania Drive Itinerary: 21 Days of Unspoilt Beauty
---
---