This post may contain affiliate links. Please see my disclosure policy for more details.
While the town of Pemberton in the south-west corner of Western Australia is well know for its forests of majestic giant karri trees, just 20km out of town lies another absolute gem of a destination that every visitor should add to their must-see list: the Yeagarup Sand Dunes.
Stretching along D'Entrecasteaux National Park for 10km, reaching heights of 40 metres above the trees, and moving into the forest at a rate of 4 metres per year, the Yeagarup Dunes are the largest land-locked mobile dune system in the southern hemisphere, and one of the most memorable sights I enjoyed on my epic road trip from Perth to Adelaide.
Here are my beautiful pictures of the dunes, which I was fortunate enough (by pure chance) to see at sunset, along with details of how to get there and camping at nearby Leaning Marri Campground.
---
Getting to Yeagarup Sand Dunes in D'Entrecasteaux National Park
We'd originally planned on making it to Walpole that evening, but after a very long day discovering the Southern Forests of Pemberton on the Karri Forest Explorer tourist drive, including climbing the 75m-high Dave Evans Bicentennial Tree, time was not on our side. Instead we headed to the nearby Leaning Marri campground at Yeagarup Lake.
We realised on arrival that the Yeagarup Dunes were only a 1.5km walk away along a signed track (or drive if you have a 4WD), and if we got there in the next 40 minutes we could make it for sunset.
So, already exhausted from a full day out and with very tired limbs from the tree climb, off we trudged up the steep and sandy path to the dunes.
Walking across sand is hard enough, but sand on an uphill gradient is gruelling! However, we were determined not to miss out and darkness was descending!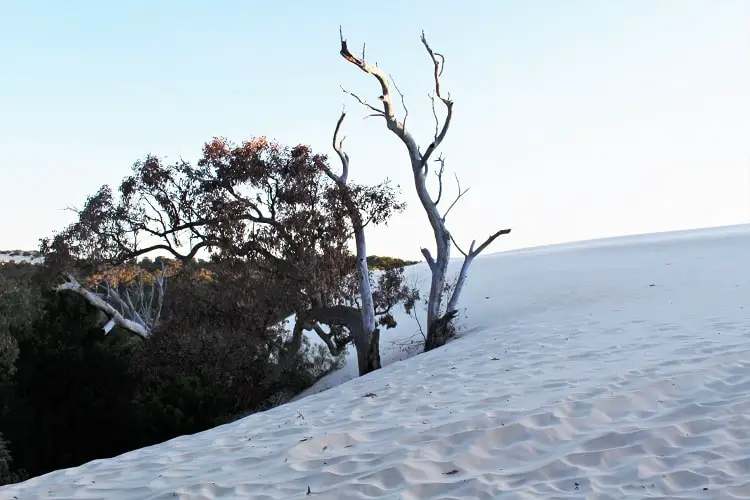 It got even steeper as we got closer to the dunes, and we had one last hill to power up! The views were already looking pretty spectacular though, as we looked back across the forest in D'Entrecasteaux National Park.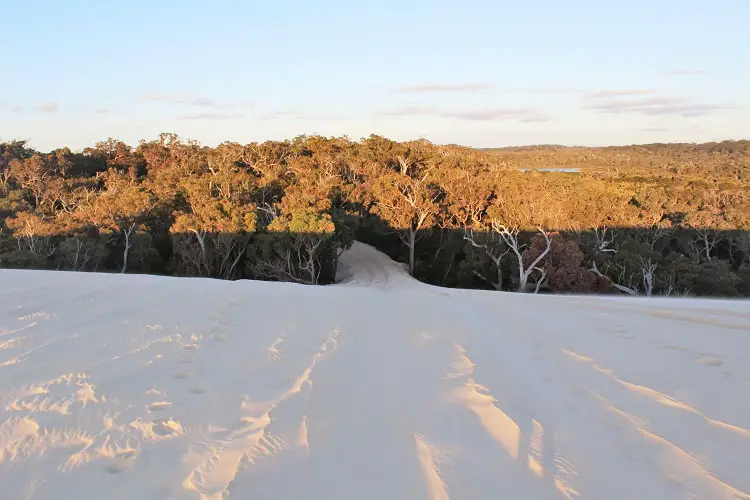 ---
Arriving at Yeagarup Sand Dunes!
The climb was well worth it as we were greeted by the phenomenal sight of sand so white it looked like endless miles of snow!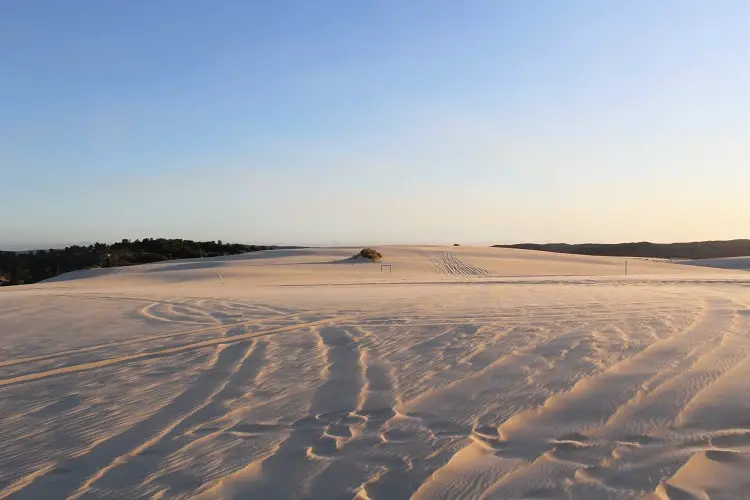 This really was mindblowing, and we arrived just in time to see the dunes in the last of the daylight.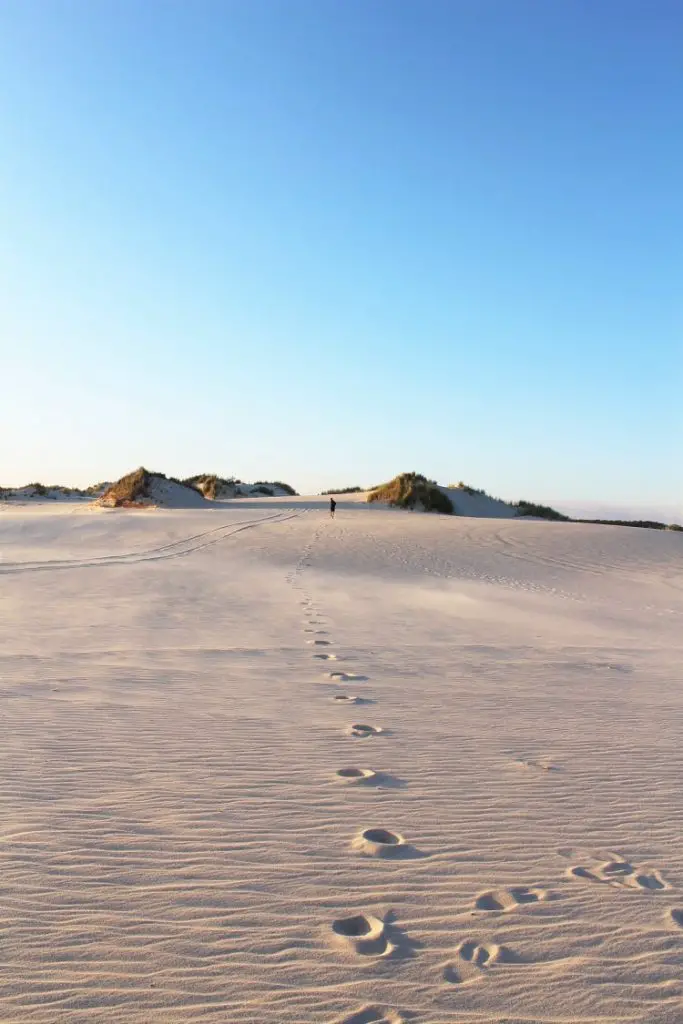 You're also allowed to drive across Yeagarup Dunes if you have a 4WD. We did see one vehicle, but it drove off out of sight pretty quickly.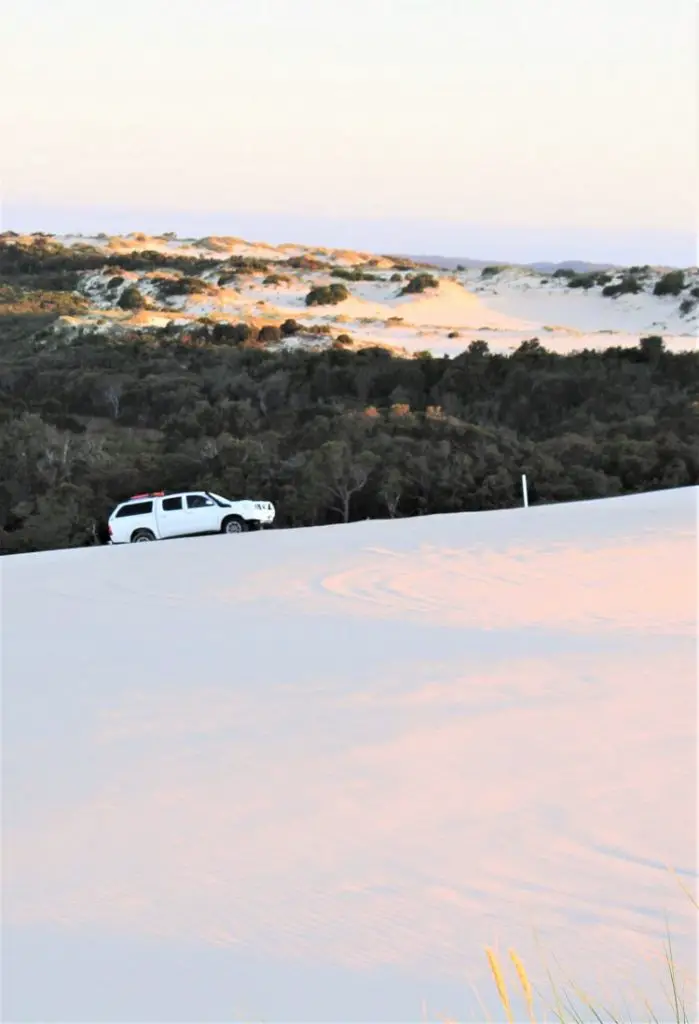 As the sun sank towards the horizon the sand began to glow with soft shades of pink and orange.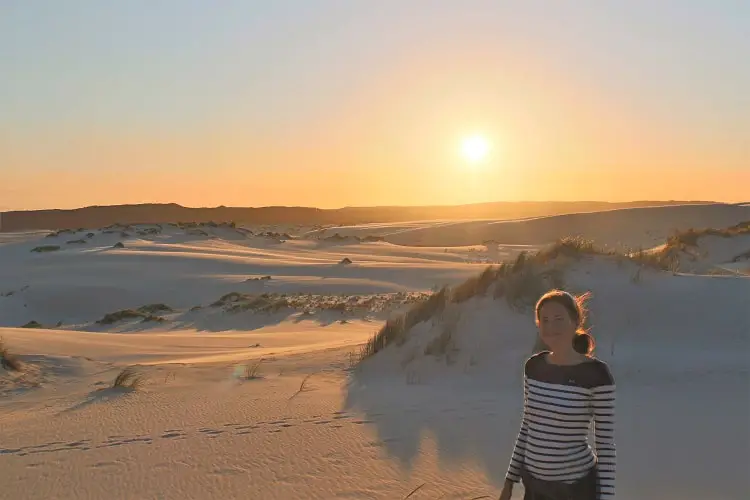 It felt like another world up there in the quiet with no one else around. If you want to escape other tourists Western Australia is the place to go!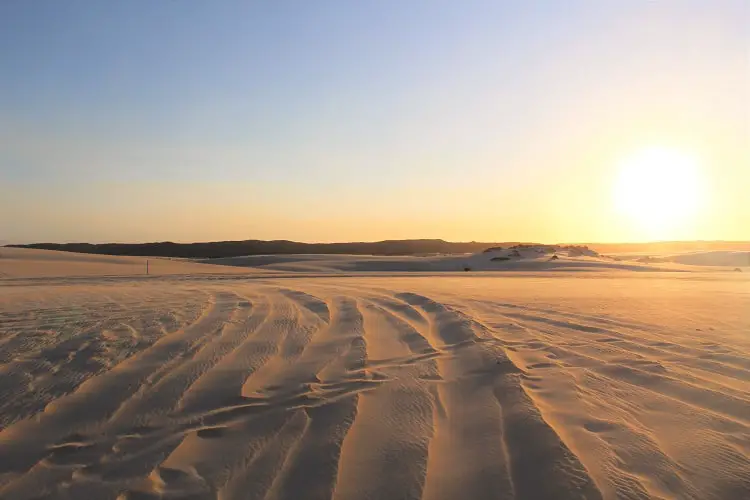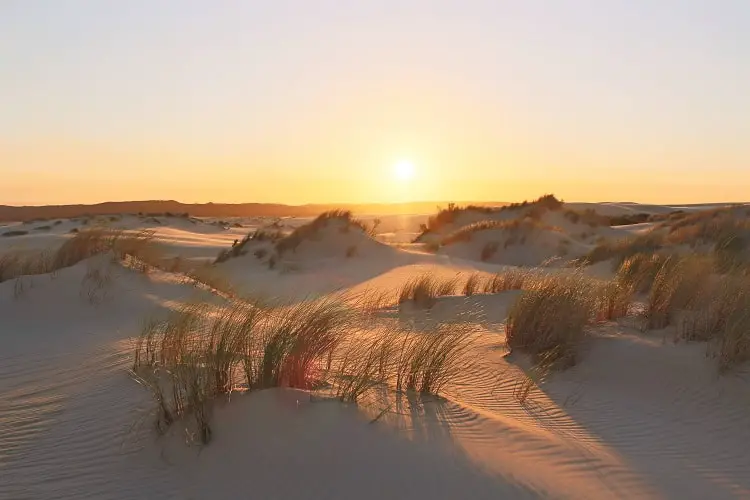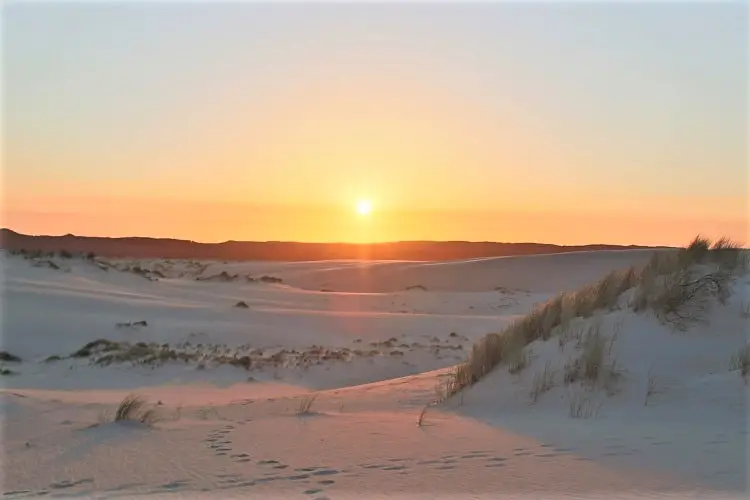 ---
Leaning Marri Campground at Yeagarup Lake
Once the sun had finally set we hurried back to Yeagarup Lake before darkness totally took hold, to put up our tent at Leaning Marri Campground.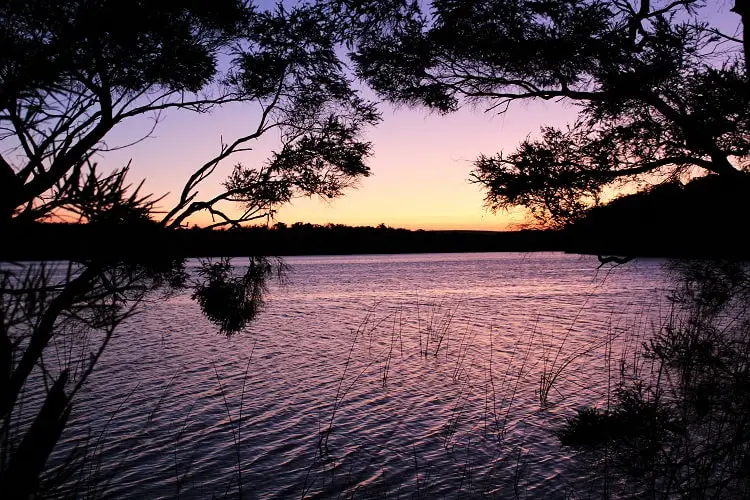 Leaning Marri is a small and very basic campground in the forest that we had entirely to ourselves (apart from the Huntsman spider in the toilet)!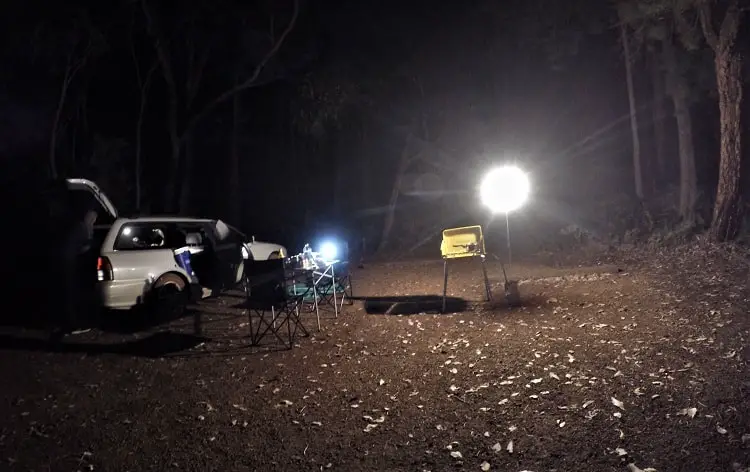 Here it is in the daylight, looking much prettier. And that thick layer of orange dust on my car was a pretty much permanent feature between Perth and Adelaide by the way! You rinse it off and it goes straight back on again!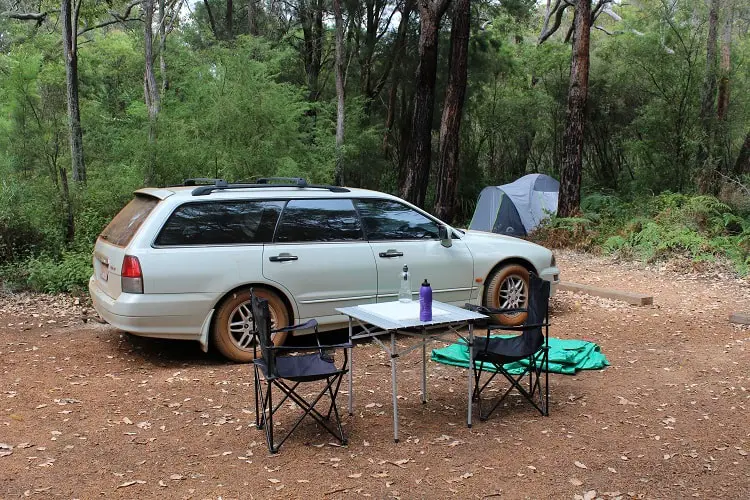 You can't book Leaning Marri Campground, it's just a case of turning up, but we visited in summer and it was totally empty. I'd imagine it might be a different story during school holidays though.
To get there you need to follow Ritter Road, an unsealed road that's fine for 2WD vehicles. Click here for more details about the campground, and remember unsealed roads are usually slow to drive along!
---
If you are heading to the Pemberton area, I would absolutely recommend visiting Yeagarup Sand Dunes. I've seen other sand dunes in Australia, including the Stockton Sand Dunes near Newcastle, and I think Yeagarup is by far the most impressive. I'd go as far as to say it was most beautiful sight I saw on my entire Perth to Adelaide road trip.
If you don't fancy the uphill hike through the sand to get there, you can book a driving tour with Pemberton Discovery Tours, or visit in your own 4WD. Just remember it's a very isolated area, so it's best to be experienced in driving across soft sand. The vehicle we saw had to reverse back down the hill to get there and start again!
Read about the next stop on our journey: the Valley of the Giants treetop walk in Walpole!
---
Like it? Pin it!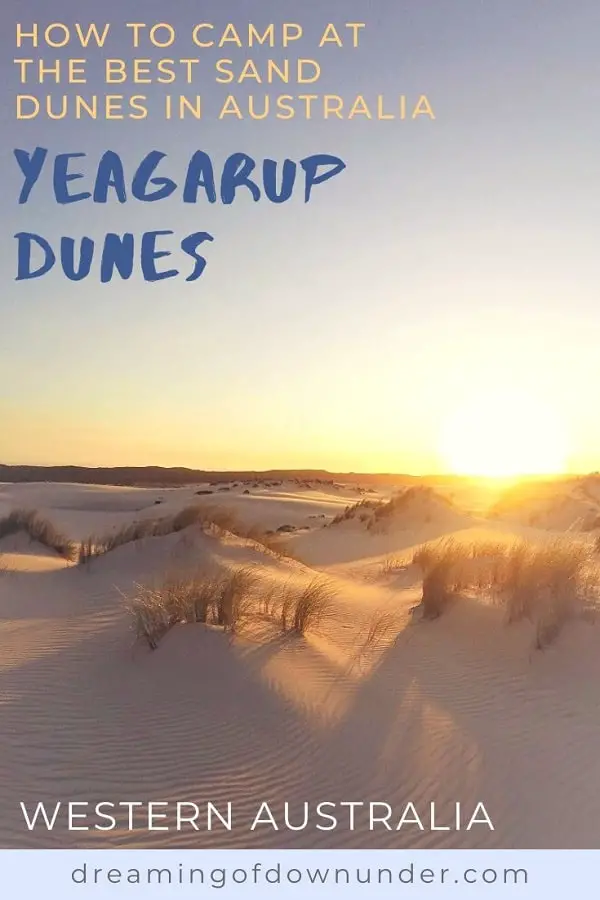 Written by Lisa Bull
Lisa Bull, founder of Dreaming of Down Under, has been living in Australia as a British expat since 2015. After travelling to every state and territory in Australia and living in Perth, Brisbane and Sydney, Lisa knows from first-hand experience the best destinations to visit in Australia and the best budget travel tips. Her guides on this blog have been read by over 700k readers and helped thousands of people achieve their dream of living in or travelling Australia.