This post may contain affiliate links. Please see my disclosure policy for more details.
I'll admit that I didn't have high hopes for Adelaide. The usual response from Australians whenever my travel mate, Michi, and I told them we were headed there was a look of pity, followed by a jokey, "Don't stay there too long!"
Following a five-week camping trip across the coast from Perth, we spent a scorching Christmas and New Year house sitting in Adelaide with our friend Mirka, where we had two weeks to suss out the top Adelaide attractions in between cleaning our camping stuff and recovering from road trip exhaustion!
We were pleasantly surprised to discover a small city not too dissimilar to Perth, the place we'd all met earlier that year. The hole we'd been imagining was actually quite attractive, with pretty parks, cool cafes, funky bars, and a backdrop of rolling hills peeking out between the towering buildings.
So without further ado, here are my top 10 things to do in Adelaide, very possibly Australia's most underrated city! If you prefer video format, watch my YouTube video below.
---
1. Go Shopping in Rundle Mall
If you fancy some retail therapy, or just need to stock up on supplies for your next road trip, Rundle Mall in Adelaide CBD is the place to go. It's the pedestrianised section between Hindley Street and Rundle Street East, and has a range of high street stores.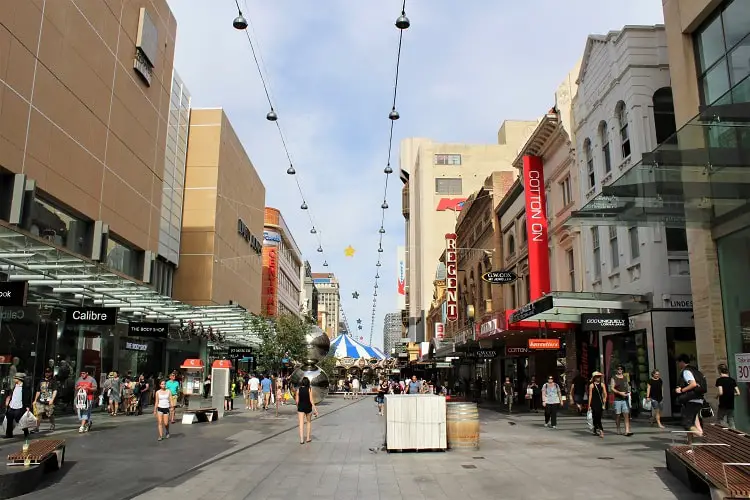 ---
2. Explore Adelaide CBD
Adelaide city centre has lots of beautiful old buildings mixed in with the new, such as Parliament House, on the corner of North Terrace and King William Road. It's well worth taking a wander around even if you're not a shopper.
---
3. Spend a Fun Day by the Sea in Glenelg
Just 11km from Adelaide CBD and accessible by tram, Glenelg is a popular beachside suburb with busy restaurants, several hotels and a shopping precinct along Jetty Road. It's a popular spot for tourists, and the equivalent of Bondi in Sydney and St Kilda in Melbourne.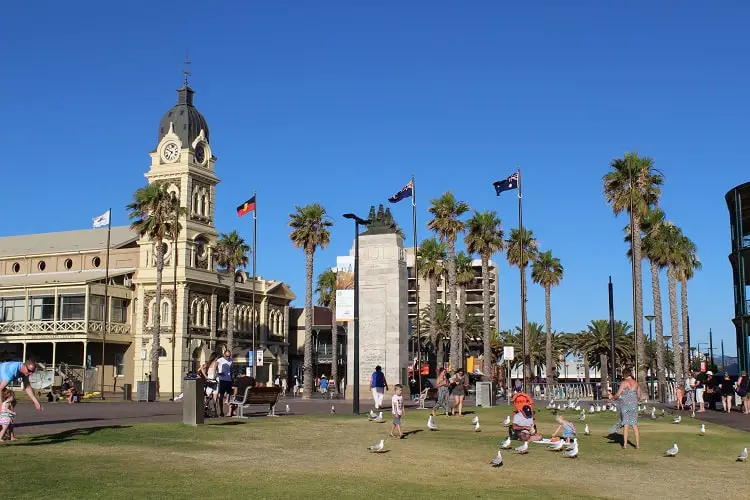 Glenelg Beach is also lovely, so it's a great suburb for a fun day out in Adelaide.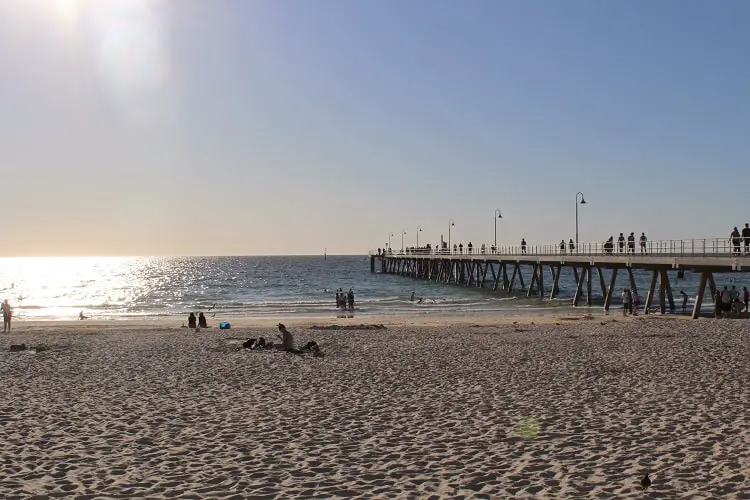 ---
4. Relax on an Adelaide Beach
Glenelg isn't the only beach in Adelaide; slightly north lies beautiful Henley Beach, which was really popular with locals chilling out after work when we visited in the early evening on a weekday.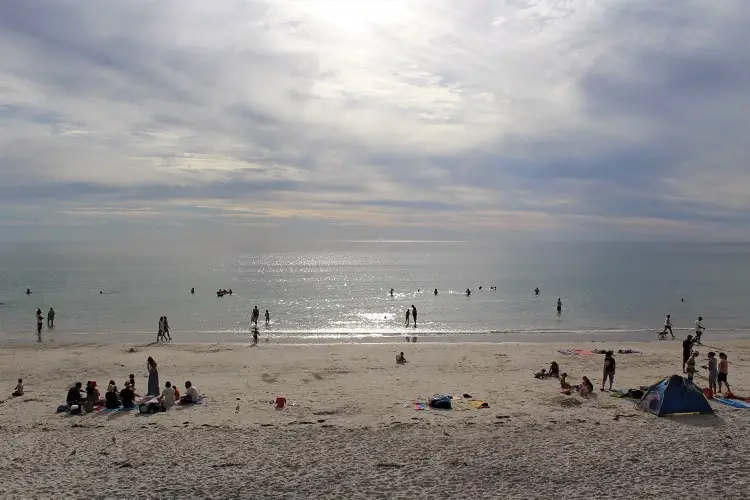 17km northwest of Adelaide city is quiet Semaphore Beach, which, as you can see, was pretty deserted when we stopped by. I also distinctly remember this being the only place I swam on my Perth to Adelaide road trip where the water was actually warm!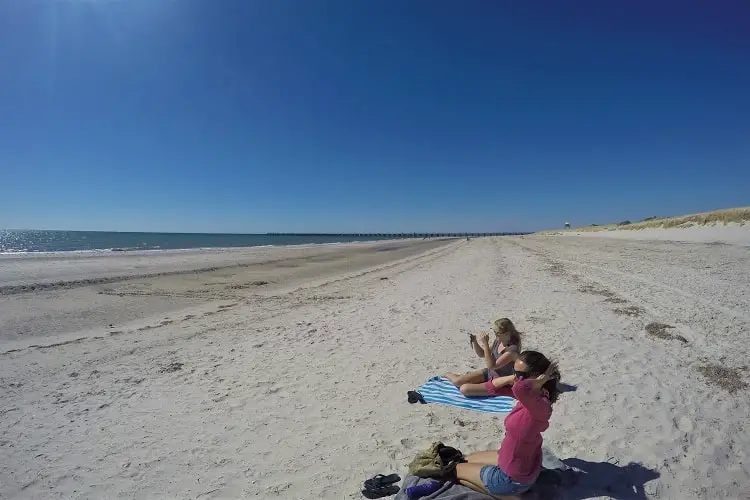 ---
5. Explore Historic Port Adelaide
Set on the Port River, slightly inland from Semaphore Beach, is the historic seaport of Port Adelaide. With colonial buildings, heritage pubs and three museums, it's an interesting suburb to spend a few hours wandering around.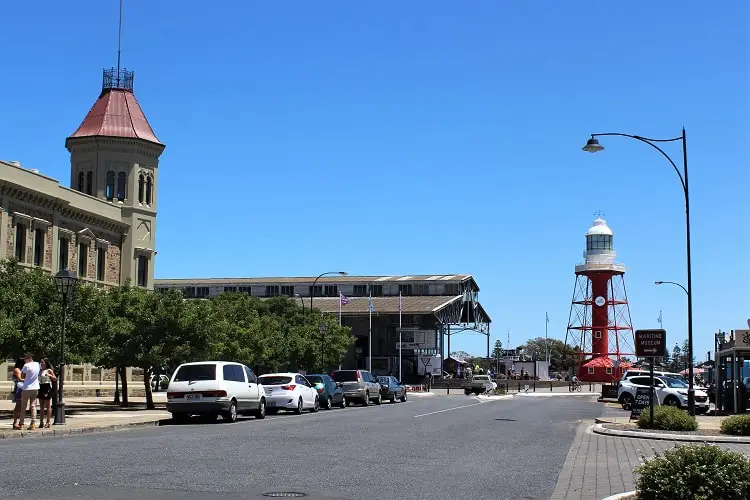 If you visit Port Adelaide on a Sunday or Monday public holiday, you can also peruse the enormous Fishermen's Wharf Markets, which sell everything from clothes to bric-a-brac to food.
---
6. Watch the Sunset at Mount Lofty in the Adelaide Hills
If you have a car and fancy a day trip, there are also plenty of things to do in the Adelaide hills. Mount Lofty is only a 20-minute drive southeast of the city, and you'll be rewarded with spectacular views all the way to the ocean. It's the perfect spot to visit at sunset.
You can also wander around the gardens and gullies of Mount Lofty Botanic Garden while you're up there.
---
7. Go European in the German Settlement of Hahndorf 
From Mount lofty, continue driving southeast for about another 15 minutes, and you'll come to the village of Hahndorf, Australia's oldest surviving German settlement.
With cute European-style heritage buildings from the 1800s, leafy streets, and a range of German shops and pubs, Hahndorf is a really unique part of Australia.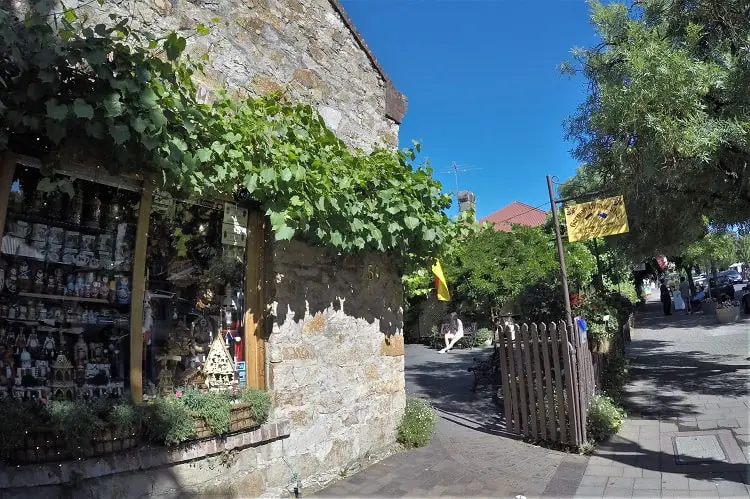 ---
8. Hire a Boat in Elder Park, Adelaide
On the southern bank of the River Torrens, just north of Rundle Mall in the city centre, lies Adelaide's Elder Park. You won't miss the colourful paddle boats for hire lining the waterfront; the perfect way to take in the city at a leisurely pace!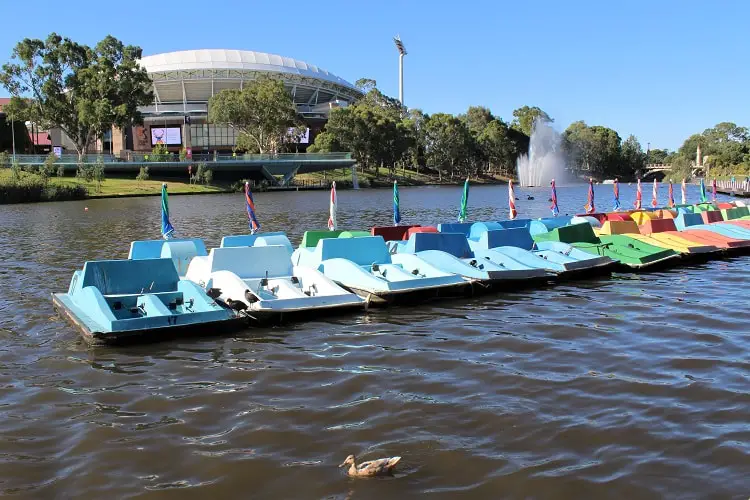 If you happen to be spending New Year in Adelaide, Elder Park is the place to be, with fireworks and live music and DJs all night! Read this blog post to find out about my experience of New Year's Eve in Adelaide in comparison to Sydney.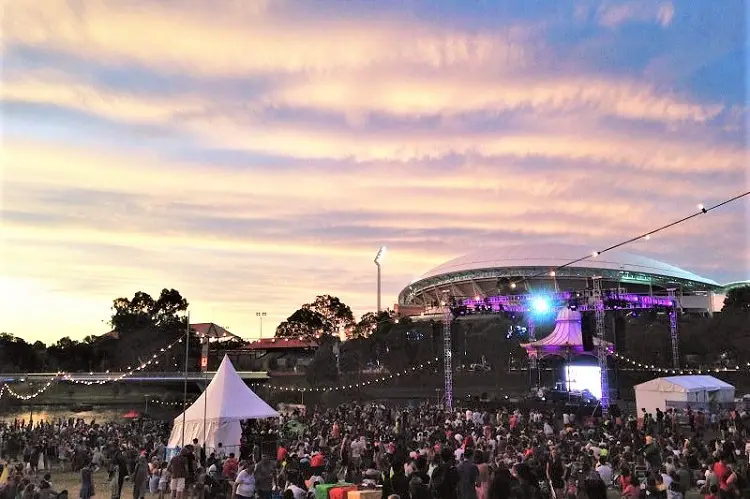 ---
9. Explore, Eat & Drink in North Adelaide
Follow King William Road north from Elder Park, and you'll soon come to North Adelaide, a beautiful suburb within walking distance of the city. With St Peter's Cathedral, leafy streets and a choice of funky cafes and restaurants, it's an area worth exploring at day or night.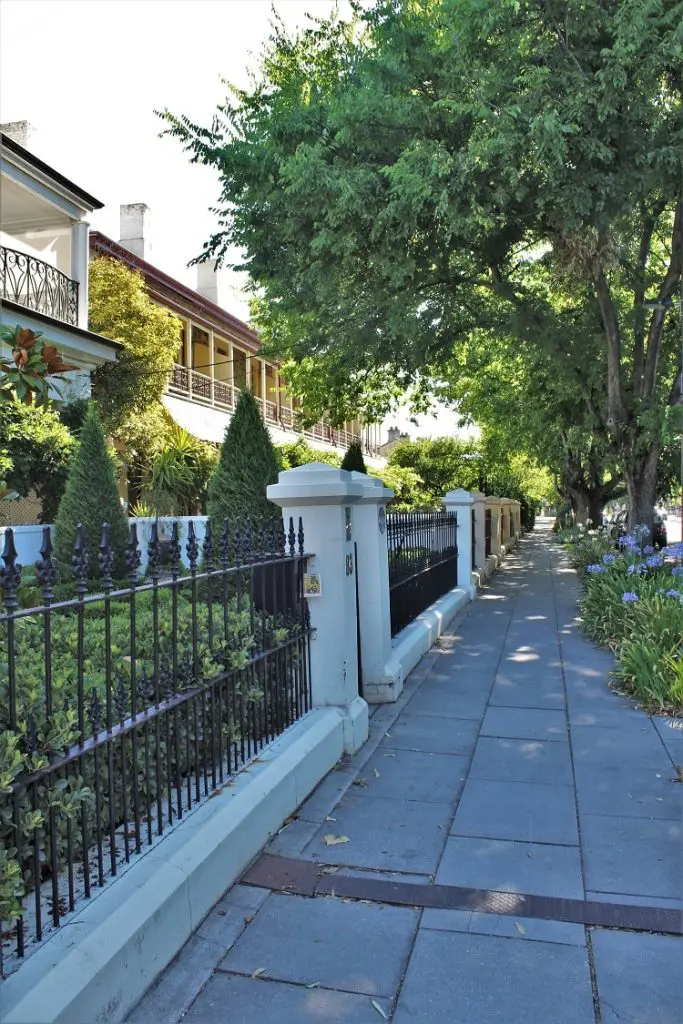 If you're looking to eat or sit down for a coffee, we went to the popular Royal Oak Hotel on O'Connell St, which has really funky décor, a beer garden, craft beers and live music throughout the week.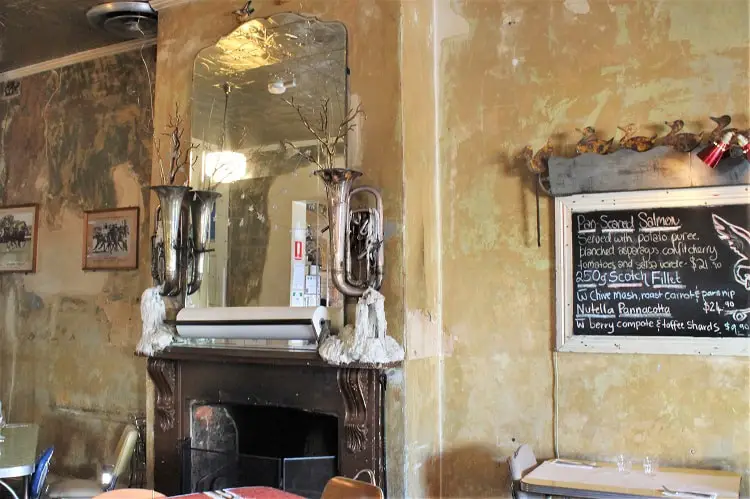 ---
10. See the Lobethal Lights
If you want to venture deeper out into the Adelaide Hills, the cute village of Lobethal lies a 45-minute drive east of the city.
If you happen to be in Adelaide in December, this is the perfect place to get into the Christmas spirit (which is hard when it's roasting hot!) as the local residents and businesses put on the largest community Christmas light display in the southern hemisphere!
For more information, here's my blog post on my experience of visiting Lobethal lights.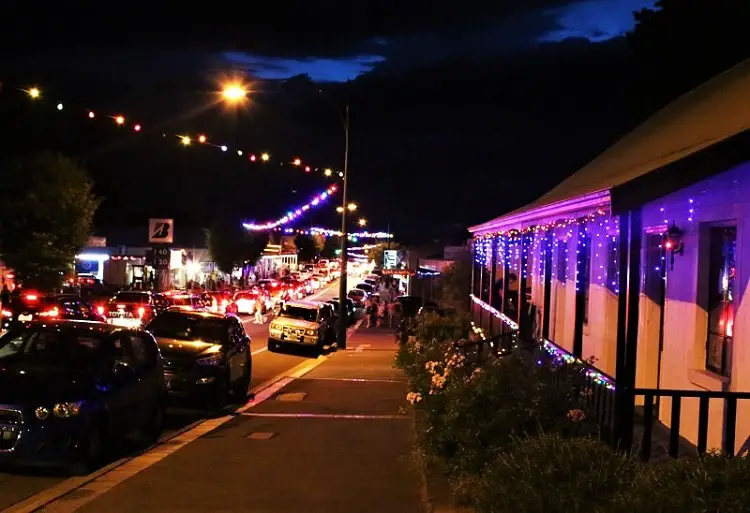 ---
I hope you enjoyed reading my top 10 things to do in Adelaide and get the chance to check them out for yourself! Happy travelling!
---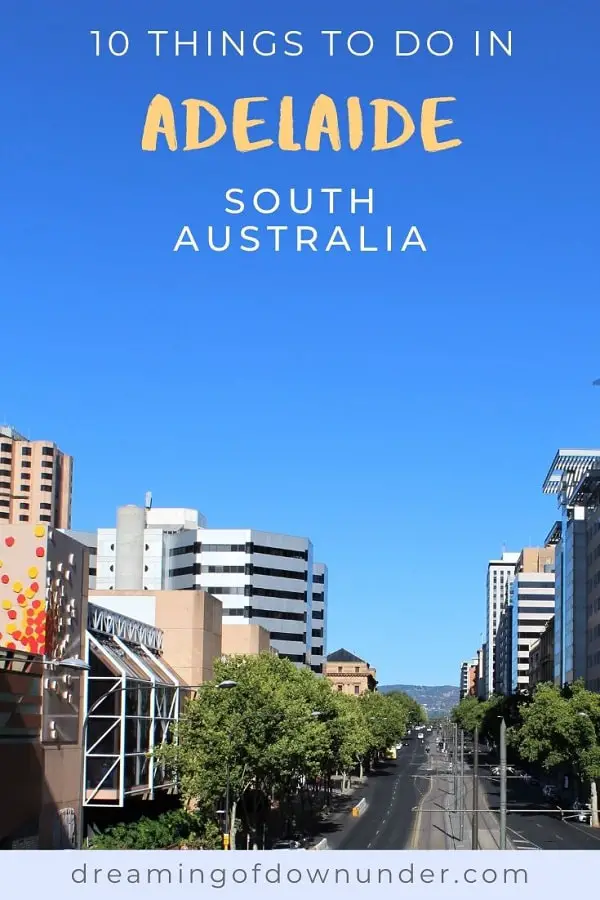 Written by Lisa Bull
Lisa Bull, founder of Dreaming of Down Under, has been living in Australia as a British expat since 2015. After travelling to every state and territory in Australia and living in Perth, Brisbane and Sydney, Lisa knows from first-hand experience the best destinations to visit in Australia and the best budget travel tips. Her guides on this blog have been read by over 700k readers and helped thousands of people achieve their dream of living in or travelling Australia.