This post may contain affiliate links. Please see my disclosure policy for more details.
After exploring Greens Pool and Elephant Rocks in Denmark, we continued east on our Perth to Adelaide road trip and headed into Cape West Howe National Park, about halfway between Denmark and Albany. As we wound our way through the park, we decided to pull into Shelley Beach lookout point for a quick peek.
Wow!
We'd already seen plenty of beautiful sights on our road trip so far, but with its bright white sand and turquoise water, Shelley Beach was really something special. We couldn't resist driving down for a closer look, and instantly decided to stay the night there instead of Cosy Corner, our original destination.
---
Shelley Beach Camping Ground
Shelley Beach campsite is literally right behind the beach, surrounded by nothing but green hills and granite boulders. While the facilities were very basic (compost toilet and cooking hobs), we couldn't have hoped for a more picture-perfect setting.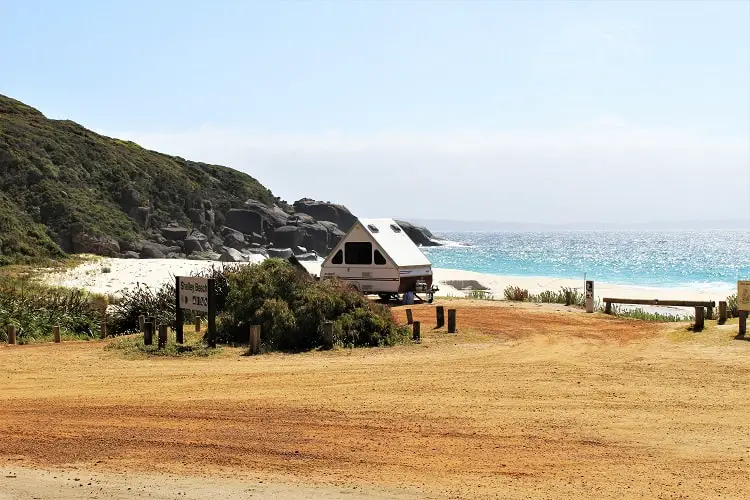 ---
Exploring Shelley Beach
The weather was pretty chilly, but perfect for running around exploring and photographing the gorgeous scenery. Here's the best of beautiful Shelley Beach, WA.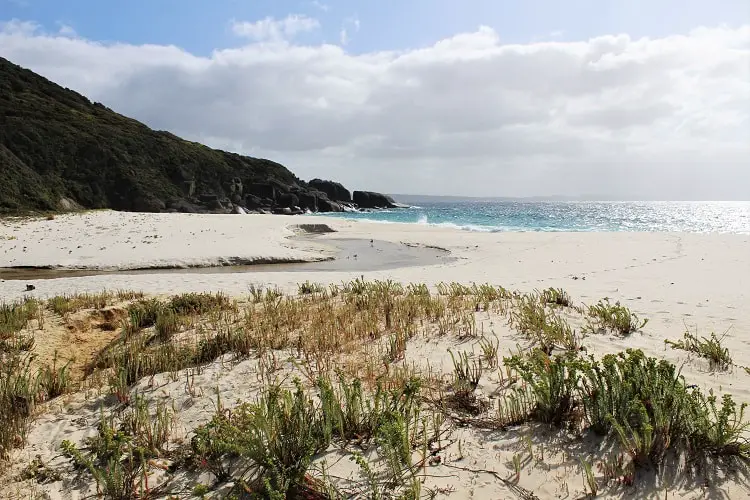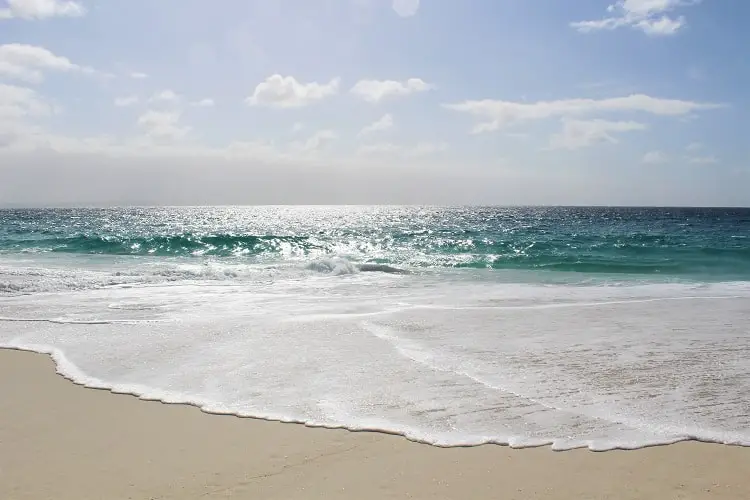 ---
Disaster in the Dunny
As amazing as our surroundings were, things started to go downwards pretty quickly. Here's what happened.
If you haven't heard of a compost toilet (AKA long-drop/drop-hole or pit toilet) before, I'll unfortunately need to give you an overview so you can understand the rest of this story (just be grateful I'm not showing you a photo).
These are the kind of toilets they have at many bush camps and national park campgrounds in Australia. They consist of a normal toilet seat, but rather than having a toilet bowl underneath, there's basically a wide hole so that you drop your business down into a pit of rotting and visible sewage. Or to put it politely – compost.
Yes, they're as revolting as they sound. You do get used to them though. Sort of.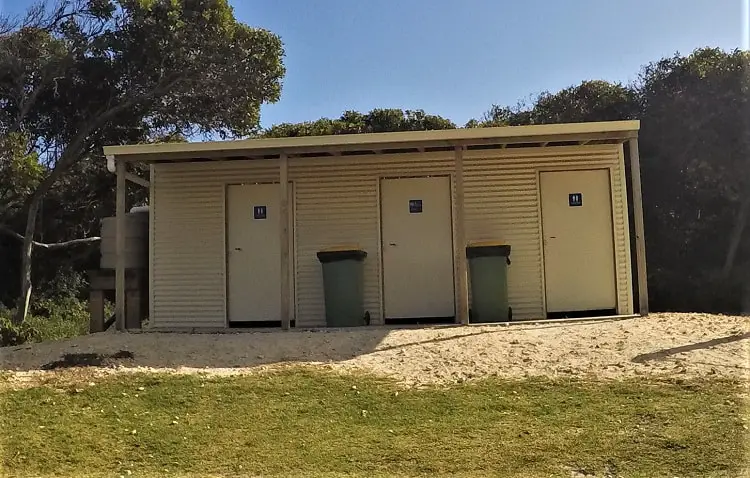 Now, I usually keep my phone in my bag. But occasionally, if I'm looking at some scenery and want to take a video as well as photos on my "big camera", I'll slip it into my back pocket. This is exactly what I did when we got to the stunning Shelley Beach. Who could resist filming those crashing turquoise waves?
Unfortunately, as I'm sure you've already guessed, I forgot to take my phone out of my pocket afterwards. During my inevitable visit to the highly glamorous compost toilet a while later, I heard the phone sail through the air beneath me and plop right down on top of a few years worth of human waste and soiled toilet paper.
On a positive note, with me not being in any way interested in phones and technology, I'd only bought a cheap Windows phone to take travelling. So I wasn't too heartbroken to have lost the actual phone. On the negative side, it was full of photos and videos of my trip.
I sheepishly broke the news to Michi, and we peered down into the stinking vat of excrement together to assess the situation. He seemed much more determined to rescue the phone than I was, if only to retrieve the memory card, so we set about brainstorming a plan of action. Between an engineer and a mathematician, we weren't short of ideas.
The biggest problem we had was that this was no ordinary long-drop toilet. Instead of having a wide drop the same width as the toilet seat, this one had an actual bowl, and was basically a proper metal toilet bolted onto the ground by flat plates, but with a drop below it instead of a u-bend.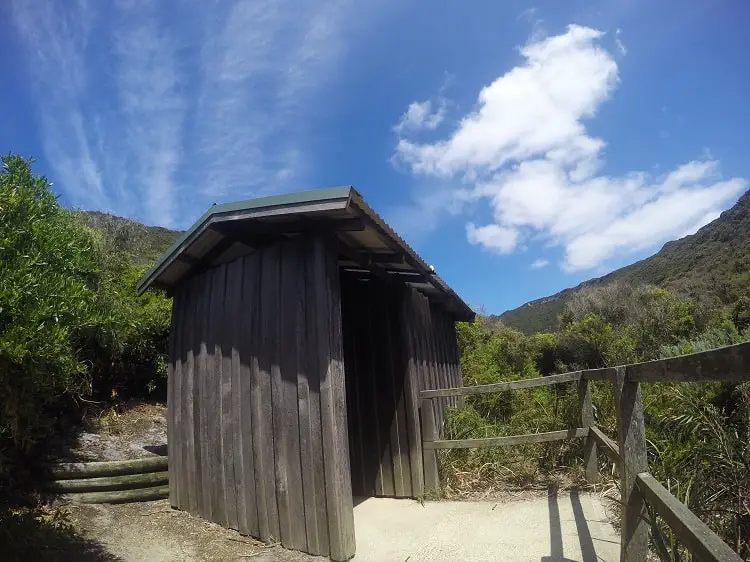 While Michi managed to get hold of some pliers from one of the other campers and got to work removing the toilet, I foraged around outside and constructed a retrieval instrument, much like a lacrosse stick, by curving stiff pieces of dead grass into a cradle shape and sellotaping them onto the end of a long branch.
Feeling confident but slightly nauseous, I rolled up my sleeves, pulled on a pair of rubber gloves and knelt down on the hard, filthy floor where Michi had managed to completely remove the toilet and expose a 15cm-wide hole that led down to my poor phone that lying in the dark, stinking pit about two arm lengths below.
It was immediately clear that the "net" I'd made was not angled correctly, and the narrowness of the hole meant it was virtually impossible to shine a torch down to see what we were doing as well as shove the stick and most of my arm down.
Next Michi made an instrument of his own by taping a plastic bag onto the end of a forked stick to use as a scoop. That didn't work either. Far too bendy.
In a third and final attempt, we borrowed a more powerful torch and made something much more rigid by cutting up our mattress pump box and attaching it to a stick with cable ties (no idea why we had these). Michi found a hole round the back of the toilet to shine the light through, but it was still an impossible task.
By this point, the other campers had decided to enthusiastically get involved from the sidelines, shouting encouragement from a safe distance and suggesting utterly infeasible ideas for contraptions we could make, meanwhile I was into my second hour of holding a raised kneeling position above a vile pit of sh*t with actual human excrement smeared up my sleeves, occasionally retching and murmuring, "It's not worth it."
We eventually admitted defeat, and after shooing the unhelpful onlookers out of the small toilet cubicle, I christened my own phone in a way I hope to never have to do again.
---
Every Cloud has a Silver Lining
We woke up the next morning to a much more promising day. The sun was shining, and while it was still chilly and very windy ("There's nothing between here and Antarctica," people in WA kept telling us when we complained about the cold!) we got to enjoy breakfast outside in the beautiful surroundings of West Cape Howe National Park.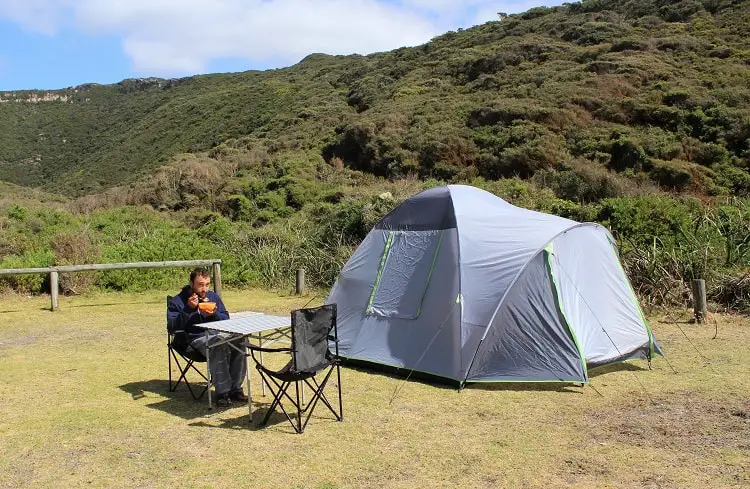 And while my phone was lost forever down the long-drop dunny of disaster, fate was to bring us a whole new gift in return…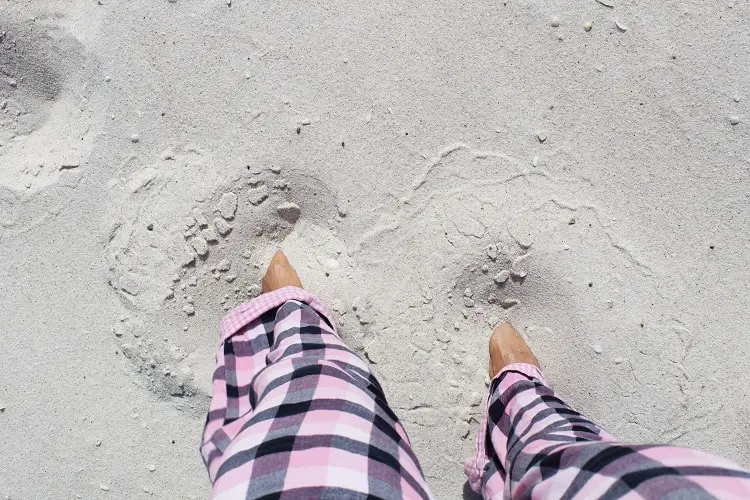 During our entire trip from Perth, Michi and I had been very unsuccessfully doing our washing up with no washing-up bowl. Bearing in mind there was no running water at most of the campsites, this was no easy task.
As we waved goodbye to the young couple in the campervan who'd so enthusiastically encouraged me to stick my entire arm down the bog the day before, what did they leave on the ground behind them? Only their bloomin' washing-up bowl!
With no means of calling them back and their van disappearing into the distance, we quickly swiped our gift from the gods and thanked the universe for small mercies.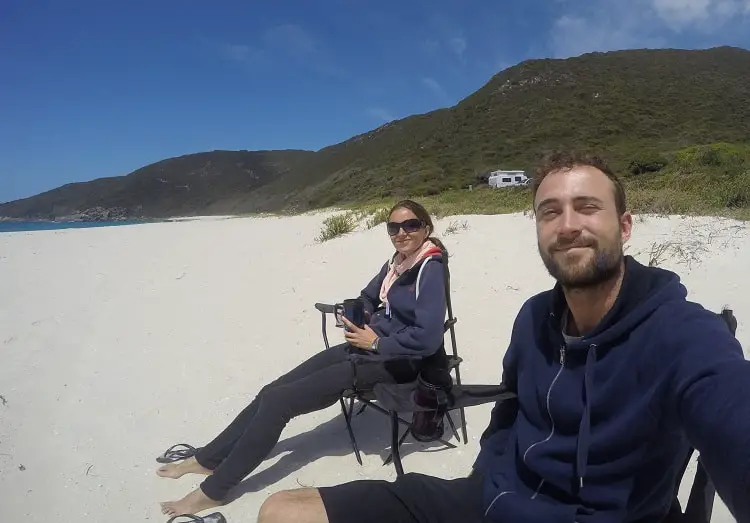 We also got to spend the morning watching people hand gliding onto the beach, and realised that the strange wooden ramp at the lookout that looked like it led to certain death was actually a launching pad!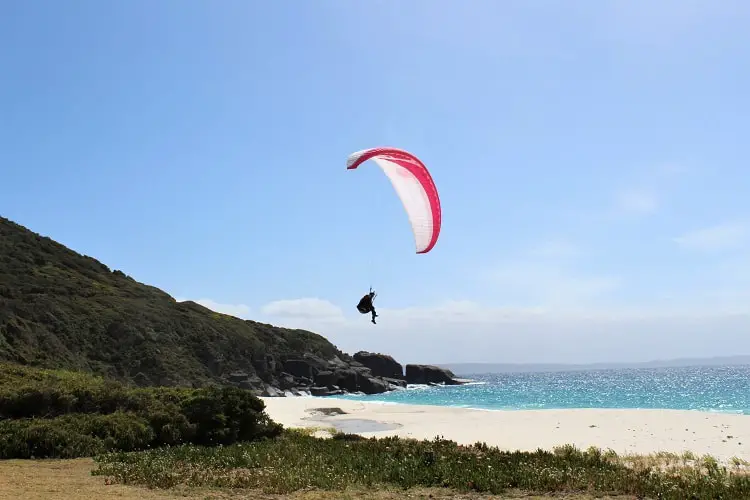 ---
Baby Kangaroo on a Mini-Break at Shelley Beach!
Riding the wave of good fortune, one of the most exciting parts of our night at Shelley Beach was meeting an Australian couple who'd fostered an orphaned kangaroo called Anthea and brought her on her first mini-break to the beach!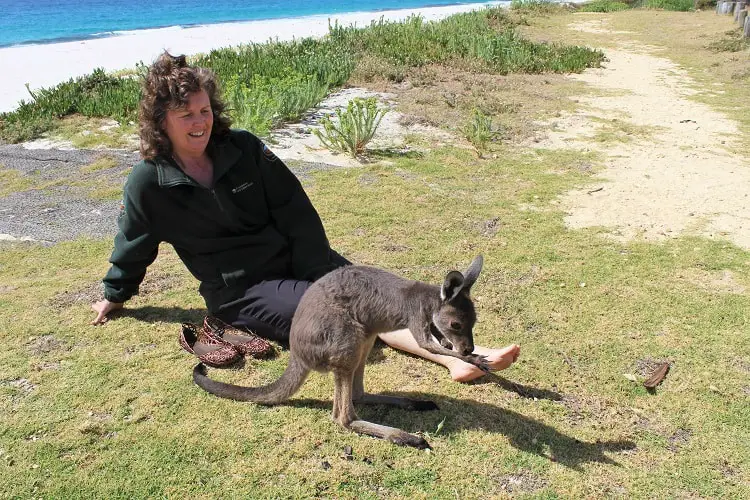 One-year-old Anthea was about the cutest thing you've ever seen, and fully enjoyed bouncing around the beach the next morning, discovering what this funny, grainy white stuff was all about!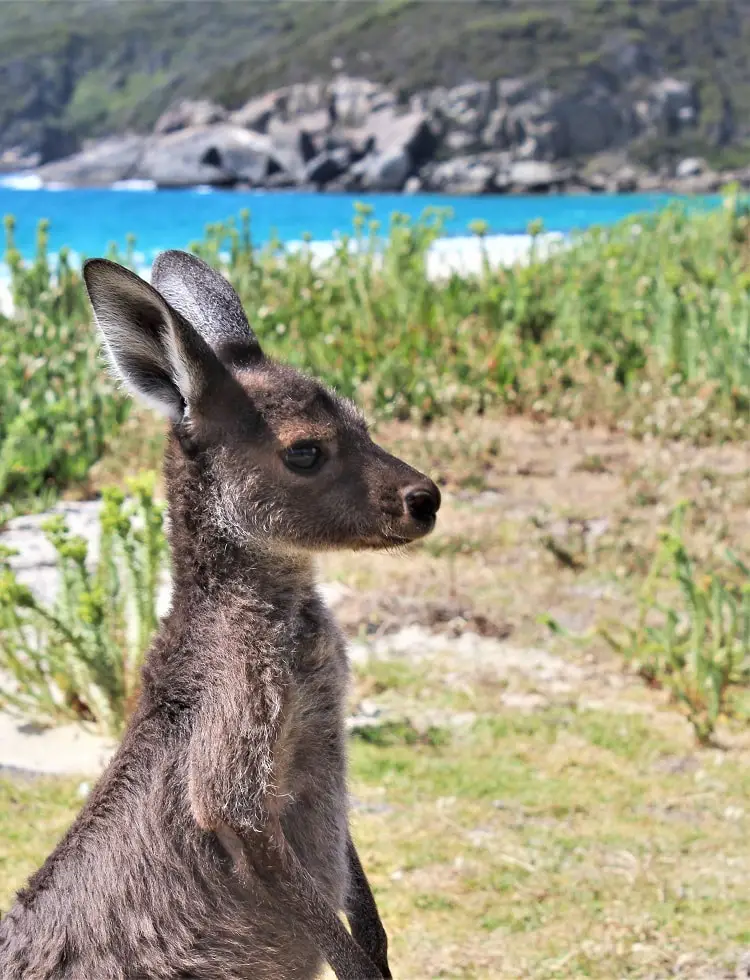 And the best part? I got to hold her! What a treat!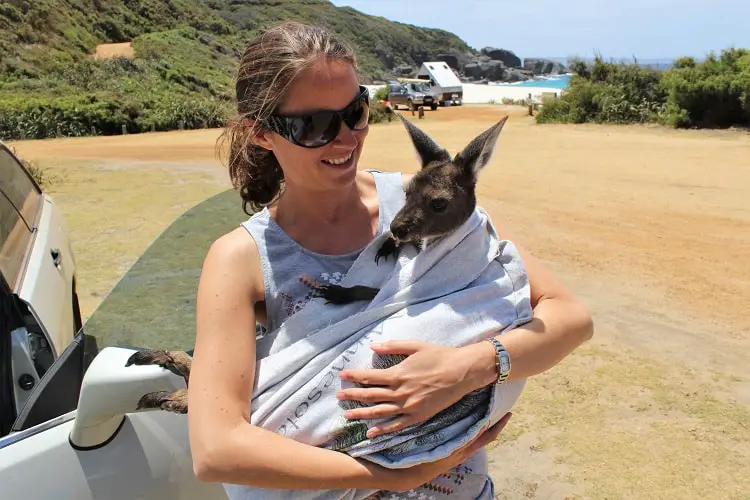 We learnt the following facts about kangaroos that day:
Kangaroos have a double claw for grooming, and as you can see from the picture, their claws are very, very long!
They're very intelligent animals and pick up on your tone when you speak to them.
Joeys stay in the mother's pouch for a whole year.
The mothers can push the babies out of their pouch to clean it.
Kangaroos like to be around other roos.
They also like to follow set paths in familiar areas (partly why they jump across the road so much if it's part of their regular route).
If a dog chases them, they will lead it to water and drown it with their front paws!
---
After picking up loads of tips for our upcoming journey across the Nullarbor from Anthea's foster parents, it was time to set off (minus a phone but in possession of a beloved new washing-up bowl) to the city of Albany for a bit of civilisation and a well-needed shower. Click here to find out what we got up to.
If you're planning of travelling the south coast of Australia, check out my Perth to Adelaide drive itinerary, which includes driving times, distances, costs and campsites.
---
Like it? Pin it!

Written by Lisa Bull
Lisa Bull, founder of Dreaming of Down Under, has been living in Australia as a British expat since 2015. After travelling to every state and territory in Australia and living in Perth, Brisbane and Sydney, Lisa knows from first-hand experience the best destinations to visit in Australia and the best budget travel tips. Her guides on this blog have been read by over 700k readers and helped thousands of people achieve their dream of living in or travelling Australia.