This post may contain affiliate links. Please see my disclosure policy for more details.
One of the best things about travelling through Western Australia is being able to save money at free camps in WA. These two beautiful free camping sites in south west WA will save you plenty in fees if you're driving from Bremer Bay to Albany.
After checking out the top things to do in Albany and Torndirrup National Park, my travel mate, Michi, and I continued east on our epic Perth to Adelaide road trip, on the short but scenic 181km journey from Albany to Bremer Bay.
Since we'd spent a (comparatively) luxurious night washing our clothes and sprucing ourselves up at Rose Gardens Beachside Holiday Park in Albany, and our Bremer Bay camping site would be a proper caravan park, we decided to go save a few dollars by free camping in WA at Betty's Beach and Millers Point Reserve.
Read on to find out more about these beautiful free camps in Western Australia.
---
1. Betty's Beach Camping Area
Just 51km north-east of Albany lies the picturesque free camping area, Betty's Beach. As soon as the coastline came into sight at the end of our 45-minute drive from Albany, it was clear that Betty's Beach was going to be something special.
Betty's Beach is named after a local lady called Betty Jones, one of the original European settlers in the area, who enjoyed camping there over 200 years ago! Betty's Beach is also a popular salmon fishing spot, and you'll see the fisherman's huts as soon as you arrive (they don't live in these by the way!).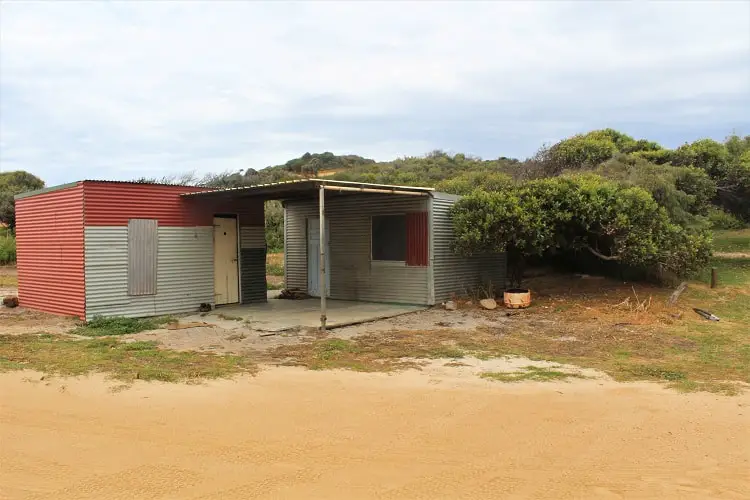 The camping ground is directly behind Betty's Beach – not too bad a view!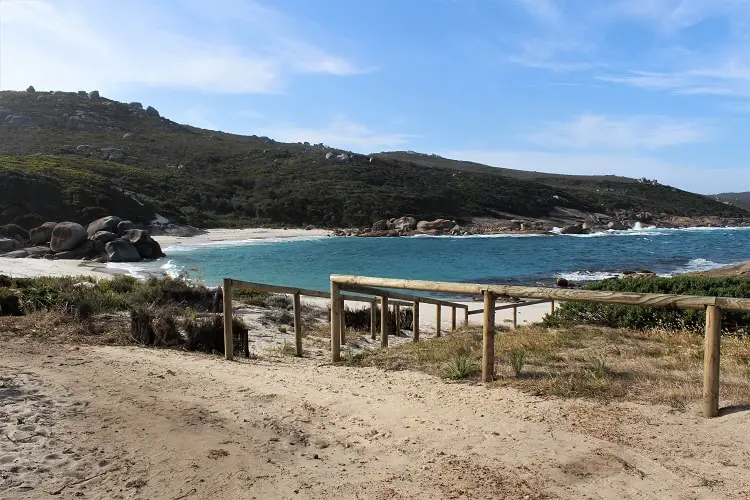 We tucked our tent into a crevice in the bushes in an attempt to escape the persistent south-coast wind (just look at the angle of the tree to see how strong the wind is there!), and went off to explore the beach.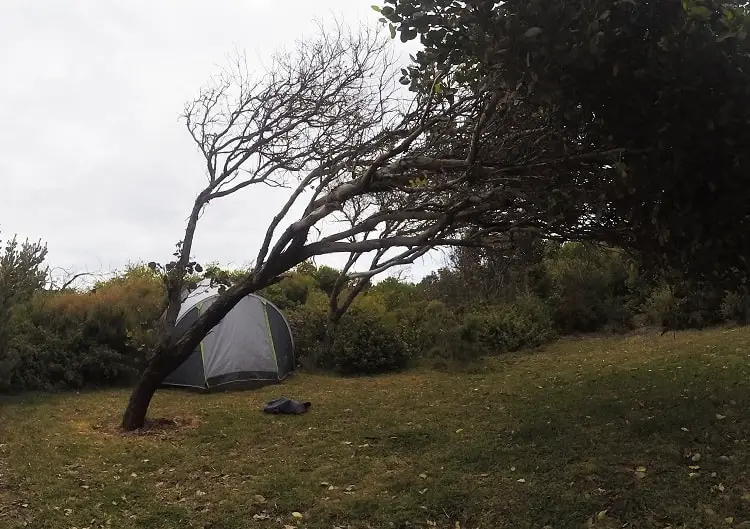 We discovered beautiful soft white sand at Betty's Beach, and amazing views across the bay. Unfortunately it was so windy we couldn't really sit and enjoy it!
But we had a good walk around anyway. We did find the wind pretty extreme on much of our south coast journey, not just Albany to Bremer Bay. But the scenery made up for it.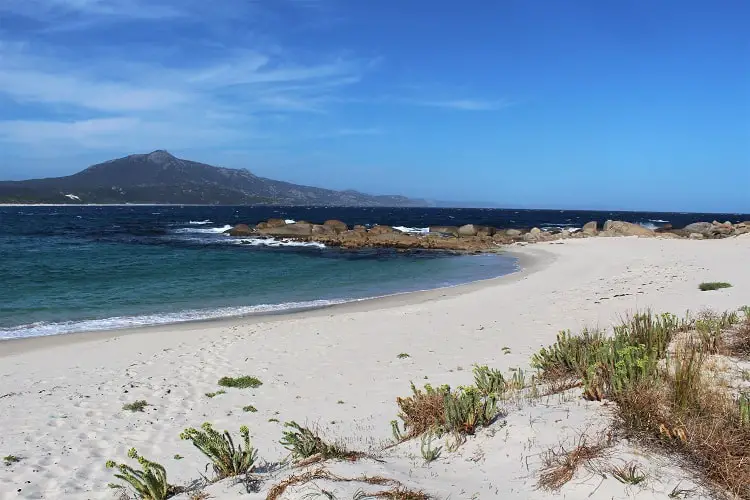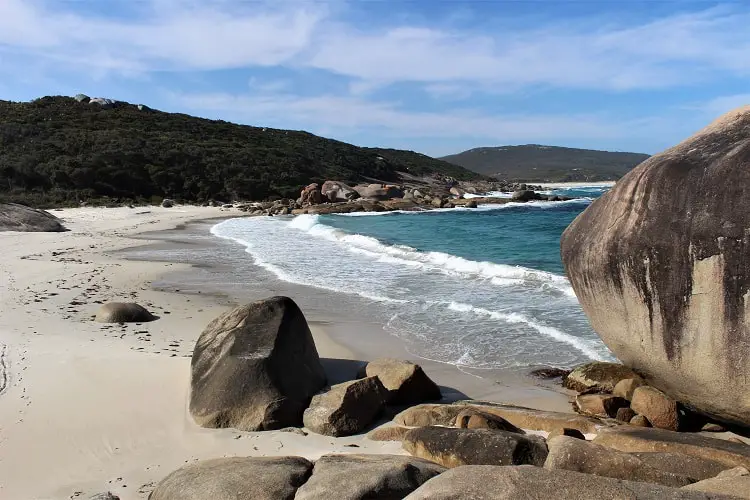 Back at Betty's Beach camping ground, we met a young Australian couple who were travelling in a campervan with their two small children for six weeks, an elderly couple who said they'd just seen a python (eek!) and the little guy below!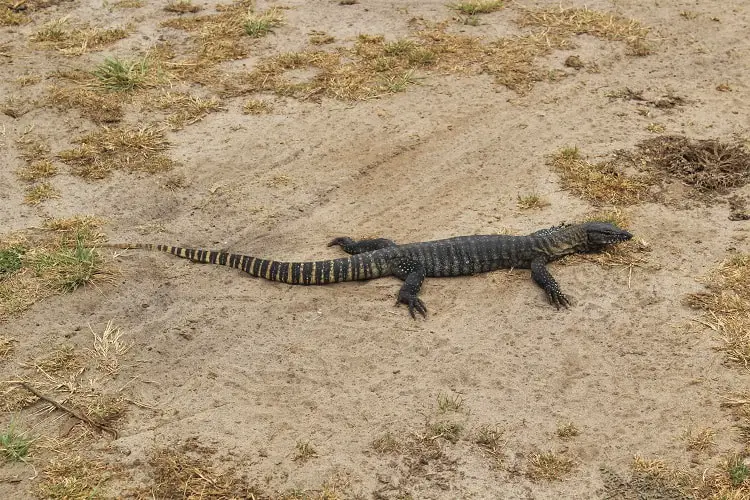 With the wind being so strong, it got seriously cold once the sun went down, and we ended up cooking dinner inside one of the fishermen's huts for shelter!
I have to say I never thought I'd be so pleased to enter a place that looks like a crack den! My standards had definitely dropped. But it was truly a blessing when we were so exposed to the elements. The graffiti left by other travellers was also very uplifting and quite high calibre to be honest!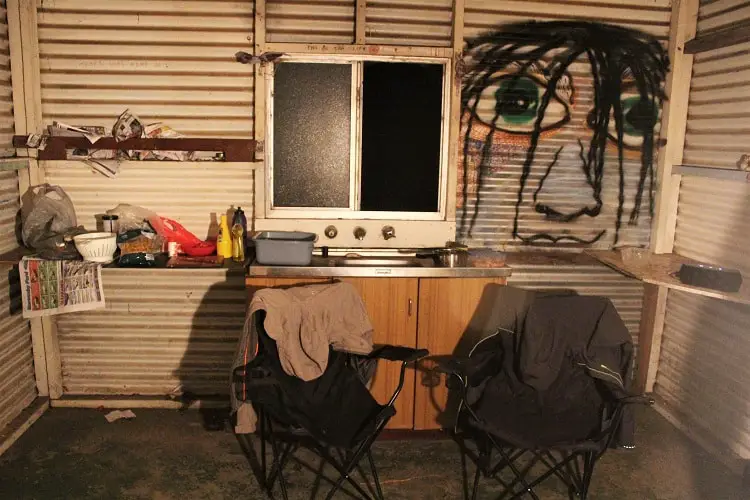 I can confirm that we went back to our tent, despite the wind, and did not sleep on the grotty bed! Apparently a guy lived in there for months earlier in the year though!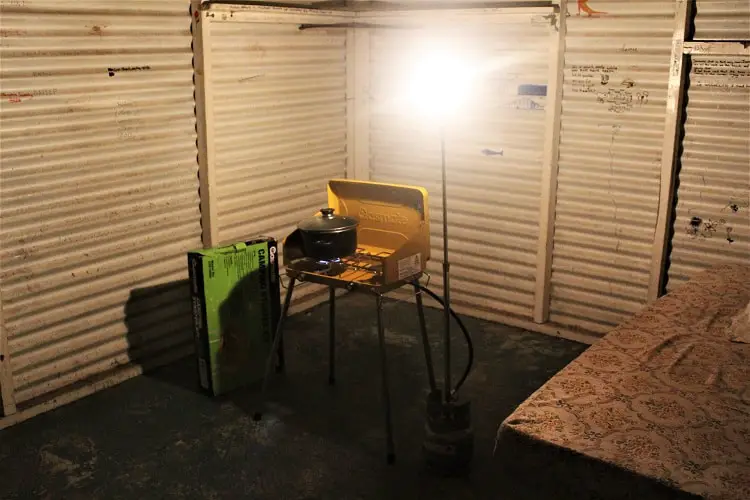 We awoke the next morning to a lovely sunny and totally wind-free day! A miracle indeed! Unfortunately we discovered we'd slightly ripped our tent on the bushes, and the warm, still conditions had brought out the flies en masse.
After stoically sitting on the beach pretending we weren't the least bit bothered by hoards of insects trying to enter our nostrils, we eventually admitted defeat and set off to the next free camping spot on our Albany to Bremer Bay route: Millers Point Reserve.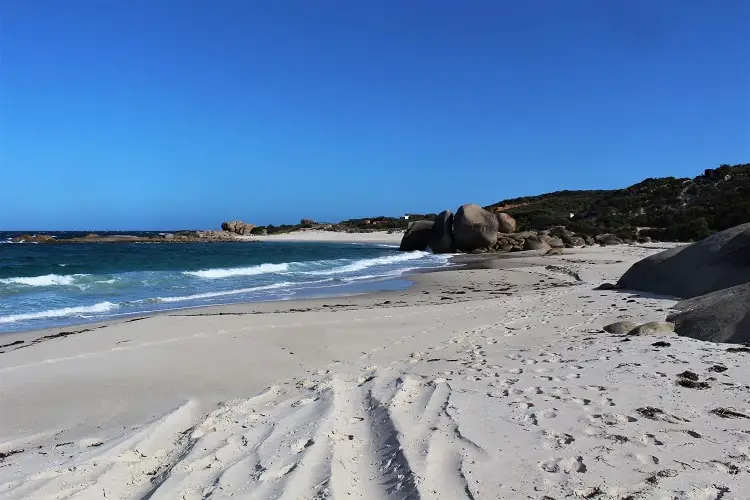 How to Get to Betty's Beach
Head south onto Homestead Road off the South Coast Highway. Go past the turnoff for Normans Beach Road and the road becomes Bettys Beach Road. This takes you all the way to the campground.
---
2. Millers Point Reserve Camping Area WA
I stumbled across the free camping area at Millers Point Reserve in a random blog post, and although it doesn't have a website, we thought we'd check it out.
We got a bit worried we'd taken a wrong turn when we arrived and saw the buildings below, but continued on and saw a sign for the campsite. It did say on the sign that someone would collect fees from campers, but there was no one around at all.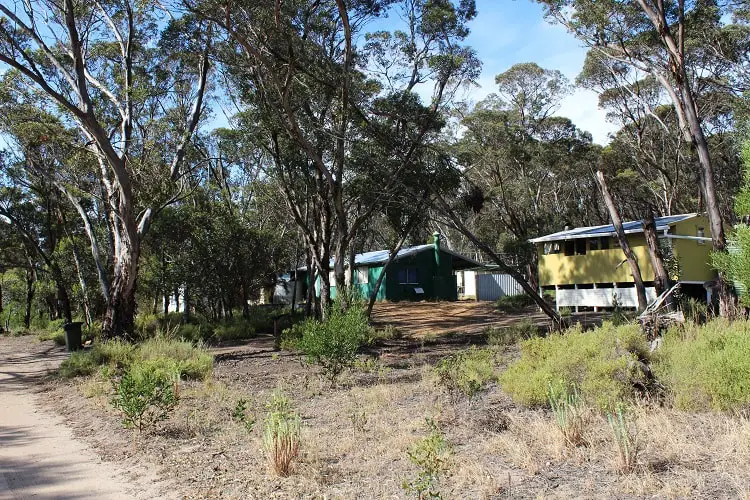 There was literally nothing at Millers Point camping ground except a toilet in a hut (which had a birds' nest in, so I had to keep the door open as they were flying in and out!), but the spot was absolutely beautiful, and extremely peaceful!
Millers Point camping ground is on a long, narrow reserve on the Beaufort Inlet, surrounded by water. We even saw some friendly pelicans floating around (they're everywhere in Australia, but still a novelty to me!). After putting up our tent, we went off to investigate the reserve.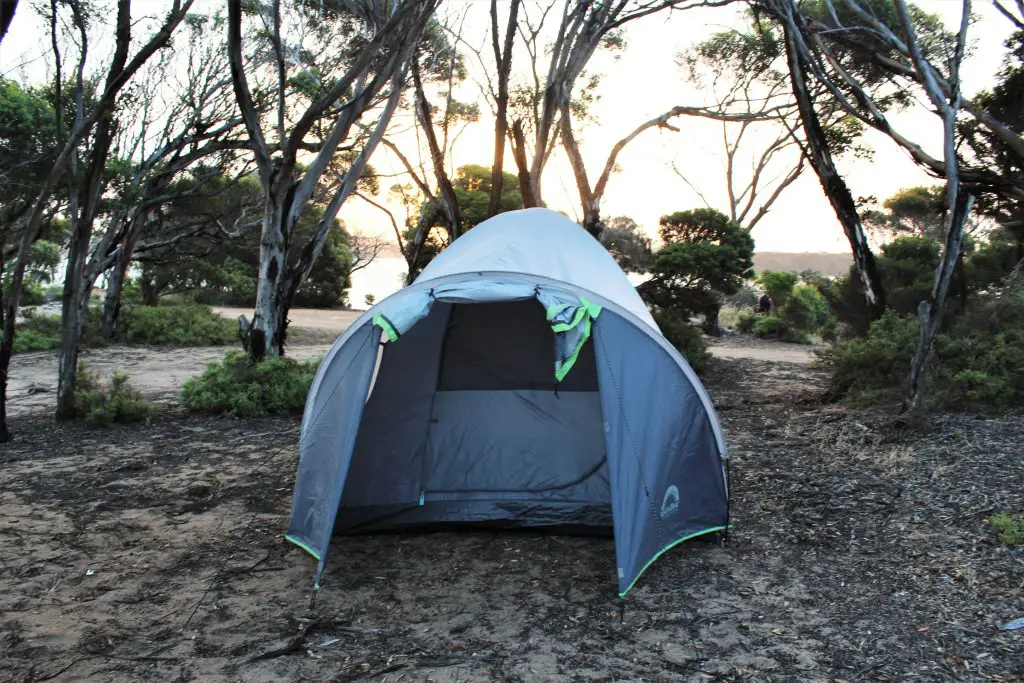 It was very nice to enjoy a wind-free afternoon in such beautiful surroundings! Here's what it looked like.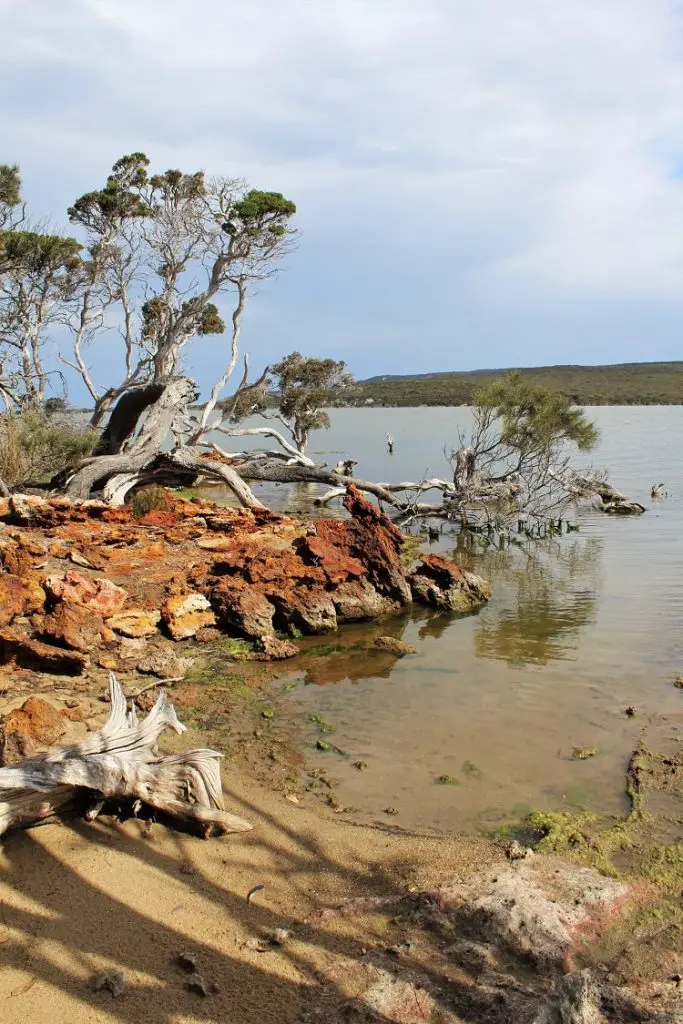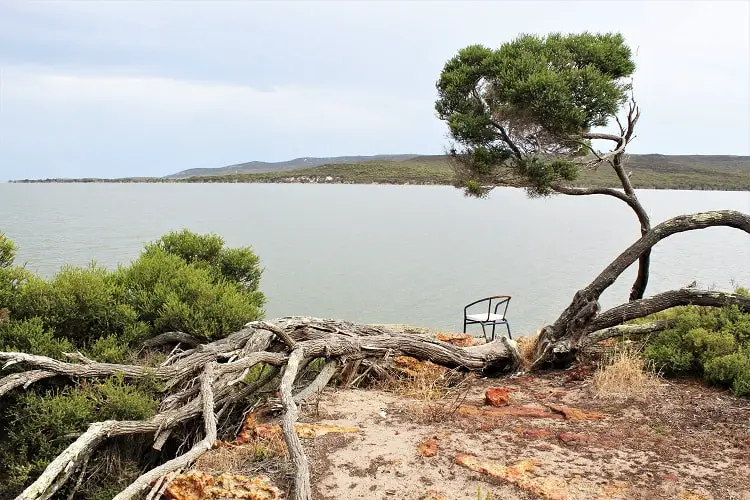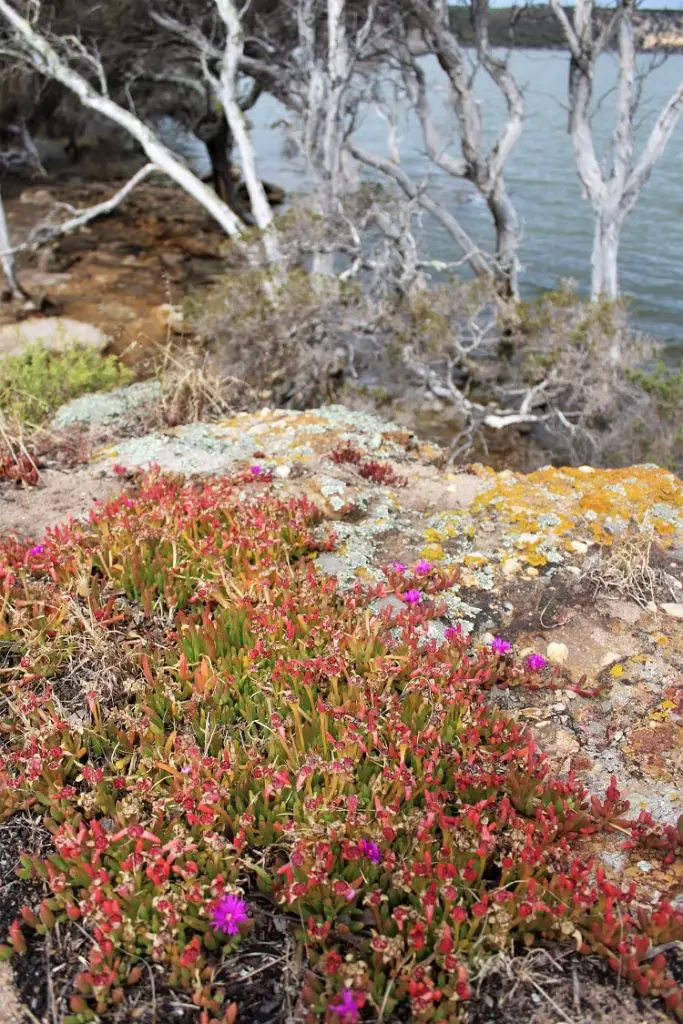 The calm weather didn't last long though. After sitting peacefully by the water reading and watching the pelicans, in what seemed like almost eerie stillness, a flock of birds suddenly swooped past and an almighty wind picked up out of absolutely nowhere!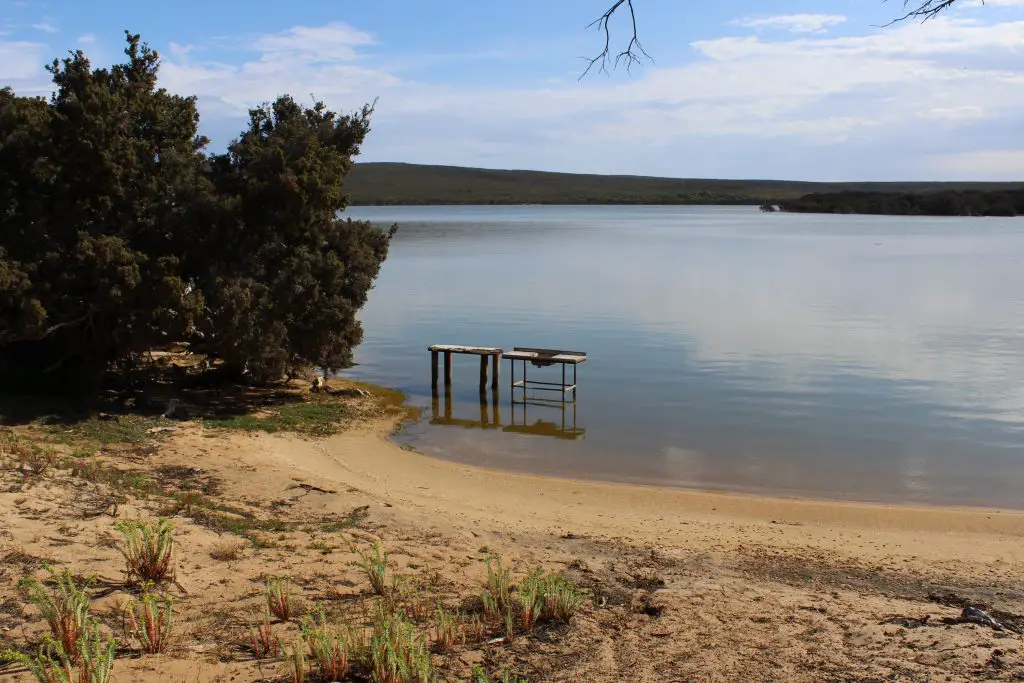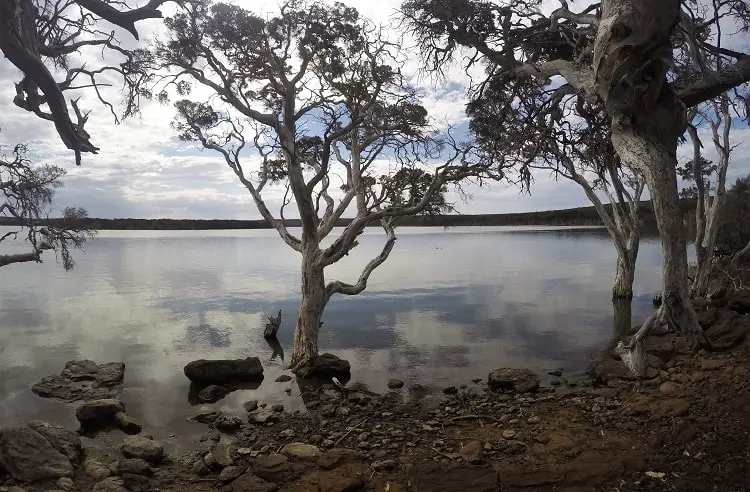 Only one other group of people appeared that night, so we got to enjoy a very quiet (apart from the wind) and beautiful sunset. The only problem was the disgusting amount of mosquitoes and March flies (aka horse flies). Annoying creatures that look a bit like bluebottle flies but with brown stripes.
We'd encountered these before, but they were literally circling our legs! They also have no problem biting you through jeans, and even once through the mesh on Michi's trainers. We were starting to feel like we were on the Hunger Games rather than on holiday!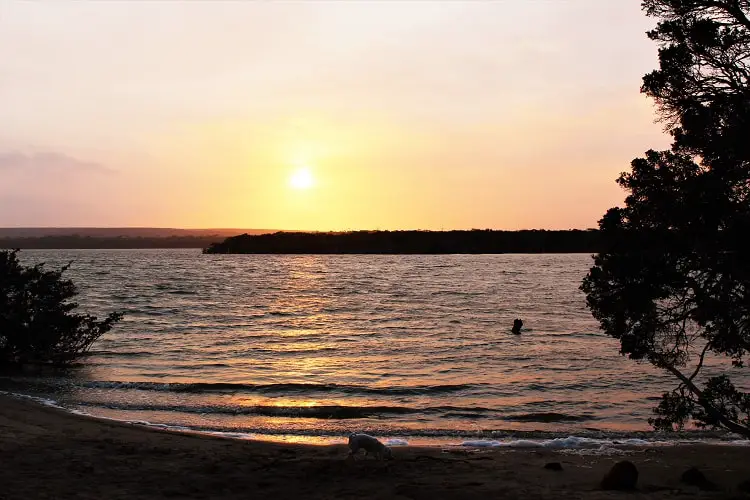 How to Get to Millers Point Reserve Camping Ground
If the insects haven't put you off (it's probably much better out of summertime), you can get to Millers Point camping ground, near Bremer Bay, by turning off the South Coast Highway along the Borden-Bremer Bay Road, south-east towards Boxwood Hill. (You will need to take this road to reach Bremer Bay anyway). Turn right onto Millers Point Road and follow it all the way down.
Just note that the ground was quite hard, so it was difficult putting the tent pegs in. Campervans and caravans would be fine though.
---
After waking the following morning to find we had very little food and water left and the esky (cool box) had got rather warm, we dragged our unwashed selves the remaining 53km to Bremer Bay, to re-stock our supplies and have a good old makeover at a holiday park.
Read all about the best things to do in Bremer Bay next, including where we stayed and what to see there, including killer whales!
If you're planning a road trip of your own, check out my whole five-week Perth to Adelaide drive itinerary, which includes drive stops, distances, accommodation and costs.
---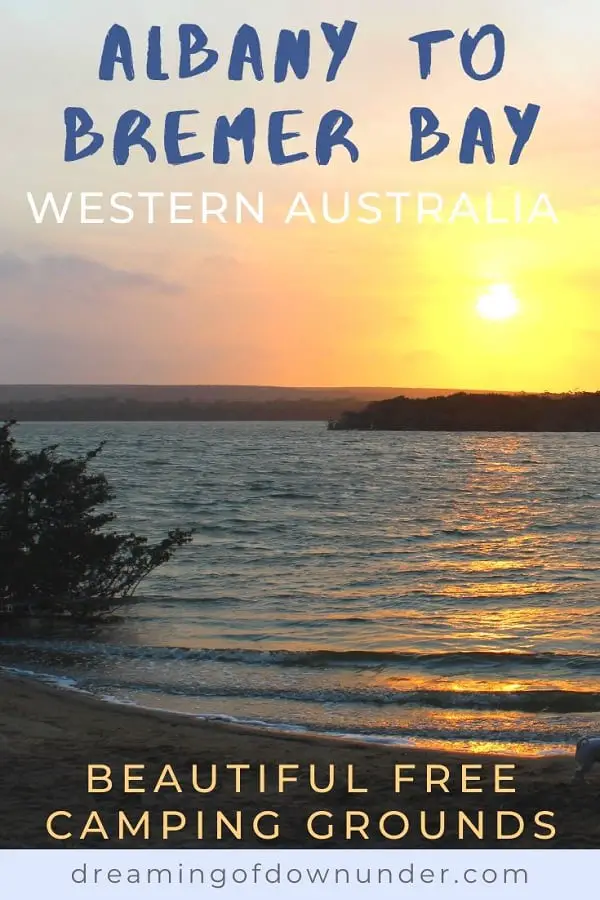 Written by Lisa Bull
Lisa Bull, founder of Dreaming of Down Under, has been living in Australia as a British expat since 2015. After travelling to every state and territory in Australia and living in Perth, Brisbane and Sydney, Lisa knows from first-hand experience the best destinations to visit in Australia and the best budget travel tips. Her guides on this blog have been read by over 700k readers and helped thousands of people achieve their dream of living in or travelling Australia.