This post may contain affiliate links. Please see my disclosure policy for more details.
Blessed with warm weather and the kind of sunsets dreams are made of, Whyalla South Australia, a small city on the Spencer Gulf on the northwest coast of the Eyre Peninsula, is where my travel mate, Michi, and I chose to spend the final two days of our five-week Perth to Adelaide road trip.
While I'd done a lot of research on what to see on the trip, and we were following a rough plan to make sure we reached Adelaide in time for the two-week house sit I'd arranged, I always ran out of steam by the time I got to the final section of South Australia.
So I'll admit that choosing where to stay for our last two days was a bit of a pin-in-a-map situation.
Here's the tale of how Whyalla wasn't quite what we expected. But how disappointment turned to delight when we ended up having a surprisingly enjoyable end to our mammoth journey. Enjoy.
---
Our Hopes for Whyalla South Australia
We'd seen some amazing things on our Perth to Adelaide adventure: gnarled, towering karri trees in the ancient forests of Pemberton; miles of soft white sand dunes in Yeagarup, Western Australia; and gorgeous, playful sea lions on our Baird Bay Ocean Eco Experience.
But we'd also encountered some eventful times. Like losing my phone down a compost toilet at Cape West Howe National Park, having our tent wrecked by a major storm in Esperance, and being stung by a bull ant whilst crossing the Nullarbor!
It had also been quite chilly across the south coast of Western Australia, and nearly always windy. So while it may look like all we did was laze on pristine, empty beaches, much of our time was spent wearing jeans and hoodies, hiking to lookouts and racing around in the car trying to see and photograph as much as we could.
Not to mention sleeping on an airbed in a not-very-waterproof tent every night, wrapped up in multiple layers with a hot water bottle.
By the end of the trip, I was pretty exhausted, and really wanted to spend a relaxing final two days flopping around on a beautiful South Australian beach like the ones we'd just seen in Port Lincoln and Coffin Bay.
Since the weather had finally heated up (although at 43 degrees, it was a bit hotter than we'd expected!), it seemed like a pretty reasonable scenario to hope for.
---
Our First Impressions of Whyalla South Australia
I'd chosen Whyalla based on nothing more than a single picture in a tourist brochure showing a brilliantly white beach swirling around a lighthouse, and the fact that it was a city, and I was totally over bush camping after the bull ant sting/huntsman spider on the car/having no toilet experience on the Nullarbor.
I thought Whyalla was going to be idyllic holiday destination nestled on a mouth-watering coastline. But I should have done a bit more homework.
On arrival in Whyalla, we eagerly took a stroll down to the beach.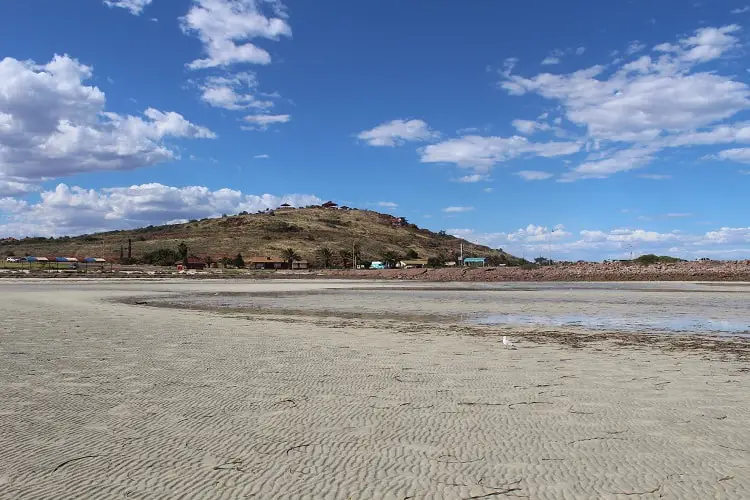 It was murky, brown, damp and mostly covered in sea grass. Hummock Hill, where I'd read there was a scenic lookout, was a small dry mound. And on the other side of the marina lay a huge industrial plant.
We couldn't even cool off in the deep, turquoise water we'd been hoping for, as there was endless miles of squelchy sand instead. And it turned out that Point Lowly Lighthouse, the place pictured in the tourist brochure, was a good half an hour's drive away.
Hhhmph.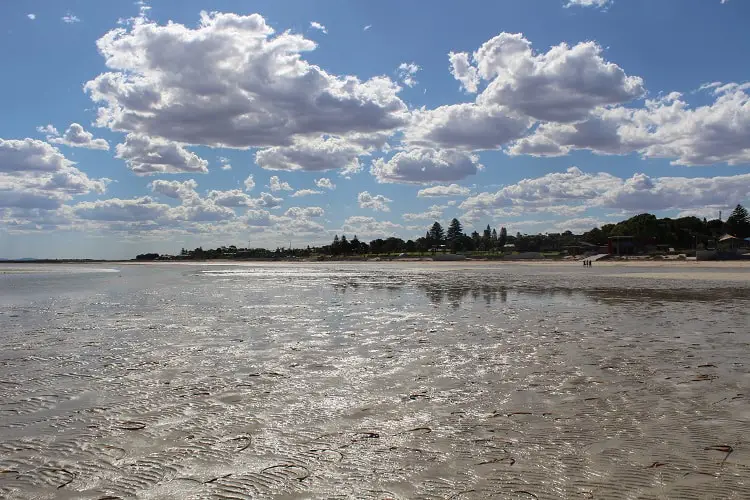 ---
Researching Alternatives to Whyalla South Australia
If you're reading this from a dingy office somewhere with rain pelting against the window, I'm sure you're thinking how ridiculous I sound wanting to escape from a beach resort. You're probably raging enough to throw your coffee over your boss's head (go on, I dare you!).
But the problem with Australia is you get totally spoilt. Once you've had perfect, ten-mile beaches all to yourself, you'll never visit an average seaside town again and think that it's paradise.
We decided to head to The Beach Café, cool down with an iced coffee and look into alternative destinations to Whyalla.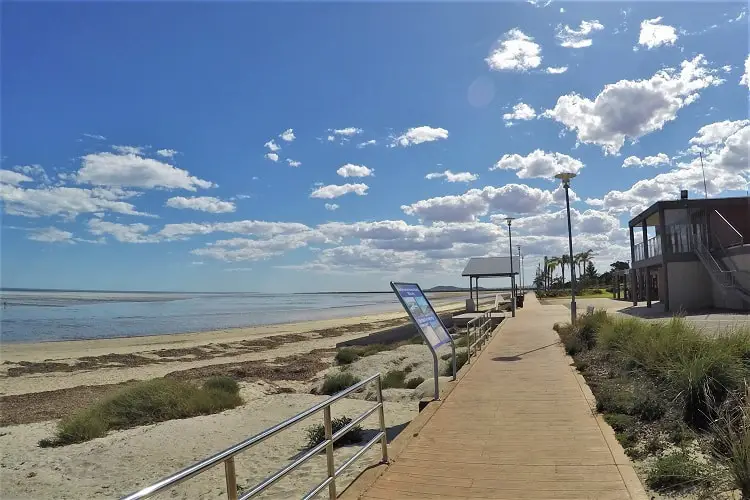 I'd read Port Augusta wasn't anything special, so we crossed that off the list. Michi really fancied Kangaroo Island near Adelaide, which did look amazing, but it was very expensive to get to and wouldn't have been worth visiting for such a short time. And since I didn't want to camp in the wilderness at that point, we decided we would just have to make the most of Whyalla and stop whinging!
So we set about exploring.
---
Exploring the City of Whyalla
Out in the distance we could see a very white sandbar, so we waded out through the shallows to have a better look. It was actually really beautiful up close, and surrounded by very clear water. The sea grass gave a cool patchy effect to the water.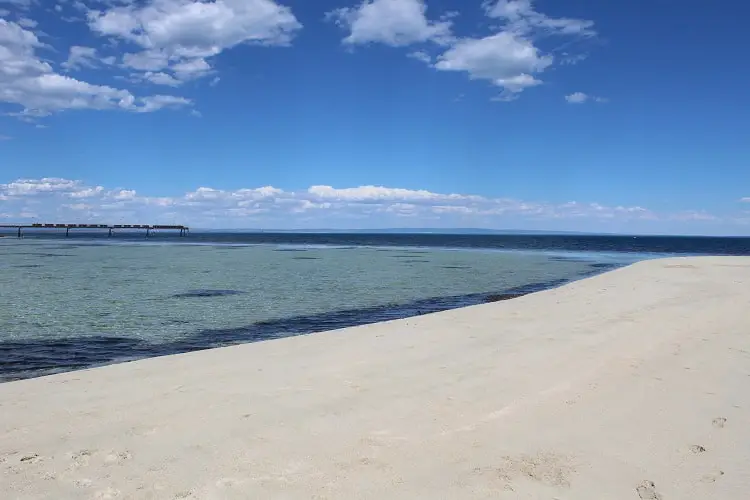 There was also a proper swimming area sectioned off at the marina and a workout area in the park behind the beach that made Michi happy. It seemed we might have been a bit hasty in our perception of Whyalla.
---
Discovery Parks Whyalla Foreshore Caravan Park
After exploring the coastline, it was time to check into our caravan park in Whyalla. We chose Discovery Parks Whyalla Foreshore, as it was right on the waterfront. And as you can see, we were able to pitch our tent a mere 20 metres or so from the beach! Probably the closest out of anywhere we'd stayed.
Things were looking up even more!
Discovery Parks is one of the big chains of holiday parks in Australia, so they always have great facilities. The big chains can sometimes seem a bit overpriced if you're not using most of the facilities (they're usually for children: jumping pillows, playgrounds etc), but the one in Whyalla seemed pretty cool!
The camp kitchen and bathrooms were nice and close to our tent.
There was even a fire pit for cooler evenings! We'd stayed at many holiday parks on our journey, but this was the first time we'd seen one of these!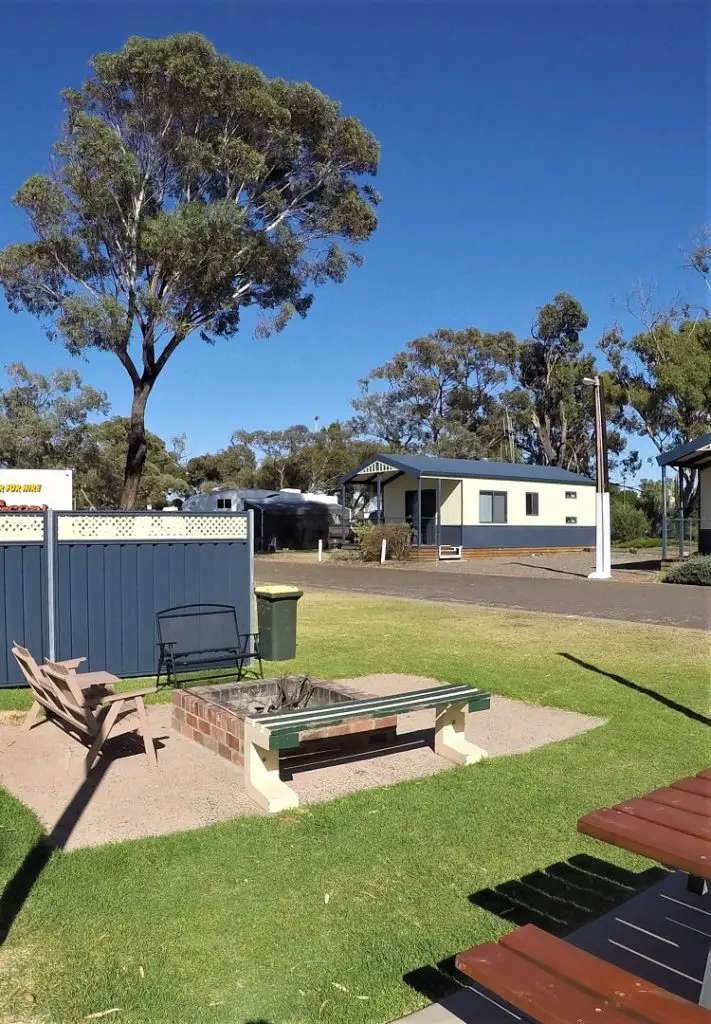 And it was definitely the first time we'd seen such amusing activities on offer! The notice below made me chuckle. Whyalla was starting to grow on us more and more!
It was great to be able to walk the few steps from our tent to the beach in our swimwear without needing to take a bag, and the water was lovely and clear. We decided to lie down in the shallows for a while to cool off.
---
Whyalla Sunset
As the sun went down at the end of that first day, we saw Whyalla in a whole new light (literally). We'd experienced many beautiful sunsets on our journey from Perth, but Whyalla was definitely one of the most gorgeous. The colours were amazing, and the sea grass strewn across the sand only made it more interesting to photograph.
Best of all, the caravan park was so close to the beach we could nip out and watch the sunset without fear of missing it.
---
Operation Pizza at Whyalla Foreshore!
While we'd had some mishaps on our trip, we'd also had times when everything just fell into place. Like the time I just about caught the sunset at Elliston: the sky turned the most amazing crimson I'd ever seen, a sting ray appeared in the shallows and I turned around to see a rainbow!
Our first night in Whyalla provided another of those occasions.
Michi and I both like our food, and for the first time on our trip, we decided to buy pizza bases and make our own pizzas for a bit of a treat. We'd had to make do with cooking on our camping stove for much of our journey, so we thought we'd make use of the facilities and use the oven.
The little kitchen by our tent was packed that evening with a rather rowdy group of Irish men, who I think worked at one of the industrial plants. We squeezed around them anyway and prepared our pizzas. Then just as we were about to put them in the oven, one of the men came over and told us he'd seen a proper pizza oven in the main kitchen.
We hadn't even realised there was another kitchen!
We thanked him and went for a wander. True enough, there was a big, quiet kitchen that no one was using, with a TV, fish smoker and pizza oven! What were the chances of having one of those on the only night we'd ever made pizzas? It was too good to be true.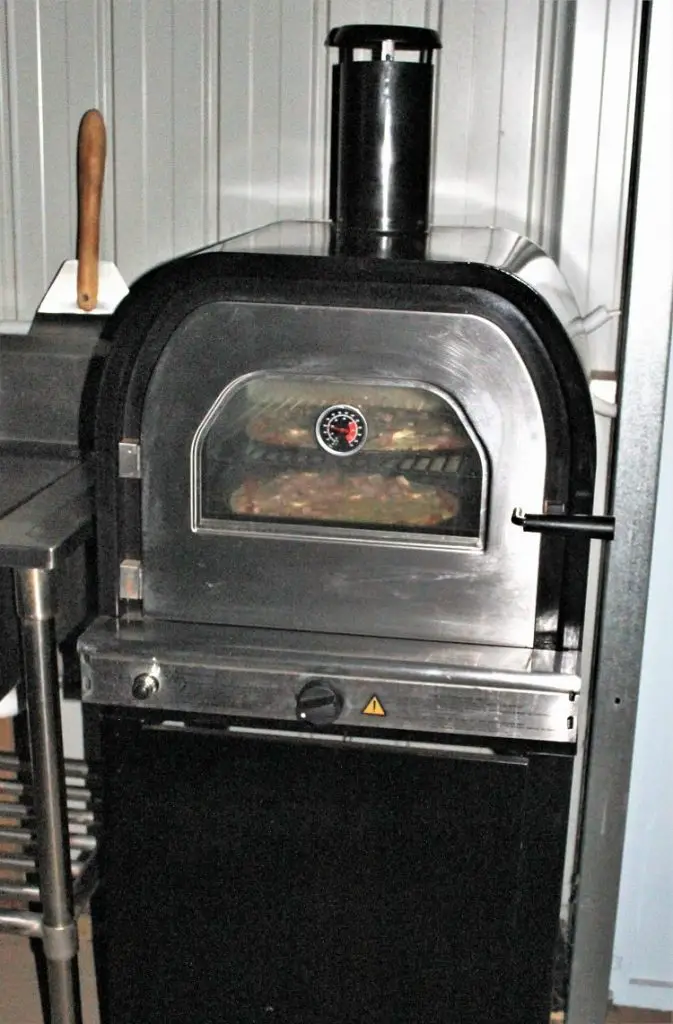 As if that wasn't enough, since it was the school summer holidays there was a temporary outdoor cinema screen next to the kitchen. All the kids were lying on beanbags watching Christmas films! It was a great atmosphere.
After they'd all gone to bed (we were still running on Western Australian time and eating at about 9pm), we sat down to eat and discovered that The Inbetweeners movie was just starting on the TV – one of my faves! It was also now the perfect temperature to sit outside in the evening, and we weren't even being devoured by mosquitos.
Discovery Parks delivered the perfect evening! Whyalla was now firmly in our good books.
---
Swimming at Whyalla Beach
The following morning, I poked my head out of the tent and had a bit of a head-slapping moment. It seemed we had forgotten that very basic fact about tides going in and out (duh). The water at that time of day was lovely and deep. I've never been so happy to see elderly people clinging to inflatables and swimming at snail's pace!
Locals were walking their dogs across the sand, the sun was glistening on the water… It looked like a totally different beach!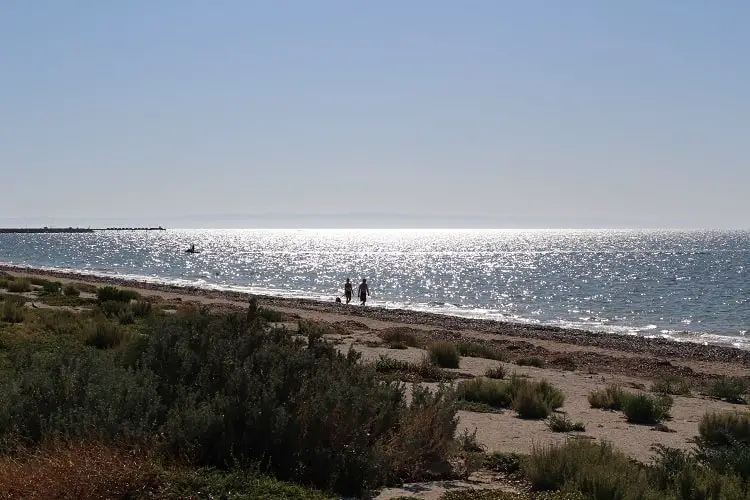 After breakfast we ran across to join everyone and enjoyed a proper swim. A relief as it was yet another 43-degree day!
After the tide went out again, we sat melting over our lunch in the outdoor eating area. But it seemed there was even more to discover at Discovery Parks Whyalla: a member of staff came over and asked if we knew there was a TV room with air con. No we didn't!
While Michi walked to the park in town do an afternoon workout (the activity of a mad man in that kind of heat), I flopped down on the sofa in the A/C and tried not to die of heat stroke before summoning the energy to go for a swim in the sectioned off area at the marina.
---
Whyalla Cinema Failure
We'd planned to go to Whyalla cinema that evening, but unfortunately we were running late, and by the time we got there all the tickets had sold out. It was actually just a tiny cinema inside a college, so we didn't mind holding off until Adelaide.
It all turned out OK though when we returned to the caravan park and got treated to another spectacular sunset before making the most of our newly discovered TV room that no one else seemed to know about.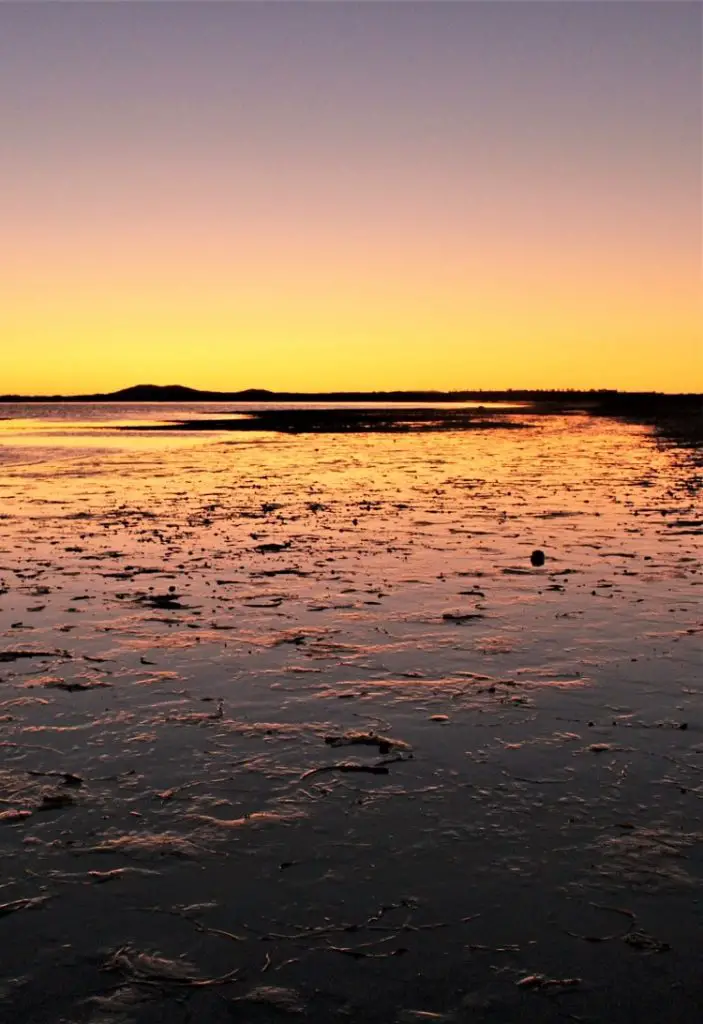 ---
The following morning we set off on the 4.5-hour drive to Adelaide, where we were reuniting with our friend Mirka to spend Christmas and New Year looking after a German Shepherd called Diesel in the Adelaide suburbs.
So after our initial disappointment, two days in Whyalla turned out to be the perfect ending to our brilliant road trip. Although we were very much looking forward to the comforts of living in a three-bedroom house for a fortnight!
If you're thinking of doing the same journey as us, make sure you read my Perth to Adelaide drive itinerary, which includes all the drive stops, campsites and costs.
The tips and tales will continue on our next trip from Adelaide to Melbourne! But if you're interested in our Adelaide antics, here's my blog post about our New Year's Eve in Adelaide (and why it beats New Year in Sydney).
---
Like it? Pin it!