This post may contain affiliate links. Please see my disclosure policy for more details.
Blessed with a Mediterranean climate and a fantastic beachfront location, Whyalla, South Australia, is a unique city located on the Spencer Gulf on the north-eastern coastline of the Eyre Peninsula.
I stayed in Whyalla at the end of my Perth to Adelaide road trip, after exploring Port Lincoln. I was eager to spend some time in a the fourth-largest city in South Australia after bush camping across the Nullarbor Plain where I got bitten by a bull ant!
I'll be frank – on first sight, I was rather disappointed with Whyalla. I'd stayed at endless stunning beach locations across Western and South Australia and hadn't realised that Whyalla was a major steel producer and industrial city.
However, after experiencing a few days on holiday in Whyalla SA, I ended up absolutely loving it! Read on to find out the best things to do in Whyalla that I discovered on my trip.
---
Whyalla South Australia: Table of Contents
---
Whyalla Facts
What is Whyalla known for?
Whyalla is known for its steelworks industry and is often referred to as "Steel City". It is part of what's known as the Iron Triangle, along with fellow South Australian steelmaking cities, Port Pirie and Port Augusta and the main manufacturing centre in the upper Spencer Gulf.
Whyalla is also known as the only place in the world that giant Australian cuttlefish gather to breed.
Can You Swim at Whyalla Beach?
Yes, you can swim at Whyalla Beach! I would advise looking up the tide times though, as the water is extremely shallow for a long distance when the tide is out.
What is the current population in Whyalla?
Whyalla has a population of just under 22,000, making it the fourth-most populated city in South Australia. Adelaide, Mount Gambier and Gawler are the most populated cities in SA.
Where is Whyalla?
Whyalla, South Australia lies on the north-eastern coastline of the Eyre Peninsula, on the upper Spencer Gulf.
What does Whyalla mean in Aboriginal?
Whyalla means "place with deep water". It is thought that Aboriginal tribes, known as the Barngala people, had occupied the Whyalla region for over 6,000 years before European settlement.
---
Things to do in Whyalla South Australia
If you're wondering what to do in South Australia, here are the best things to do in Whyalla, SA!
1. Explore Whyalla Jetty
Back in 2019, construction began on an impressive circular jetty to upgrade Whyalla's foreshore. Built by Maritime Construction, using steel from the local steelworks company, Whyalla jetty is an impressive 315m long.
The disabled access and ambient lighting around the handrail make the jetty an accessible Whyalla attraction at any time of day. The new jetty hadn't been built yet on my visit, but it looks like a great improvement on the old one.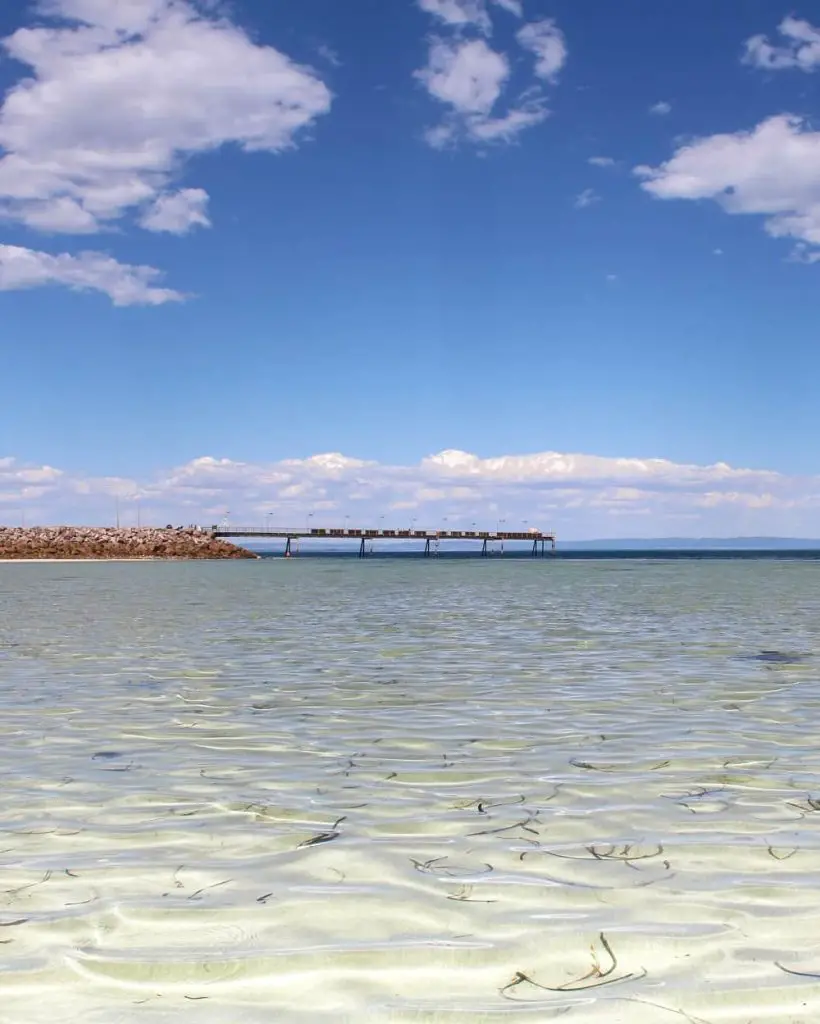 ---
2. Swim with Cuttlefish in Whyalla
The most unique thing to do in Whyalla is watch the annual giant cuttlefish congregation. Between May and August each year, during cuttlefish season, tens of thousands of giant Australian cuttlefish gather in the waters off Whyalla, South Australia to mate and spawn.
South Australia is the only place in the world where the giant Australian cuttlefish gather in such numbers. This spectacular species can alter their colour and shape to both blend in with their surroundings and attract a mate. They can also grow up to 60cm long!
The cuttlefish congregate in the waters around Point Lowly and Stony Point in the Upper Spencer Gulf Marine Park, where the females can lay their eggs and attach them to the rocks in the seabed.
Following a ban on fishing for cuttlefish in the Arnoo Bay to Wallaroo area, implemented by a new state government, cuttlefish numbers in Whyalla increased enormously in 2022.
Here are your options if you want to know how to see the annual cuttlefish gathering in Whyalla.
Guided Cuttlefish Snorkel Tour
Whyalla Diving Services offer guided snorkelling tours to see the giant Australian cuttlefish for both confident swimmers and those who need a little more support in the water.
Whyalla Cuttlefish Dive
If you prefer to dive, you can also book a Whyalla cuttlefish dive with Whyalla Diving Services. They offer tours for both beginners and certified divers. You can alternatively bring your own diving equipment and hire a guide.
Self-guided Swim with Cuttlefish in Whyalla
If you're confident in the water, the cuttlefish are apparently perfectly safe to swim around and far too busy finding a mate to be bothered by humans! Head to Point Lowly or Stony Point with your own snorkel gear to swim with the cuttlefish.

You can hire equipment from Whyalla Diving Services if you need to. It's recommended to wear a full wetsuit at that time of year, as the water is extremely cold.

At Stony Point you'll find a boardwalk into the shallow water with a waist-height chain to hold onto. You don't need to enter deep water to see the cuttlefish. Just be careful not to slip on the rocks.
Glass Bottom Boat
If you'd rather stay out of the chilly winter water, your best option is Cutty's Glass Bottom Boat Tour. This 45-minute adventure departs from Stony Point or Point Lowly Lighthouse and takes you to the best cuttlefish-spotting locations!
---
3. Relax at Some Whyalla Beaches
Here are some of your options if you want to enjoy Whyalla's beaches, including those accessible from the city and further afield.
Whyalla Beach (Foreshore Area)
If you don't want to stray too far, stroll down to Whyalla foreshore to enjoy the city's closest beach. Whyalla Beach has great facilities nearby, including adjoining Ada Ryan Gardens, barbecues, a beach cafe, workout station and children's playground.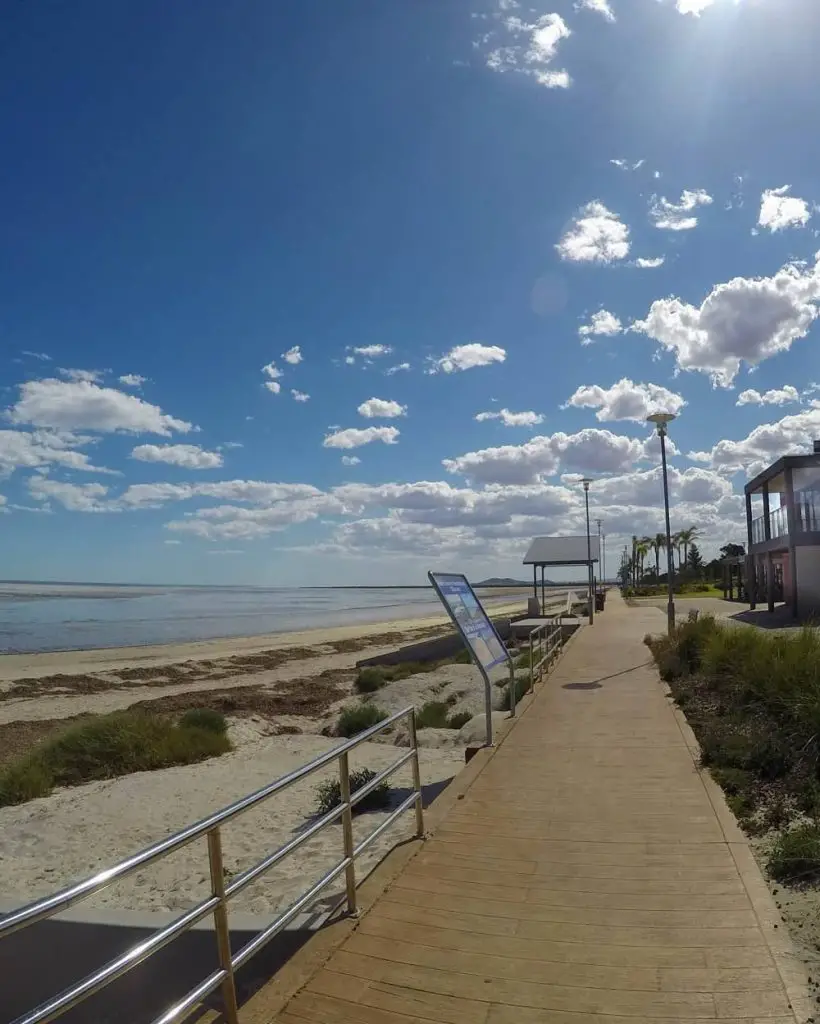 Just note that you'll need to make sure the tide is in if you want to swim in the sea. You'll be squelching around in wet sand otherwise!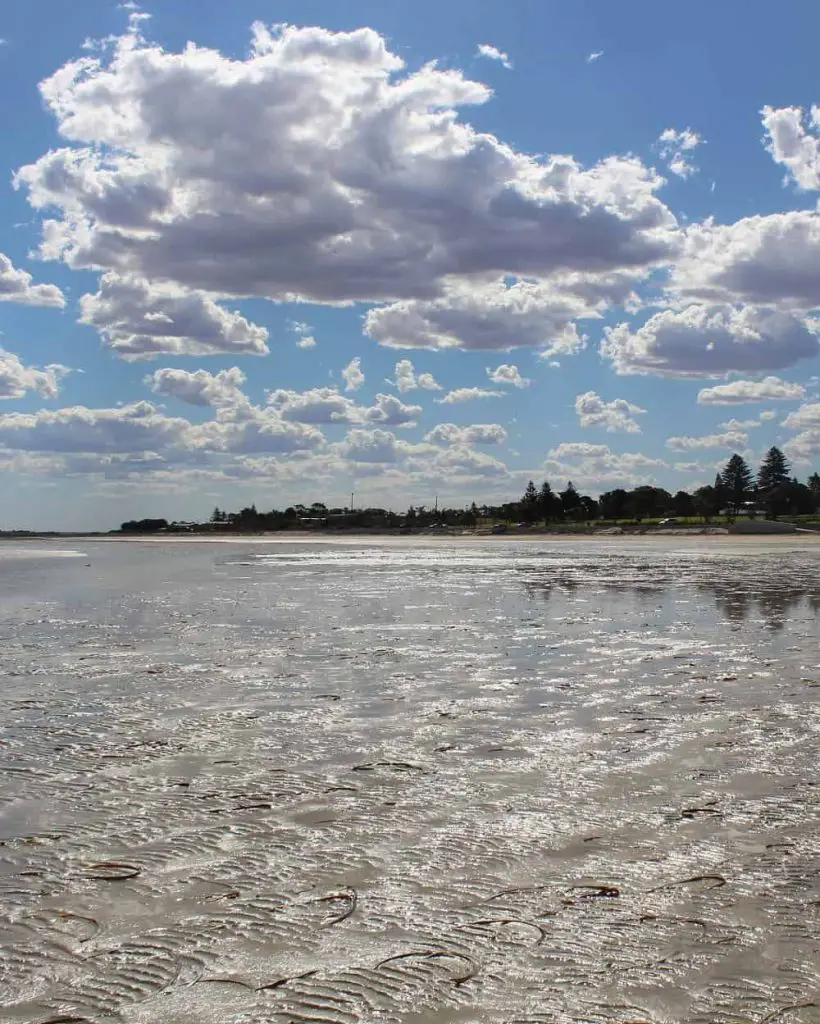 At low tide, we took a walk out to a very white sandbar at the eastern end of the beach, which looked amazing next to the clear water!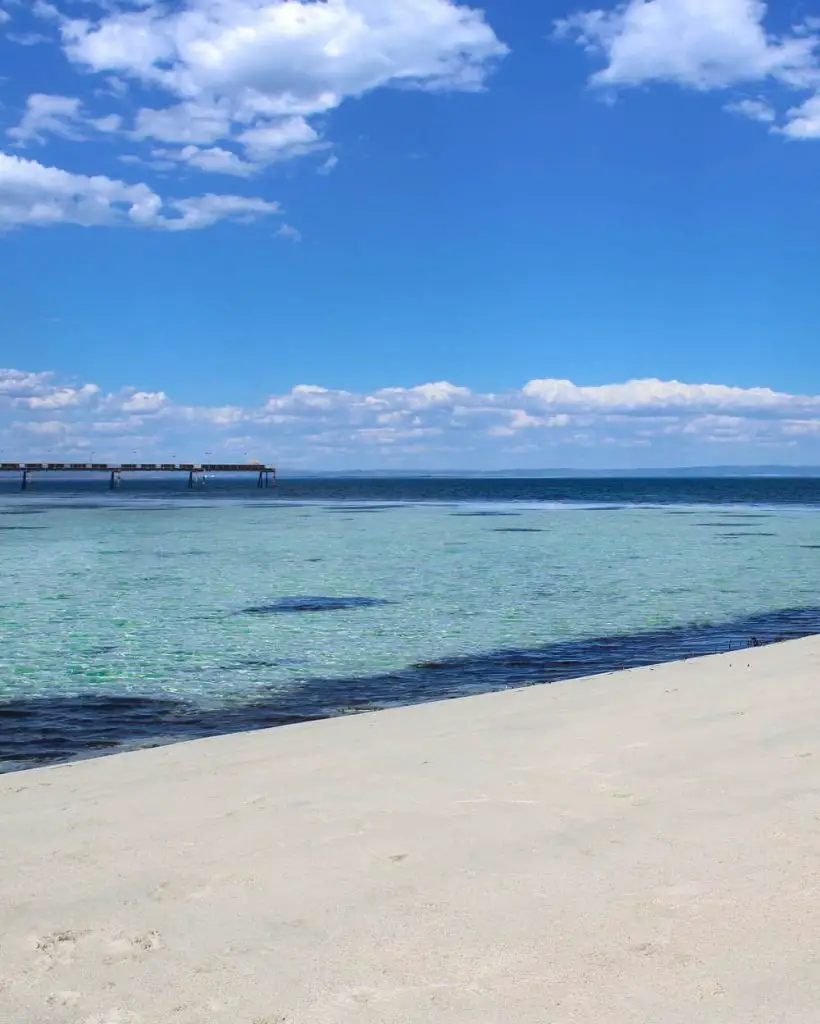 False Bay
Further afield, drive northeast to the sandy beach at False Bay, which stretches from Whyalla Steelworks across to Black Point.
Point Lowly Beach
Continue east to reach Point Lowly Beach, which is a 20-minute drive (35 km) from Whyalla. Point Lowly has parking, toilets, cold showers, a breakwater and fantastic views across to the Flinders Ranges.
Fitzgerald Bay
To see some more unusual South Australian scenery, head 20 km east of Whyalla to Fitzgerald Bay, where the Freycinet Trail begins. Here, pebble beaches are lined with mangroves, and views stretch out to the Southern Flinders Ranges. You can even bush camp at three areas along the coastline!
---
4. Visit Point Lowly Lighthouse
One of the top things to do in Whyalla is visit heritage-listed Point Lowly Lighthouse. Built in 1883, the lighthouse and its keepers' cottages are the oldest buildings in Whyalla.
---
5. Swim at Whyalla Marina
For deeper swimming waters than the beach provides, head to the fantastic swimming enclosure at Whyalla marina.
Since I visited Whyalla in summertime, and it was over 40 degrees, I loved cooling off in the marina! The ocean was too shallow to swim in when the tide was out.
---
6. Learn About the Steel Industry at Whyalla Steelworks
Producing around 1.2 tonnes of raw steel each year, Whyalla Steelworks is a major industrial site in South Australia, operating 24/7. The steelworks operation includes the mining of raw materials, as well as converting material to a finished product in the Whyalla Rolling Mill.
To learn more about Whyalla's steel production, head to Whyalla Visitor Centre on Lincoln Highway to book a Whyalla Steelworks tour.
---
7. Visit Whyalla Maritime Museum
To learn about Whyalla's maritime history, pay a visit to Whyalla Maritime Museum. Here, you can take a guided tour of HMAS Whyalla, the first ship built in the Whyalla Shipyards in 1941.
---
8. Stroll Around Whyalla Conservation Park
Just 10 km north of Whyalla lies the semi-arid plains of Whyalla Conservation Park. Take the short bush walk up Wild Dog Hill at sunset to enjoy expansive views across the land. Keep an eye out for Red and Grey Kangaroos, as well as native birdlife.
---
9. Enjoy the Views from Hummock Hill, Whyalla
For a 360-degree aerial view of Whyalla, drive up the one-way sealed road at the eastern edge of the city to Hummock Hill lookout.
From here you can admire views of Whyalla Foreshore, the huge OneSteel site, Point Lowly, Whyalla city and across to the Middleback Ranges and Southern Flinders Ranges.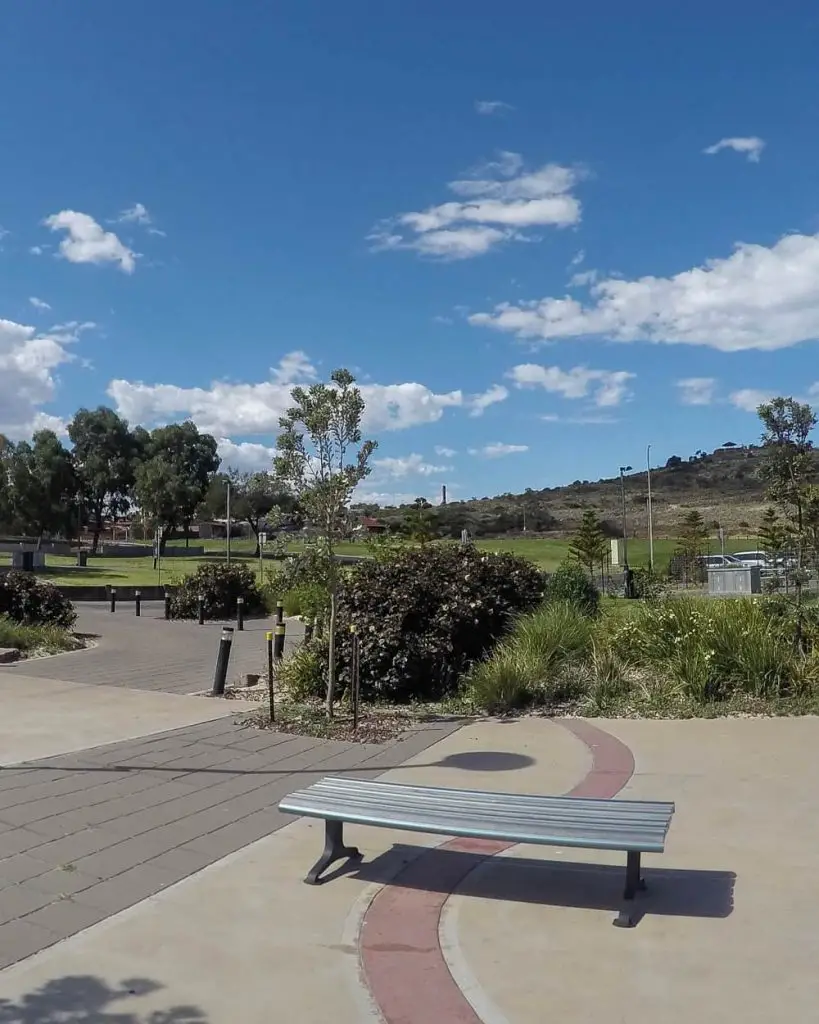 ---
10. Experience Spectacular Whyalla Sunsets
One of the best things to do in Whyalla is watch the phenomenal sunsets! I travelled much of the south coast of Australia, but I thought Whyalla had some of the most gorgeous sunsets I'd ever seen.
The colours there were amazing, and the sea grass strewn across the sand only made it more interesting to photograph.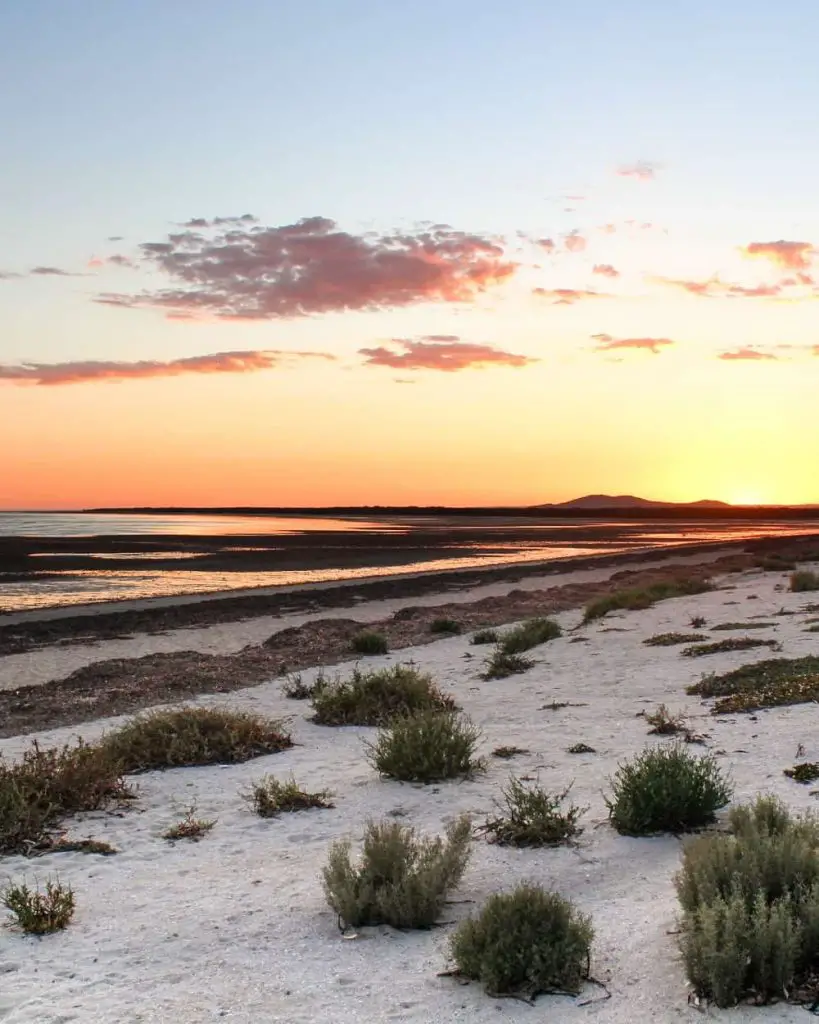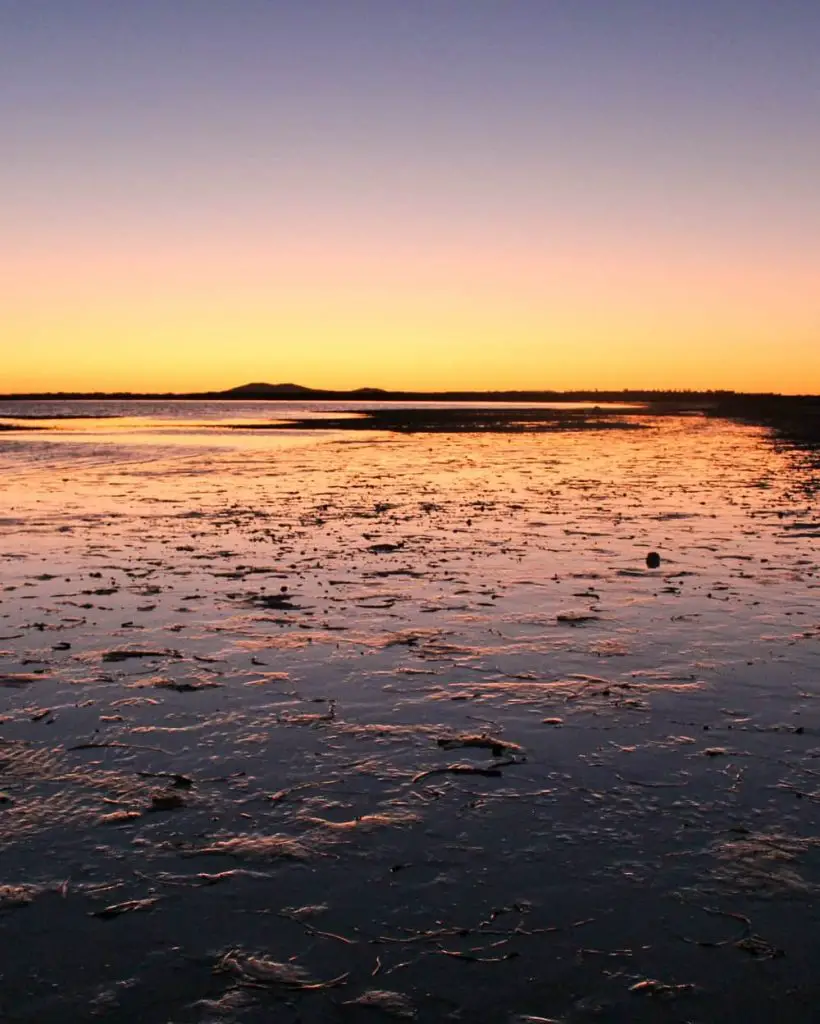 ---
11. See a Movie at Whyalla Cinema
For a fun evening out, visit Whyalla Cinema inside Middleback Arts Centre. The cinema has disabled access and a fully licensed bar.
I tried to see a movie in Whyalla, but tickets had totally sold out on arrival! Make sure you book ahead, as it is a small cinema.
---
12. Go Bowling in Whyalla
If you fancy a fun night with family or friends, test out your sporting skills at traditional bowling alley, Bowland Whyalla, open daily and located at 103 Essington Lewis Avenue.
---
13. Go Shopping in Whyalla
The best place I found to stock up on food, camping gear and clothing in Whyalla city centre was Westland Shopping Centre.
You'll find a Woolworths supermarket, Liquorland bottle shop, Kmart, post office and a selection of clothing shops and eateries.
---
14. Eat at Whyalla's Best Restaurants and Pubs
I mostly cooked at the campsite, but some of Whyalla's best-ranked restaurants and pubs on Trip Advisor include Tandoori Guru for Indian, Lam Inn for Chinese and Sundowner Motel Hotel for pub food.
Percy's on Playford, the licensed restaurant and bar at Alexander Motel Inn, is a little more upmarket, with plenty of steak and seafood options.
---
15. Enjoy Coffee at Whyalla Cafes
For breakfast, brunch, lunch or a relaxed coffee, some popular cafes in Whyalla are Sumthin' Tastee at Whyalla Wetlands and Breeze Bistro near Bowland Whyalla.
---
Accommodation in Whyalla, South Australia
Here are some of the best accommodation options in Whyalla, including hotels, motels and caravan parks.
Hotels in Whyalla
Westland Hotel Motel

: You'll be able to enjoy a sauna, swimming pool, two bars and a restaurant at this 4* hotel in Whyalla. All rooms include a fridge, kettle, dining area and air-conditioning, and some have balconies and spa baths.
New Whyalla Hotel: This accommodation features single, twin and queen-sized beds in air-conditioned rooms, all with private bathrooms. You'll find a bar and restaurant on-site, as well as free WiFi in public areas.
Spencer Hotel: With single rooms with a shared bathroom starting at $35, Whyalla's oldest pub is great for budget travellers. The accommodation also offers en-suite single and family rooms with air-con, TV and a kettle.
Whyalla Motels
Alexander Motel Whyalla: This 4* motel has a fantastic outdoor swimming pool, sauna and free WiFi. All rooms come with a patio, microwave, kettle and private bathroom.
Foreshore Motor Inn: With a stunning beachfront position, surrounded by beautiful gardens, this 4* motel in Whyalla is a top choice in terms of location. Rooms feature air-con, fridges, a TV and views of the ocean or Ada Ryan Gardens.
Sundowner Motel Hotel: With 37 newly renovated motel rooms on the ground floor and extra space for boats, trailers and caravans, the Sundowner is a great choice for travellers who need extra parking. There's also an on-site bistro, sports bar and bottle shop.
Whyalla Foreshore Discovery Park
If you're looking at Whyalla caravan parks, we camped at the brilliant Whyalla Foreshore Discovery Park, which was the highlight of our time in Whyalla, SA. While Discovery Parks tend to be a little more expensive than other caravan parks in Australia, they do have excellent facilities.
Discovery Park Whyalla has a variety of powered sites for camping, vans and caravans, as well as a choice of cabins. There are plenty of features to keep kids and adults entertained, including a jumping pillow, playground, social events, equipment hire and both sports and water activities.
Here are the features at Whyalla Foreshore Caravan Park that we enjoyed the most.
Beachfront Location
Our tent site at Whyalla Discovery Park was literally a few steps away from the sand. This was the closest we camped to the beach on our whole Perth to Adelaide road trip! It was fantastic to be able to go for a swim or sunbathe without needing to carry a bag.
The location also meant that we could easily nip to the beach to watch the amazing sunsets each night.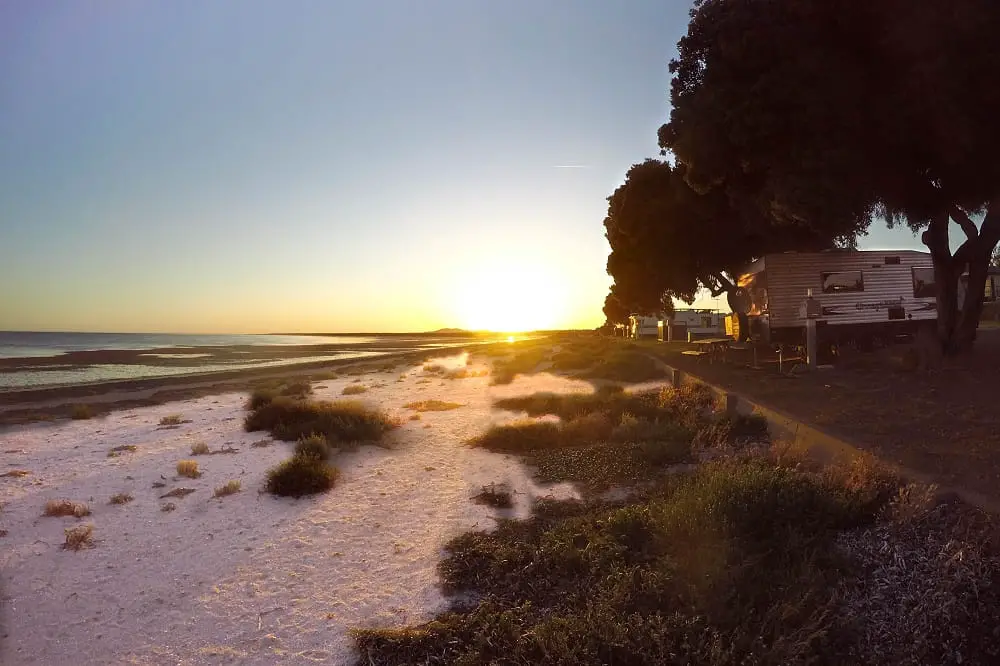 Camp Kitchen and Pizza Oven
The camp kitchen was located conveniently close to our camping pitch, but there was also a bigger kitchen. We decided to make pizzas one evening, then discovered that there was a proper pizza oven in the main kitchen, as well as a fish smoker!
Outdoor Cinema
This was a temporary feature during the school summer holidays, but Whyalla Foreshore Caravan Park had even installed an outdoor cinema screen! The atmosphere was lovely, with all the children watching Christmas films on beanbags in the evening.
Air-Conditioned TV Room
We'd been really glad of TV rooms at the many holiday parks we stayed at on our trip, but usually to shelter from the cold south coast evenings and wind. This time, it was a place to escape the 43-degree heat in the afternoons!
---
Sundowner Tourist Park
An alternative tourist park in Whyalla is Sundowner Cabin and Tourist Park, which is located towards the airport. With 72 deluxe cabins in a variety of sizes and long and short-term stays available, Sundowner has something for everyone. They even have converted school buses!
The park also has a laundry and gas barbecues with outdoor seating. The Sundowner Hotel is a short walk away if you prefer to eat out. Note that this isn't a park for camping or caravans, only cabins.
---
How to Get to Whyalla, South Australia
If you're travelling from Adelaide to Whyalla, here are some of your transport options and driving distances, as well as the distance to a few of the surrounding destinations.
Adelaide to Whyalla Drive
If you're planning a South Australian road trip, the Adelaide to Whyalla distance by road is 383 km, which takes about 4 hours 20 minutes to drive. You need to take the National Highway A1 from Adelaide, which turns into the Lincoln Highway B100 at Lincoln Gap.
Alternatively, continue slightly further on the National Highway then turn left onto Iron Knob Road. Iron Knob is where the first iron ore deposit was found in 1894, and you can visit the Iron Knob Mining Museum, the Iron Knob Community Tourist Centre and stay at the caravan park.
Adelaide to Whyalla Flights
Direct flights from Adelaide to Whyalla take 50 minutes, and you can fly with Qantas or Rex. Start with Skyscanner to find the cheapest Whyalla flights. Whyalla Airport is located to the west of the city, only 6 km from the foreshore.
Adelaide to Whyalla Bus
The Stateliner bus from Adelaide to Whyalla takes approximately six hours. Stops include Port Pirie, Port Germein and Port Augusta, amongst others.
South Australian Drive Stops from Whyalla
The 77 km Whyalla to Port Augusta drive takes 50 minutes;
Whyalla to Port Pirie is a distance of 168 km, which takes 1 hour 50 minutes to drive;
The drive from Whyalla to Port Lincoln is 267 km, which takes 2 hours 45 minutes by car;
Whyalla to Coober Pedy is 611 km, which takes 6 hours 15 minutes by car.
---
Weather in Whyalla
Whyalla has a dry, Mediterranean-style climate, with an average of only two or three days of rain per month in the summer and five days per month in the winter.
With around 124 days of sunshine per year, the city is ideal for enjoying outdoor activities, such as swimming or watersports!
I visited Whyalla in summertime, and it was well over 40 degrees in the daytime!
The average summertime temperature in Whyalla is between 27 and 29 degrees maximum and 17 to 19 degrees minimum.
During winter, Whyalla reaches an average of 17 to 19 degrees maximum in the daytime and drops to 7 or 8 degrees overnight.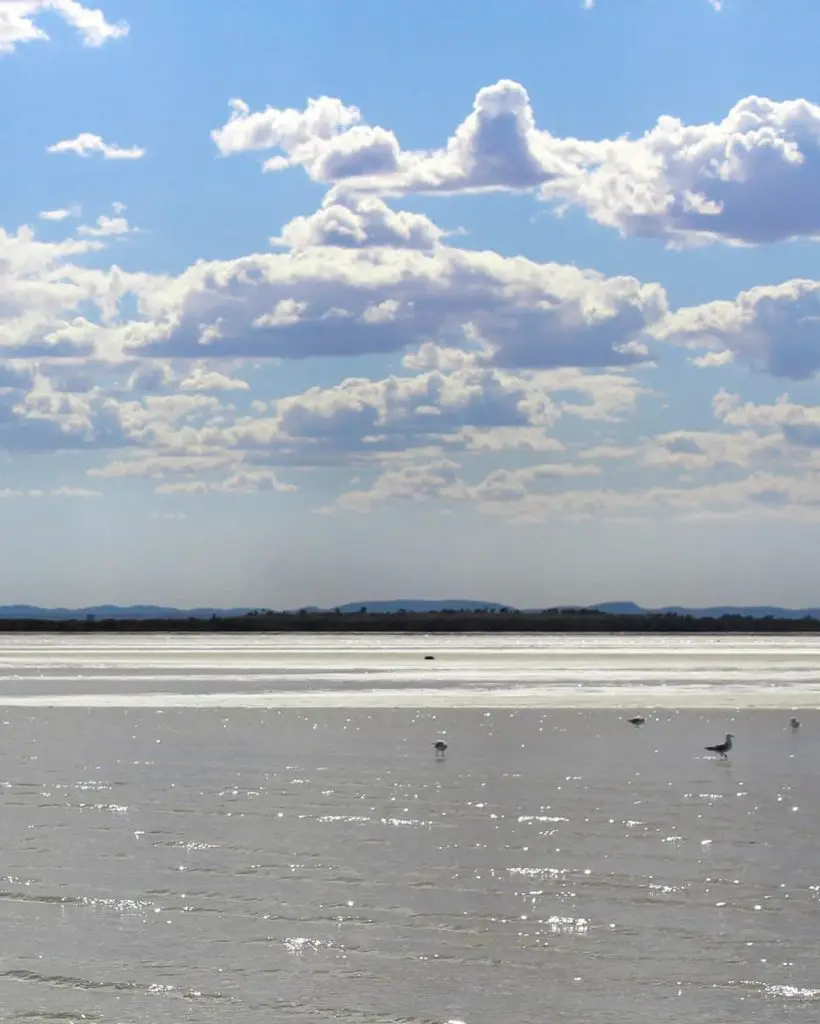 ---
So, is Whyalla worth visiting? While it's not your typical stunning holiday destination in Australia, and the steelworks operation is not an attractive-looking feature, Whyalla definitely has enough things to do to make it worth visiting, in my opinion.
If you can get out and about in a car, the unique scenery at Point Lowly and Fitzgerald Bay looks worth the journey.
When the tide is high, you can enjoy swimming at Whyalla Beach, which is easily reached from the city. There's also a good choice of restaurants and the chance to learn about the steelworks industry, if that's your thing.
Whyalla's giant cuttlefish migration is unique to the area and a truly once-in-a-lifetime experience. I'm certainly putting it on my Australian bucketlist for a future trip. So, yes, I think Whyalla, South Australia is definitely worth visiting!
---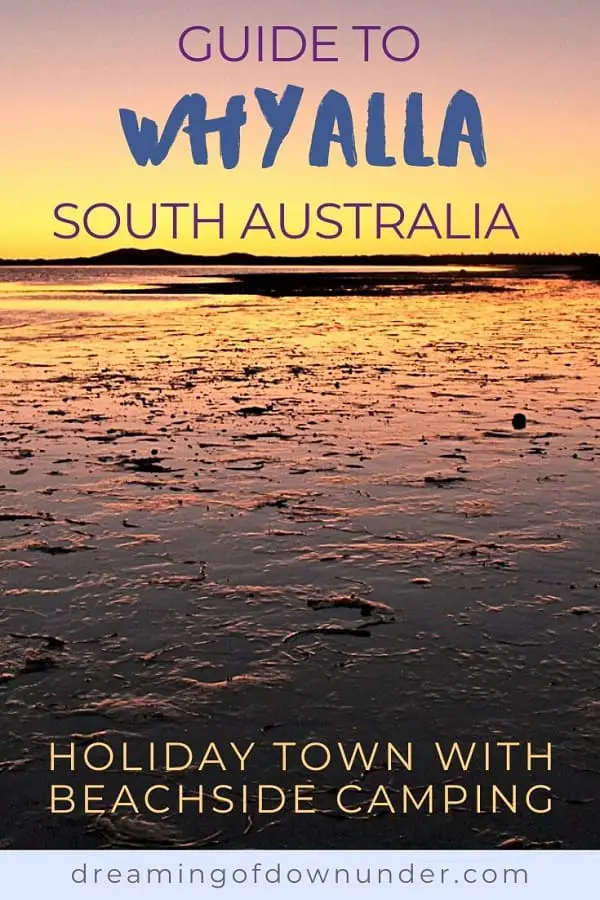 Written by Lisa Bull
Lisa Bull, founder of Dreaming of Down Under, has been living in Australia as a British expat since 2015. After travelling to every state and territory in Australia and living in Perth, Brisbane and Sydney, Lisa knows from first-hand experience the best destinations to visit in Australia and the best budget travel tips. Her guides on this blog have been read by over 700k readers and helped thousands of people achieve their dream of living in or travelling Australia.