This post may contain affiliate links. Please see my disclosure policy for more details.
Famed for its bright white beaches, wild kangaroos and beautiful Cape Le Grand National Park, the town of Esperance on the south coast of Western Australia is a must-see destination if you're planning a road trip from Perth to Adelaide.
If you're heading east, it'll also be your last touch of civility before crossing the vast and isolated Nullarbor Plain.
With its many natural attractions, Esperance had been high up on my list of drive stops since setting off from Perth. Unfortunately, as my travel mate, Michi, and I began the four-hour journey from Bremer Bay, it seemed the torrential rain that had kept us awake most of the night was very much going to come with us!
So. while we'd originally planned to spend three nights camping in Esperance, we ended up staying for five whilst waiting for the dry weather to return. Thankfully, we had time to explore lots of attractions between downpours.
Here are the best things to do in Esperance, Western Australia, in both the rain and the sunshine!
---
Esperance Beaches: The Great Ocean Drive
While the most famous beaches in Esperance lie inside Cape Le Grand National Park (which I've covered further down), there are plenty of stunners dotted around the town itself. Just head onto the 40-kilometre Great Ocean Drive;(not to be confused with the Great Ocean Road near Melbourne) and you'll be spoilt for choice.
While it certainly wasn't bikini weather on our first day, the ever-blackening sky above the bright white sand made for some really dramatic pictures. And we only had to shelter in the car on one occasion as the rain, and even hailstones, passed through! Ahh, summer in the south-west! Here are some of the beautiful Esperance beaches we visited.
Picnic Beach
Salmon Beach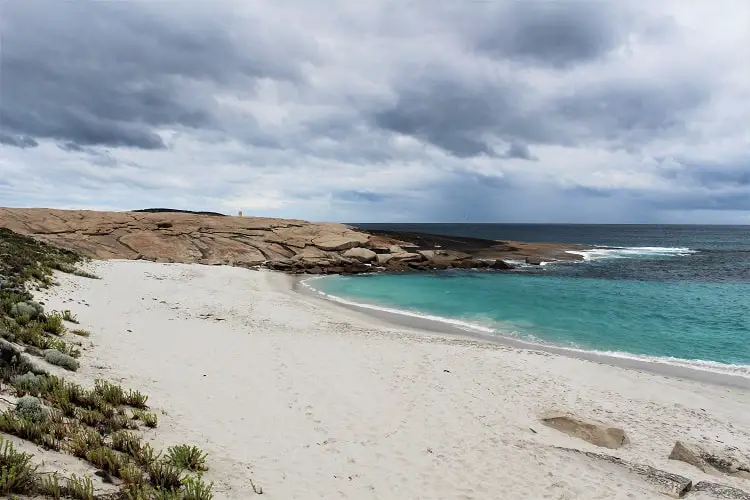 Twilight Beach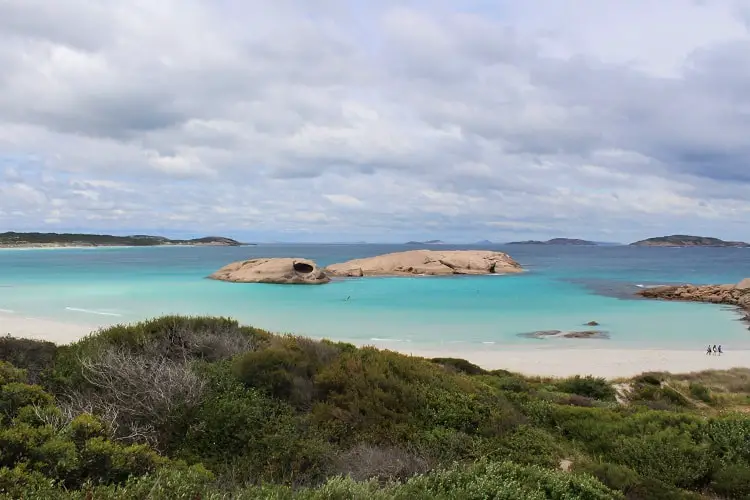 Eleven Mile Beach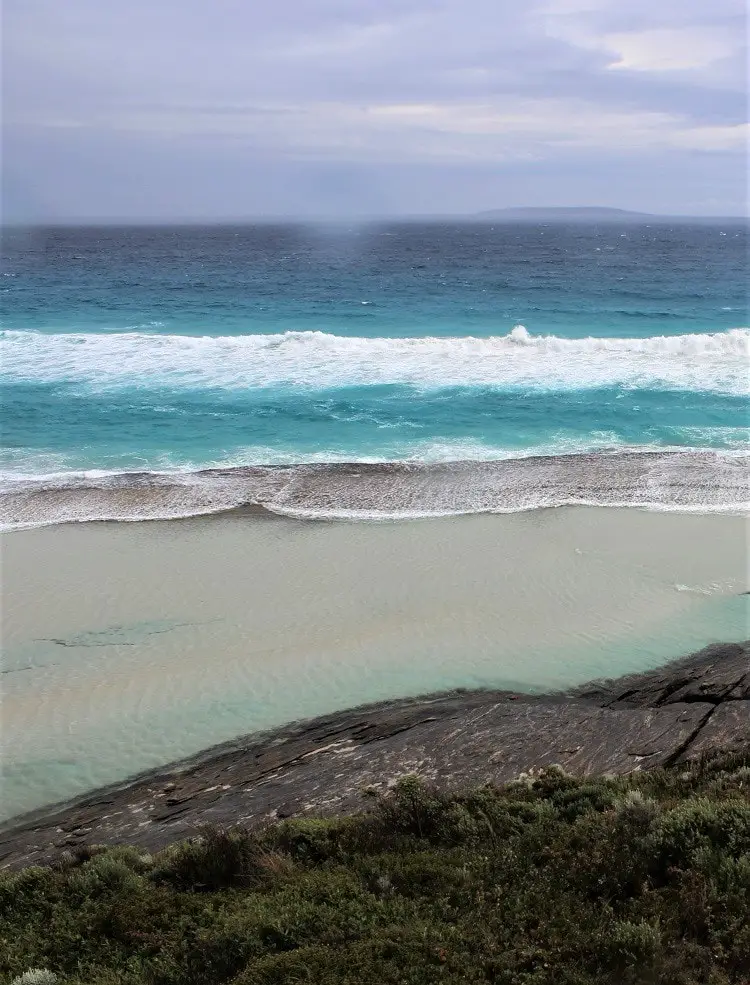 Observatory Point & Beach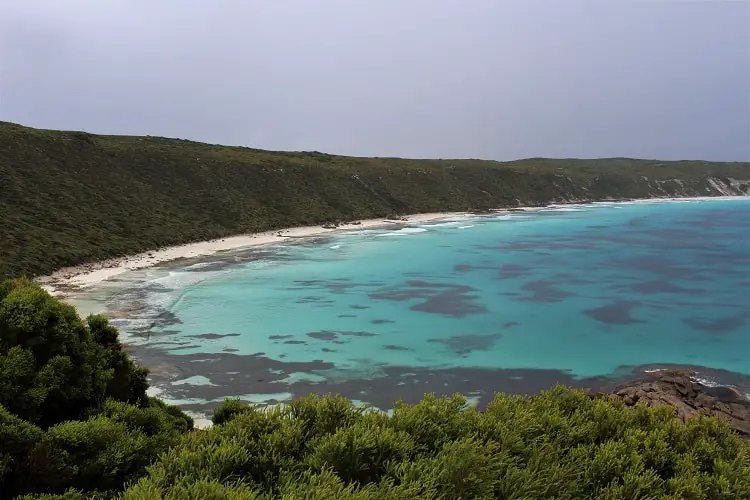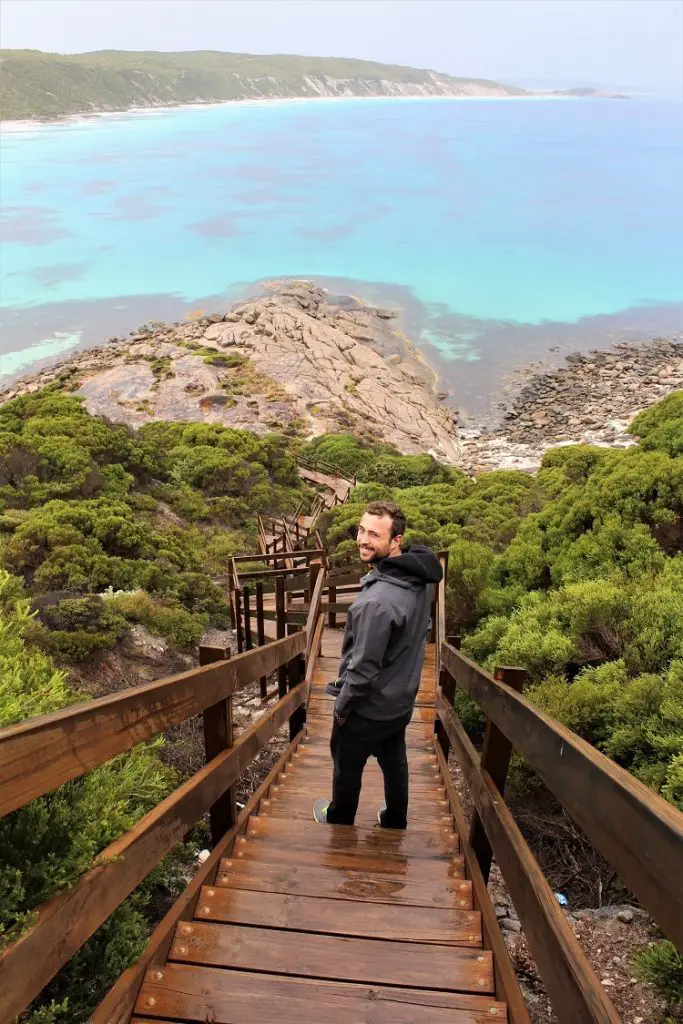 Rotary Lookout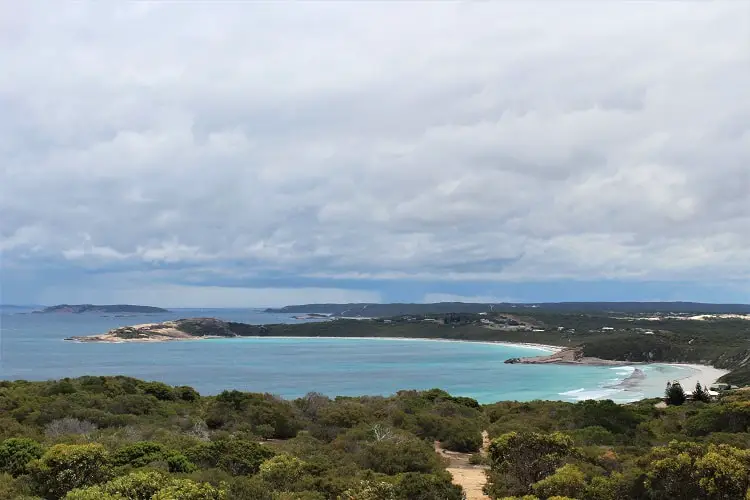 ---
Things to Do in Esperance
While the beaches in Esperance are world-class, the town itself is quite industrial-looking and definitely won't blow you away. And just in case you're not aware, Esperance's Pink Lake hasn't been pink for over ten years!
Don't fret though, there are actually plenty more pink lakes in Esperance to visit, as you'll find out below.
We had a lot of heavy rain in Esperance on our trip, so spent a lot of time making use of the free Wi-Fi in the Dome cafe! We managed to squeeze in a good look around Esperance town between downpours though.
Here are some things to do in Esperance other than beaches and Cape Le Grand National Park.
Esperance Museum Village & Markets
You'll find the Esperance Museum Village in the centre of town, on the site of the old railway marshalling yards. These historical buildings now house various types of boutique shops, and the Esperance markets are held here on a Sunday. You can also visit Esperance Museum and see its collection of photographs, machinery, furniture and more.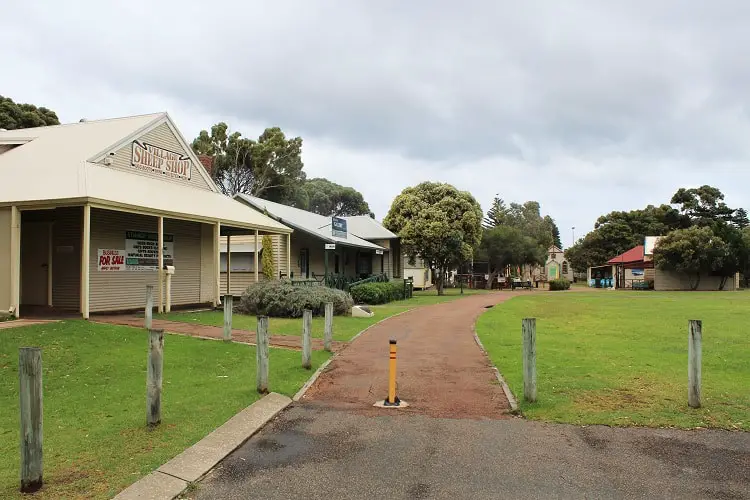 Esperance Cinema, Cafes & Shops
If you get a rainy few days like we did, head to Dempster Street, where you'll find the Fenwick 3 Cinemas and a choice of shops and cafes.
Esperance Port & Jetty
You won't miss the sight of Esperance Port as you look out from the foreshore and jetty. It's the largest nickel concentrate exporting port in the southern hemisphere, handling over 11 million tonnes of trade per year.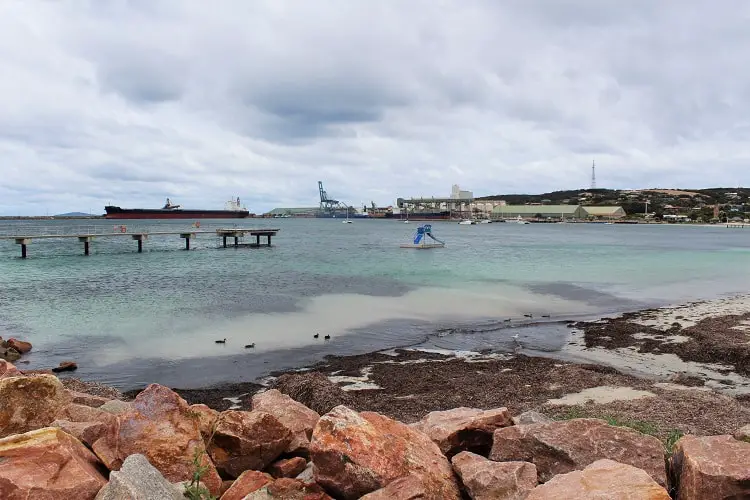 Woody Island Eco Tours
We'd planned on visiting Woody Island, a wildlife haven just 15km off the coast of Esperance in the Recherche Archipelago (over 100 rocky islands that lie off the coastline). But due to the bad weather and lack of interest the boat wasn't running. If you want a day out or overnight trip to the wilderness though, check out Woody Island Eco Tours.
Scenic Flight over Esperances Pink Lakes and Cape Le Grand National Park
Did you know that the Esperance region has almost 200 pink lakes, such as Lake Hiller and Lake Spencer? You can see the rainbow lakes and pink lakes in Esperance on this 80-minute secnic flight, which also passes over Cape Le Grand National Park and Woody Island.
The pink lakes in Esperance are most vibrant between June and January, and if you visit between July and October, you may see migrating whales on your flight too.
Scenic Cruise around the Recherche Archipelago
You can also visit Lake Hillier by boat, or take a scenic wildlife cruise around the Recherche Archipelago with Esperance Island Cruises.
---
Esperance Camping: Pink Lake Tourist Park
We spent our first couple of nights in Esperance camping at Pink Lake Tourist Park, which was clean and well equipped. It also had a handy, closed-in kitchen and games/TV room with tables and benches for us to shelter in during the cold, wet evenings.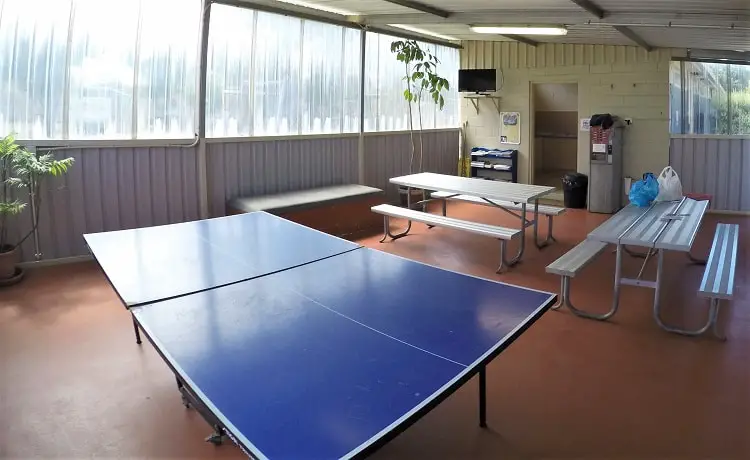 Unfortunately, as we crawled into bed on our second night it became apparent that the Spinifex tent I'd bought in Perth was not cut out for heavy rain. Our sheet, airbed and pillows were all revoltingly soggy in places (oh the glamour)! To top it off, the storms were so terrible that night that we woke up to find the tent had half collapsed, and the poles had bent so badly some of them had splintered! Eeeeek! Problemo indeed.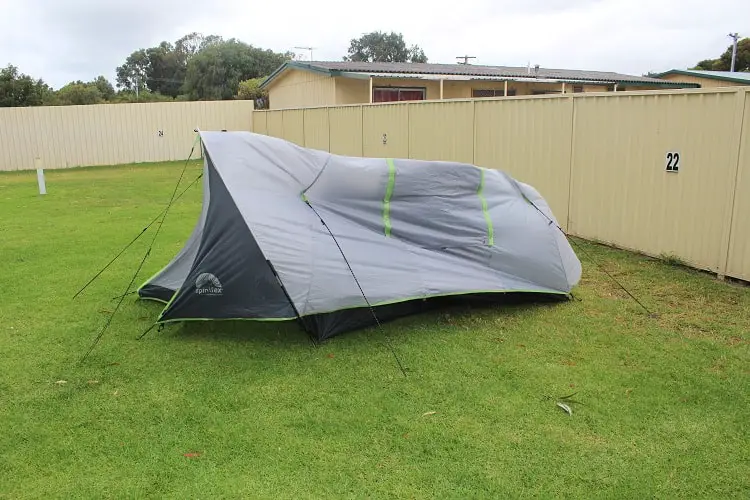 ---
Budget Accommodation in Esperance: Airbnb & YHA
With the tent out of action, we booked ourselves into a budget Airbnb for our third night, in a funny little place called Condingup, about 70km east of town. A place where house numbers are in no particular order and the local church can only be described as a porta cabin.
After driving up and down the street multiple times looking for the right property, I firmly told Michi that if it was the house with the strange man staring at us from his front drive surrounded by burnt out cars, we were going back to the campsite! Tent or no tent!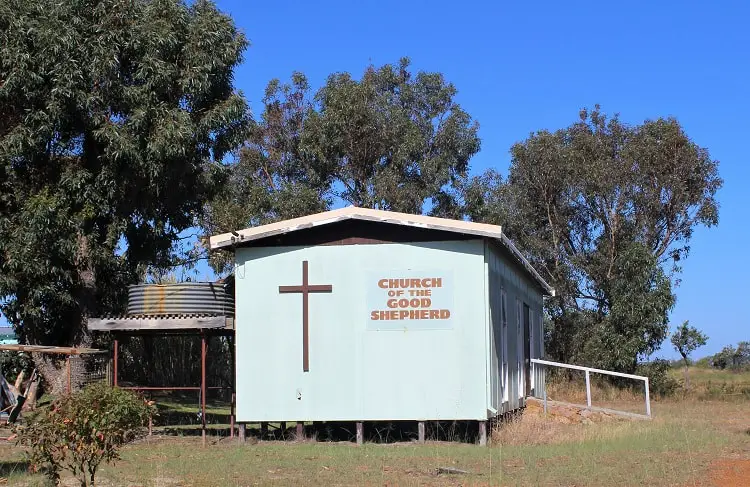 Thankfully, it wasn't! And we (eventually) arrived at a beautiful, inviting and very waterproof house on a mini farm. The owner, Nicole, was both welcoming and hilarious; our room was huge; two doggies were running around; and as a big Brucey bonus, we got to spend the evening watching TV under a blanket in front of the fire AND sleep with an electric blanket. Bliss.
Despite being extremely lucky to be camping across Australia, I will admit that the cold weather on the south coast coupled with a few weeks of sleeping in a tent had resulted in me fantasising about watching Midsomer Murders in front of a log fire on more than one occasion. And I don't even like Midsomer Murders. Condingup literally made my dreams come true.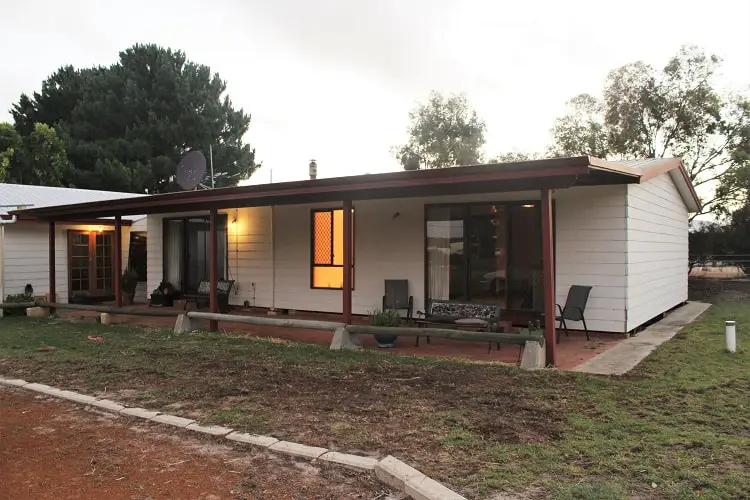 After sleeping in until 9am (what a luxury!) Nicole let us run riot in her tool shed in order to try and fix the tent. While Michi got to work on strengthening the splintered poles with some bits of spare hosepipe, I set about mending the rips in the inner layer with a bottle of superglue. Meanwhile, two dogs and a horse meandered around the garden, helping as best they could.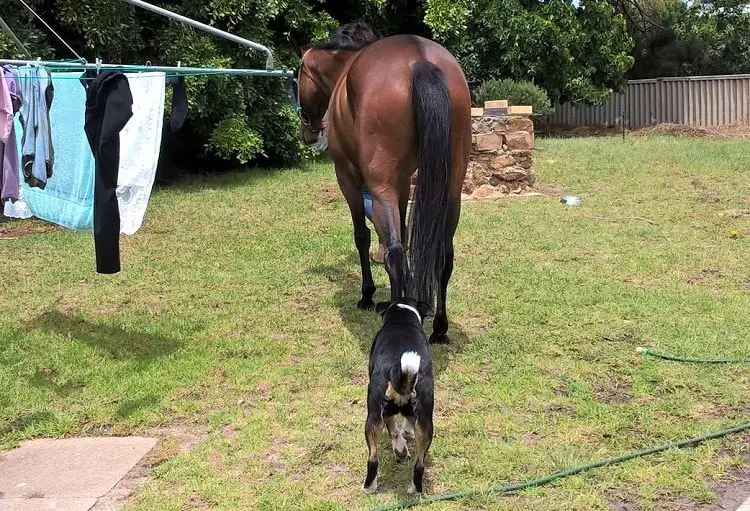 We finally (and somewhat reluctantly) set off back to Cape Le Grand National Park in the afternoon, which was, miraculously, sunny.
The property we stayed in doesn't seem to be listed anymore, but there are plenty of other Airbnbs in Esperance. There's also a YHA hostel in Esperance.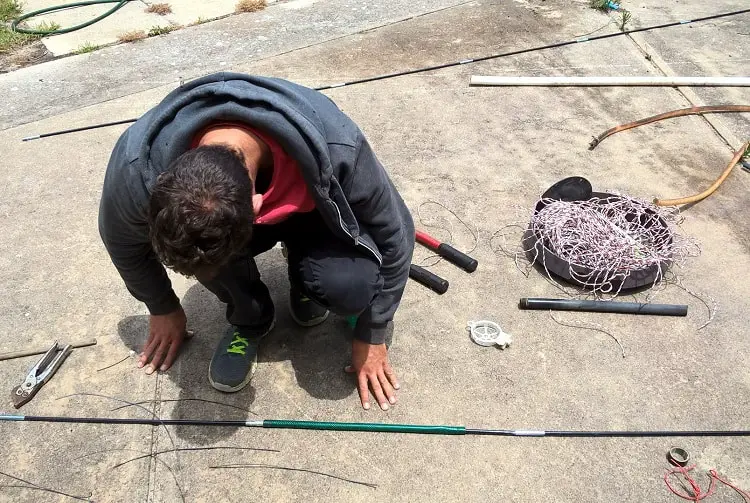 ---
Cape Le Grand National Park
Annoyingly, the roads we'd planned on taking into the park from where we staying on the eastern side turned out to be dirt tracks, and not driveable at all. So we had no choice but to drive almost the entire 70km back into town just to get into the park!
On arrival at Cape Le Grand National Park, which we'd actually visited briefly the day before and found to be totally empty due to the weather, we were greeted with a sign saying that non-bookable Le Grand Beach Campground was full – aaaaarrrggghhhh! We decided to take a look around anyway since we'd driven all that way.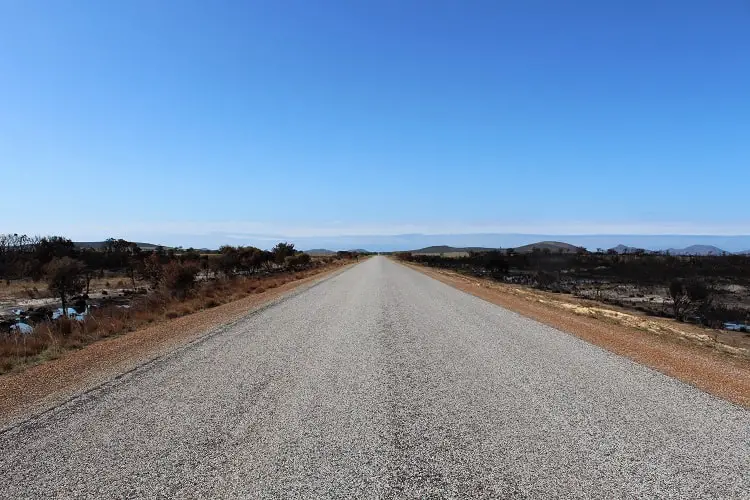 There had been some severe bushfires not long before we visited, so it all looked pretty parched, but beautiful regardless.
Lucky Bay
Our first stop was Lucky Bay, the most well-known beach in Esperance due to the wild kangaroos that bounce freely across the exceptionally white sand. Although you can stay at Lucky Bay Campground, it was being refurbished when we visited and wasn't open.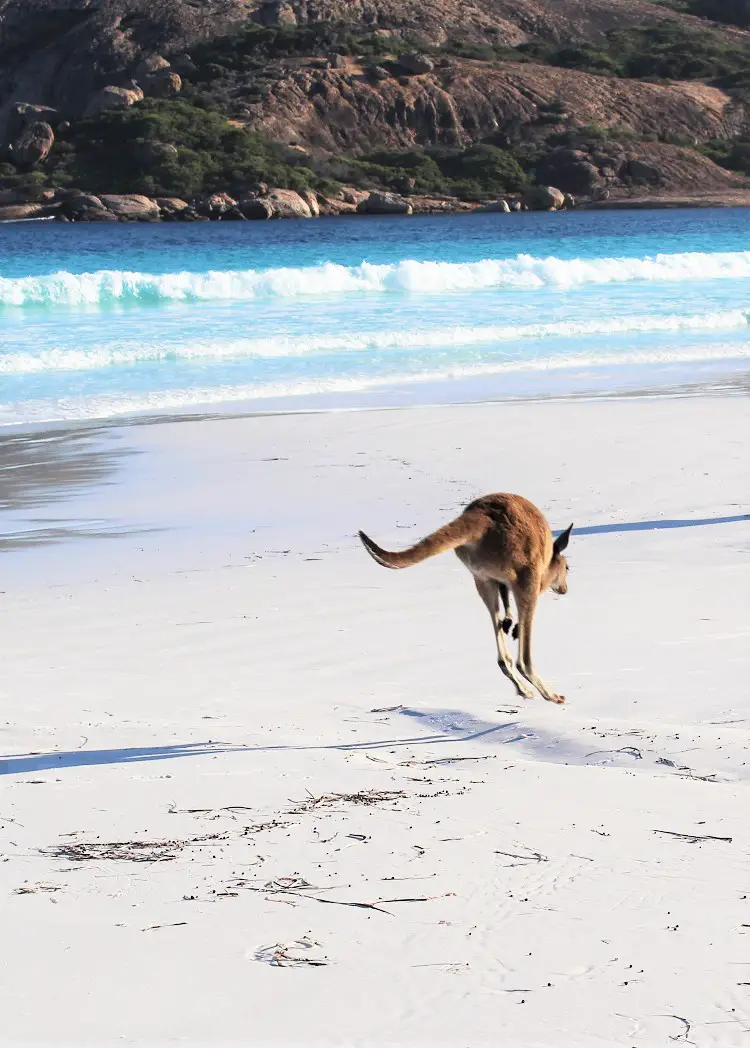 After the torrential rain though, the beach was extremely soggy and nothing like the glorious pictures we'd been salivating over. It was also still rather chilly. We did get to see one kangaroo boinging about though, which was pretty cool!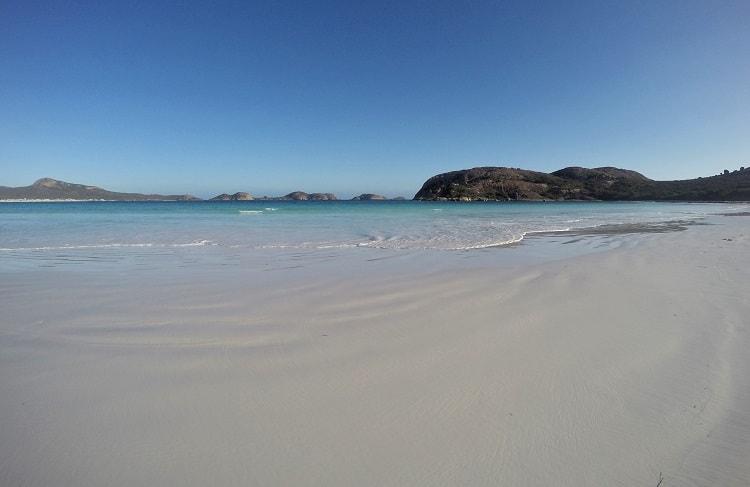 Climbing Frenchman Peak
Our next stop was Frenchman Peak, a granite hill with superb views across Cape Le Grand National Park. While we hadn't planned on doing the whole climb (it was two hours return), we ended up completing it anyway, and got to see the beginnings of a beautiful sunset.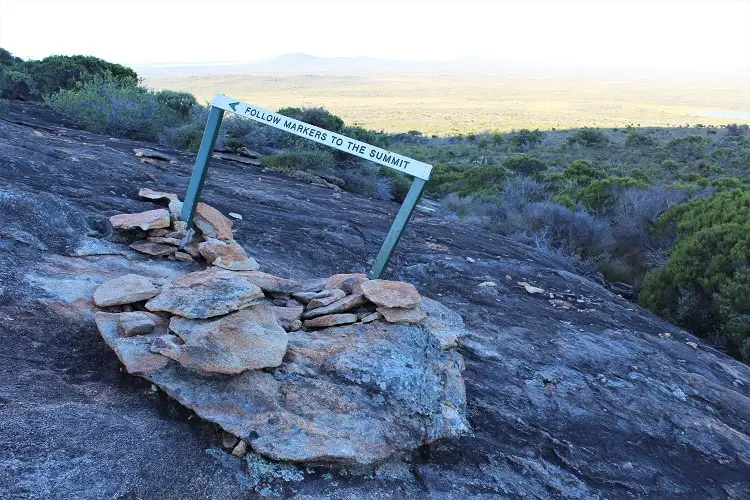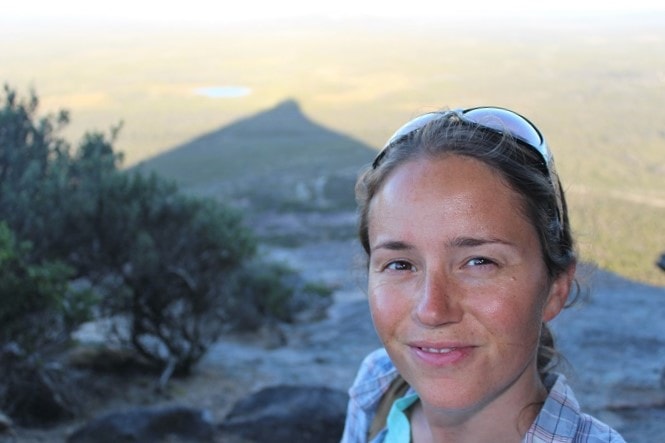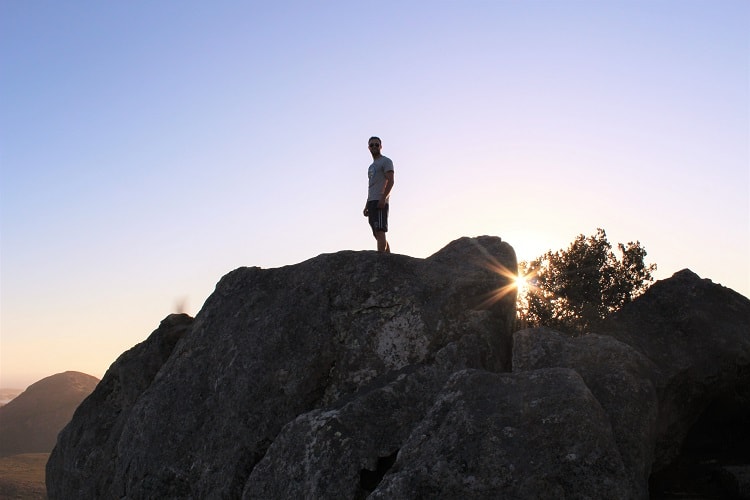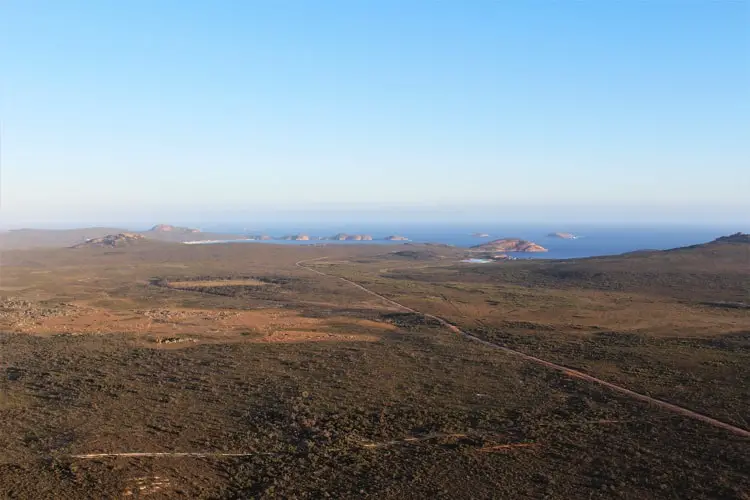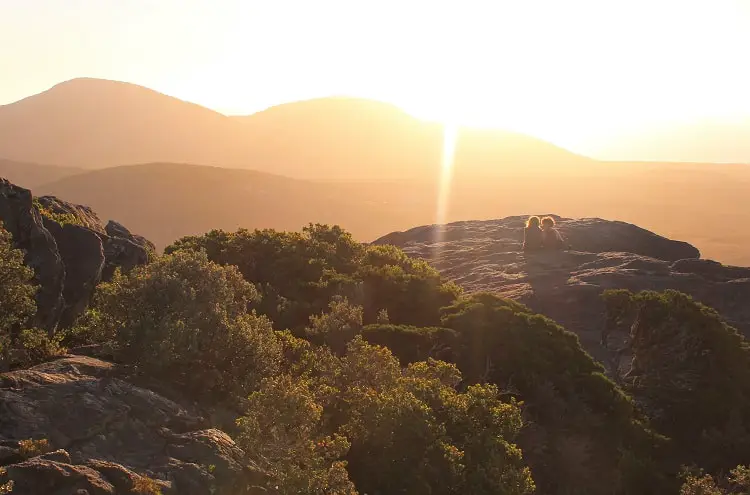 Le Grand Beach Campground
We got to Le Grand Beach just before dark, feeling a bit forlorn as we had no idea where we were going to sleep that night. The only option seemed to be driving back into town to the caravan park and sleeping in our dodgy tent, which felt a bit depressing.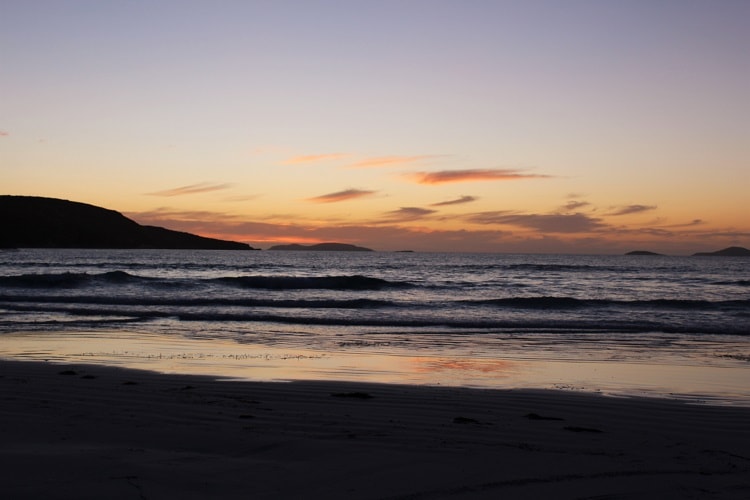 Things picked up when a young Austrian couple we'd seen at the top of Frenchman Peak came over and asked where we were staying. When we told them our dilemma they said there was plenty of room for our car next to their campervan at Le Grand Beach Campground!
So while we probably weren't meant to, we squeezed in alongside them and spent a very uncomfortable night sleeping in the front seats of the car!
---
The next morning, the sun was out and we headed back to town to check into the Pink Lake Tourist Park again for our final night. With much hope, we put up our newly fixed tent, only to find that it looked spectacularly worse than before!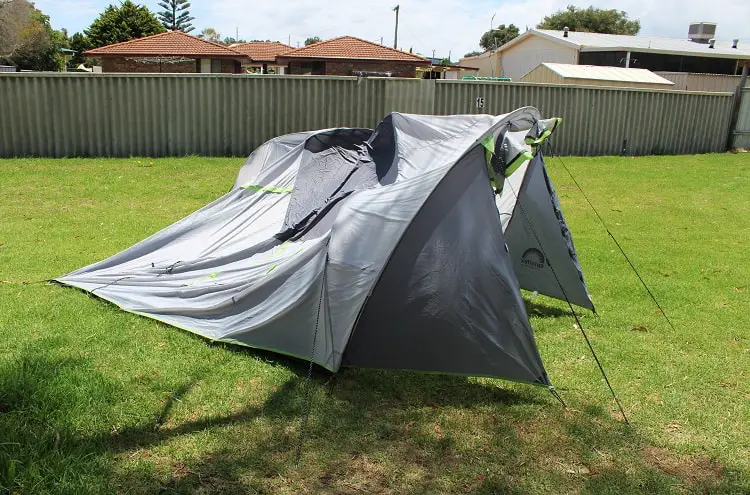 Thankfully Esperance had a camping shop, so we purchased a new tent and stocked up on all we needed for our big upcoming journey across The Nullarbor. We even got to finally spend a warm(ish) afternoon at the beach, before heading off the next morning into the wilderness!
To plan your own road trip, check out my detailed Perth to Adelaide drive itinerary.
---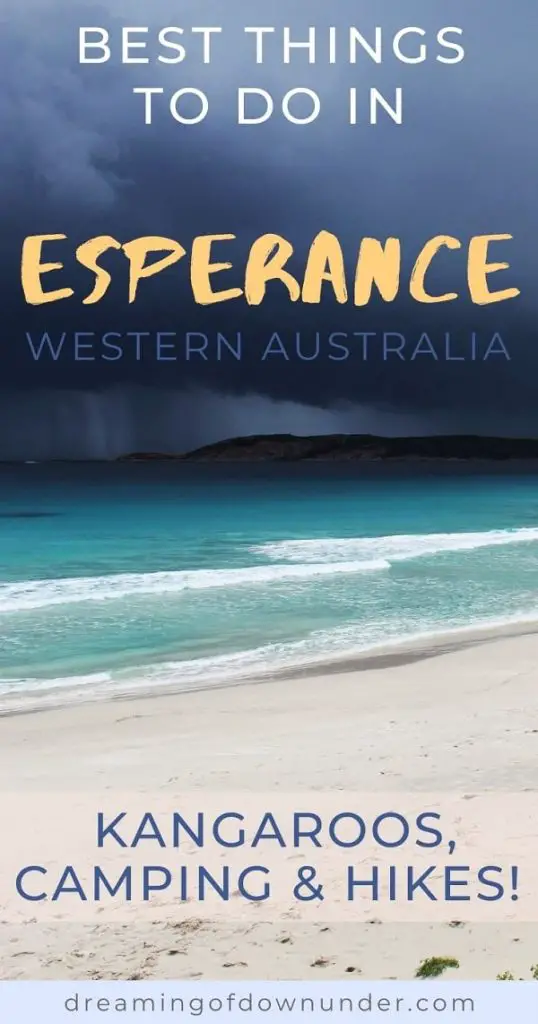 Written by Lisa Bull
Lisa Bull, founder of Dreaming of Down Under, has been living in Australia as a British expat since 2015. After travelling to every state and territory in Australia and living in Perth, Brisbane and Sydney, Lisa knows from first-hand experience the best destinations to visit in Australia and the best budget travel tips. Her guides on this blog have been read by over 700k readers and helped thousands of people achieve their dream of living in or travelling Australia.