This post may contain affiliate links. Please see my disclosure policy for more details.
For many of you travel-lusting blog readers, swimming with dolphins is likely to be an activity high up on your bucket list; it's certainly always been on mine. Swimming with sea lions, however, might not be something you've ever considered or heard much about. It hadn't crossed my mind either until I came across the website for the Baird Bay Ocean Eco Experience in South Australia.
At the time I was slumped on my sofa back in the UK at the tail end of a very long, dark winter, preparing to move to sunnier climes in Australia as a permanent resident.
Since I would be leaving my office job of almost ten years with nothing else lined up in Australia, had saved up a reasonable amount of money, and had suffered from such severe vitamin D deficiency the previous winter that I'd struggled to even grip my steering wheel or walk down the stairs, I felt it would be a travesty not to seize the opportunity to travel and soak up a bit of much-needed sunshine!
The big question was where I should go. I'd already travelled the east coast and red centre of Australia during my year as a foreign exchange student in Brisbane. I'd also travelled the west coast on my gap year, so I didn't feel like there was much left of Australia to see (not that that's something to complain about)!
My visa stated that I had to enter Australia by a certain date, and I didn't want to fly all that way just to get it activated and fly out again. So with the rain beating down against my window, I fired up my laptop, opened a map of Australia, and did some serious thinking.
I soon realised I had no idea what lay across the south coast between Perth and Adelaide, as I'd never heard of anyone travelling that route before – I didn't even know if there was a road there! I began to do some research and quickly came across pictures of beautiful bright white beaches, colourful wildflowers and cool surf towns like Margaret River.
The road trip I'd never thought of looked amazing, and my long-dormant wanderlust started to reignite.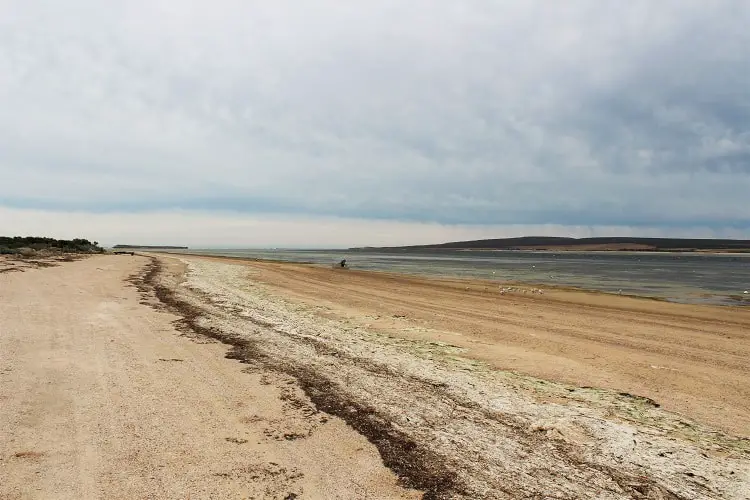 While the beaches looked more than alluring, it was discovering the Baird Bay sea lion and dolphin swim that cemented my decision to travel from Perth to Adelaide. Located on the Eyre Peninsula in South Australia, just over 700km north-west of Adelaide, Baird Bay is a tiny, isolated fishing village where local couple Alan and Trish Payne take small groups of tourists out on their boat to swim with the local dolphins and Australian sea lions that they've been connecting with for decades.
With a fire in my belly I got myself into gear and started planning my epic Perth to Adelaide drive, and it was a great pleasure to finally arrive in Baird Bay over six months later. Here's how my day swimming with sea lions and dolphins in Baird Bay went down…
---
Where is Baird Bay?
The first thing to note is that Baird Bay really is isolated. It's a good 50km south of better known Streaky Bay. But if you're travelling from Perth to Adelaide or vice versa, it's only a quick detour off the main route.
It's also extremely tiny. When my travel mate, Michi, and I turned up we were surprised to discover that Baird Bay village was literally just a strip of houses along the sea front! But since we'd just finished crossing the Nullarbor, this seemed positively cosmopolitan in comparison!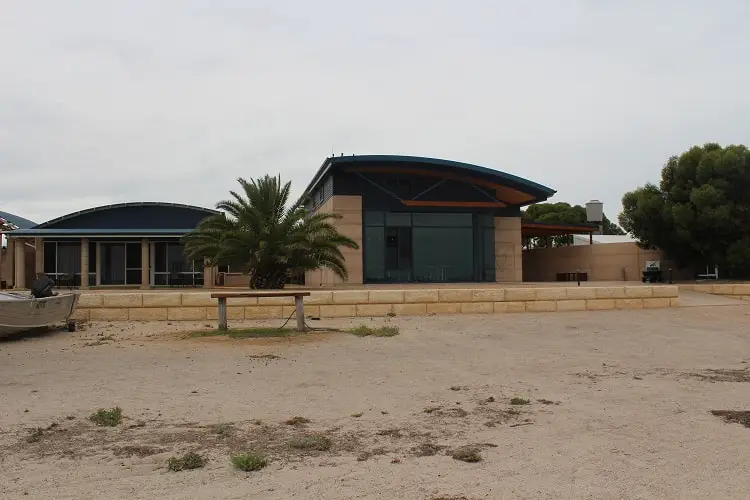 The Baird Bay Ocean Eco Experience headquarters was large and modern though. You won't miss it when you arrive. The tour has been running from here since 1992 and is South Australia's original sea lion and dolphin swim experience!
---
What Happens on Your Sea Lion & Dolphin Swim?
We'd chosen to go on an afternoon trip (you can either depart at 9:30am or 1pm), and on arrival we were greeted by Alan and Patricia before being kitted out with wetsuits and boarding the boat with the other eight people who had booked on.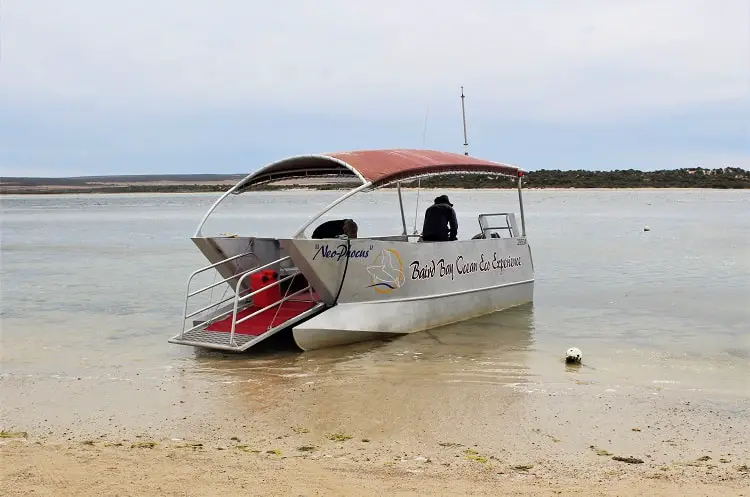 I've been snorkelling before in Australia, but only on huge boats up in Queensland. The Baird Bay sea lion swim is a much more intimate experience where you can ask as many questions as you like to the guides.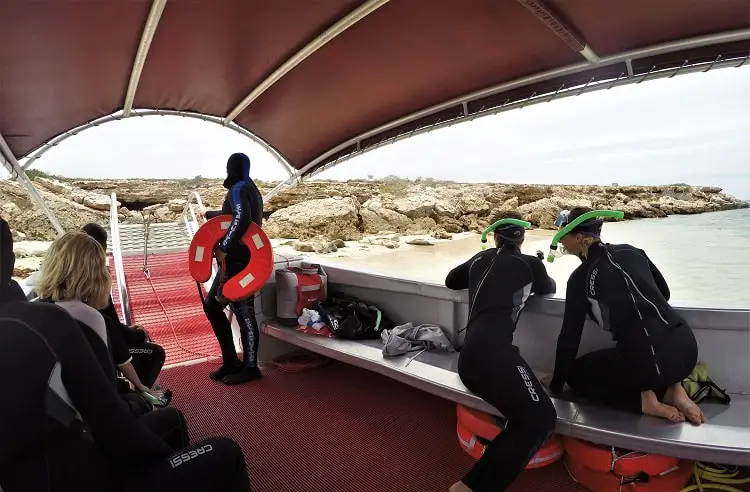 It didn't take long to get our first glimpse of Australian sea lions, as they lazily basked on the sand! Hard life for them, isn't it? It was clear from the start that Alan was very knowledgeable, and pointed out lots of different types of sea birds to us as well.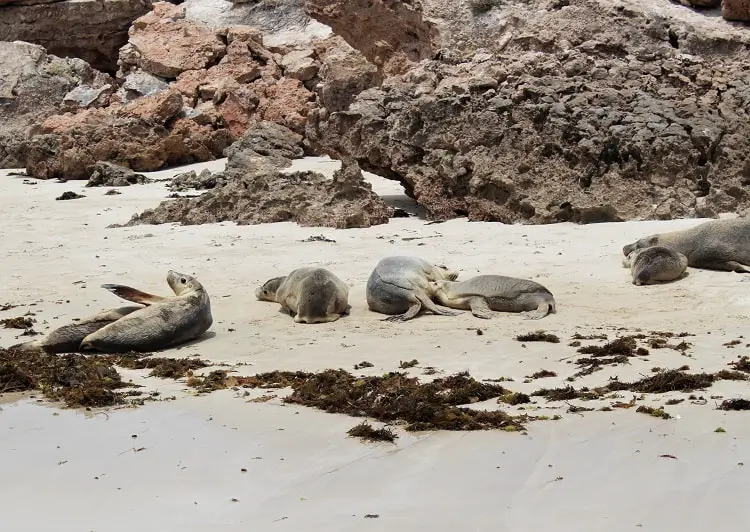 Note that Alan and Patricia ask you not to wear any sunscreen on your Baird Bay sea lion swim, as it creates an oil slick on the surface of the water that the dolphins and sea lions come up to breathe through. They're very respectful of the wildlife; it's not called an eco experience for nothing!
You really don't need to worry about sunburn as your wetsuit will cover you right down to your wrists and ankles, there's a canopy over the boat, and your face will be under water when you're snorkelling. None of us got burnt at all, and this was in summertime.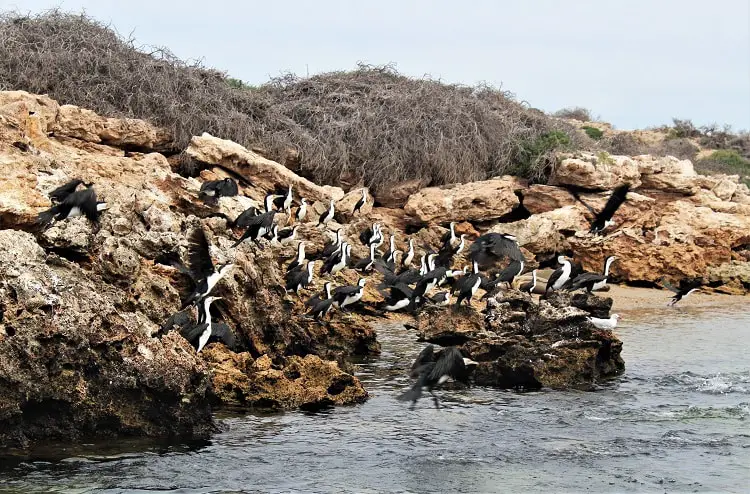 Next came the exciting part – getting into the water! I hadn't had much experience of wearing a wetsuit before, and was surprised to find how warm they keep you when you're swimming. Even though we visited Baird Bay in the summertime, the water was quite chilly down on the south coast.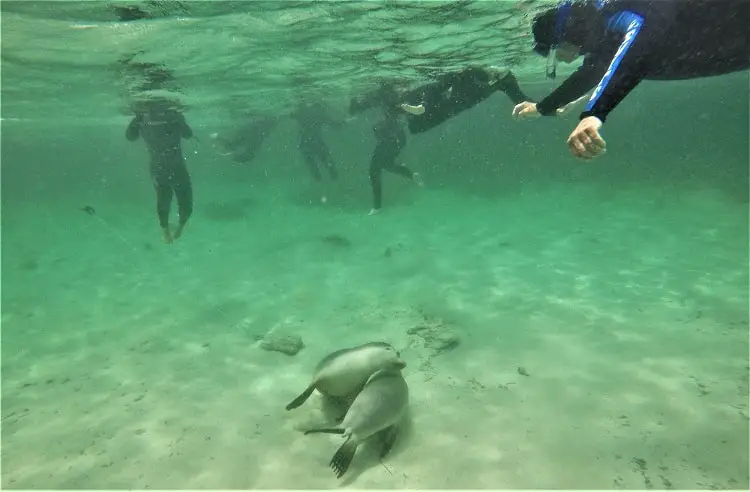 The sea lions were very familiar with Alan and his boat, and weren't shy at all about approaching us. In fact I'd say they were positively excited and started showing off!
I couldn't believe how much like puppies they were! All they wanted to do was play around together and investigate everything.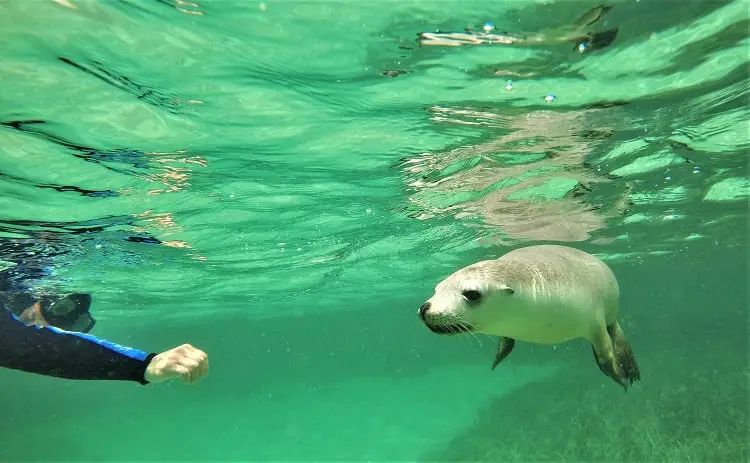 We spent a long time in the water with the sea lions, just watching them play. If you're lucky they'll even come right over and give you a kiss on your fist if you hold it out!
For those confident enough, you can swim down deeper to interact a bit more. I stayed on the surface, as I don't really like going under water, but some people were swimming right down to the bottom.
If you've never used a snorkel before, I'd recommend buying a cheap one before the trip and practising to get used to it – even if it's just in your bathroom sink! One lady couldn't get the hang of it at all and had to spend most of the day on the boat, as she was panicking too much in the water.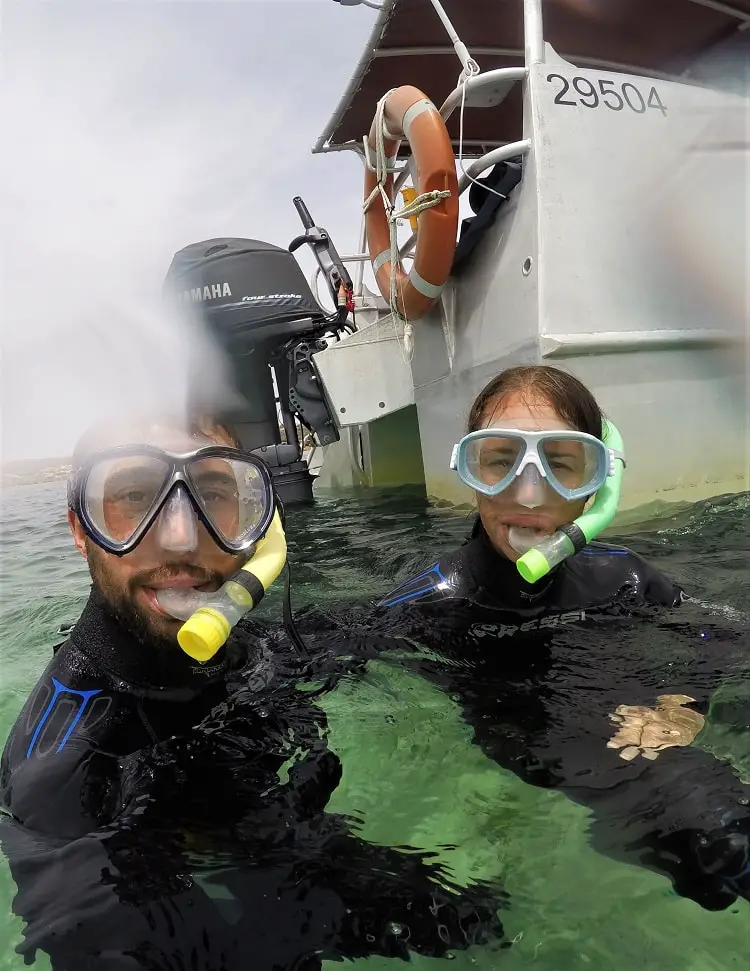 After a while in the water we got back on the boat to go in search of dolphins. You might be surprised to learn that dolphins are actually more aloof than sea lions, so we didn't have quite as much interaction with them.
On the morning trip they'd apparently been very friendly, but they weren't particularly interested in visitors that afternoon. They did swim alongside the boat for a while though; I couldn't believe how fast they could slice through the water!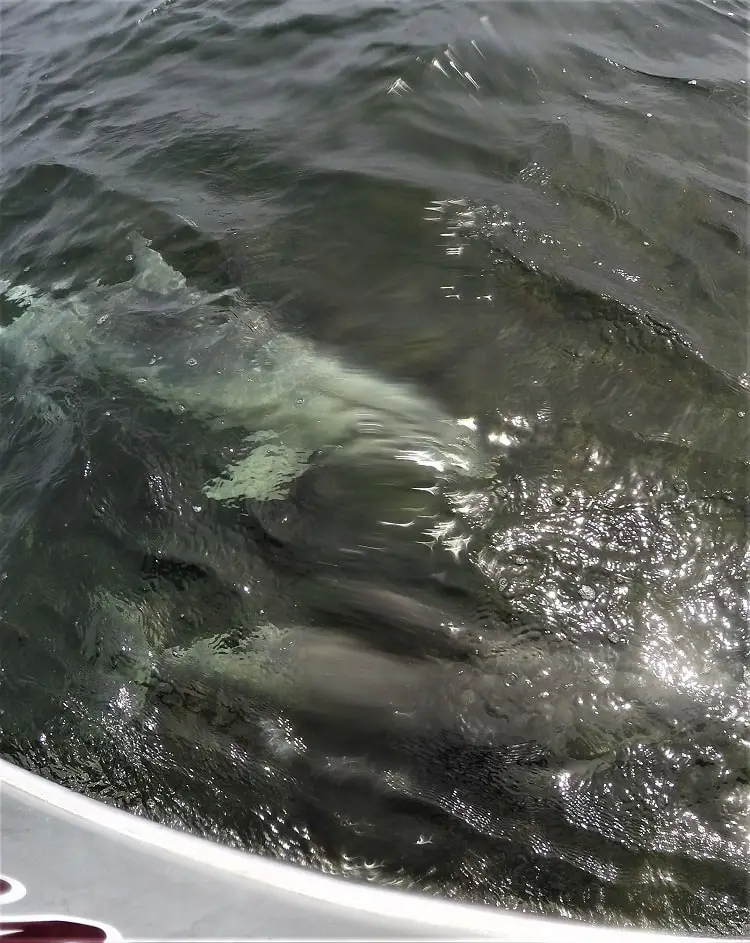 We were allowed to get back in for a second swim before heading back to dry land. Most of us were pretty exhausted by the end. We definitely got our money's worth!
Back at the eco centre, it was a relief to wrestle out of our wetsuits and warm up with a hot drink! While Michi perused the souvenir shop, I had a good look through the tourist brochures to decide where we should visit on the remaining few days of our Perth to Adelaide drive.
---
Accommodation in Baird Bay
You have quite a few accommodation choices around this area of the Eyre Peninsula. There's onsite accommodation in Baird Bay, or you can drive out to a larger town for more choice. Here are some of your options.
Baird Bay Accommodation
If you want to soak up the tranquillity of Baird Bay for a while longer, you can stay at the onsite Baird Bay Eco Apartments.
Streaky Bay Accommodation
An hour's drive north of Baird Bay lies the pretty coastal town of Streaky Bay, which has a reputation for great seafood and a choice of cafes and restaurants. You can choose from hotels, motels and a Discovery caravan park.
Ceduna Accommodation
If you're heading west to cross the Nullarbor and want to make some headway, it's 178km north of Baird Bay to Ceduna, the last proper town you'll pass before your big multi-day journey across the plain. We stayed here the night before our sea lion swim.
You can read about our night camping at Wittelbee Conservation Park in Ceduna at the bottom of my guide to crossing the Nullarbor. It was very remote though, and literally had no facilities. Not even a toilet (which we hadn't realised beforehand)!
For somewhere less feral, follow the link below to look at a choice of motels and caravan parks in Ceduna.
Elliston Accommodation
If you're going to be heading southeast towards Adelaide, it's 116km from Baird Bay to the larger coastal town of Elliston. This is where we stayed after our swim.
Following a month of camping across the coastline from Perth and our recent three-day drive across the Nullarbor (which involved free camping, having no toilet for the last two nights and me being stung by a bull ant) I was pretty adamant that we were going to spend the last few days of our trip staying in actual towns and at caravan parks with toilets and hot showers!
I literally looked at a brochure at the eco centre and picked the nearest town on the map that was in the right direction and had lots of facilities! We chose to camp at Waterloo Bay Caravan Park in Elliston, which was just round the corner from the beach.
While Michi still had the energy for an exercise session on arrival, I enjoyed a hot shower and a wander down to the beach to explore before the sun went down.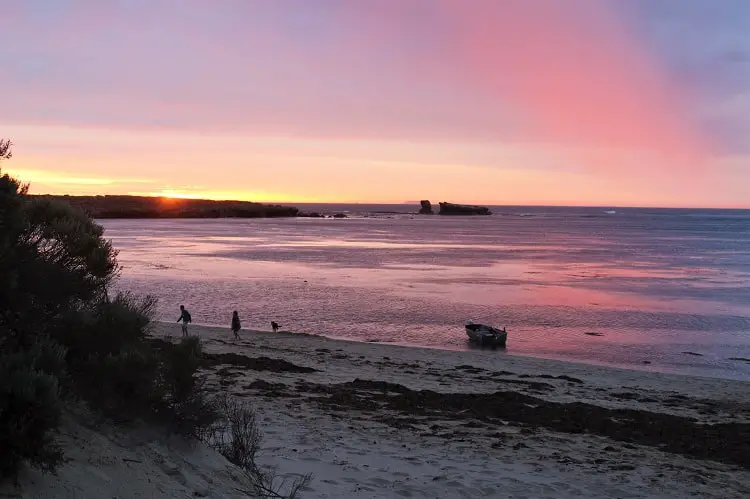 I'm glad I did as both the sky and sea turned bright crimson! I've seen many sunsets on my travels, but nothing quite like I saw in Elliston!
I also saw a sting ray flapping around in the shallows, then turned around to see a rainbow behind me! Definitely more than I'd bargained for!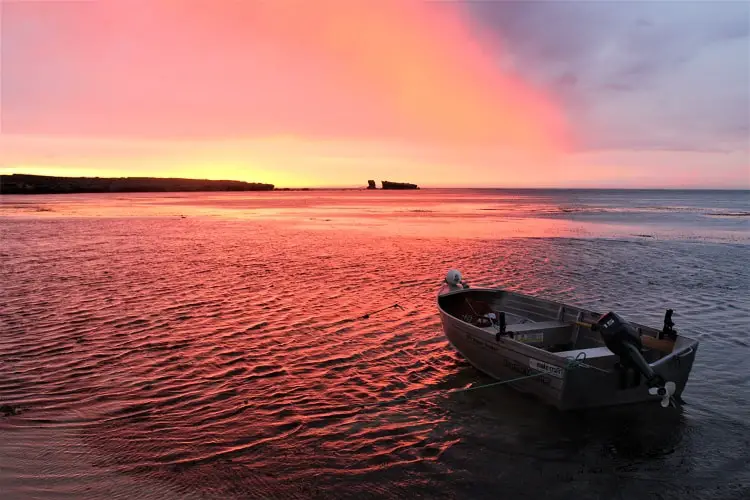 The following morning we went for a walk along the cliffs at the end of the beach before setting off for the spookily named Coffin Bay.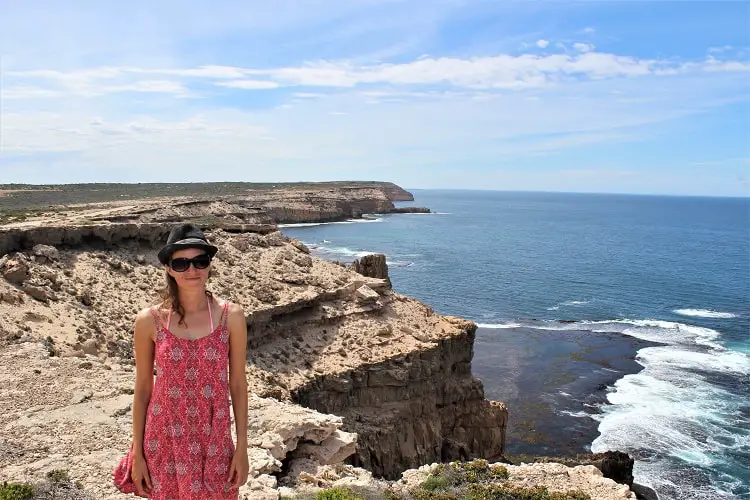 For more destination ideas on the south coast of Australia, check out my Perth to Adelaide drive itinerary. It includes distances, driving times and costs, and you can click on the links to each place as you go along for more information.
To read about the next stop on our road trip, here's my blog post on things to do in Port Lincoln, a seaside city on the Eyre Peninsula close to two beautiful national parks.
Follow this link to the Baird Bay Ocean Eco Experience website for more information and bookings on the sea lion and dolphin swim. Enjoy!
---
Like it? Pin it