This post may contain affiliate links. Please see my disclosure policy for more details.
While swimming with dolphins is a common bucket-list item, swimming with sea lions might not be something you've ever considered. The amazing Baird Bay Ocean Eco Experience in South Australia lets you do both!
Located on the Eyre Peninsula just over 700km north-west of Adelaide, Baird Bay is a tiny, isolated fishing village. It's here that local couple Alan and Trish Payne take small groups of tourists out on their boat to swim with the local dolphins and Australian sea lions that they've been connecting with for decades.
I knew the opportunity to swim with sea lions and dolphins on my Perth to Adelaide adventure was a must-do. Here's what to expect on the experience.
---
Where is Baird Bay?
The first thing to note is that Baird Bay really is isolated. It's a good 50km south of better known Streaky Bay. But if you're travelling from Perth to Adelaide or vice versa, it's only a quick detour off the main route.
I was surprised to discover that Baird Bay village was literally a strip of houses along the sea front! But after crossing the Nullarbor, it seemed positively cosmopolitan in comparison!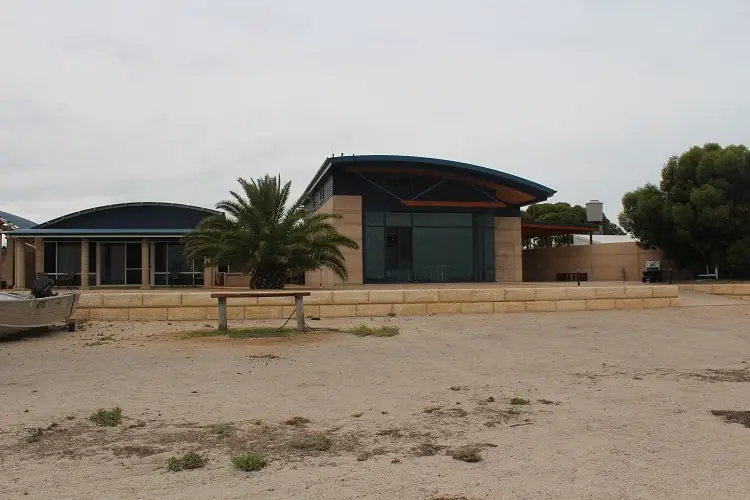 The Baird Bay Ocean Eco Experience headquarters was large and modern though. You won't miss it when you arrive. The tour has been running from here since 1992 and is South Australia's original sea lion and dolphin swim experience!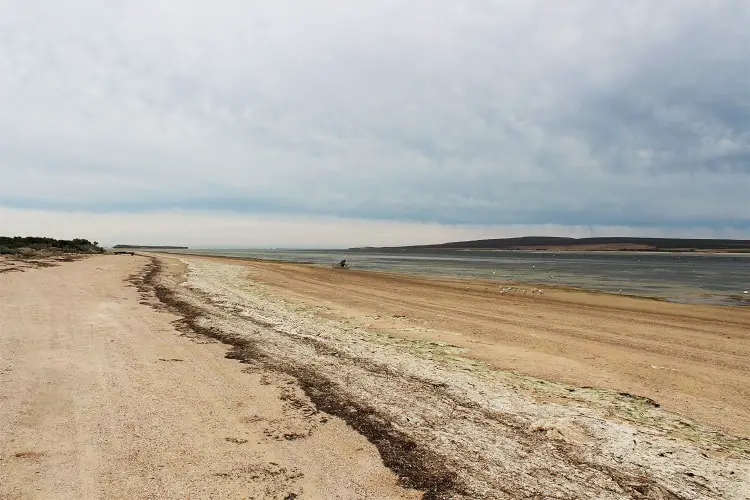 ---
What Happens on the Baird Bay Sea Lion & Dolphin Swim?
We'd chosen to go on an afternoon trip (you can either depart at 9:30am or 1pm), and on arrival we were greeted by Alan and Patricia before being kitted out with wetsuits and boarding the boat with the other eight people who had booked on.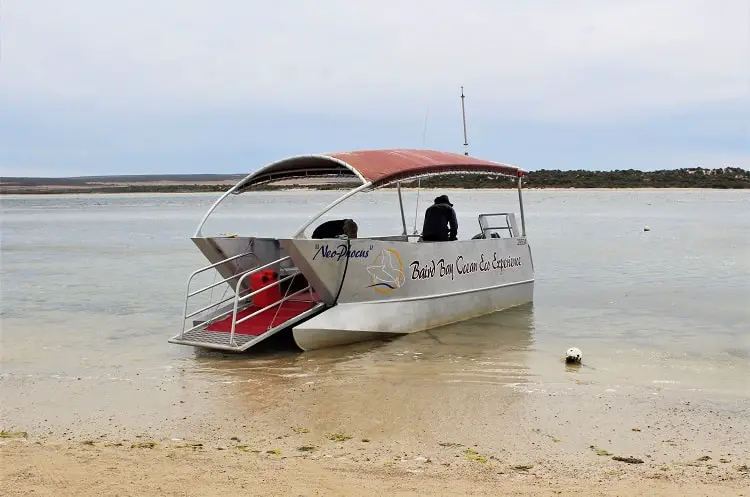 I've been snorkelling before in Australia, but only on huge boats up in Queensland. The Baird Bay sea lion swim is a much more intimate experience where you can ask as many questions as you like to the guides.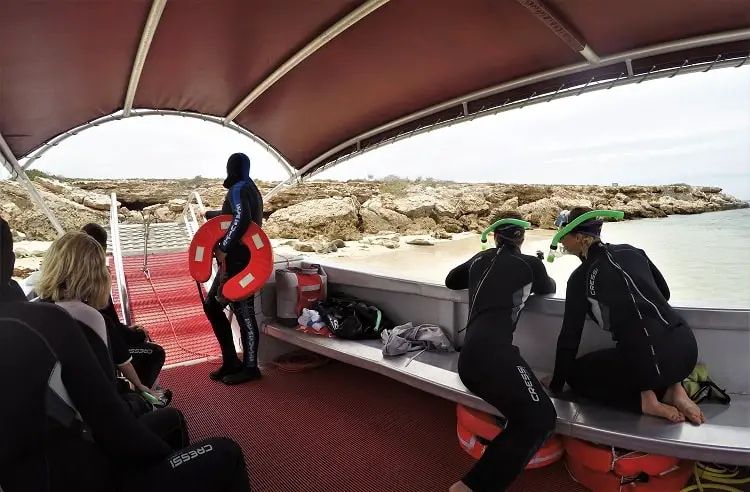 It didn't take long to get our first glimpse of Australian sea lions, as they lazily basked on the sand! Hard life for them, isn't it? It was clear from the start that Alan was very knowledgeable, and pointed out lots of different types of sea birds to us as well.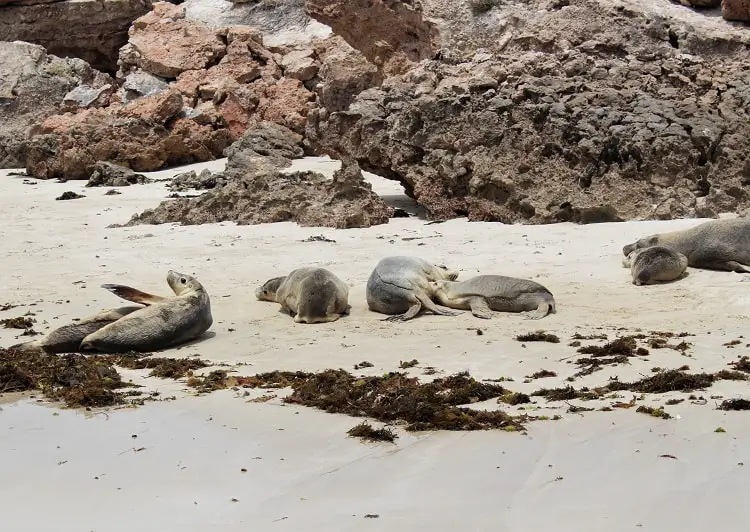 Note that Alan and Patricia ask you not to wear any sunscreen on your Baird Bay sea lion swim, as it creates an oil slick on the surface of the water that the dolphins and sea lions come up to breathe through.
They're very respectful of the wildlife; it's not called an eco experience for nothing!
You really don't need to worry about sunburn as your wetsuit will cover you right down to your wrists and ankles, there's a canopy over the boat, and your face will be under water when you're snorkelling. None of us got burnt at all, and this was in summertime.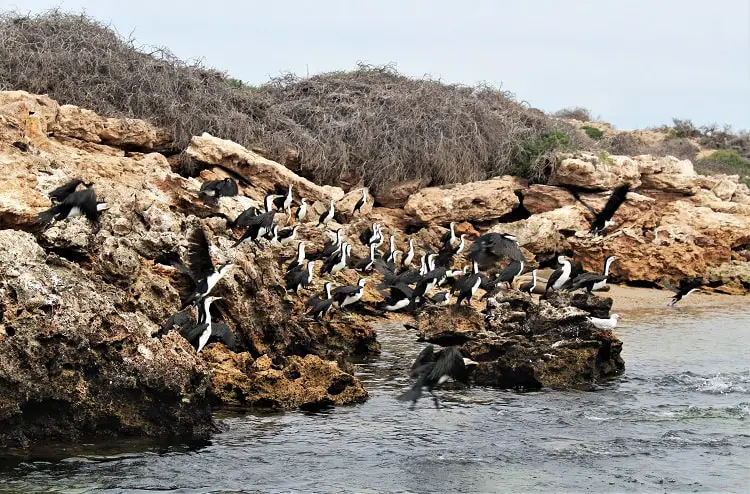 Next came the exciting part – getting into the water! I hadn't had much experience of wearing a wetsuit before, and was surprised to find how warm they keep you when you're swimming.
Even though we visited Baird Bay in the summertime, the water was quite chilly down on the south coast.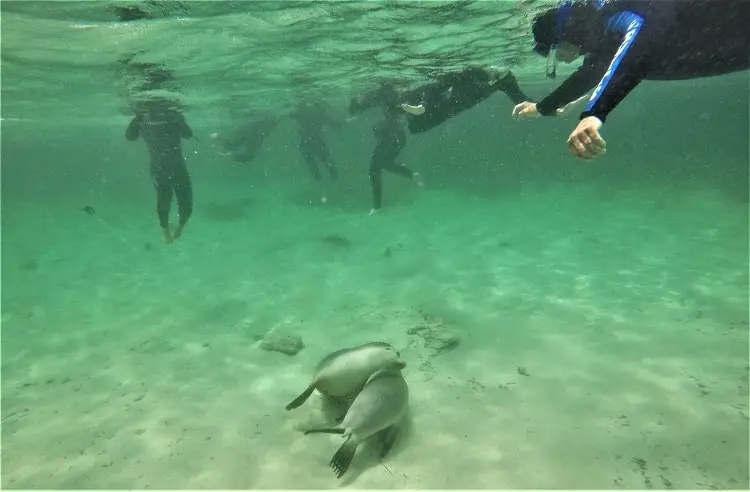 The sea lions were very familiar with Alan and his boat, and weren't shy at all about approaching us. In fact I'd say they were positively excited and started showing off!
I couldn't believe how much like puppies they were! All they wanted to do was play around together and investigate everything.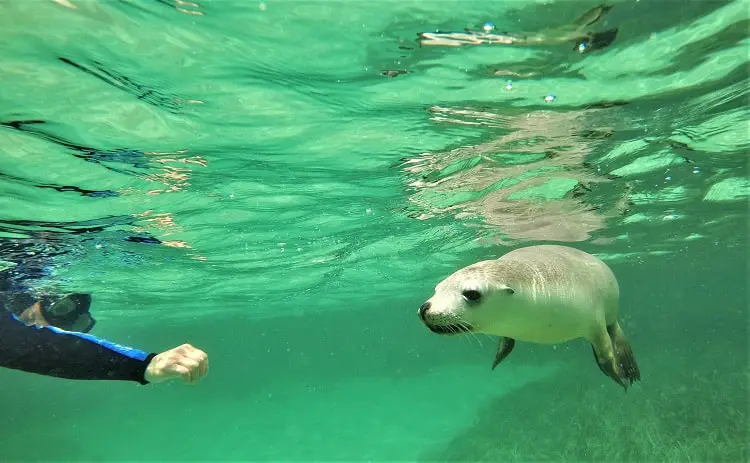 We spent a long time in the water with the sea lions, just watching them play. If you're lucky they'll even come right over and give you a kiss on your fist if you hold it out!
For those confident enough, you can swim down deeper to interact a bit more. I stayed on the surface, as I don't really like going under water, but some people were swimming right down to the bottom.
If you've never used a snorkel before, I'd recommend buying a cheap one before the trip and practising to get used to it – even if it's just in your bathroom sink! One lady couldn't get the hang of it at all and had to spend most of the day on the boat, as she was panicking too much in the water.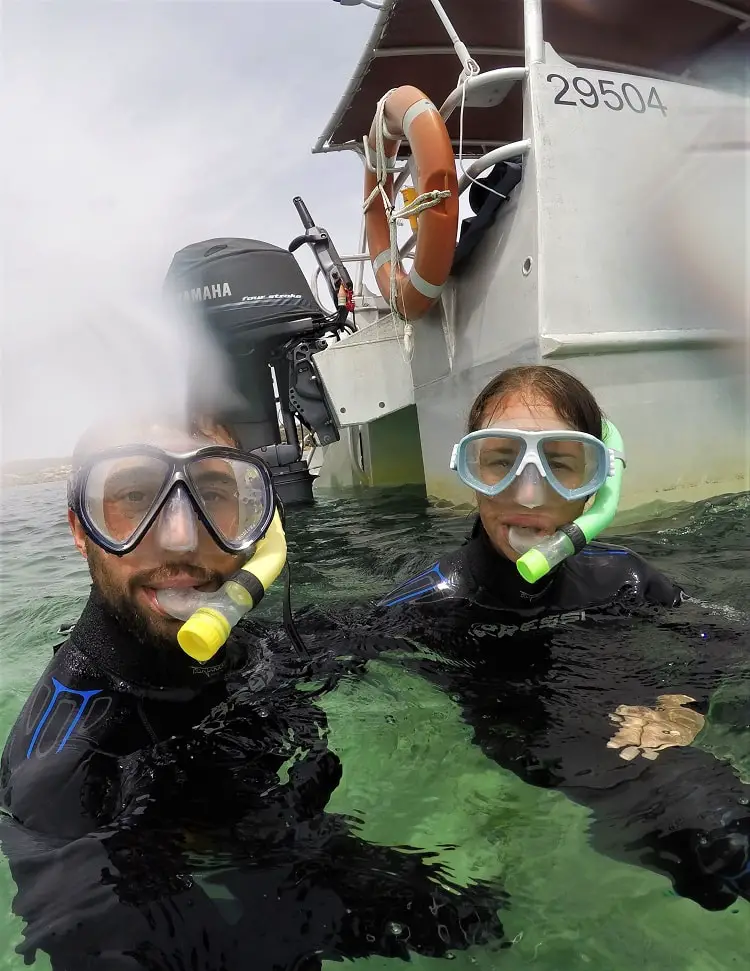 After a while in the water we got back on the boat to go in search of dolphins. You might be surprised to learn that dolphins are actually more aloof than sea lions, so we didn't have quite as much interaction with them.
On the morning trip they'd apparently been very friendly, but they weren't particularly interested in visitors that afternoon. They did swim alongside the boat for a while though; I couldn't believe how fast they could slice through the water!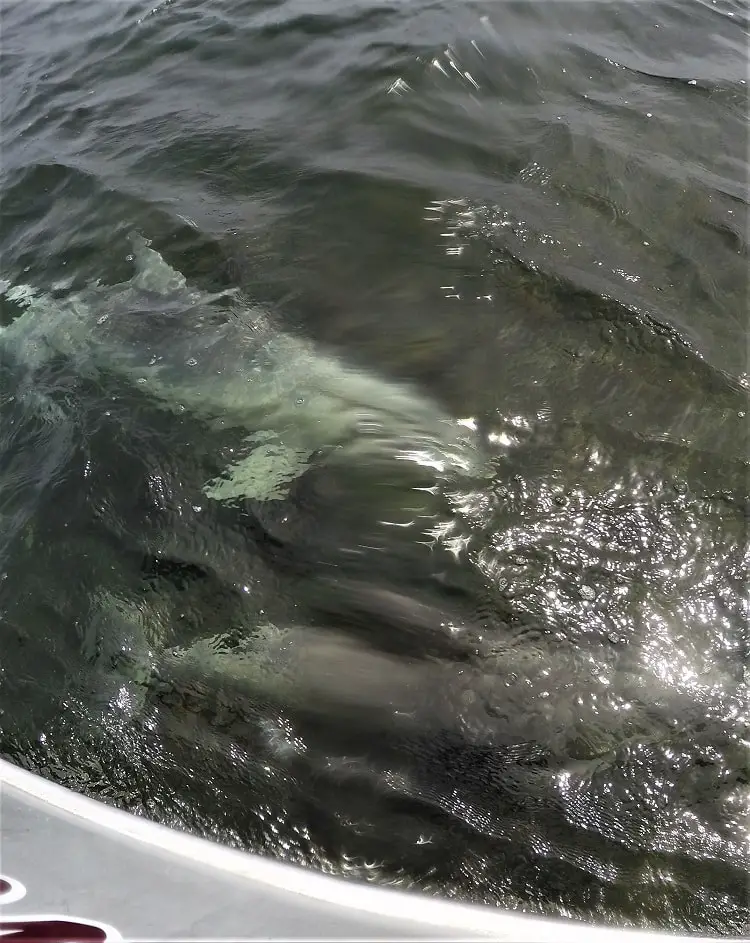 We were allowed to get back in for a second swim before heading back to dry land. Most of us were pretty exhausted by the end. We definitely got our money's worth!
Back at the eco centre, it was a relief to wrestle out of our wetsuits and warm up with a hot drink! While Michi perused the souvenir shop, I had a good look through the tourist brochures to decide where we should visit on the remaining few days of our Perth to Adelaide drive.
---
Accommodation Near Baird Bay
You have quite a few accommodation choices around this area of the Eyre Peninsula. There's onsite accommodation in Baird Bay, or you can drive out to a larger town for more choice. Here are some of your options.
Baird Bay Accommodation
If you want to soak up the tranquillity of Baird Bay for a while longer, you can stay at the onsite Baird Bay Eco Apartments.
Streaky Bay Accommodation
An hour's drive north of Baird Bay lies the pretty coastal town of Streaky Bay, which has a reputation for great seafood and a choice of cafes and restaurants. You can choose from hotels, motels and a caravan park.
Browse Streaky Bay accommodation here.
Ceduna Accommodation
If you're heading west to cross the Nullarbor and want to make some headway, it's 178km north of Baird Bay to Ceduna. This is the last proper town you'll pass before your big multi-day journey across the plain.
Browse Ceduna accommodation here.
Elliston Accommodation
If you're going to be heading southeast towards Adelaide, it's 116km from Baird Bay to the larger coastal town of Elliston. This is where I stayed after the swim.
Browse Elliston accommodation here.
I saw one of the best sunsets of my life in Elliston, as well as a sting ray flapping and a rainbow! Here are some pictures.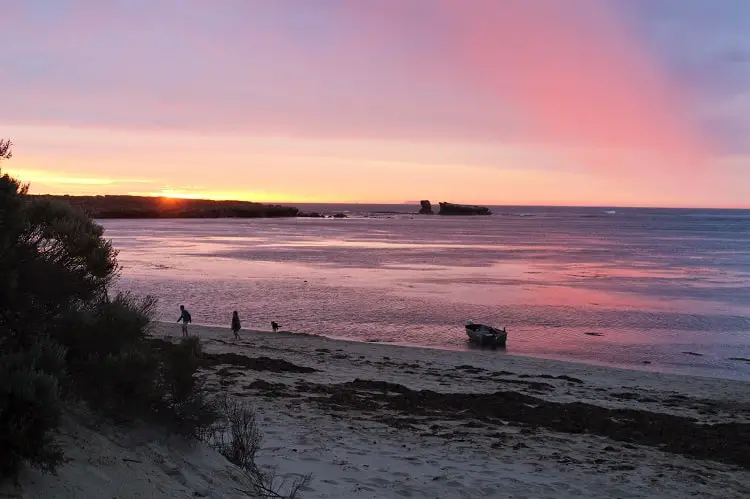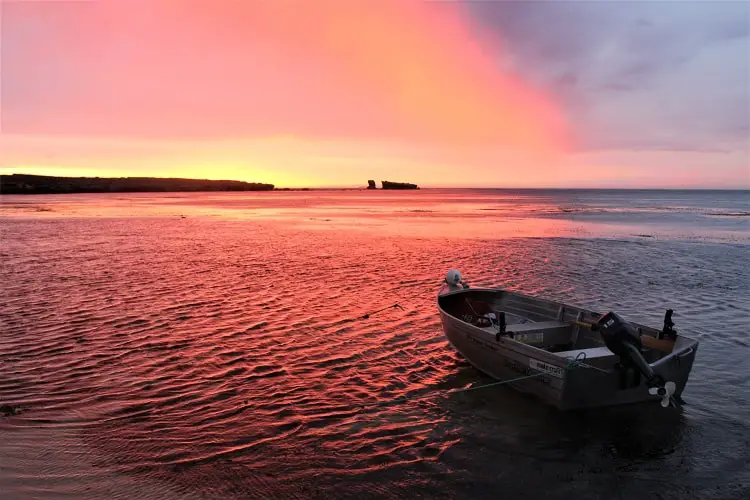 ---
For more destinations on the south coast of Australia, check out my Perth to Adelaide drive itinerary. It includes distances, driving times and costs, and you can click on the links to each place as you go along for more information.
To read about the next stop on our road trip, read my blog post on things to do in Port Lincoln. This is a seaside city on the Eyre Peninsula close to two beautiful national parks.
Follow this link to the Baird Bay Ocean Eco Experience website for more information and bookings on the sea lion and dolphin swim. Enjoy!
---
Like it? Pin it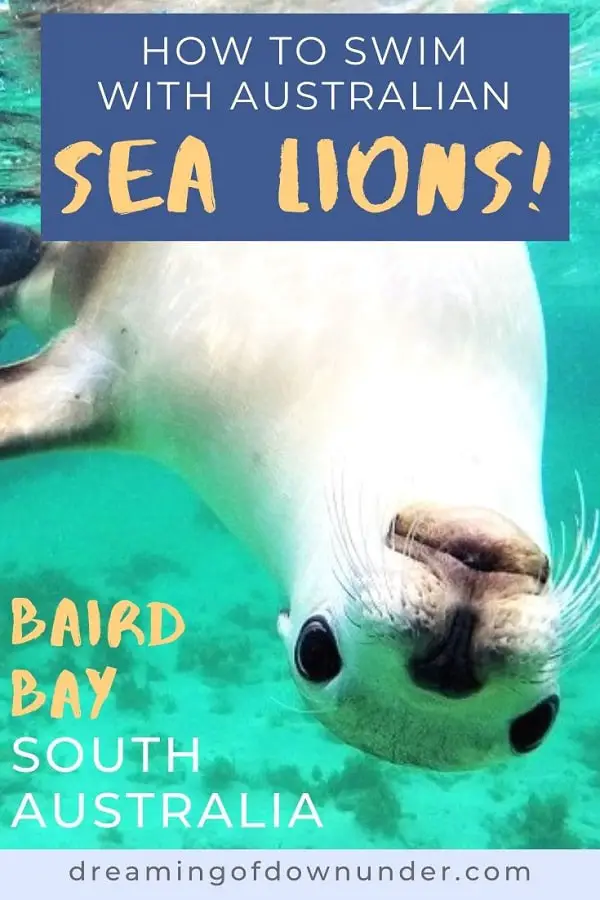 Written by Lisa Bull
Lisa Bull, founder of Dreaming of Down Under, has been living in Australia as a British expat since 2015. After travelling to every state and territory in Australia and living in Perth, Brisbane and Sydney, Lisa knows from first-hand experience the best destinations to visit in Australia and the best budget travel tips. Her guides on this blog have been read by over 700k readers and helped thousands of people achieve their dream of living in or travelling Australia.