This post may contain affiliate links. Please see my disclosure policy for more details.
After our first taste of south-west Australia's Tall Timber Country in the Southern Forests of Pemberton, the next stop on our Perth to Adelaide adventure was the famous Valley of the Giants Tree Top Walk in Walpole-Nornalup National Park.
An 18km drive east from Walpole WA, this popular attraction lets you walk 40 metres above the ground through the canopy of red tingle forest found only in the Walpole Wilderness region of Western Australia.
Open daily from 9am-5pm, the Valley of the Giants features a Discovery Centre with information and displays, an Ancient Empire walk that meanders through the forest at ground level, and the elevated Tree Top Walk. If you're passing through south-west Australia, it's well worth a visit.
---
Valley of the Giants Tree Top Walk
The 600 metre-long, elevated Tree Top Walk costs $21 for adults, $15.50 for concessions, $10.50 for children between 6 and 15, $52.50 for a family of four, and is free for children under 6. The walkway is suitable for children of all ages, wheelchairs and strollers.
The views from the walkway are phenomenal, and really let you appreciate the vast size of these ancient trees! If you're on a tight budget, keep reading as there are other parts you can see for free.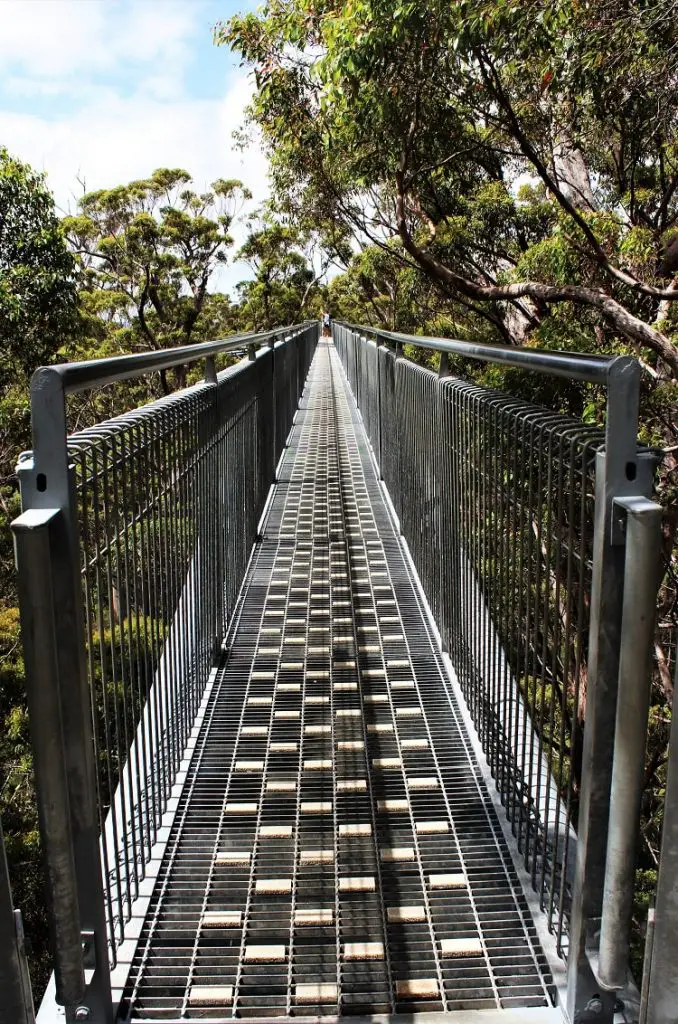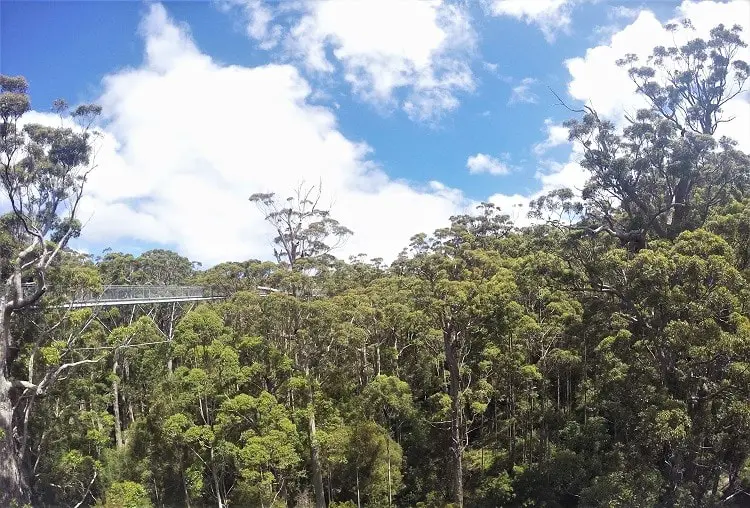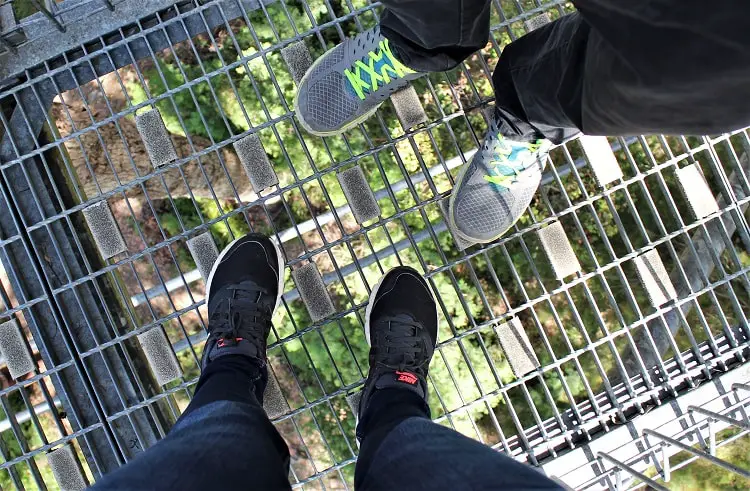 ---
The Ancient Empire Walk
The Ancient Empire walk is a 450 metre walk at ground level, that takes you through the forest of 400-year-old red tingle trees. The walk is free to enter and has many informative signs along the way. You'll get to see magnificent burnt-out trees and even get to walk inside them. It's amazing that some of these trees are still living!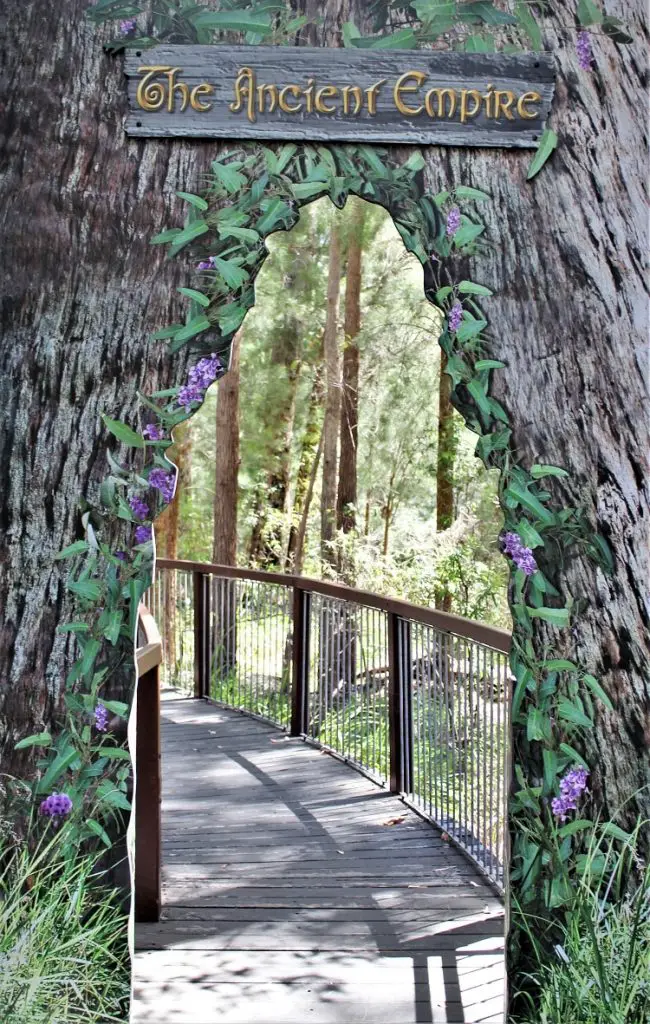 One of the first highlights you'll see on the walk is Grandma Tingle. At over 400 years old, this ancient tree measures 12 metres in circumference, 34 metres in height, and has gnarled features resembling a (rather old)  human face!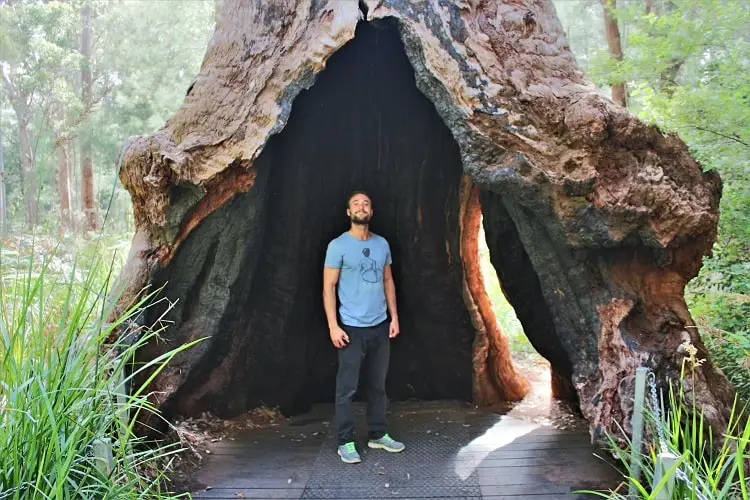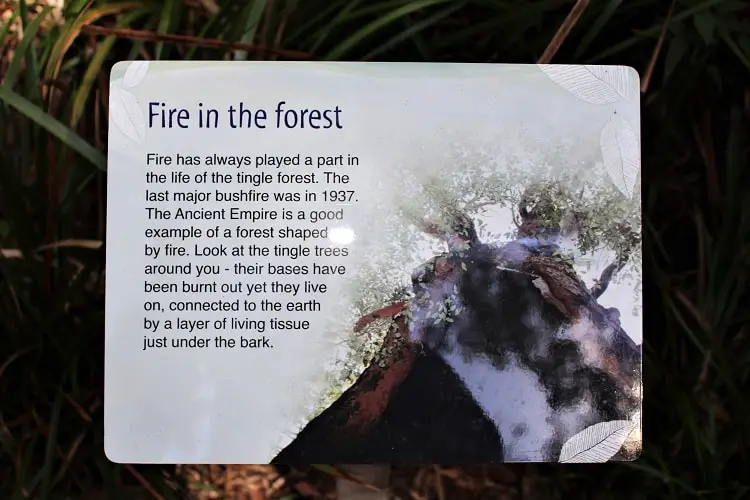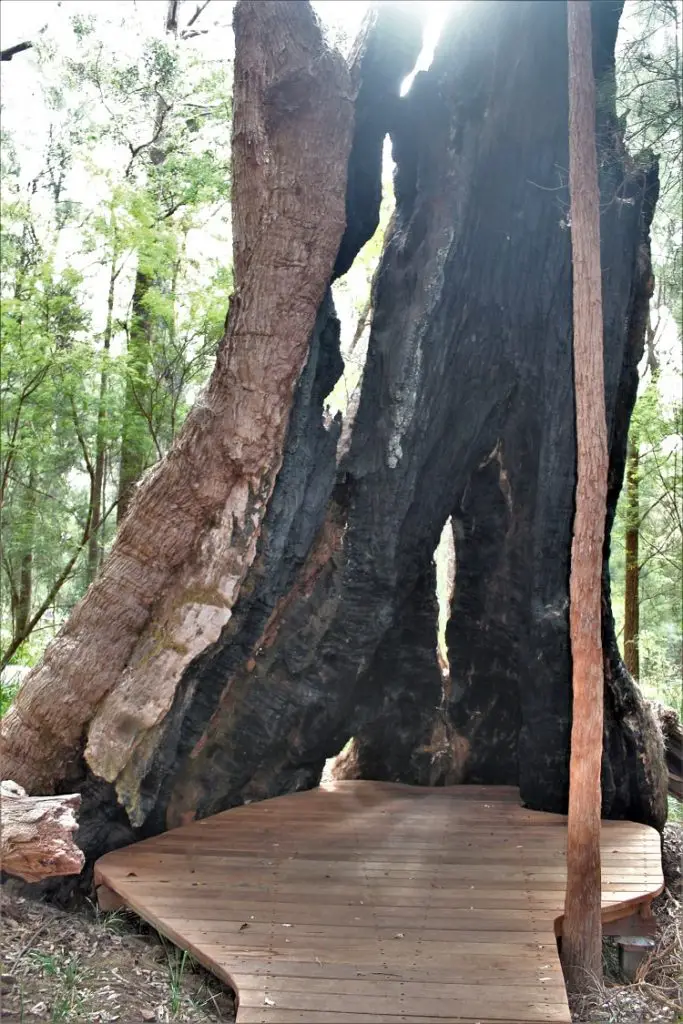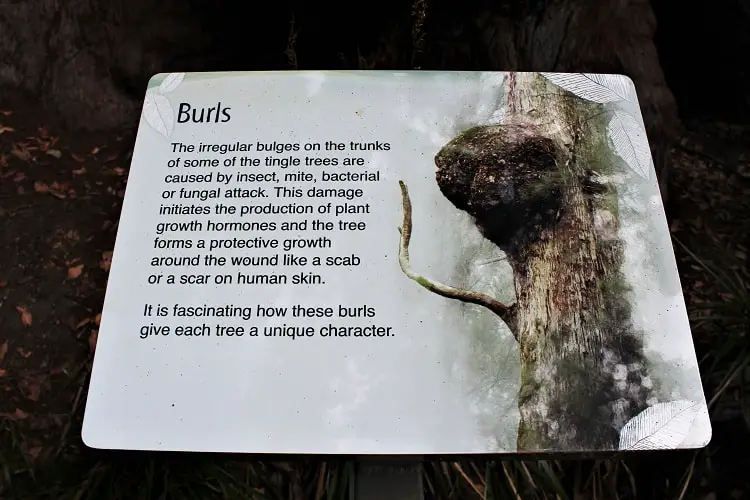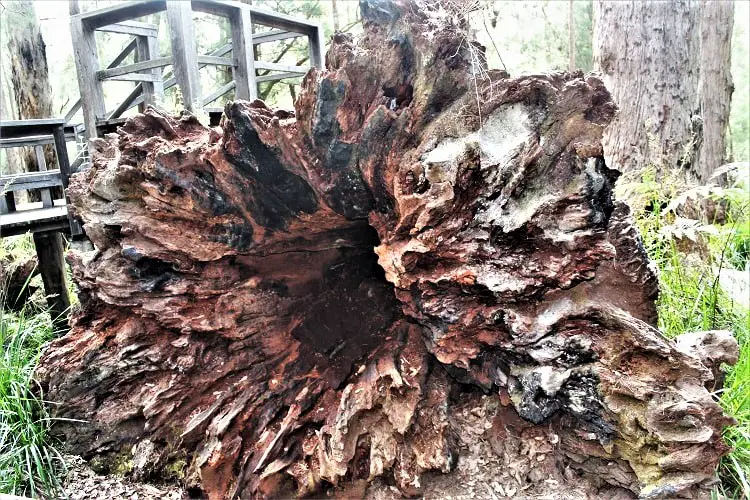 ---
Accommodation in Walpole: Coalmine Beach Holiday Park
After two nights of bush camping around Pemberton, Michi and I desperately needed a shower, some power, and to do a load of laundry, so we checked into Coalmine Beach Holiday Park in Walpole for some (relative) luxury. Overlooking the water at the Walpole-Nornalup Inlet Marine Parks, the holiday park has great facilities along with a beautiful green setting.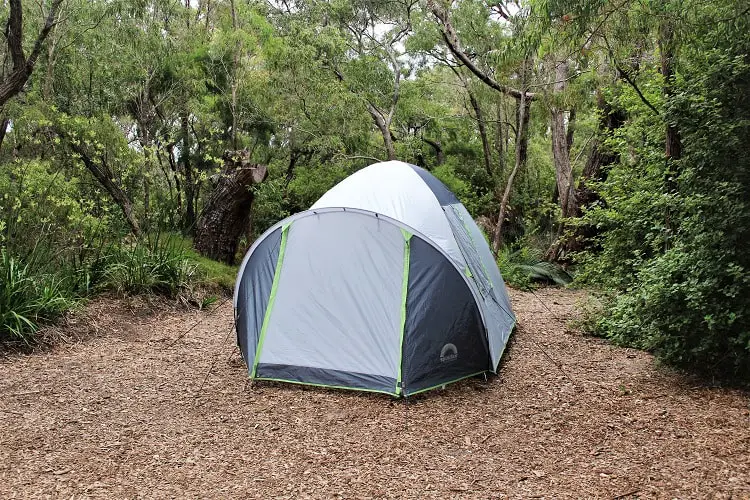 There were even kangaroos bouncing around when we arrived!
As well as laundry facilities, the holiday park also had a great camp kitchen and a children's playground.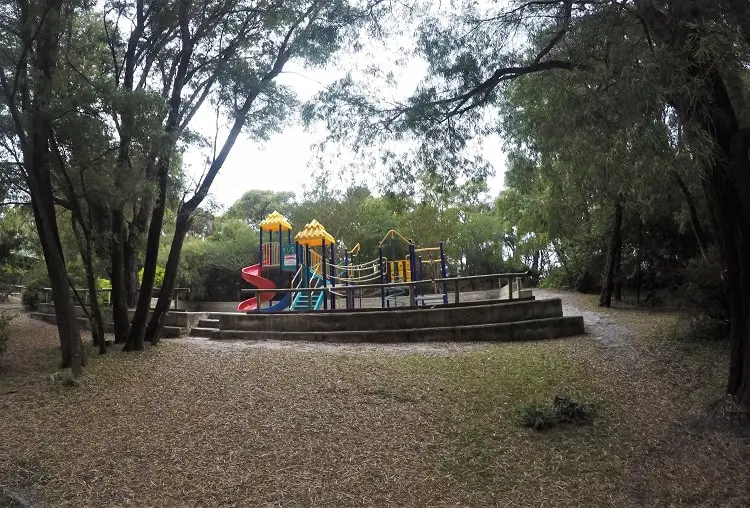 The beach was just round the corner too, though it was pretty overcast that day.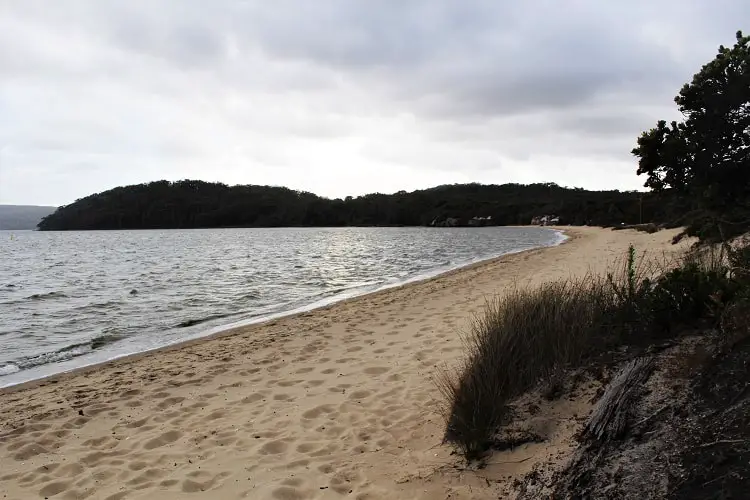 ---
To read about our next stop, check out my post on the beautiful beach town, Denmark. For more information on the Valley of the Giants Tree Top Walk, visit the Parks and Wildlife Service website.
To plan your south coast trip across Australia, read my whole Perth to Adelaide drive itinerary, which includes distances, driving times, costs and accommodation.
---
Like it? Pin it!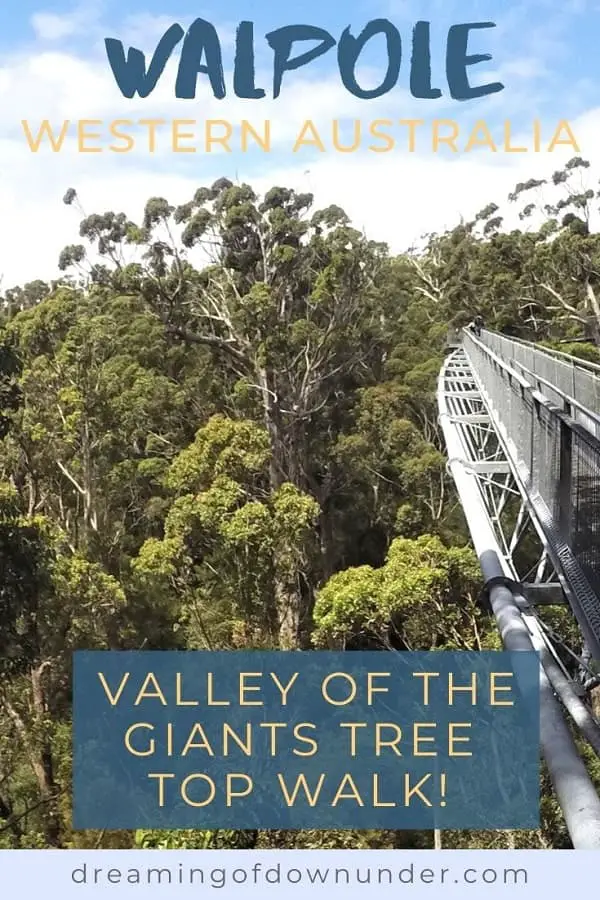 Written by Lisa Bull
Lisa Bull, founder of Dreaming of Down Under, has been living in Australia as a British expat since 2015. After travelling to every state and territory in Australia and living in Perth, Brisbane and Sydney, Lisa knows from first-hand experience the best destinations to visit in Australia and the best budget travel tips. Her guides on this blog have been read by over 700k readers and helped thousands of people achieve their dream of living in or travelling Australia.