This post may contain affiliate links. Please see my disclosure policy for more details.
Known for its magnificent beaches and abundance of nature, the town of Denmark WA is somewhere I'd been looking forward to visiting ever since I started planning my Perth to Adelaide road trip.
After spending a few days enjoying the Southern Forests in Pemberton and Walpole, it was time for a change of scenery, so my travel mate, Michi, and I continued east towards Western Australia's Rainbow Coast.
After setting up camp at Parry Beach and using some much needed Wi-Fi in town, we decided to check out the iconic Greens Pool and Elephant Rocks in Williams Bay National Park, 15km west of the town centre. While it wasn't exactly beach weather, it was certainly beautiful!
Here's are the best things to do in Denmark, WA.
---
Greens Pool, Denmark WA
Despite Denmark apparently being blessed with a 'mild climate all year round', this wasn't apparent when we visited, despite it being summertime. It was cold, windy, very overcast and a little bit drizzly (although the sun did make a brief appearance just as we were leaving). It was, however, clearly very beautiful and well worth a visit.
The white sand curves around a small sheltered bay that's known for its variety of sea-life. Being a great fan of the ocean, Michi decided to brave the water, while I shivered on the beach in two coats, a scarf and a towel.
I was pretty glad I'd stayed on dry land when he emerged convulsing with cold and hardly able to speak! I think I would have been carted off in an ambulance wrapped in tin foil if I'd gone in with him!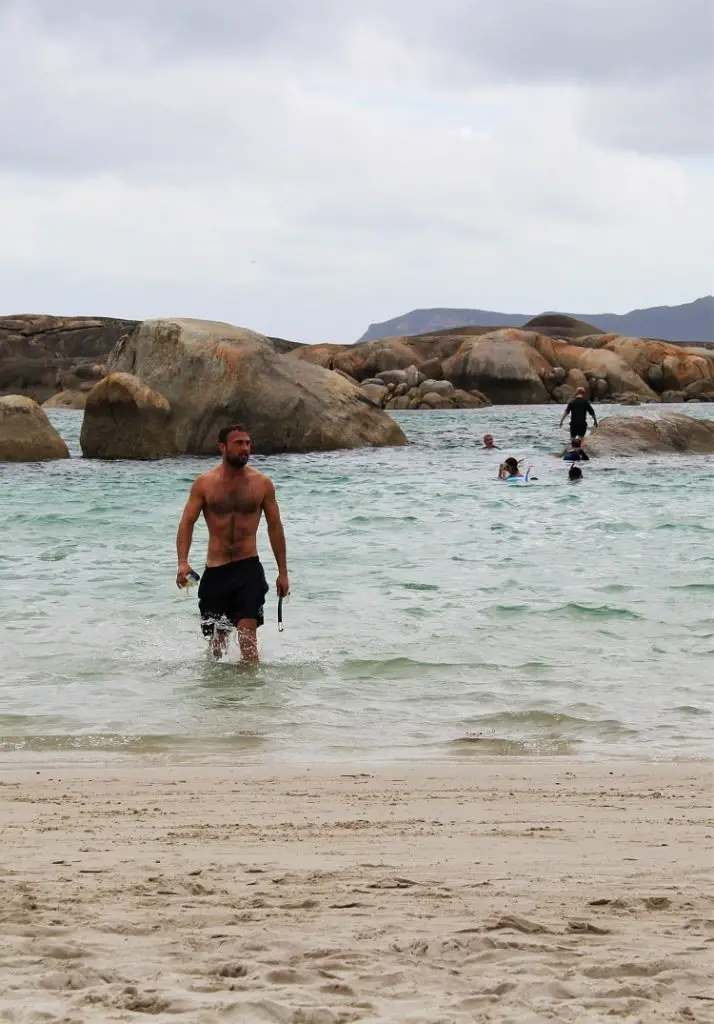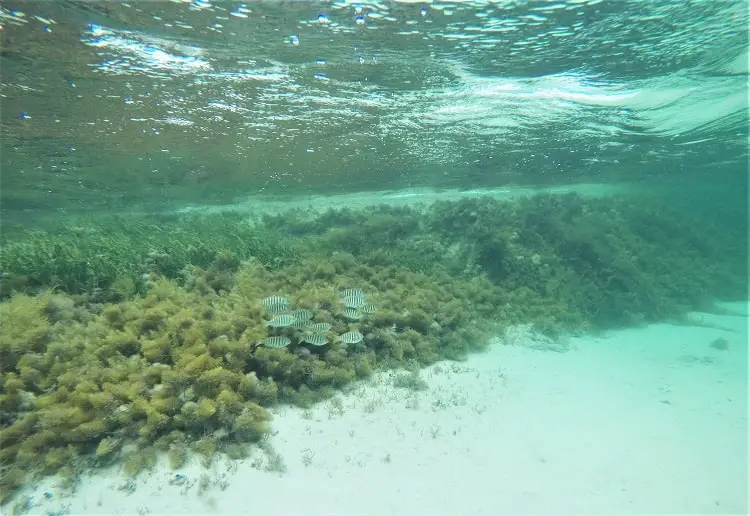 Unfortunately, there wasn't anything too exciting hanging around the waters of Greens Pool that day. So we set about rescuing Michi from hypothermia and continuing our explorations.
---
Elephant Rocks & Elephant Cove
Next we took the short path to the beautiful Elephant Cove and Elephant Rocks, another highlight of Denmark WA. Named after the huge, cracked rocks that have an elephant-like appearance, these interesting spots are quite unique and well worth visiting, as you can see.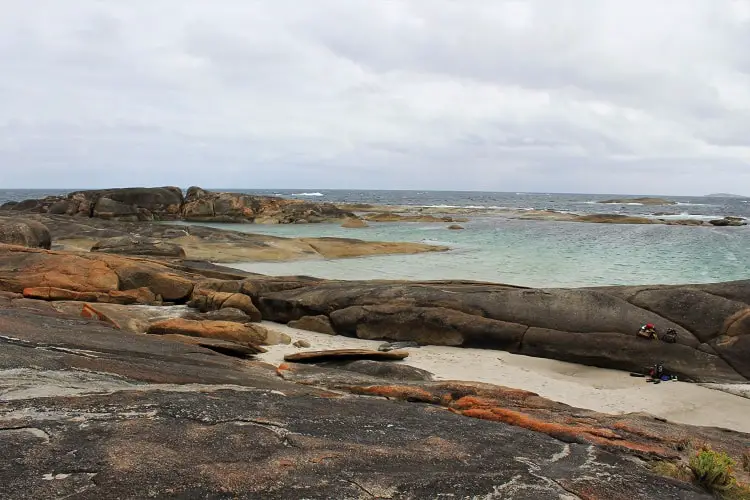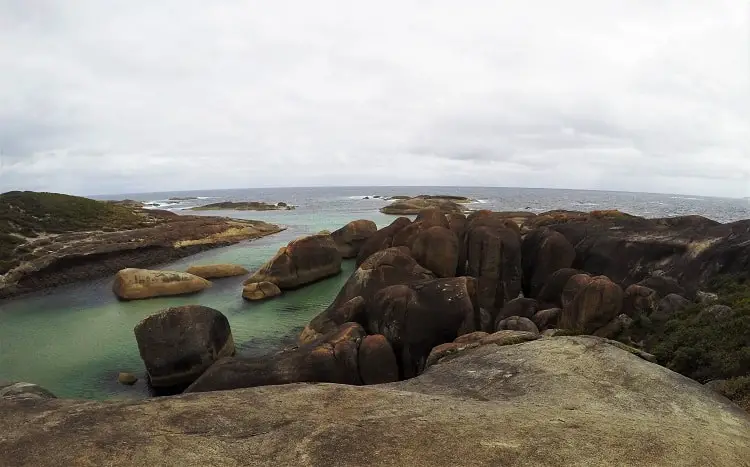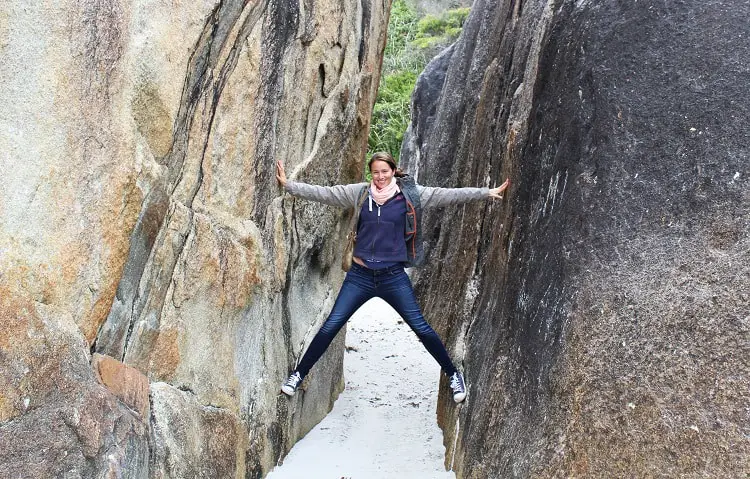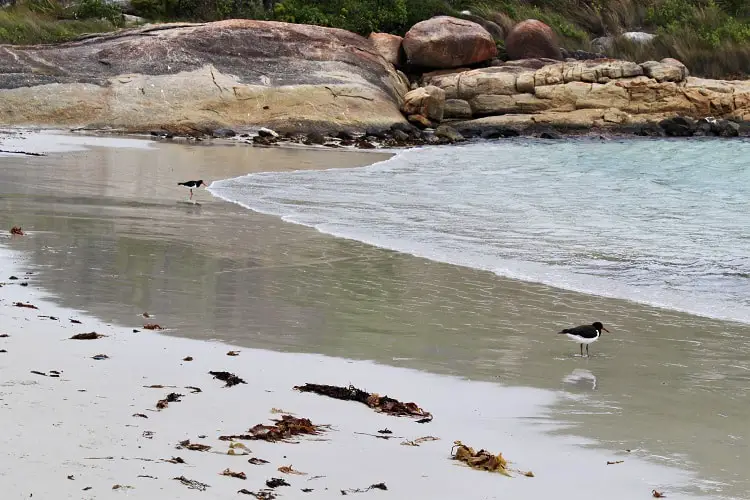 ---
Denmark WA Town Centre
Denmark has a population of around 2,500, and a cute town centre with cafes and an IGA supermarket. One thing you don't usually get at campgrounds and caravan parks is Wi-Fi, so we spent quite a huge amount of time in the lovely Bibblumun Café catching up with reality!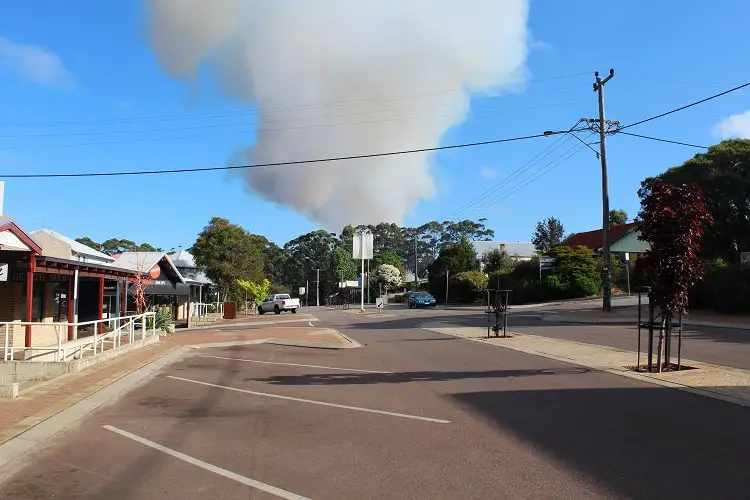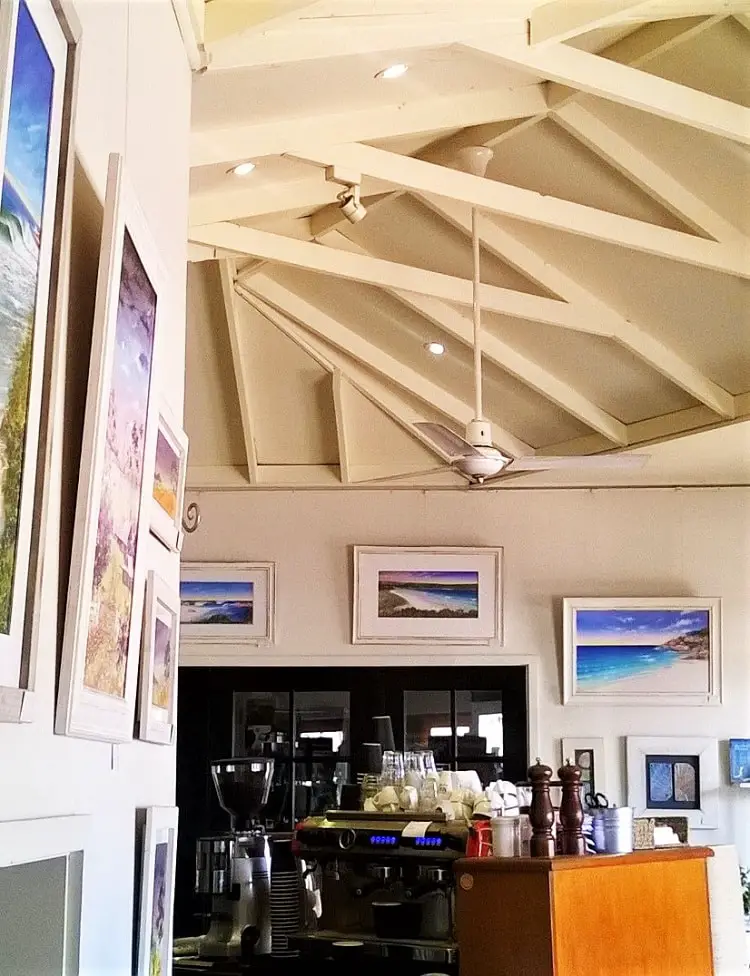 ---
Camping in Denmark
At the far western edge of William Bay National Park, 30km from Denmark town, is the lovely Parry Beach, home to a very reasonably priced campsite owned by the Denmark Shire. At $15 per car (for one or two people) and having facilities including hot showers, BBQs and a laundry, it was definitely the best value we came across on our entire trip.
The campsite doesn't have a website, and you can't book a spot. It's just a case of turning up and paying cash. We stayed on a weekend at the start of summer, and it was pretty busy with local families. The location is beautiful and it had a real bohemian vibe with dads on bongos and everything!
To get to Parry Beach campsite, just follow Parry Road off the South Coast Highway.
---
Get tips for your own road trip in my Perth to Adelaide drive itinerary, which includes distances, driving times, costs and highlights.
To read about our next stop, check out my post on free camping at Shelley Beach, where we had a seriously revolting incident with my phone going down a compost toilet and met an orphaned baby kangaroo on her first mini-break with her foster parents!
---
Like it? Pin it!
Written by Lisa Bull
Lisa Bull, founder of Dreaming of Down Under, has been living in Australia as a British expat since 2015. After travelling to every state and territory in Australia and living in Perth, Brisbane and Sydney, Lisa knows from first-hand experience the best destinations to visit in Australia and the best budget travel tips. Her guides on this blog have been read by over 700k readers and helped thousands of people achieve their dream of living in or travelling Australia.