This post may contain affiliate links. Please see my disclosure policy for more details.
Situated at the southern tip of the Eyre Peninsula in South Australia, the seaside city of Port Lincoln is not only known as the seafood capital of Australia, but lies a short drive away from two stunning national parks.
After camping across the Nullarbor and swimming with dolphins and sealions in Baird Bay, Port Lincoln was the next drive stop on my adventure.
We found plenty of things to do in Port Lincoln, SA, including city attractions and nature. Read on to learn more.
---
Lincoln National Park
Just 9.5km south of Port Lincoln lies Lincoln National Park. Overlooking Boston Bay, Australia's largest natural harbour, the park boasts beautiful beaches, offshore islands, walking tracks, lookouts and the Sleaford-Wanna sand dunes.
Our first stop in the park was the steep 1.6km-return hike up to the Stamford Hill lookout and Flinders Monument, where we were treated to magnificent views across Boston Bay, Port Lincoln and Lincoln National Park.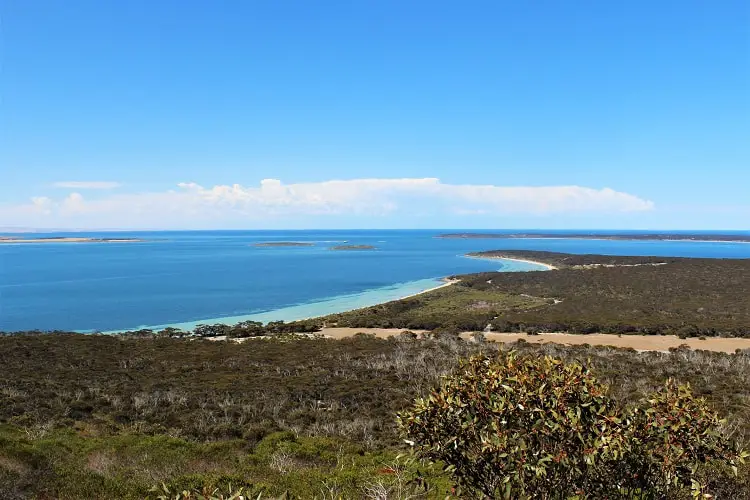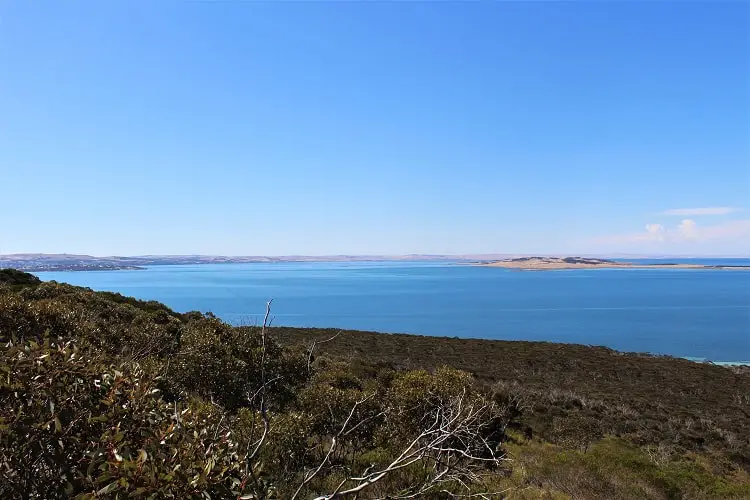 Next we drove on to Fisherman Point, a camping ground on a raised, rocky area overlooking two beaches on the northern tip on Lincoln National Park. It was a bit of a bumpy drive across the stony ground, but well worth it once we'd climbed down to the beach.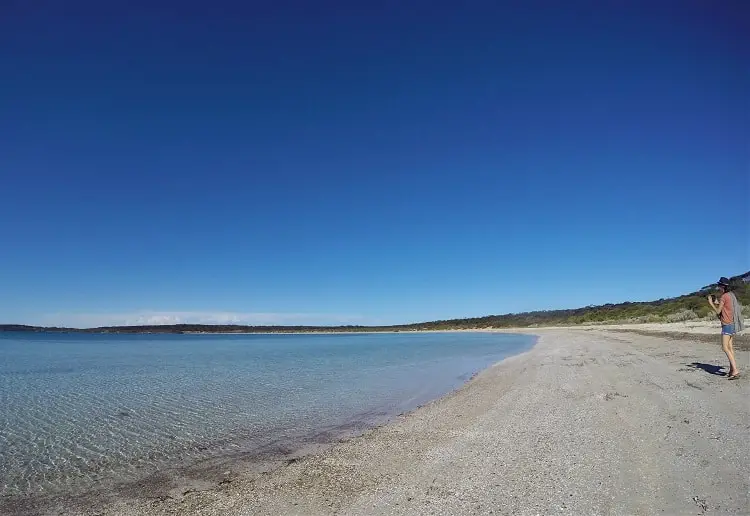 While the sand wasn't all that special, and there was a lot of sea grass everywhere, the water was stunningly clear. We cooled off with a dip before lazing on the virtually empty beach.
Port Lincoln Day Tour
If you'd rather explore as a group, this Port Lincoln full-day tour includes a visit to Lincoln National Park, stopping to admire the view from Wanna lookout before stopping for a seafood lunch. Then meet local wildlife at Mikkara Station and finish at Winters Hill lookout.
---
Port Lincoln City Centre
Port Lincoln is a reasonably sized city, so a good place to stock up on supplies if you're on a Perth to Adelaide road trip like we were (particularly if you've just crossed the Nullarbor too!).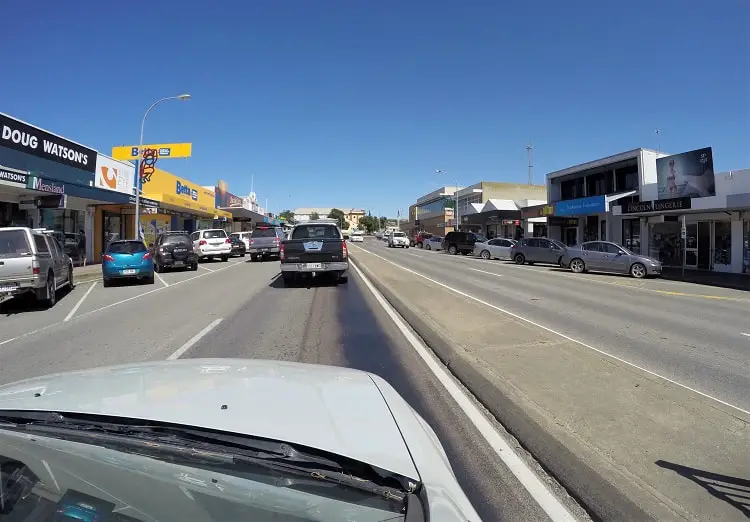 We did attempt to go out for a drink, since it was the first time we'd been in a city for a long time. But after a long day exploring Lincoln National Park we ended up not reaching the city until 10:30pm!
Being a Tuesday night, there really wasn't much happening and places were closing up, so we drove up to Winter Hill lookout instead to view the city lights by night. (I'll spare you my photos – they didn't turn out well!)
If you fancy going out in Port Lincoln for food or drinks, the Marina Hotel looked like a pretty nice spot.
---
Coffin Bay Oysters
Another fun thing to do in Port Lincoln is visit Coffin Bay, a small, idyllic town 47km northeast of Port Lincoln overlooking the waters of Port Douglas and Kellidie Bay.
Famous for fresh oysters and home to beautiful Coffin Bay National Park, it's an area well worth exploring if you've made it down to the tip of the Eyre Peninsula.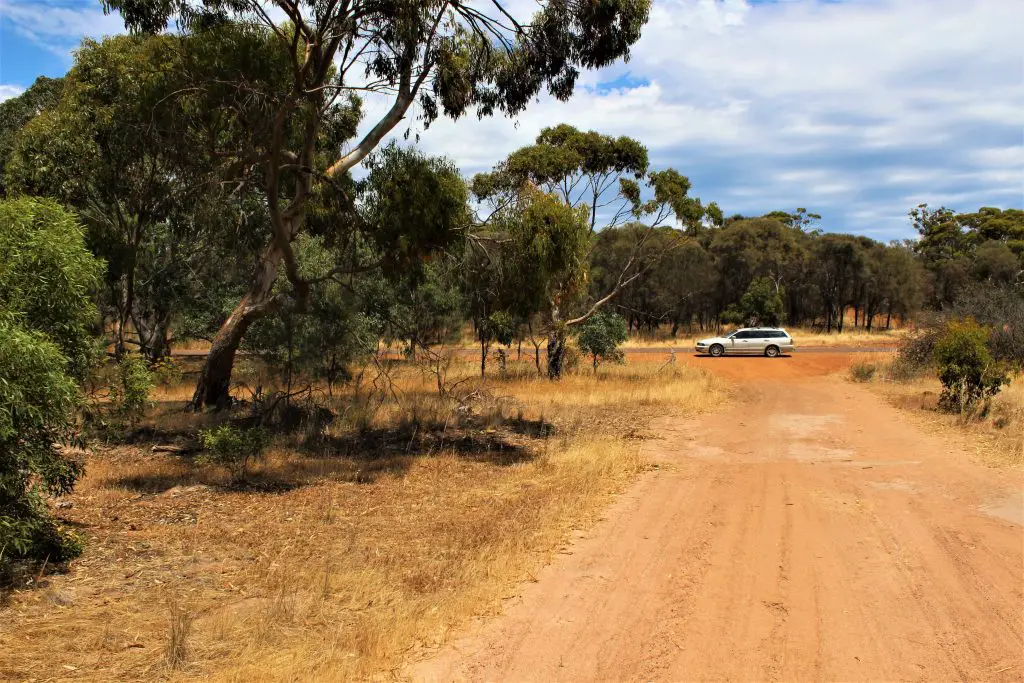 Since my travel mate had never tried oysters before, our first stop was finding somewhere for lunch, since Coffin Bay oysters are famous! The town was much smaller than we'd realised, so it didn't take long to explore.
While it was a bit fancier than our usual backpacker haunts, we decided that 1802 Oyster Bar, right on Coffin Bay waterfront, seemed like the nicest place to eat.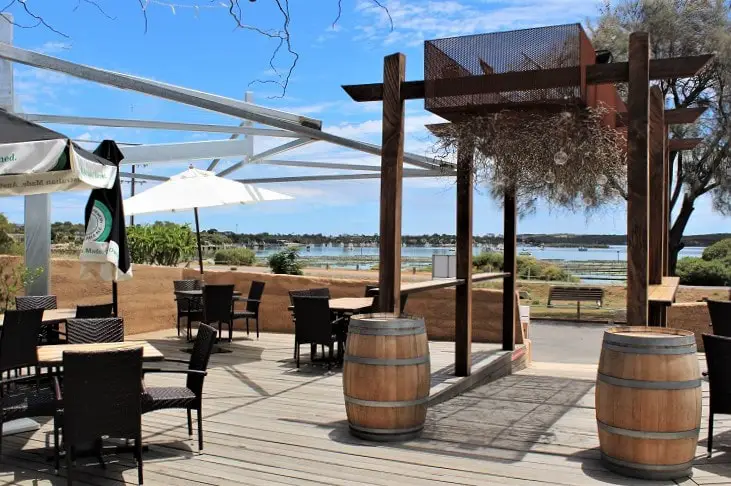 While the view from the terrace was beautiful, it was an absolute scorcher of a day (the weather in Port Lincoln and South Australia in general was much hotter than it had been on our trip through Western Australia from Perth). We decided to sit inside and make the most of the air-con!
They had a huge array of flavours to choose from, but we went with the natural oysters with a squeeze of lemon to try them out properly. Michi decided oysters definitely weren't for him, but hey, he tried them in style!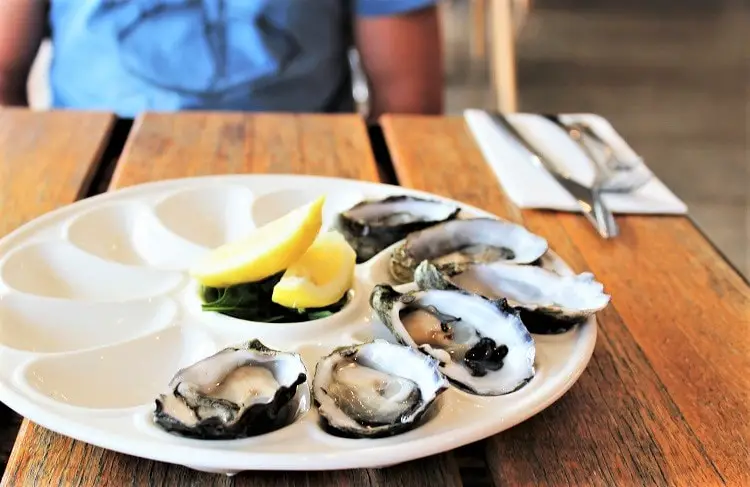 Coffin Bay Oyster Farm Tour
If you'd like to learn more about how oyster farming works, this 3-hour tour takes you on a cruise across Coffin Bay to wade amongst the oyster beds. Your local guide will teach you all about the industry before you try 12 freshly shucked oysters!
---
Coffin Bay National Park
From there we headed into Coffin Bay National Park, where we immediately came across the abundant South Australian wildlife and had to stop to let some emus cross the road!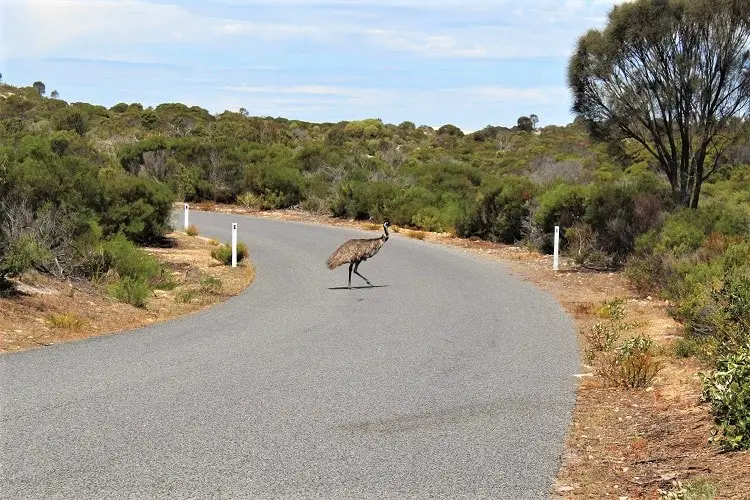 Next we stopped at Templetonia lookout to enjoy the view before continuing west.
Our next stop was Golden Island lookout, where the water was phenomenally turquoise!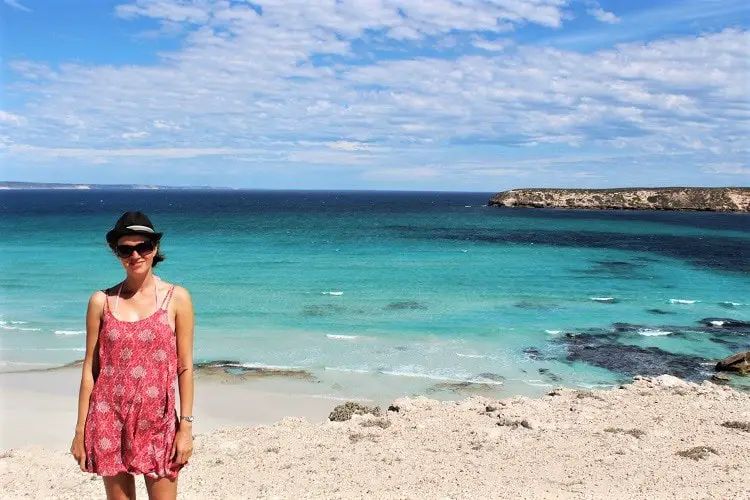 We went on to explore the dazzlingly white Almonta Beach, which had amazing views stretching across Gunyah Beach and the sand dunes that sit behind it.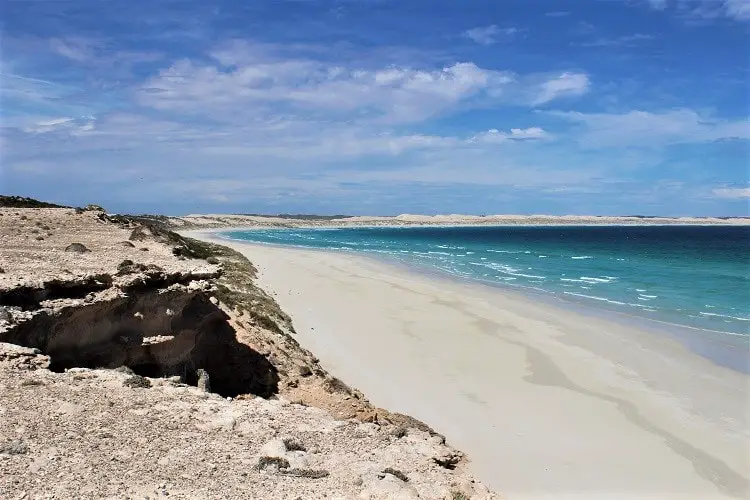 Our last stop before heading to Port Lincoln for the night was Yangie Bay, where there's also a campground. It was starting to look a bit stormy by this point though!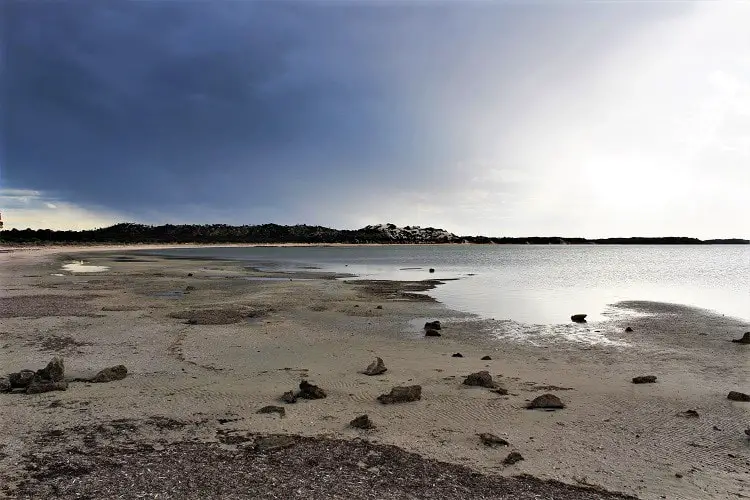 There's much more to Coffin Bay National Park, but it's only accessible by high-clearance 4WD. You can read more on the National Parks South Australia website.
If you only have time to visit one national park, I personally preferred Coffin Bay because of the amazing white beaches and dunes.
---
Port Lincoln Accommodation
There's plenty of accommodation in Port Lincoln on the Eyre Peninsula, including hotels, hostels, holiday parks and camping grounds.
Use the search box below to find deals or read about some of your options below.
---
Port Lincoln Hotel
If you're on a higher budget, 4-star Port Lincoln Hotel has amazing ocean views as well as a swimming pool, restaurant and on-site bar.
Port Lincoln YHA
If you're looking for a backpacker hostel, try Port Lincoln YHA. It's ideally located close to the beach and shops and has a choice of dorms and private rooms.
Port Lincoln Tourist Park
I camped at Port Lincoln Tourist Park, which is ideally situated in the city whilst being absolute waterfront.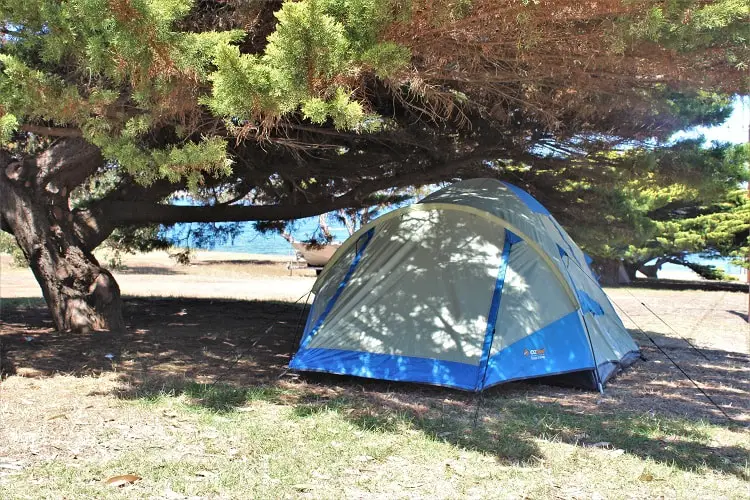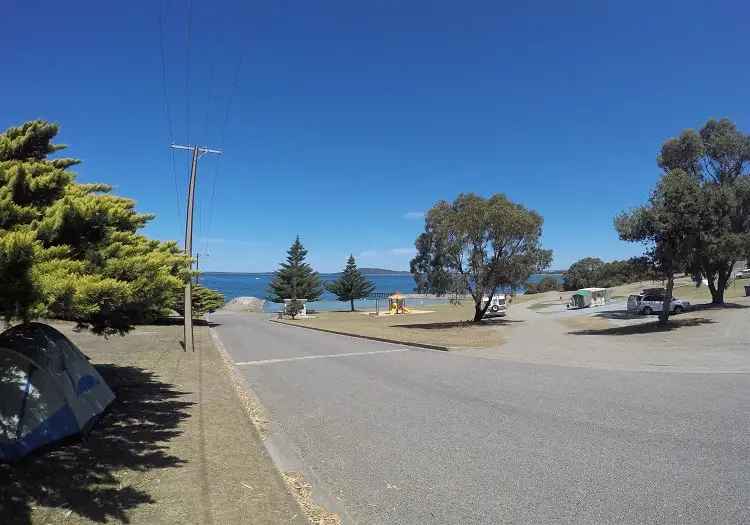 It's a 4-star tourist park with campsites, cabins, waterfront cabins and plenty of facilities. We got to do all our laundry as well as make use of the large kitchen.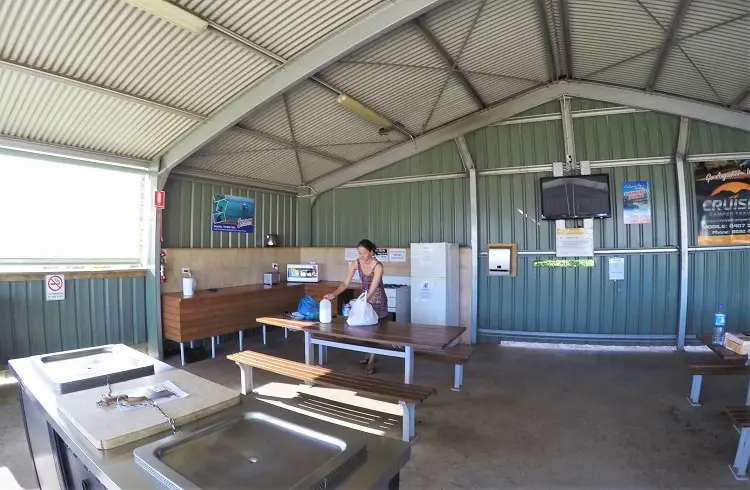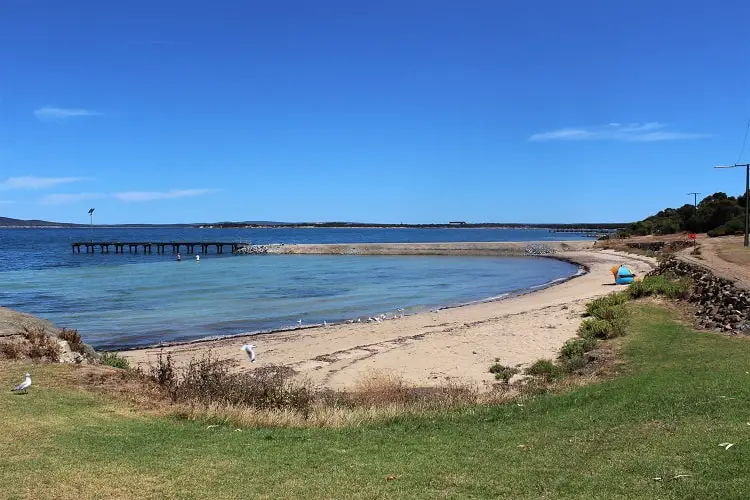 McKechnie Springs Farmstay
We also spent a night at McKechnie Springs Farmstay, as the caravan park was booked out when we got there. It was mega cheap at only $20 per night for a campsite!
Out in the South Australian countryside, the farm had fantastic views and plenty of space. The landscape in South Australia is very different to Western Australia, and very dry looking with a particularly bright blue sky.
We'd been quite worried about the thunder and lightening on the way there, but thankfully the storm seemed to bypass the farm and settle over the city instead! (The sunny photos are from the next morning.)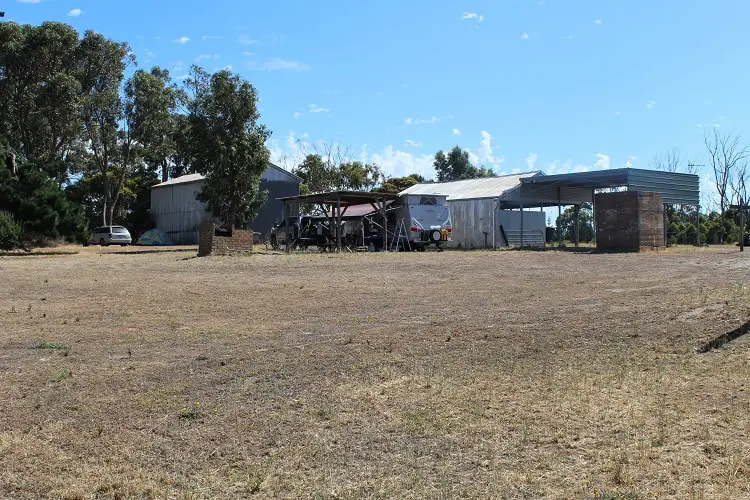 We were the only people camping there, so we had the kitchen and bathroom facilities all to ourselves. It was a nice change to use a proper indoor kitchen, rather than the usual open-sided kitchens at tourist parks which get really cold at night. It even had a TV and pots and pans! And we woke up to a very sunny day the next morning.
McKechnie Springs farmstay is located at 977 McFarlane Rd, Green Patch, SA 5607. To book call: 0421 062 697.
---
If you're thinking of going on a south coast Australian road trip too, make sure you read my Perth to Adelaide drive itinerary, which includes attractions, drive stops, distances and costs.
To read about the next stop on our adventure, check out my ultimate guide to Whyalla, a beachside city with an industrial history.
---
Like it? Pin it!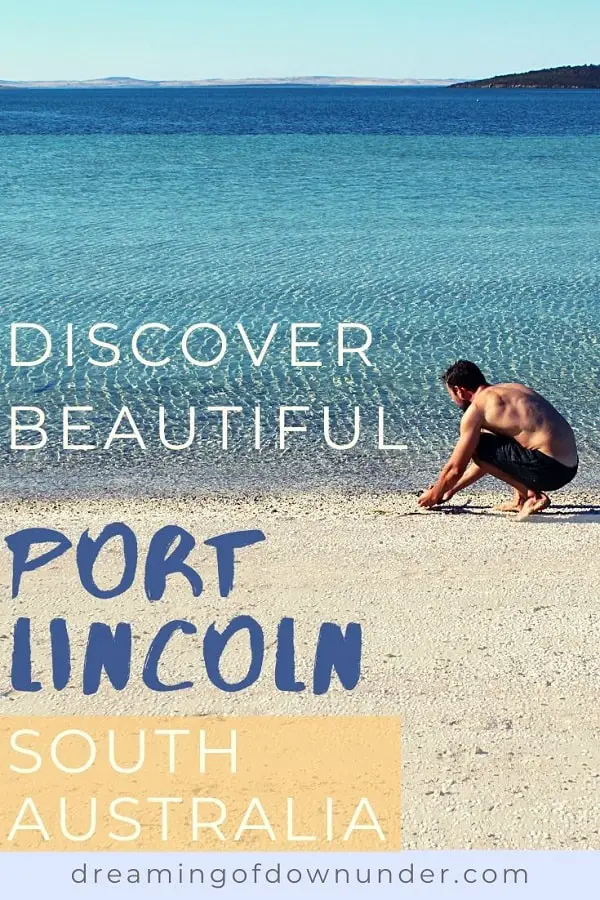 Written by Lisa Bull
Lisa Bull, founder of Dreaming of Down Under, has been living in Australia as a British expat since 2015. After travelling to every state and territory in Australia and living in Perth, Brisbane and Sydney, Lisa knows from first-hand experience the best destinations to visit in Australia and the best budget travel tips. Her guides on this blog have been read by over 700k readers and helped thousands of people achieve their dream of living in or travelling Australia.