This post may contain affiliate links. Please see my disclosure policy for more details.
If you're planning a road trip from Perth to Adelaide along the south coast of Australia, crossing the Nullarbor Plain is going to be an inevitable part of your journey.
While driving the Nullarbor involves two or three long days in the car, with little to see on the Eyre Highway apart from roadhouses every hour or two, it's certainly a uniquely Australian experience that allows you to appreciate just how vast and uninhibited much of the country really is.
If you've been following my entire drive itinerary from Perth to Adelaide, you'll know that my travel mate, Michi, and I spent just over three weeks enjoying the ancient forests and bright white beaches of Western Australia on the first part of our journey.
After a few days discovering the best things to do in Esperance (despite rain storms and summer hail!), we were in for a huge change of both scenery and temperature as we headed inland towards Norseman to begin our journey across the Nullarbor.
If you're considering driving this route, I've put together this comprehensive Nullarbor driving itinerary with all the information you'll need to plan your journey and reach the other side unscathed, including driving tips, fuel stops, distances, attractions, roadhouse facilities and Nullarbor accommodation, from free camping to motels. Enjoy!
---
Nullarbor Plain Information
Here are some important facts to learn before crossing the Nullarbor!
What is the Nullarbor Plain?
The Nullarbor Plain is a semi-arid area of limestone bedrock between Perth and Adelaide on the southern coast of Australia, covering 200,000 square kilometres. The name Nullarbor comes from the latin words "nullus", meaning no, and "arbor", meaning tree.
Beneath the limestone lies a vast system of unexplored caves and underwater labryrinths, which together with the rough, bumpy surface is known as a "karst" landscape.
I must say, I saw a lot more trees than I expected on my journey! However, the Nullarbor is still a whole lot of nothing compared to the more populated parts of Australia. It is also home to the world's longest golf course, the Nullarbor Links!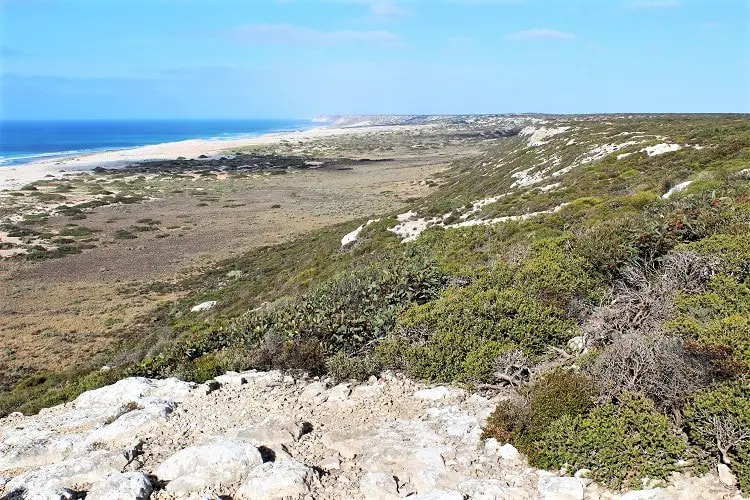 ---
How long is the Nullarbor?
The distance from Norseman to Ceduna across the Nullarbor Plain is 1,202km, which takes about 12 hours 20 minutes to drive.
Since you'll likely be starting or ending in Esperance (the nearest large coastal town to Norseman), you'll need to add on another couple of hours. The distance from Esperance to Ceduna is 1,406km, which takes around 14 hours and 30 minutes to drive.
We split the journey over three days, with two overnight stops bush camping on the Nullarbor Plain, at Baxter Rest Area and Bunda Cliffs, and one night at Wittelbee Conservation Park in Ceduna at the end.
---
How do you travel across the Nullarbor?
You could cross the Nullarbor Plain by bus tour or by train on the Indian Pacific railway journey that runs all the way from Perth to Sydney, but this blog post is a self-drive itinerary for those travelling by car (or campervan or motorbike of course!).
---
Nullarbor Roadhouses: Accommodation & Fuel Stops across the Nullarbor
One of the most important things to think about when crossing the Nullarbor is fuel stops. You've got a long old journey between roadhouses with no residential areas in between. So plan carefully and make sure you're carrying a full jerry can of petrol just in case.
Here is a list of roadhouses across the Nullarbor, along with the distances between drive stops. I've gone into greater detail about the facilities at each roadhouse (along with photos, nearby attractions and links or phone numbers to book accommodation) lower down, so keep reading to find out more!
Norseman Roadhouse:

205 km

from Esperance
Balladonia Roadhouse:

191km

from Norseman
Caiguna Roadhouse:

181km

from Balladonia
Cocklebiddy Roadhouse:

85km

from Caiguna
Madura Roadhouse:

91km

from Cocklebiddy
Mundrabilla Roadhouse:

116km

from Madura
Eucla Roadhouse:

65km

from Mundrabilla
Border Village Roadhouse:

41km

from Eucla
Nullarbor Roadhouse:

184km

from Border Village
Nundroo Roadhouse:

144km

from Nullarbor
Penong Roadhouse:

82km

from Nundroo
Ceduna Roadhouse:

72km

from Penong
Unfortunately, petrol across the Nullarbor is expensive. So make sure you fill up before you set off, whichever direction you're travelling in.
We did meet a couple in Albany who'd recently crossed the Nullarbor, and they told us the cheapest places to get petrol. The prices had totally changed when we did the journey just a few weeks later though. So I don't think particular roadhouses will be consistently cheaper than others.
If you're wondering where to stay along the Nullarbor, most of the roadhouses also have motel accommodation, backpacker rooms and camping and caravan parks if you don't want to bush camp. Many even have outdoor swimming pools. I guess they've got the space for it!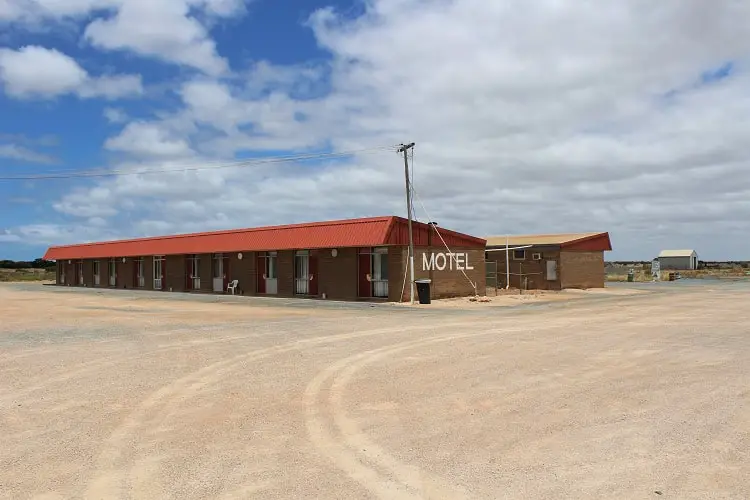 ---
Where to stay when crossing the Nullarbor Plain – free camping and caravan stops
We chose to camp in our tent at very basic free campsites and rest areas along the Nullarbor.
There are lots of these, but when I say basic, I really mean it; they didn't all have have toilets! You can use an app called Wikicamps to find campsites all around Australia (I didn't use this, but have read great reviews), or just use Google. I've listed where I camped throughout the itinerary.
I would write down some camping options in advance, as you won't always have a phone signal and internet access!
I must say, we were the only people I saw tent camping – everyone else was in caravans or campervans – and due to the limestone ground, it was extremely difficult to get tent pegs in. It took Michi about an hour to hammer them all in each time. There's no way I'd have been strong enough to do it by myself.
You might have an easier time camping at the roadhouses if you're staying in a tent.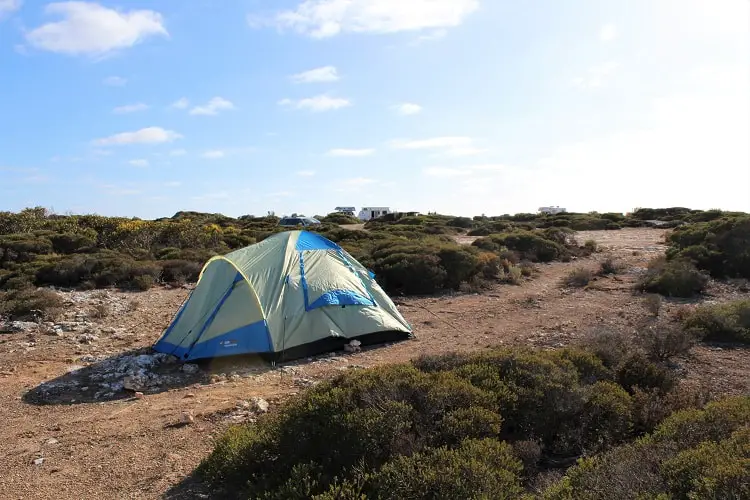 ---
What do you need to know crossing the Nullarbor by car?
The Nullarbor is the kind of place you pass through if you need to get from Perth to Adelaide; it's not somewhere people go on holiday. You certainly won't get stuck in any traffic jams!
For somewhere with so much space though, it's unfortunate that there's only a single lane in each direction. Although with the low amount of traffic I can understand it wouldn't be cost effective to expand the highway.
What you will come across is a lot of trucks and road trains (huge lorries). They tend to drive a bit below the Nullarbor speed limit, so you may want to overtake them (though not extremely long ones, as remember it's a single lane). I don't think I'd have had the guts to, but Michi did the driving on this stretch, and he's a bit speedier than me!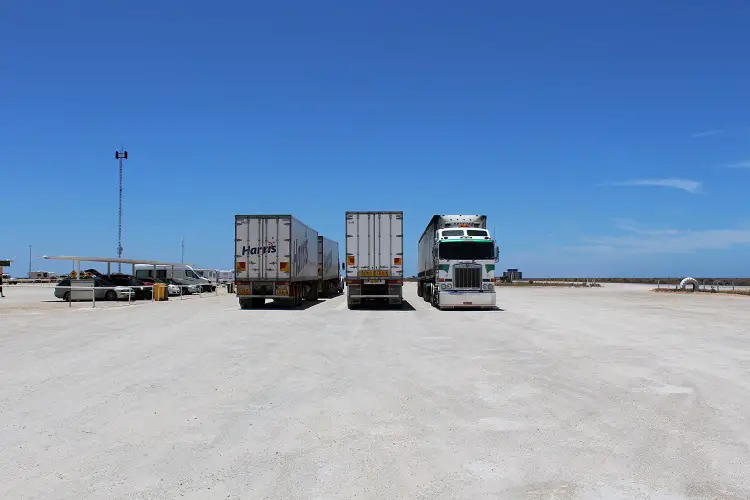 Just be warned, the road train drivers would often try to "help" us overtake them by putting on their right-hand indicator to let us know it was safe for us to go round them. It took us a while to understand this was why they were signalling, as back in the UK it would mean that they themselves were about to pull out and overtake something!
Before you set off, you should also make sure your vehicle has been serviced and is in a safe condition to drive, which you should have done already if you're doing the whole Perth to Adelaide trip. Make sure you keep an eye on your oil and coolant levels and tyre pressure every so often too.
Note that you won't pick up a radio signal across the Nullarbor, so make sure you have an alternative source of music!
---
Driving the Nullarbor at night
Don't do it. Just don't. It might be tempting to power on through the night just to save some time, but it can be very dangerous.
First of all, the road trains drive all through the night (you'll hear them if you're camping), and you don't want to be overtaking them in the dark. There aren't any street lights on the Nullarbor, and nobody's going to realise until the morning if you've hurtled off the road into the outback!
Also, the Nullarbor is home to wild kangaroos, wombats and, apparently, camels! Kangaroos like to come out for the night just before sunset until dawn, so you need to be very careful of running them over, not just here but anywhere rural in Australia.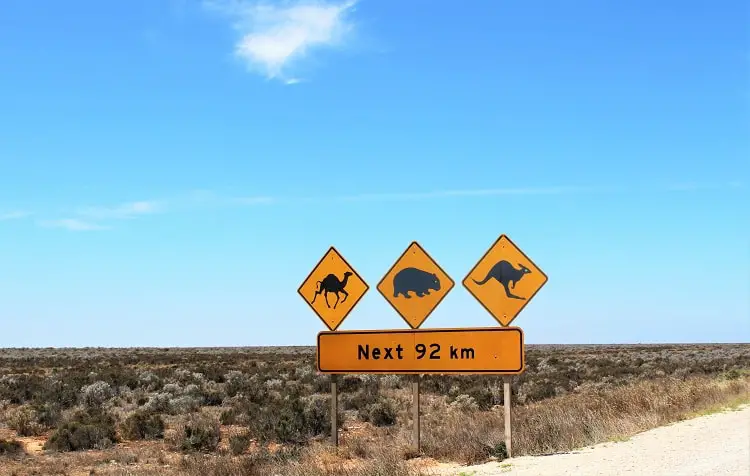 It's not just nasty for the roos (often the mothers are carrying babies in their pouches, which will be left to die in there), but if a kangaroo comes flying through your windscreen you're probably going to come off just as badly as they are!
So plan where you're going to sleep, arrive well before nightfall and live the rest of your life without a kangaroo's leg lodged through your skull.
---
Mobile phone coverage across the Nullarbor
You won't have a phone signal at a lot of places across the Nullarbor, but you'll have a much better chance if you're with Telstra.
I chose  Optus when I arrived in Australia, and Michi chose Telstra. We quickly discovered that Telstra has better coverage in virtually every rural area we visited (including the majority of Tasmania). I've read the same thing countless times on other blogs. You've been warned!
---
Weather across the Nullarbor
The Nullarbor weather tends to be hot and dry, with cooler nights. The daytime temperatures average 31-33 degrees Celsius in the summer, with nights falling to 15-17. In the winter, daytime temperatures are usually between 19-21 degrees, but as low as 5-6 degrees at night.
The Nullarbor climate felt vastly different to what we'd experienced so far on our journey across the coastline from Perth to Esperance, which had been mostly windy and cool, despite it being summer! Norseman was the first place we felt properly hot since Perth!
---
Where to buy food and drink on the Nullarbor
You can pick up fast food at the Nullarbor roadhouses, and most have restaurants if you're staying overnight. Due to its isolated location though, prices will be higher than in other parts of Australia. I paid $6 for a coffee at a roadhouse (around $4 is standard), although it was an enormous mug!
I'd advise stocking up on food and drink (certainly drinking water) before you set off. Just remember there are quarantine restrictions on food between WA and SA, so don't bring too much fresh fruit and veg. See my Border Village section further down for more details.
---
Nullarbor time zones
This is one we weren't expecting. While it's well known that there's a 1.5 hour time difference between Western Australia and South Australia (and 2.5 hours in the summer since WA has no daylight saving), some areas across the Nullarbor also have their own time zones!
There are clocks up in the roadhouses, and one had a sign confirming that yes, this is the real time!
---
Crossing the Nullarbor: Driving Itinerary
Now we've got the important stuff out of the way, here's an itinerary for your driving route across the Nullarbor, including attractions and facilities at each roadhouse.
1. Norseman
Once you've headed inland from Esperance, your first stop will be Norseman, where you'll have the choice of continuing north to Koolgarlie, or heading east across the Nullarbor (about the last choice of route you'll get on this journey!).
Norseman is an actual town, not just a roadhouse, so it's here you'll wave goodbye to "normal" life. You'll see Phoenix Park on the main road, if you need a break, which has toilets and a few things to look at.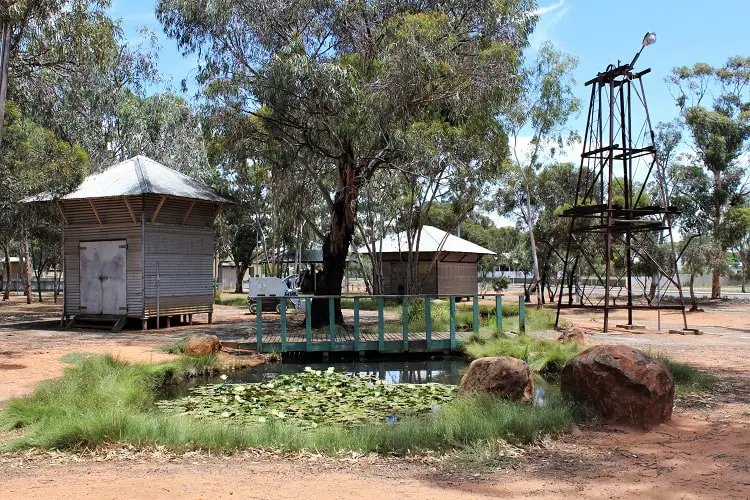 Facilities in Norseman
Petrol stations, IGA supermarket, visitor centre, public swimming pool, motels.
Norseman Accommodation
Distance
Esperance to Norseman: 205km – 3 hours
---
2. Balladonia
You've now got a two-hour drive from Norseman to Balladonia, the tiny Western Australian settlement where pieces of a rogue NASA space station called Skylab came crashing down in 1979!
You'll find a BP service station at the roadhouse plus overnight accommodation at Balladonia Hotel Motel, where you can choose from 27 three-star suites, budget backpacker rooms, caravan park or camping spots.
Stretching east from Balladonia to Caiguna is the "90 Mile Straight", Australia's longest straight road! You'll be able to pull over and get your classic "We've crossed the Nullarbor!" picture like we did!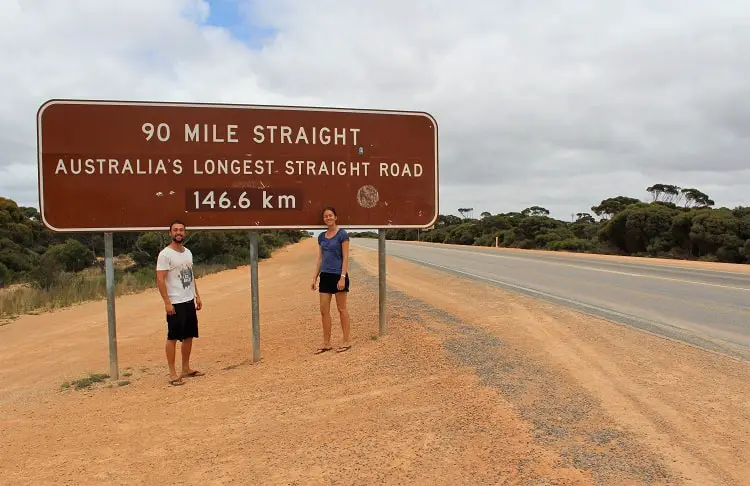 Facilities at Balladonia Roadhouse
Balladonia BP Roadhouse: fuel, shop and cafeteria
Balladonia Museum: free to enter
Balladonia Accommodation
Distance
Norseman to Balladonia Roadhouse: 191km – 2 hours
Alternative: Free Camping Area
We continued a further 114km east of Balladonia to a free camping spot called Baxter Rest Area. It was very basic, with just a few picnic tables and a toilet, but if you're self sufficient, it'll save you a few dollars. Don't expect it to be busy though. We stayed there in summertime and only one other group arrived!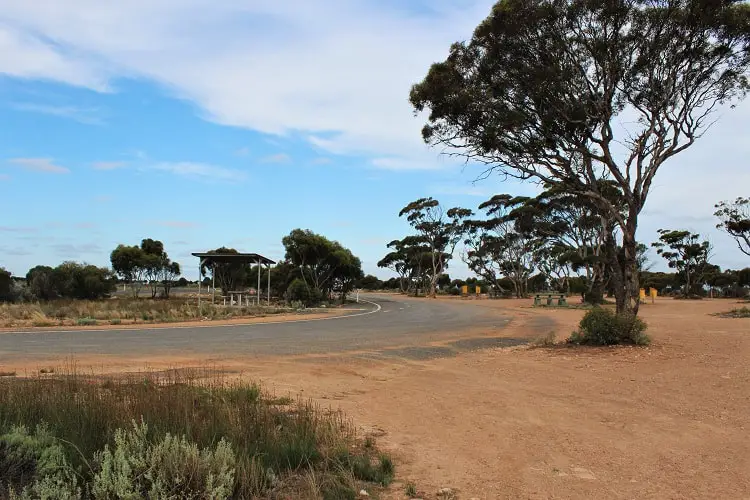 This was by far the most remote place we'd camped so far on our Perth to Adelaide adventure. It was very weird to see absolutely nothing in all directions!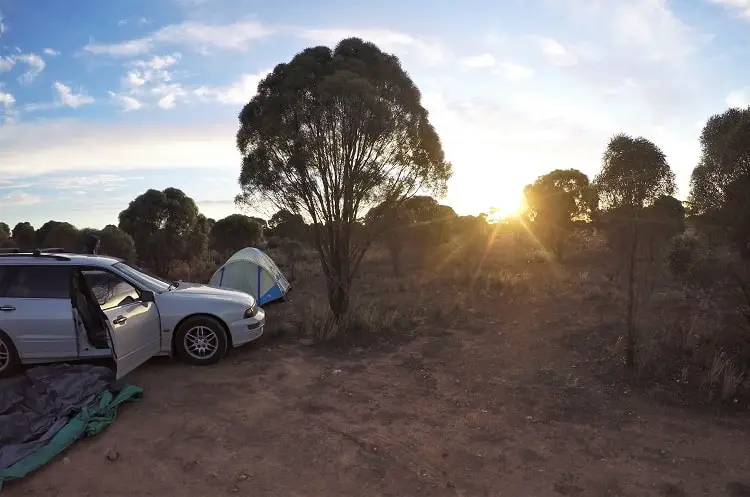 We even recovered from our long day in the car with a bit of a workout in the outback! Definitely not something I'd done before!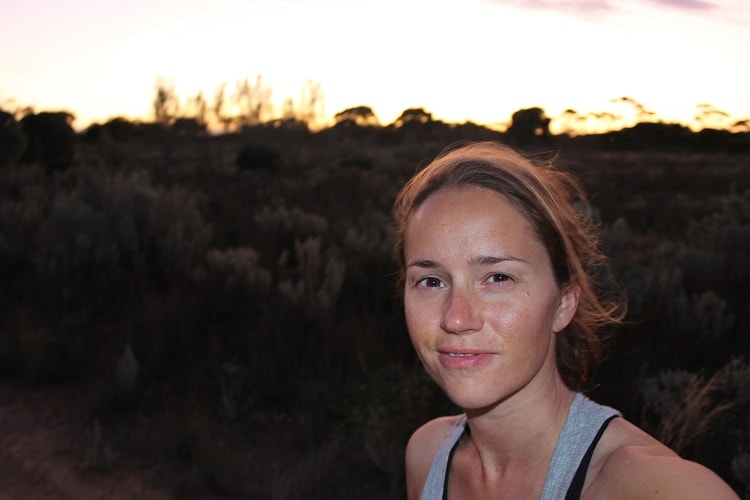 ---
3. Caiguna
A two-hour drive east of Balladonia is Caiguna Roadhouse and John Eyre Motel, which has motel accommodation, budget rooms and powered and unpowered camping and caravan sites. You can also visit the Caiguna Blowhole, 5 kilometres west of Caiguna Roadhouse. I didn't stop at the blowhole, but it is apparently signed on the road.
Facilities at Caiguna Roadhouse
Caiguna BP Roadhouse: 24-hour fuel & fast food, playground
Caiguna Accommodation
Distance
Balladonia Roadhouse to Caiguna Roadhouse: 181km – 1 hour 50 minutes
---
4. Cocklebiddy
It's only another 40 minutes east of Caiguna to Cocklebiddy Roadhouse, which is where we stopped to refuel and have a break. You can stay overnight here at the Wedgetail Inn or the caravan park.
An attraction in this area is the Eyre Bird Observatory, 50km south-east of Cocklebiddy Roadhouse, which is the most remote research station in Australia.
You can visit for the day (for $10) or stay overnight in the Old Telegraph Building. Read the website carefully, as there are restrictions on types of vehicles because of the roads.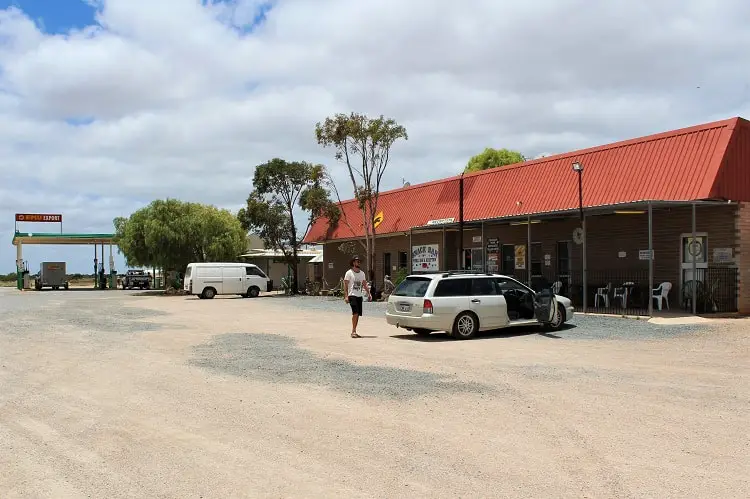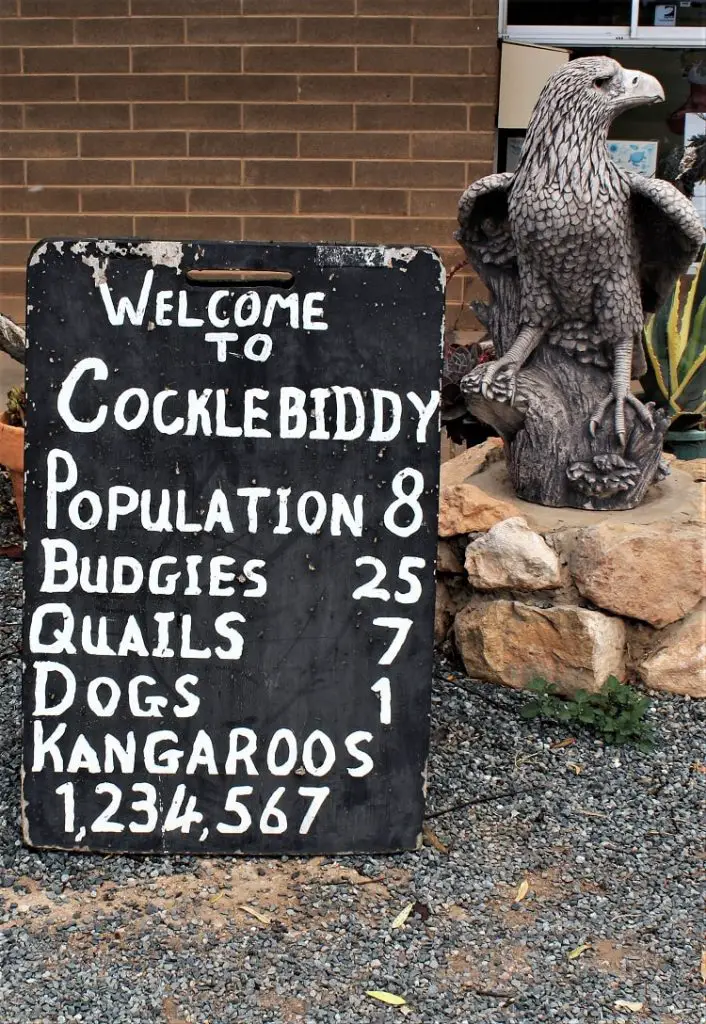 The sign below shows just how isolated the roadhouse owners are, living out on the Nullarbor! Let's hope they like kangaroos!

Facilities at Cocklebiddy Roadhouse
Cocklebiddy Roadhouse: fuel, takeaway food, restaurant, licensed bar, playground.
Cocklebiddy Accommodation
Cocklebiddy's Wedgetail Inn: 24 motel units (sleeping 1-5 people), caravan sites (call (08) 9039 3462).
Distance
Caiguna Roadhouse to Cocklebiddy Roadhouse: 66km – 40 minutes
---
5. Madura
At the base of the Hampton Tablelands, an hour east of Cocklebiddy and just over an hour west of Mundrabilla is Madura Roadhouse, where you can refuel, refresh and stay overnight at Madura Pass Oasis motel or the camping and caravan park.
About 2km west of Madura Roadhouse you can pull over at Madura Pass lookout (on the north side of the highway) to admire the sweeping view across the Roe Plains and Madura Pass.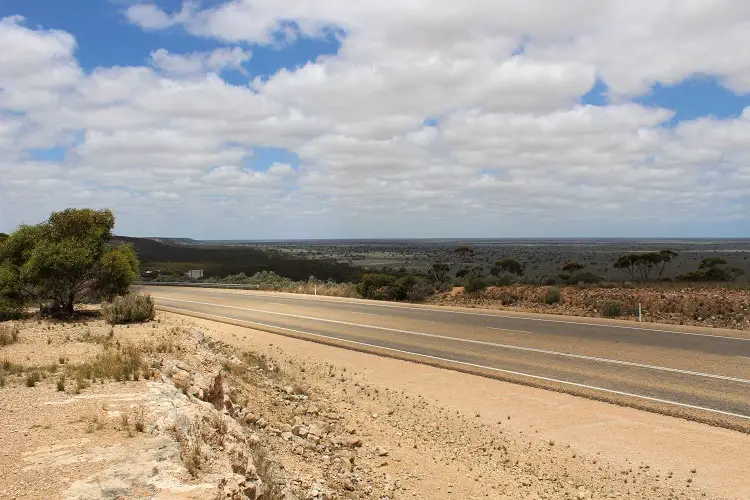 Facilities at Madura Roadhouse
Madura Roadhouse: takeaway food, bar, fuel
Madura Accommodation
Distance
Cocklebiddy Roadhouse to Madura Pass Oasis: 91km – 1 hour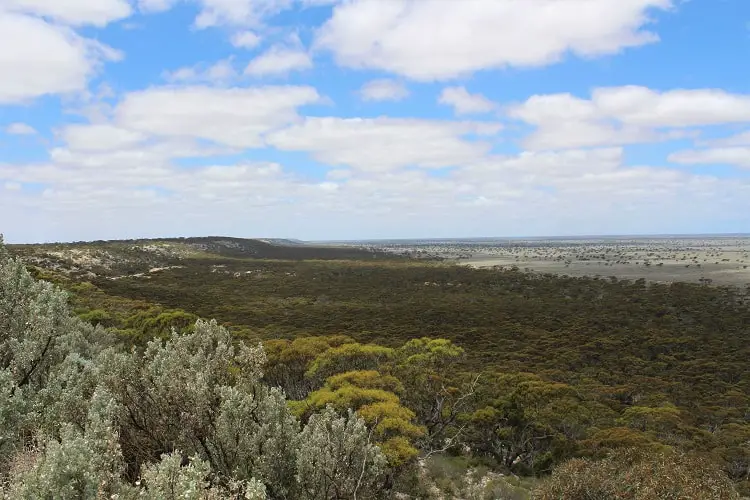 ---
6. Mundrabilla
Just over an hour east of Madura Roadhouse is Mundrabilla Roadhouse , which has a motel, caravan park, and according to its website, a  reputation for being one of the cheaper places to buy fuel across the Nullarbor.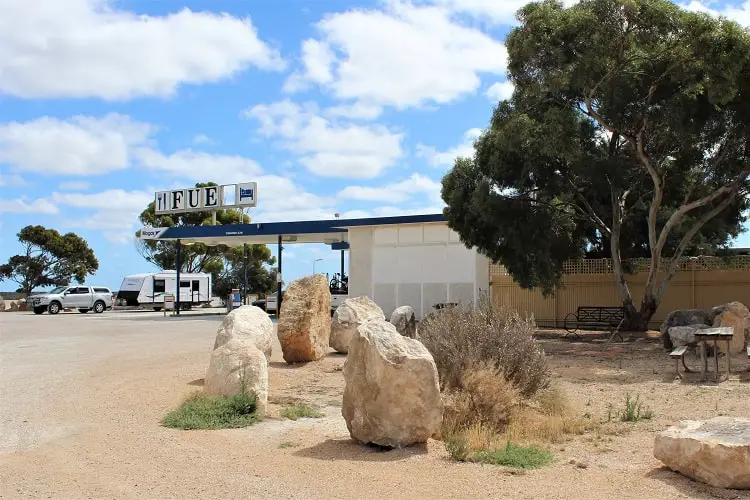 Facilities at Mundrabilla Roadhouse
Mundrabilla Roadhouse: home-cooked meals, fast food, bar, shop, ATM
Mundrabilla Accommodation
Mundrabilla Motel: 10 en-suite units with a/c, bar fridge, tea/coffee-making facilities, TV, Wi-Fi plus camping and caravan sites.
Distance
Madura Pass Oasis to Mundrabilla Roadhouse: 116km – 1 hour 10 mins
---
7. Eucla
As you can see, Eucla Roadhouse, 40 minutes east of Mundrabilla, is one of the more modern roadhouses across the Nullarbor.
They have overnight accommodation at the Eucla Motor Hotel, which has standard motel rooms sleeping 1-5 people as well as budget rooms, deluxe rooms and executive rooms. There's also a caravan park with camping facilities.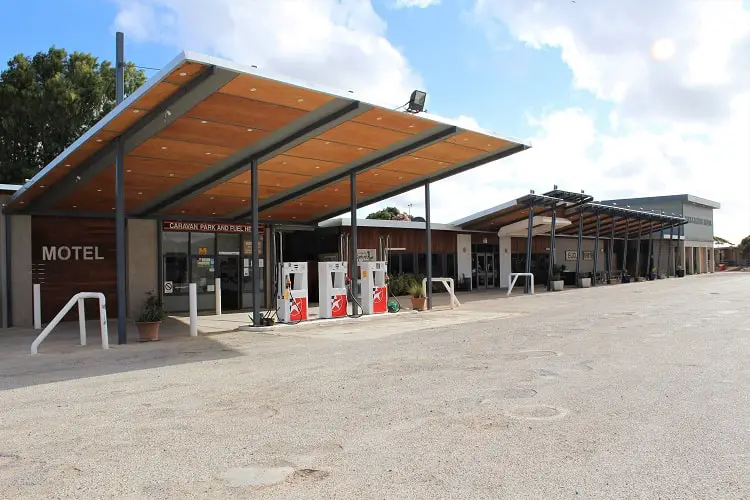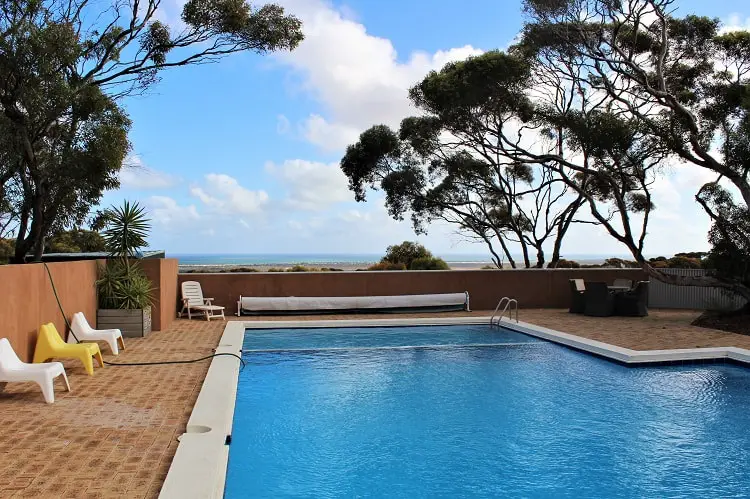 There's a bit more to see around Eucla than at most of the other roadhouses across the Nullarbor. You can take a look at the buried telegraph station and sand dunes now that you're by the sea!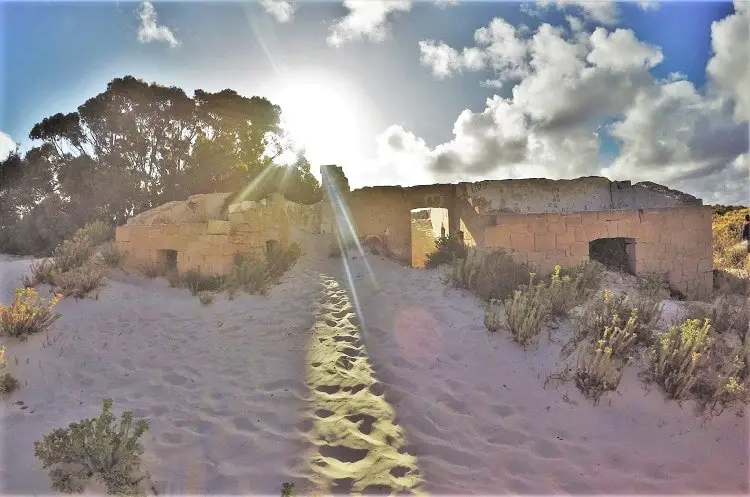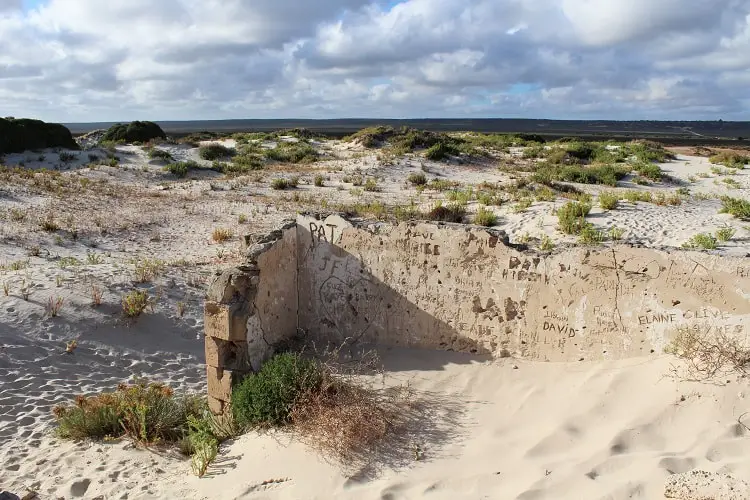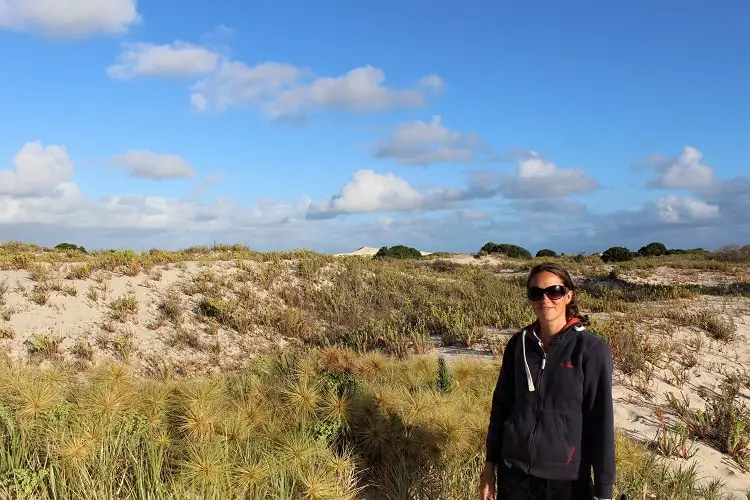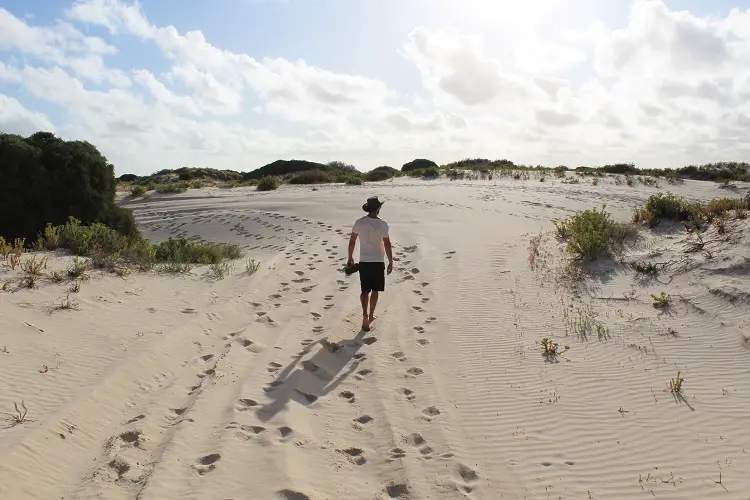 Facilities at Eucla Roadhouse
Eucla Roadhouse: takeaway food, fuel, museum, playground
Eucla Accommodation
Eucla Motor Motel: caravan site and motel rooms with a/c, heating, internet access, laundry, fridge, TV, tea/coffee making facilities plus on-site restaurant and swimming pool.
Distance
Mundrabilla Roadhouse to Eucla Roadhouse: 65km – 40 mins
---
8. Border Village
Half an hour east of Eucla, at the checkpoint between Western Australia and South Australia, is Border Village Roadhouse. There's a variety of accommodation types on offer here.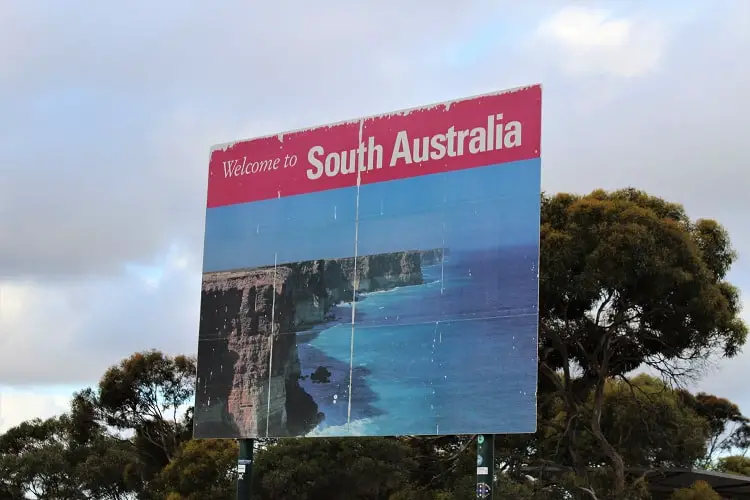 Facilities at Border Village Roadhouse
Fuel, store (groceries & souvenirs), restaurant.
Border Village Accommodation
Border Village Roadhouse: standard motel rooms, family rooms, cabins and backpacker rooms, or at the caravan and camping site. On-site swimming pool, 24-hour reception, pet-friendly, bar, games room and TV.
Distance
Eucla Roadhouse to Border Village Roadhouse: 41km – 30 mins
Note that there are quarantine restrictions between WA and SA, so we stopped at a rest area on the way and cooked all our vegetables (to eat later on) as we'd been told we couldn't take raw fruit and veg across the border. Visit the Australian Interstate Quarantine website for details on what you can take in and out of each state.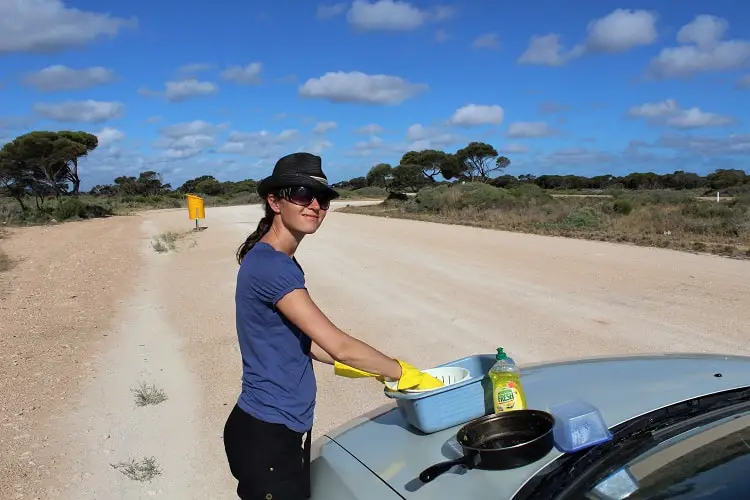 Note that if you're travelling east like we were, your quarantine checkpoint is actually at Ceduna, not Border Village (see the picture below). So we didn't need to cook everything before crossing the border after all! If you're travelling west, you will be stopped for a quarantine check about 50 metres west of Border Village Roadhouse.
Note that the quarantine check in Ceduna just consisted of an officer poking around in our car boot. It wasn't massively thorough, but obviously you should stick to the rules as there are reasons for them!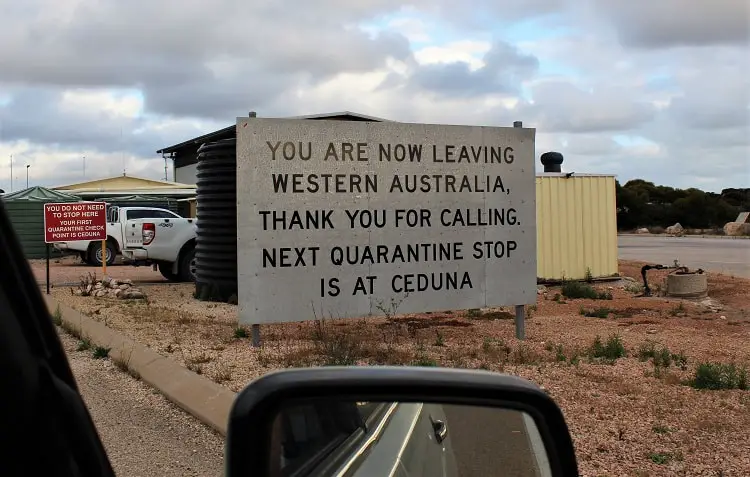 To the east of Border Village, on the southern side of the highway, are a series of lookouts to view the magnificent 80-metre high Bunda Cliffs at the Great Australian Bight. We chose to camp in this area, but if you're passing on through, you should definitely stop for a look.
You can also pay to go to the visitor centre at the Head of Bight, where you can whale watch from a viewing platform between May and October. There's also a café, picnic area and toilets.
Alternative: Free Camping at Bunda Cliffs, Great Australian Bight
There are quite a few marked camping areas along Bunda Cliffs, and the view here is absolutely spectacular. The downside was the complete lack of toilets! Most of the greenery only came up to our knees, which wasn't too bad in the pitch dark, but come the morning I had to walk right over to the cliffs to find a bit of privacy!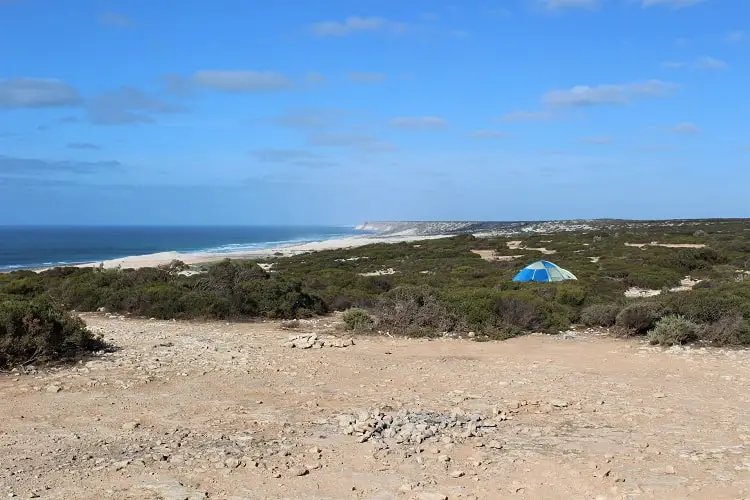 The ground was extremely rocky too, and it wasn't ideal for tent camping. Perfect if you're in a campervan or caravan though, like everyone apart from us was!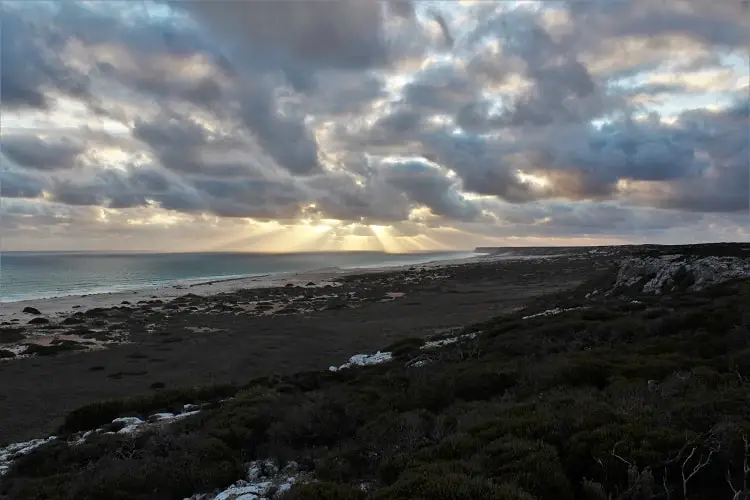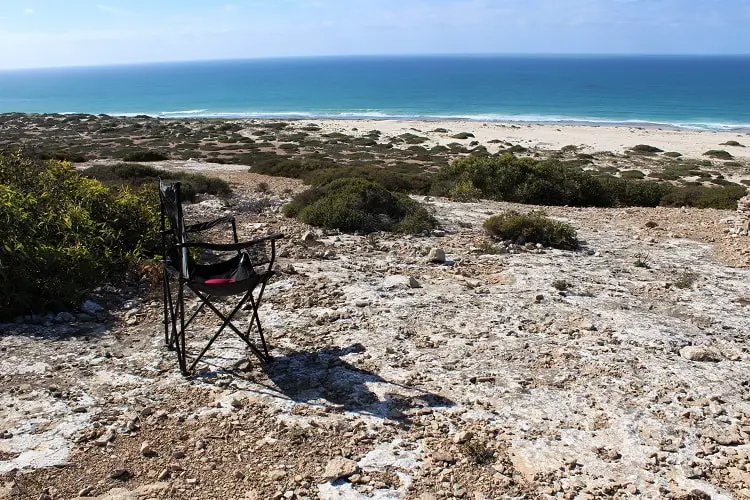 ---
9. Nullarbor Roadhouse
Nullarbor Roadhouse, two hours east of Border Village, is one of the nicer roadhouses. Although we didn't plan it, we ended up spending ages here, as we stopped for a coffee and a shower. The accommodation at Nullarbor Roadhouse has lots of options too.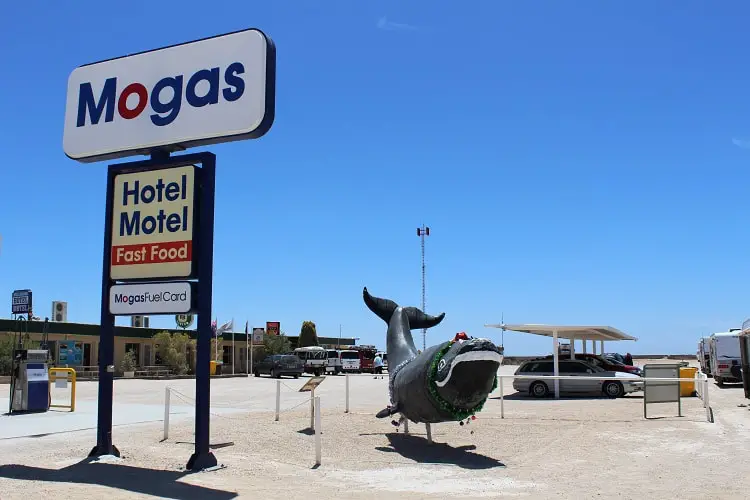 We also had a wander round and stretched our legs.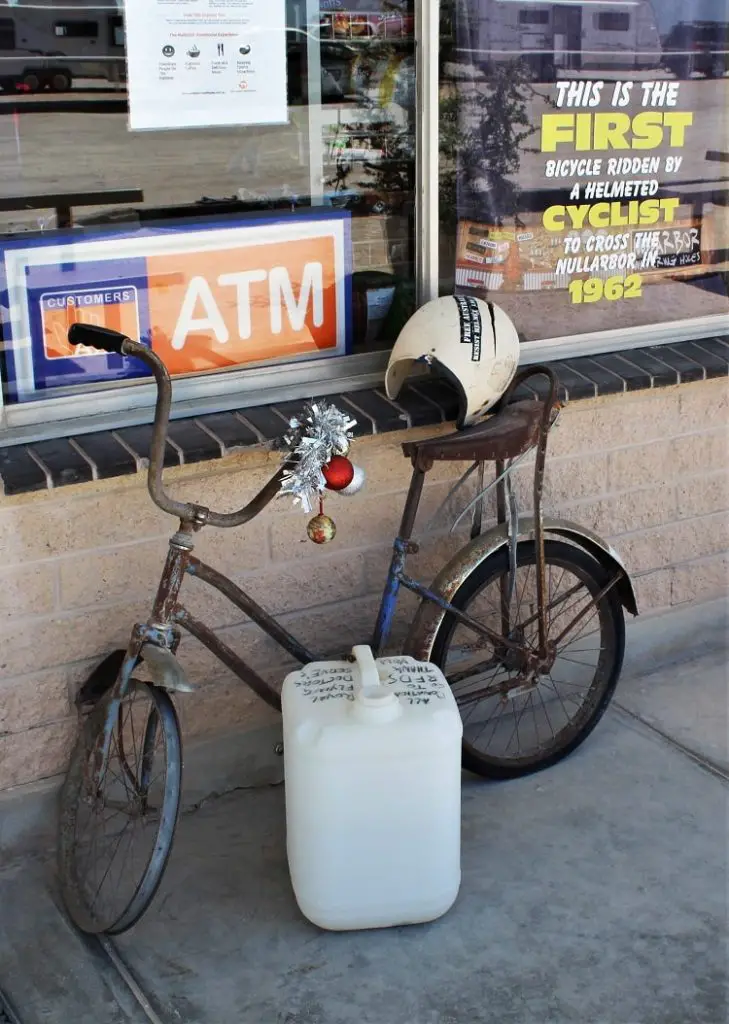 Facilities at Nullarbor Roadhouse
Nullarbor Roadhouse: fuel, shop, café, bar
Nullarbor Roadhouse Accommodation
Distance
Border Village Roadhouse to Nullarbor Roadhouse: 184km – 1 hour 55 mins
---
10. Nundroo
An hour and a half east of Nullarbor Roadhouse is Nundroo Roadhouse, which offers overnight accommodation.
Facilities at Nundroo Roadhouse
Nundroo Roadhouse: fuel, kiosk, shop, ATM
Nundroo Roadhouse Accommodation
Nundroo Motel: caravan park, backpacker dorms and en-suite motel rooms with bar fridge, a/c, Wi-Fi, TV, tea & coffee-making facilities and an on-site restaurant, bar and swimming pool.
Distance
Nullarbor Roadhouse  to Nundroo: 144km – 1 hour 30 mins
---
11. Penong
Penong is a dusty, blink-and-you'll-miss-it settlement about an hour west of Nundroo, where you'll find the Penong Hotel as well as fuel and a few shops. See the facilities below.
Facilities in Penong
Town: general store, post office, laundromat
Penong Roadhouse: fuel, fast food
Penong Accommodation
Penong Hotel: rooms, restaurant, bar (corner of Main St and Second St, Penong; (08) 8625 1050)
Penong Carvan Park: 500m north of the Eyre Highway (5 Stiggants Road; (08) 8625 1111)
Distance
Nundroo Roadhouse to Penong: 82km – 50 mins
---
12. Ceduna 
If you're crossing the Nullarbor from west to east, Ceduna, just under an hour from Penong, will be your end point. After three days of staring out at endless plains of nothingness, it felt extremely weird to enter an actual town, and kind of a relief!
Ceduna is still quite isolated, lying on the eastern edge of the Great Australian Bight at scenic Murat Bay, but it does have houses and schools and shops and people – around 3,500 of them! It also has a thriving oyster industry, dry salt lakes, wildflowers, secluded beaches and the chance to snorkel or scuba dive along the coastline.
Browse Ceduna accommodation using the search box below:
Distance
Penong to Ceduna: 72km – 50 mins
Alternative: Free Camping at Wittelbee Conservation Park
We decided to go cheap again and bush camp in Ceduna, at Wittelbee Conservation Park. Although the view was beautiful, I'll admit Wittelbee was the final straw for me in terms of bush camping!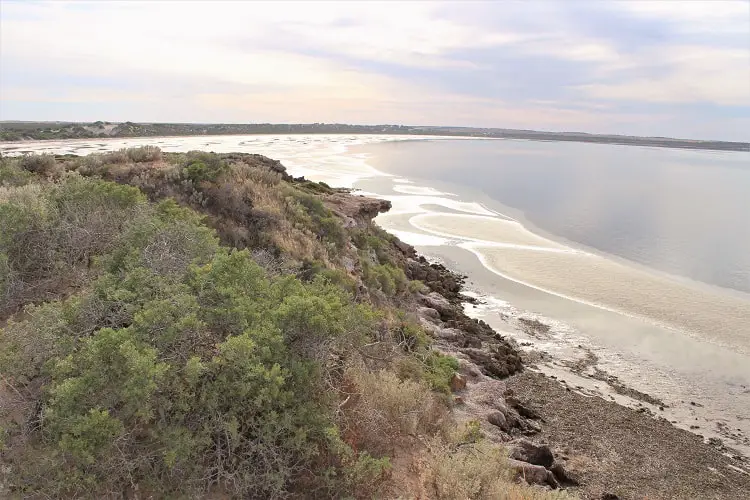 The first annoyance was getting stung by a mystery insect whilst rummaging round in the tent in the dark. There was nobody else staying at the camping ground at all, and it was a very isolated spot.
The sting was unbelievably painful, much worse than a wasp sting, and I had to run to the car, which Michi was inside, and sit and wait until it subsided, hoping it was nothing serious!
We then had to attempt to search for the mystery insect inside the dark tent, and shake out our sleeping bags etc.
Michi thought he saw a bull ant (the most likely culprit, as their stings are mega painful and we saw loads across the Nullarbor), but we just had to hope there wasn't one still in there.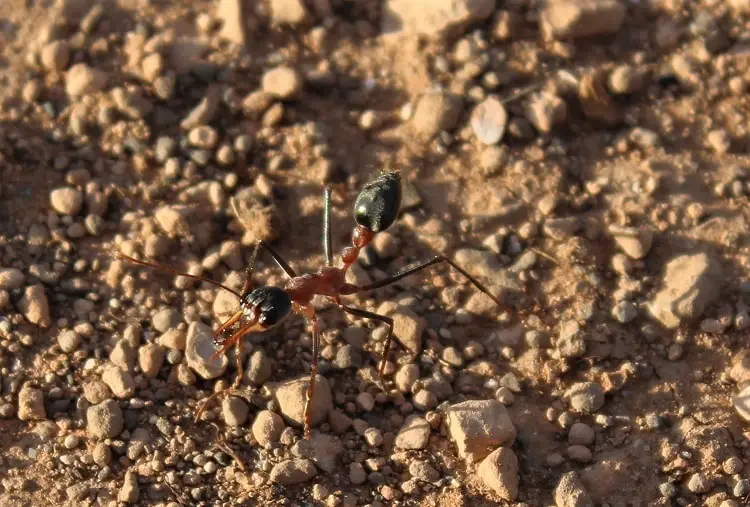 It was also the second night in a row that we had no toilet. (We weren't aware this would be the case when choosing the site.) Skulking off in opposite directions in the morning, surrounded by flies in searing heat was an experience neither of us wish to remember.
The final straw was finding a huge hairy huntsman spider on the car as we were about to leave. They're not dangerous, but not what you want to see after three long days in the car!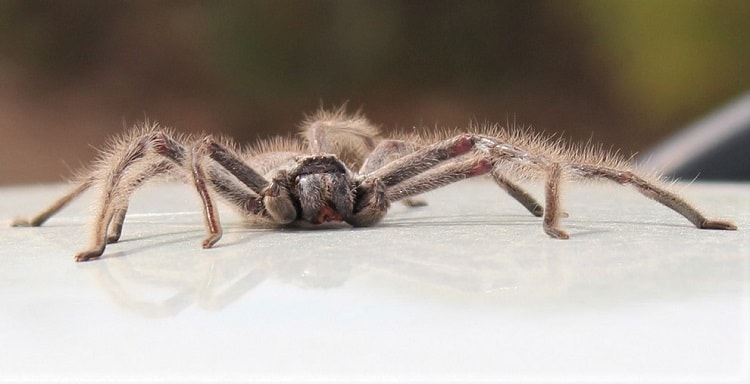 ---
While we were tired, stiff and in desperate need of showers, we can proudly say that we crossed the Nullarbor! And had finally made some headway on our Perth to Adelaide road trip.
We also had a terrific treat lined up later that day: swimming with wild dolphins and sea lions on the Baird Bay Ocean Eco Experience!
Best of luck on your Australian travel adventures. Let me know in the comments if you're thinking of driving across the Nullarbor or if you've already done it! You can read about our next overnight stop in my blog post on things to do in Port Lincoln.
---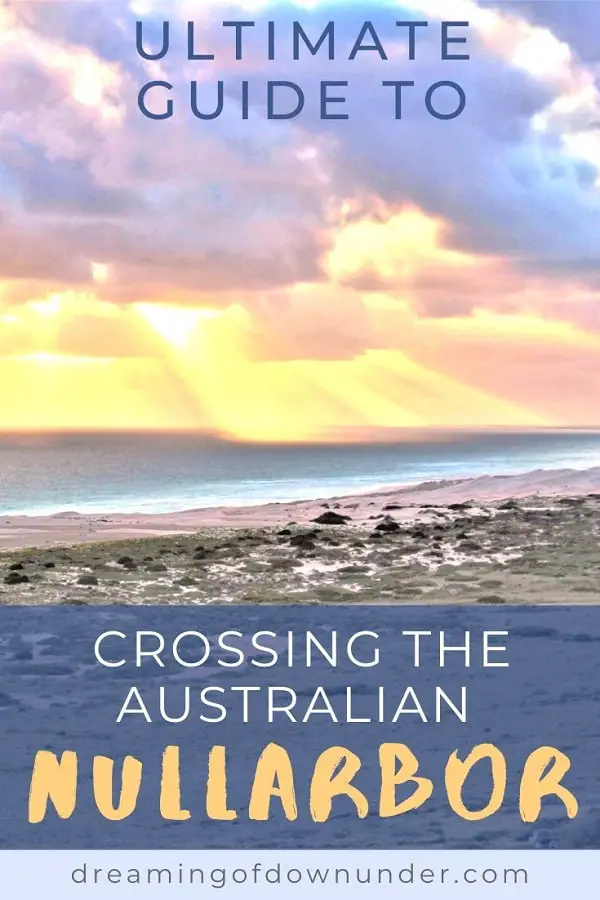 Written by Lisa Bull
Lisa Bull, founder of Dreaming of Down Under, has been living in Australia as a British expat since 2015. After travelling to every state and territory in Australia and living in Perth, Brisbane and Sydney, Lisa knows from first-hand experience the best destinations to visit in Australia and the best budget travel tips. Her guides on this blog have been read by over 700k readers and helped thousands of people achieve their dream of living in or travelling Australia.