This post may contain affiliate links. Please see my disclosure policy for more details.
Trying to choose where to live in Australia can be difficult in such a large, diverse country. This Brisbane vs Melbourne living comparison will cover some of differences between the two cities to help with your decision.
I moved to Australia from the UK in 2015 and know how tough it can be choosing where to live! I've lived in three cities in Australia and visited all of the state capitals, so I've experienced first hand how varied different regions can be.
In this article, you'll learn about factors such as Brisbane vs Melbourne cost of living, real estate, rental prices, climate and lifestyle. Read on to learn more, or watch my YouTube video below!
---
1. Where are Brisbane and Melbourne in Australia?
The distance between Brisbane and Melbourne is 1,776 km. Driving from Melbourne to Brisbane via the shortest route without stopping would take 19 hours!
Brisbane is located around halfway up the east coast of Australia, in southeast Queensland. Melbourne is located on the eastern end of the south coast of Australia, in the state of Victoria.
Flying to Melbourne from Brisbane takes two hours, and Sydney lies approximately halfway between the two cities.
For a more in-depth overview of each city, check out my blog posts on Brisbane lifestyle and Melbourne lifestyle.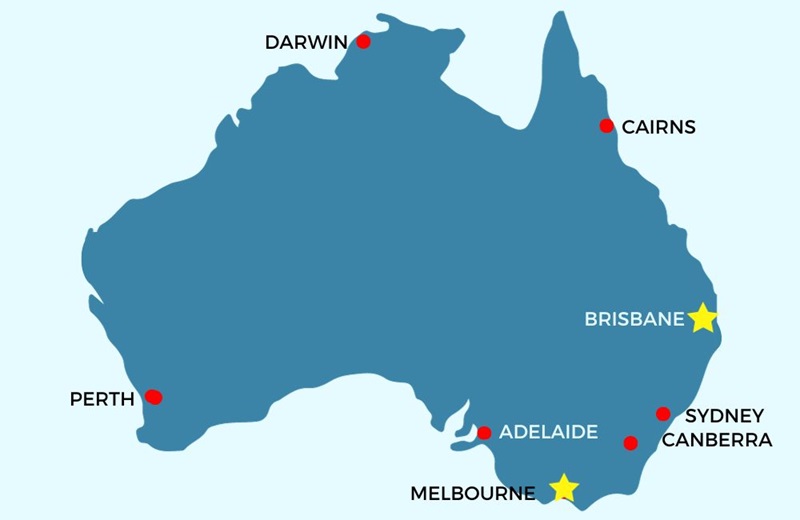 ---
2. Brisbane vs Melbourne Population
Is Melbourne bigger than Brisbane? Yes! Melbourne's population is roughly double that in Brisbane.
Melbourne is the second most-populated city in Australia with 5.2 million inhabitants. Its population is set to exceed Sydney's by 2030! Brisbane has 2.5 million inhabitants, and it is Australia's third-largest city in terms of population.
While Brisbane is smaller than Melbourne, I think it still has a big-city feel with plenty of skyscrapers, nightlife and attractions.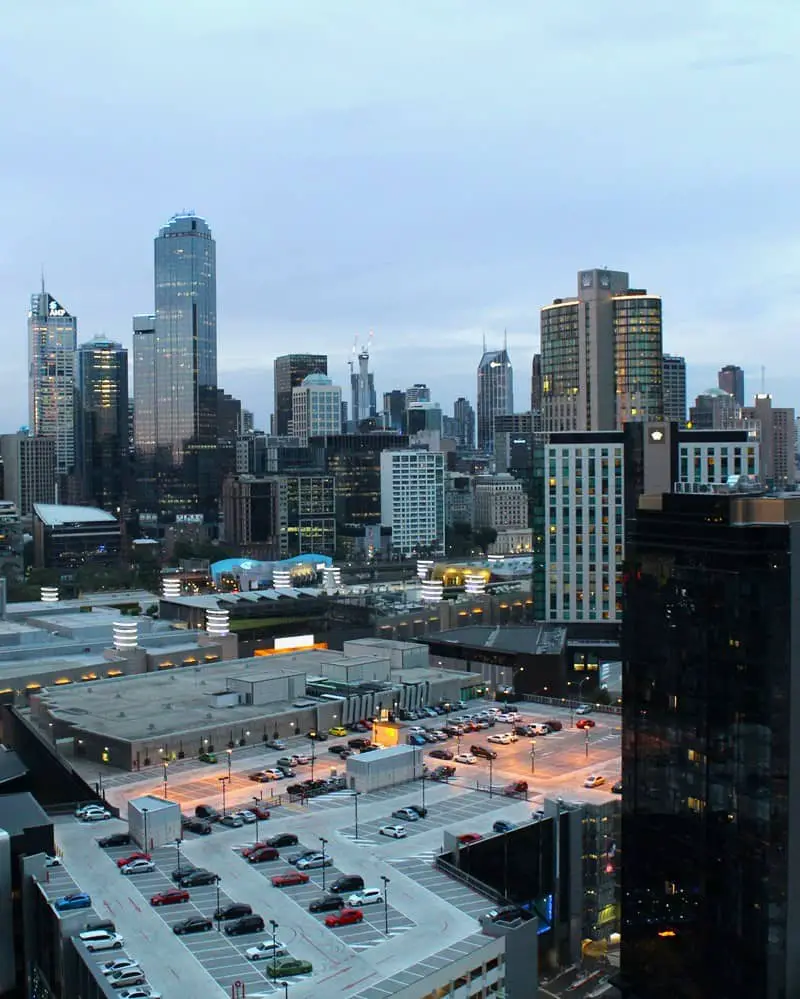 ---
3. Melbourne vs Brisbane Weather
Which has the best weather, Brisbane or Melbourne? Situated so far apart in Australia, they do have different climates.
Melbourne has a temperate oceanic climate and cooler weather, in general, than Brisbane. Situated up in Queensland, Brisbane has a humid subtropical climate with hot, rainy summers and mild, dry winters.
Melbourne is known for its erratic weather patterns where conditions can change rapidly. Brisbane is more prone to storms and floods than Melbourne.
Read on for a more detailed comparison of the climate in Melbourne and Brisbane with stats from the Australian Bureau of Meteorology.
Summer Temperatures & Humidity
The average maximum temperature in Brisbane's hottest month, January, is 29.4 degrees. Whereas the average maximum temperature in February, Melbourne's hottest month, is cooler at 25.9 degrees.
Summer temperatures can soar much higher than the average in both Brisbane and Melbourne though! I've experienced over 40 degrees in both cities!
Brisbane has higher humidity in summer than Melbourne, with 3pm relative humidity of 60% in February, compared to 48% in Melbourne. Some people find Brisbane's humidity too uncomfortable to bear.
The overnight minimum temperature in February is 20.6 degrees in Brisbane and 14.6 degrees in Melbourne, so your summer nights will be much cooler in Melbourne.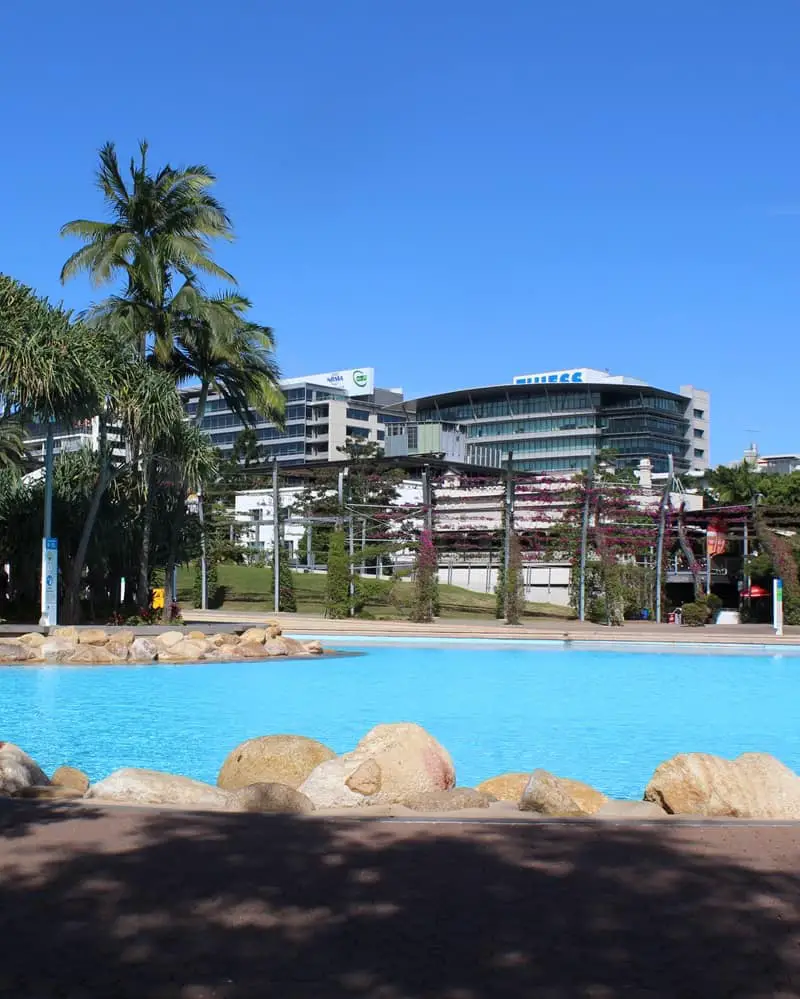 Winter Temperatures
In the coldest month, July, the average maximum temperature is 20.4 degrees in Brisbane and only 13.5 degrees in Melbourne.
The average overnight minimum temperature in July is 9.5 degrees in Brisbane and 6.0 degrees in Melbourne.
It's safe to say winters will be significantly colder in Melbourne than in Brisbane, so Brisbane may be a better place to live than Melbourne for those of you who prefer mild winters.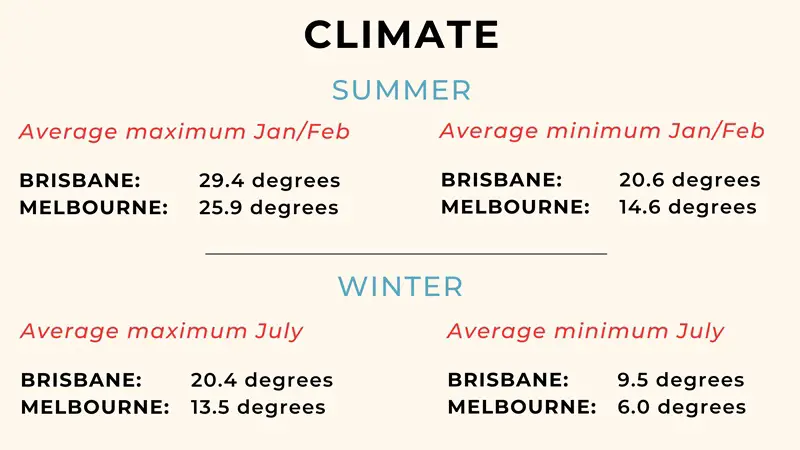 Sunshine
The amount of sunshine in Brisbane v Melbourne varies enormously. Brisbane has an average of 113 sunny days per year, whereas Melbourne only gets an average of 45 clear days per year!
Rainfall
Melbourne has an average of 100 rainy days (>1mm) per year, whereas Brisbane has an annual average of 76 rainy days (>1mm).
While Melbourne has more rainy days than Brisbane, it only gets 648mm of rainfall per year, compared to 1,149mm in Brisbane. So, you'd better be prepared for those tropical downpours if you chose to live in Queensland!
Brisbane also gets more rainfall in the summer than winter, whereas Melbourne has rainier winters.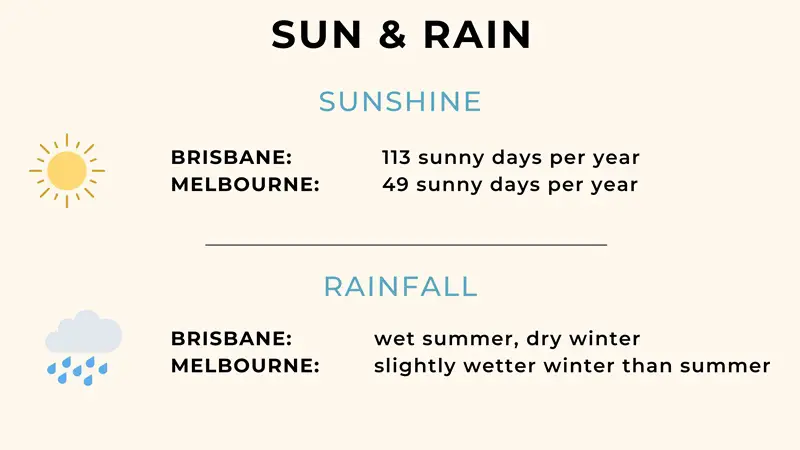 Weather Summary
In summary, Brisbane has hotter weather than Melbourne year-round and more sunny days but wetter, more humid summers with heavier rainfall.
---
4. Beaches in Melbourne vs Brisbane
While they are both coastal cities, Melbourne has many more beaches than Brisbane. Brisbane does have a cool manmade lagoon and beach at South Bank in the city though, which is a fun attraction!
Some lovely Melbourne beaches that I've visited include Brighton Beach, with the famous painted huts, well-known St. Kilda Beach and Black Rock Beach. You can also head out to the Mornington Peninsula for a wider choice.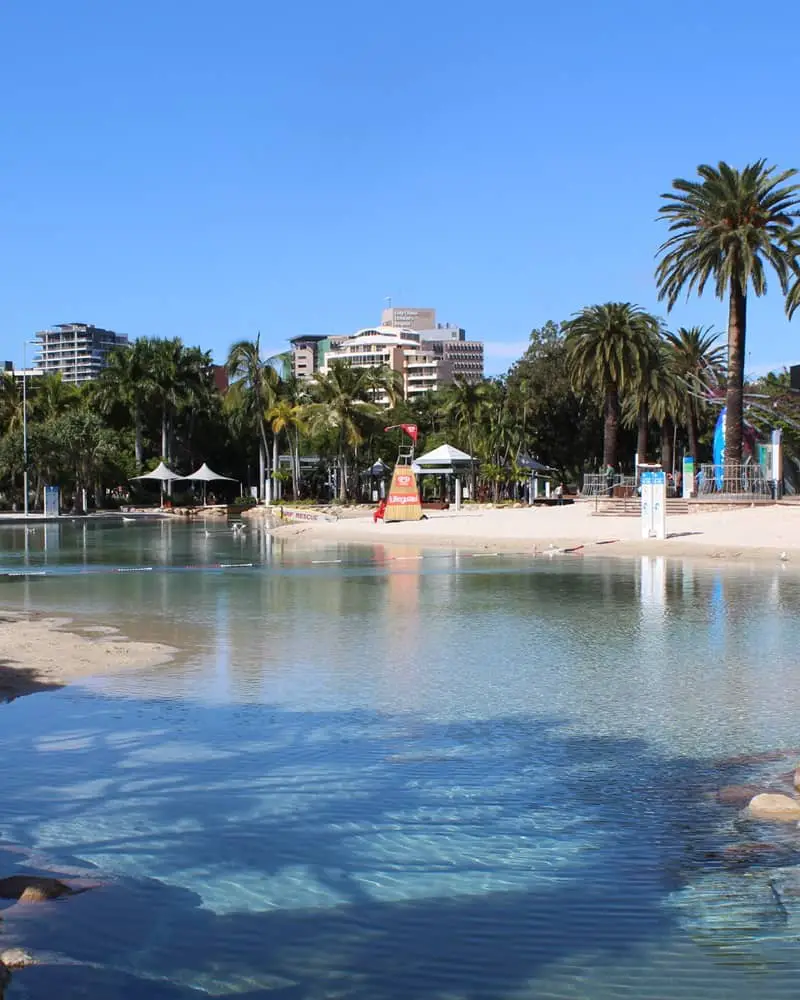 Brisbane's coastline is mostly mudflats, but the city does have Redcliffe Beach to the north. You can easily drive or catch a train to beach locations from Brisbane though. The Gold Coast and Sunshine Coast beaches are gorgeous, as well as Moreton Island and North Stradbroke Island.
If you are specifically looking for the beach lifestyle, Melbourne is definitely a better city to move to than Brisbane.
---
5. Melbourne and Brisbane Time Difference and Daylight Savings
Brisbane, being in Queensland, does not have daylight saving, whereas Melbourne does. Brisbane also has less daylight hours than Melbourne in summertime but more in the winter.
This means that it stays lighter in Melbourne for a good two hours longer in the evening than Brisbane does in the summer.
In the height of summer, sunset is around 8:45pm in Melbourne and 6:45pm in Brisbane.
Daylight saving in Victoria means that the time difference between Brisbane and Melbourne is one hour during the warmer half of the year (from early October to early April), with Melbourne being one hour ahead of Brisbane.
Outside of daylight saving time, there is no time difference between Brisbane and Melbourne.
---
6. Melbourne vs Brisbane Cost of Living
So, which one is cheaper, Melbourne or Brisbane? Let's break down the cost of living in Brisbane vs Melbourne to get an idea.
Property Prices in Melbourne Versus Brisbane
Real estate prices vary enormously across Australia, so it's crucial to do some research if you plan on buying a home.
Learn more in my blog post on Australian property prices and trends.
According to this CoreLogic property report from October 2023, the median house value in Brisbane was $848,680 in September 2023, compared to $933,281 in Melbourne.
That means that Melbourne houses are 10% more expensive to buy, on average, than those in Brisbane.
The median value of a unit (flat) in September 2023 was $539,169 in Brisbane and $612,585 in Melbourne.
This makes Melbourne units 14% more expensive to buy, on average, than units in Brisbane.
Rental Prices in Brisbane Versus Melbourne
In contrast to the cost of buying a property, rental prices are currently cheaper in Melbourne than in Brisbane!
From this September 2023 report on rent.com.au, the median weekly rent in Brisbane for a house was $625, compared to only $550 in Melbourne. The median weekly rent for a unit (flat) was $550 in Brisbane and $510 Melbourne.
Read my blog post on rent in Australia to learn how rent compares across the Australian cities and how to find a rental property.
Cost of Utilities
According to Budget Direct, the average cost of electricity, heating, water and garbage for an 85 metre-squared apartment in Melbourne is $212.18 per month, compared to $170.12 per month in Brisbane.
Public Transport and Fuel
The same article calculated the average cost of a monthly public transport pass in Brisbane to be $198, compared to only $156 in Melbourne.
Food Prices
The article also found that groceries are 1.66% cheaper in Melbourne than in Brisbane, but that restaurant prices are 0.68% lower in Brisbane.
In summary, Melbourne is more expensive than Brisbane for buying property, utilities and eating out. Brisbane is more expensive than Melbourne for renting property, groceries and public transport.
---
7. Living in Brisbane vs Melbourne – Lifestyle
Having lived in Brisbane and visited Melbourne multiple times, I would say that Melbourne is a more hipster city than Brisbane with a reputation for cool nightlife and lots of arts, culture and sporting events. Think unique cafes, colourful street art and boutique shopping.
I think that Brisbane has more of a friendly, family-focused feel than Melbourne, with fun attractions and activities along the riverside and plenty of things to keep kids occupied.
You'll find riverside restaurants and bars plus lots of things to do in pretty South Bank in Brisbane. The city looks beautiful lit up at night too.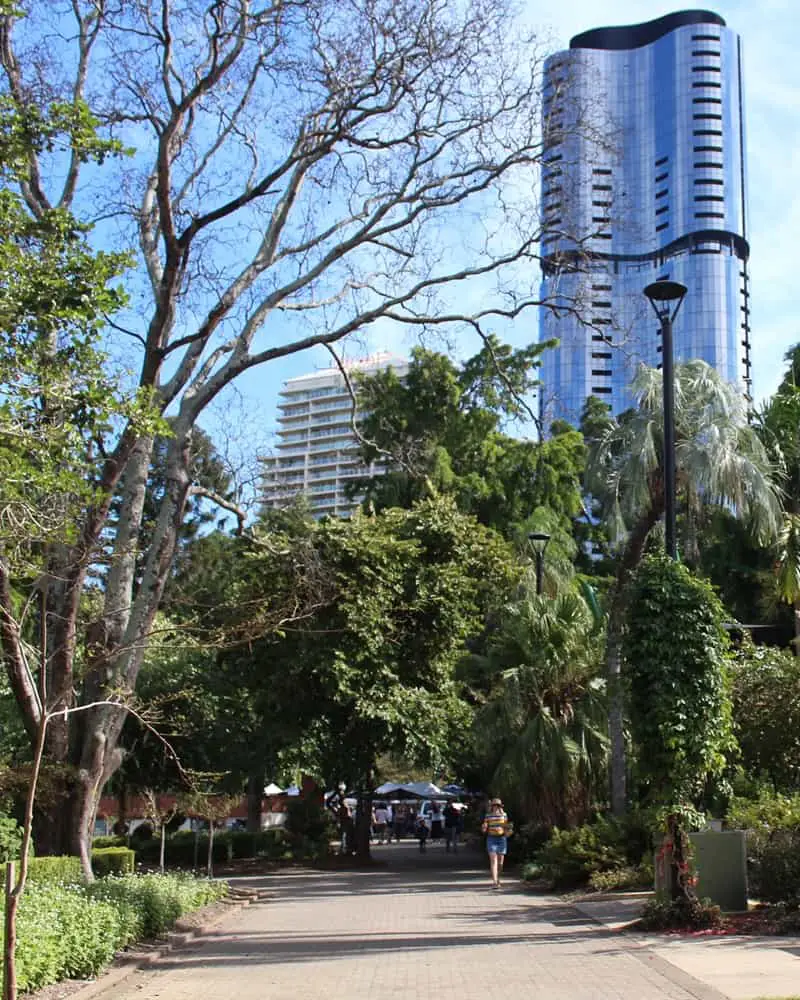 Learn more about each city in my list of top things to do in Melbourne and the top Brisbane attractions.
The cities have a very different look to each other too. Melbourne has a much higher proportion of character-filled, heritage buildings in the city centre than Brisbane and a lot of beautiful Victorian housing.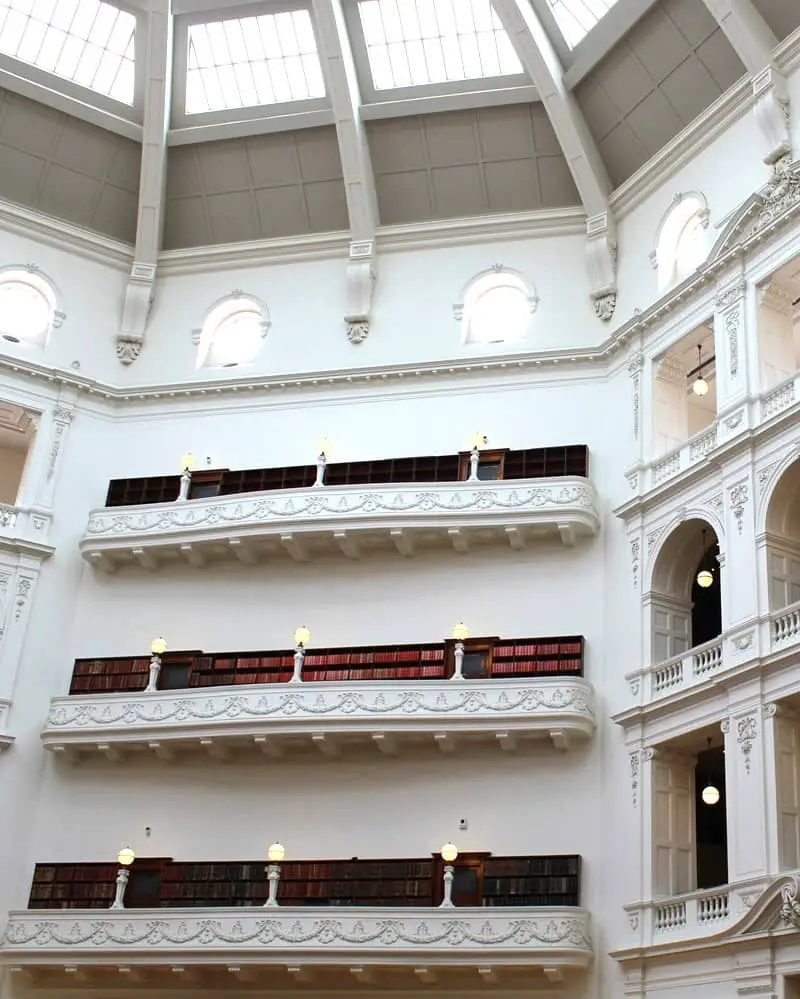 While Brisbane still has some lovely older buildings and Queenslander houses, I think Brisbane city has a much more modern, sleek look than Melbourne.
In Melbourne, you can obviously enjoy the beach lifestyle more easily than in Brisbane. However, Brisbane has some lovely park areas right in the city, such as the riverside botanic gardens and Mount Coot-tha.
There's also a lot of natural beauty just outside of both cities, such as national parks and islands.
---
8. Travel Destinations Near Brisbane and Melbourne
Both Melbourne and Brisbane have plenty of stunning Australian holiday destinations nearby, as well as international airports if you want to head off overseas or domestically.
With its hot climate, Brisbane has a wide choice of tropical holiday spots within easy reach that will still be warm enough to visit in the winter. Melbourne has some beautiful coastal scenery, rainforest and beachside towns nearby. You can even drive to ski resorts from Melbourne in the winter!
Head over to my Australian travel page to discover more holiday destinations in Victoria and Queensland. Here's a small selection of trips you could take if you decide living in Brisbane or Melbourne is for you!
Coastal Destinations
From sunny Brisbane, you can easily head off on weekend getaways to well-known travel destinations like Byron Bay and the Gold Coast. Both have amazing beaches and plenty of restaurants and nightlife.
For somewhere less built up near Brisbane, try following my Sunshine Coast 3-day itinerary, which includes attractions such as the beautiful Noosa National Park coastal walk.
From Melbourne, options include popular Gippsland Lakes Coastal Park, the largest expanse of inland waterways in the southern hemisphere! Nearby Wilsons Prom also has plenty of stunning beaches, cruises and hikes.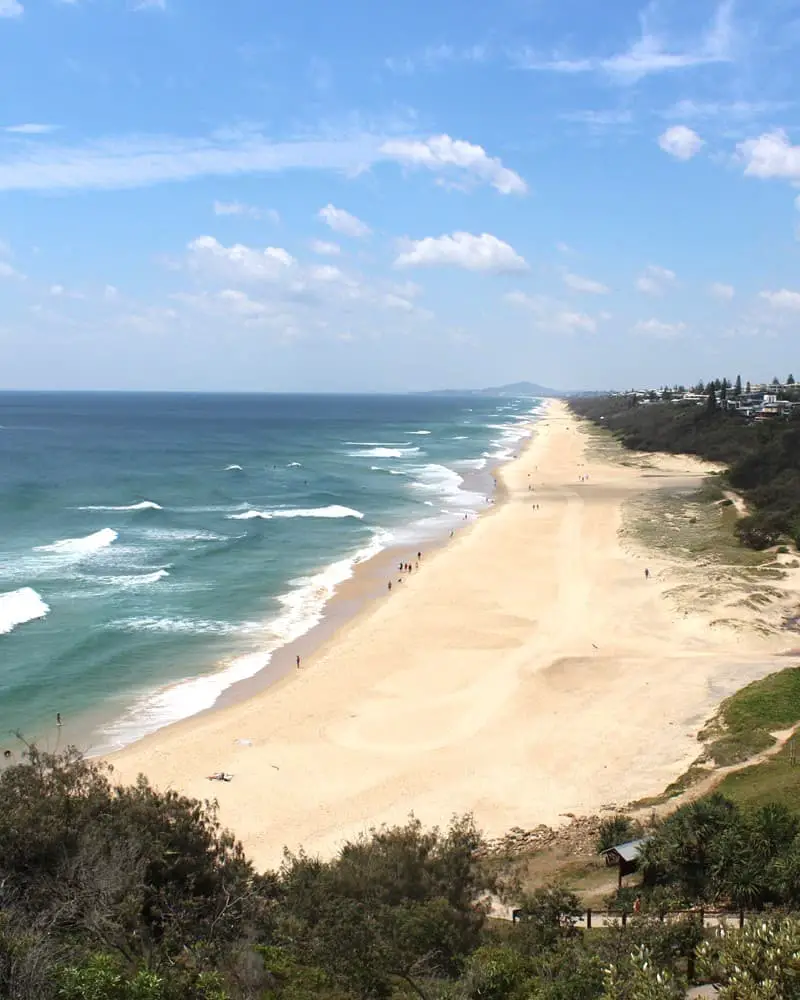 Road Trips from Brisbane and Melbourne
If you fancy heading off on a classic Aussie road trip, you can't get more iconic than the Great Ocean Road near Melbourne. You'll pass rainforest, gorgeous beaches and the legendary Twelve Apostles rock formations.
For a longer trip, you can drive from Melbourne to Adelaide and explore South Australia or enjoy New South Wales on a drive from Melbourne to Sydney!
Driving north from Brisbane takes you past all sorts of gorgeous holiday destinations all the way up to Cairns. From there you can access the Great Barrier Reef as well as a fun day trip to Kuranda village via the Cairns Skyrail.
Heading south on a Brisbane to Sydney road trip includes NSW highlights such as quaint hinterland town, Bellingen and beachside city Coffs Harbour.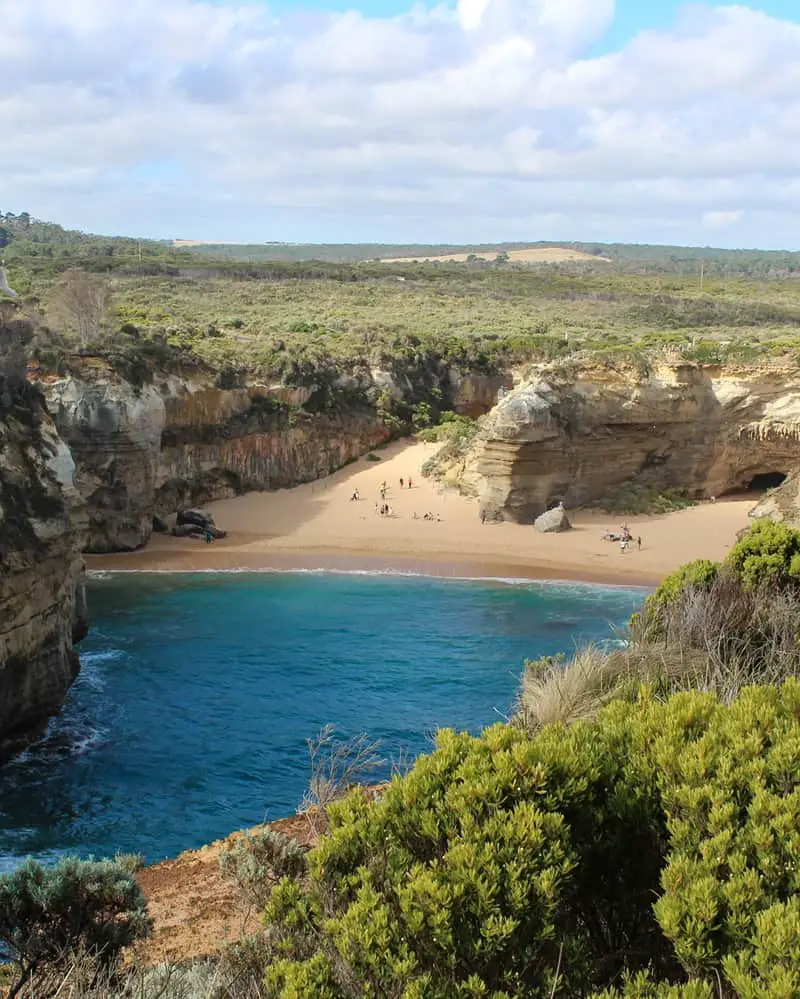 Islands Near Melbourne and Brisbane
From Brisbane, a trip to nearby Moreton Island to see the Tangalooma wrecks is a must! It's the third-largest sand island in the southern hemisphere and has some beautiful coastal scenery.
From Melbourne, a popular place to visit is rugged Phillip Island, where you can watch the famous Penguin Parade!
---
So, is Brisbane or Melbourne better to live in? For those of you looking to escape chilly weather and find affordable property, Brisbane may be a better option than Melbourne. If culture, fashion and beaches interest you, Melbourne could be a better place to live than Brisbane.
If you're still considering moving to other Australian cities, make sure you look through my page on where to live in Australia, which has plenty more city comparisons and lifestyle overviews. Here are a few you might enjoy.
Do you prefer the idea of living in a bigger city than Brisbane with more beaches? Read about the differences between living in Sydney and Melbourne.
If you'd like more beaches than Brisbane but cheaper property than Melbourne, have a read through my comparison of Perth vs Melbourne.
Is Melbourne's weather is putting you off? Then check out the differences between Perth and Brisbane. Perth has a hot, dry climate and gorgeous beaches!
If your heart is set on Australia's east coast or Melbourne is too cold, read my comparison of living in Brisbane vs Sydney.
Best of luck deciding whether living in Brisbane is better than Melbourne! Both are fantastic cities, and you're very fortunate to have the chance to live in either!
Written by Lisa Bull
Lisa Bull, founder of Dreaming of Down Under, has been living in Australia as a British expat since 2015. After travelling to every state and territory in Australia and living in Perth, Brisbane and Sydney, Lisa knows from first-hand experience the best destinations to visit in Australia and the best budget travel tips. Her guides on this blog have been read by over 700k readers and helped thousands of people achieve their dream of living in or travelling Australia.