This post may contain affiliate links. Please see my disclosure policy for more details.
Deciding where to live in Australia can be a tough decision! This Perth vs Melbourne city comparison will cover lots of important differences to help you choose.
When deciding which one is better, Perth or Melbourne, it's crucial to compare their cost of living, climate and lifestyle. In a country as big and diverse as Australia, different regions can really vary.
I lived in Perth when I first moved to Australia, and I've visited Melbourne multiple times. If you're thinking of living in Melbourne or Perth, read on to find out more, or watch my YouTube video below!
---
1. Where are Melbourne and Perth in Australia?
Perth and Melbourne lie 3,419 km apart. A road trip from Perth to Melbourne without stopping would take 37 hours in the car!
Perth is situated in southwest Western Australia along the Indian Ocean. It's one of the most isolated cities in the world in terms of its proximity to other major cities in Australia.
Melbourne sits on the eastern end of the south coast of Australia, in Victoria. Flying to Perth from Melbourne takes four hours.
Since Australia's east coast is more developed and populated than the west coast, Melbourne is within easier reach of lots of other Australian cities and towns than Perth is. However, Perth is much closer to Southeast Asia, making affordable international holidays more accessible.
For a more in-depth overview of each city, check out my blog posts on Perth lifestyle and Melbourne lifestyle.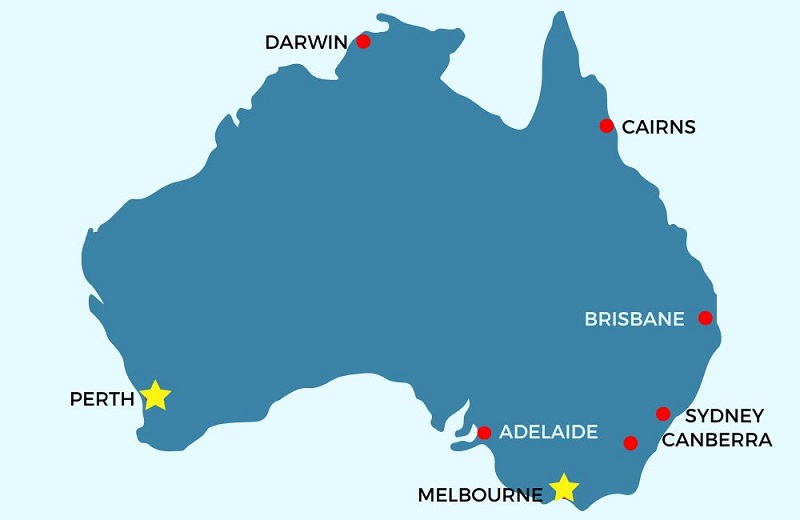 ---
2. Perth vs Melbourne Population
How big is Melbourne vs Perth? Population is one of the biggest differences between these two cities.
Melbourne is the second most-populated city in Australia with 5.2 million inhabitants. According to this projection by the Australian government, Melbourne's population is set to exceed Sydney's by 2030!
With 2.1 million inhabitants, Perth is the fourth most-populated city in Australia. Perth is also the longest city in the world. Its suburbs stretch 150 km along the Western Australia coastline!
While Perth is undoubtedly a smaller city than Melbourne, I think it still has the look and feel of a "proper" city, with skyscrapers, nightlife and plenty of shopping.
---
3. Perth vs Melbourne Weather
Since they are so far apart, Perth and Melbourne do differ in terms of their climate.
Perth has a temperate Mediterranean climate with hot, dry summers and mild, wet winters. Melbourne has a temperate oceanic climate, with cooler average temperatures than Perth and much less sunshine.
Melbourne is also known for its erratic weather patterns; conditions can change dramatically in the space of a day!
Summer Temperatures
According to the Australian Bureau of Meteorology, both Perth and Melbourne reach their hottest average temperatures in February.
The average maximum temperature in February in Perth is 31.6 degrees, compared to a cooler 25.9 degrees in Melbourne.
While Perth is hotter, on average, than Melbourne during the summer, it is also slightly less humid. Melbourne's 3pm relative humidity in February is 48%, compared to only 38% in Perth.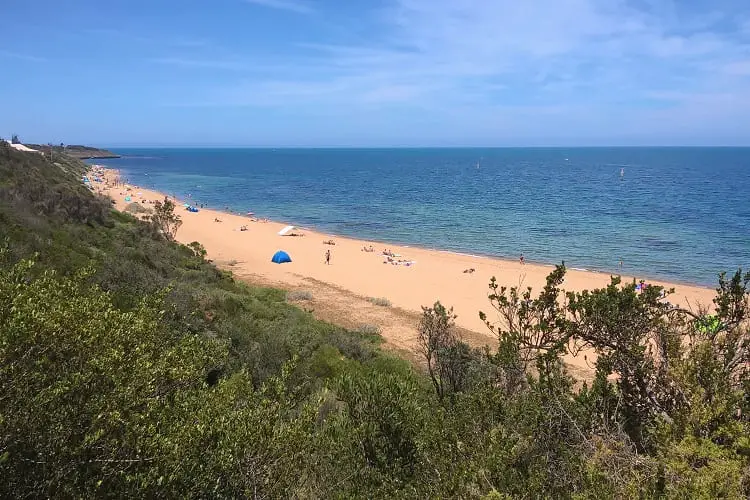 Note that both Melbourne and Perth can experience summer temperatures much hotter than the average. I have experienced days over 40 degrees in both cities!
The average minimum temperature in February is 18.4 degrees in Perth and 14.6 degrees in Melbourne, so your summer nights will be cooler in Melbourne.
Winter Temperatures
In the coldest month, July, the average maximum temperature in Perth is 18.5 degrees, compared to only 13.5 degrees in Melbourne.
The average minimum temperatures in July are less varied: 8.0 degrees in Perth and 6.0 degrees in Melbourne.
Sunshine & Wind
One of Perth's major drawcards is the amount of sunshine it gets! Perth enjoys an average of 139 clear days per year, making it Australia's sunniest state capital city!
Melbourne has much less sunny weather than Perth, with an average of only 49 sunny days per year! Hobart is the only state capital in Australia with less sunny days than Melbourne (45 days per year on average).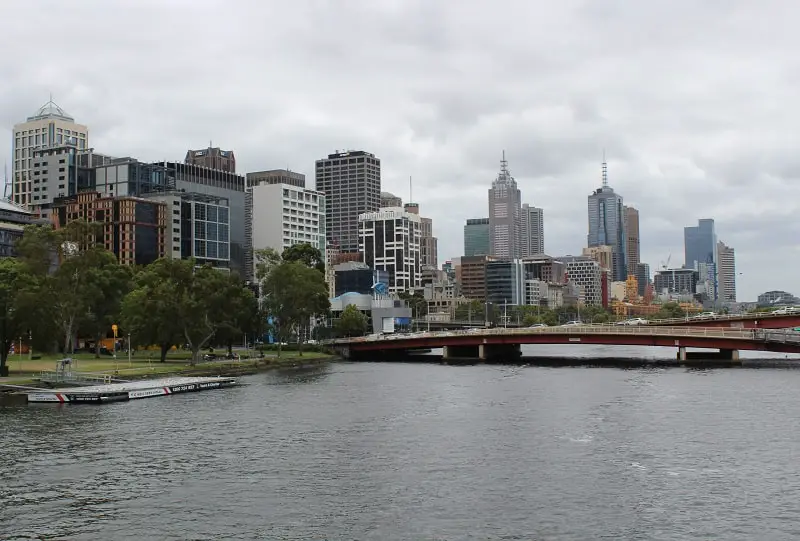 Note that Perth is apparently the windiest city in Australia too, based on its wind speed. The strongest winds are felt between November and March.
According to locals who have commented on my YouTube videos though, the summer wind is not an issue for most people in Perth and actually a relief from the heat. Some even deny its existence!
As a comparison, Perth's mean wind speed at 3pm in January is 19.0 km/hour, compared to 14.8 km/hour in Melbourne.
Rainfall
Melbourne has an average of 100 rainy days (>1mm) and 648mm of rainfall per year.
Perth has an average of 81 rainy days (>1mm) per year, so less than Melbourne. However, Perth has heavier downpours than Melbourne, with 731mm of rainfall on average per year.
Both Perth and Melbourne have more rain in winter than summer, the opposite of the more tropical cities like Brisbane and Darwin.
The variation in rainfall across the seasons is more pronounced in Perth than Melbourne. Perth has an average of 14.9 rainy days in July and only 1.2 rainy days in February. Melbourne has an average of 9.7 rainy days in July and 5.1 rainy days in February.
Weather Summary
Is Perth weather better than Melbourne weather? I would certainly say so, as I prefer sunshine to cloudy weather. However, Perth's hotter temperatures may be too much for some people!
Here's a climate summary so you can decide for yourself.
Perth has hotter, drier summers than Melbourne with lower humidity but stronger winds.
Melbourne has colder, drier winters than Perth and lighter rainfall across the year.
Perth gets almost three times more sunny days than Melbourne.
---
4. Beaches in Perth vs Melbourne
Perth and Melbourne are both coastal cities with a great choice of beaches.
Perth, however, is well known for having particularly stunning white beaches with gorgeous aqua water. Combine that with its sunny weather, and Perth is a top destination for beach lovers!
Being on the west coast, Perth is also blessed with stunning coastal sunsets!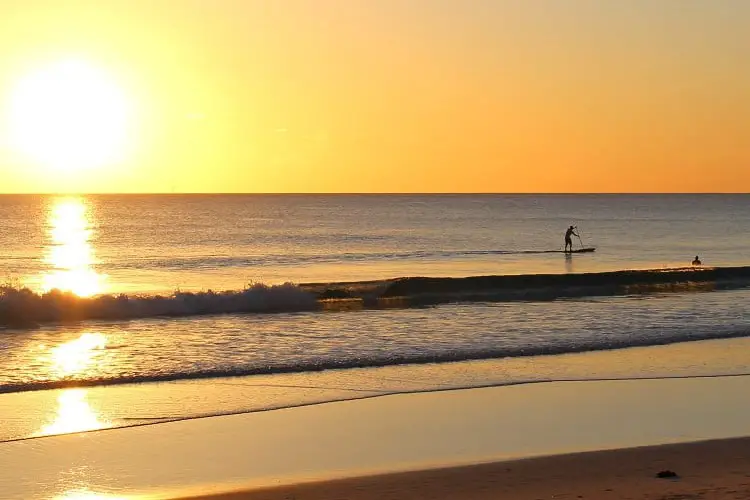 My personal favourite beach in Perth from the time I lived there is Scarborough Beach. It's got a great atmosphere and lots of places to eat and drink along the esplanade. I really liked Cottesloe Beach and City Beach too though.
Some cool Melbourne beaches I've been to are Brighton Beach, with the Instagram-friendly, colourful painted huts, popular St. Kilda Beach and Black Rock Beach.
While a lot of Melbourne's coastline runs along Port Phillip Bay, you can also visit the Mornington Peninsula, if you travel a little bit further.
I think that Perth's beaches beat Melbourne's hands down, however, Melbourne has much more going in terms of nightlife, culture and city attractions, which I'll cover further down.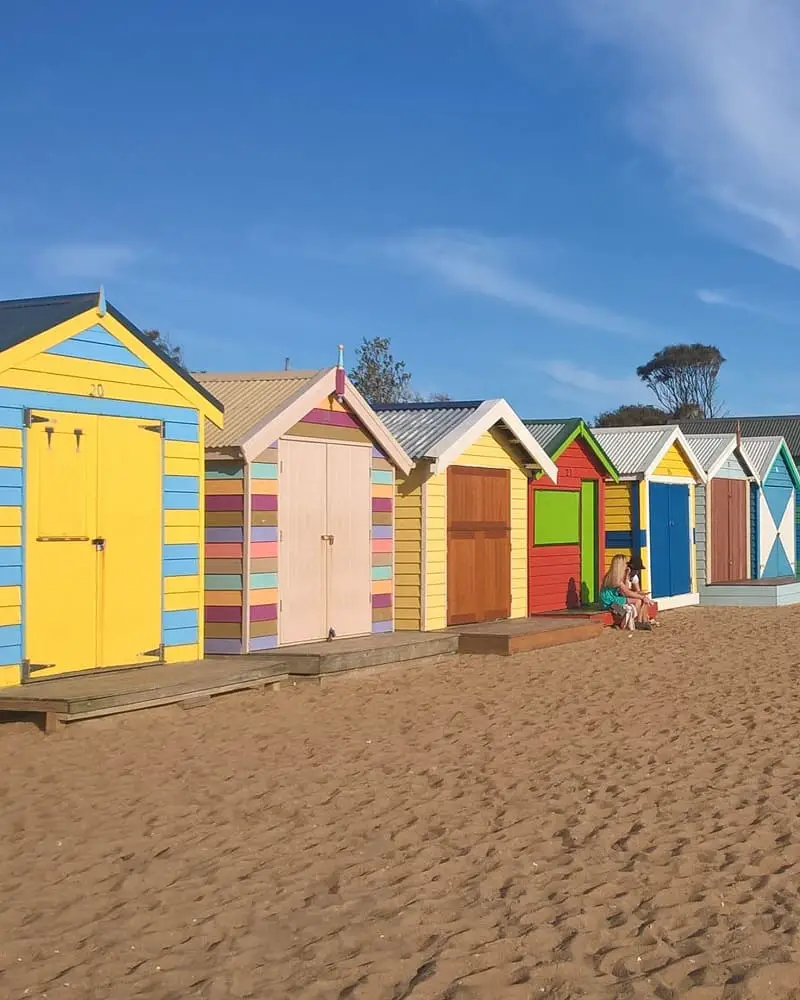 ---
5. Perth vs Melbourne Time and Daylight Savings
It's worth noting that Perth, being in Western Australia, does not have daylight saving. Melbourne, being located in Victoria, turns the clocks forward an hour for the warmer half of the year (from the first Sunday in October to the first Sunday in April).
In the height of summer, sunset is around 7:30pm in Perth and 8:45pm in Melbourne.
In terms of the time difference, Melbourne is two hours ahead of Perth outside of daylight saving time and three hours ahead during daylight saving time.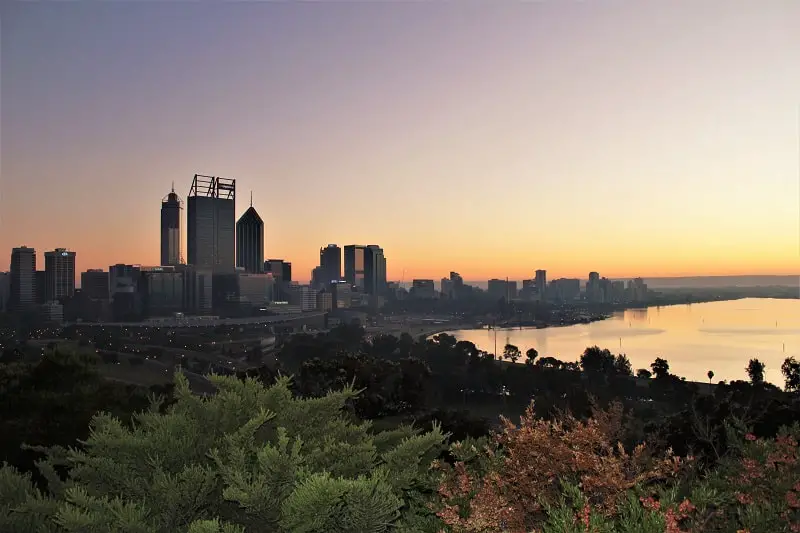 ---
6. Cost of Living in Perth vs Melbourne
Is it more expensive to live in Melbourne or Perth? Let's break down the cost of living between these two popular cities.
Property Prices in Melbourne vs Perth
If you'll want to buy a property in Australia at some point, researching prices is crucial. They really vary countrywide and even across the suburbs of each city.
Learn more in my blog post on Australian property prices and trends.
According to this CoreLogic property report from 1 July 2023, the median house value in Perth was $615,793 in June 2023, compared to $918,971 in Melbourne.
That means that Melbourne houses are 49% more expensive to buy, on average, than those in Perth!
The median value of a unit (flat) in June 2023 was $417,643 in Perth and $601,174 in Melbourne.
This makes Melbourne units 44% more expensive to buy, on average, than units in Perth.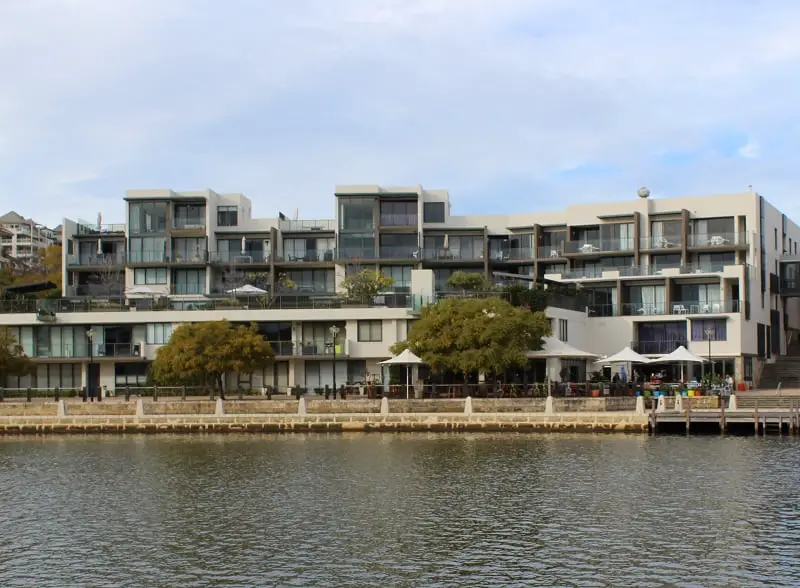 Rental Prices
In contrast to the cost of buying a property, renting a house is actually cheaper in Melbourne than in Perth!
From this June 2023 report on rent.com.au, the median weekly rent in Perth for a house was $590, compared to $520 in Melbourne. The median weekly rent for a unit (flat) was $500 in both Perth and Melbourne.
Read my blog post on rent in Australia to learn how rent compares across the Australian cities and how to find a rental property.
Cost of Utilities
According to the Budget Direct website, the average cost of electricity, heating, water and garbage for an 85 metre-squared apartment in Melbourne is $212.18 per month, compared to $194.82 in Perth.
Public Transport and Fuel
The same article on Budget Direct calculated the average cost of a monthly public transport pass in Perth to be $139, compared to $156 in Melbourne.
Note that Melbourne also has a tram system, unlike most cities in Australia.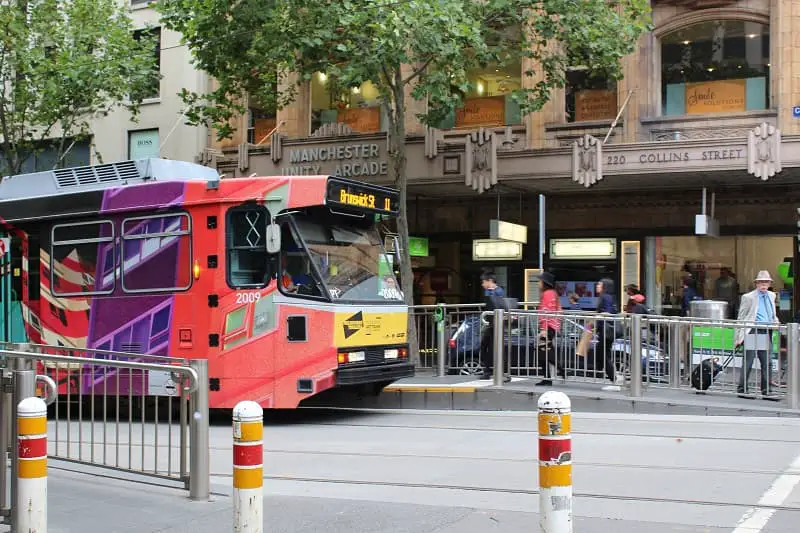 Food Prices
The article also found that groceries are 1.44% cheaper in Perth than in Melbourne, and restaurant prices are 6.04% lower in Perth.
In summary, Melbourne is more expensive than Perth for food, public transport, utilities and buying property. Renting a house in Perth is more expensive than in Melbourne, but renting a unit (flat) costs the same in both cities, on average.
---
7. Melbourne City vs Perth: Lifestyle Overview
While they are both major cities popular with expats, Perth and Melbourne do differ significantly in terms of size, feel and pace. Here are my personal observations of life in Perth vs Melbourne.
Remember, there is much more to both cities than I have covered here. Some people may have had a totally different experience to me and have different views!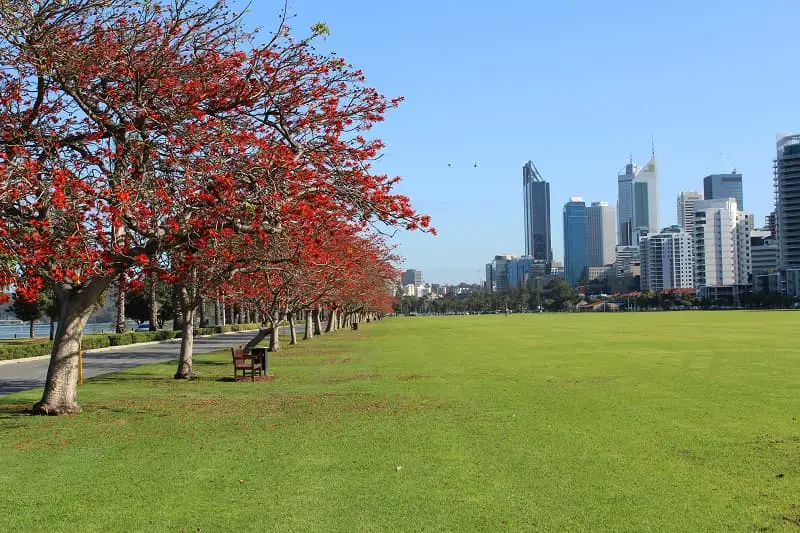 I think that Perth is a really pretty, scenic city with lots of natural beauty and a laidback vibe. The Swan River is beautifully blue, and Perth's beaches are absolutely stunning.
I used to love walking along the river spotting dolphins when I lived in Perth!
A few fun things to do in Perth include visiting Kings Park for the amazing city views, enjoying live music and markets in Fremantle or heading to bars and restaurants in lively Northbridge.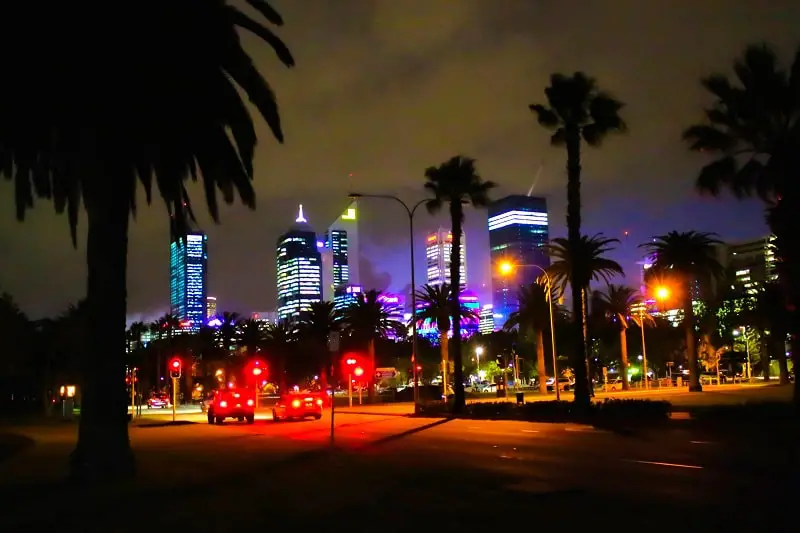 Conversely, Melbourne has a much more big-city, hipster feel and is better known for its cool nightlife, arts and culture than its scenery! It's also well known for hosting sporting events.
In Melbourne, you'll fine unique cafes, funky street art and plenty of fashionable people! Perth does have these things too, on a smaller scale, but I think it's more suited to those who want a relaxed, outdoor lifestyle.
Melbourne has a lot more old buildings than Perth, so it's great if you like heritage architecture with a bit more soul. Perth does still have some older buildings, but in general it's a much more modern-looking city than Melbourne.
Both Perth and Melbourne are suitable for families, but buying a family home is much more affordable in Perth.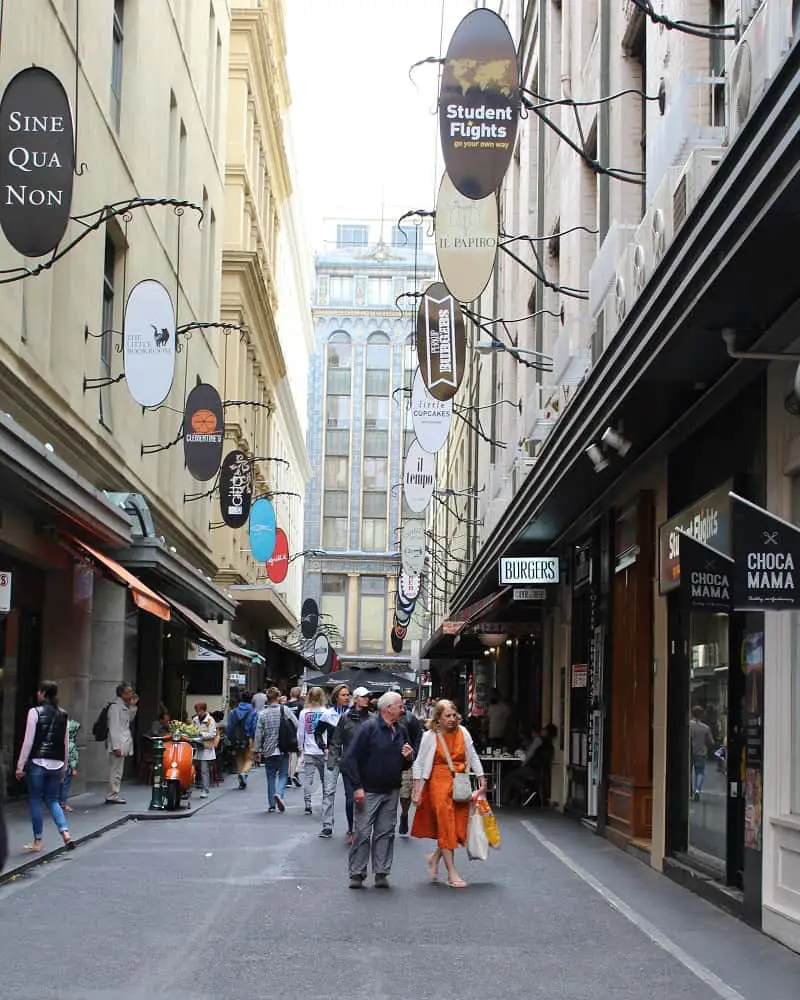 ---
8. Travel Destinations Near Melbourne and Perth
Melbourne and Perth both have a fantastic choice of holiday destinations nearby, as do most Australian coastal cities. Both cities have international airports too, so you can easily travel overseas or fly to other parts of Australia.
Here's a selection of holiday destinations you could visit if you choose to live in Perth or Melbourne!
Road Trips from Melbourne and Perth
I embarked on a mammoth coastal road trip from Perth to Adelaide after I lived in Perth. There are so many beautiful places in southwest WA!
Highlights on a road trip from Perth include coastal town Dunsborough, home to beautiful white beaches and the stunning multi-day Cape to Cape hike; the Valley of the Giants treetop walk in the ancient forests of Walpole and famous Elephant Rocks and Greens Pool in cute little Denmark.
For some winter sun, you can also fly up to popular Broome from Perth, or go on a road trip to the many national parks and beaches in Western Australia.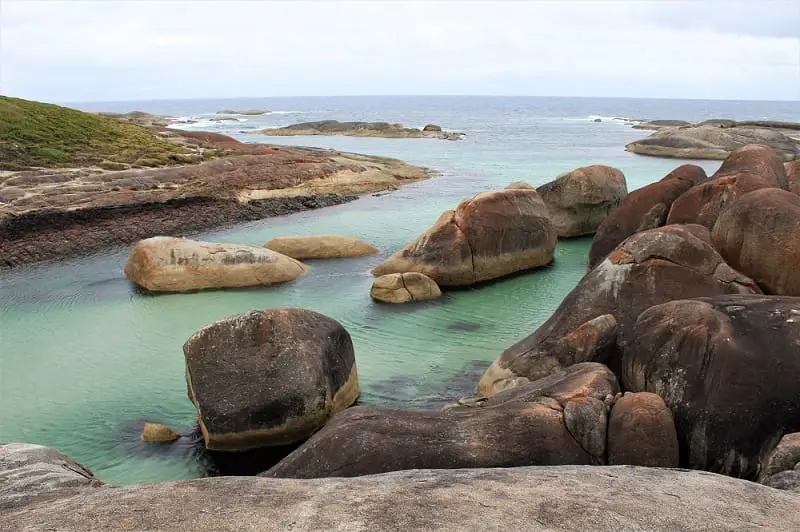 Melbourne is the gateway to the famous scenic drive along the Great Ocean Road. You'll see a wealth of unique rock formations here, such as the 12 Apostles, as well as cool surf towns like Torquay or Lorne.
If you have more time, a Melbourne to Sydney road trip is great fun! Highlights include amazing coastal and mountain scenery in Wilsons Prom and stunning national parks with wild kangaroos near Batemans Bay.
From Melbourne, you can also drive to Kosciusko National Park for winter snow, the Grampians mountains, or the nearby Dandenong Ranges.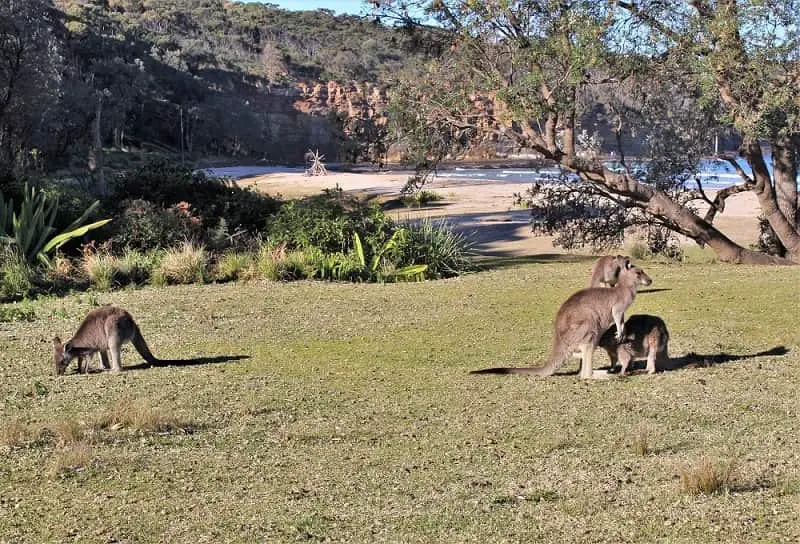 Islands Near Perth and Melbourne
A trip to Rottnest Island from Perth is a must do! You'll find plenty of quiet beaches as well as Australia's cutest marsupial, the quokka!
Melbourne lies close to Phillip Island, a craggy, beautiful location famous for its little penguin population! The island of Tasmania also lies off the coast of Melbourne, albeit a ten-hour ferry ride (or short flight) away.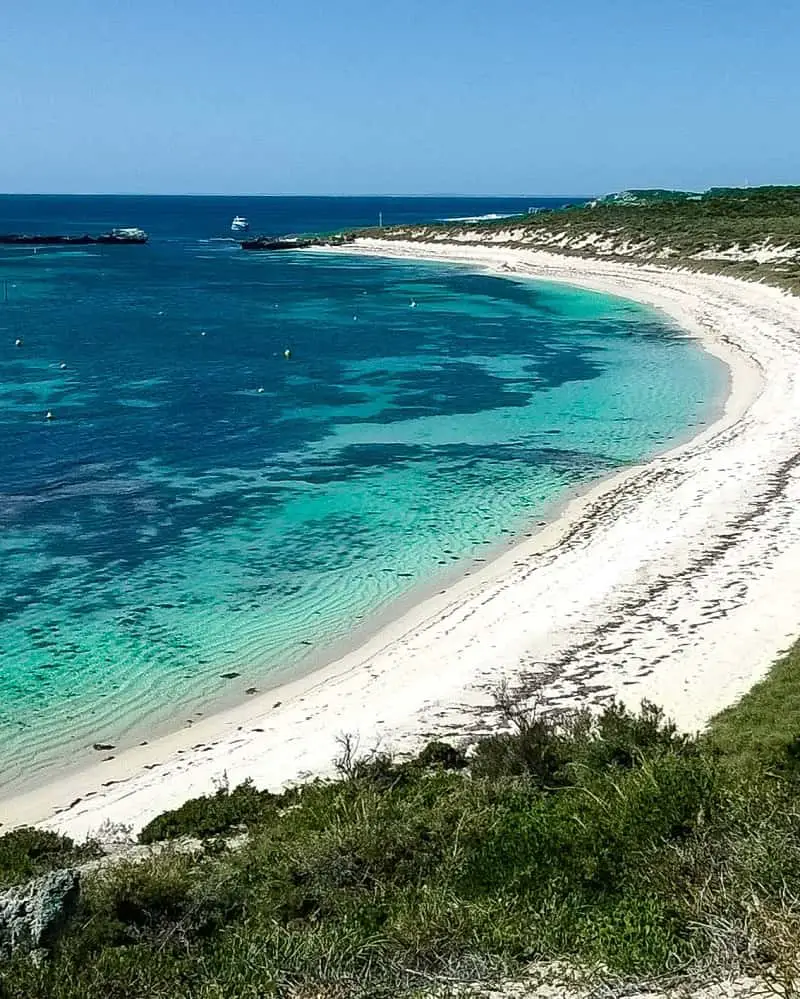 ---
So, is Perth or Melbourne better to live in? I would personally choose Perth, based on the sunny weather, amazing beaches and cheaper property prices. If I was in my twenties though, I would probably choose Melbourne for the fun nightlife, buzzing art scene and easy access to other east coast cities.
How is Perth different to Melbourne? In summary, I would describe Melbourne as a fashionable, cosmopolitan city with great urban attractions and Perth as a sunny, relaxed, affordable city with the opportunity to enjoy a healthy outdoor lifestyle.
If you're open to living in other Australian cities, make sure you check out my page on where to live in Australia, which has plenty more city comparisons and lifestyle overviews!
If you like the idea of living in a very big city, find out the differences between Sydney and Melbourne. Do you really want a beach city with more affordable property than Melbourne? Read my comparison of Perth vs Adelaide.
All the best deciding whether to live in Melbourne or Perth. Remember, you're very lucky if you get to live in either of these beautiful places!
Written by Lisa Bull
Lisa Bull, founder of Dreaming of Down Under, has been living in Australia as a British expat since 2015. After travelling to every state and territory in Australia and living in Perth, Brisbane and Sydney, Lisa knows from first-hand experience the best destinations to visit in Australia and the best budget travel tips. Her guides on this blog have been read by over 700k readers and helped thousands of people achieve their dream of living in or travelling Australia.