This post may contain affiliate links. Please see my disclosure policy for more details.
If you're planning a coastal road trip from Melbourne to Sydney, the beautiful Gippsland Lakes are a must-see destination. I stopped off here for a night after exploring Wilsons Promontory National Park.
Gippsland Lakes Coastal Park is the largest expanse of inland waterways in the southern hemisphere, and home to 600 square kilometres of lakes, marshes and lagoons.
The lakes, which are situated in East Gippsland, are separated from the ocean by a long stretch of sand dunes known as Ninety Mile Beach. And since they take less than three hours to reach from Melbourne, they're easily accessible for a weekend visit if you're not planning a big road trip like mine!
Read on to find out what to see and where to stay in the stunning Gippsland Lakes, Victoria!
---
1. Lakes Entrance
Situated on the eastern edge of the Gippsland Lakes, where the lakes join the Southern Ocean, the well-known town of Lakes Entrance is a popular holiday spot and a great place to base yourself if you want to explore East Gippsland.
I only stayed one night, and had some very gloomy winter weather (as you can see from my pictures!), but there's plenty to do in Lakes Entrance if you want to stay longer. Activities include helicopter rides, kayaking and dolphin cruises. Check out the Lakes Entrance website for ideas.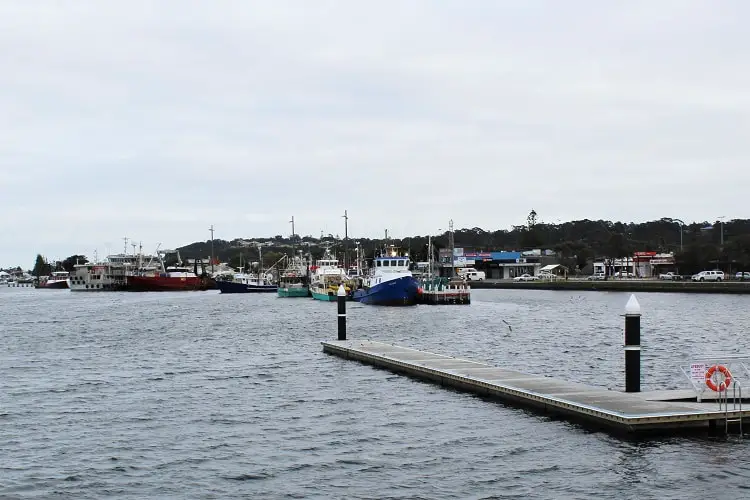 Head to the Esplanade for the main shopping and eating strip. Since Lakes Entrance is home to Australia's largest fishing port, there's plenty of fresh seafood places to choose from.
There's a cycle path running along the Esplanade, and a pedestrian bridge leading to Main Beach (the Lakes Entrance section of Ninety Mile Beach), a popular surf beach with lifesavers patrolling during the summer months.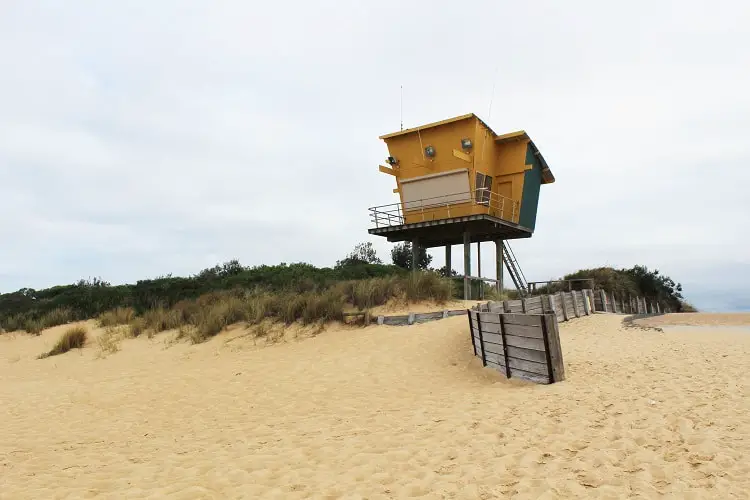 Lakes Entrance Accommodation
You'll find plenty of accommodation in Lakes Entrance, as it's so popular with holidaymakers. I stayed in a cabin at lovely Koonwarra Family Holiday Park, which was a last-minute winter bargain!
Browse Lakes Entrance accommodation on Hotels Combined or use the search box below to get the best price. They compare prices from all the major booking agents for each accommodation.
---
2. Eagle Point
A 40-minute drive west of Lakes Entrance is the small, picturesque town of Eagle Point, set on the shores of Lake King. If you fancy a quiet, scenic stop-off, it's a beautiful place to visit.
I headed to the Eagle Point Gippsland Lakes Reserve at the start of the Mitchell River silt jetties to see a few sights.
Eagle Point Bluff Lookout
For beautiful, sweeping views across the Mitchell River, silt jetties and surrounding countryside, head to the lookout at Eagle Point Bluff. It's on a service road forking off to the left at the start of Rivermouth Road (with a little roundabout at the end).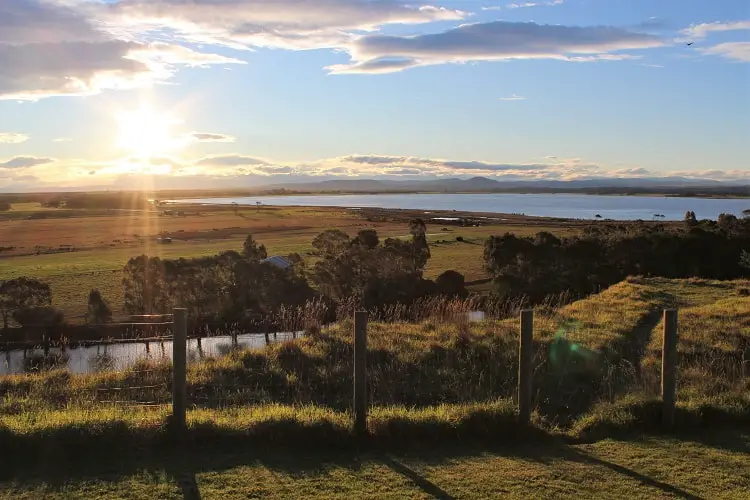 Mitchell River
Slightly farther along Rivermouth Road, where the finger of land narrows, there's a little car park along the banks of the Mitchell River. You can park up and enjoy a close-up view of the water, and maybe even spot some wildlife!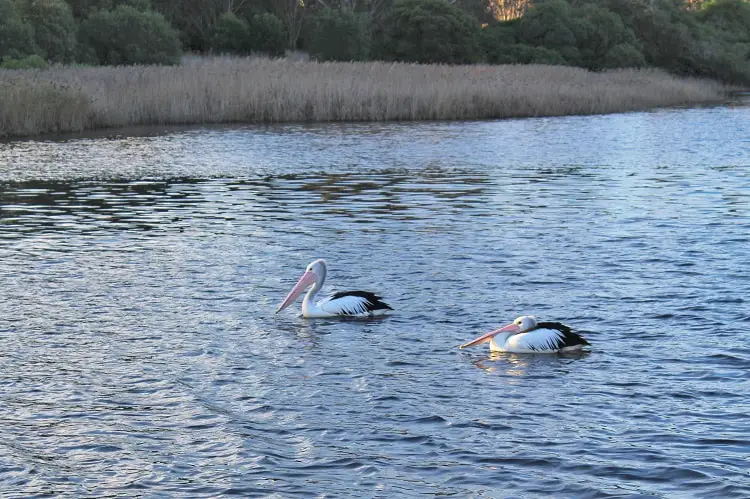 ---
3. Paynesville
Just five minutes east of Eagle Point is livelier Paynesville, the region's boating capital. Head to the Esplanade for waterside eateries and the car and passenger ferry to Raymond Island (to go bird and koala spotting)!
I parked up by the docks on Slip Road to get this beautiful sunset shot of the McMillan Strait.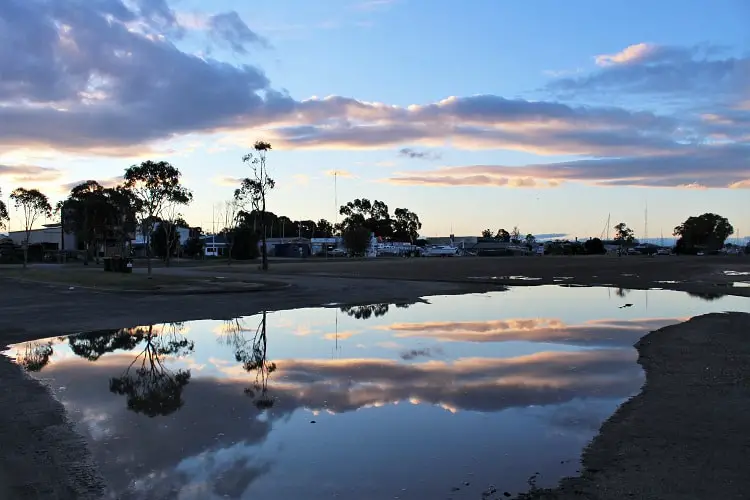 ---
4. Shoreline Drive: Gippsland Lakes Coastline
To explore the western section of Gippsland Lakes Coastal Park, it's a 106km drive southwest of Lakes Entrance to the little town of Sale. From here it's about 35 km south through the countryside to Seaspray.
If you're driving from Melbourne to Lakes Entrance, this makes a scenic detour to break up the journey.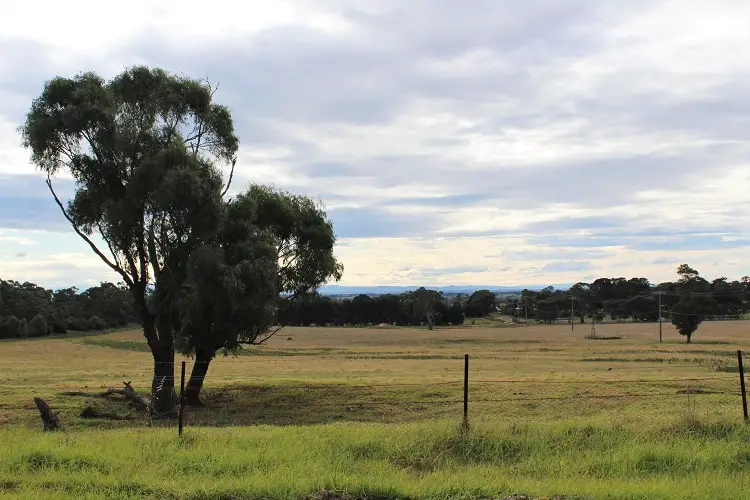 Once you reach Seaspray, you can follow the boardwalk down to Ninety Mile Beach.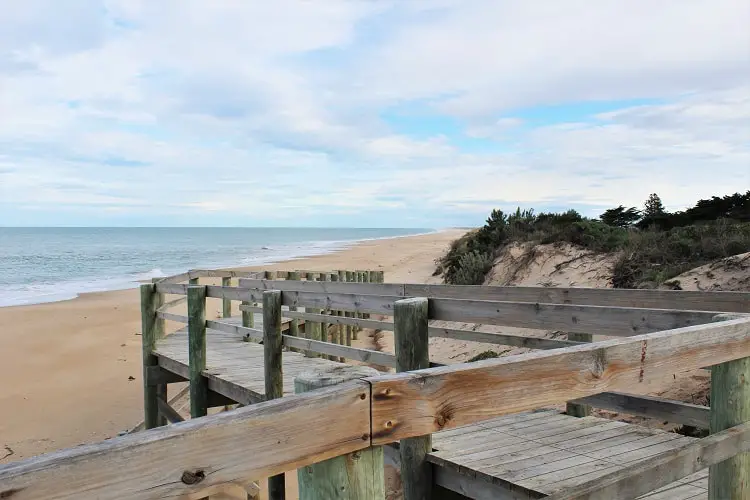 From Seaspray you can then follow Shoreline Drive, which runs along the narrow strip of land between the beach and Lake Reeve. You'll be able to park up and access the beach at various points along the drive, such as Flamingo, in the picture below.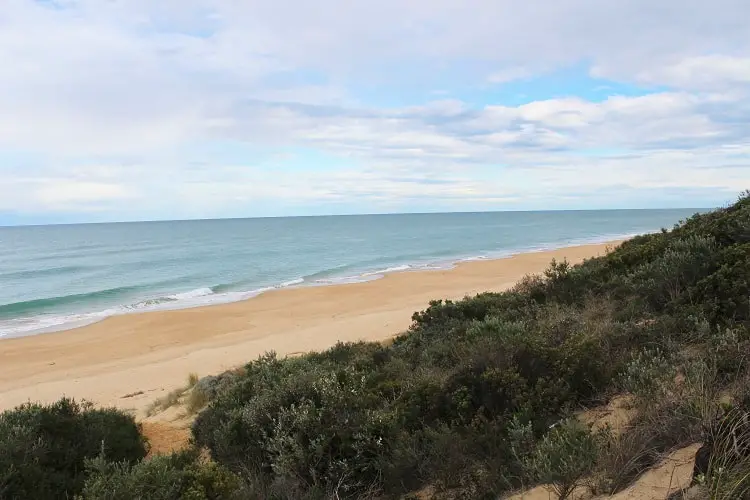 Once you reach Golden Beach at the end, you can either head back up to Sale or take the detour down Longford-Loch Sport Road to the coastal tourist town of Loch Sport.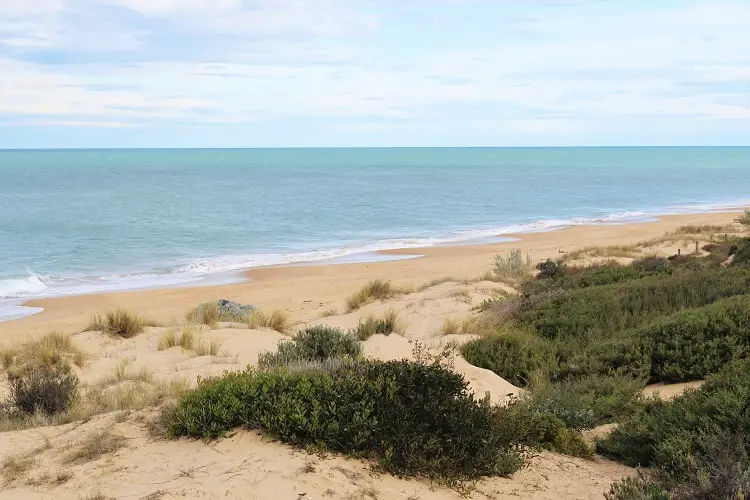 Shoreline Drive Camping
If you're on a camping trip, and just want somewhere basic in a beautiful spot, there are 19 designated camping grounds along Shoreline Drive. To choose and book a campsite, visit the Parks Victoria website.
---
If you're continuing your journey towards Sydney, read my blog post on the top attractions in Eden next. Enjoy your trip to Gippsland Lakes. Hopefully you'll get better weather than I did!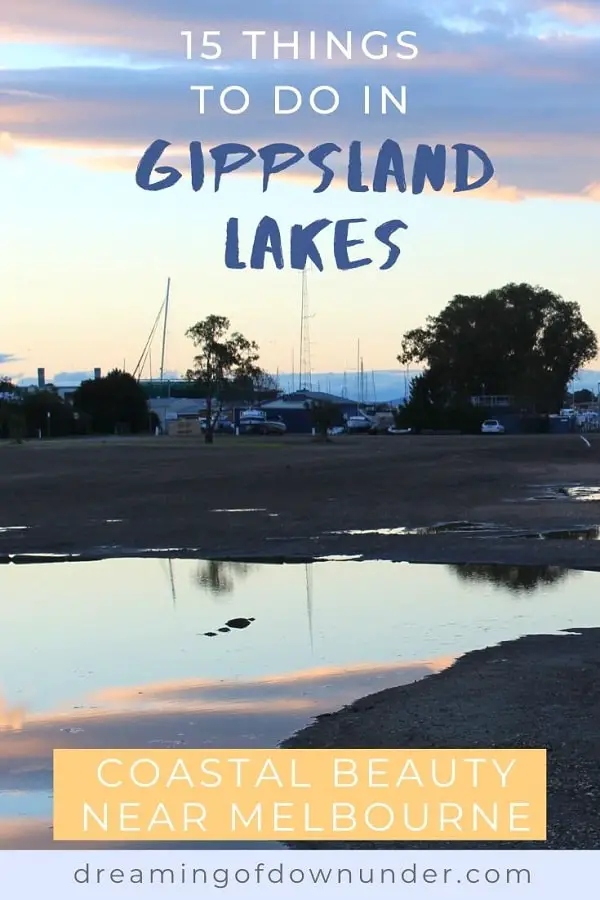 Written by Lisa Bull
Lisa Bull, founder of Dreaming of Down Under, has been living in Australia as a British expat since 2015. After travelling to every state and territory in Australia and living in Perth, Brisbane and Sydney, Lisa knows from first-hand experience the best destinations to visit in Australia and the best budget travel tips. Her guides on this blog have been read by over 700k readers and helped thousands of people achieve their dream of living in or travelling Australia.