This post may contain affiliate links. Please see my disclosure policy for more details.
If the hippy vibe of well-known Byron Bay is your kind of thing, you'll love the small, bohemian town of Bellingen. Tucked away in the rainforest just half an hour from the Mid-North Coast NSW coastline, beautiful Bellingen is home to eclectic boutiques, quirky cafes and plenty of historic, character-filled architecture.
After spending a couple of nights in South West Rocks on my Brisbane to Sydney road trip, it was time to head away from the coastal towns and explore the waterfalls, rainforest and alternative lifestyle in the New South Wales countryside before reaching Coffs Harbour.
Bellingen was by far one of the most memorable stops on my journey, as well as the stunning waterfalls in nearby Dorrigo National Park. Read on to discover some of the interesting things to do in Bellingen NSW!
---
Where is Bellingen in NSW?
Sydney to Bellingen takes about six hours by car, so it's quite a long drive unless you're planning a longer trip with a few stops along the way, such as Port Stephens or Port Macquarie. It also takes over five hours to drive from Brisbane.
Bellingen's closest beach area is Urunga, just 16km away. Coffs Harbour is also only a 41km drive northeast. So you could fly to Coffs Harbour airport to save time, and hire a car to drive to explore Bellingen and its surrounds.
---
Things to Do in Bellingen
While its a small settlement, Bellingen still has plenty of character and places to explore. Here are just some of the attractions that lie around the town.
Admire Bellingen's Historic Architecture
The main hub in Bellingen is the shopping area along Hyde Street. The quaint historic buildings from the late 1800s are well preserved, and fascinating to explore.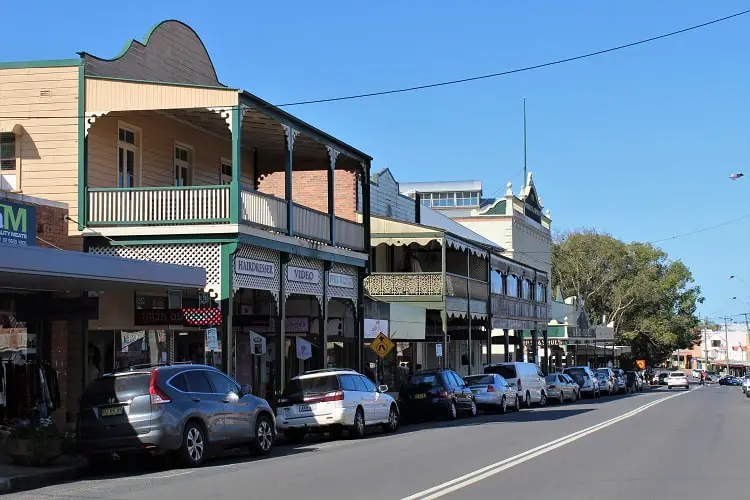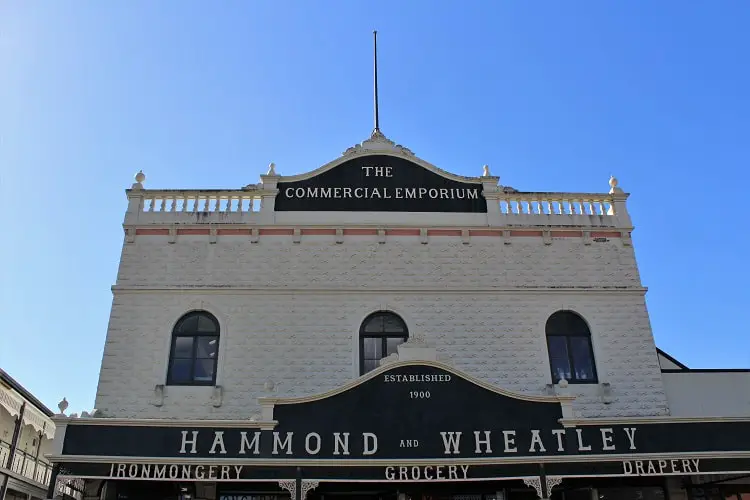 ---
Shop in Bellingen's Boutiques
Rather than the usual Australian high street stores, Bellingen's creative community has filled the town with artisan shops and independent boutiques. It's definitely one of the more unique towns in Australia
Make sure you look inside Hyde, part café, part stylish homeware, clothing and accessories store.
You can't miss the huge Emporium Bellingen inside the beautiful old Hammond and Wheatley Building. Step inside to delve through a warren of furniture, clothes and interesting homeware.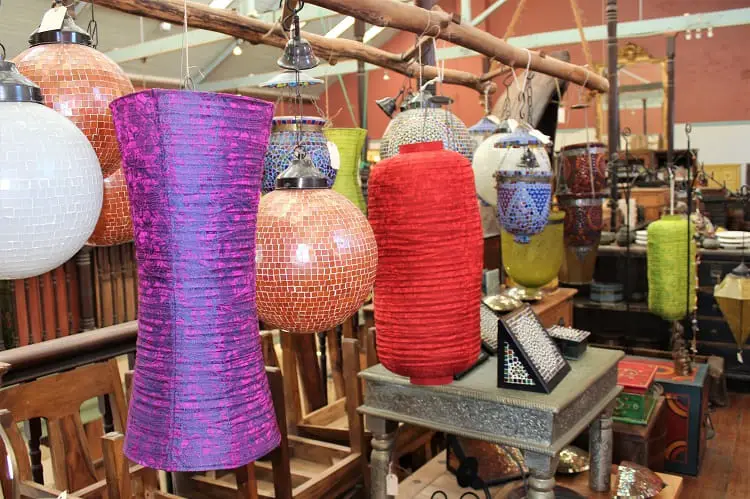 ---
Explore the Quirky Side of Bellingen
You only need to stroll down Hyde St to see the quirky side of Bellingen. Here are a few personal highlights!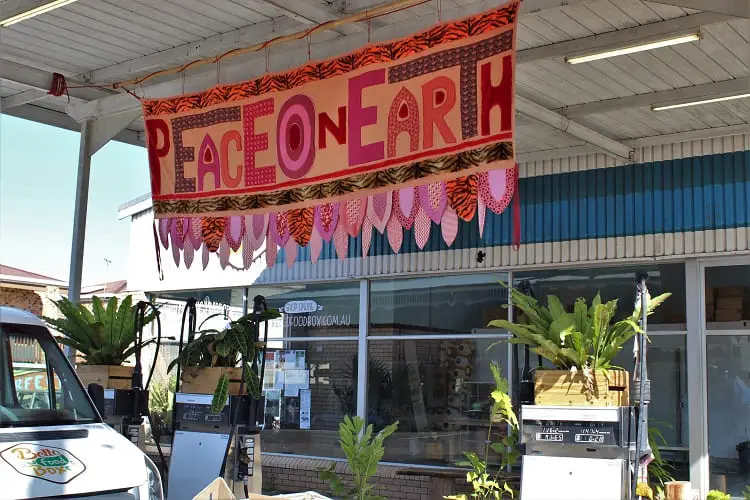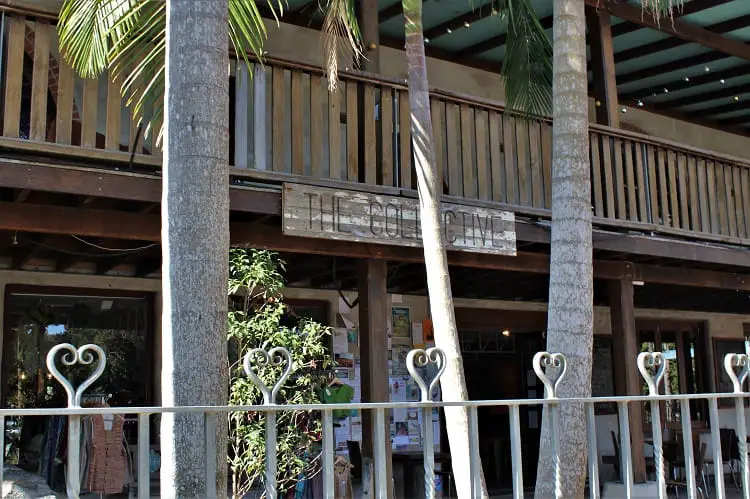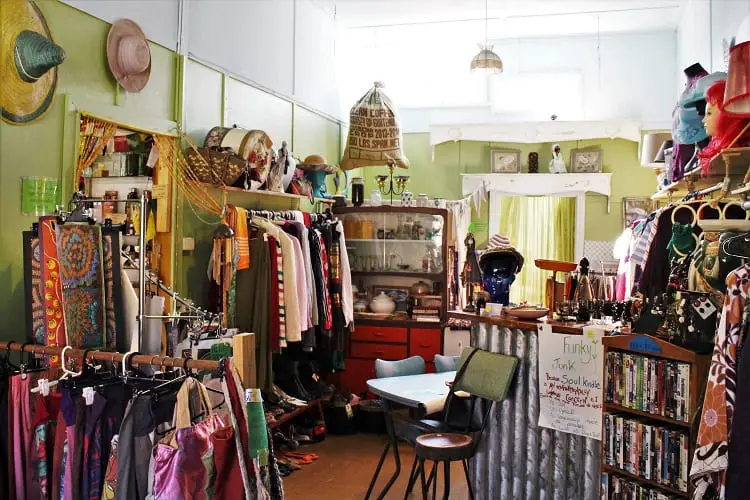 ---
Eat & Drink in Bellingen Cafes & Restaurants
There are some great cafes in Bellingen. We stopped for a coffee at Bellingen Gelato, which had a lovely outdoor seating area as well as a retro theme inside!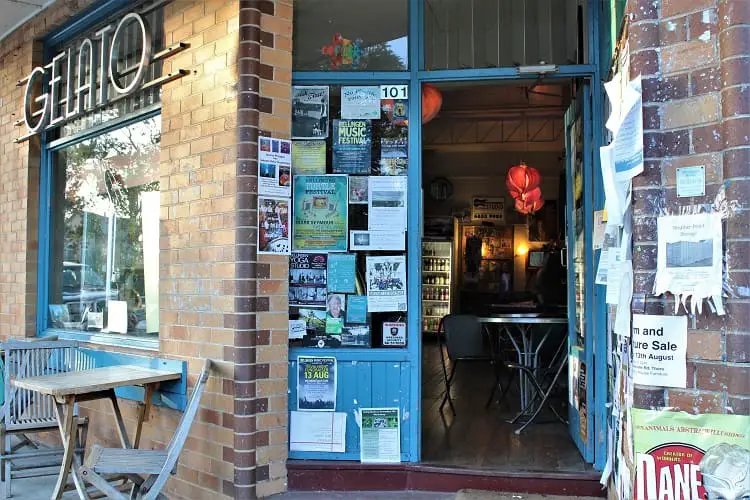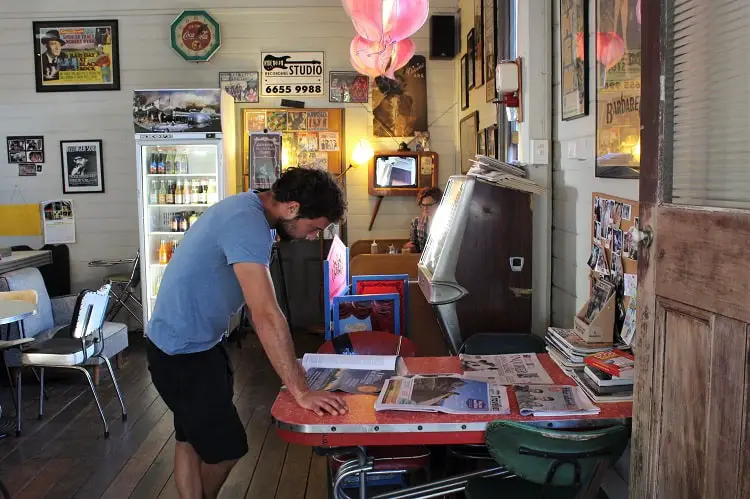 ---
Bellinger River
Once you've had your fill of funky buildings in the town, it's a short stroll from Hyde St over to Lavender Bridge Park where you can picnic and relax along the banks of Bellinger River.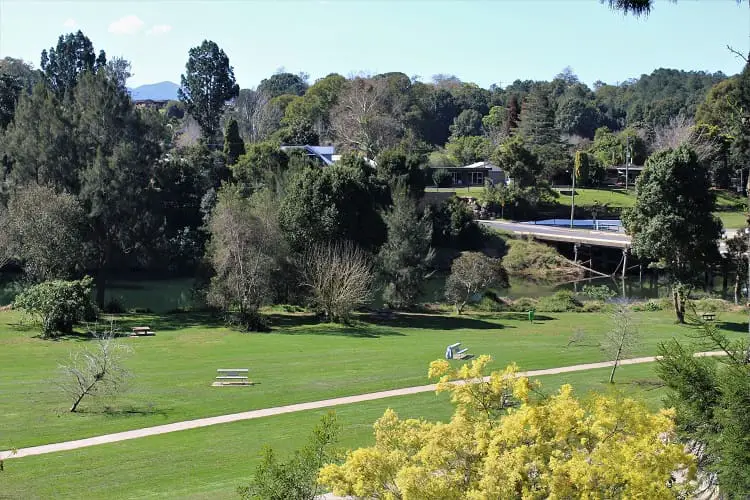 ---
Visit The Old Butter Factory
Also within walking distance of Hyde St is The Old Butter Factory. Established in the 1920s, the former factory is a creative mecca where you can shop and eat.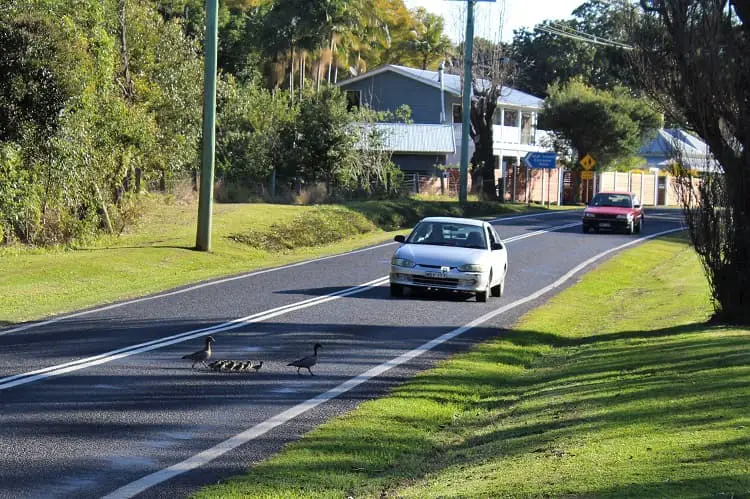 It's a short, picturesque walk along Waterfall Way to The Old Butter Factory at 1 Doepel St. Just watch out for ducks crossing!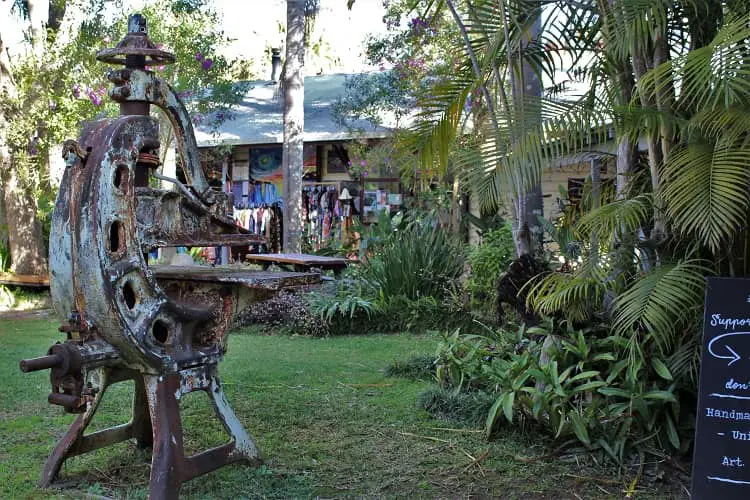 On site you'll find a café and array of studios and boutiques, selling leather goods, jewellery, art and bohemian-style clothing.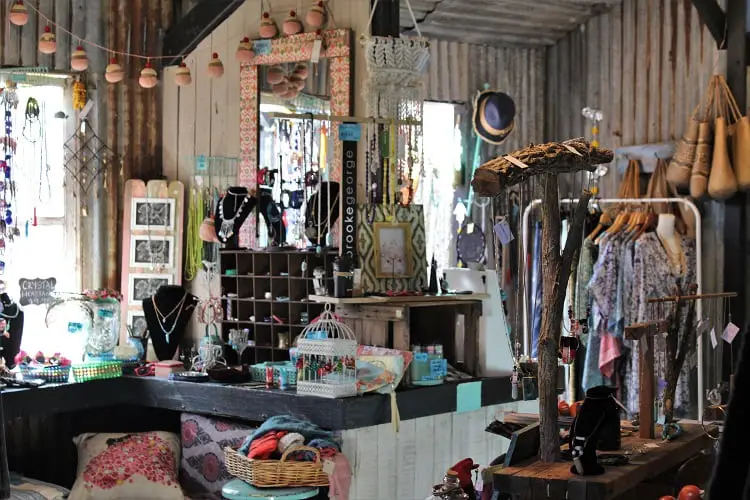 ---
Accommodation in Bellingen
Although Bellingen is a small town, you still have a choice of accommodation, including campsites, a hostel and guest houses. Follow the link to Booking.com below to browse options.
Browse Bellingen accommodation on Booking.com
Bellingen Camping
I camped at Bellingen Showground, which is available all year round as long as no events are on (call up and check first). The ground has powered and unpowered sites, hot showers and toilets, and prices start at $10 per adult.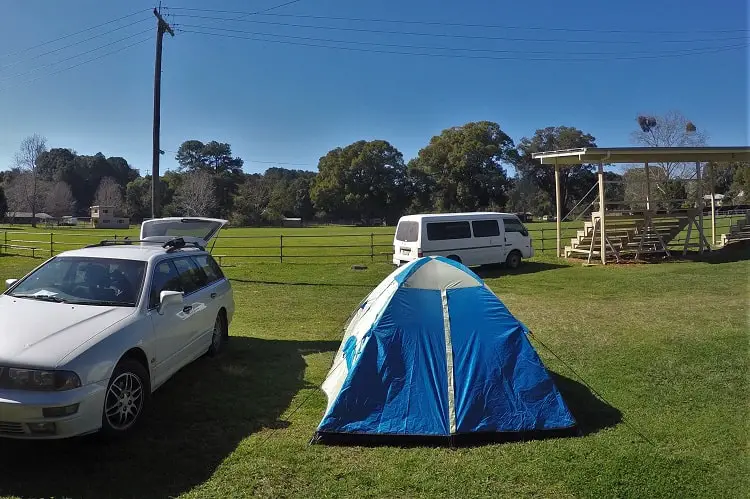 Bellingen Backpacker Hostel
Many years ago when I travelled Australia as a student I stayed at Bellingen YHA. We also popped in this time around as we thought they had camping sites too (they didn't). It looked very nice though, so it's a great option if you're backpacking.
Book Bellingen YHA on Booking.com
---
Visit Dorrigo National Park Waterfalls
No trip to Bellingen would be complete without a detour to the beautiful waterfalls of Dorrigo National Park! At less than half an hour's drive away from Bellingen, it would be rude not to!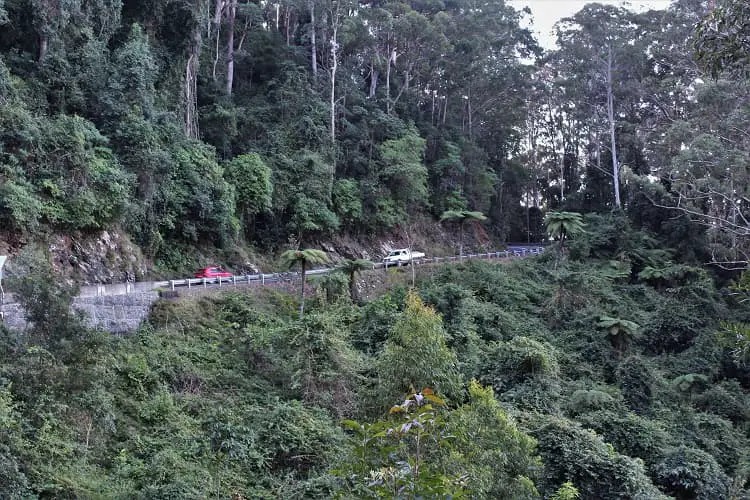 Dangar Falls
Just 2km from Dorrigo town centre is beautiful Dangar Falls. This 30m waterfall has a viewing platform, picnic area and walking track down to the river at the bottom.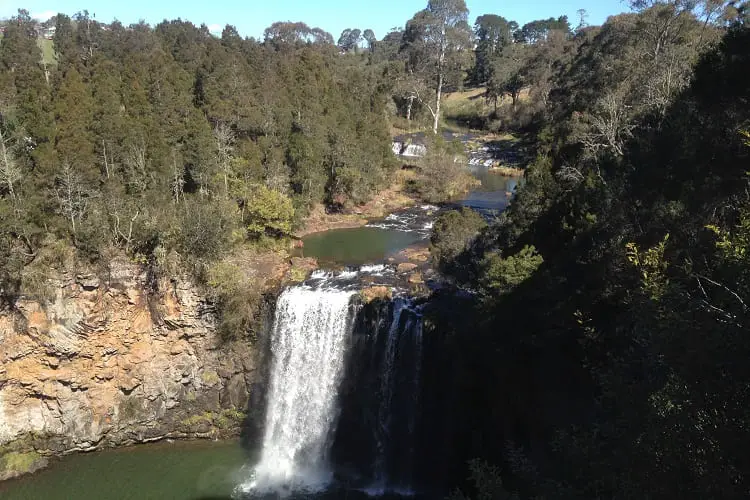 Dorrigo Rainforest Centre and Crystal Shower Falls Walk
A 4km drive south of Dorrigo town is Dorrigo Rainforest Centre, where you can enjoy amazing views from the Skywalk or visit the Canopy Café.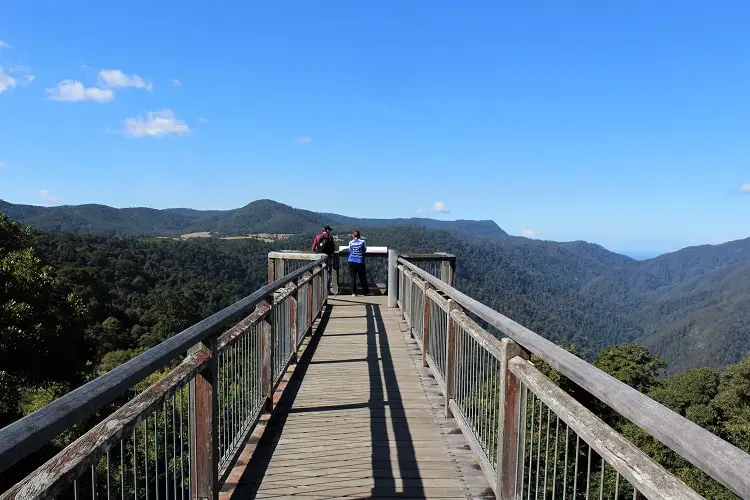 From here you can join onto the 400m Lyrebird Track then the 6.6km Wonga loop walk through the beautiful rainforest, passing Crystal Shower Falls.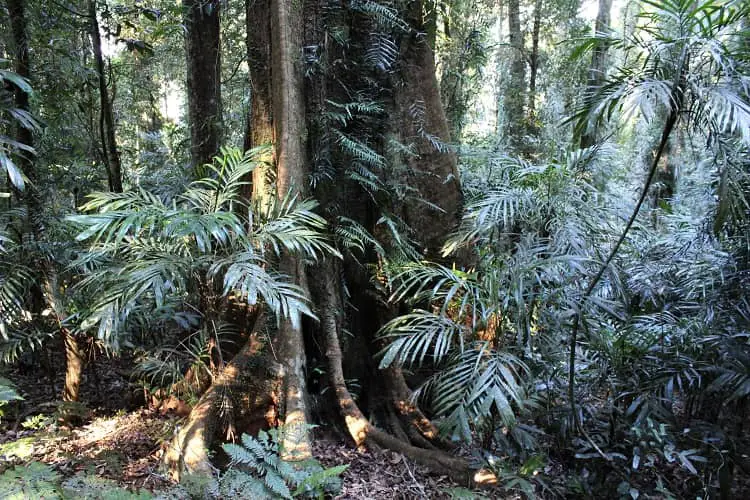 At the falls you'll not only be able to cross a suspension bridge but walk right behind the waterfall itself!
---
With its mild climate, Bellingen is great to visit all year round. But take a look at the Bellingen events listing if you want to coincide your trip with one of its many festivals or markets.
Toe read my whole Sydney to Brisbane road trip itinerary, with distances, costs, accommodation and recommended stops, check out this blog post:
Sydney to Brisbane Drive Itinerary
Happy travels!
Written by Lisa Bull
Lisa Bull, founder of Dreaming of Down Under, has been living in Australia as a British expat since 2015. After travelling to every state and territory in Australia and living in Perth, Brisbane and Sydney, Lisa knows from first-hand experience the best destinations to visit in Australia and the best budget travel tips. Her guides on this blog have been read by over 700k readers and helped thousands of people achieve their dream of living in or travelling Australia.