This post may contain affiliate links. Please see my disclosure policy for more details.
If you've read my Noosa 3-day itinerary, you'll know the Noosa National Park coastal walk is one of the top things I found to do on my trip to the Sunshine Coast.
The walk includes beautiful coastal formations such as Hells Gates and Devil's Kitchen, gorgeous beaches like Alexandria Bay and Tea Tree Bay, and the Insta-famous Fairy Pools.
This scenic 4.5km track from Noosa Heads to Sunshine Beach takes around 2.5 hours to complete (one way), with plenty of opportunities to stop for a breather. If you're visiting Noosa and looking for hikes, read on to find out more!
---
Noosa National Park Walks & Map
There are a number of walking tracks in Noosa National Park, including Palm Grove, Tanglewood, Noosa Hill and Alexandria Bay.
This blog post cover the coastal walk, which is the blue track running around the edge of the headland on the map. The end points are Sunshine Beach and Noosa Heads, near Hastings Street.
The places you'll pass along the walk are:
1. Sunshine Beach
2. Devil's Kitchen
3. Alexandria Bay
4. Hells Gates
5. Noosa Fairy Pools
6. Picnic Cove
7. Granite Bay
8. Dolphin Point
9. Tea Tree Bay
10. Boiling Pot
11. Park Road
12. Little Cove
13. Main Beach
14. Hastings Street
---
Noosa National Park Coastal Walk End Points & Distance
The coastal track is 4.5km each way, which takes about 2.5 hours to walk. But there are buses running between the start and end points if you don't want to walk all the way back again.
This post will run through the walk starting at Sunshine Beach, but you can walk it the opposite way around, or do a shorter section near the ends of the track.
Start Point:
Seaview Terrace Car Park, Seaview Terrace Road, Sunshine Beach. There's a small amount of free parking here as well as toilets. To arrive by bus, catch a 627 from Noosa Junction and get off at Bryan Street near Ferris Street. Check your times on the Translink journey planner.
End Point:
Park Road, Noosa Heads. There's lots of free parking here for up to four hours. It's likely to be busier than Sunshine Beach though as this is the main tourist area. If you continue walking along Park Road, you'll come to Hastings Street, where all the shops and restaurants are. Plenty of buses run to Noosa Heads if you're not driving.
---
1. Sunshine Beach
To start the walk, head to Sunshine Beach from nearby Seaview Terrace carpark. It's a huge and beautiful beach, as you can see! It's a popular place to take dogs too!
Head north across the sand, with the water on your right. About ten minutes later you'll reach the start of the walking track, which also has an information board. I always like to take a picture of a map at the start of a hike, so I can make sure I'm staying on the right track.
Start climbing the hill and make sure you look backdown. The views across Sunshine Beach are astounding! It is quite a steep track though with a lot of steps, so make sure you bring lots of water.
---
2. Devil's Kitchen
Once you're at the top you'll get ocean views again at rocky Devil's Kitchen, which is a nice place to get your breath back!
---
3. Alexandria Bay
About 20 minutes (1km) after leaving Sunshine Beach, the track will lead out onto pretty Alexandria Bay.
Continue north across the sand for around 20 minutes (keeping your eyes peeled for crabs!) and you'll see the track resume up onto the headland.
---
4. Hell's Gates
After a 15-minute climb you'll come to the next point of interest, Hell's Gates. Here you can look down on the ocean crashing against the rocky outcrop that was formed by weather erosion on the sandstone.
---
5. Noosa Fairy Pools
A popular spot for Instagrammers is Noosa Fairy Pools, which is only a few minutes' walk from Hell's Gates.
Note that the track doesn't lead down to the Fairy Pools; you'll have to go beyond the barrier and climb down the rocks. I saw a few people down there but didn't fancy it myself! Do be careful if you decide to visit.
---
6. Picnic Cove
Around 15 minutes' walk from Hell's Gates is Picnic Cove, a rocky beach that you can detour down to along another path.
---
7. Granite Bay
Next the track passes by beautiful Granite Bay. If you want a lovely beach to yourself this could be a good option as there's a track leading down there.
---
8. Dolphin Point
You'll come to Dolphin's Point about 25 minutes after leaving Picnic Cove. There are a few lookout points here if you fancy a bit of dolphin spotting or a sit down.
---
9. Tea Tree Bay
As you round the headland you'll pass gorgeous Tea Tree Bay. It'll be a bit busier here as it's not far to reach from the main hub of Noosa Heads.
There are also toilets here; the only ones between here and Sunshine Beach.
---
10. Boiling Pot
You'll come to another interesting coastal feature, Boiling Pot, about 15 minutes from Dolphin Point Lookout.
This is another great lookout point, with views across Laguna Bay to the Cooloola sandmass, which has been building up for over half-a-million years!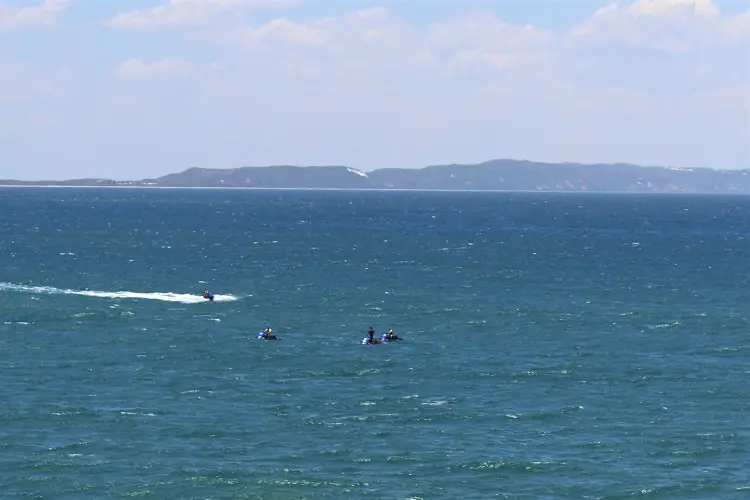 ---
11. Park Road
Ten minutes later you should reach the end of the track and come out on Park Road! Don't get too excited though, as it's another 15 minutes' walk along the road to Hastings Street.
---
12. Little Cove
Along the final stretch is lovely Little Cove Beach, an ideal place to stop and cool off.
---
13. Main Beach
Once you reach Hastings Street, you've also got Main Beach to visit. If you do fancy a swim there's a patrolled area, so you can swim between the flags.
---
14. Hastings Street
There are lots of lovely cafes and restaurants along Hastings Street. So if you're looking for a cold drink or meal after your hike, this is the place!
To get the bus from here, walk up Noosa Drive and you'll see Noosa Heads Station on your right.
---
To discover more attractions in Noosa, have a read of my itinerary below. It includes markets, beaches, shopping and a sunset cruise!
Noosa 3-Day Itinerary by Public Transport
Happy travels!
---
Written by Lisa Bull
Lisa Bull, founder of Dreaming of Down Under, has been living in Australia as a British expat since 2015. After travelling to every state and territory in Australia and living in Perth, Brisbane and Sydney, Lisa knows from first-hand experience the best destinations to visit in Australia and the best budget travel tips. Her guides on this blog have been read by over 700k readers and helped thousands of people achieve their dream of living in or travelling Australia.