This post may contain affiliate links. Please see my disclosure policy for more details.
If you're planning on visiting Cairns, catching the Cairns Skyrail or train to Kuranda is probably high on your list of day trips. Located up in the Atherton Tablelands, 27 km inland of Cairns, Kuranda is a quirky rainforest village with plenty of fun things to do.
The Kuranda Skyrail glides you above the canopy of World Heritage-listed rainforest in a glass-walled gondola cabin. Kuranda Scenic Railway chugs along the majestic mountainside, skimming glittering waterfalls and gnarled, ancient trees.
In leafy Kuranda village, you'll find shops, cafes, markets and a choice of wildlife centres to visit. I spent a day exploring Kuranda on my recent trip to Cairns and travelled on both Cairns Skyrail and the Kuranda Scenic Railway.
Keep reading my review to find out if I think the trip to Kuranda is worth it. Alternatively, watch my Cairns travel vlog below!
---
1. Kuranda Tours & Ticket
Here are tickets to the best attractions in Kuranda if you want to make the most of your day trip. I travelled on the Skyrail and Scenic Railway and visited the beautiful butterfly sanctuary in Kuranda village!
Skyrail and Scenic Railway with Hotel Transfers: Get picked up from your hotel in Cairns before enjoying your rainforest cableway ride, time in Kuranda, then a trip back on the historic scenic railway.

Skyrail and Scenic Railway Tickets: If you have your own car, this package includes Skyrail tickets, discount vouchers for Kuranda plus a transfer back to your vehicle at Smithfield terminal after your scenic railway ride home!

Kuranda Butterfly Sanctuary: I highly recommend a visit to the largest butterfly flight aviary and exhibit in the southern hemisphere, home to over 1,500 tropical butterflies!

Koala Gardens: Meet an array of Australian wildlife, including wallabies, wombats and freshwater crocodiles!

Kuranda Birdworld: Be amazed at over 60 species of native and exotic birds in this rainforest environment.

Butterfly Sanctuary, Koala Gardens & Birdworld Package: This combined pass includes entry to all three attractions plus a 30-minute guided tour of the butterfly sanctuary.

Kuranda Rainforest & Aboriginal Culture Tour: This full-day tour includes a Dreamtime Walk and teachings from Aboriginal guides, a rainforest tour on land and water, entry to the Koala and Wildlife Park, time in Kuranda village and transfers.
---
2. How to Get to Kuranda Village
You have a few options to get to Kuranda from Cairns.
Drive to Kuranda from Cairns (35 minutes)
Trans North bus between Kuranda and Cairns
Cairns Skyrail (one way or return)
Kuranda Scenic Railway (one way or return)
Both the Kuranda Skyrail and train travel both ways between Cairns and Kuranda. A popular option is to take either the Skyrail to Kuranda and the Scenic Railway back to Cairns, or vice versa.
If taking both is too expensive for you, consider choosing one option and getting the bus to Kuranda or back. Continue reading my review to choose between the Kuranda train and Skyrail.
---
3. Cairns Skyrail Rainforest Cableway
The Skyrail from Cairns to Kuranda offers a once-in-a-lifetime opportunity to soar above ancient tropical rainforest, enjoying a fantastic aerial view right down to the beautiful Queensland coastline. I chose to take the Skyrail in the morning, from Cairns to Kuranda, then get the scenic railway back.
Read on to find out all you need to know about Skyrail Cairns!
Cairns Skyrail Prices
The Skyrail Cairns prices, as at August 2023, are shown below. Check the Skyrail website for up-to-date prices and timetables.
Adult: $62 one way or $93 return;
Child: $31 one way or $46.50 return;
Family (2 adults and 2 children): $155 one way and $232.50 return.
You can upgrade your Skyrail experience to a Diamond View gondola, which has a glass bottom, or an open-air Canopy Glider gondola.
I travelled in a standard gondola, which had perfectly adequate views across the rainforest. The Diamond View would certainly be fun though, to look directly down on the canopy. The Canopy Glider would be a better option for taking photographs, as you won't be troubled by reflections on the glass.
Cairns Skyrail Timetable
The Cairns Skyrail runs continuously between Cairns and Kuranda, departing from Smithfield terminal between 8:30am and 1:00pm. The last trip departing from Kuranda leaves at 3:15pm. Bookings are allocated every 15 minutes.
How Long Does the Skyrail Cairns Take?
You should allow around 1.5 hours one way on the Cairns Skyrail, in order to disembark at Red Peak and Barron Falls to look around. Make sure you factor in enough free time to explore Kuranda village, plus an extra hour to get back, if you've booked a return ticket from Cairns.
While gondolas leave continuously, and visitors book an exact time slot, you will likely need to spend some time queuing for the Skyrail, unfortunately.
I travelled on a weekday outside of school holidays and still spent a lot of time queuing, both at Smithfield terminal and to get back onto a gondola at Red Peak and Barron Falls.
Where Does the Cairns Skyrail Leave From?
The rainforest cableway journey sets off from Smithfield terminal, which is located a 15-minute drive north of Cairns CBD and a 50-minute drive south of Port Douglas. You can buy a bus transfer with your Skyrail ticket that leaves from specific places in Cairns city, which is what I did.
Skyrail Cairns to Kuranda Itinerary
If you choose to travel on the Skyrail rainforest cableway from Smithfield terminal in Cairns to Kuranda, like I did, here are the places you can hop off and look around.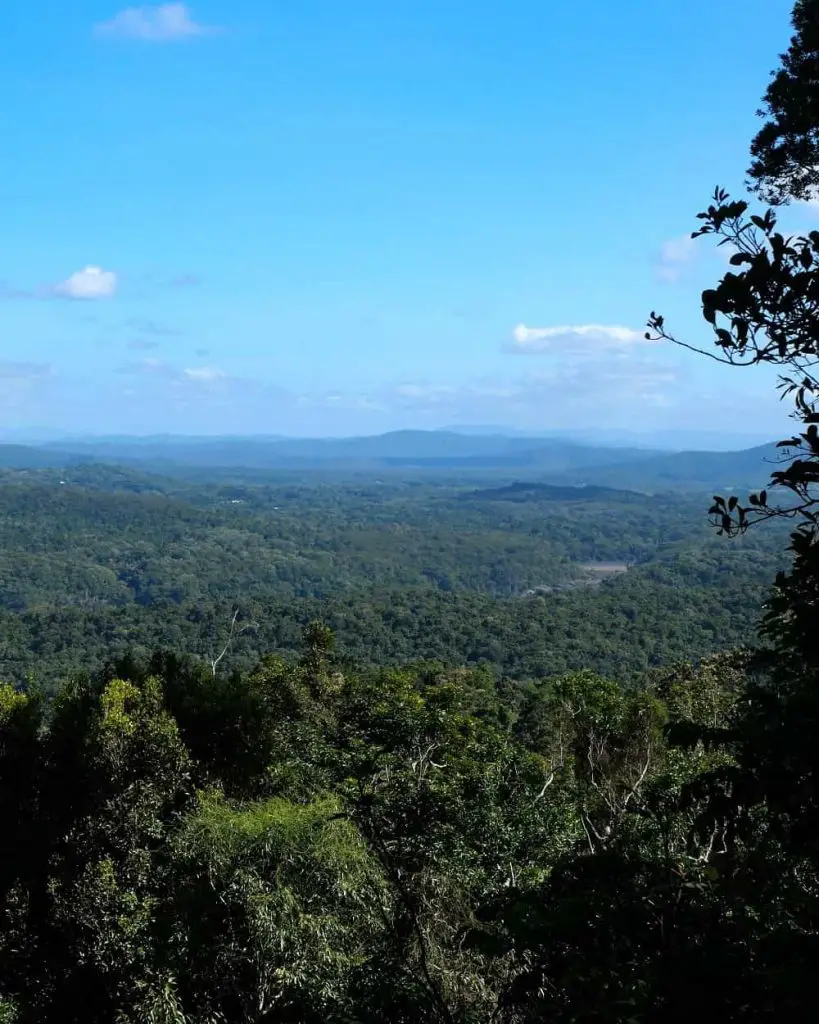 The first stop on the Cairns Skyrail to Kuranda is Red Peak. It's well worth jumping off the cableway here to enjoy the scenic lookout and short boardwalk through the beautiful rainforest.
On this easy walk at Red Peak, you can wander through ancient rainforest, admiring towering trees and keeping an eye out for unique Australian wildlife.
The second stop on the Skyrail rainforest cableway from Cairns is Barron Falls, the main attraction on the journey from Cairns to Kuranda.
Make sure you hop off the rainforest cableway at Barron Falls to marvel at this impressive multi-tiered waterfall as it descends into the Barron River below. Note that the falls will be fullest during the wet season (December to March).
Beautiful Barron Falls lies within Barron Gorge National Park and the Wet Tropics World Heritage Area, which covers 450 km of rainforest along the stunning tropical north Queensland coastline.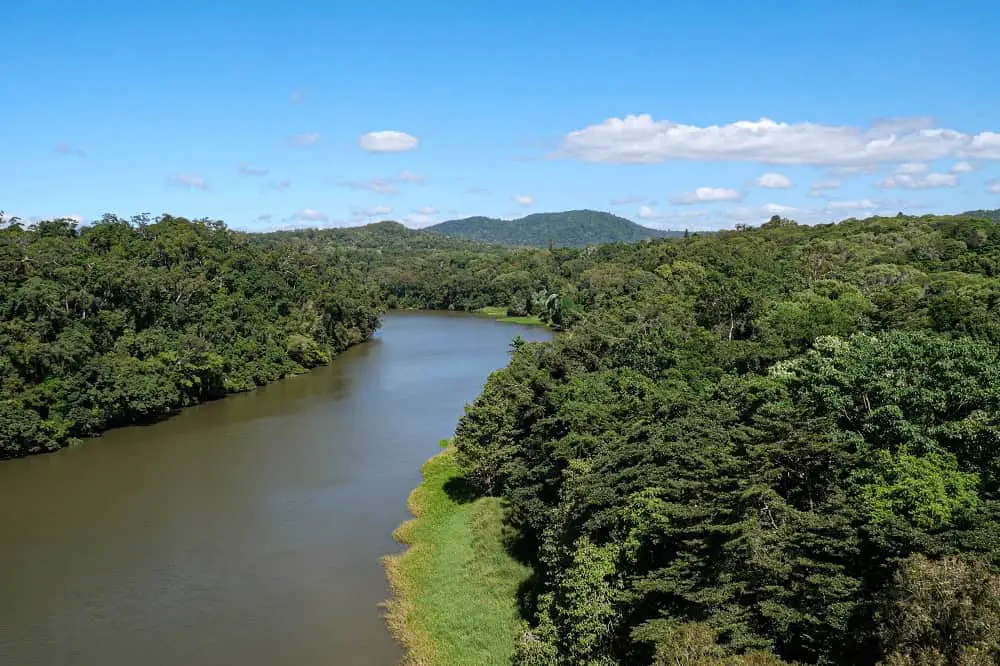 You'll finish your cableway journey in Kuranda village, up in the mountains. Read on to find out what to do there!
Is Kuranda Skyrail worth it?
The fantastic views across the wet tropics rainforest in Cairns certainly make the Skyrail worth the expense. However, expect to spend time queuing. Also, reflections on the glass make photography a little difficult.
They do try to fill the 6-person gondola cabins on the Skyrail too, meaning that you'll likely have to share with other people. Personally, I preferred the scenic railway to the Skyrail because of the varied views, historical information and lack of queues.
---
4. Kuranda Scenic Railway
I absolutely loved the Kuranda Scenic Railway! Travelling along the edge of a mountain through an ancient rainforest is a really unique experience, and passing right by Stoney Creek Falls was fantastic! Read on to learn more.
Kuranda Scenic Railway Prices
Kuranda Scenic Railway offers a range of differently priced tickets, depending which class you prefer to travel in. Take a look on the KSR website for more details of what each class includes. The prices for the Kuranda Scenic Railway, as at July 2023, are shown below.
HERITAGE CLASS: Adult: $50 one way or $76 return | Child: $25 one way or $38 return | Family: $125 one way or $190 return;
GOLD CLASS: Adult: $99 one way or $174 return | Child: $74 one way or $136 return | Family: $321 one way or $582 return;
ROYALE CLASS: Adult: $73 one way or $122 return | Child: $48 one way or $84 return | Family: $217 one way or $374 return.
I chose the heritage class option, leaving Kuranda back to Cairns in the afternoon.
Kuranda Train Timetable
Kuranda Scenic Railway departs from Cairns Station at 8:30am and 9:30am or Freshwater Station at 8:55am and 9:55am. It arrives in Kuranda at 10:25am and 11:25am.

The return train leaves Kuranda at 2:00pm and 3:30pm, reaching Freshwater Station at 3:32pm and 5:02pm and Cairns Station at 3:55pm and 5:25pm.
Do check the Kuranda train website for current service timetables and updates.
Kuranda Scenic Railway Itinerary
If you're travelling on the Kuranda train to Cairns, you'll board at pretty Kuranda station. Your ticket will have an allocated seat number, so make sure you find the right carriage. Someone was in my seat when I boarded, and I had to tell them to move!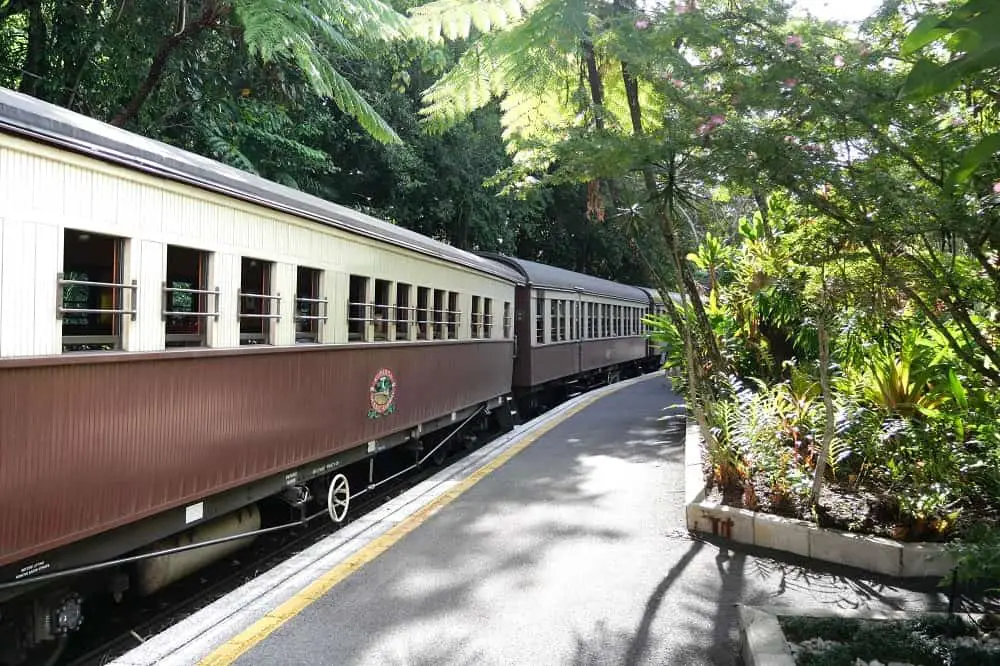 Just like the Skyrail, the Kuranda train stops at Barron Falls, which is the first place you can get off.
The Kuranda train viewpoint is on the opposite side of the Barron Falls from the Skyrail lookout. Although the train stop is closer to the waterfall, I would say the view is better from the Skyrail stop, as you can see more.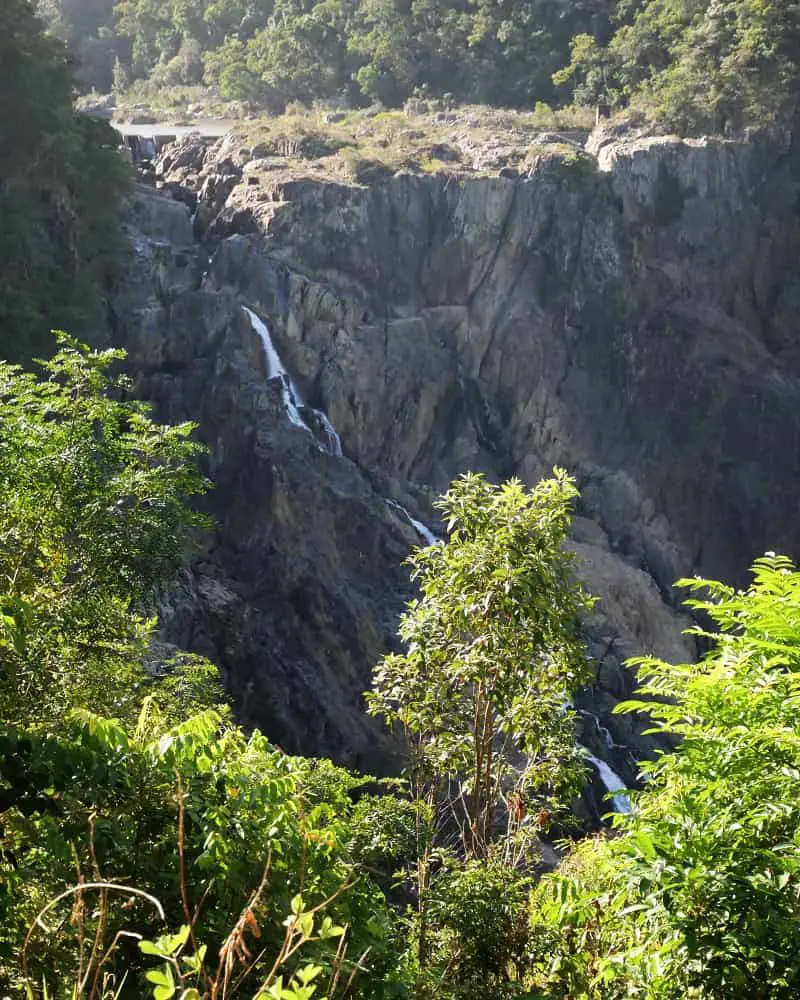 Once you get back on the train, you can sit and relax, passing plenty of gorgeous World Heritage listed rainforest as you head towards Cairns.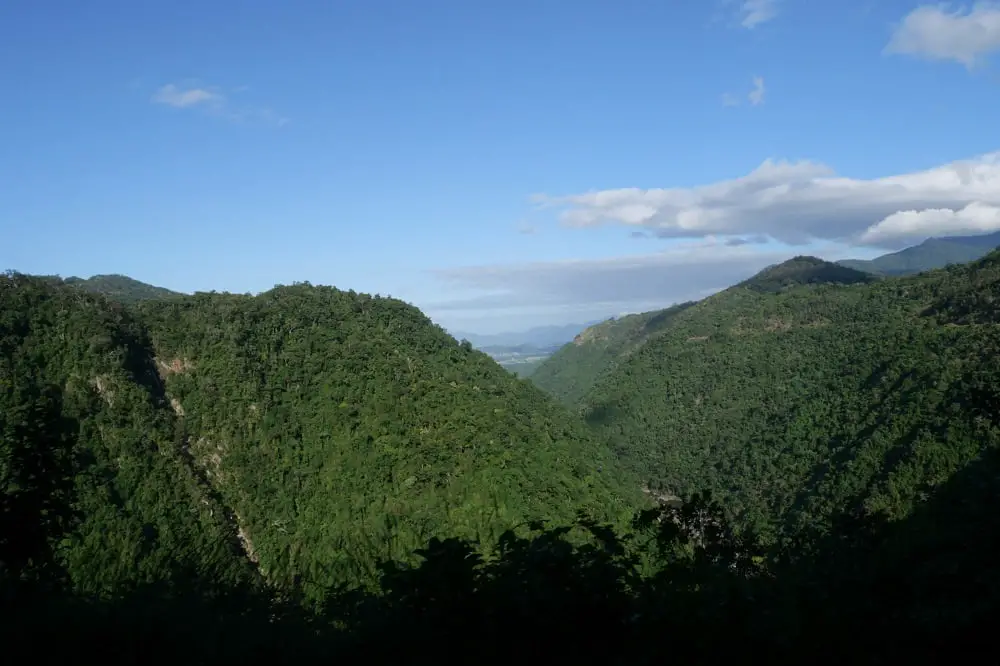 The next main attraction is Stoney Creek Falls, which I thought was the best part of the Kuranda Scenic Railway journey.
The train passes right next to the waterfall, and you get plenty of time to take photos. You can stand up and look out of the windows on the other side of the carriage if you're seated on the opposite side.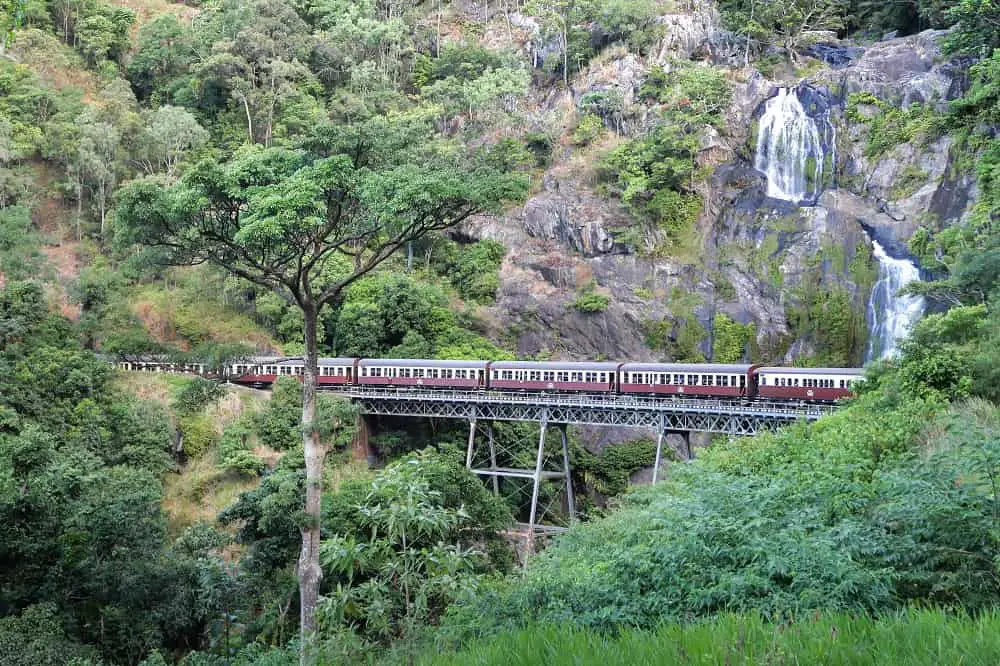 Before reaching Cairns, the Kuranda railway stops at Freshwater Station. We were treated to a lovely sunset at the end of the journey!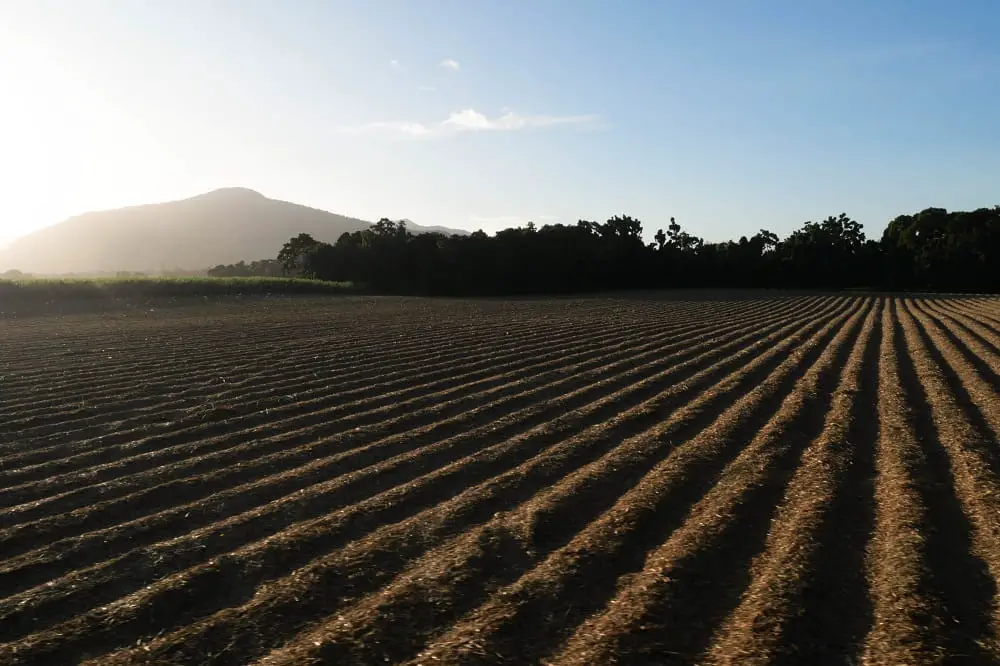 How long does the Kuranda Scenic Railway take?
The journey from Cairns to Kuranda on the scenic railway takes just under two hours each way. The train stops at Freshwater Station and Barron Falls, where you can hop off at a lookout point.
Is the Kuranda Scenic Railway worth it?
I think it is definitely worth taking the Kuranda Scenic Railway. I actually preferred it to the Cairns Skyrail. Here are my reasons why.
Since everyone booked on the train has an allocated seat, you don't have to wait around in queues like you do on the Skyrail, which makes the train a much more relaxing journey;
The views from the train are more varied than the aerial view from the Skyrail;
The historical information on the scenic railway journey made it much more interesting than the cableway ride for me.
---
5. Things to Do in Kuranda Village
Known as the Village in the Rainforest, Kuranda is a colourful, leafy settlement set on the banks of the Barron River, 27 km northwest of Cairns. Whether you want to have a relaxing lunch, check out some Australian wildlife or shop for souvenirs, you'll find plenty of things to do in Kuranda.
Do note that Kuranda is very much designed for tourists and gets extremely busy. If you enjoy hidden gems off the beaten track, it is not the place for you!
I personally found the crowds and wealth of souvenir shops a bit overwhelming; I definitely wouldn't describe Kuranda as an authentic Australian village!
However, I do think the Skyrail and Kuranda Scenic Railway are lots of fun, and there is plenty to see and do in Kuranda for people of all ages, especially children. Read on to find out the top attractions in Kuranda!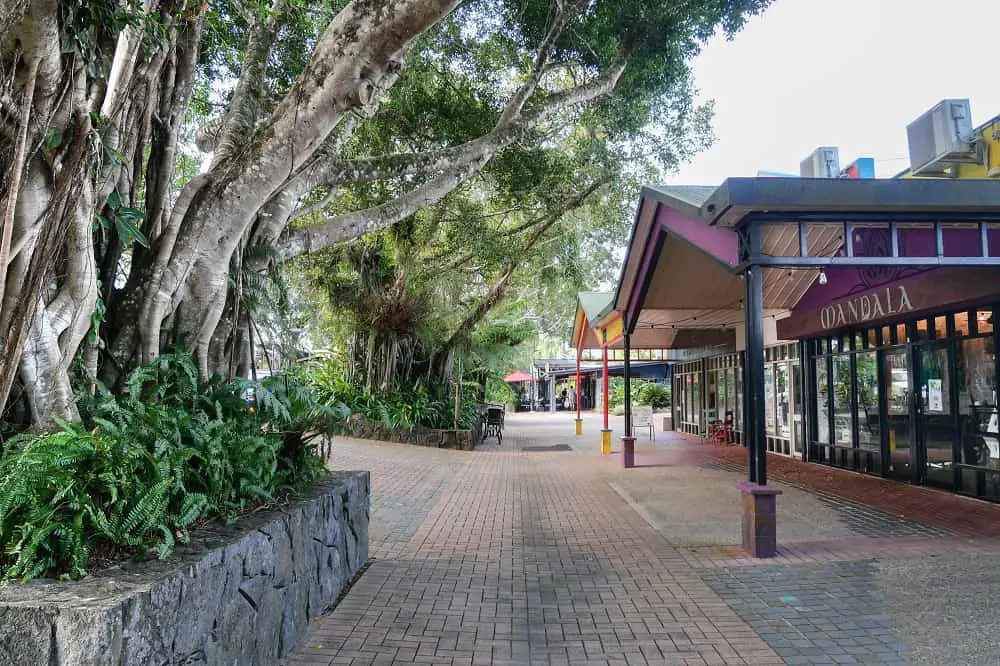 Australian Butterfly Sanctuary
I chose to visit the butterfly sanctuary in Kuranda, which was by far highlight of the village for me! If, like me, you're a wildlife enthusiast and find Australia's weird and wonderful insects fascinating, the butterfly sanctuary is well worth a visit.
The Australian Butterfly Sanctuary is the largest butterfly free-flight sanctuary and exhibit in both Australia and the southern hemisphere! It's essentially a very large greenhouse with an outdoor area, packed with lush plants and of course, exotic butterflies!
There's also a room where you can see chrysallis. You can spend as long as you like at the sanctuary once you're inside.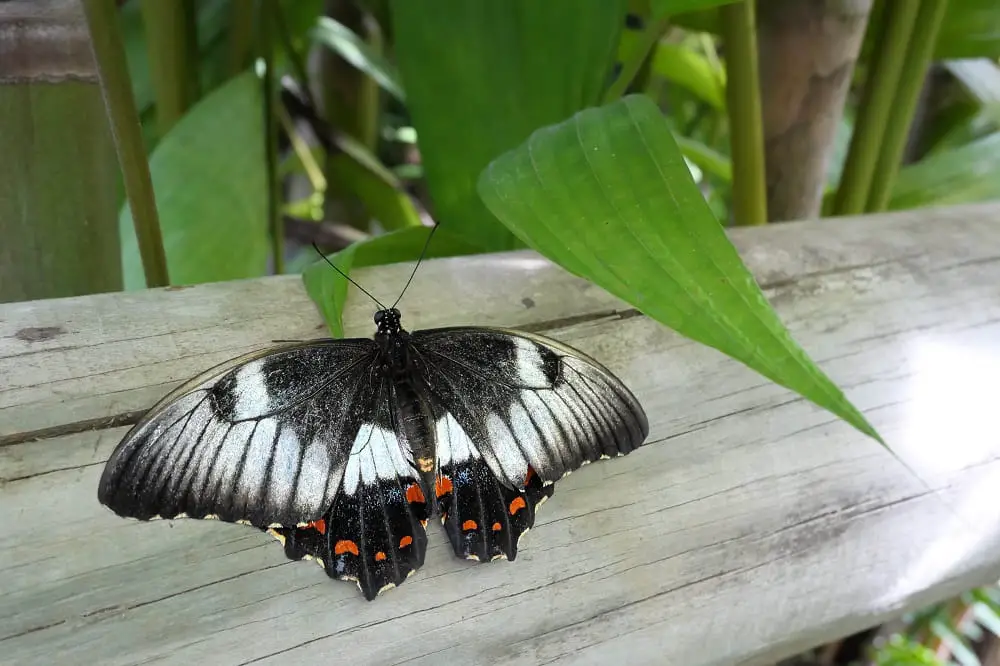 How do you get to the Australian Butterfly Sanctuary?
The Australian Butterfly Sanctuary is located at 8 Rob Veivers Drive in Kuranda Village, Queensland. The village is very small, so the sanctuary is easy to reach by foot once you arrive.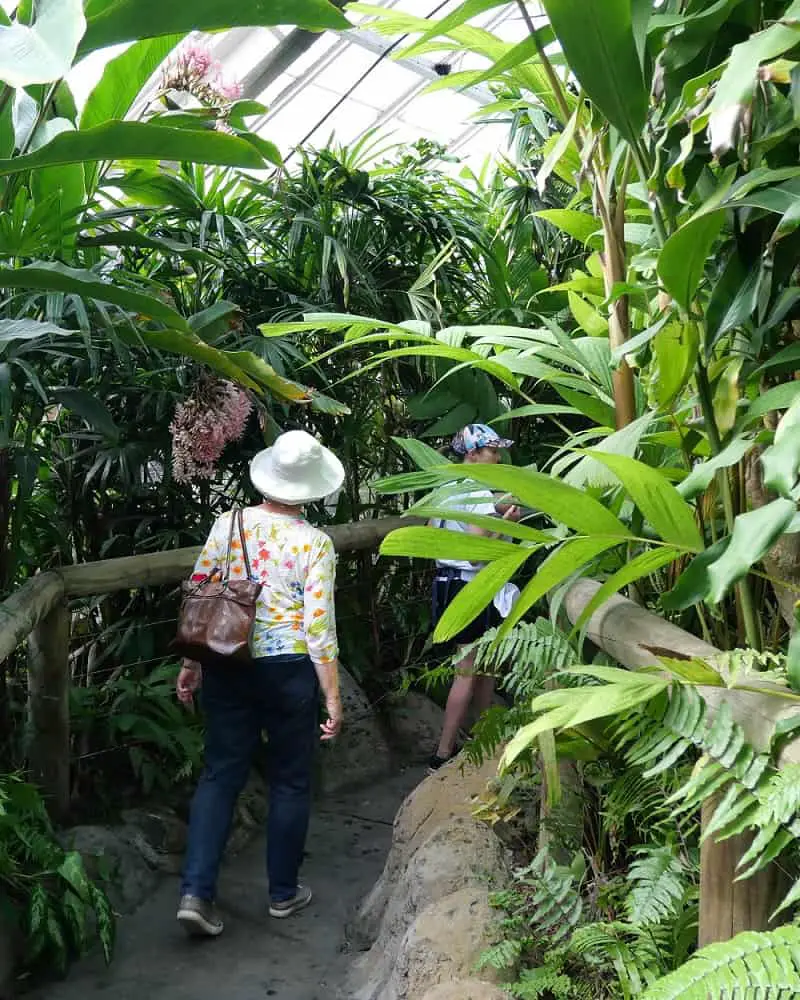 Kuranda Shopping
If you want to go shopping in Kuranda, take a stroll down Coondoo Street, which is lined with shops and boutiques selling clothing, arts and crafts and souvenirs.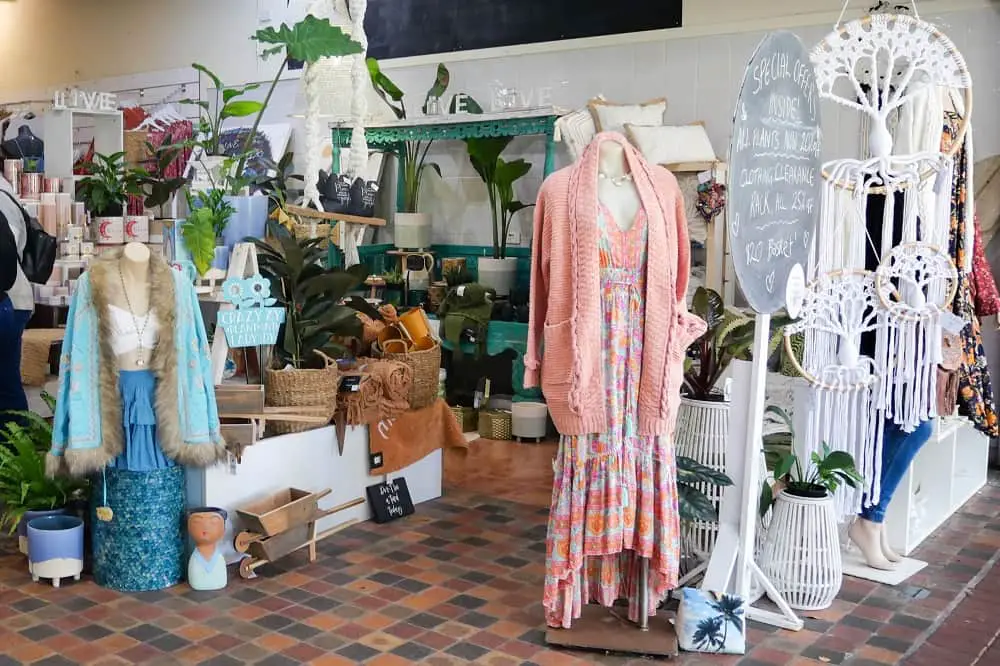 Kuranda Koala Gardens
Kuranda Koala Gardens is home to many more species than koalas. You can see wombats, wallabies, snakes, lizards and even freshwater crocodiles! You'll also have the chance to feed kangaroos and have your photo taken with a koala!
Cafes in Kuranda
You'll find plenty of places to stop for lunch or coffee in Kuranda village, both along the main strip and inside the markets.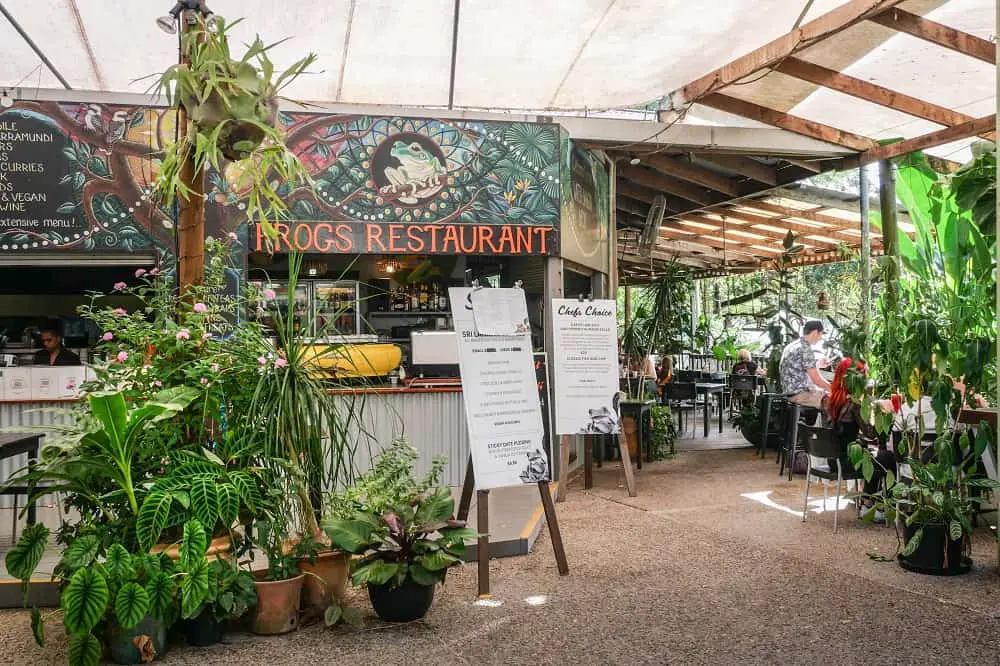 Birdworld Kuranda
Get to know Australia's colourful, exotic birdlife at Birdworld Kuranda! You'll find over 80 species, including cassowaries and parrots, inside this rainforest replica.
Kuranda Markets
Kuranda Heritage Markets are open Wednesday to Sunday and sell a mixture of local arts and crafts as well as coffee and food. The markets are undercover so great if you visit on a rainy day!
The open-air Kuranda Original Rainforest Market is open Thursday to Sunday and sells plenty of locally made crafts and cuisine.
Kuranda Plane Wreck
I discovered the Kuranda plane wreck completely by accident, and it was by far my favourite find in the village! While the plane didn't really crash in Kuranda, it certainly had a long and interesting history before being moved there, including being used on a movie set!
The way the vines have grown around the plane is remarkable; it's like the wreckage is part of the rainforest! Nobody else seemed to have found the site apart from me, so I had it all to myself!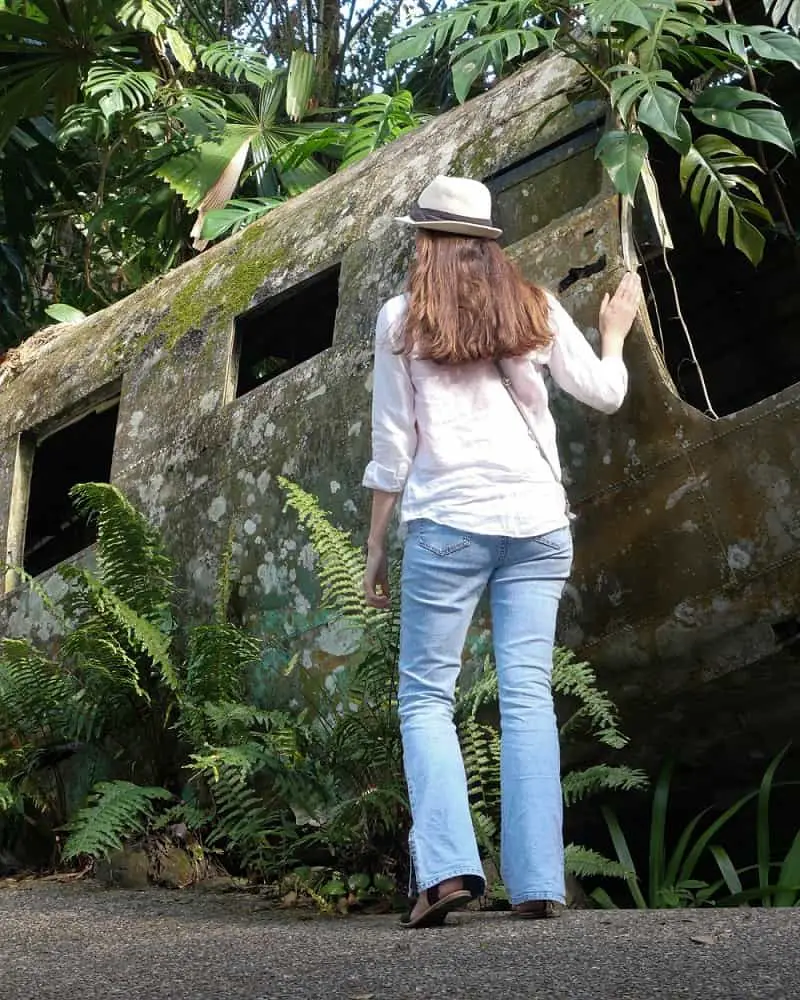 The C-47 DL US wartime aircraft started its life in Longbeach, California before arriving in Brisbane in 1943 as part of the USA 5th Airforce. Its original name was "Geronimo"!
In 1944, Geronimo was handed over from the US Airforce to the Commonwealth Government and refitted before serving 13 months with Australian National Airways.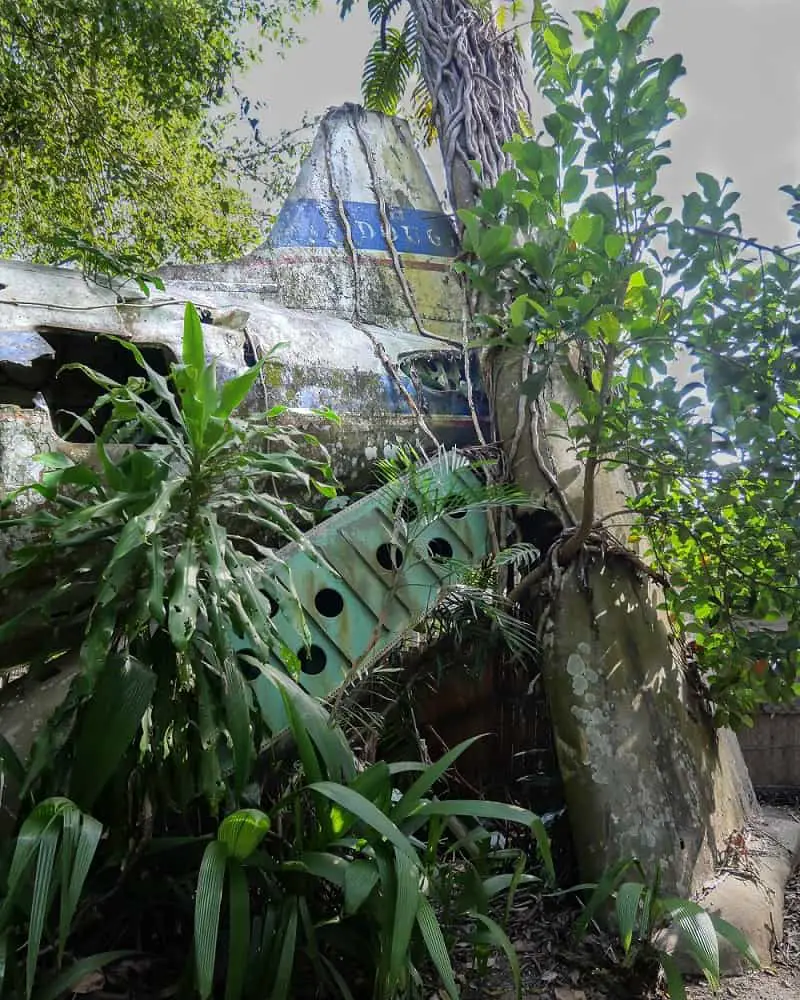 The plane then became the first registered aircraft of Trans Australian Airways and was used as a passenger aircraft until 1956.
After being handed over to East West Airlines in 1957, the plane finally ended its working life in 1976, when it was destined for disposal.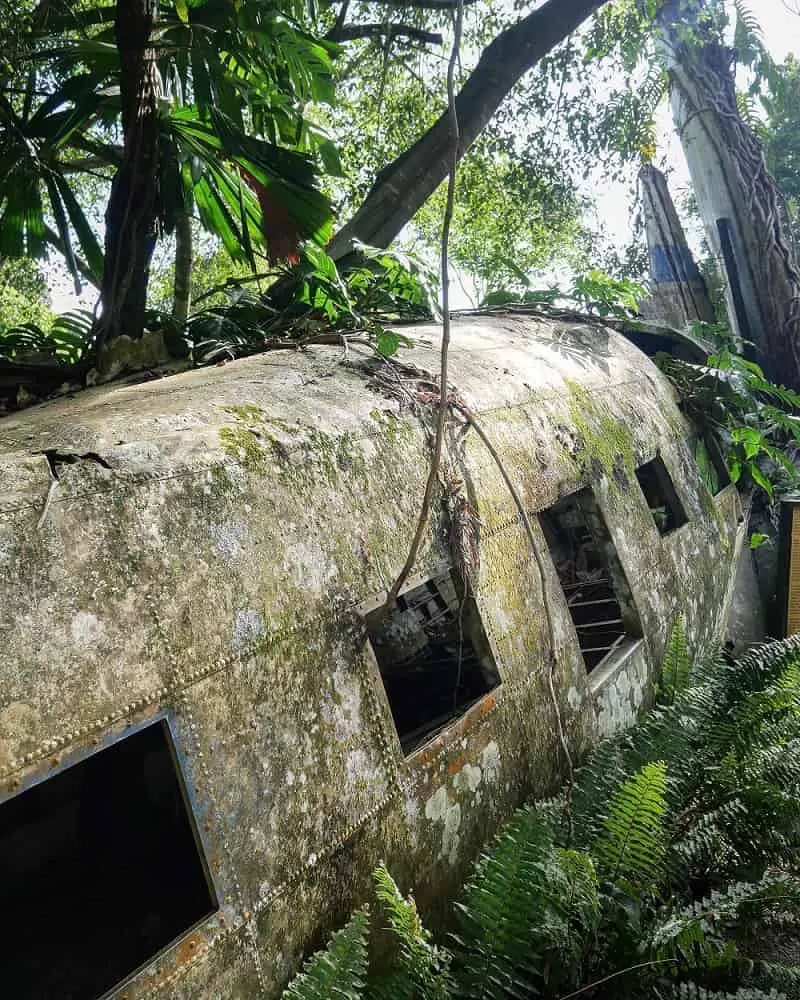 In 1983, Geronimo was repainted in wartime colours and renamed "Miss Fortune" before being transported to Cairns to be used in a movie called Sky Pirates! The storyline involved the plane crashing on the Great Barrier reef.
The wreckage sat in a scrapyard before being donated to Heritage Homestead, which put it on display in Kuranda! You can find the Kuranda plane wreck tucked away between the Heritage Markets and the Koala Garden.
---
I hope that has helped you decide whether to enjoy a day trip to Kuranda on the Cairns Skyrail and Scenic Railway! Even though I found Kuranda very touristy, I still had a great day out and loved the transport and tropical scenery.
If you're exploring more of Queensland, check out my blog post on the best things to do in Brisbane, my recommended 3-day itinerary for Noosa or my fun itinerary for the Gold Coast!
---
If you liked this post, Pin it for later!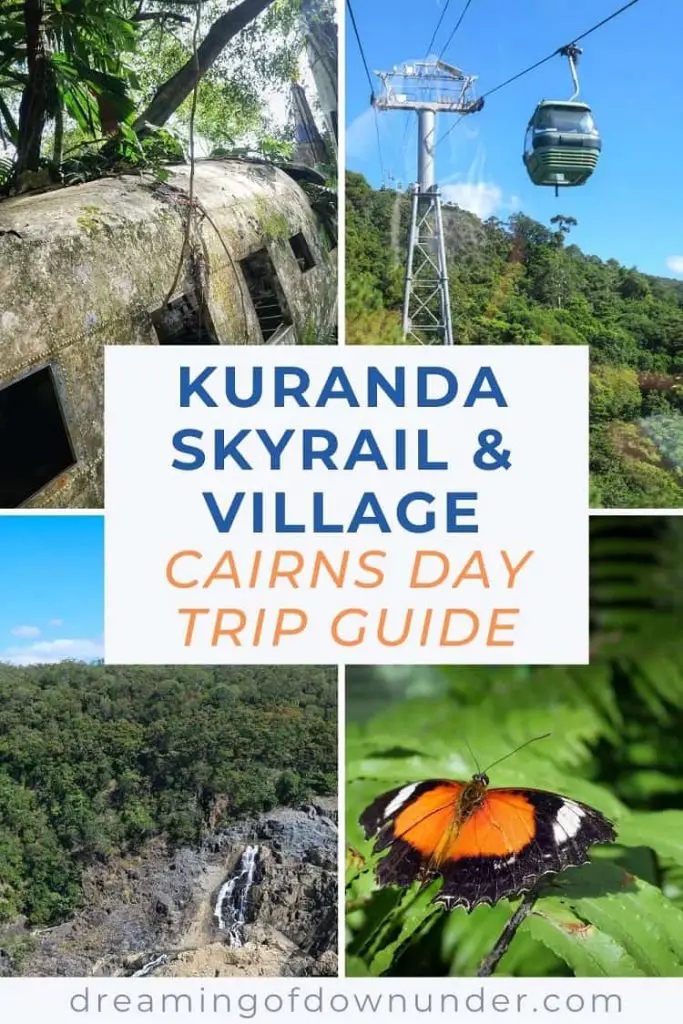 Written by Lisa Bull
Lisa Bull, founder of Dreaming of Down Under, has been living in Australia as a British expat since 2015. After travelling to every state and territory in Australia and living in Perth, Brisbane and Sydney, Lisa knows from first-hand experience the best destinations to visit in Australia and the best budget travel tips. Her guides on this blog have been read by over 700k readers and helped thousands of people achieve their dream of living in or travelling Australia.