This post may contain affiliate links. Please see my disclosure policy for more details.
With buzzing seaside towns, world-famous surf beaches and unique coastal rock formations like the 12 Apostles, this Great Ocean Road drive itinerary is packed with fun attractions!
I passed through this stunning area of Victoria on my unforgettable Adelaide to Melbourne road trip. I had no idea before setting off quite how many Great Ocean Road attractions there were!
We ended up rushing around the many limestone rock formations on day one, then cramming The Otways and seaside towns like Torquay into day two. In hindsight we should have done much more planning and allowed more time to enjoy it.
To help plan your Great Ocean Road itinerary better than we did, here is the perfect itinerary for a Great Ocean Road self-drive.
---
How to Plan Your Great Ocean Road Itinerary: Things to Know
Where does the Great Ocean Road start and finish?
The Great Ocean Road starts in Torquay, a coastal town 105km southwest of Melbourne (about a 90-minute drive away). It ends in Allansford near Warnambool.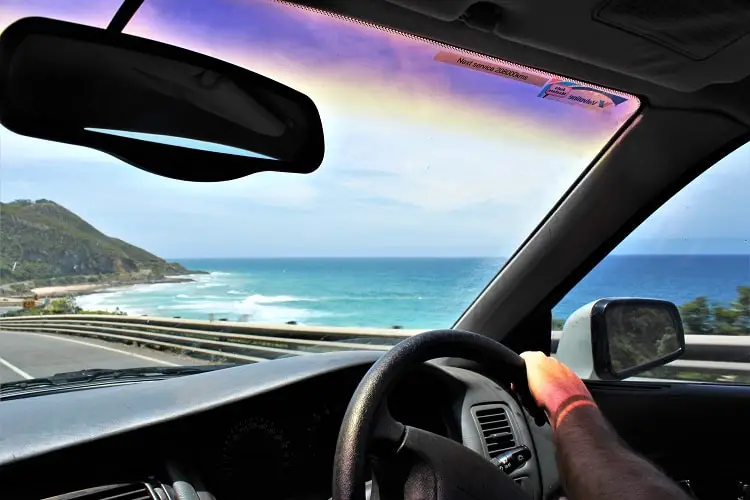 How long is the Great Ocean Road?
The Great Ocean Road is 243km long, but you'll want to schedule in plenty of drive stops to get out and explore the scenery.
How long does it take to drive the Great Ocean Road?
A timeframe of three days or longer is ideal to drive the Great Ocean Road, as there are so many rock formations and lovely seaside towns to see. I only spent two days on my visit, which felt quite rushed.
However, it is possible to visit the Great Ocean Road on a one-day trip from Melbourne. It only takes four hours to drive from Melbourne to the 12 Apostles via the Great Ocean Road.
---
Great Ocean Road Accommodation
There are plenty of accommodation options to suit all budgets along the Great Ocean Road, including caravan parks with camping facilities, backpacker hostels, holiday cottages and hotels/motels.
Since the region's so popular I'd highly recommend booking accommodation in advance, particularly if you're visiting during the summertime (Dec/Jan/Feb) or in school holidays. We had great trouble finding somewhere to stay in January, as we hadn't booked beforehand.
Towns such as Port Campbell, Apollo Bay, Lorne and Torquay are popular overnight destinations, as well as smaller Princetown near the 12 Apostles. Enter your trip dates into the search box below to browse Great Ocean Road accommodation.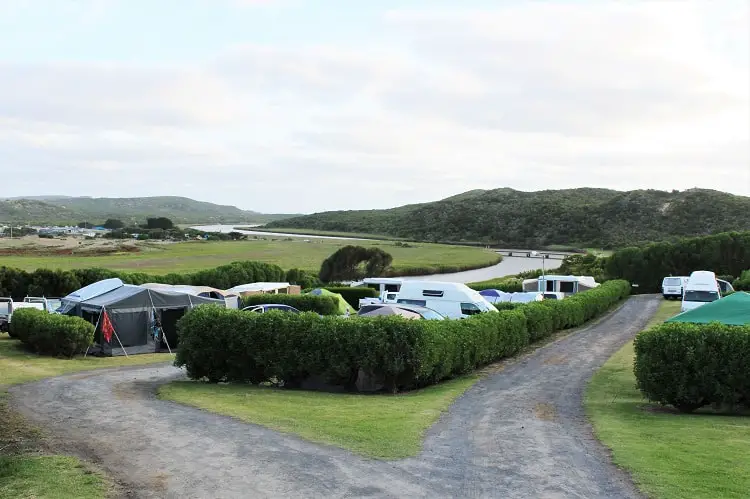 ---
Great Ocean Road Drive Itinerary: Table of Contents
Here is my suggested Great Ocean Road itinerary on a minimum timeframe of three days. To skip straight to an attraction, just click on the links below.
---
Day 1: Limestone Rock Formations
On day 1 of your road trip, I'd recommend admiring the many amazing limestone rock formations that lie along the western section of the Great Ocean Road, such as the 12 Apostles. Here are the top sights to see.
1. Bay of Islands Coastal Park
This 33km-long coastal park is home to many rare plants and seabirds, as well as marine animals such as fur seals and fairy penguins. The waves can reach up to 30m high in a storm, due to the wind blowing across from Antarctica!
Take a stroll along the coastal path to marvel at the craggy formations shaped by these mega gusts.
At the eastern end of the Bay of Islands, follow the Halladale Point track to reach the beautiful beach at the Bay of Martyrs.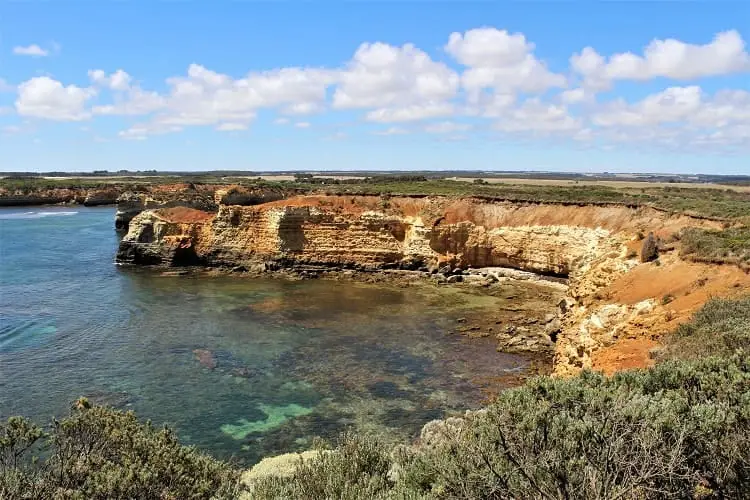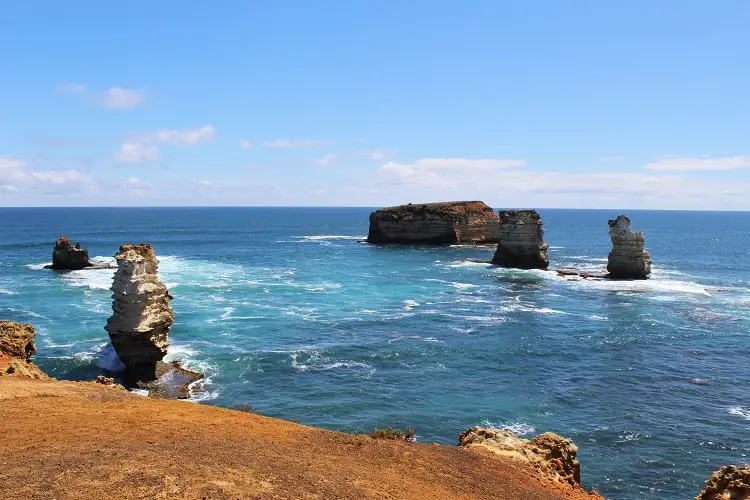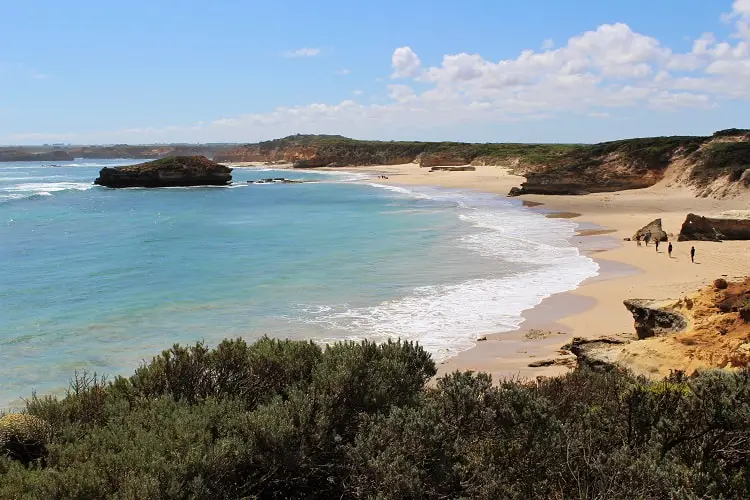 ---
2. The Grotto
From the car park just outside Peterborough, a 700m-return walk takes in views of The Grotto, a spectacular feature formed when acids in the water dissolved the 10-20 million-year-old limestone into sinkholes that eventually hollowed out.
You can also take the stairs down to sea level to admire the formation up close and look right through the hole and out to sea!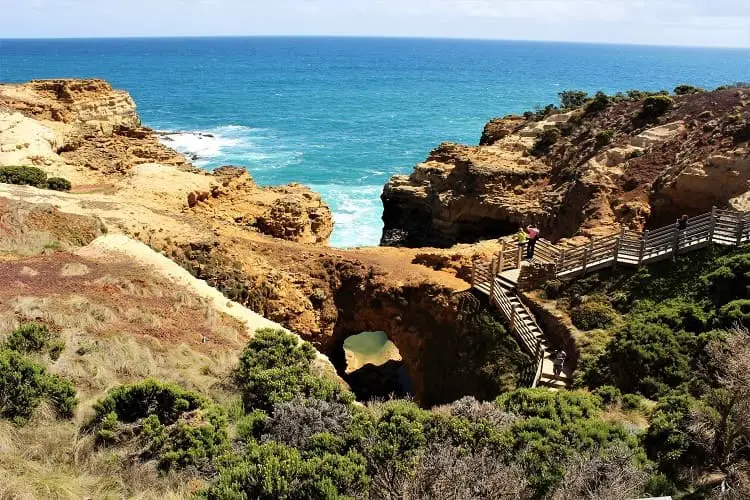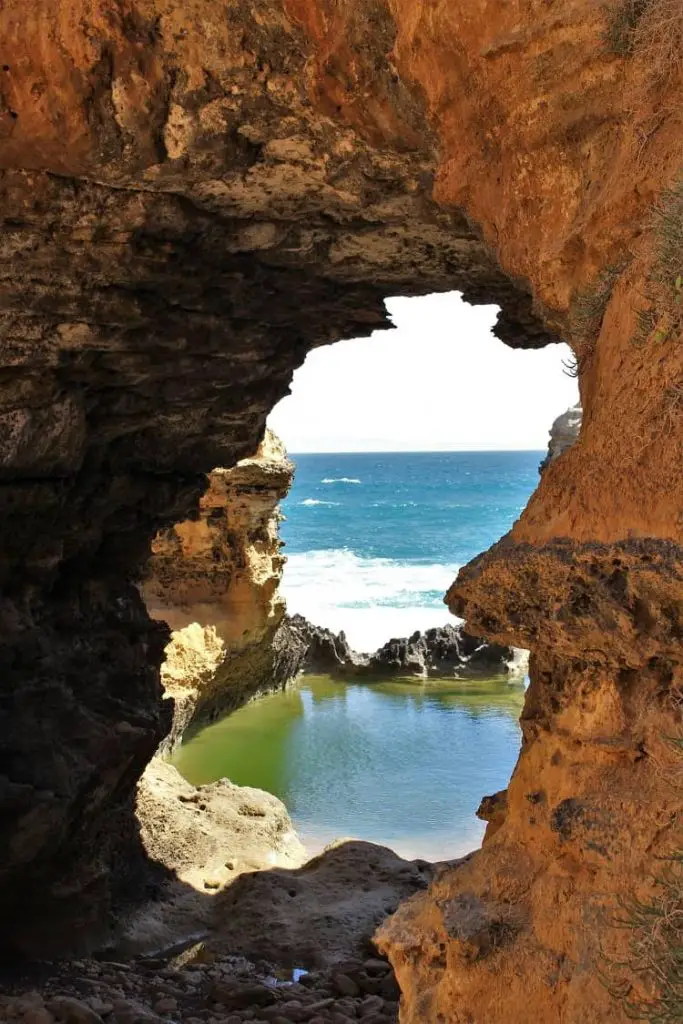 ---
3. London Bridge & The Arch
Named because of its likeness to London Bridge in the UK, London Bridge on the Great Ocean Road wasn't quite as sturdy as its namesake unfortunately. Much to the surprise of onlookers, the main arch connecting it to the mainland crashed down into the ocean back in 1990!
Thankfully no one was injured, although two people were left marooned on the newly formed island and had to be rescued by helicopter!
You can also visit The Arch nearby.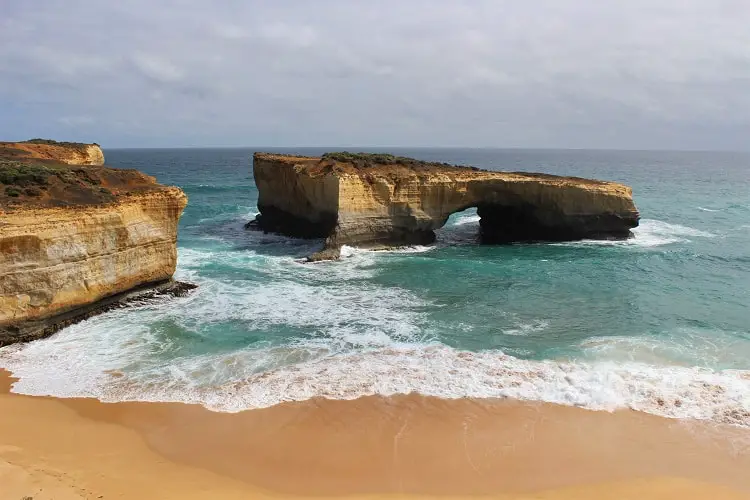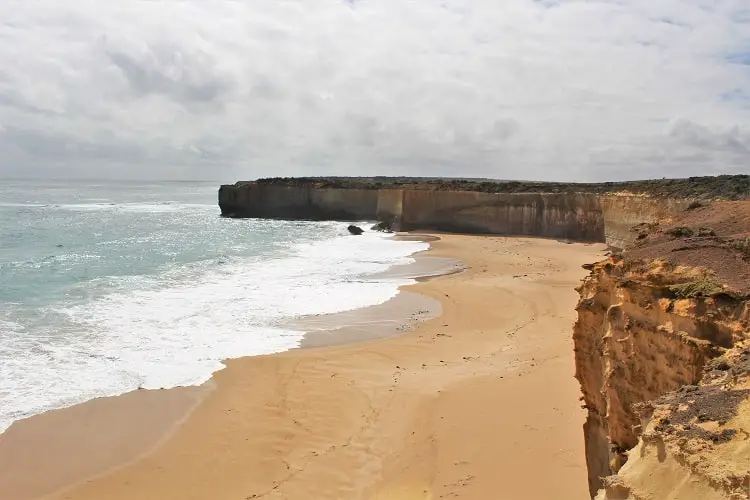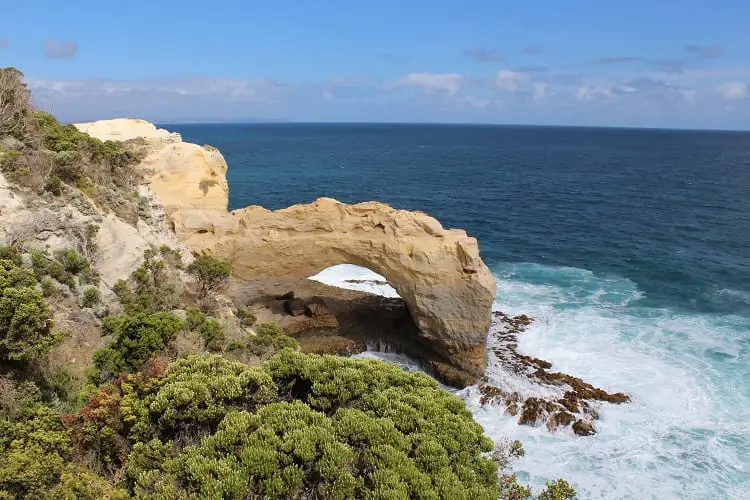 ---
4. Port Campbell
If you're getting a bit rocked-out on your Great Ocean Road drive, Port Campbell is a cute little seaside village with cafes, restaurants, shops and galleries to enjoy. And as you can see, has a great beach and plenty of greenery too.
The town lies in the centre of the strip of coastal formations too, so makes a great location to base yourself in. See below for accommodation options in Port Campbell.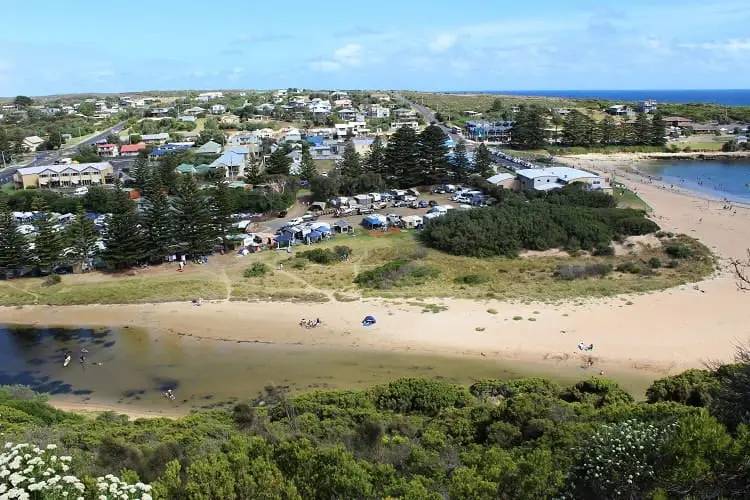 ---
5. Island Archway & The Razorback
Continuing east, it's a 100m walk to Island Archway from the car park, and a 400m walk to an unusual formation called the Razorback, formed by wave erosion and wind-blown spray.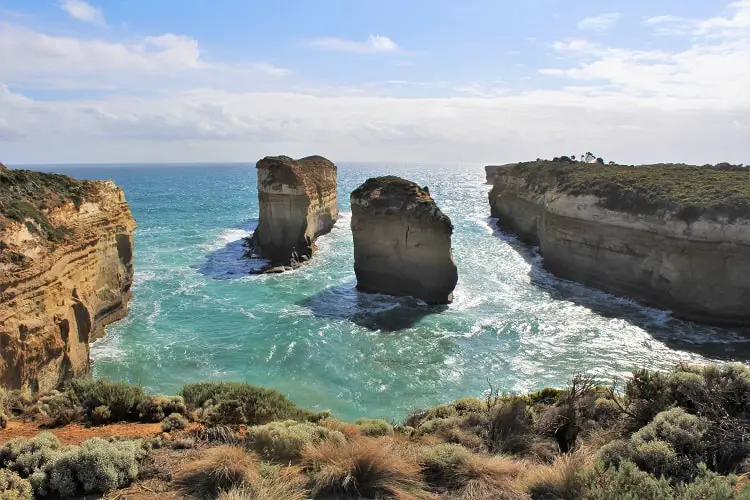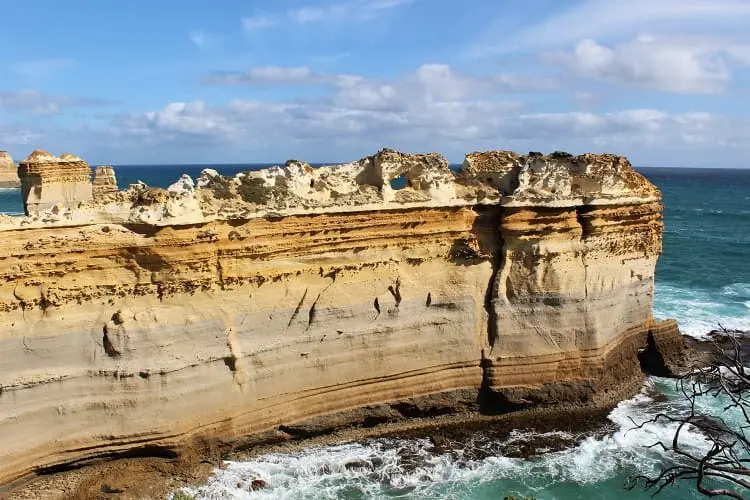 ---
6. Shipwreck Walk & Loch Ard Gorge
The Great Ocean Road's Loch Ard Gorge is one of the more well-known spots along this drive. Looking at the beautiful picture below, it's not hard to see why!
Named after the Loch Ard shipwreck, this amazing gorge can be viewed along the short Shipwreck Walk. So many ships got wrecked along this particular section of coastline during the rush to Australia's goldfields that it's known as Shipwreck Coast!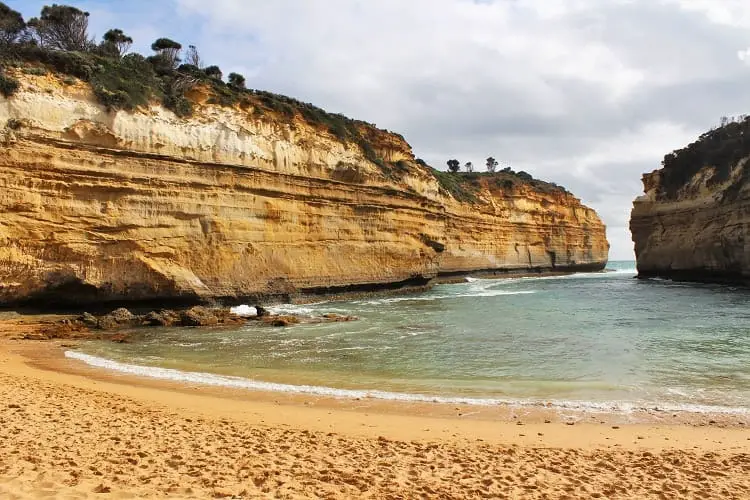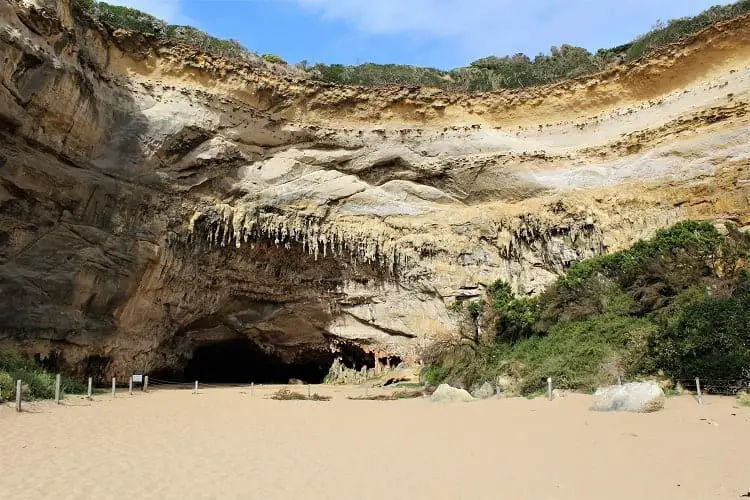 ---
7. The Twelve Apostles
The Twelve Apostles in Port Campbell National Park has to be one of the most famous attractions on the Great Ocean Road, if not in the whole of Australia! And they're certainly a sight to behold.
These enormous rock stacks, which reach up to 45m high, were once part of the limestone cliffs that jut in and out beside them. Over 10 million years of erosion from powerful winds and the rough Southern Ocean caused the cliffs to form into caves and then arches, eventually collapsing to create the towering stacks we now know as the 12 Apostles.
They continue to erode today, and in 2005 one of them came crashing down into the ocean.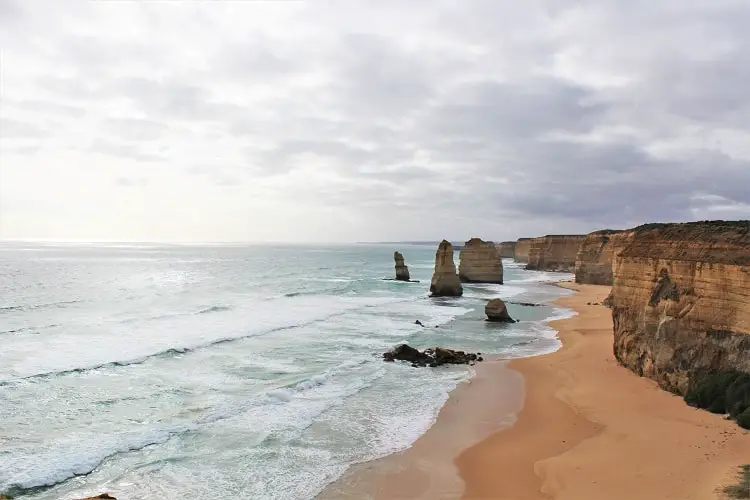 ---
Day 2: Great Otway National Park
On day 2 of your Great Ocean Road adventure, explore the cool fern gullies and towering forests in Great Otway National Park.
8. Melba Gully
Continuing east from the 12 Apostles takes you inland past Princetown and deep into Great Otways National Park. I'd highly recommend stopping at Melba Gully, known as the Jewel of The Otways, which is one of the wettest places in Victoria.
Melba Gully Road, just south of Lavers Hill, takes you down to the picnic area. From here you can take the easy 1.5km Madson's Track Nature Walk, which takes you through dense rainforest and lush fern gullies.
Stepping into a rainforest is like entering another world, with the peacefulness and sudden drop in temperature. This was one of my most memorable moments of the drive.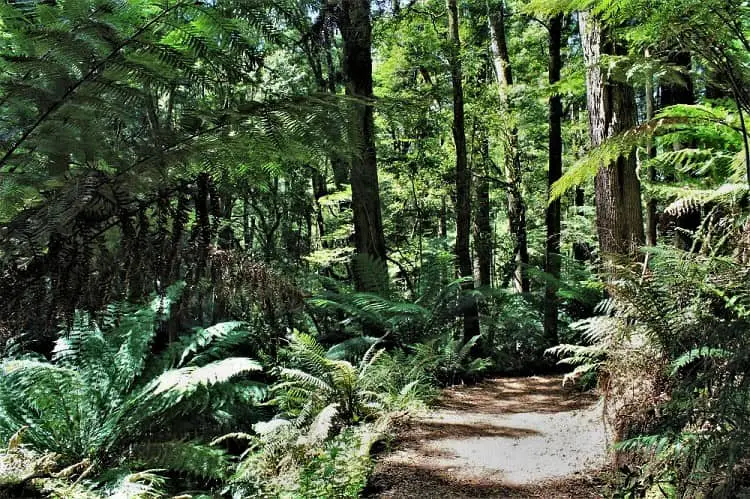 Great Otways Accommodation
---
9. Castle Cove Lookout
From Melba Gully you'll head south and brush against the coastline again near Glenaire. Make sure you pull over at Castle Cove Lookout, where you get this fabulous view down onto the beach.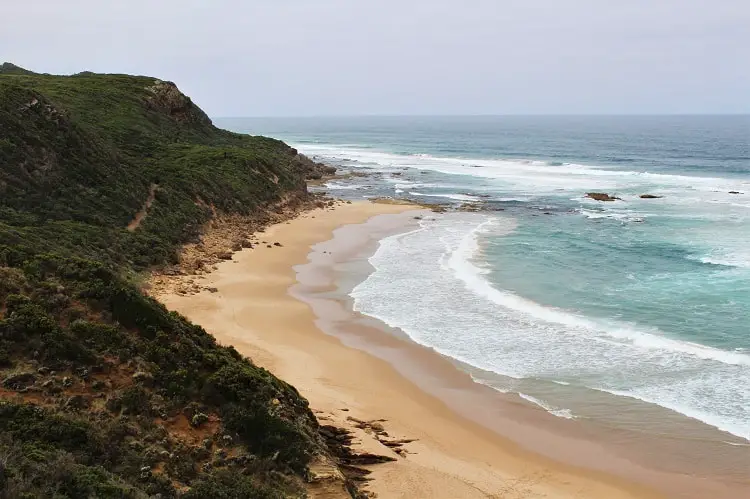 ---
10. Maits Rest Rainforest Walk
East of Hordern Vale, you have the option to detour south to Cape Otway Lightstation. We felt like we'd seen enough lighthouses to keep us going for about a decade on our road trip from Perth to Adelaide, so we skipped that part and continued to Maits Rest Rainforest Walk!
This easy, 800m boardwalk loop takes you past majestic 100m-high Mountain Ash trees, fern gullies and ancient moss-covered tree roots.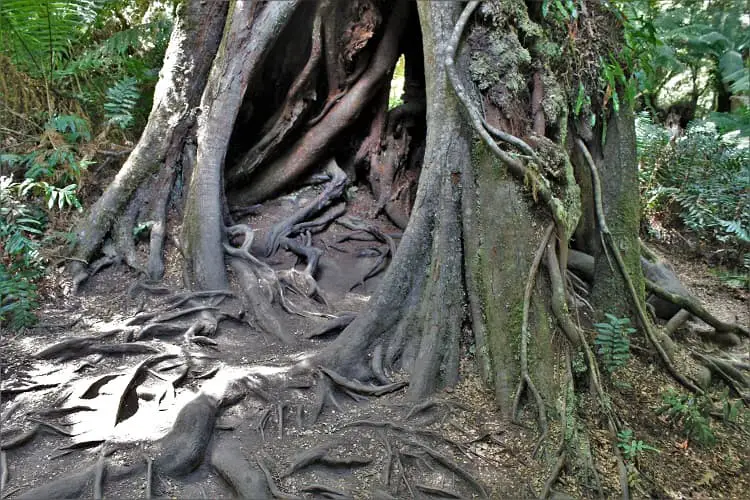 Accommodation in Apollo Bay
For accommodation near The Otways, popular coastal town Apollo Bay is only a 20-minute drive east of Maits Rest. Here are some choices.
---
Day 3: Seaside Towns
On day 3, take a break from sightseeing and enjoy some relaxed beach fun in seaside holiday towns along the eastern section, such as Lorne, Torquay and Anglesea.
11. Lorne
From Apollo Bay, the Great Ocean Road hugs the coastline for another 47km towards pretty Lorne. Here you'll find plenty to do, including beaches, cafes, boutique stores and galleries.
In fact it was so popular here when we passed during summertime, we ended up driving on through rather than attempt to look for parking! It looked like a great place for a summer holiday though, with plenty of atmosphere.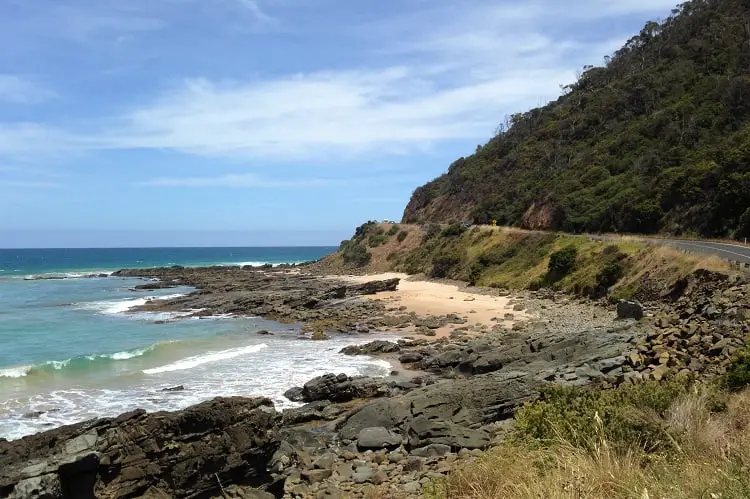 Lorne Accommodation
---
12. Torquay
Another 92km east lies Torquay, the surfing capital of Australia and official starting point of the Great Ocean Road. This famous town is where iconic surf brands Rip Curl and Quicksilver were born, and the annual Bells Beach Rip Curl Pro event is held each Easter.
If surfing's not your thing, you can chill on the beaches, enjoy shops and eateries, or go hiking along the Surf Coast Walk. You can also visit or stay in nearby Anglesea.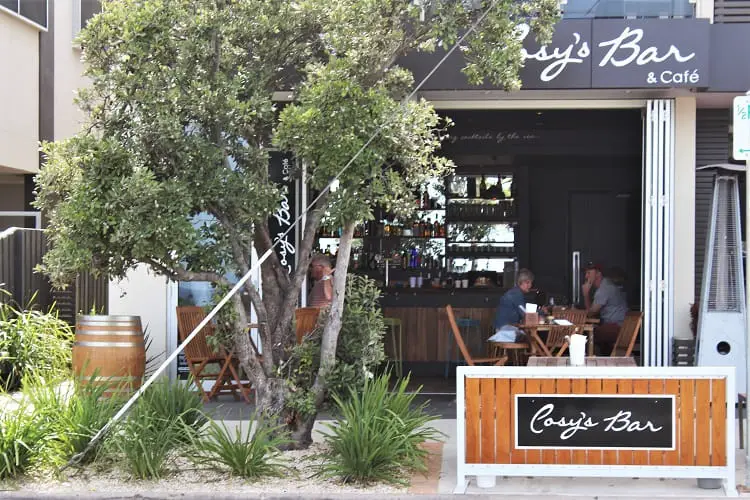 Torquay Accommodation
---
That's the end of your Great Ocean Road drive! If you're continuing west towards Adelaide, check out my blog post on what to see in Mount Gambier! Happy travels in Australia!
---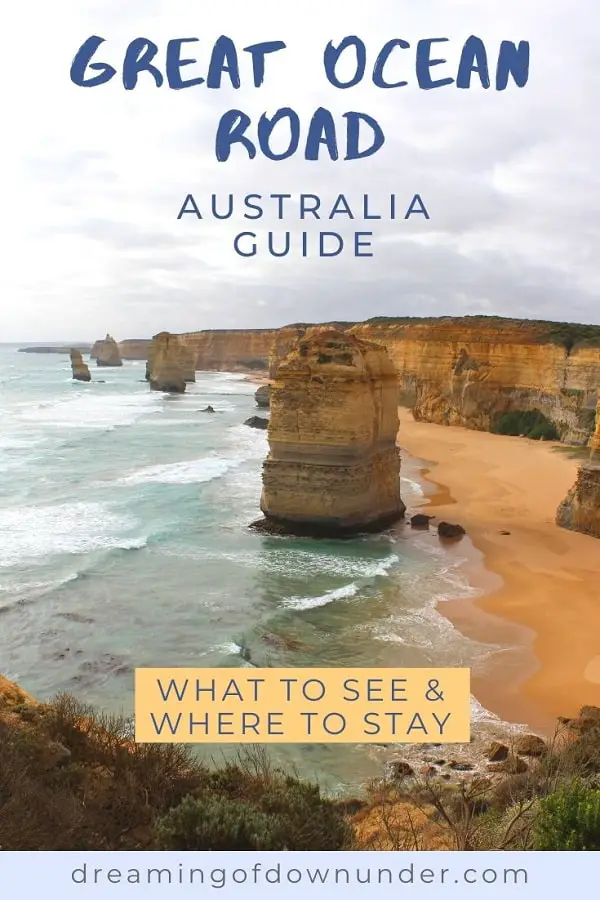 Written by Lisa Bull
Lisa Bull, founder of Dreaming of Down Under, has been living in Australia as a British expat since 2015. After travelling to every state and territory in Australia and living in Perth, Brisbane and Sydney, Lisa knows from first-hand experience the best destinations to visit in Australia and the best budget travel tips. Her guides on this blog have been read by over 700k readers and helped thousands of people achieve their dream of living in or travelling Australia.