This post may contain affiliate links. Please see my disclosure policy for more details.
A road trip up the east coast of Australia is a rite of passage for any traveller heading Down Under. This Sydney to Brisbane drive itinerary highlights the best attractions along this beautiful coastal route.
While there are plenty of tours available, a self drive in a car or campervan with a group of friends will allow you to discover the amazing beaches, unspoilt national parks and bohemian country towns in New South Wales and Queensland.
The abundance of camping grounds and caravan parks along the Brisbane to Sydney drive mean this journey is also a cheap option for backpackers and grey nomads. And since this is such a popular trip, the roads are well kept, you're never too isolated, and it's a safe and easy self drive for first-time travellers.
This Sydney to Brisbane drive itinerary includes all the campsites I stayed at, along with costs, driving times and distance between stops to help plan your journey and ensure you don't miss a thing!
---
Sydney to Brisbane Drive Itinerary Overview
Here's an overview of my recommended Sydney to Brisbane drive stops for your itinerary. To head straight to a destination, just click on the links below. Alternatively, start by reading about the driving times, distances and actual costs of my own east coast road trip.
---
Brisbane to Sydney Car Hire
Make sure you find the best price for car hire in Brisbane or Sydney by using Kayak as a starting point. They compare hundreds of car hire sites to save you hours of research.
>> Click here to compare car hire prices and book your rental car <<
---
Sydney to Brisbane Drive Itinerary: Distance, Driving Time & Costs
The Sydney to Brisbane distance by coastal road is 925km, and the driving time is around 10.5 hours. You'll need to add extra on if you want to detour into all of the towns and national parks that I've listed below though.
The petrol cost for my own road trip came to $222. I would expect to pay up to double that figure for current petrol prices.
If you're in a hurry and want a 2-day itinerary, I'd recommend stopping at either Coffs Harbour or Port Macquarie overnight as these are about halfway between Sydney and Brisbane. I'd also stop for lunch at Port Stephens on day 1 and Byron Bay on day 2 as these are two of the main attractions.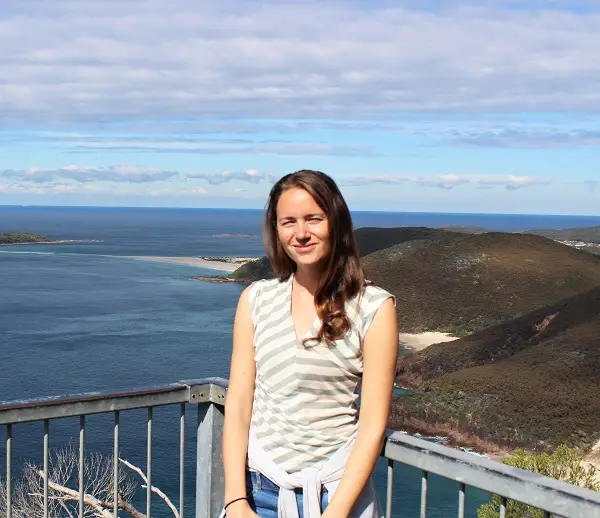 To get from Sydney to Brisbane in 3 days, I'd stop overnight at Port Macquarie and Byron Bay. I would have a lunch stop at Port Stephens on day 1, Coffs Harbour on day 2 and spend most of day 3 in Byron Bay as it's only two hours away from Brisbane.
If you have the time though, I'd recommend at least a week to fully appreciate this beautiful coastline. I spent two weeks on my Sydney to Brisbane road trip, which was at quite a leisurely pace with two nights at most of the areas listed below.
So, here goes… my ultimate list of places to visit and amazing things to see on your journey from Sydney to Brisbane!
---
1. Sydney
There are plenty of amazing things to do in Sydney, so whether you're starting or ending your road trip in Australia's largest city make sure you allow a week there if possible. For more activity ideas, browse through my Sydney page.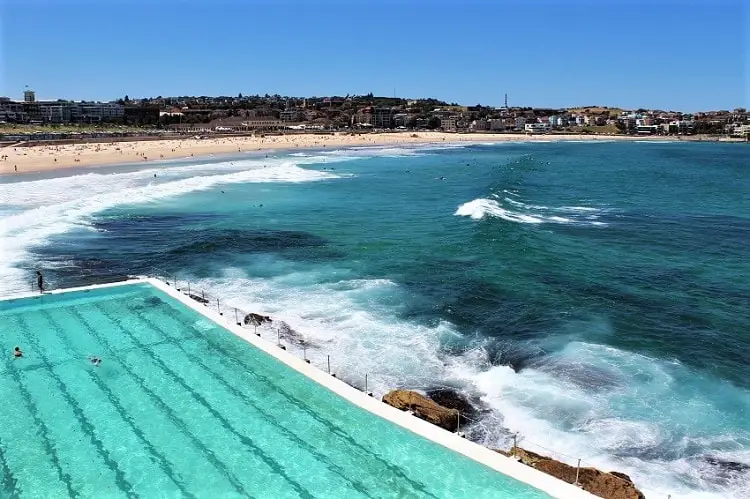 Sydney Accommodation
If you're not sure where to stay in Sydney, make sure you read my guide on the best places to stay in Sydney. It runs through the best areas and accommodation options.
SYDNEY HOUSE SITS
House sitting is my favourite type of travel accommodation. It's when you stay in a local's home for free while they're on holiday in return for taking care of their pets.
Read my guide on how to start house sitting to learn more.
I've been house sitting in Sydney since 2016, and I've stayed in some amazing properties. House sitters are hugely in demand in Australia, and it's a great way to save money.
To start house sitting yourself, try joining Aussie House Sitters for house sits in Australia. That's the site I started with, and I found plenty of jobs straight away.
For worldwide house sitting, I would recommend Trusted Housesitters. This long-running site has house sits in over 130 countries and includes lots of unique perks, such as house-sit cancellation compensation and airport lounge passes
>> Click here to get 20% off an annual membership with Trusted Housesitters <<
SYDNEY HOTELS, HOSTELS AND APARTMENTS
Here are some of my recommended Sydney accommodation options. You can also use the search box below to look for deals.
LUXURY – Park Hyatt Sydney (click here for details). This 5-star luxury hotel is conveniently located in The Rocks, between Sydney Harbour Bridge and Sydney Opera House. Amenities include spa treatments, a rooftop swimming pool and a 24-hour gym.
MIDRANGE – The Lord Nelson Brewery Hotel (click here for details). Situated at Millers Point, this 3-star hotel is only a short stroll from Barangaroo restaurants and The Rocks at Circular Quay. The accommodation consists of beautiful, individually decorated rooms in a quirky heritage building with an onsite bar and restaurant.
BUDGET – Sydney Harbour YHA (click here for details). This amazing hostel has a rooftop terrace looking right out across Sydney Harbour! You can also walk to the city, Sydney Harbour Bridge and Sydney Opera House. I'm a big fan of YHAs in general; the standards always seem to be pretty high compared to other hostels.
BACKPACKER – Wake Up! Sydney Central (click here for details). This large, modern hostel has an on-site bar and nightclub, so it's great if you want to party. It's also right in the city and has dorm beds as well as private rooms.
---
2. Newcastle
Newcastle is a major NSW city that's worth pencilling in for an overnight stay. It's often said to be Australia's most underrated city!
While it has an industrial past, there are plenty of interesting attractions in Newcastle, from great beaches and a wildlife sanctuary to funky cafes and restaurants.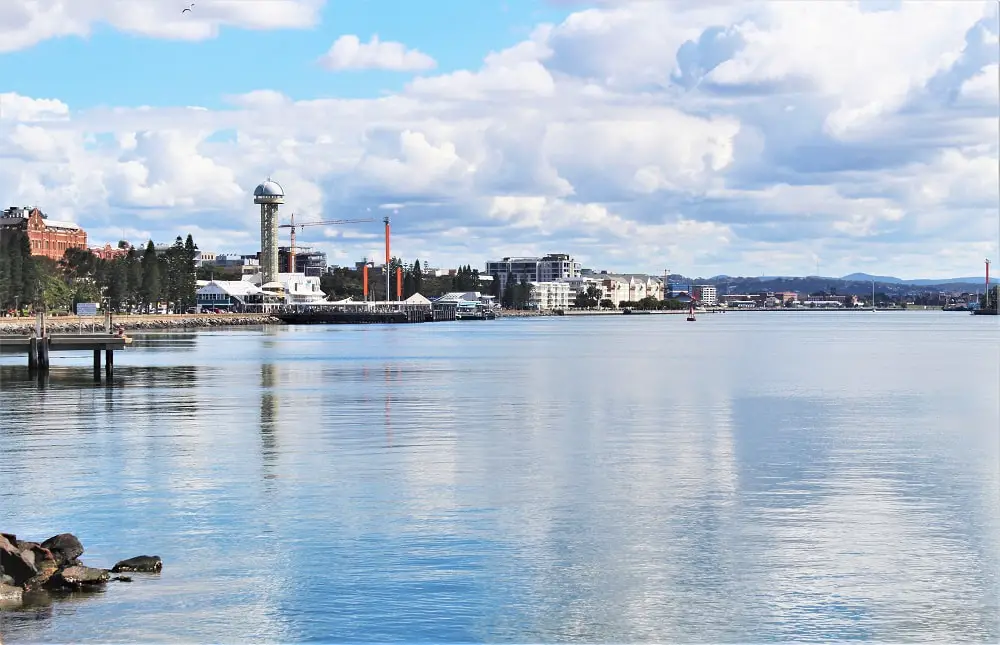 On the way:
Central Coast: This stunning coastal area halfway between Sydney and Newcastle has some beautiful beaches and a real holiday vibe. It's easy to reach as a day or weekend trip from Sydney too. Consider staying in Umina Beach or The Entrance for a bit of beach fun on your road trip.
---
Distance:
Sydney to Newcastle: 161km – 2 hrs
---
Newcastle Accommodation
Newcastle Beach YHA: This hostel is centrally located and only a two-minute walk to the beach. Plus it has great reviews. Dorm beds start at $42 per night.
NRMA Stockton Beach Holiday Park: A large campsite and caravan park with modern facilities (I stayed here, and was very impressed) right on the beach at Stockton, Newcastle. Tent sites start at $38 per night. You can either drive to the city from here or hop on the ferry!
---
3. Port Stephens
The Port Stephens region is absolutely stunning, and somewhere I'd love to go back to during the summertime; it's definitely one of my favourite areas between Sydney and Brisbane.
Nelson Bay town has all you need in terms of shops and cafes, and the beaches and rolling green hills here are gorgeous. Make sure you do the 2.2km return Tomaree Head Summit Walk to see the amazing view in the photo below!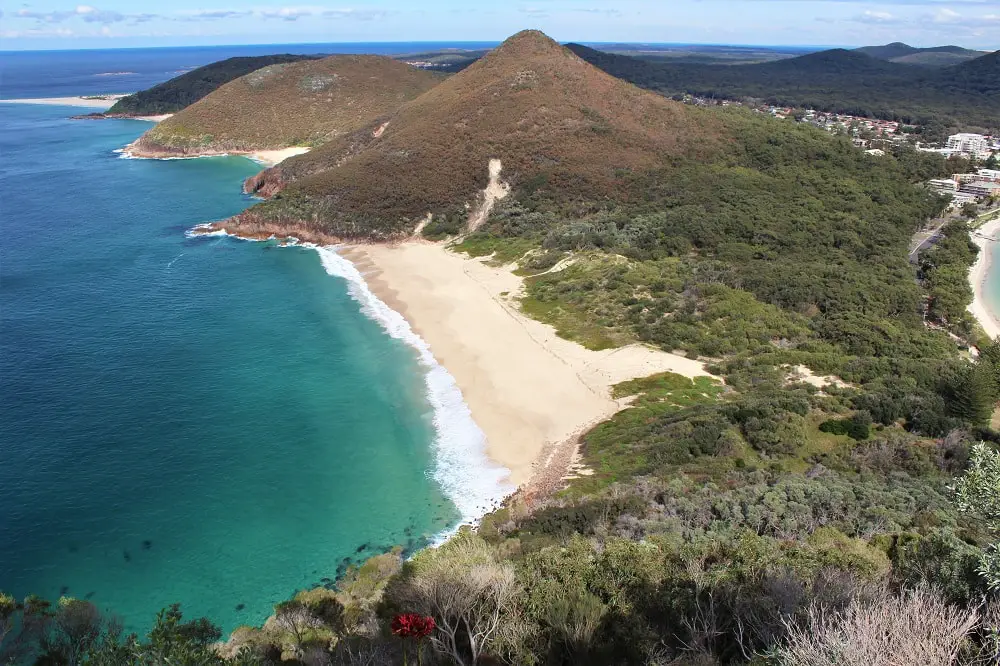 On the way:
Worimi National Park/Stockton Sand Dunes: These huge streaky sand dunes between Newcastle and Port Stephens are well worth seeing. Although it was cold and windy when I visited, the dark, rolling clouds made for some very dramatic pictures!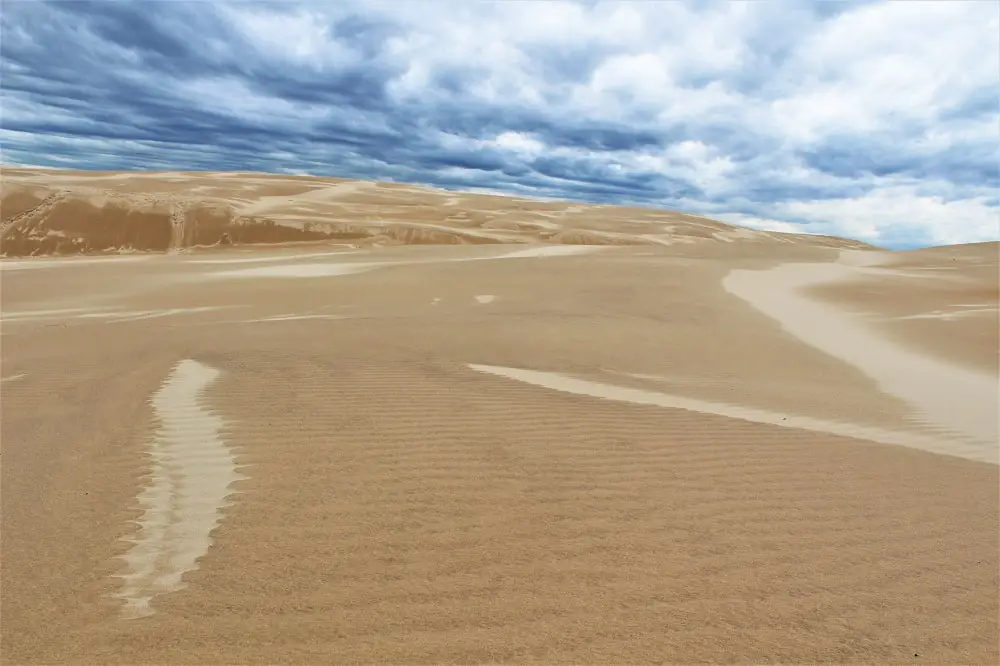 Distance:
Newcastle to Nelson Bay: 61km – 1 hr
---
Port Stephens Accommodation
Shoal Bay Holiday Park: There are three holiday parks in Port Stephens run by the same company. We looked at all three and decided Shoal Bay had the best facilities with the indoor kitchen and lounge/TV room (important when you're tent camping and it's raining)! Tent sites start from $34 per night.
Samurai Beach Bungalows – Port Stephens YHA: I stayed at these Balinese-style bungalows when I returned to Port Stephens after my road trip. There's free Wi-Fi, dorms and private rooms, a swimming pool, movie room and beautiful rainforest setting. I'd highly recommend the place.
---
4. Myall Lakes National Park
If you're not on a tight schedule, Myall Lakes is a beautiful place to bush camp. It's a very quiet area but the scenery is stunning, particularly at sunset.
We camped at stunning Mungo Brush, which is on a narrow strip of land with White Tree Bay on one side and the beach and sand dunes on the other.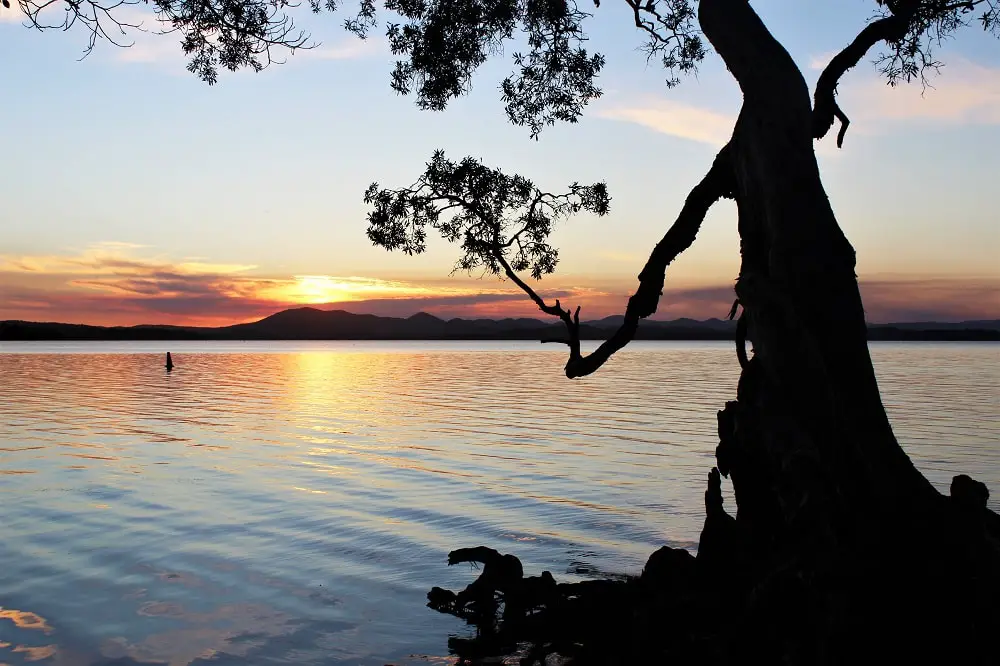 ---
Distance:
Nelson Bay to Mungo Brush: 112km – 1 hr 40 min
---
Myall Lakes Accommodation
Mungo Brush Campground – a basic bush campground in a beautiful setting starting at $16 per site per night.
---
5. Port Macquarie
Port Macquarie is a pretty NSW town at the mouth of the Hastings River. It's a popular holiday destination with a choice of beaches and lush greenery, and worth pencilling into your Sydney to Brisbane drive itinerary.
There are plenty of fun activities in Port Macquarie. My favourite part was the breakwall with all the painted rocks! We also had a great meal at The Beach House, which is right on the waterfront and walking distance from the caravan park.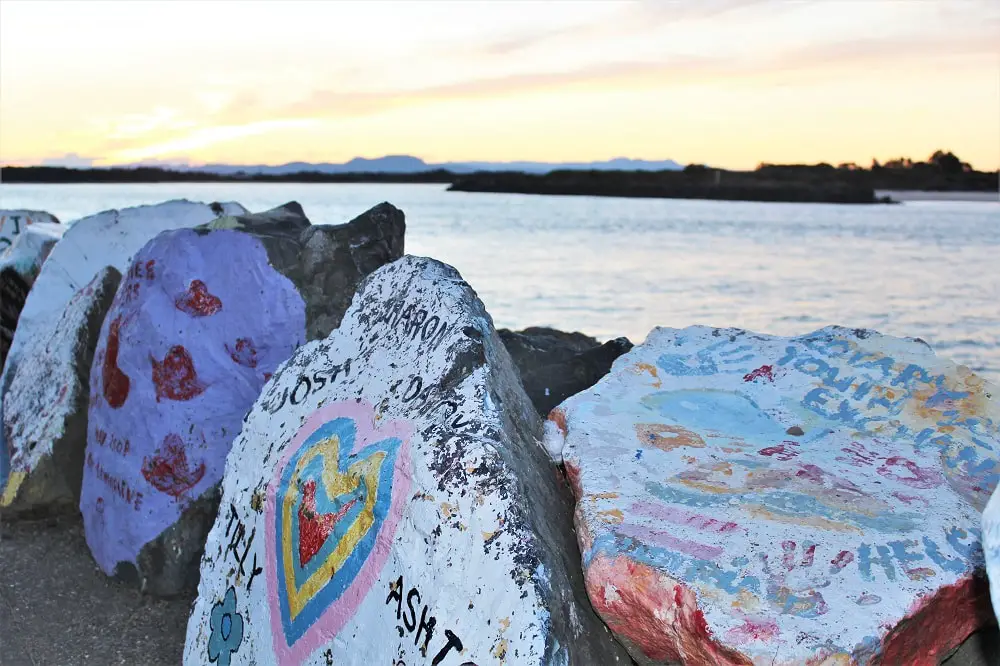 On the way:
Booti Booti National Park: Be sure to stop by the Green Cathedral in Tiona.  This open-air cathedral set on the Wallis Lake has logs for pews and a canopy of trees for a roof! Surely any nature lover's dream wedding location!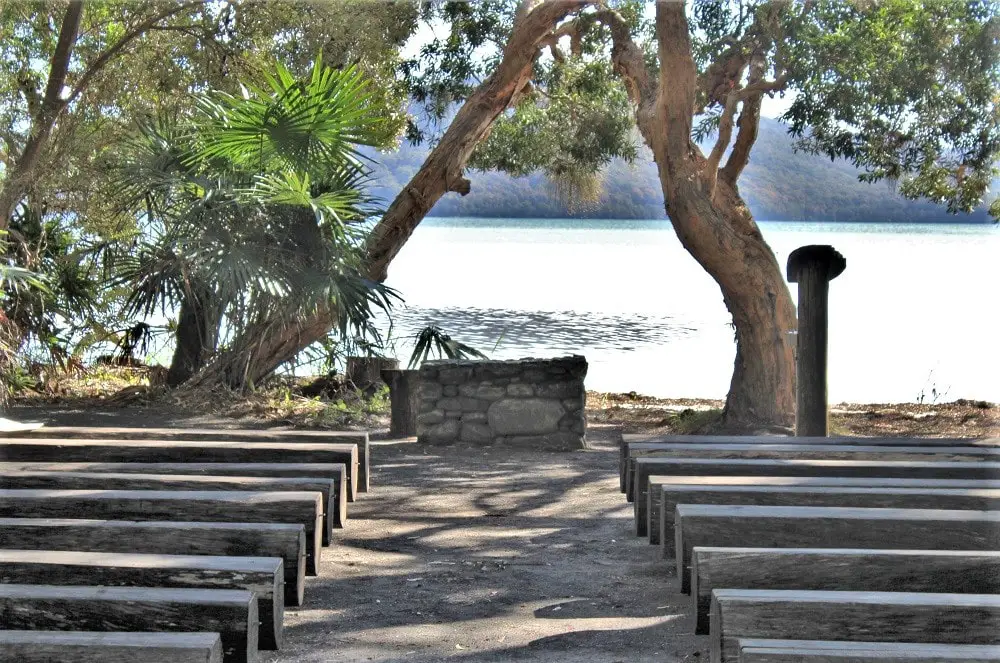 Forster: Another pretty holiday town in NSW is Forster. The beach is beautiful and Belton Park is a lovely spot for a picnic, with pelicans wandering around!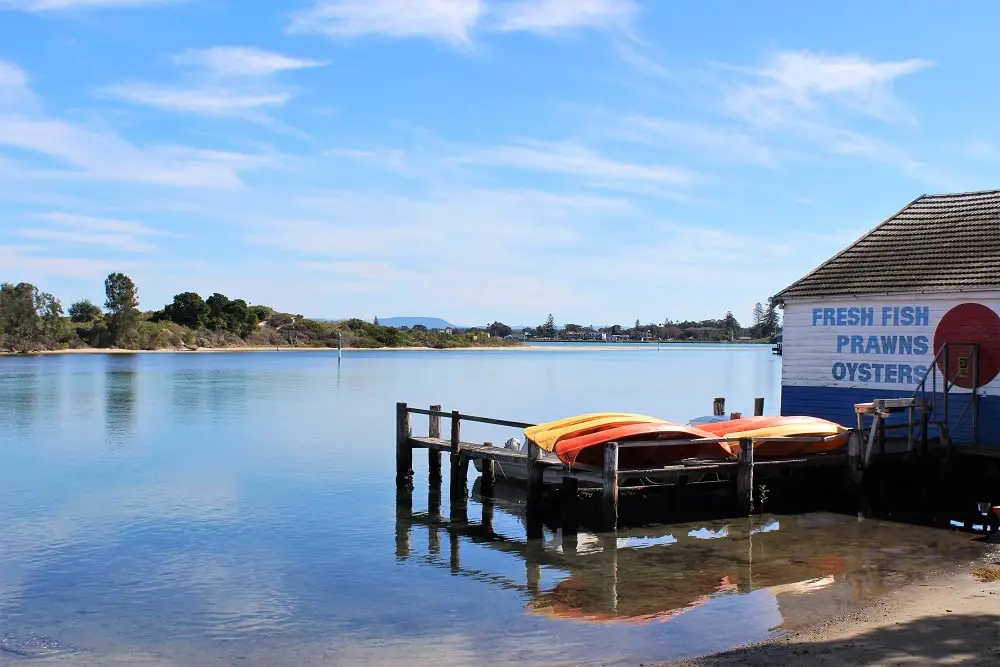 Distance:
Mungo Brush to Port Macquarie: 168km – 2 hrs 30 min
---
Port Macquarie Accommodation
NRMA Port Macquarie Breakwall Holiday Park: A waterfront camping and caravan park with tent sites starting at $37 per night.
---
6. South West Rocks
South West Rocks is a beautiful town that makes a great drive stop on your Sydney to Brisbane road trip, particularly if you're into diving. Find out more in my South West Rocks guide.
Fish Rock Cave has been voted one of the top ten dives in Australia. The walking tracks at Monument Hill and Trial Bay Gaol are great to explore too. I spotted kangaroos boxing one evening!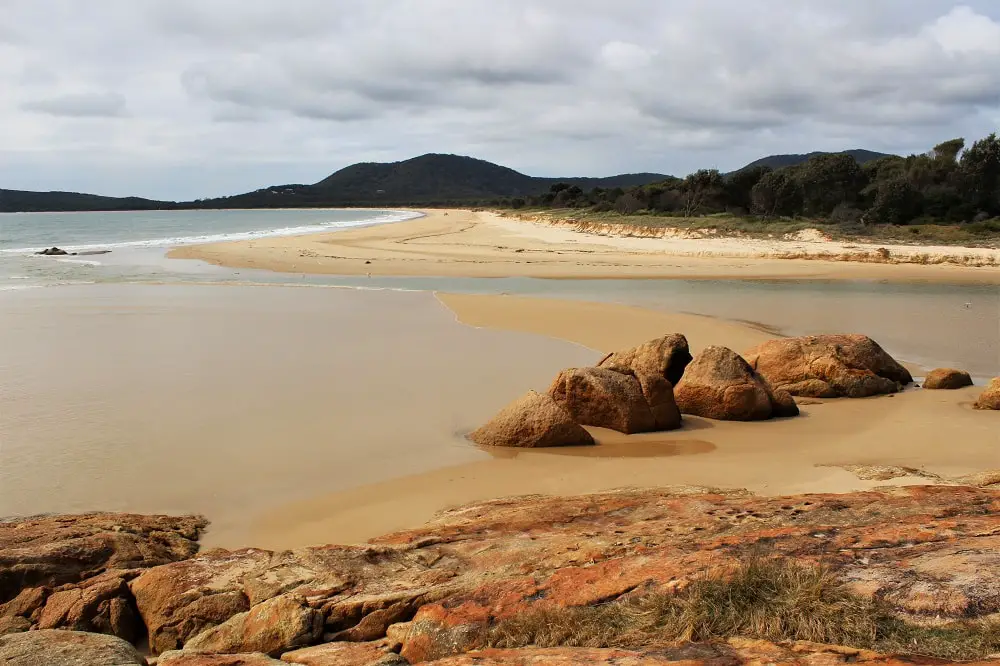 On the way:
Gladstone: This tiny town in NSW isn't an obvious stopping point, but it's a really cute place with a pretty riverside area that's perfect for a picnic.
The thing that surprised me was the creativity: for an olde-worlde town with a tiny main street it had a couple of gorgeous boutiques and the only alfresco hairdressers I've ever seen in my life at Roxy's Boutique Studio! There's also the Heritage Hotel of Gladstone if you want to nip to the pub.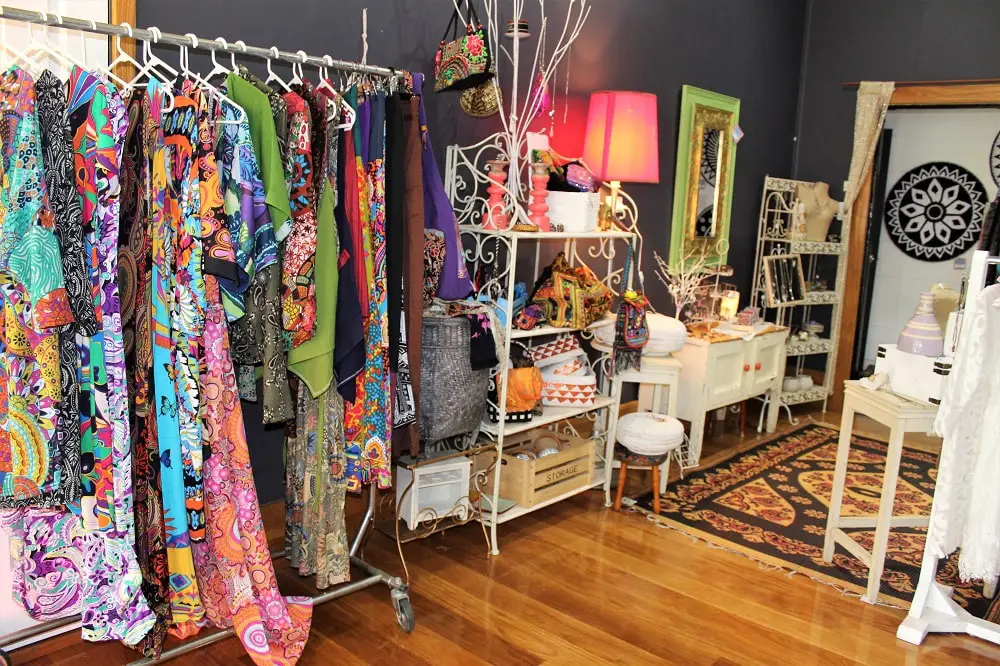 Crescent Head: For a scenic detour head to Crescent Head, a beachside community and surfing paradise.
---
Distance:
Port Macquarie to South West Rocks: 82km – 1 hr
---
South West Rocks Accommodation
Big4 Sunshine South West Rocks Holiday Park: An extremely cool holiday park perfect for families as well as backpackers. There's a pirate-themed swimming pool, games room, huge kitchen, lots of available activities and generally great facilities. Tent sites start at $38 per night.
Trial Bay Gaol Campground: If you prefer bush camping to caravan parks, you can stay in Arakoon National Park right on the waterfront. I didn't stay here but it caught my eye when I visited Trial Bay. Tent sites start from $31 per night.
---
7. Bellingen
Bellingen, a quaint little town slightly inland of the NSW coastline, really made an impression on me. Full of arty cafes, eclectic shops and a wonderfully creative vibe, I'd highly recommend adding a trip to Bellingen to your Sydney to Brisbane drive itinerary.
Make sure you walk out to The Old Butter Factory, which has been converted into boutiques and art galleries as well as housing a leather maker. The Hammond and Wheatley Emporium, a 19th century department store in town, is pretty cool too.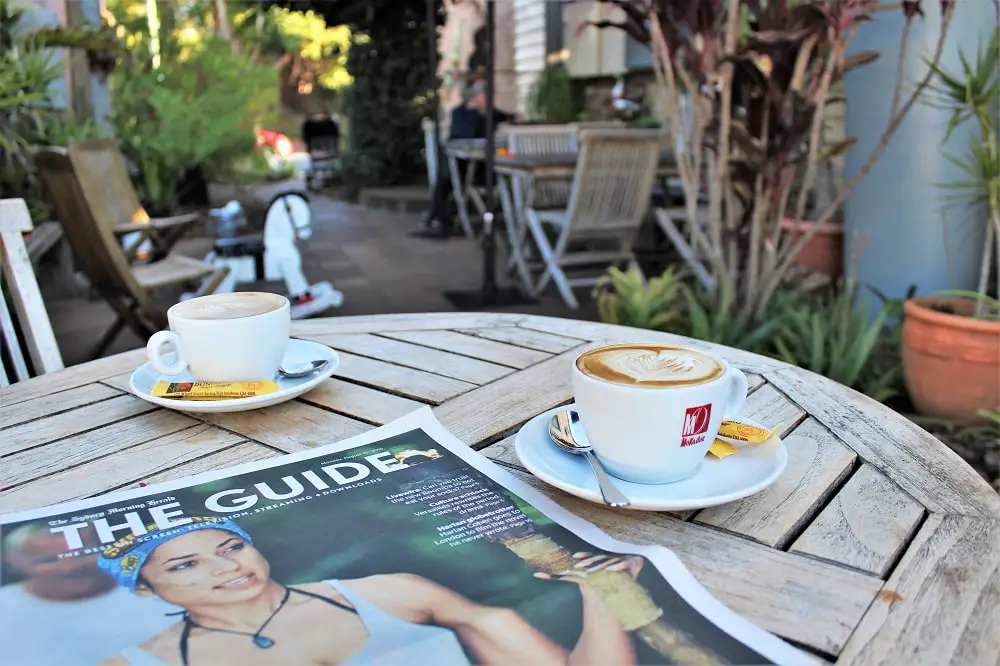 If you do make it out to Bellingen, you should take a detour further inland to Dorrigo National Park and do the rainforest walk to Crystal Showers Falls – absolutely beautiful.
On the way:
Nambucca Heads: Set at the mouth of the Nambucca River, Nambucca Heads is a beautiful green area with great waterside views and white beaches. There's also a painted break wall like at Port Macquarie. I only passed through for a quick look at sunset, but it seemed like a really relaxing place to stop at.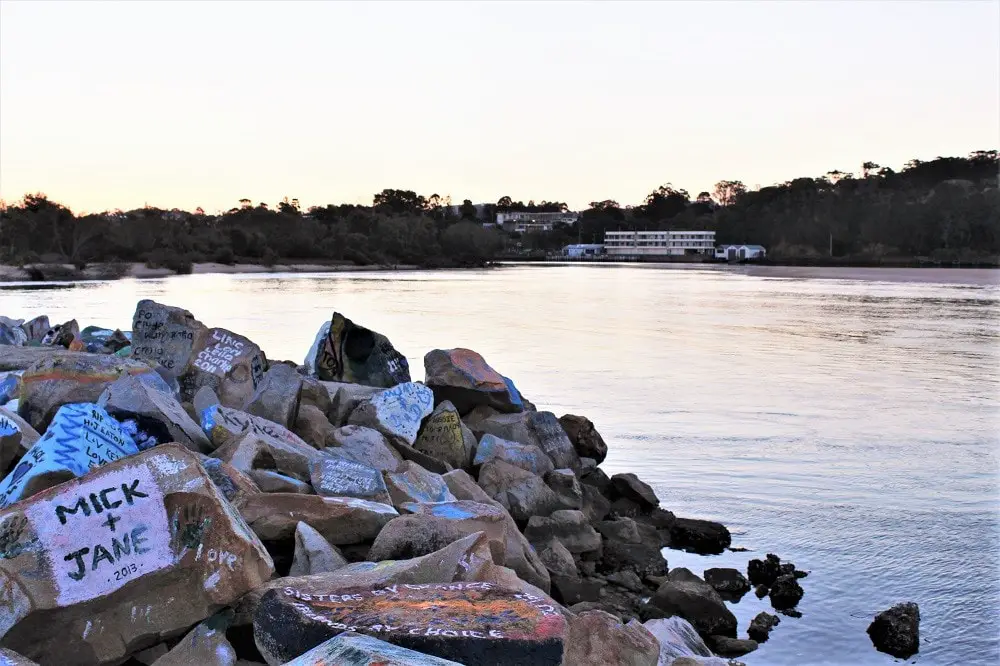 Distance:
South West Rocks to Bellingen: 95km – 1 hr 20 min
---
Bellingen Accommodation
Bellingen Showground: Showgrounds are popular places to camp at in Australia, providing there's not a show on. You'll need your own stove but there are bathrooms you can use. Prices start at $10 for a single person and $18 for a couple.
---
8. Coffs Harbour
While Coffs Harbour is well known for its tacky Big Banana sculpture at the fun park, it also has beautiful, serene beaches and so much surrounding greenery.
You'll find plenty to do in Coffs Harbour, so it makes a great drive stop if you need to stock up on supplies or have a break from the wilderness. Make sure you nip up to the Forest Sky Pier at Sealy Lookout for a drive through the banana plantations and to see the amazing views. There are walking tracks up there too.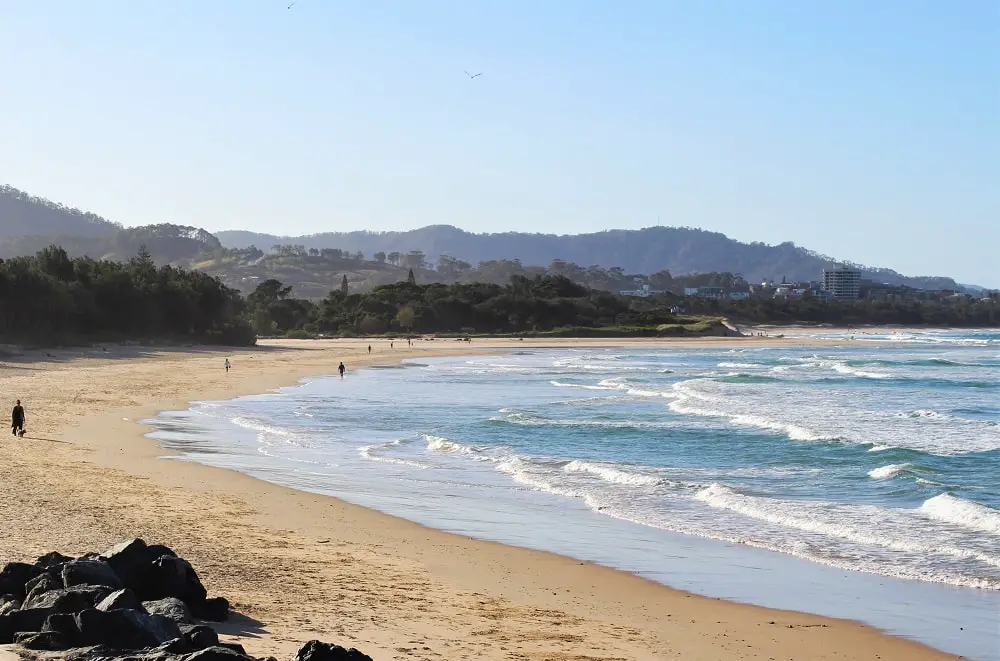 Distance:
Bellingen to Coffs Harbour: 35km – 40 min
---
Coffs Harbour Accommodation
Sapphire Beach Holiday Park: This beachside camping and caravan park is a ten-minute drive north of Coffs Harbour city centre, and has a really fancy pool area. Tent sites start at $30 per night.
---
9. Yamba
A coastal holiday town at the mouth of the Clarence River, Yamba has lovely beaches, plenty of cafes and restaurants and a mild climate all year round. It makes a pleasant drive stop between Coffs Harbour and Byron Bay. There's also nearby Angourie to explore, with its famous green and blue pools.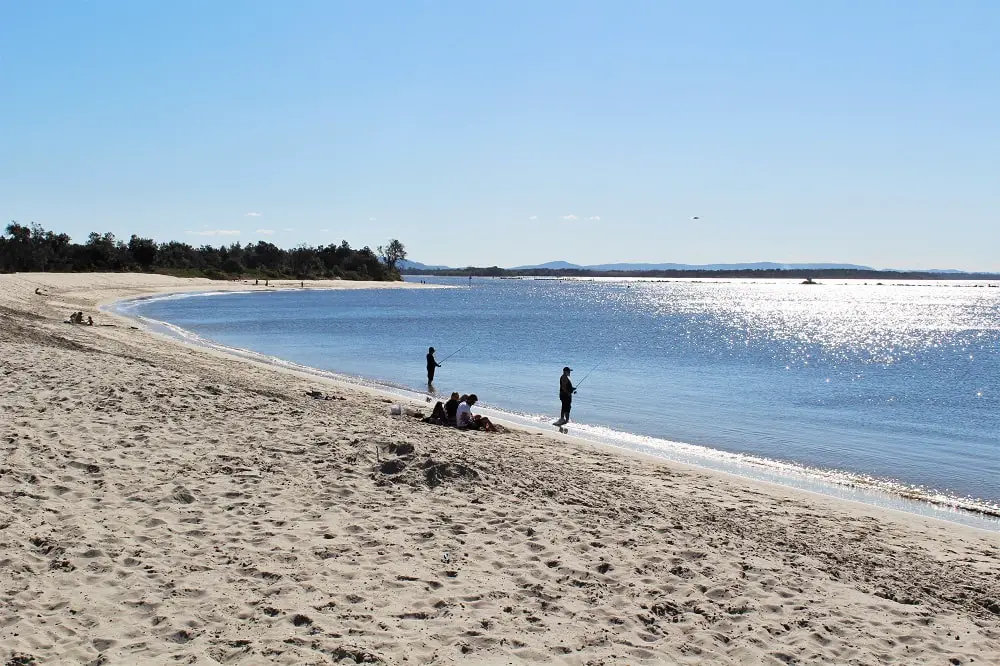 On the way:
Ulmarra: I randomly stopped at this tiny town for a break, and I was so glad I did! It's a National Trust village full of 19th century buildings, art and craft stores and an old-fashioned book shop.
The Ulmarra Hotel has a gorgeous café with beautiful gardens facing directly onto the Clarence River – perfect for a coffee. The town is only 150m off the Pacific Highway so easily reached. You can even stay there overnight.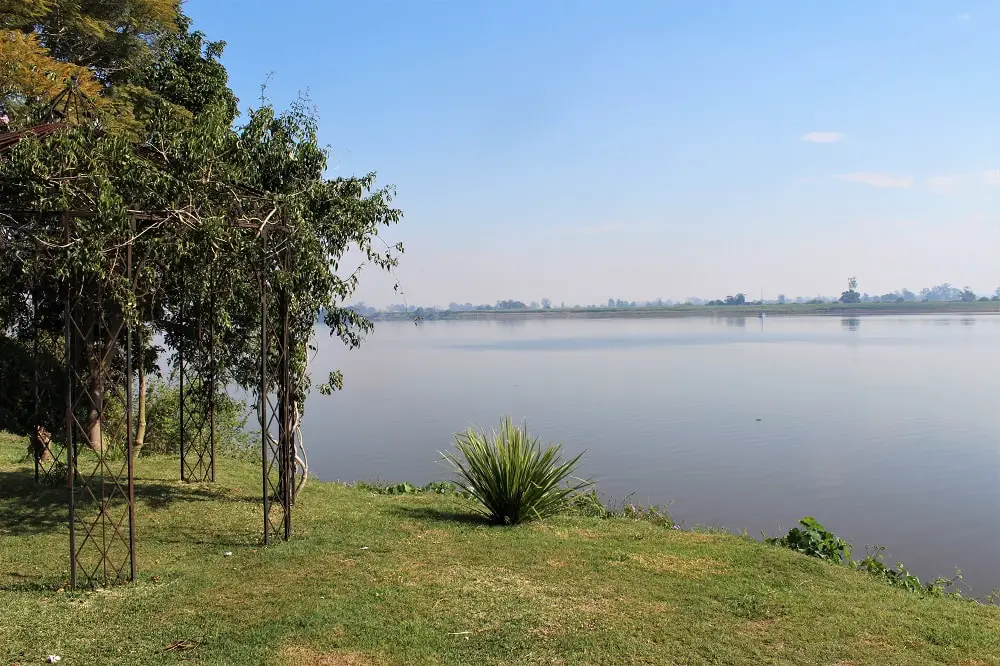 Maclean: This little "Scottish" town is worth stopping at, with its tartan-painted power poles and historical town centre.
Distance:
Coffs Harbour to Yamba: 139km – 1 hr 45 min
---
Yamba Accommodation
Fishing Haven Caravan Park: This riverside holiday park is in a beautiful, quiet location and only five minutes away from Yamba. Tent sites start at $30 per night.
---
10. Byron Bay
This is the biggie. However long or short your Sydney to Brisbane road trip will be, you absolutely have to stop at Byron Bay. I met so many travellers who'd been living here for months and didn't want to leave! It's just one of those very special places.
Byron Bay is a coastal town known for its hippy vibe, but you don't have to be a hippy to appreciate it. Byron Bay beaches are absolutely stunning, and the town is surrounded by gorgeous hinterland. The shops are unique and artistic, and everyone's friendly.
You can surf, hike, laze on the beach, listen to buskers on the grass by the ocean, eat and drink at a wide choice of bars and restaurants, or simply join the chilled-out crowd every evening and watch the sun go down to the sound of bongos.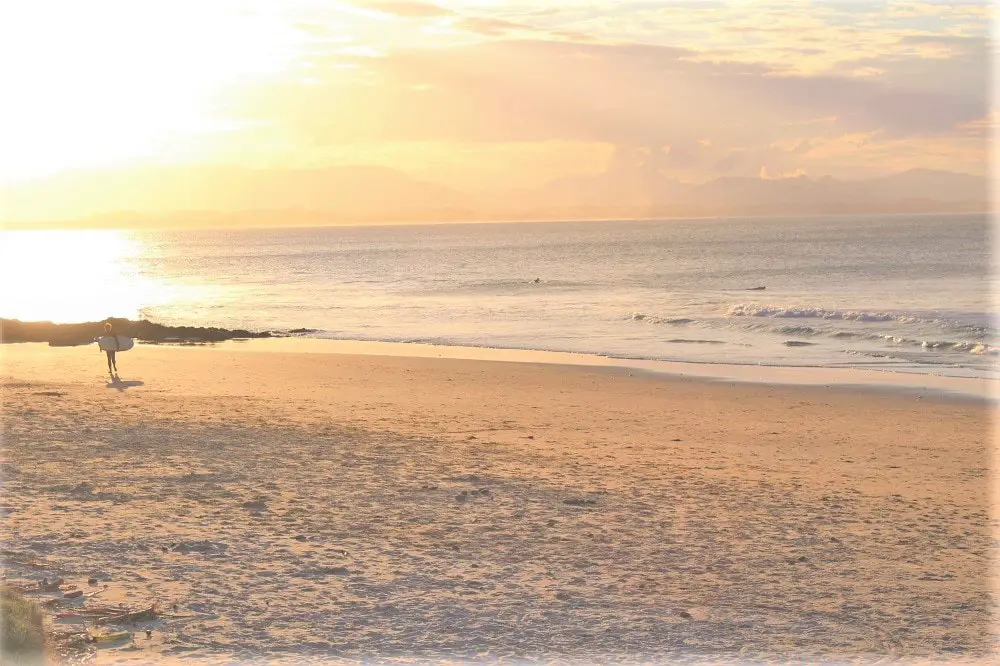 On the way:
Lake Ainsworth: This tea tree-stained dunal lake at Lennox Head is a pretty place to stop if you take the coastal road up to Byron Bay instead of the Highway.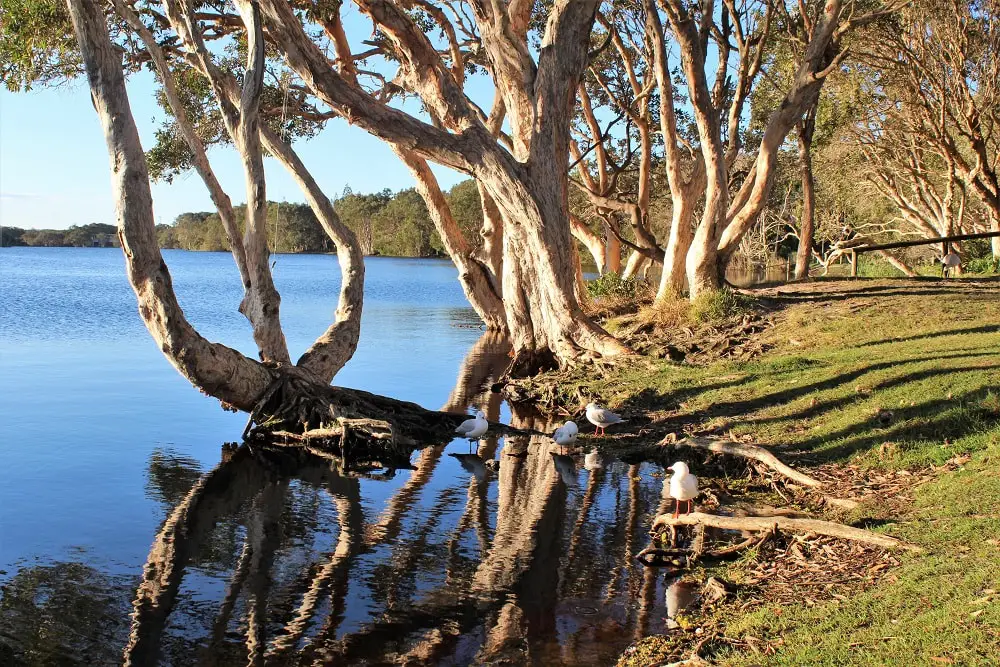 Distance:
Yamba to Byron Bay: 125km – 1 hr 40 min
---
Byron Bay Accommodation
Arts Factory Lodge: This place is more of a community than a casual place to stay – the kind of place people arrive at and never leave. There's a choice of accommodation, from tent camping in "the jungle" to hostel dorms, teepees and cabins by the lake.
There's also a swimming pool, live music and workshops such as didgeridoo making. Tent sites start at $15 per night and dorm beds at $25. Oh, and you might recognise it from The Inbetweeners 2 movie! Read my full review of Arts Factory Lodge to find out more.
---
11. Brisbane
Brisbane has become a fast-growing, cosmopolitan Australian city over the last decade. I'd thoroughly recommend a visit there.
Things to do in Brisbane include South Bank for the man-made beach and lagoon, pretty parkland, art gallery and cool cafes and restaurants; Fortitude Valley for nightlife; Mount Coot-tha for aerial views; and the pretty City Botanic Gardens on the riverside.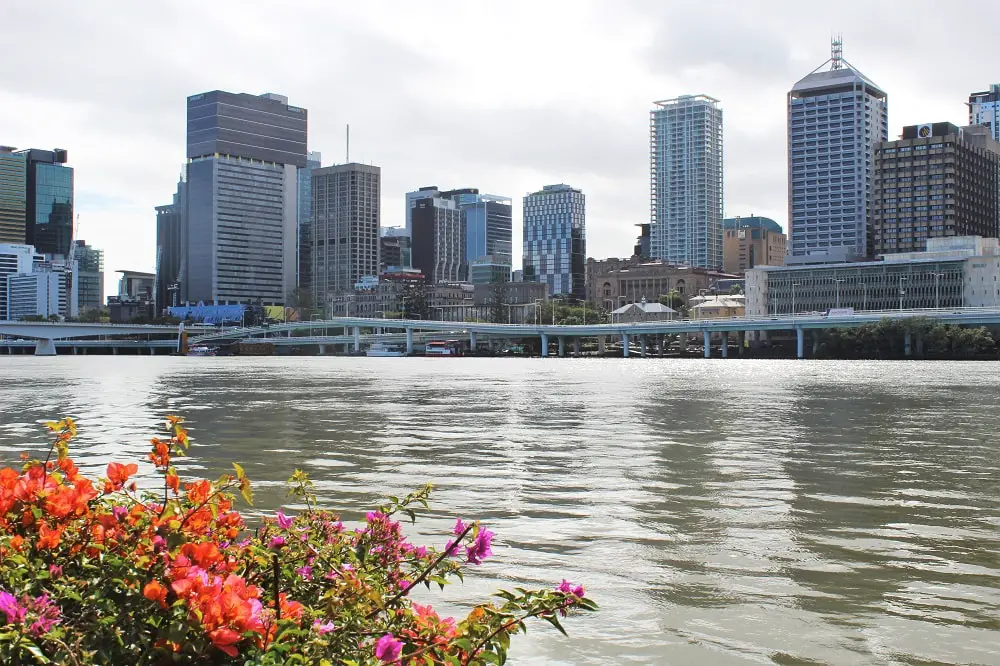 On the way:
Gold Coast: Australia's Gold Coast is famous for its amazing beaches, excellent surf and vibrant nightlife – on my student exchange year in Brisbane this was our go-to destination on the weekend.
But there's plenty more to do at the Gold Coast than the sky scrapers and busy shops of Surfers Paradise. For a more toned-down version, try visiting Burleigh Beach or Coolangatta.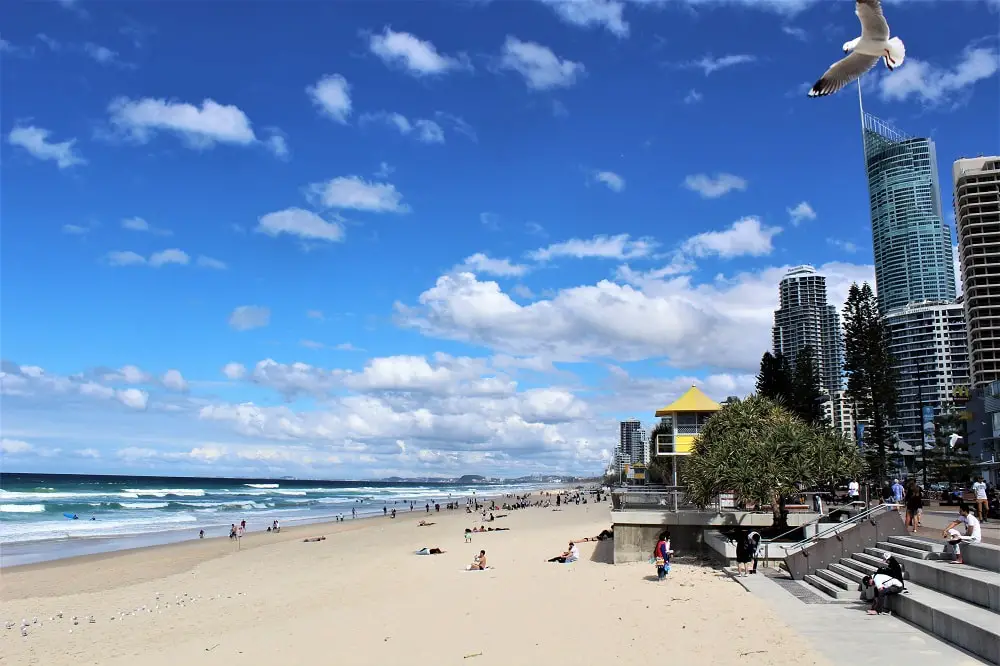 Distance:
Byron Bay to Brisbane: 166km – 1 hr 50 min
---
Brisbane Accommodation
Browse through Brisbane hotels, apartments and hostels using the search box below.
Aussie Way Backpackers: If you're looking for a quieter place to stay in Brisbane, I loved this cute little hostel in a heritage-listed, colonial home with dorm beds from $26. Try Fortitude Valley if you're more into the party scene.
---
However short or long your Sydney to Brisbane road trip will be, you'll have an unforgettable time along this stretch of coastline. Let me know in the comments if you're planning on taking this road trip, or if I've missed off any hidden gems!
---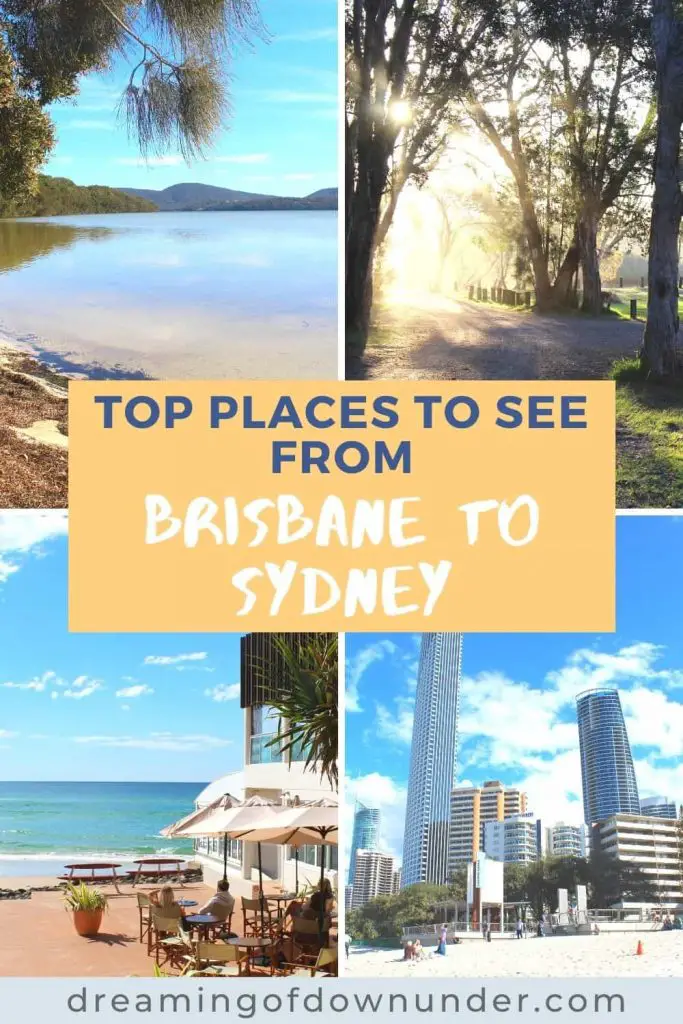 Written by Lisa Bull
Lisa Bull, founder of Dreaming of Down Under, has been living in Australia as a British expat since 2015. After travelling to every state and territory in Australia and living in Perth, Brisbane and Sydney, Lisa knows from first-hand experience the best destinations to visit in Australia and the best budget travel tips. Her guides on this blog have been read by over 700k readers and helped thousands of people achieve their dream of living in or travelling Australia.