This post may contain affiliate links. Please see my disclosure policy for more details.
If you're considering living in Melbourne, you're probably wondering what the Melbourne lifestyle is like and how it compares to other Australian cities.
On The Economist's Global Liveability Index, Melbourne ranked most liveable city in the world for seven years running until Vienna knocked it off in 2018!
I've explored Melbourne on numerous trips and also have a British friend who's lived there for over ten years and loves it.
Keep reading to find out if Melbourne lifestyle could be right for you!
---
Living in Melbourne: Table of Contents
To head straight to a topic on life in Melbourne, click the links below.
---
1. Where is Melbourne in Australia?
Melbourne is situated on the south-eastern coastline of Australia, in the state of Victoria.
Its closest other state capitals are Canberra, about a seven-hour drive northeast; Sydney, around nine hours northeast; and Adelaide, approximately eight hours' drive northwest. You can also hop on a ferry to Tasmania.
Regions surrounding Melbourne include coastal towns, scenic drives and even a skiing region in the Snowy Mountains!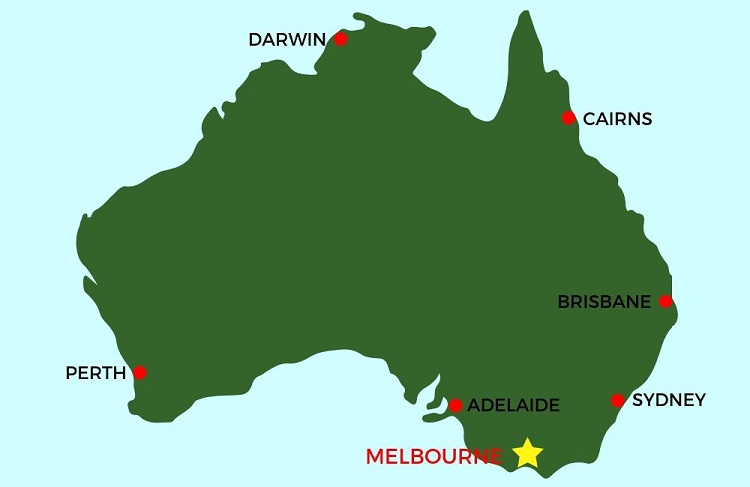 ---
2. Melbourne Population
Melbourne is the capital of Victoria, and its population of 4.8 million makes it the second-most-populated city in Australia (Sydney is the first). Compared to smaller cities like Perth and Adelaide, it feels absolutely huge!
I distinctly remember arriving in Melbourne by car at the end of my Adelaide to Melbourne road trip and feeling like we were in Bangkok rather than Australia, with all those big buildings!
Despite the skyscrapers, Melbourne has also retained a large amount of character-filled, heritage architecture though. It's a very interesting city to explore compared to the more modern-looking cities like Brisbane and Perth.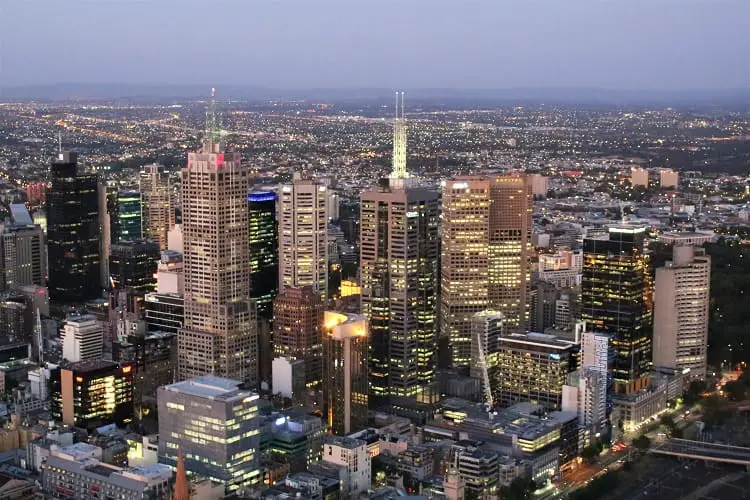 ---
3. Living in Melbourne: Weather & Seasons
The first thing to note is that Melbourne lies very far south on the Australian coastline. Since Australia is in the southern hemisphere, south means cold and north means hot! But it gets a bit more complicated than that.
In fancy terms, Melbourne has a temperate oceanic climate. It has some very hot days in summer but also much colder winters than most of the other Australian capitals.
Melbourne is known for being the city with four seasons in one day, as the weather changes so quickly and dramatically!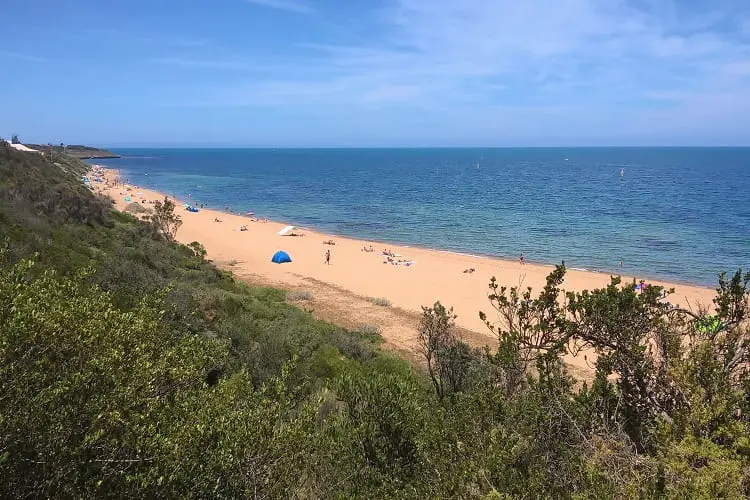 During my two-week summer visit to Melbourne I experienced stifling 40-degree heat that dropped to 15 overnight, a sudden wind so strong that everyone on St Kilda Beach was forced to get up and leave, and a weird dust storm with winds so severe I genuinely thought we were in the midst of a natural disaster!
When I returned in the winter it was 5 degrees in the daytime and mostly rainy. So, in summary, Melbourne weather is variable to say the least!
The average maximum temperature in Melbourne is 26.0 degrees in the hottest month (January) and 13.5 degrees in the coldest month (July).
Overnight, the average minimum temperature in Melbourne is 14.3 degrees in January and 6.0 degrees in July.
Per year, Melbourne has an average of 49 sunny days and 100 rainy days (of at least 1mm). As a comparison, Perth has 139 sunny days per year.
---
4. Daylight Hours in Melbourne
Unlike Queensland, Western Australia and the Northern Territory, Victoria has daylight saving. This means that you'll get much lighter summer evenings in Melbourne than in Brisbane, Perth and Darwin.
In the height of summer in Melbourne, the sun goes down around 8:45pm, a good two hours later than in Brisbane and an hour and twenty minutes later than in Perth!
In midwinter the sun sets just after 5pm in Melbourne, which is similar to the other state capitals. Compared to the UK, Australia has more daylight hours during the winter, but less in the summer.
---
5. Melbourne Beaches
While you're probably aware of Melbourne's urban attractions, you might also be wondering if it has any beaches on offer.
While Melbourne can't compete with Sydney's 100-plus beaches or the big white Miami-style beaches of Perth, you can still enjoy a good old beach day in Melbourne.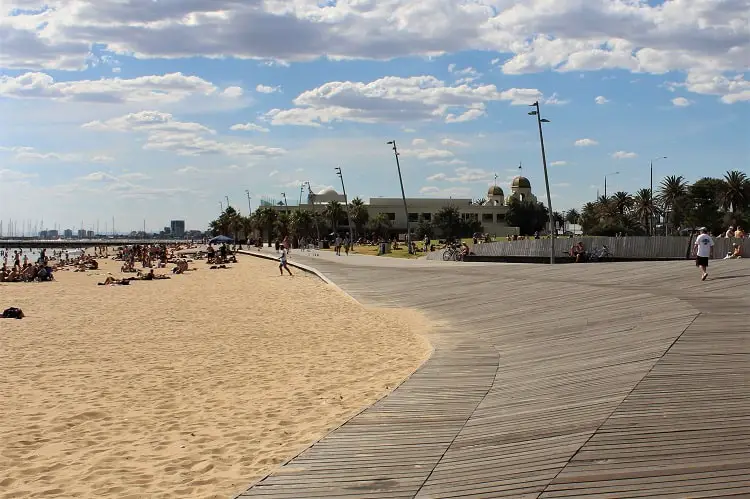 Rather than face out onto the open sea, Melbourne lies on the edges of large Port Phillip Bay. There are a plenty of beaches along here such as St Kilda Beach, Brighton Beach (with its famous, colourful bathing boxes) and Black Rock Beach amongst others.
If you're willing to drive a bit further out, there's an array of beaches on the Mornington Peninsula (about an hour from the city) which face both into the bay and out to sea. There are also some great holiday towns to the west, such as Torquay and Anglesea.
---
6. Living in Melbourne: Things to Do
Being such a large city, there are plenty of things to do in Melbourne. If you're into food and coffee, you'll find lots of quirky cafes along Melbourne's famous laneways and out in the suburbs.
Melbourne is also known for its arty vibe. You can visit a choice of galleries as well as enjoy street art at places like Hosier Lane. There's also lots of cultural events, festivals and live music.
The city has beautiful botanic gardens as well as markets and interesting historical architecture.
---
7. Melbourne Property Prices
Melbourne has lots of attractions, but unfortunately its high cost of property isn't one of them. Only Sydney has a higher cost of living in terms of housing prices vs income.
According to this monthly property report from Corelogic from July 2023, the median house price in Melbourne during June 2023 was $918,971. The median unit (flat) price in Melbourne was $601,174.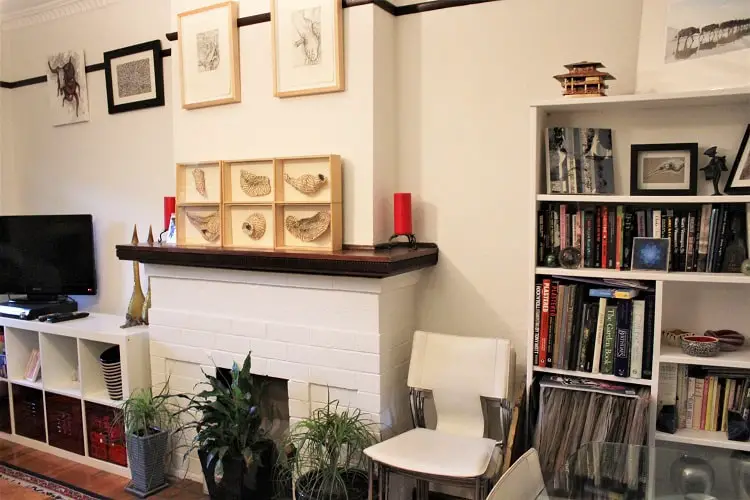 This housing affordability report by Demographia states that price to income ratio for Melbourne in 2023 is 10.1. This means that the median house price in Melbourne is 10.1 times higher than the gross median household income, classing property there as severely unaffordable.
In terms of what kind of properties Melbourne has to offer, there is a huge mix. Along with more modern apartments and houses, there are also plenty of older properties with plenty of character, similar to in Sydney.
---
8. Renting in Melbourne
This monthly rental snapshot from rent.com.au states that the median weekly rent in Melbourne in June 2023 was $520 for a house, $500 for a unit/flat and $220 for a room.
Despite having some of the most expensive property to buy, Melbourne is actually one of the cheaper Australian cities to rent in. As a comparison, in Sydney in June 2023 the median weekly rent was $800 for a house, $650 for a unit and $360 for a room.
---
9. Trips from Melbourne: Holiday Destinations
Even though Melbourne is a big city, you don't have to travel far to step into nature. There's stunning scenery at nearby Wilsons Promontory National Park and the famous penguin parade at Phillip Island.
To the west, there's plenty of coastal attractions heading towards Adelaide, including rock formations and seaside towns along the well-known Great Ocean Road.
In the winter you can ski at the Snowy Mountains or fly up to Queensland to enjoy some winter sun at places like the Gold Coast or Whitsunday Islands.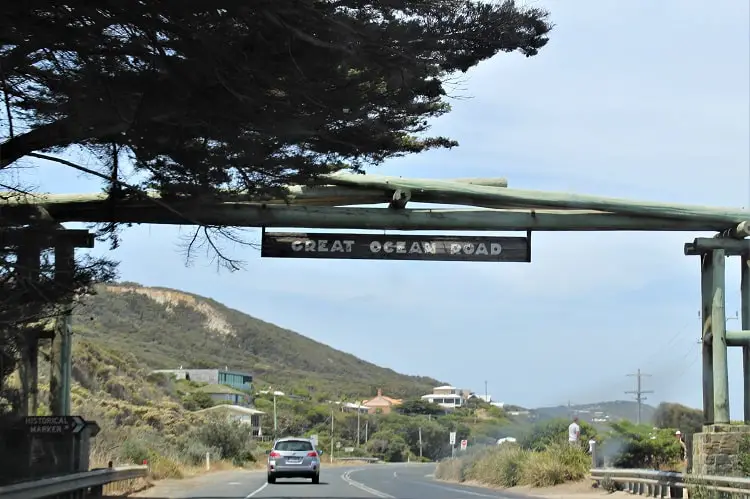 ---
I hope this blog post has given you a better idea of what life in Melbourne could be like!
Good luck with your big move!
Pin it for later!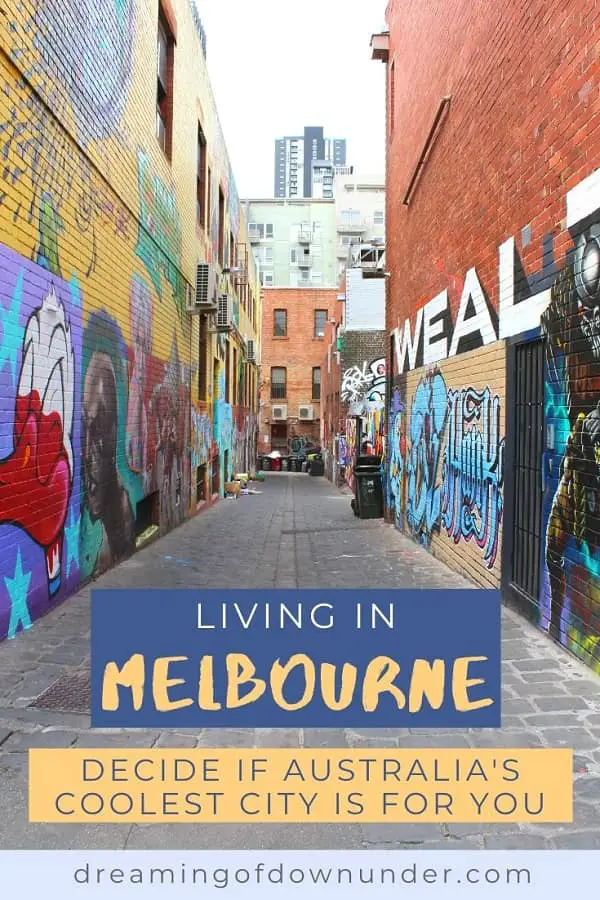 Written by Lisa Bull
Lisa Bull, founder of Dreaming of Down Under, has been living in Australia as a British expat since 2015. After travelling to every state and territory in Australia and living in Perth, Brisbane and Sydney, Lisa knows from first-hand experience the best destinations to visit in Australia and the best budget travel tips. Her guides on this blog have been read by over 700k readers and helped thousands of people achieve their dream of living in or travelling Australia.