This post may contain affiliate links. Please see my disclosure policy for more details.
Noosa has been on my list of top destinations to visit in Australia for some time now, and I finally squeezed in a trip last week after grabbing a cheap flight with JetStar! This 3-day Noosa itinerary includes all the best things I found to do in the area.
I'd been told before visiting that Noosa is like an upmarket Byron Bay, which I don't think is a bad description! Noosa doesn't have Byron's hippy vibe, but it's definitely one of the more unique holiday towns in Australia, and ideal for travellers or families of all ages.
You'll find plenty of things to do in Noosa, including watersports and fun at Main Beach, hiking in Noosa National Park and eating at waterside restaurants. The area is also well serviced by public transport, so you can get around cheaply if you don't want to hire a car.
So, if you fancy packing your bathers and enjoying a tropical holiday up in balmy Queensland, here's my suggested Noosa 3-day itinerary – perfect for a long weekend!
---
Noosa Overview
Before I get into the Noosa itinerary, here's some information to get you started.
Where is Noosa?
Noosa lies up on the Queensland coastline, about 135km north of Brisbane, or a two-hour drive. You can also fly into the Sunshine Coast Airport in Marcoola. The airport is about 30km from Noosa Heads, and you can either catch a taxi or a bus to get there.
Do you need a car in Noosa?
You'll certainly get around quicker with a car, and be able to visit more places in the hinterland. However, the traffic around places like Hastings Street was constantly busy when I visited, and that wasn't even school holidays! So parking may be difficult at peak times.
I decided to get around the Sunshine Coast by bus, which was cheap and really easy. Just look up your nearest go card retailer (it's a pre-paid travel card that you top up as necessary), and scan it on the buses. To plan your journey either use Google Maps or the Queensland Government TRANSLink journey planner.
How many days do you need in Noosa?
I had three days and four nights, which was enough time to explore and enjoy a couple of hikes as well as visit beaches and markets. If you want a proper beach holiday though, you could definitely spend a week or more in Noosa and just relax or go on a few excursions.
What is the best time of year to go to Noosa?
Being up in Queensland, Noosa is mild to hot all year round. The humidity might be too much for some in the summer months (as well as the school kids if it's the Christmas holidays!), but also the winter nights could be a bit cold if you prefer a warm holiday.
The rainiest time is January to March. I'd say spring or autumn would be perfect in terms of temperature, but spring (September to November) has the lowest rainfall. I went in early December and it was around 30 degrees in the daytime and rained once at night.
What can you do in Noosa?
There's a real mix of things to do in Noosa, including surfing, beaches, hiking in the national park, river cruises, visiting the Everglades, eating at restaurants and enjoying the nightlife. Something for everyone really!
Noosa Accommodation: Where is the best place to stay in Noosa?
Whether you're looking for waterfront accommodation in Noosa or a simple caravan park or hostel, Noosa has accommodation options for everyone.
If you want to be close to the main centre, go for Noosa Heads around Hastings Street and Main Beach. A short walk inland around Noosa Junction bus station also has shops and restaurants.
Alternatively, you could stay further south at Sunshine Beach or along the coastline towards Peregian Beach. Heading west takes you to riverside accommodation in Noosaville.
What makes Noosa such a unique holiday town?
Being a Brit, I'm used to going away to Mediterranean resorts where there are restaurants and hotels backing directly onto the beach. And while I don't miss the cheesy Only Fools & Horses bars and Cher tributes they put on for us, I do love having "the strip" of shops, restaurants and bars that are open late and buzzing at night.
While Australia has stunning scenery and beaches, most of the holiday towns I've been to in NSW are more like British seaside resorts, where the shops close at 5:30pm and it's quiet apart at night from a handful of restaurants. The buildings themselves aren't usually that attractive either, unless they're the older ones with pretty facades. They tend to look like they're made of lego blocks!
Hastings Street in Noosa is the total opposite. Although it is mainly home to shops and they do close early, there are also plenty of restaurants and hotels that are lively in the evening. One side backs right onto Main Beach too, so you can actually eat facing the ocean. (Surprisingly rare in Australia!) You can even walk along the beach at night without feeling too isolated.
The trees lining Hastings Street are lit with fairy lights; the shops are beautifully decorated and sell gorgeous, beach-style clothing; there's live music flowing out of the restaurants… I could go on! Noosa gets a 10/10 from me for style and holiday atmosphere!
---
Noosa Itinerary Day 1 – Noosa Heads
The main hub of the holiday area is Noosa Heads. The part you'll want to visit is Hastings Street, which runs behind Main Beach and has all the shops and restaurants. You can also access Noosa National Park from there, which has lots of beautiful hiking tracks.
Morning – Hike Noosa Coastal Walk in Noosa National Park
I chose to do the Noosa Coastal Walk, which is a beautiful 5.4km track around the headland between Park Road (near Hastings Street) in Noosa Heads to Sunshine Beach (where my Airbnb was). It's so lovely that I'll write a separate post on the walk itself.
If you just want to walk one way (it takes about 2.5 hours), you can catch the bus to Sunshine Beach from Noosa Heads and start there. You'll find a little strip of cafes and restaurants along Duke Street at Sunshine Beach if you want to grab a coffee or breakfast first.
Walk to the northern end of Sunshine Beach, and you'll see the information board and track heading uphill. Once you climb the many steps, you'll be instantly rewarded with amazing views looking down on Sunshine Beach!
You'll pass a multitude of coves, beaches and viewpoints along the way, including Alexandria Bay, Hells Gates, the Fairy Pools, Granite Bay, Dolphin Point and Boiling Pot lookouts.
At the end you'll pass Little Cove Beach and then Park Road in Noosa Heads. (And then realise you've got to walk up the hill to get to Hastings Street!) It'll be much busier up this end as people do shorter walks from Noosa Heads to get to some of the beaches.
Afternoon – Main Beach and Hastings Street
Once you've completed the walk, cool off with a quick dip at Main Beach before enjoying lunch at one of the restaurants or cafes along Hastings Street.
There are lots of funky clothing and homeware shops to explore along Hastings Street too. You could spend the afternoon shopping or just relax on the beach and recuperate!
Evening – Sunset Cruise along Noosa River
While you're in Noosa Heads, a relaxing way to spend the evening is on a cruise with Noosa River and Canal Cruises.
They have a choice of cruises, but I opted for the sunset cruise, which only cost $28 for an adult ticket. You can leave from either Noosaville or Noosa Heads, behind the Sofitel Hotel.
It was beautiful watching the sky and water turn pink, even though it was still a bit smoky from the bushfires. You'll get up close to the birdlife as well as lots of waterside mansions.
There's also music and commentary along the way, as well as free tea and coffee (and you can BYO drinks and snacks).
You'll be back at Hastings Street just as it lights up for the evening. A great opportunity to either have dinner overlooking the ocean or enjoy a gelato as you stroll underneath the fairy lights!
---
Noosa Itinerary Day 2 – Peregian Beach & Mount Coolum or Noosa Spit
About 20 minutes south from Noosa Heads by bus takes you to beautiful Peregian Beach. If you want a break from the crowds at Hastings Street, the village here is much more chilled, but still has plenty to peruse.
Slightly further south is Mount Coolum, for those of you who fancy a challenge. Or for a more relaxed walk, head back up to Noosa Heads to explore the spit.
Morning – Climb Emu Mountain & Explore Peregian Beach Village or Markets
If you fancy a quick hike to start your day, catch the 620 and get off on David Low Way opposite Havana Road. It only takes a couple of minutes to walk to the start of the track up Emu Mountain (opposite Coolum State High School on Havana Road).
It's an easy 15-minute walk up to the peak of Emu Mountain, where you'll be rewarded with views right up and down the coastline.
To get back to Peregian Beach Village, either catch the bus back up David Low Way (you'll see the shops around Heron Street and Grebe Street), or walk the 3km along the beach!
There are lots of lovely clothing and homeware shops in the village, as well as cafes and restaurants with outdoor seating. This would be a nice area to stay in if you prefer somewhere quieter than Noosa Heads.
The beach itself is absolutely gorgeous, and if you visit on the first or third Sunday of the month, you can drop into the funky Peregian Beach Markets between 7am and 12:30pm.
There are loads of beautiful clothes and jewellery for sale at the markets, as well as food and drink.
Afternoon – Climb Mount Coolum or Swim at Noosa Spit
If hiking's your thing, you could continue further south from Peregian Beach to Mount Coolum (another 15 minutes on the 620 bus) and climb the 885m-high Mount Coolum.
There's also a raised boardwalk to Mount Coolum Beach. There isn't much else there apart from accommodation and a small shopping centre on David Low Way, so it's probably only worth visiting if you want to do the climb or have a quieter beach to yourself.
If you prefer to head back up towards Noosa Heads, you could take the easy stroll from Main Beach heading north west along Noosa Spit.
It's really pretty around the river mouth, and you'll find beaches with water calm enough for a proper dip. (As well as a dog beach if you've brought your furry friend!)
If you keep walking around to the south-facing side of Noosa Spit, you'll have lovely views of the houses on Noosa Parade as well as peace and quiet! There are also picnic tables in the park behind, so you could spend the evening having a sunset picnic!
---
Noosa Itinerary Day 3 – Eumundi Hinterland & Noosaville
If you're in Noosa on a Saturday or Wednesday I'd recommend a trip to Eumundi Markets in the Sunshine Coast Hinterland. You'll also pass by riverside Noosaville on the way.
Morning – Eumundi Markets in the Sunshine Coast Hinterland
It's a 45-minute journey on the 631 bus from Noosa Junction Station to the historic town of Eumundi. You'll find a row of art galleries, restaurants and boutiques along Memorial Drive, with a backdrop of heritage-listed fig trees.
I loved the Berkelouw Book Barn with its adjoining café. It was like stepping back in time perusing the shelves, and people were sitting all over the floor and in armchairs reading!
The Eumundi Markets are absolutely huge (the biggest art and craft market in Australia), and renowned for its local artisan produce. As well as clothing, jewellery and homeware, there's live music, fresh food and even massage stands!
Make sure you explore all the way back to Napier Road, as there are some lovely stalls undercover there. If it's a hot day I'd recommend going early; it was roasting when I arrived about 11am, and it gets pretty busy.
Afternoon – River Fun at Noosaville
On the way back to Noosa Heads, a great place to stop for the afternoon is Noosaville. You can get off the bus opposite Quota Park on Gympie Terrace. There are more boutiques and restaurants here to explore.
I think this area would also be a great place to base yourself in if you're not bothered about being close to the beach.
Quota Park sits along the edge of Noosa River. It's a lovely spot for a picnic, and you can also hire a boat, kayak, jet ski amongst other things from U-Drive Boat Hire to explore the waterways!
Evening – Dinner or Cinema at Noosa Junction
If you've been travelling by bus, you'll have probably passed Noosa Junction Station slightly inland of Hastings Street. There's also a Coles here, if you need a supermarket.
There's another long row of shops, restaurants and cafes here along Sunshine Beach Road. Also a cinema, so it would be a great area to visit in the evening.
---
I hope you have a fantastic time if you visit the Sunshine Coast! For more ideas on things to do in South East Queensland, check out my Gold Coast 3-day itinerary , Moreton Island day trip guide or my 21 fun things to do in Brisbane.
If you're heading up to Cairns, make sure you read my review of Kuranda village, Skyrail and scenic train.
Happy travels!
---
If you enjoyed this post, pin it for later!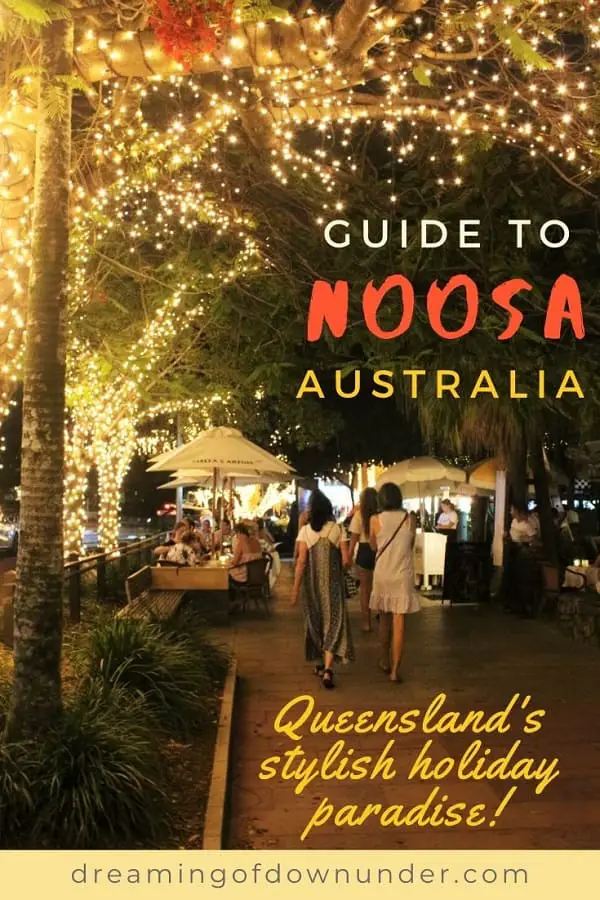 Written by Lisa Bull
Lisa Bull, founder of Dreaming of Down Under, has been living in Australia as a British expat since 2015. After travelling to every state and territory in Australia and living in Perth, Brisbane and Sydney, Lisa knows from first-hand experience the best destinations to visit in Australia and the best budget travel tips. Her guides on this blog have been read by over 700k readers and helped thousands of people achieve their dream of living in or travelling Australia.