This post may contain affiliate links. Please see my disclosure policy for more details.
If you're considering a trip to Queensland, this Gold Coast 3-day itinerary will help you pack in plenty of amazing attractions without the huge price tag.
With shiny skyscrapers, waterfront mansions, and wide array of theme parks, you'd be forgiven for thinking the Gold Coast is only an option for those on a big holiday budget. Or, that you'll be surrounded by boozy backpackers, who flock to Surfers Paradise for pool parties, nightclubs and hungover days on the beach.
On my most recent visit, I actually found a mixture of stunning scenery, laidback beach towns, coastal hikes and some very low-priced attractions. So, if you're heading to the Sunshine State, find out the best things to do with this Gold Coast long weekend itinerary!
---
Gold Coast 3-Day Itinerary
The 3-day Gold Coast itinerary below is a great starting point to plan your trip. I've written a guide to each area further down too, so you can find out what else there is to do there. Just click on each highlighted activity on the itinerary to zoom down to that section.
Day 1: Surfers Paradise & Main Beach
Morning: Surfers Paradise River Cruise then beach time;

Afternoon: Federation Walk to the Spit along Main Beach.
Day 2: Burleigh Heads
Morning: Burleigh Head National Park walk to Tallebudgera Creek;

Afternoon: Burleigh Heads Beach and sunset on Burleigh Hill.
Day 3: Broadbeach
Morning: Beach day at Broadbeach;

Afternoon: walk from Broadbeach to Surfers Paradise and watch the sunset at SkyPoint Observation Deck.
---
Day 1: Surfers Paradise & Main Beach
Surfers Paradise is the most well-known area of the Gold Coast, and its strip of glittering skyscrapers set behind the beach create the famous Gold Coast skyline.
Surfers also has a reputation for being a bit brash, with its high-rises, fast-food joints and lively nightlife. So I was keen to spend more than just an afternoon exploring the area to see what else it has to offer. Here's what I discovered.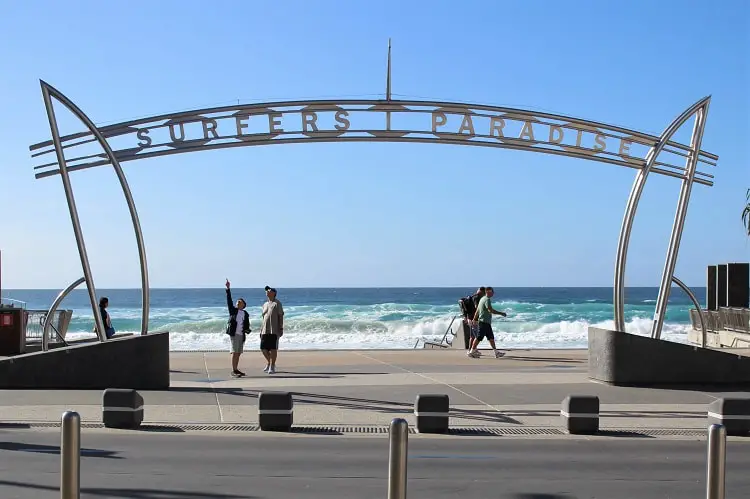 Shopping in Surfers Paradise
If you're looking for some holiday purchases to take home in your suitcase, I give shopping in Surfers Paradise a big thumbs up. Head to Cavill Avenue and Surfers Paradise Boulevard, and you'll find high street stores, a few independent shops and all the big surf brands you can think of.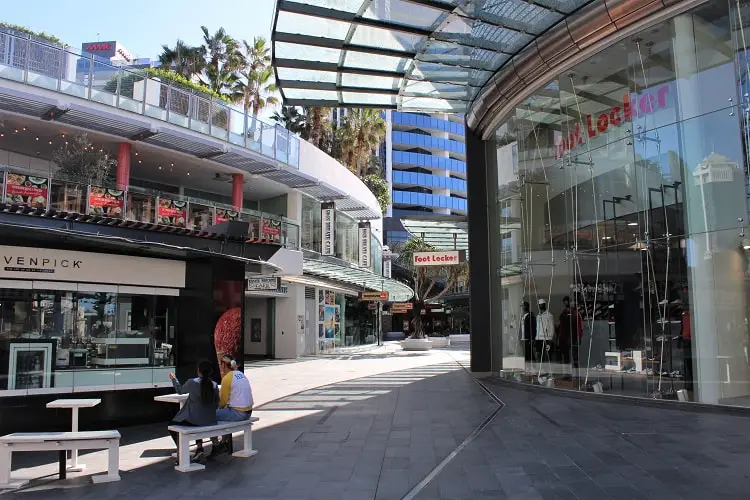 Restaurants & Nightlife in Surfers Paradise
There might be a MacDonalds and Hungry Jacks right on the beachfront, but there's also a choice of restaurants and plenty of bars and nightclubs in Surfers Paradise. It's definitely not a bad spot if you're looking for something to do in the evening.
SkyPoint Observation Deck
I absolutely loved this attraction! The SkyPoint Observation Deck is on the 71st floor of the Q1 Building in Surfers Paradise, and the only beachside observation deck in Australia.
A standard adult ticket cost $27 when I visited, but you get amazing 360-degree panoramic views across the Gold Coast region. If you're into photography, you'll absolutely love it!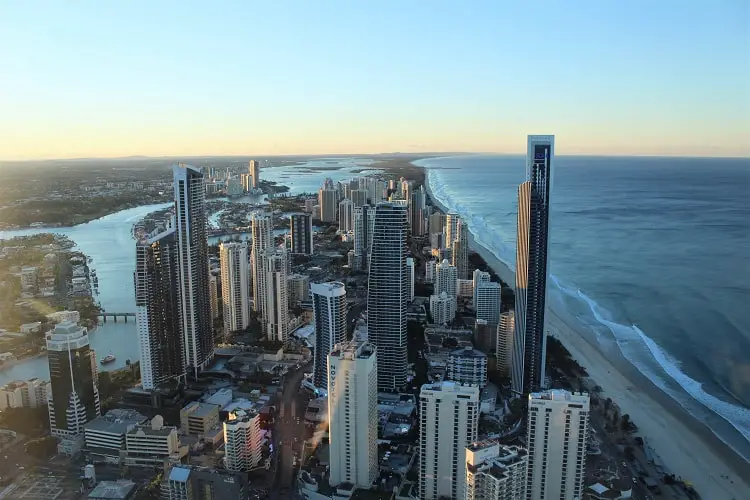 Looking down on the ocean is amazing enough, but you'll also be treated to views of the city stretching for miles along the coastline in both directions, as well as out west to the mountainous hinterland.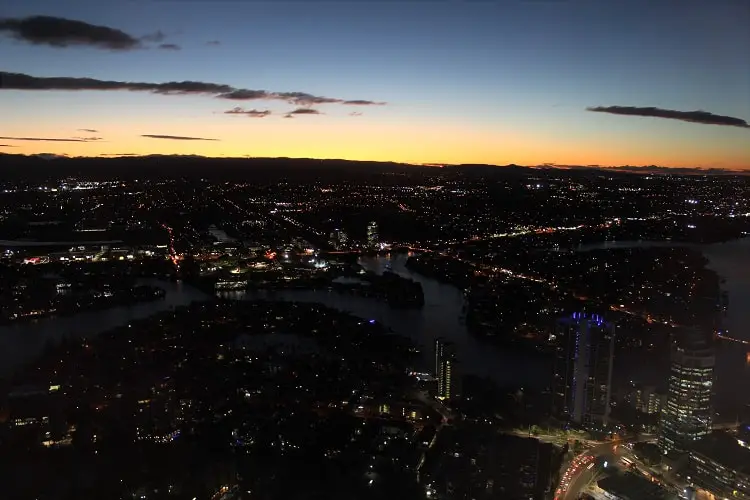 I timed my visit to watch the sunset, which was spectacular. I would arrive at least an hour before the sun goes down if you want to capture the beach in sunlight though, as the tall buildings cast a shadow after that. For those of you feeling adventurous, you can also book a climb up to the base of the spire!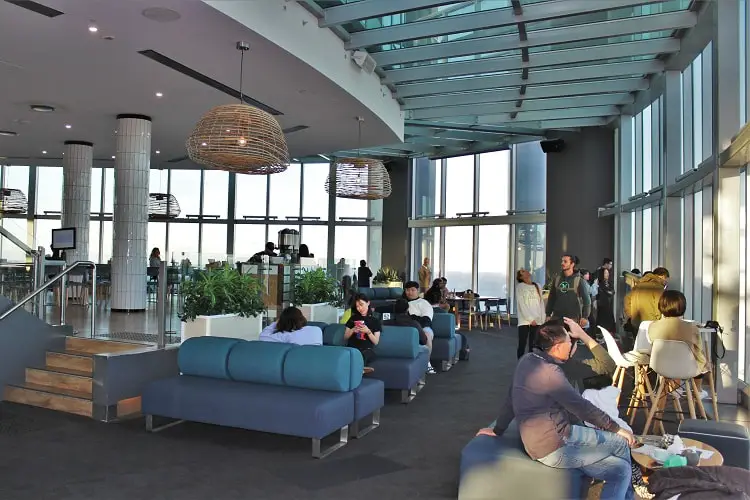 You can also eat at the SkyPoint Bistro and Bar (the whole observation deck is styled like a really nice café/restaurant, which I wasn't expecting!).
On Friday and Saturday nights, SkyPoint is over 18s only, and on Sunday afternoons there's live music. It would be an ideal venue for a special occasion.
Surfers Paradise River Cruise
If you've looked at a map of the Gold Coast, you'll see that the residential areas are interspersed by a network of (sometimes palm tree-shaped!) waterways. It's a very different landscape to the strip of skyscrapers that line the beachfront. The Gold Coast actually has more canals than Venice. (Just like Birmingham, UK, where I come from, only with more palm trees!)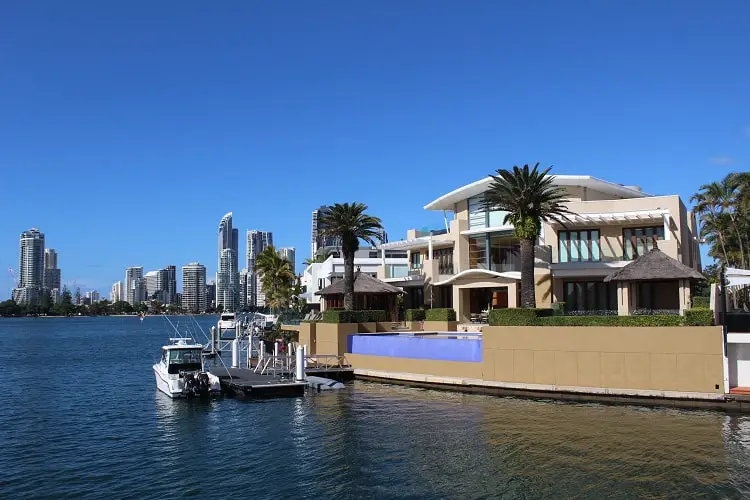 A great way to see how the locals live is to hop on a relaxing waterways cruise with Surfers Paradise River Cruises. Prices start at $22 for 1.5 hours (I paid $19 with a Groupon voucher), and the trip includes free tea, coffee and cakes. There's also commentary pointing out the local landmarks and telling you who lives in which waterfront mansion!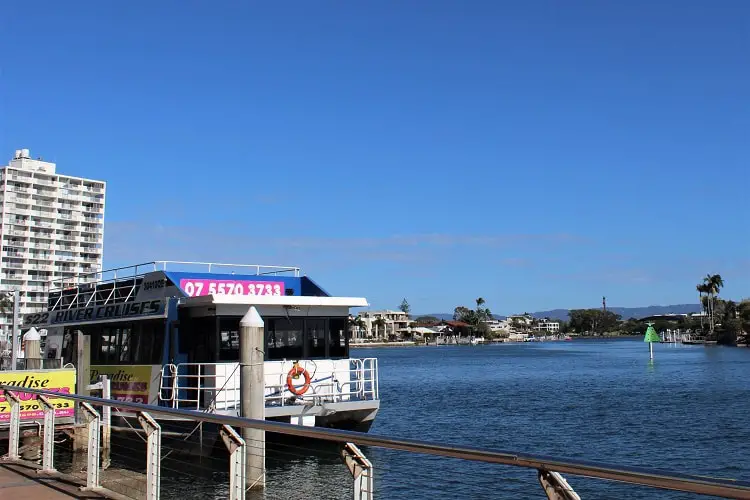 I really enjoyed this trip, and it was a much cheaper alternative to the bigger boats that go out onto the ocean. Make sure you bring sunscreen, a hat and a jacket as the top deck is open-air, and got pretty windy on my trip.
Main Beach
Just north of Surfers Paradise is Main Beach, a narrow peninsula of land sandwiched between the Nerang River and the ocean. I stayed in a YHA in this area (see the accommodation section further down), so I got to know it pretty well
It's very close to Surfers Paradise, but much quieter, with trees lining the beach instead of skyscrapers. There are also a few nice hotels along here, and I think it's a great spot to stay in if you want to be close to Surfers but not right in the action. Here are a few highlights in the area.
Mariners Cove
This is a small riverside complex where my accommodation was based. It has a few places to eat and drink as well as a fish and chip shop and watersports centre. It's also just across the road from a car park to access the beach.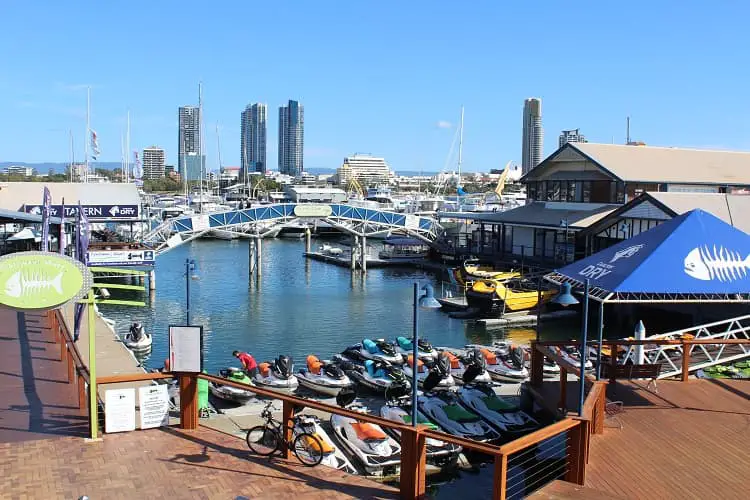 Marina Mirage
Next door to Mariners Cove is Marina Mirage, a fancy shopping and dining complex with restaurants backing onto the yacht-filled marina and a walkway to the hotel over the road. There's also bizarrely a MacDonald's on the frontage (perhaps for us peeps in the YHA?)!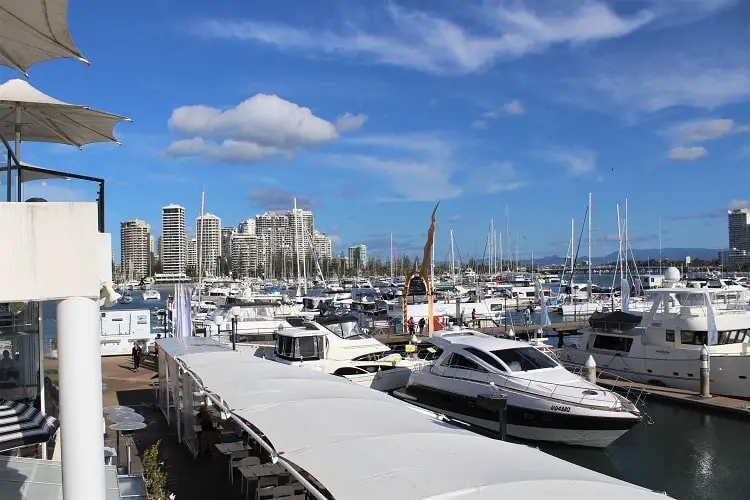 Federation Walk to the Spit
If you walk to the beach across the road from Mariners Cove, you'll find as a tree-lined path that runs all the way to Southport Spit, at the very end of the peninsula.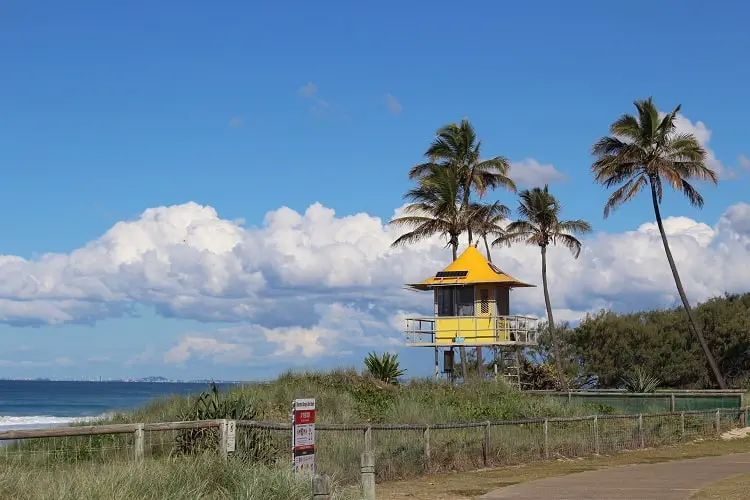 Alternatively you could start from Sea World for a shorter walk. (It took me about an hour each way from Mariners Cove.) At the tip of the peninsula the land bends around to the west, and there are a few small beaches with calm water, as well as lots of boats.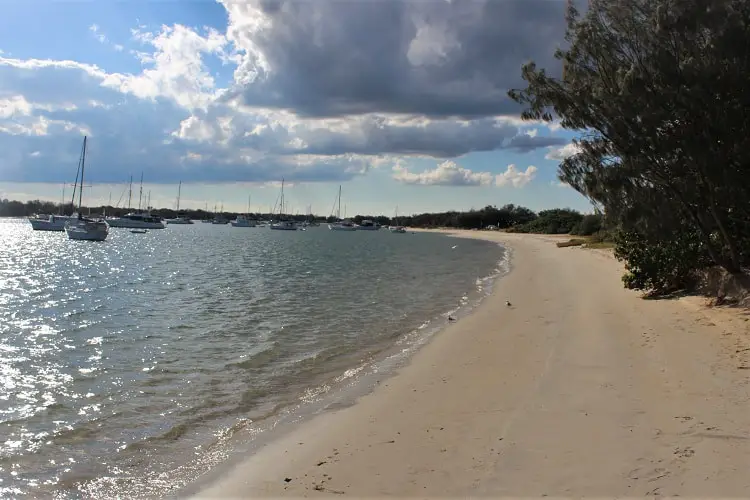 On the eastern side of the tip you've got the Spit and Southport Pier. You could also walk back via the beach rather than the pathway.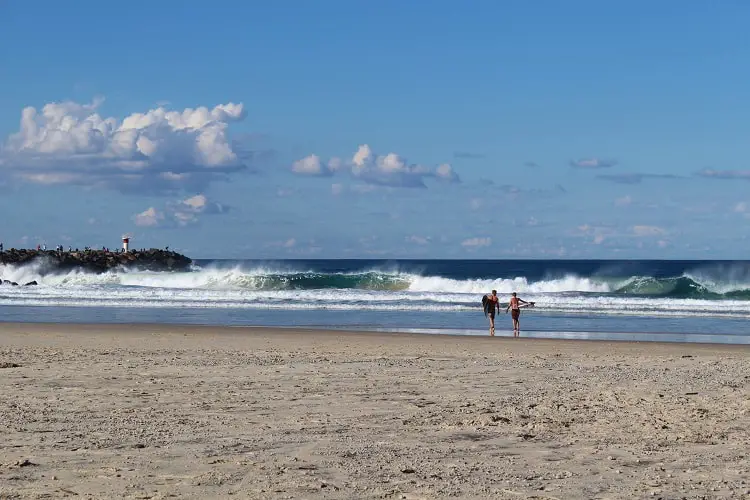 ---
Day 2: Burleigh Heads
Burleigh Heads is a lovely beachside area about 11km south of Surfers Paradise, and easily reached by bus. A couple of people recommended I visit here, so I made sure I checked it out!
I really liked the area, and would definitely consider staying there if I visit again. Burleigh has much more of a laid-back, bohemian, Byron Bay feel than the more mainstream Surfers Paradise. There are less high rises, less mainstream shops and lovely Norfolk Pines instead.
It would be a great place to base yourself if this sounds more like your scene than busy Surfers Paradise.
Shopping in Burleigh Heads
Head to James Street, not far from the beach, if you're looking to shop. You won't find many big-name stores, but lots of beautiful, beach-style boutiques and homeware stores instead.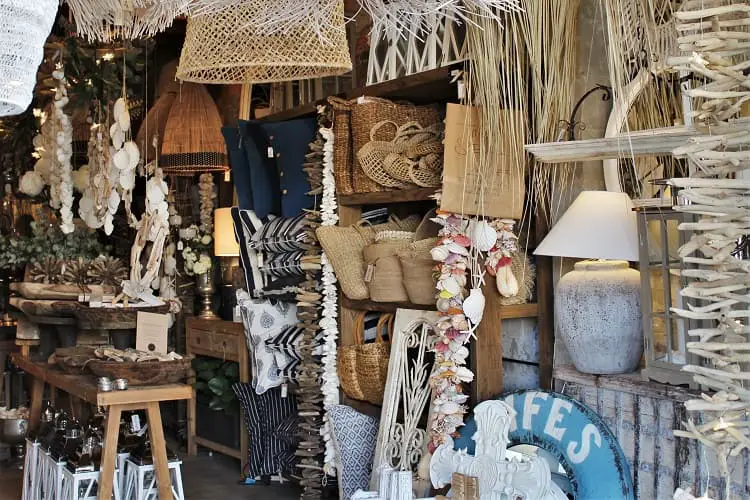 Burleigh Head National Park Walk
At the southern end of the beach, up on the hillside, is Burleigh Head National Park. It's a lovely section of rainforest with a few short walking tracks running through it.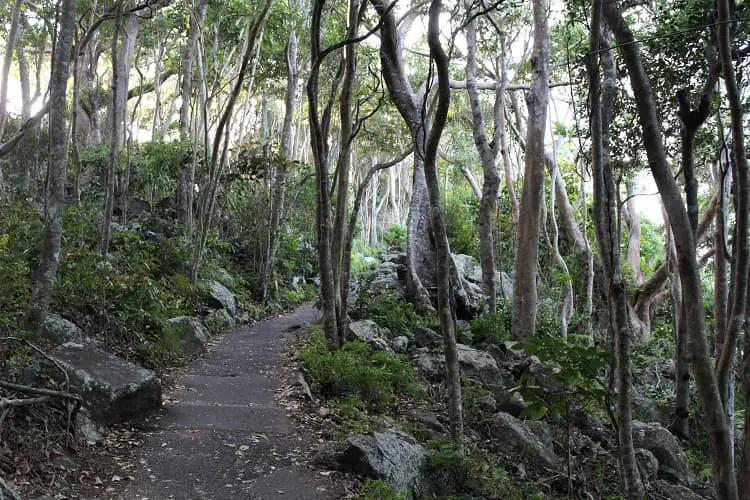 You can either take the flatter Oceanview track around the edge of the park, to Tallebudgera Creek, or the steeper Rainforest track up to Tumgun Lookout and over the hill.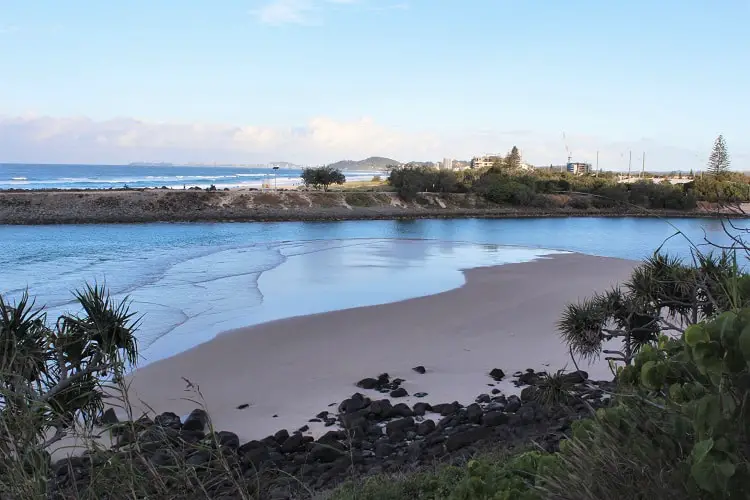 Sunset on Burleigh Hill
Burleigh Heads Beach is hugely popular with surfers, and at sunset people gather on Burleigh Hill at John Laws Park to watch the sun go down while surfers do their thing.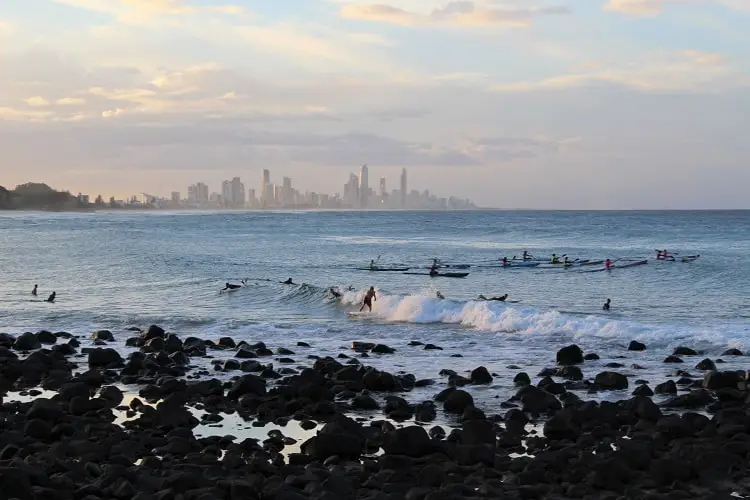 It's meant to be especially popular on Sundays, but it was still quite busy when I visited on a weekday.
---
Day 3: Broadbeach
Broadbeach is smaller than Surfers Paradise and Burleigh Heads, but still has a few places to eat and a shopping centre, as well as a beautiful beach.
Broadbeach
The beach here is particularly huge, with a park, picnic area and playground behind it. It was pretty quiet when I stopped by in the winter, but I'd imagine it gets busy in the summertime.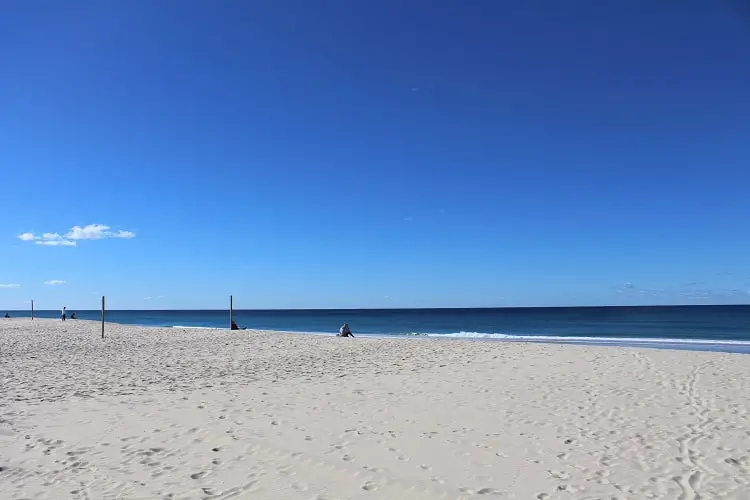 You can also eat right behind the beach at Kurrawa Surf Club, which looks pretty lovely.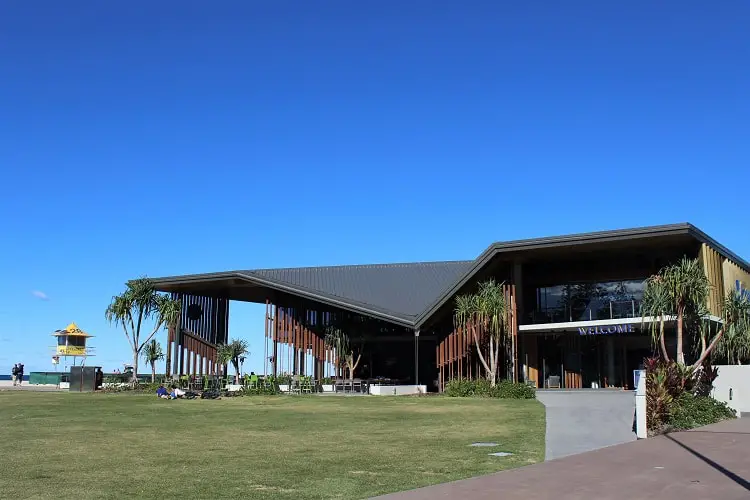 Shopping & Eating in Broadbeach
Behind the beach is the Oasis Shopping Centre, which has a great strip of restaurants along the edge with outdoor seating.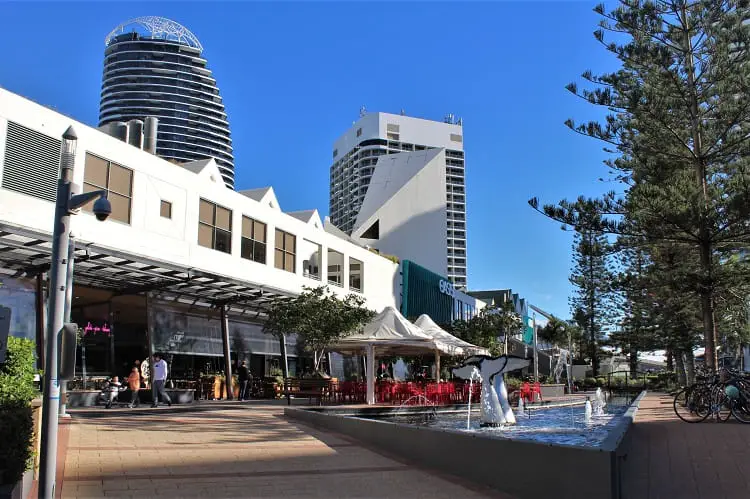 Pacific Fair Mall
Directly behind Broadbeach South Station (the southern end of the tramline) is the enormous Pacific Fair Shopping Mall. I only went in here to kill some time on my way to the airport, but it was actually really lovely! And it's not often I get excited about a mall!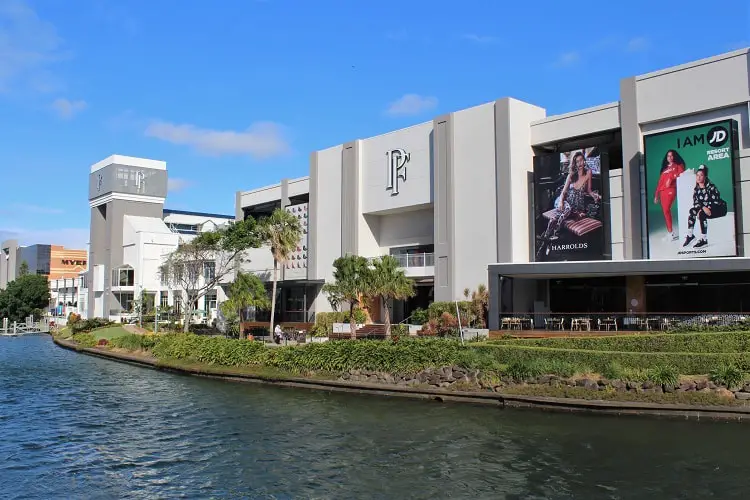 There's a mixture of both high street and designer stores as well as a cinema. The best part was the beautifully designed public seating booths in the food court; they looked like they'd come straight out of a beach-style interior design magazine! Plus there was free Wifi, so quite a few people were using laptops. It's worth dropping by on your way to the airport if you have an afternoon flight.
---
More Things to Do on the Gold Coast
There are lots of other things you can see and do at the Gold Coast. Here are a few ideas.
Gold Coast Hinterland: If you have a car or fancy joining a tour, the Gold Coast hinterland is meant to be spectacular. Try Lamington National Park or Mount Tamborine.
Whale-watching cruise: During the winter you can book a trip out onto the ocean to go whale watching.
Currumbin Wildlife Sanctuary: This is one of the pricier attractions, but I've heard great reviews.
Theme Parks: There's a wide range of theme parks at the Gold Coast, including Sea World, Warner Bros. and Movie World.
Visit Brisbane: It's not far to Brisbane from the Gold Coast, so if you haven't been before, just hop on the train for a day in the city. Check out my top 21 thing to do in Brisbane for ideas!
Visit Byron Bay: Alternatively, head south to bohemian Byron Bay, where you can surf, shop in boutiques, relax on the beach or party the night away!
---
How Much Does It Cost to Visit the Gold Coast?
To give you an idea of the cost of a low-budget trip to the Gold Coast, here's what I spent during a five-day trip. There are, of course, plenty more expensive options if you're on a bigger budget!
Flight: $115 return from Sydney with Tigerair (hand luggage only);
Public transport: approx. $8 per day;
Accommodation: $22 per night (dorm room at YHA Surfers Paradise);
Trips: $22 river cruise ($19 with Groupon voucher) and $27 SkyPoint Observation Deck;
Food: $10-20 per day (I mainly made my own meals at the YHA, but had a few $8-$10 takeaways in Surfers Paradise such as fish and chips, curry and Dominos);
Average Daily Cost: $40-$70 (excluding flights there and back).
---
Gold Coast Accommodation
The Gold Coast is one of Australia's main holiday destinations, so as you can imagine, there's a huge amount of accommodation available. Whether you're looking for a backpacker hostel, swanky hotel or something in between, you'll find something to suit your budget.
Use the search box below to find the best deals on Gold Coast accommodation.
I stayed at YHA Surfers Paradise, which is ideally located at Mariners Cove on the Main Beach peninsula, about a ten-minute drive from the centre of Surfers Paradise
The area is just across the road from the beach, and the hostel runs a free courtesy bus into Surfers Paradise and back four times a day.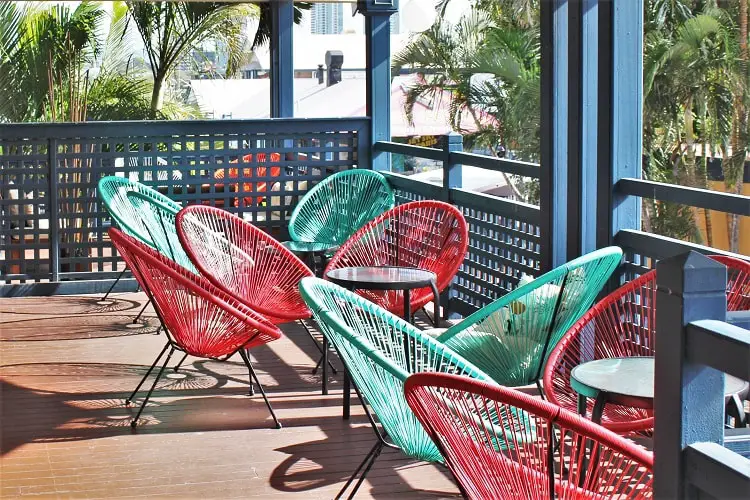 If you're on a budget but don't want a party hostel, this YHA is an ideal option. It had people of all ages staying there on my visit, ranging from young backpackers to pensioners, and offers private rooms as well as dorms. I only paid $22 per night for a four-bed female dorm, and had the room to myself one night!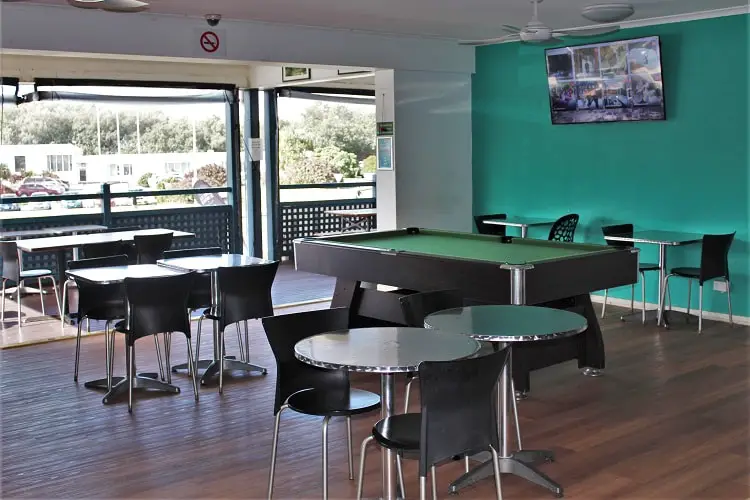 ---
How to Get to the Gold Coast
The Gold Coast is about an hour's drive south of Brisbane, in southern Queensland. It also has its own airport, so it's easy to reach from further afield.
I only paid $115 return to fly from Sydney in June with Tigerair! That was hand luggage only though, with a restriction of 7kg (although no one actually weighed my luggage, but they do have scales at the gate so there is a chance you'll be asked). The flight only took one hour 20 minutes, so it's a great option for a weekend getaway.
---
Go Card: How to Use Public Transport at the Gold Coast
If you're not travelling by car or hiring one, it's very easy to travel around the Gold Coast on public transport using the buses and trams. You can buy individual tickets each time you travel, but if you're staying a few days and want to explore I would purchase a go Card, which is a prepaid travel card that's 30% cheaper per journey than buying paper tickets.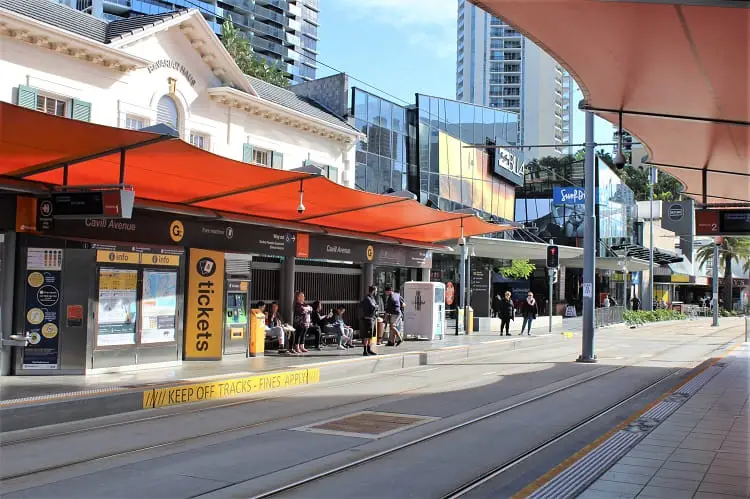 If you're flying to the Gold Coast, you can buy a go card from the Hub convenience store at the airport and use it to get to your accommodation. (It takes about an hour to get to Surfers Paradise on the 777 bus then the tram from Broadbeach South.) 7-Eleven stores also sell them, and you can search for retailers on the TRANSLink website.
The cards require a $10 deposit (you can't get this refunded at the airport Hub though), and the retailer will put on however much credit you want, in multiples of $10. Journeys are around $3.50-$5 each way, depending how far you're going. I'd start with $20 credit and just top up if you need to. I spent about $30 over five days.
You simply tap on and tap off at the start and end of your journey using the machines on buses and at tram stops, just like in other states. You can use the TRANSLink journey planner to find out which buses to get where.
---
I hope you enjoyed this weekend itinerary for the Gold Coast! If you're looking for more Queensland ideas, read through my 3-day itinerary for Noosa, guide to Moreton Island or my review of Kuranda village near Cairns.
Happy travels!
---
If you liked this post, pin it!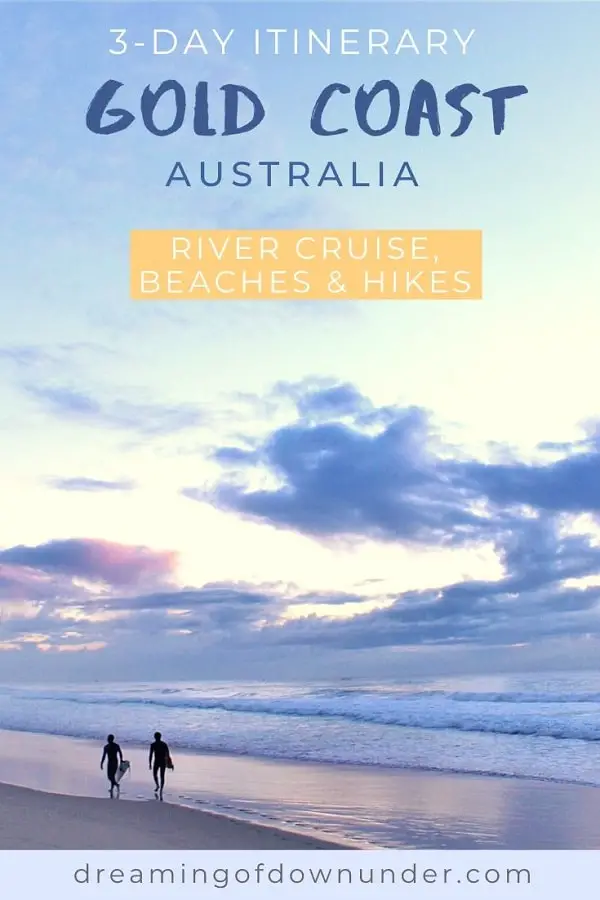 Written by Lisa Bull
Lisa Bull, founder of Dreaming of Down Under, has been living in Australia as a British expat since 2015. After travelling to every state and territory in Australia and living in Perth, Brisbane and Sydney, Lisa knows from first-hand experience the best destinations to visit in Australia and the best budget travel tips. Her guides on this blog have been read by over 700k readers and helped thousands of people achieve their dream of living in or travelling Australia.