This post may contain affiliate links. Please see my disclosure policy for more details.
Situated in the mild climes of North Coast NSW, popular Byron Bay is the crown jewel of east coast Australia. I've blogged about numerous beautiful seaside towns in NSW, but none quite live up to the magic, uniqueness and reputation of Byron Bay.
While the town has retained its hippy roots, beautiful Byron is now a holiday mecca drawing in 2 million visitors per year. Amongst the long-residing hippies you'll find backpackers, holiday makers, city professionals and even celebrity residents Chris Hemsworth and Elsa Pataky!
There are plenty of things to do in Byron Bay, including surfing, shopping, lazing on beaches and exploring the hinterland rainforest and nearby villages. The town combines the holiday buzz of neighbouring Queensland with the community feel of a small, artistic settlement.
After my south coast Australia adventure, I returned to the UK to visit family and friends, then reunited with my travel mate Michi in Byron Bay to explore the east coast. I found him barefoot, bearded and fully embracing the alternative lifestyle with some newfound friends at the Arts Factory Lodge! Here are the things we found to do in Byron Bay.
---
Byron Bay Beaches
No trip to Byron would be complete without spending time at the beach, and Byron has many sprawling beauties to choose from. Right by the town centre is popular Main Beach, with its surf patrol, white sand and view of Cape Byron Lighthouse.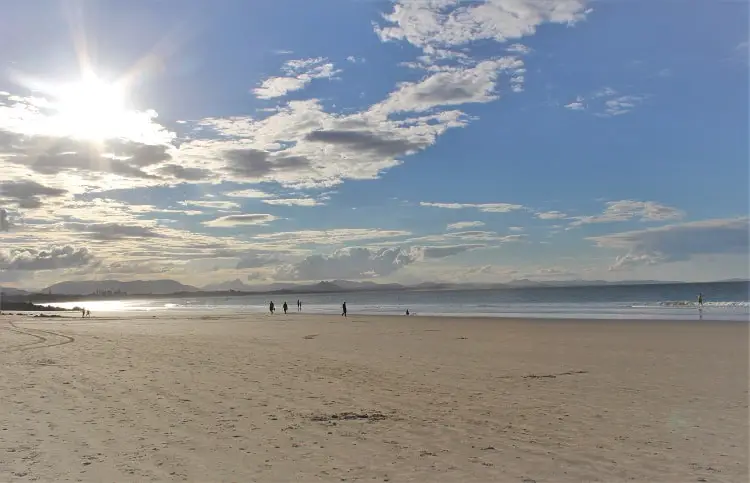 A short walk west leads you to Belongil Beach, great if you want to escape the crowds. Other popular spots include Wategos Beach, which you'll pass if you walk to the lighthouse, Tallows Beach and The Pass, which has a great viewpoint.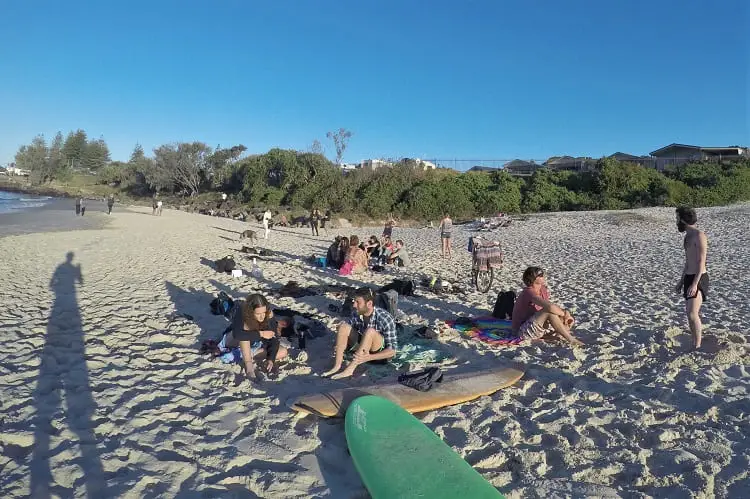 ---
Byron Bay Surfing
Whether you're an experienced surfer or looking to learn, Byron Bay has world-class surf with something for everyone. What's more, you'll be out there with dolphins and a stunning mountainous backdrop.
This blog post by Elements of Byron runs through Byron Bay's best surf breaks, including popular beaches such as Tallows Beach and The Pass. And if you don't fancy joining in, you can sit on the rocks and watch!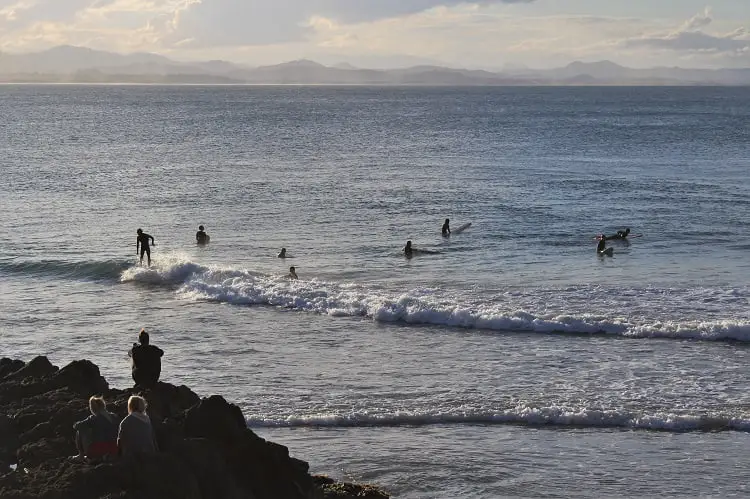 ---
Byron Bay Buskers
I've seen many buskers in Australian cities, but one of the many unique things in Byron is listening to live music with a beautiful backdrop. Each day, people gather on the grass behind Main Beach to watch buskers perform with the waves rolling in behind them.
---
Byron Bay Shopping
One thing you can't call Byron Bay is mainstream. The town's hippy roots and laidback beach lifestyle play a clear part in the type of clothing and goods you'll find for sale.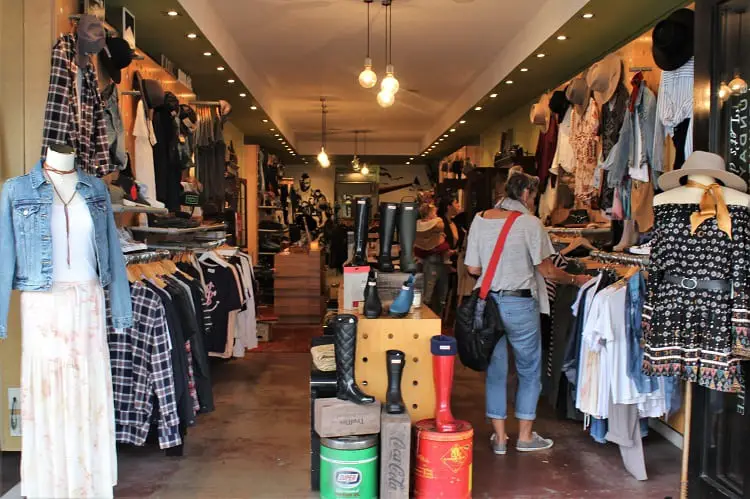 The town centre is based between Middleton Street and Jonson Street, and you'll find an eclectic choice of boutiques, surf shops, cafes, restaurants and alternative lifestyle shops.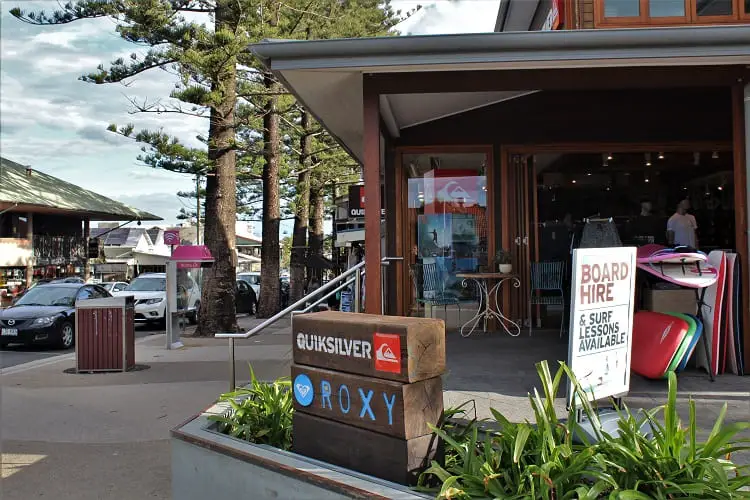 ---
Walk to Cape Byron Lighthouse
The 3.7km Cape Byron walking track loop takes you through gorgeous rainforest and up to clifftops with stunning views across the ocean and out to the hinterland. Allow around two hours as it's a hilly walk.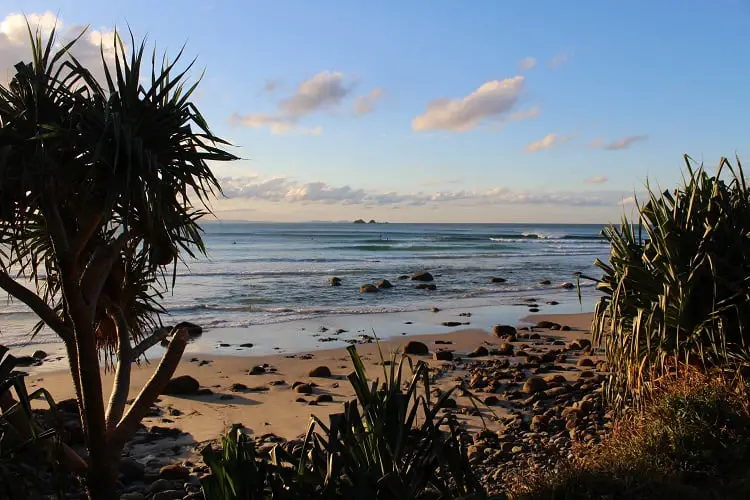 The track begins on Lighthouse Road (where it crosses with Lee Lane), although you can access it at many points. You can also drive up there if you don't fancy the hike.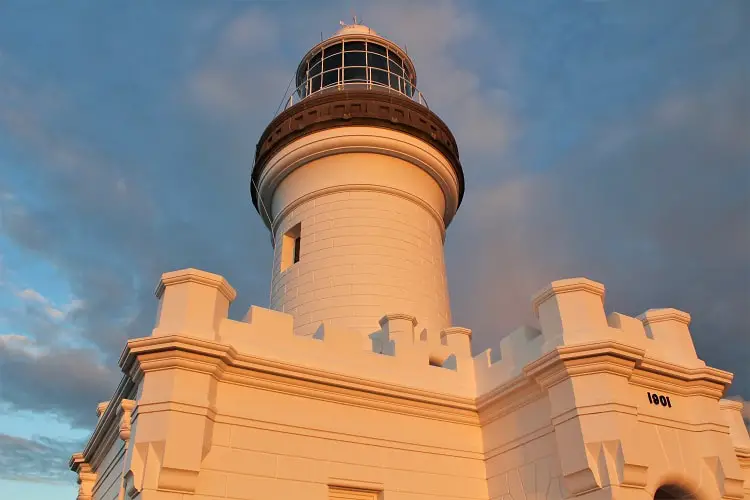 Cape Byron Lighthouse was built in 1901 and still lights up the bay today. It marks the most easterly point of Australia's mainland, and is great to visit at sunrise or sunset.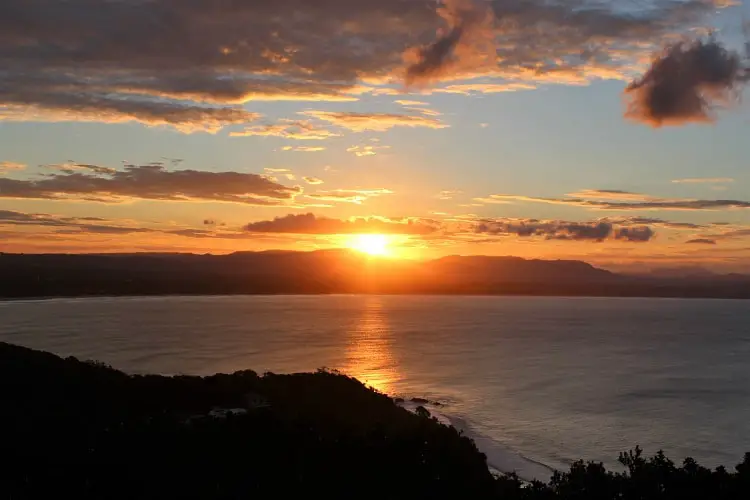 ---
Byron Bay Sunset Drumming Circle
One of the most memorable experiences of my trip was enjoying the sunset drumming circle. Each day at sundown, everyone including backpackers, families and local hippies gather along the rocks by the car park at Main Beach to listen to the drummers and soak up the atmosphere.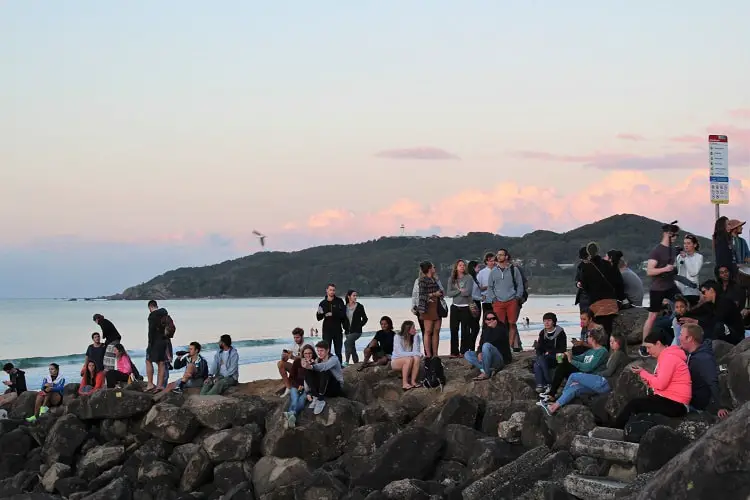 There's a magical vibe in the air as children and hippies dance to the sound of bongos and the sky fades from blue to orange.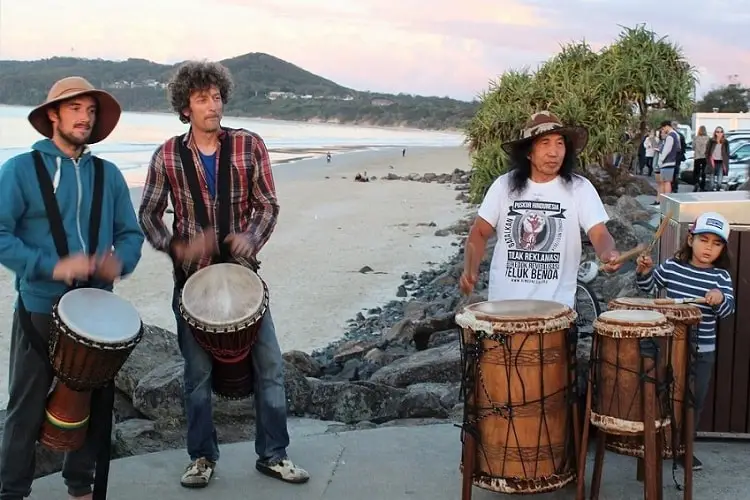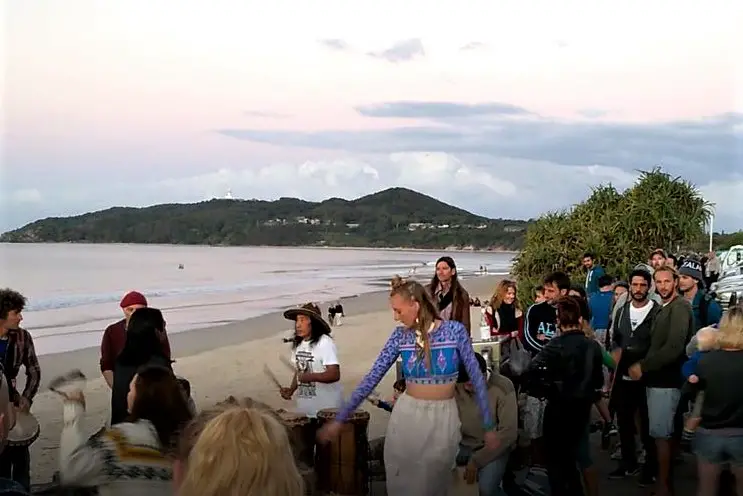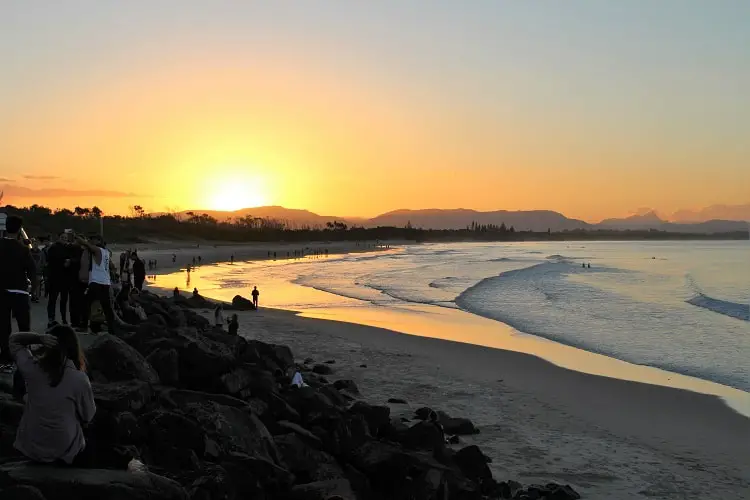 ---
Bangalow
Located in the hills of the NSW Northern Rivers, the quaint town of Bangalow is just a 20-minute drive inland from Byron Bay, and a great spot for a day trip.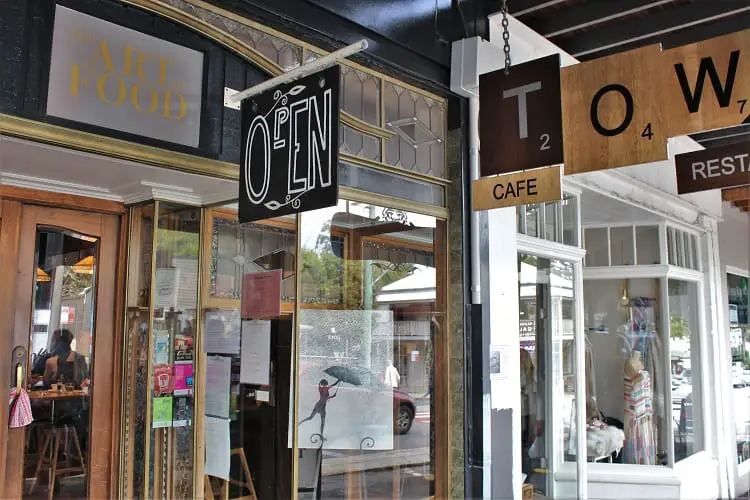 Along the main shopping street you'll find quirky stores and cafes inside character-filled federation-era buildings. The town has a bohemian feel a lot like Bellingen.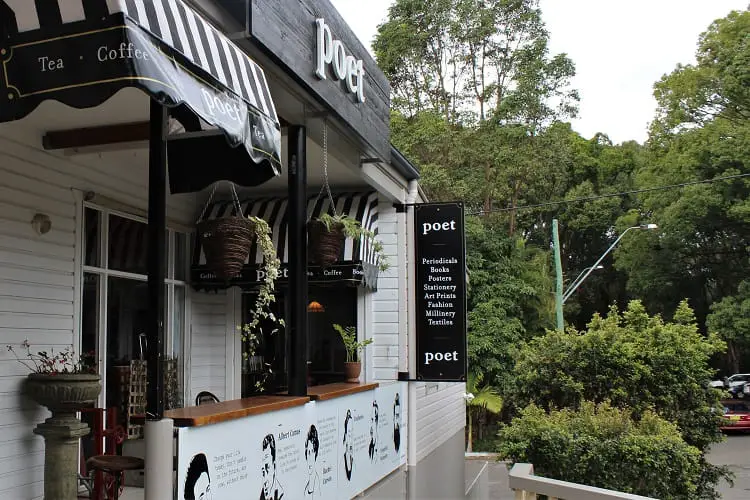 Behind the shops lie pretty parklands and Bangalow weir, which make for a lovely stroll or picnic.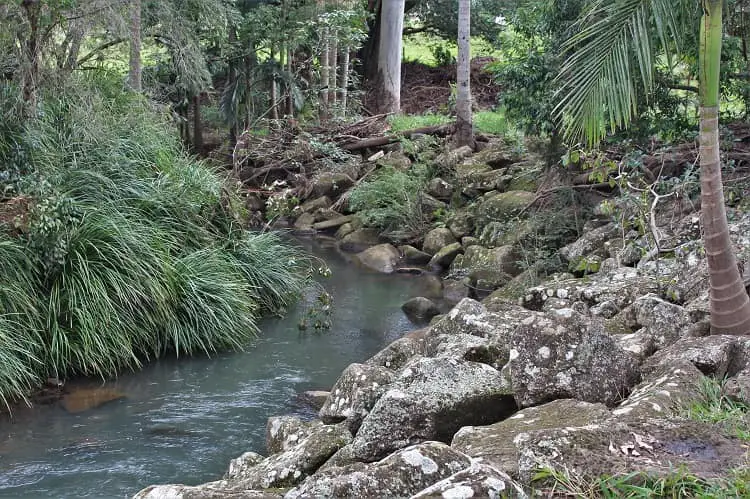 ---
Rainbow Temple
The Rainbow Temple was a hot topic amongst the backpackers at the Arts Factory Lodge during my stay. Built by Guy Feldmann in the Byron Bay hinterland, the temple is a beautiful five-storey timber building surrounded by lush gardens.
Guests can stay overnight at this spiritual sanctuary for a small fee or contribution to labour. I only stopped by for a couple of hours to visit friends, so I can't really do it justice, but it's a place worth looking into if this sounds like your sort of thing!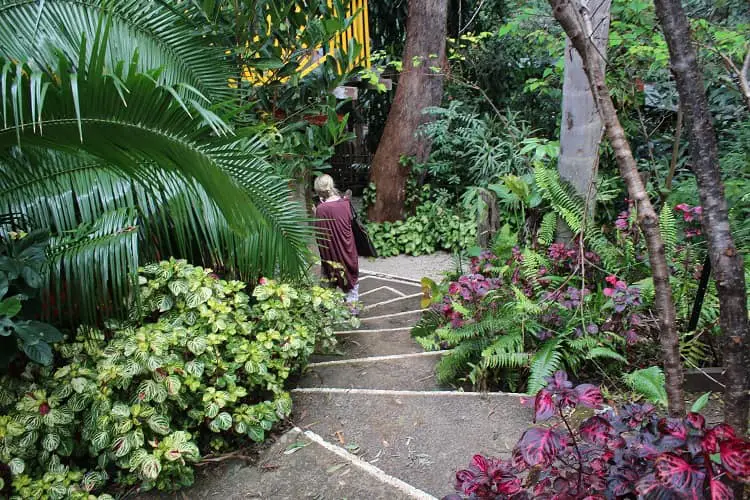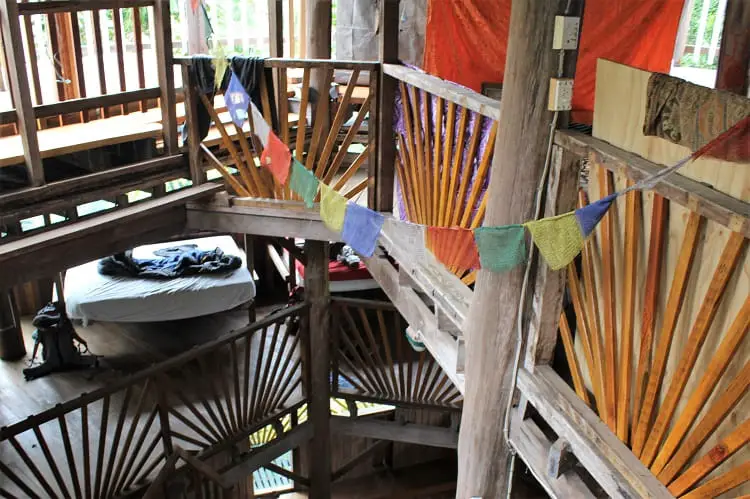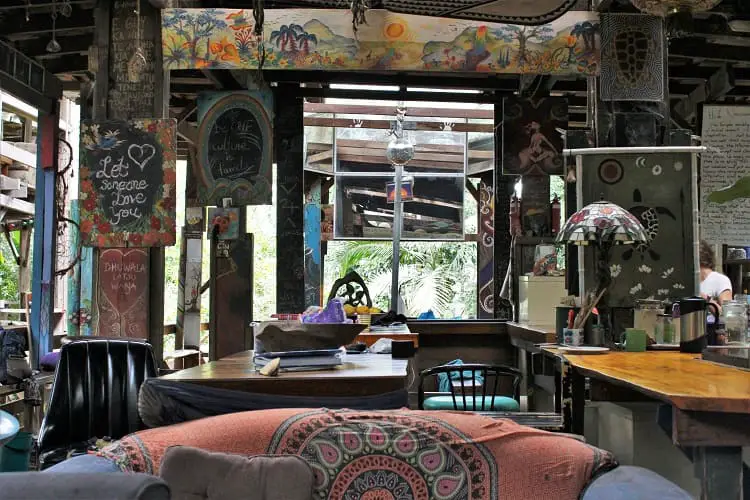 ---
Nightlife in Byron Bay
My initial experience of Byron Bay nightlife back when I was a student involved dancing on the tables at backpacker mecca Cheeky Monkey's! Thankfully there's lots more choice in the town for the more sophisticated visitor, from tasteful restaurants to pubs with live music!
One of Byron's main haunts is the Beach Hotel, or "The Beachy" as it's better known. It's a huge, beachfront bar and restaurant with live music and plenty of outdoor seating. The Rails is also a popular bar with live music seven days a week.
---
Where is Byron Bay?
Byron Bay is at the very northern end of the New South Wales coastline, slightly south of Brisbane. The distance from Brisbane to Byron Bay is about 160km, which takes around two hours to drive. Sydney to Byron Bay is 789km, and takes around nine hours to drive.
You can also fly to Byron Bay airport, so it's easily reached from other Australian cities without the long drive!
---
Byron Bay Accommodation
No matter what type of Byron Bay accommodation you're looking for, I'd recommend booking well in advance, since it's such a popular town. I first visited during my uni exchange in Brisbane, and three of us naively turned up on a weekend with nothing booked! We had to trudge the streets for hours with our backpacks on until finally finding a hostel with a bunk bed and sofa bed in the entrance area that they used for emergencies! Not ideal!
You'll find something for all budgets in Byron, from hostels and campsites to hotels and villas. Follow the link to Booking.com below to browse over 400 properties.
Browse Byron Bay accommodation on Booking.com
On my most recent trip, I camped at the Arts Factory Lodge, which is by far the most unique Australian accommodation I've stayed in. You might also recognise it from The Inbetweeners 2 movie! It's such an interesting place that I'll write a separate blog post on it, but here's a quick overview.
The Arts Factory is more of a resort than a hostel, with a large camping area (known as The Jungle!), shared dorms, private rooms, lakeside cabins and even tee pees! It's set in a forested area full of birds and wildlife.
There's also a huge range of things to do there, including a volleyball court, swimming pool, live music nights and even an adjoining cinema. It's an extremely social place, so not for those wanting to keep themselves to themselves. I should add that it has a very hippy vibe, and many people I met had been living there for ages as they loved it so much!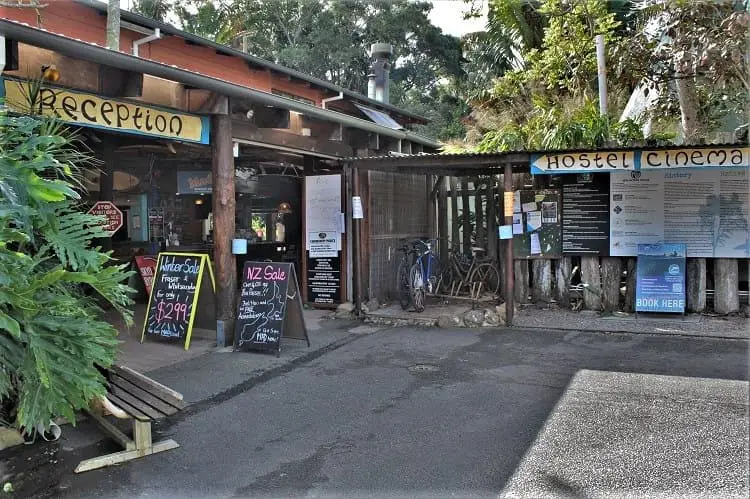 ---
If you're travelling north to Brisbane, your next major point of interest will probably be the Gold Coast! Find out what to do in this beachside city in Queensland in my 3-Day itinerary for the Gold Coast on a backpacker budget.
To read my whole Sydney to Brisbane road trip itinerary, complete with costs, distances and recommended drive stops, check out this blog post:
Sydney to Brisbane Drive Itinerary
Happy travels!
Written by Lisa Bull
Lisa Bull, founder of Dreaming of Down Under, has been living in Australia as a British expat since 2015. After travelling to every state and territory in Australia and living in Perth, Brisbane and Sydney, Lisa knows from first-hand experience the best destinations to visit in Australia and the best budget travel tips. Her guides on this blog have been read by over 700k readers and helped thousands of people achieve their dream of living in or travelling Australia.