This post may contain affiliate links. Please see my disclosure policy for more details.
If you've been following my blog posts on my Melbourne to Sydney road trip, you'll know I spent a day exploring peaceful Eden before following the beautiful Sapphire Coast Drive north from Merimbula to Bermagui.
My next overnight stop in South Coast New South Wales was popular Batemans Bay in the Eurobodalla region. I spent two nights here, as I needed a break from driving. But I was so glad I did as I found plenty of things to do!
Batemans Bay itself is very scenic, but I spent most of my time exploring nearby Murramarang National Park. This rugged coastal area is full of isolated beaches, leafy walking tracks and cute little villages. Here's my guide on what to see in Batemans Bay and Murramarang National Park!
---
Batemans Bay Town Centre
Batemans Bay town lies at the entrance to the Clyde River, and has a beautiful waterfront area with plenty of places to eat. Since it's on the Oyster Coast, there's lots of fresh seafood on offer.
It's a convenient place to base yourself, with easy access to the national parks to the north. Around Batemans Bay town itself you can enjoy flat, family-friendly cycle paths, river kayaking, beaches and the Batemans Bay Snorkelling Trail.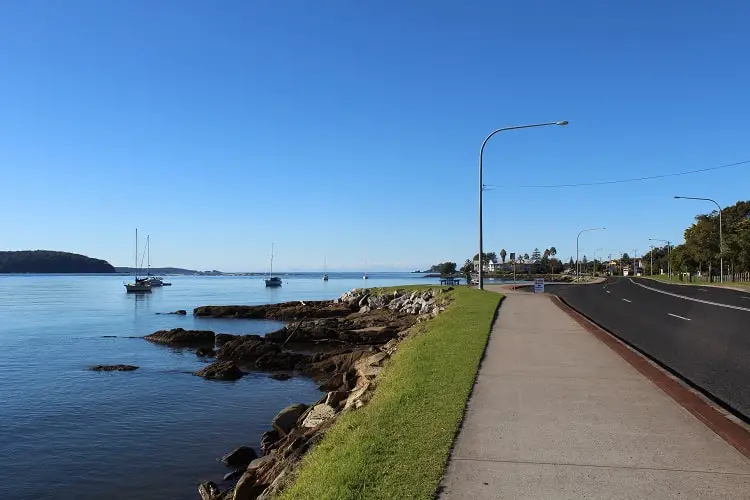 ---
Murramarang National Park: South Durras
One of the top things to do in Batemans Bay is visit Murramarang National Park, which lies less than 20 minutes north of the town, via Batemans Bay Bridge. My first stop was the area around South Durras.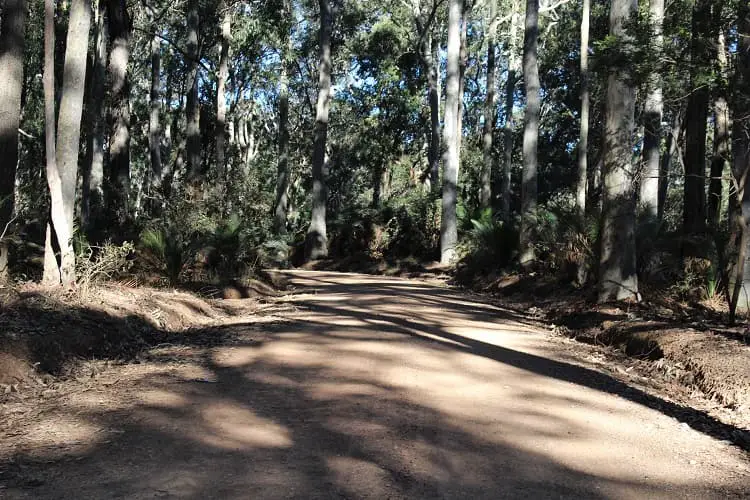 Durras Lake
I pulled over at the end of Lakeside Drive to take a look at the beautiful, clear Durras Lake. Alternatively, you can park on Lake Road in North Durras and do the 1.5km loop walk called Durras Lake Discovery Trail.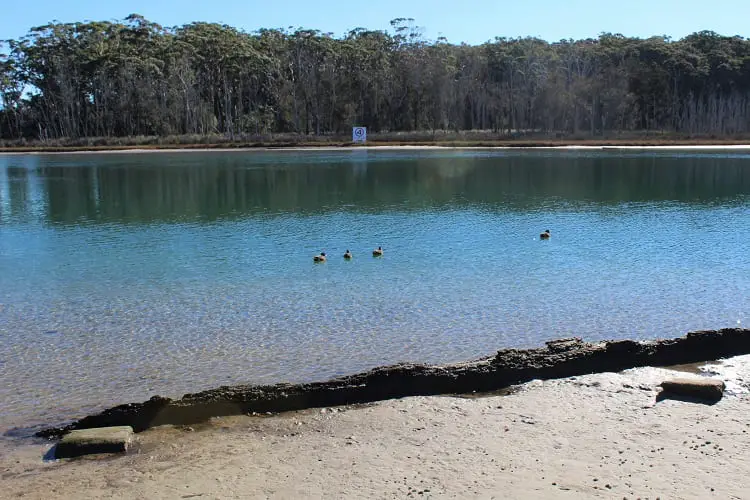 Durras Beach
Head to Durras Lake Road to visit long, beautiful and rugged Durras Beach.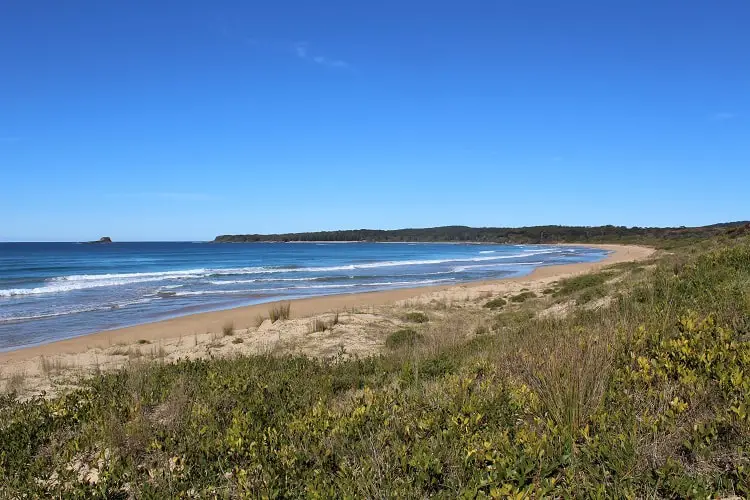 Durras South Beach
Continuing south down Dilkera Street takes you to the lovely township of South Durras and Durras South Beach.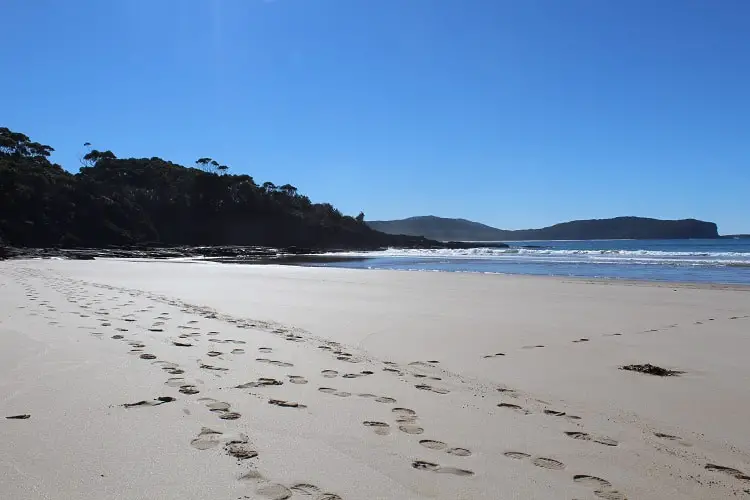 It's a really cute place to wander around, full of big, beach-style houses surrounded by tall trees.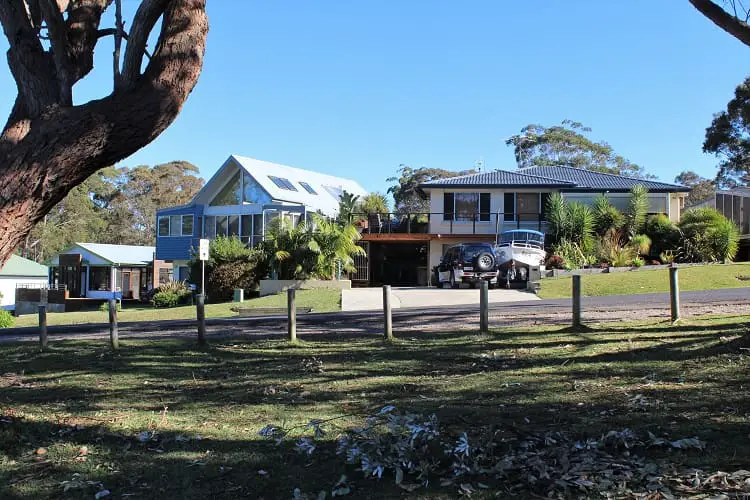 Emily Miller Beach
To explore somewhere more isolated, take the unsealed Old Coast Road into the forest. You'll find a choice of quiet beaches and short walking tracks. My first stop was Emily Miller Beach, which lies at the bottom of a steep, winding staircase.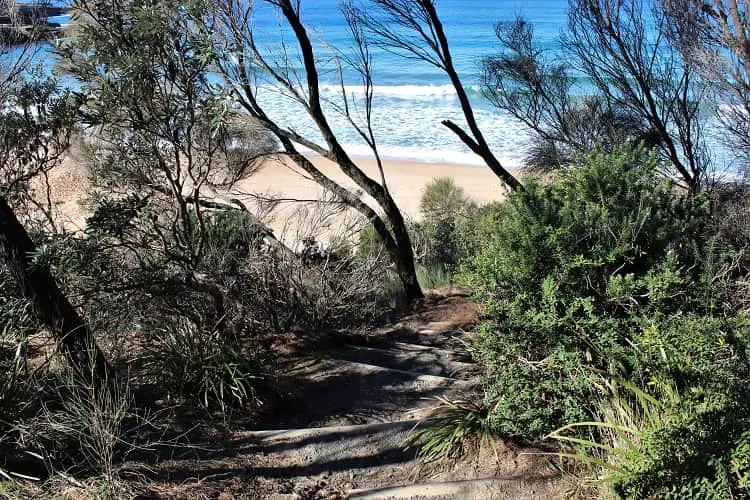 Dark Beach
A little further south is Dark Beach, at the end of a 250m track through spotted gum forest. The beach lives up to its name with both black and white sand and a band of volcanic rock. There's also interesting rock formations and very clear water.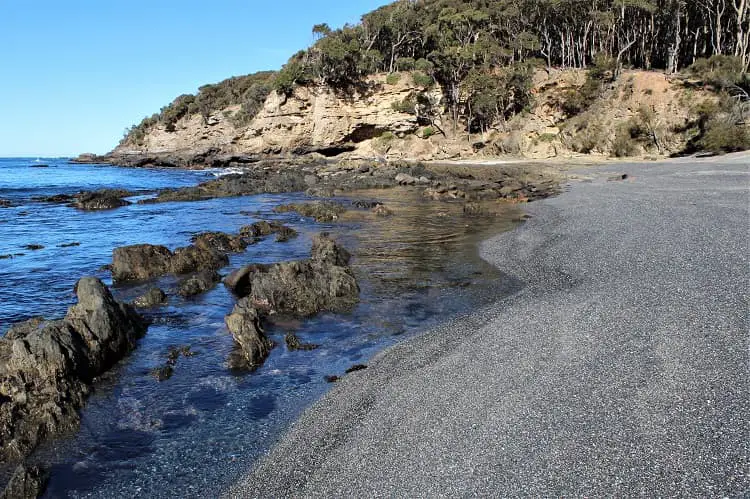 Myrtle Beach
Myrtle Beach was one of my favourites! It's about a five-minute walk through natural bushland (known to locals as the 'enchanted forest'!) to this huge, isolated beach. There's beautiful, clear water as well as a little cave at the end!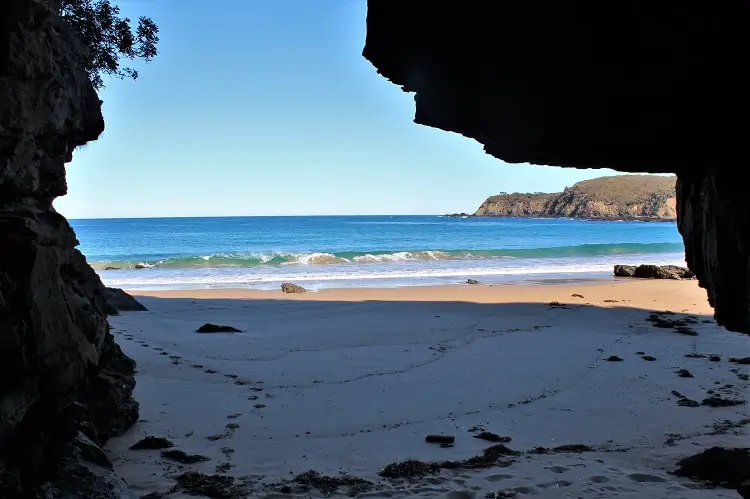 ---
Murramarang National Park: North Durras
After exploring South Durras I drove back to the highway then through the forest to get up to North Durras. This is another little township on the other side of Lake Durras, about half an hour away by car.
Pebbly Beach
Pebbly Beach in Murramarang National Park is well known for its population of kangaroos! I thought the beach might be a bit over-hyped, but it was actually even better than I expected!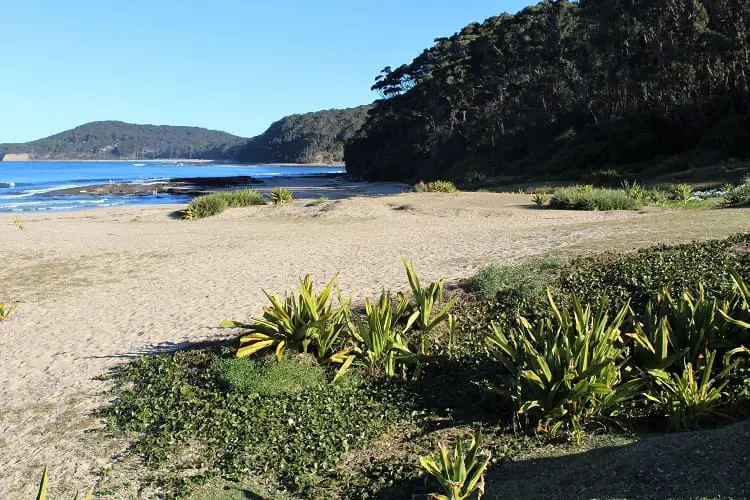 With the pretty plants and grassy area behind the beach, it had quite a different look to the other beaches. And there really were lots of kangaroos everywhere!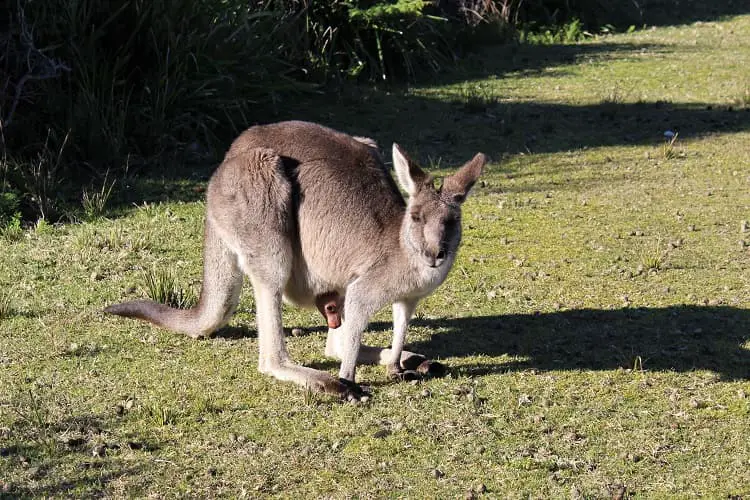 Just don't get too close. Kangaroos have very long claws and one tried to swipe me! Remember they're wild animals. I always see visitors trying to get selfies with them! You might just lose an eye!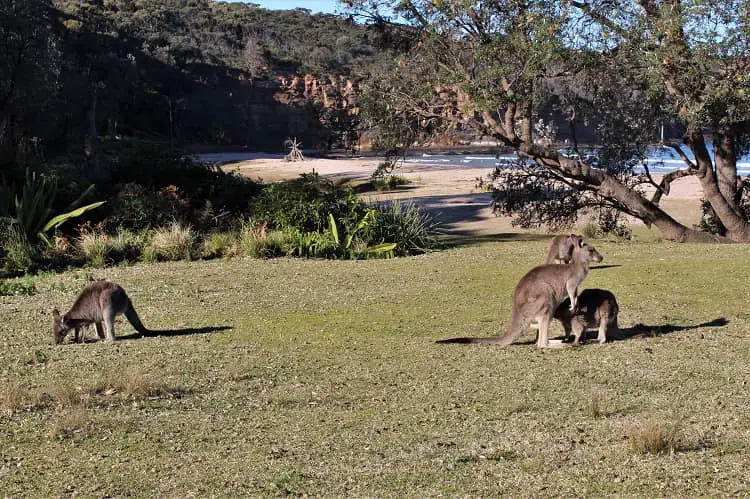 Pebbly Beach is also known for its tame, exotic birds! You can buy food for the many Rainbow Lorikeets and Australian King Parrots that live there. I didn't have any, but a bird still landed on my arm!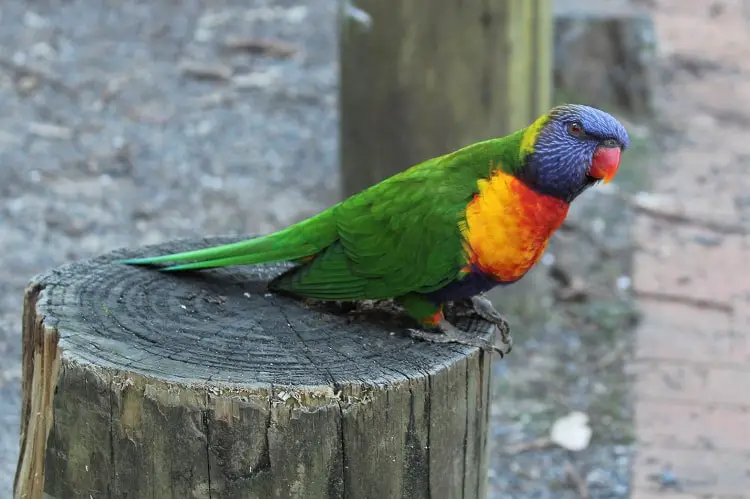 If you want to stay somewhere more rural than Batemans Bay town, you can camp at Pebbly Beach camping ground or stay in beach shacks!
From here you can continue further north to Pretty Beach, but I didn't make it that far.
Depot Beach
Further south is gorgeous Depot Beach, which has a small residential area as well as Depot Beach camping ground and beach cabins. It's a really beautiful, rocky beach backed by rainforest. I took this photo looking down from Fairley Street.
You can also do a 400m walk from Depot Beach picnic area through an area of littoral rainforest that's listed as an endangered ecological community.
Durras North Beach
My last stop of the day was Durras North Beach, which didn't disappoint! The tiny village was similar to South Durras, but had kangaroos grazing in the front gardens!
The beach itself is really impressive, with a big, golden sand bank running between the ocean and the mirror-like entrance to Lake Durras.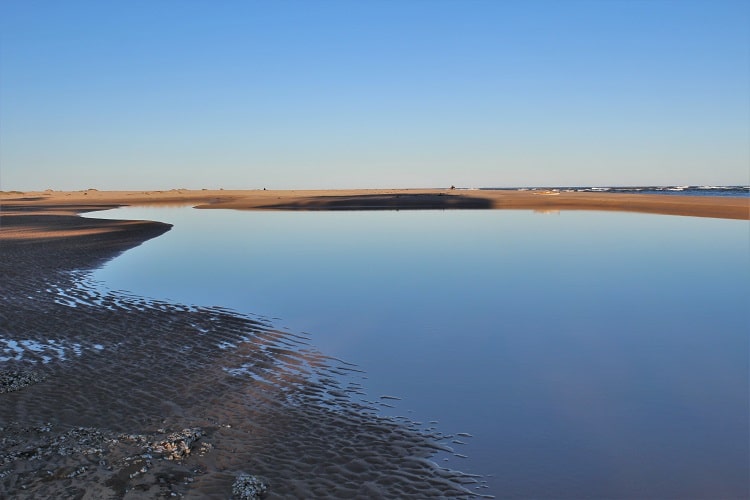 It was definitely the most interesting beach I saw, and a great way to end the day!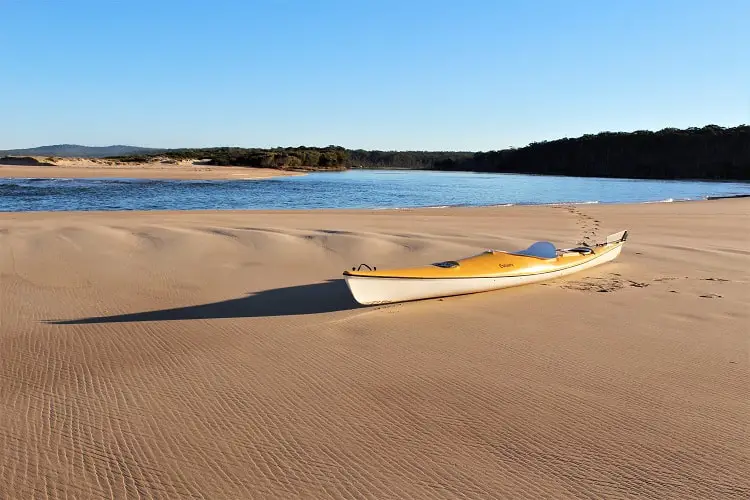 ---
Batemans Bay Accommodation
Browse through the many accommodation options in Batemans Bay on Hotels Combined. They compare the best prices for each accommodation across all the major booking providers.
Batemans Bay has all sorts of places to stay, from campsites to hotels. There's even a hostel if you're backpacking!
Batemans Bay YHA
I stayed two nights at Batemans Bay YHA, which also has Shady Willows Holiday Park on site. It was definitely quite dated compared to other YHAs – they're usually really modern – but as it was out of season only two other people were staying there, so I had my own dorm!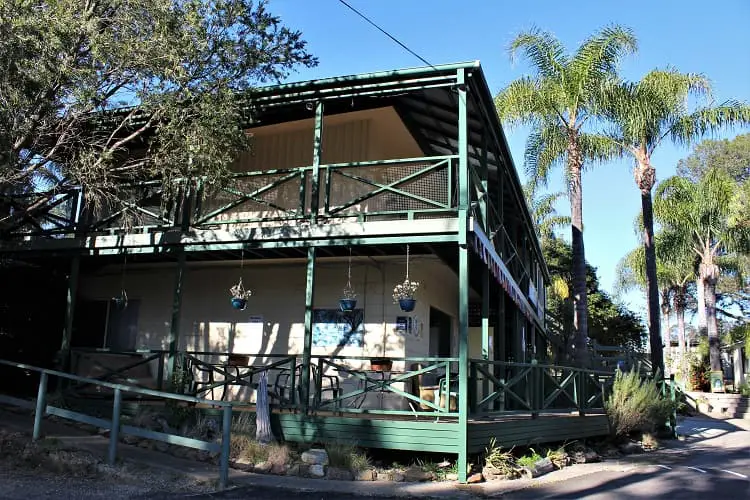 The hostel isn't far from the town centre and waterfront. It also has all the usual facilities like a shared kitchen, lounge area and lockers.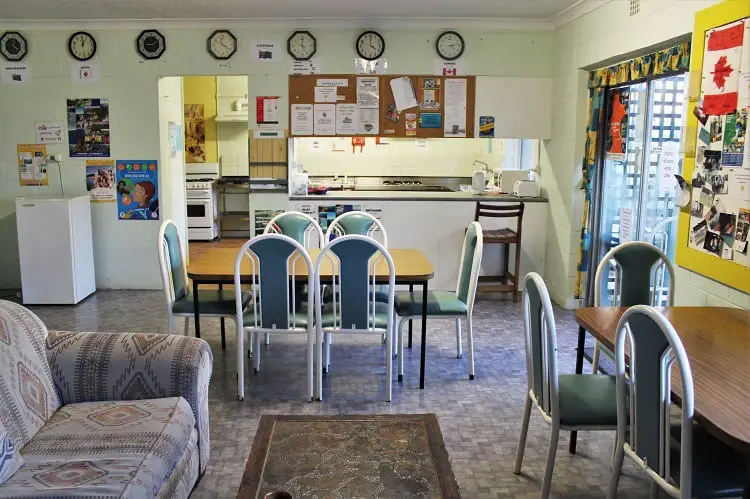 ---
How to Get to Batemans Bay
The distance from Batemans Bay to Sydney is 278km, which takes about four hours to drive. Canberra to Batemans Bay is about half that distance. There are some beautiful places to visit along the coastline if you're driving from Sydney.
Try coming off the highway north of Wollongong and taking the scenic Grand Pacific Drive via Sea Cliff Bridge instead. Kiama is also an ideal place to stop in South Coast New South Wales. I always head for the blowhole, where there's lots of free parking, toilets and amazing views to look at while you stretch your legs!
---
If you're on a road trip from Melbourne to Sydney, read about Jervis Bay next. I'd thoroughly recommended an overnight stop there after Batemans Bay. Happy travels!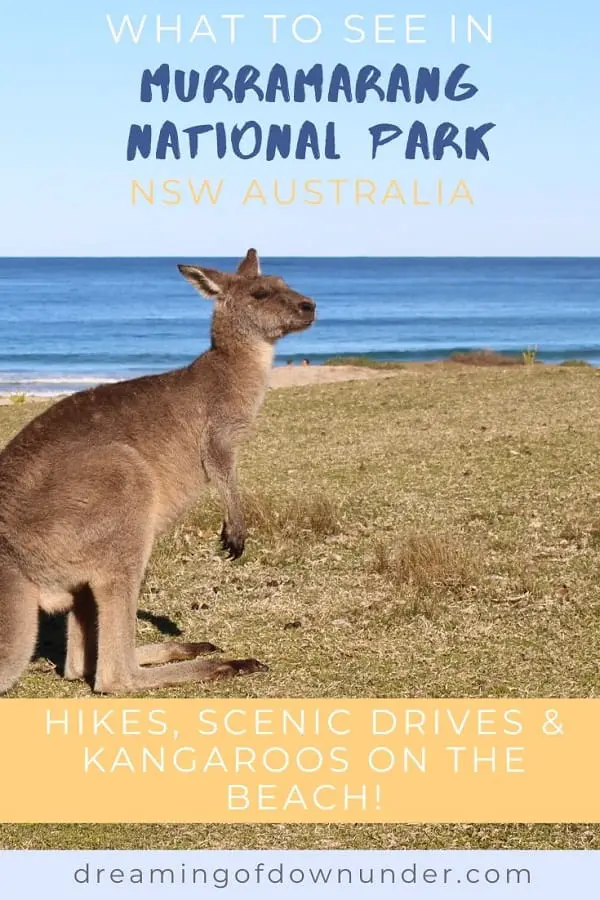 Written by Lisa Bull
Lisa Bull, founder of Dreaming of Down Under, has been living in Australia as a British expat since 2015. After travelling to every state and territory in Australia and living in Perth, Brisbane and Sydney, Lisa knows from first-hand experience the best destinations to visit in Australia and the best budget travel tips. Her guides on this blog have been read by over 700k readers and helped thousands of people achieve their dream of living in or travelling Australia.