This post may contain affiliate links. Please see my disclosure policy for more details.
If you're moving to Australia and trying to decide between Perth vs Adelaide, choosing a city is going to be a huge decision! While they're far apart geographically, Perth and Adelaide have much in common, particularly when compared to much bigger Australian cities, such as Sydney or Melbourne.
This Adelaide vs Perth living comparison covers many important differences between the capitals of South and Western Australia, including rent, cost of living, climate and lifestyle, to help you choose the city that's best for you.
So, if you're thinking of making Adelaide or Perth your home, read on to find out more! Alternatively, watch my YouTube video below.
---
1. Where are Adelaide and Perth in Australia?
Adelaide and Perth are two laidback coastal cities with a distance of 2,700 km between them. The biggest difference between the cities is their location, and it takes 29 hours to drive between them along the quickest route!
I spent five weeks on my Perth to Adelaide road trip, and while there was plenty of stunning scenery and holiday towns within a few hours of each city, in between lies the stark and barren Nullarbor Plain.
Adelaide, the capital of South Australia, is located along the eastern side of Australia's south coast, on the harbour of St Vincent Gulf. It marks the start of the well-travelled tourist route towards east coast Australia, which is generally more populated and built up than the west coast.
Perth, the capital of Western Australia, lies on the southern section of Australia's west coast, along the Indian Ocean. The CBD is situated on the banks of the beautiful Swan River.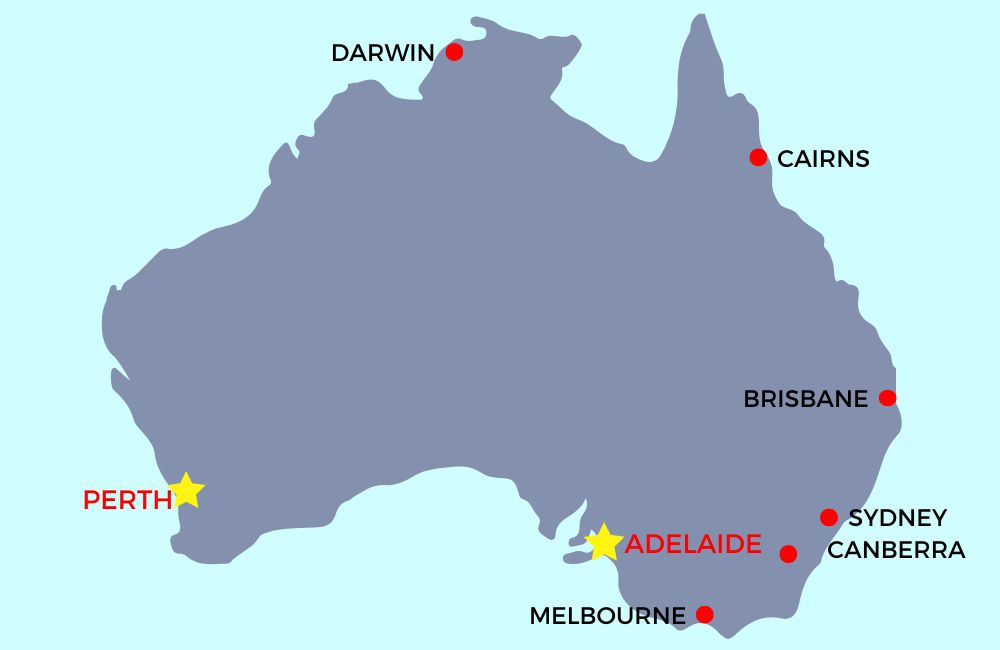 While there's an abundance of holiday destinations near Perth, the city is very isolated from the more populated east coast of Australia. It's actually quicker to fly to Indonesia from Perth than Sydney, which takes a good four hours!
From Adelaide, on the other hand, you can easily fly up to the popular holiday destinations in Queensland or New South Wales. The beautiful Adelaide to Melbourne coastal road trip involves around 12.5 hours of driving and includes the well-known Great Ocean Road.
For a more in-depth overview of each city, check out my blog posts on Perth lifestyle and Adelaide lifestyle.
---
2. What is the Size and Population of Perth vs Adelaide?
Perth is the fourth most-populated city in Australia, with around 2.1 million inhabitants. While Perth has a compact city centre that's quick and easy to walk around, its suburbs stretch along the coastline for 150 km, making Perth the longest city in the world!
Adelaide is Australia's fifth most-populated city, with approximately 1.3 million residents. In terms of the metropolitan areas, Perth covers 6,418 square km, double that of Adelaide, which is spread across 3,257 square km. This makes Perth bigger than Adelaide in both size and population.
Although Adelaide is technically a smaller city, I felt that the CBD was a little bigger and busier than Perth's, and it had more of a "proper city" feel. Both cities, however, are vastly smaller and more laidback than Sydney and Melbourne.
Perth has a particularly pretty riverside area right next to the city, giving it a really relaxed, holiday feel. One of Adelaide's pros is the glimpses of the beautiful Adelaide Hills between the tall buildings in the CBD, reminding you that nature is only a short drive away.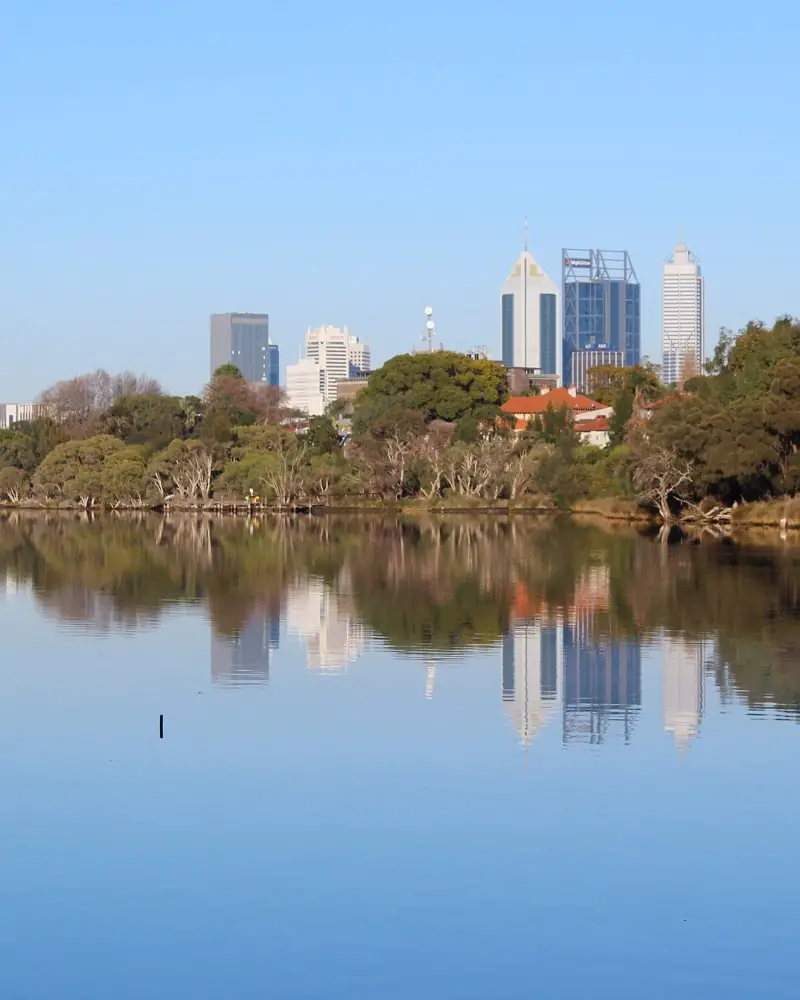 ---
3. What is the Weather Like in Adelaide vs Perth?
While Perth and Adelaide have different climates, their temperatures do not differ as dramatically as those in other Australian cities. It's not like choosing between Darwin, in the far north, or Hobart, in the far south, for example.
Summer
Both Perth and Adelaide have hot, dry summers, with around two days of rain per month. The average daytime temperature in January (mid summer) is 30 degrees in Adelaide and 32 degrees in Perth.
Remember that this is the average, and both cities can experience temperatures much hotter than this! Both Perth and Adelaide reached over 40 degrees when I visited.
The overnight temperature in January is around 17 degrees in both Perth and Adelaide.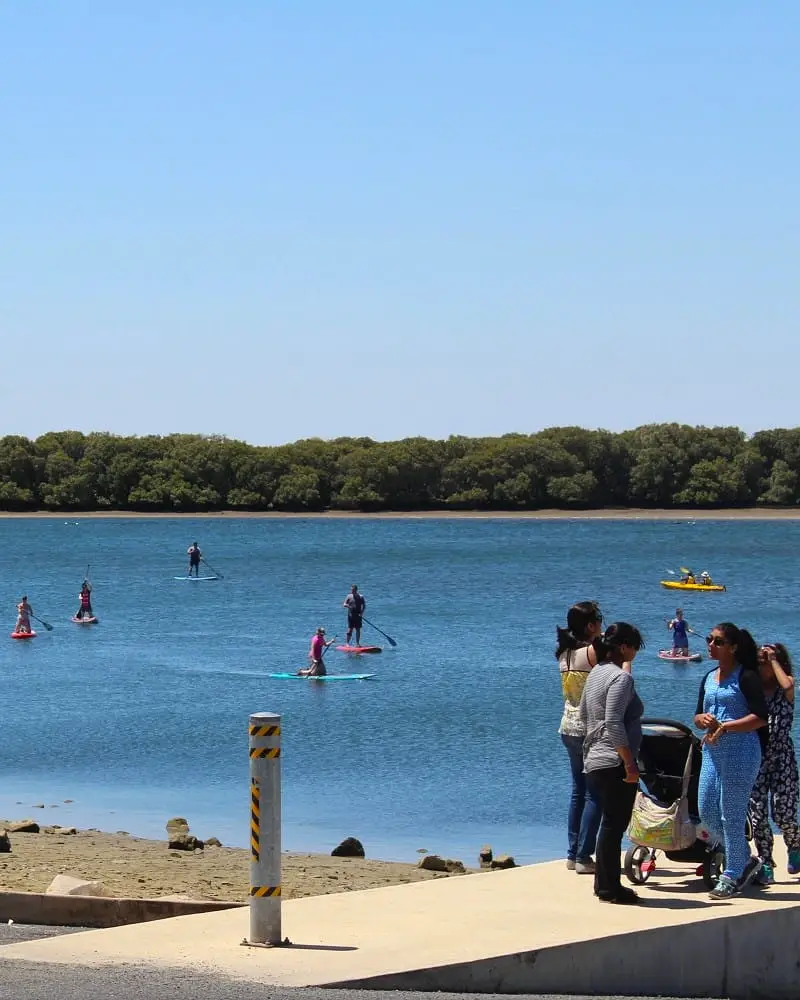 Winter
In July, the middle of winter, the average maximum temperature is 15 in Adelaide and 18 in Perth. The average minimum temperature overnight in July is 8 degrees in both cities.
Sunshine
One of the pros of living in Perth is the amount of sunny weather. Perth has an average of 139 clear days per year, making it the sunniest city in Australia! Adelaide only has 88 sunny days per year, in comparison.
Rainfall
Both Perth and Adelaide have a similar number of rainy days per year: 82 days in Adelaide and 81 days in Perth. However, Perth has 39% more rainfall per year than Adelaide, in terms of volume.
Both cities have wetter winters than summers, but Perth has slightly more wetter days in winter than Adelaide, and slightly less in the summer.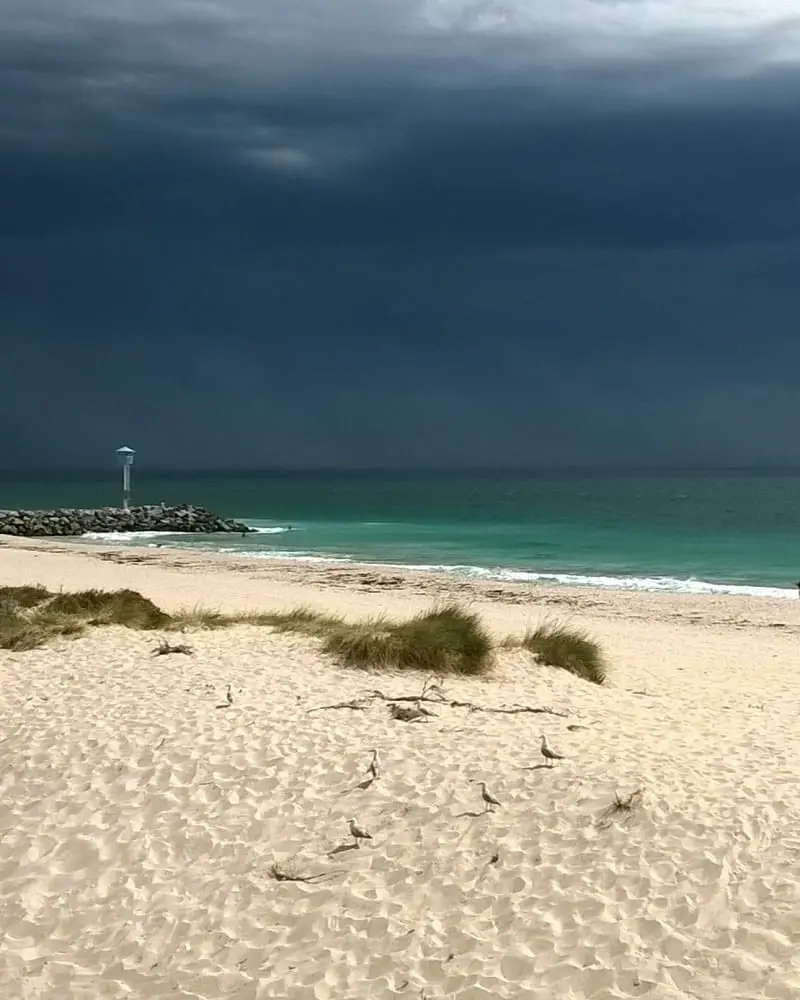 Weather Summary
In summary, Perth is 2 to 3 degrees warmer than Adelaide during the daytime, on average, but Perth has much more sunny weather and heavier downpours of rain.
---
4. Perth or Adelaide Beaches
Both Perth and Adelaide are excellent choices for beach lovers, particularly with their warm, dry climates.
The unspoilt white beaches in Perth stretch on for miles and have a very different look to the craggy, Mediterranean-style coastal scenery in Sydney, for example. With its west-facing coastline, Perth's sunsets are unbeatable!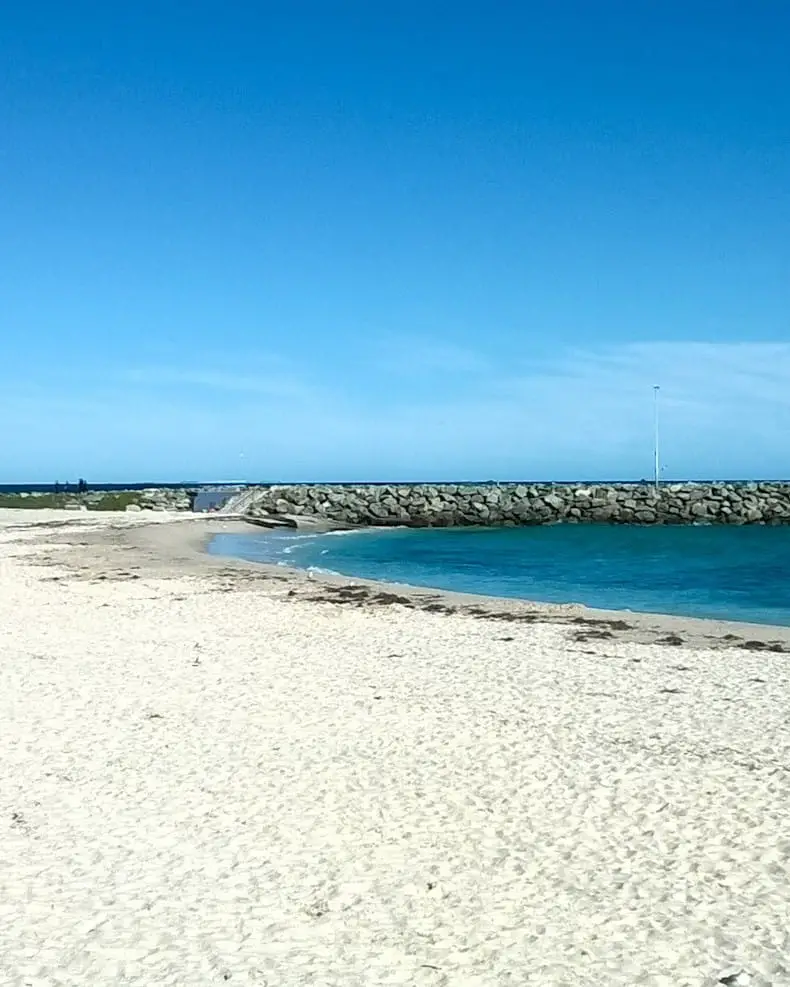 My favourite Perth beach for atmosphere was Scarborough Beach, which has a great strip of cafes and restaurants along the esplanade. In contrast, City Beach is perfect for a quieter day out.
For a fun day by the sea in Adelaide, try bustling Glenelg Beach, which has plenty of options for eating, drinking and shopping. I also loved Henley Beach and huge Semaphore Beach, which was fantastic for swimming.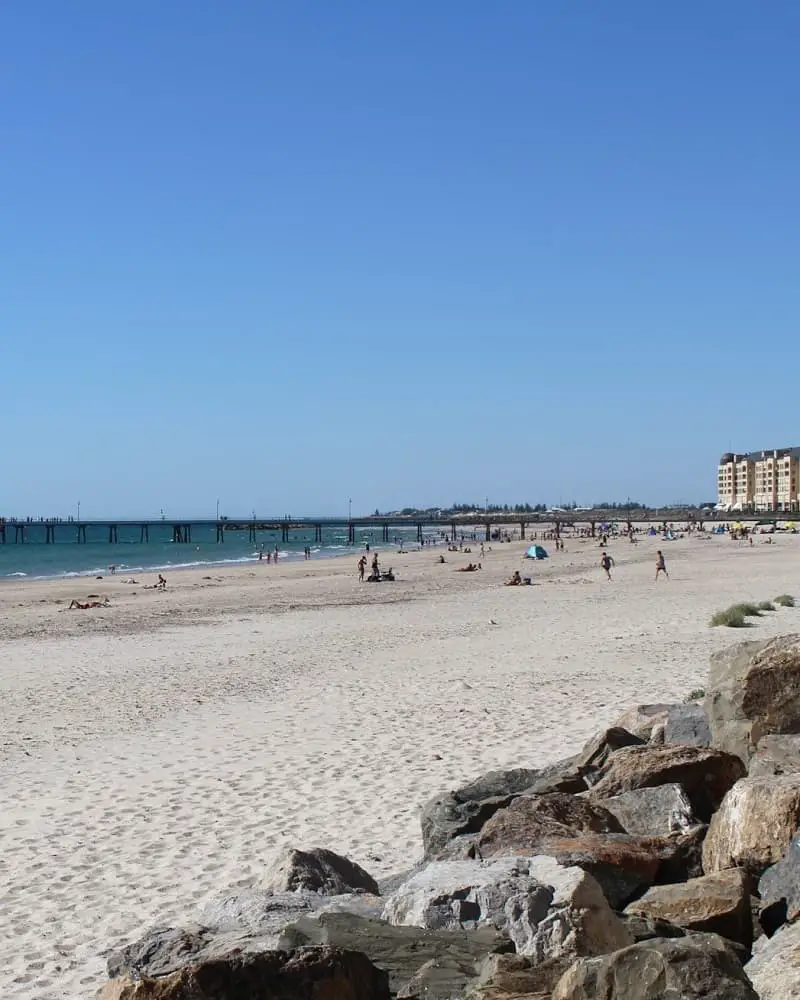 ---
5. Perth vs Adelaide Time and Daylight Savings
One of the differences between Perth and Adelaide is daylight saving. While the clocks in South Australia shift forward an hour in the warmer half of the year, in Western Australia, they do not.
This means that in the height of summer, the sun doesn't set in Adelaide until around 8:30pm, compared to 7:30pm in Perth.
There is also a Perth/Adelaide time difference. Adelaide is on Australian Central Standard Time (ACST), which means it is 90 minutes ahead of Perth, which is on Australian Western Standard Time. When the clocks go forward for daylight saving, the time in Perth is 2.5 hours behind Adelaide.
---
6. Adelaide vs Perth Cost of Living
Is it cheaper to live in Perth or Adelaide? Here are some of the differences in cost of living between the two cities.
Rental Prices
Perth and Adelaide are currently two of the cheapest capital cities in Australia to rent a house in.
From this June 2023 report on rent.com.au, the median weekly rent in Perth for a house was $590, compared to $540 in Adelaide. The median weekly rent for a unit (flat) was $500 in Perth and $430 in Adelaide.
Read my blog post on rent in Australia to learn how rent compares across the Australian cities and how to find a rental property.
Property Prices in Perth vs Adelaide
After Darwin, Adelaide and Perth are the next two cheapest Australian capital cities in terms of buying property.
According to the CoreLogic property report from 1 July 2023, the median house value in Adelaide was $712,421 in June 2023, compared to $615,793 in Perth.
The median value of a unit (flat) in June 2023 was $450,569 in Adelaide and $417,643 in Perth. Note that Adelaide saw very strong growth in its property market during the pandemic, which slowed down during 2022.
Learn more in my blog post on Australian property prices and trends.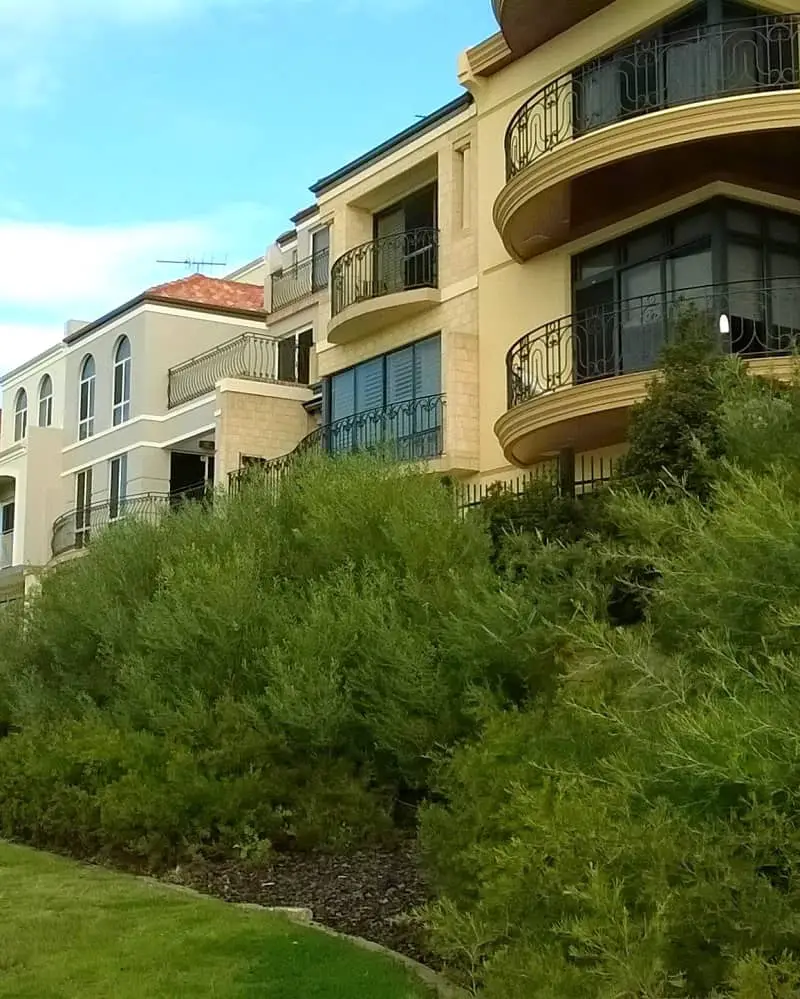 Cost of Utilities
According to Budget Direct, one of the biggest differences between the cost of living in Perth and Adelaide is utility bills.
In Adelaide, the average cost of electricity, heating, water and garbage for an 85 metre-squared apartment is $287.52 per month, compared to only $194.82 in Perth.
Public Transport and Fuel
Conversely, the article found that the average cost of a monthly public transport pass in Perth is $139, compared to only $105 in Adelaide. Fuel prices are almost identical in both cities.
Food Prices
Adelaide vs Perth food prices vary slightly. Groceries are 3.55% cheaper in Perth than in Adelaide, but restaurant prices are 3.37% higher in Perth.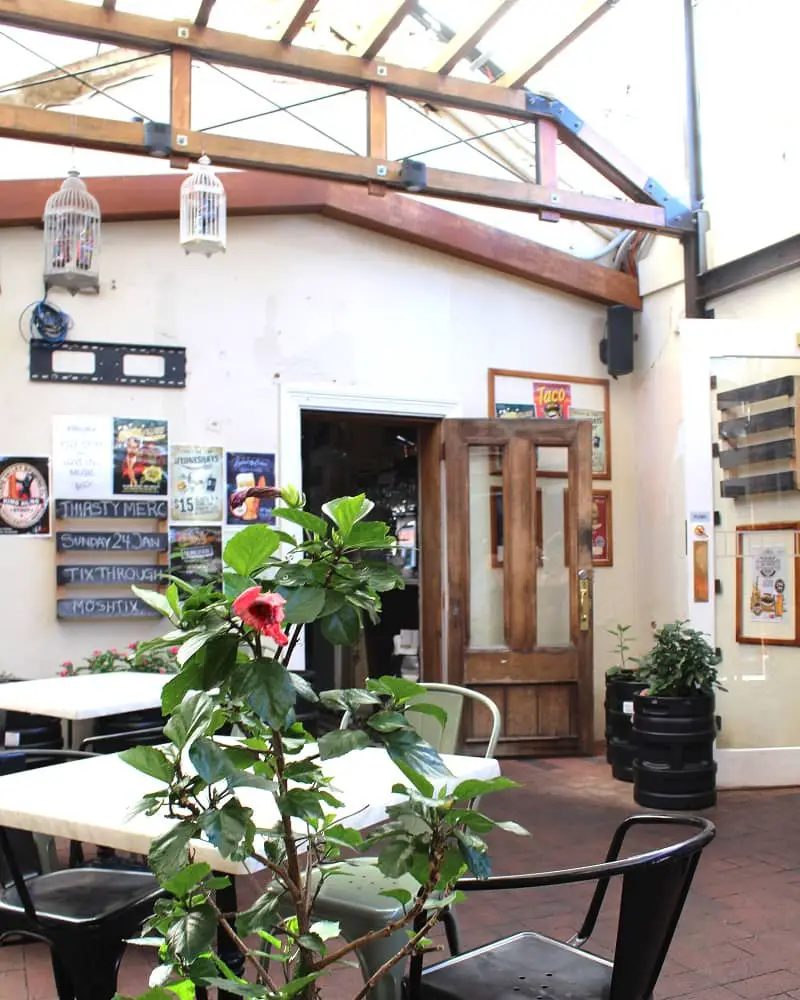 ---
7. Perth and Adelaide Lifestyle
If the hustle and bustle of big cities like Sydney and Melbourne isn't your cup of tea, then the slower pace and smaller feel of Perth and Adelaide may be a better option for you.
The abundance of beaches in Perth and Adelaide may make both cities a more attractive option for many than Brisbane, which sits on mud flats. The relatively affordable property in SA and WA also make the Australian dream of coastal living more realistic.
While they're fairly small, chilled-out cities, both Adelaide and Perth still have plenty to do.
Things to do in Perth include admiring gorgeous city views from Kings Park, sampling food at artsy port city Fremantle or enjoying a night out in Northbridge.
You can discover more Perth attractions and day trip ideas on my Perth page.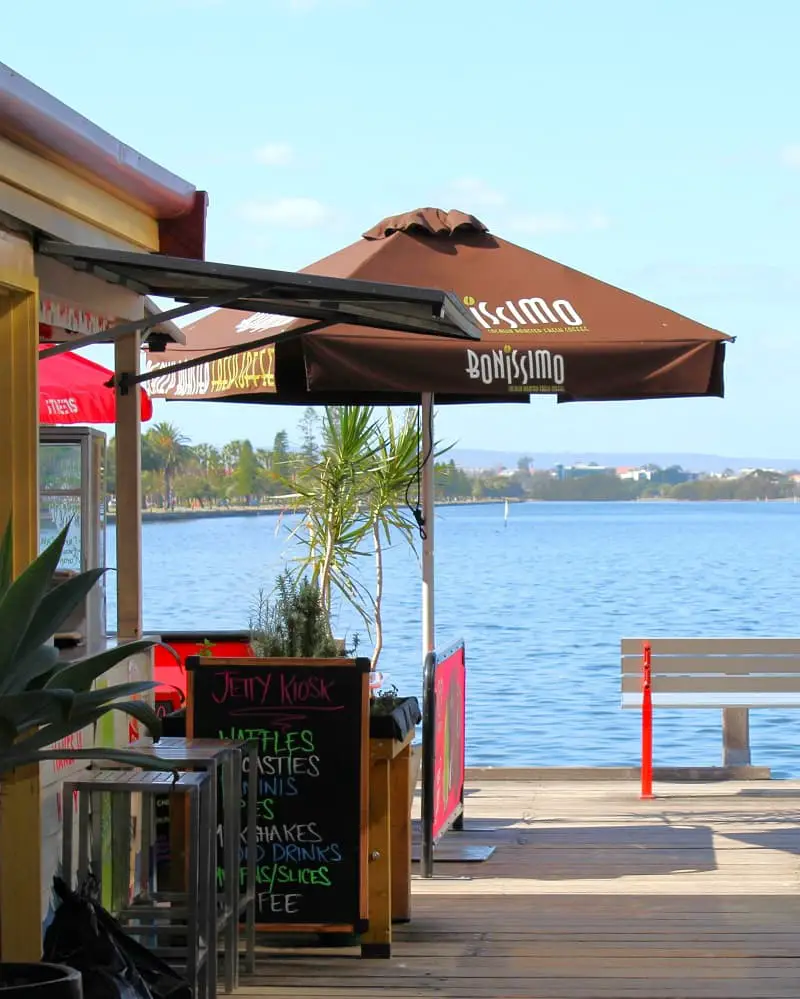 Popular Adelaide attractions include visiting the beautiful Adelaide Hills or heading up to Mount Lofty for the amazing views.
You can also enjoy lots of hipster bars and cafes in North Adelaide and of course, the many popular South Australian beaches.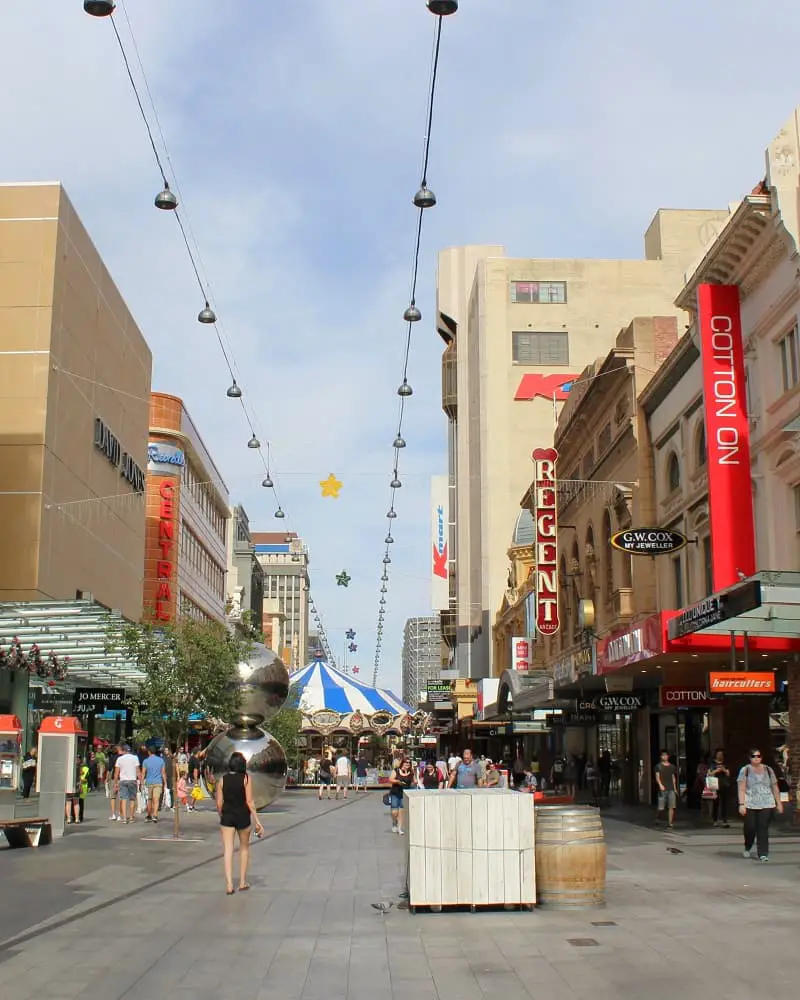 ---
8. Travel Destinations Near Adelaide and Perth
Like most coastal cities in Australia, Adelaide and Perth are surrounded by a fantastic choice of beautiful holiday destinations. And with both cities enjoying a hot, dry climate, outdoor adventures such as camping and caravanning are ideal. Here is a selection of travel options to whet your appetite, should you choose to live in Perth or Adelaide.
Coastal Destinations in WA and SA
Take a coastal road trip from Perth, and you'll pass beach after beautiful beach. Highlights from my road trip south through Western Australia include a whale watching trip from Dunsborough Beach and walking parts of the Cape to Cape track through Cape Leeuwin National Park.
From Adelaide, top travel choices in SA include the gorgeous beaches on the Fleurieu Peninsula or the stunning coastal walks in Lincoln National Park.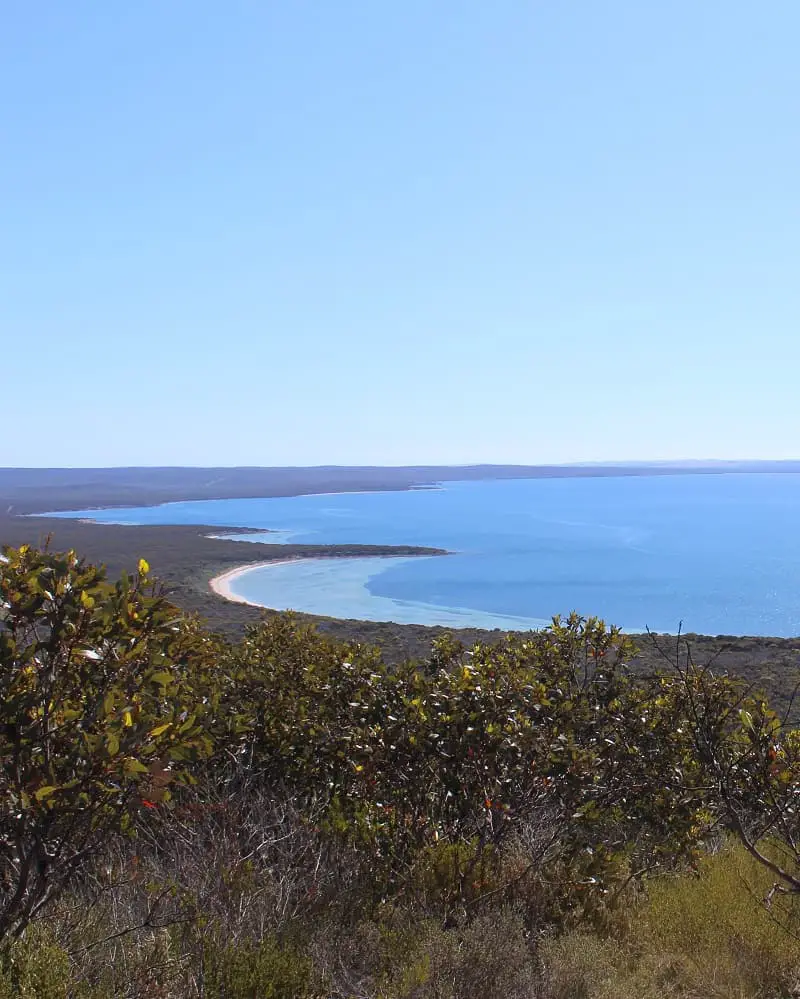 Cities in South Australia and Western Australia
If you're looking for interesting Southern Australia cities, you can drive to Whyalla from Adelaide in 4.5 hours, a beachside city famous for its steelworks and giant cuttlefish migration. Around the same distance in the opposite direction lies Mount Gambier, a unique volcanic city with sunken gardens and a cobalt blue lake.
One of the top cities on my Perth to Adelaide drive itinerary was Busselton, which is a beachside city 2.5 hours south of Perth. Bunbury, the third-largest city in Western Australia, is great for beaches and waterside dining.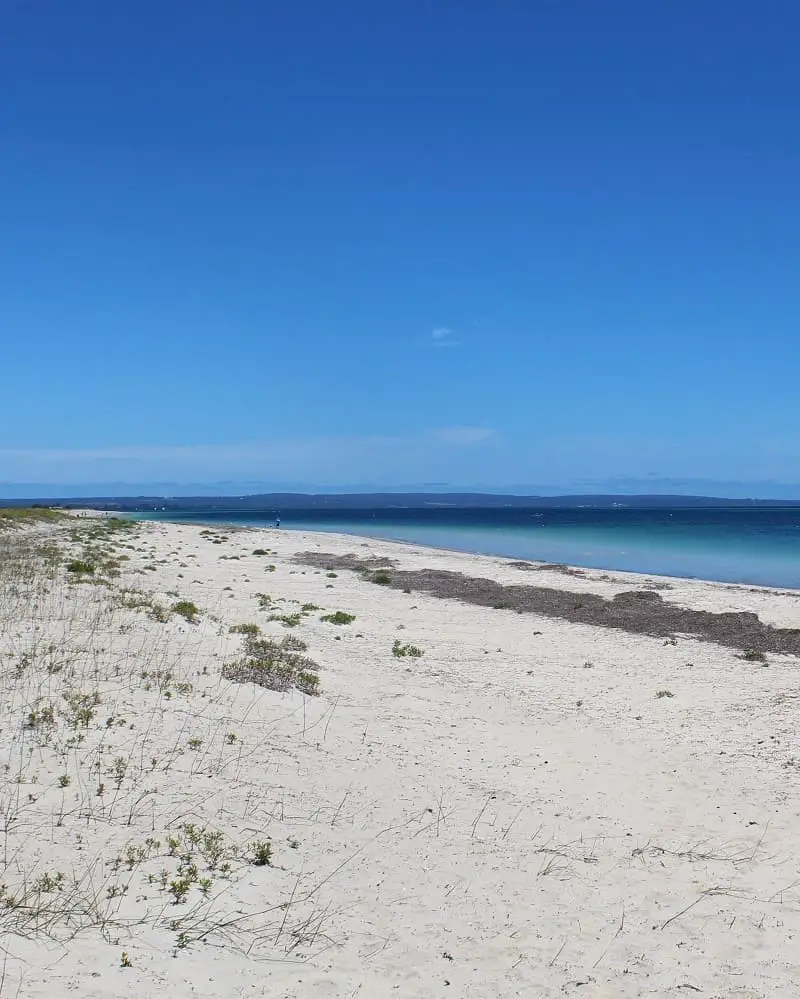 SA and WA Islands
If it's island fun you're after, hop over to Rottnest Island from Perth. This simple, unspoilt haven is packed with gorgeous beaches and Australia's cutest marsupial, the quokka!
Kangaroo Island in South Australia is high on my Australia bucket list and a popular holiday hotspot from Adelaide, with its rugged coastline and abundance of wildlife.
Read more about holiday destinations from Adelaide on my South Australia page.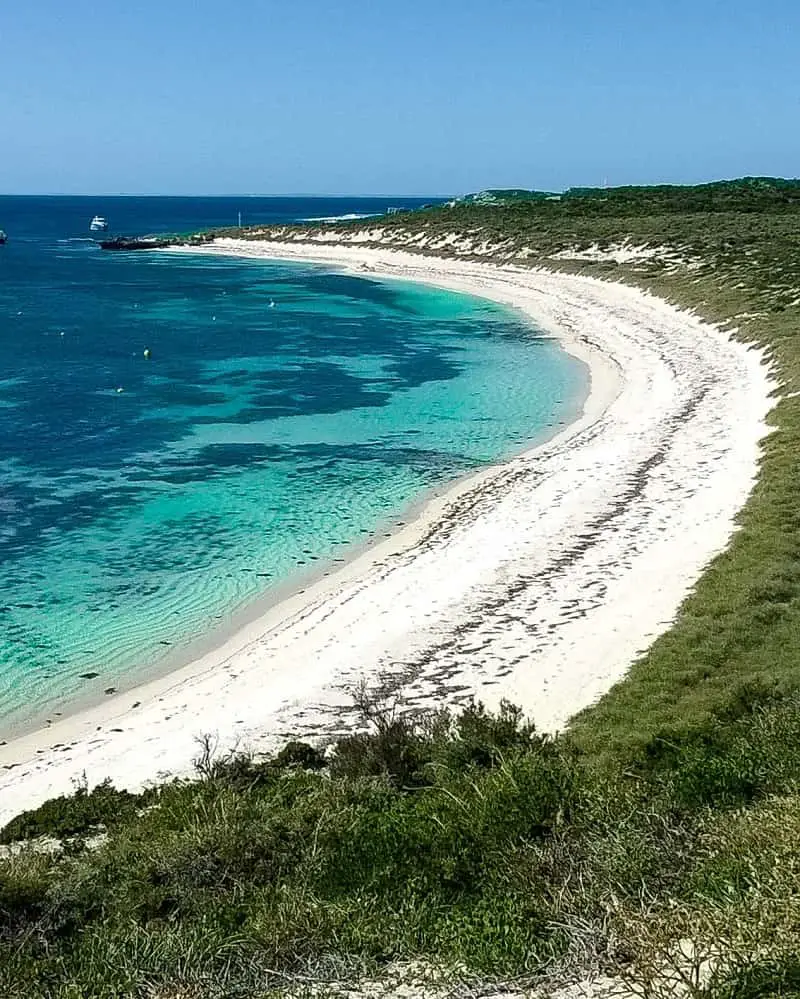 ---
9. Perth vs Adelaide Summary
So, which is better, Perth or Adelaide? Both cities share a similar laidback, coastal lifestyle with enviable warm climates, although Perth wins in terms of sunshine. Perth also has cheaper property, in general, particularly after Adelaide's property boom during the pandemic.
Adelaide, however, sits within much easier reach of other east coast locations than Perth, making it easier to travel to events across the country. Adelaide also enjoys longer summer evenings because of daylight saving, meaning post-work beach visits can be extended.
Perth's migrant population proves its popularity with expats; 40% of residents were born overseas, compared to only 30% in Adelaide. Perth is also extremely popular with Brits, with almost one in ten residents being born in England!
---
Best of luck deciding whether to live in Adelaide or Perth!
Best of luck with your decision!
Written by Lisa Bull
Lisa Bull, founder of Dreaming of Down Under, has been living in Australia as a British expat since 2015. After travelling to every state and territory in Australia and living in Perth, Brisbane and Sydney, Lisa knows from first-hand experience the best destinations to visit in Australia and the best budget travel tips. Her guides on this blog have been read by over 700k readers and helped thousands of people achieve their dream of living in or travelling Australia.