This post may contain affiliate links. Please see my disclosure policy for more details.
If you're looking for a trip from Perth with gorgeous coastal scenery, Rottnest Island is a stunning car-free haven with over 60 beaches to explore! Things to do on Rottnest Island include visiting salt lakes, woodlands, limestone coral reefs and numerous shipwrecks from early explorations.
I was lucky enough to spend four days on Rottnest Island, the largest of a chain of limestone-based, sand-covered islands on the continental shelf opposite Perth. These were formed a whopping 7,000 years ago due to a rise in sea level!
Situated just 19km from Perth, Rottnest Island is easily reached on a 25-minute ferry ride from Fremantle.
You'll be sure to see plenty of quokkas on your visit too. These are a cute little type of wallaby native to the island; there's an estimated 10,000-12,000 of them living on Rottnest!
Rottnest Island is not only breathtakingly beautiful but packed with budget accommodation, including a campsite and heritage cottages. Whether you're visiting Perth as a backpacker or a high-end traveller, a trip to Rottnest Island is definitely one of the best things to do in Perth.
---
Rottnest Island Guide: Table of Contents
To skip to any of the sections below, just click on the heading.
1. How to Get to Rottnest Island: Ferry
2. Rottnest Island Accommodation
6. Thompson Bay Shops & Restaurants
---
1. How to Get to Rottnest Island: Ferry & Seaplane
Here are your travel options to get to the island, including the Rottnest Island ferry (they all include the government admission fee to the island).
You can also book a ferry package with bike hire or a bus tour included. Remember that the island is car free, so you'll need either a bike or bus to get around! Here are a few options below.
---
2. Rottnest Island Accommodation
Rottnest Island accommodation includes high-end hotels as well as quaint, old-fashioned cabins and a camping ground. I was very surprised to find that a big developer hadn't turned it into a luxury resort, but there is a choice of accommodation for all budgets!
You can even stay in dormitories at the old army barracks or in the 1920s-built North Heritage Bungalows, which can work out pretty cheap if there's a group of you.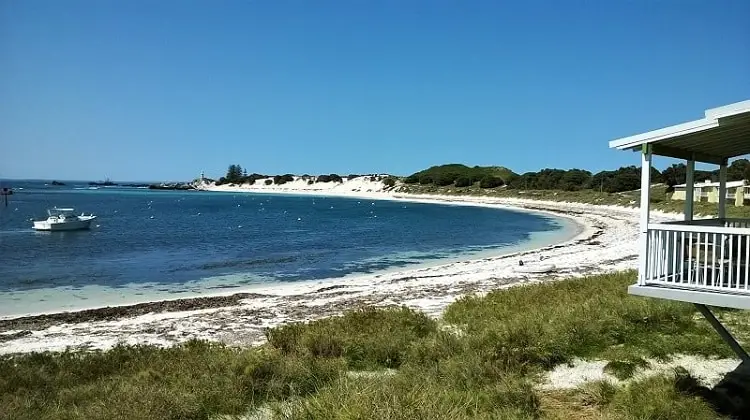 Rottnest Island Hotels & Villas
Samphire Rottnest: Also known as Hotel Rottnest, this renovated beachfront hotel, conveniently located in Thompson Bay, features an outdoor swimming pool and bar, free Wi-Fi and a shuttle service for guests. Rooms include air-conditioning, a balcony, a private bathroom, a flat-screen TV and a safety-deposit box. Click here to check prices.
Rottnest Island Authority: If you prefer self-contained accommodation, these villas and cabins have free Wi-Fi and are right by Thompson Beach. With cabins that sleep six people, it could be a really cheap option for a group or family. Click here to check prices.
Rottnest Island Glamping
Discovery Rottnest: These high-end, beachfront "tents" take glamping to a whole new level! Each unit has a private bathroom, hairdryer, and the complex had a bar, restaurant, swimming pool and free Wi-Fi. Click here to check prices.
Camping on Rottnest Island
Rottnest Island campground

: I spent four nights here. The site has 43 non-powered sites, bathrooms with wheelchair access, barbecues and a kitchen with hot plates, a kettle and drinking water.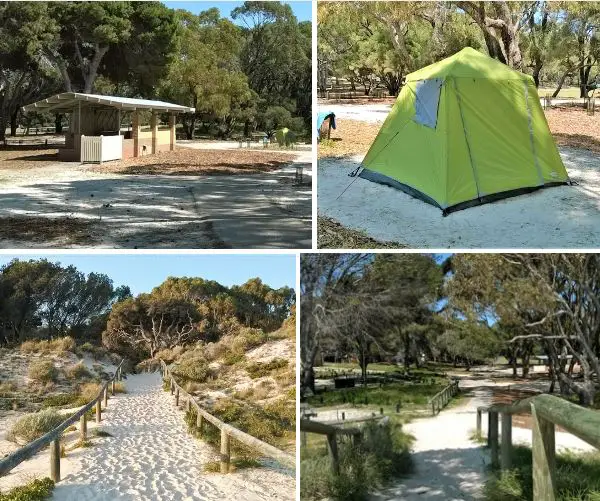 The facilities are fairly basic but the short stroll along the sandy path to Pinky Beach is priceless – perfect for watching the sun come up behind Bathurst Lighthouse. It's also only a ten-minute walk to the shops and eateries at the Thomson Bay Settlement.
Note that the camp kitchen does not have a fridge or storage cupboards – it is little more than a shelter – so you will need your own esky if you want to keep any food (do beware of the quokkas though – they're good at opening things and can easily open a tent zip)!
The campsite is only a short walk from the ferry drop-off, so I would recommend carrying your own luggage rather than using the free luggage delivery option.
The campsite was the final drop-off when I visited (despite being the place where people need their luggage to actually build their accommodation, preferably while it's still light) and we sat on the grass for two hours waiting for it to arrive when we could have just carried it ourselves.
The campsite isn't well marked, and we actually walked past it at first, thinking it was just an open field!
---
3. Rottnest Island Bus Tour
If you don't fancy cycling the 22km circle around the car-free island, why not book the Rottnest Island bus tour to see the sights in comfort? This 4.5-hour tour includes air-conditioned travel, a light lunch and entry fees to the Oliver Hill Batteries and Tunnel Fortifications
---
4. Rottnest Island Bike Hire
Another popular way to explore is to hire a bike on Rottnest Island from Pedal and Flipper, located behind Hotel Rottnest. I cycled the 22km circle around the island, which was amazing!
You'll get fresh air, exercise, and the freedom to stop off at the prettiest, most secluded beaches you can find. I'll admit it's quite hilly – I had to get off and walk more than once – but I hadn't ridden a bike for a very long time, so if I can manage it I'm sure most people can!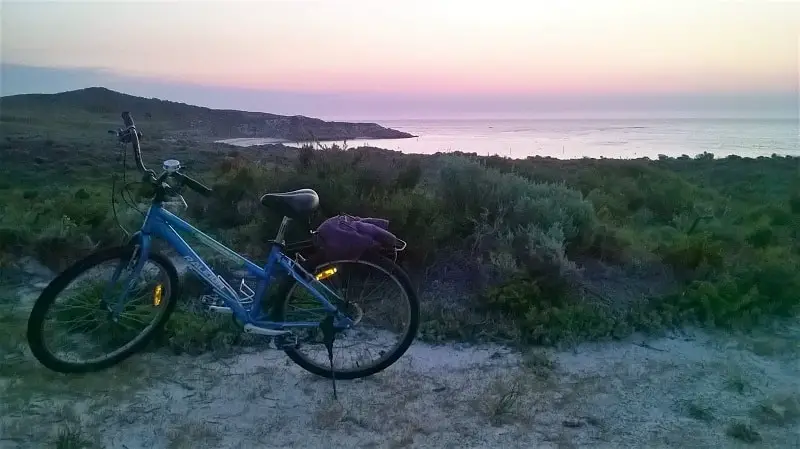 ---
5. Activities on Rottnest Island
There are plenty of activities on Rottnest Island other than cycling and enjoying the beaches. Here are some of your options.
Segway Tour Around the Settlement: Learn about the island's history on this scenic one-hour segway journey.
Day Trip by Ferry & Adventure Boat: After dropping you at Rottnest Island, this tour takes you on a 1.5-hour adrenaline-packed wildlife adventure on a high-powered vessel before letting you explore the island at your own pace.
Snorkel and Cycle: Plan your own itinerary with this package that includes ferry transfers, snorkel use and bike hire.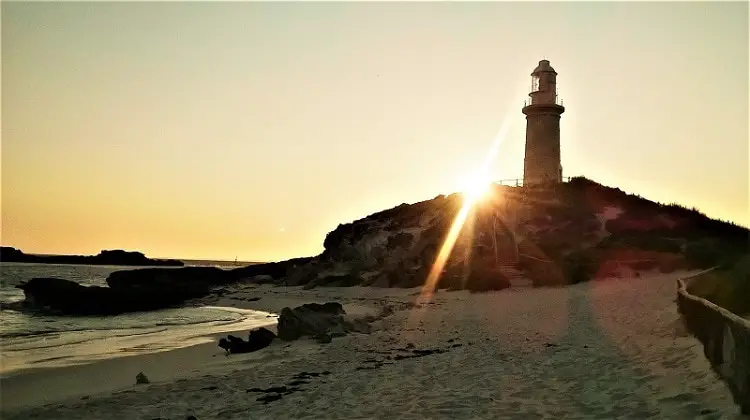 For cheap or free things to do on Rottnest Island, you can join a free guided walk to teach you about the island's history or visit museums and galleries. Catch a movie at Rottnest Island picture hall or get involved with various sporting activities in and out of the water.
From Thomson Bay I'd recommend walking to the Bathurst Lighthouse to enjoy the view over Pinky Beach.
---
6. Thomson Bay Settlement: Shops & Restaurants on Rottnest Island
On arrival, the ferry will drop you off at the Thomson Bay Settlement on the eastern side of the island, where you'll need to check in at the Rottnest Island Visitor Centre if you're staying overnight.
Thomson Bay is Rottnest Island's main hub where all the shops, restaurants and much of the accommodation is located.
Note that the retail and entertainment options are quite limited – the main attraction of Rottnest is the nature and wildlife. It's definitely not a party island or shopping mecca!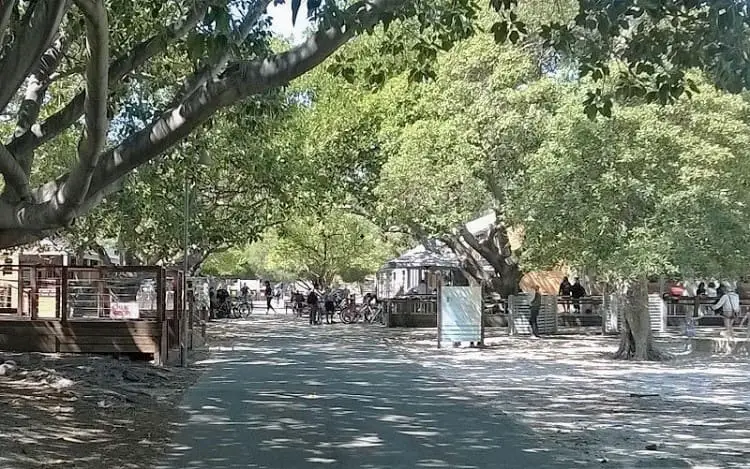 Where to Eat on Rottnest Island
Cafes, takeaways and restaurants in Thompson Bay include: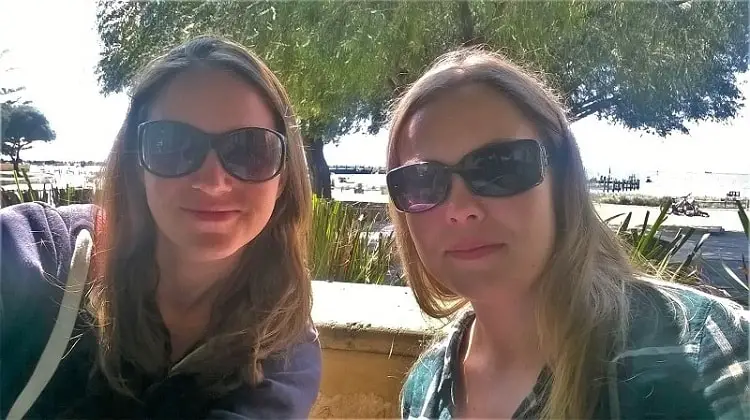 Other places to eat on Rottnest Island are:
---
7. Rottnest Beaches
Rottnest is home to some of the most beautiful beaches in the world; the sand is blindingly white, the sea is a patchwork of deep blue and turquoise, and rather than backing onto buildings or roads like some of the city beaches on the mainland, they have a natural backdrop of sand dunes and greenery.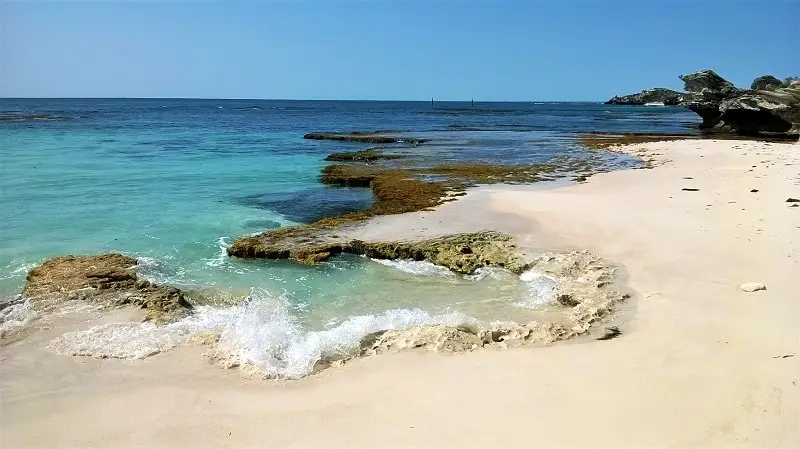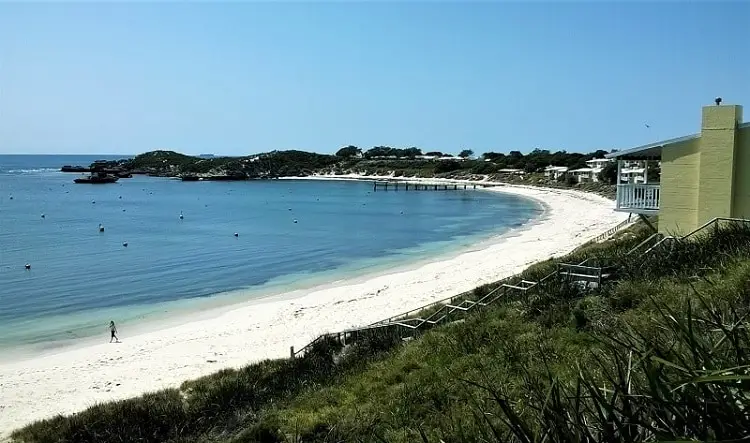 Visit family-friendly Thomson Bay with a roped-off area for swimming, Pinky Beach next to the campsite, Geordie Bay up at the top end, or simply go with the flow and stop off at any of the 63 secluded beaches you come across on your explorations.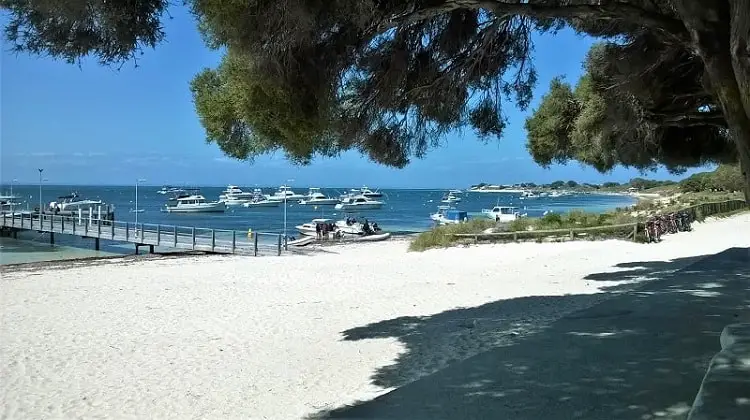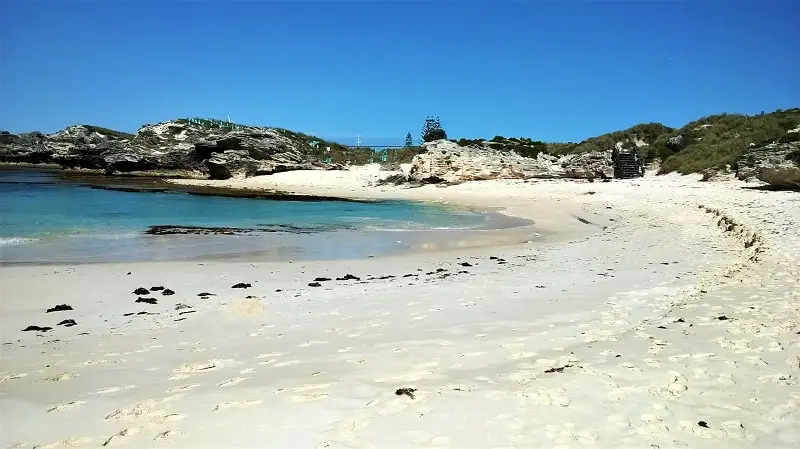 ---
8. Rottnest Island Quokkas & Wildlife
You won't have to look far to spot a Rottnest Island quokka! These cute, nocturnal marsupials even inspired the island's name (meaning "Rat's Nest" in Dutch) when a Dutch explorer in 1696 spotted them and thought they were very large rats!
As cute as quokkas are, do remember that they're wild animals and a protected species. While it's fun to get a selfie with them, remember they eat a plant-only diet, so feeding them can result in illness, death and aggressive behaviour. Touching and feeding them incurs a $150 on-the-spot fine and potential prosecution.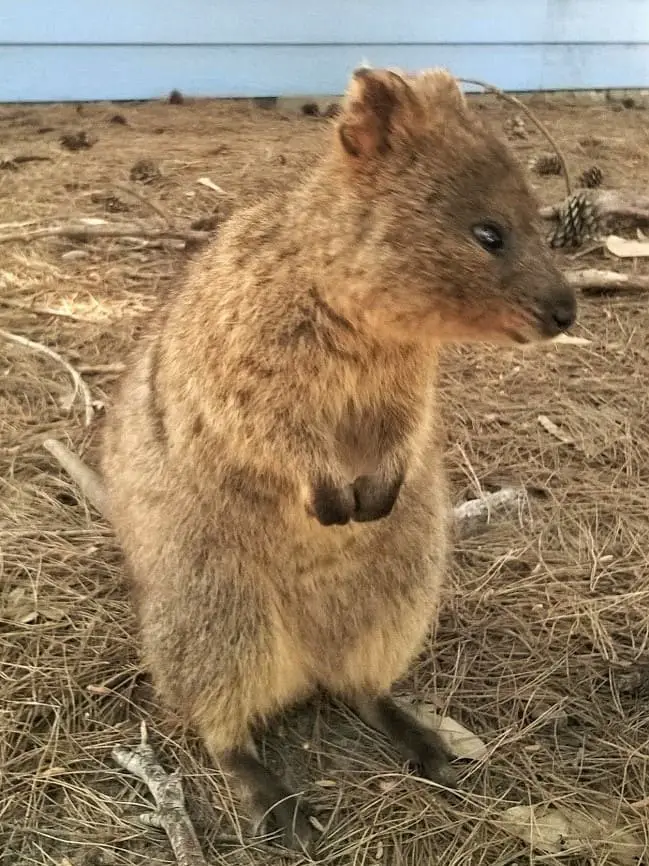 Also be aware that quokkas pretty clever; put down your bag and their little noses will be snuffling around in there in a jiffy. We almost had heart attacks one night when we were sitting inside our tent and the zip started opening. But nope, it wasn't an axe murderer – a wet little nose appeared instead!
---
---
9. Sustainability Ethos
Rottnest Island is committed to maintaining a sustainable power, gas and water supply and minimising environmental impacts. Amongst other initiatives, it has upgraded its water utilities, installed wind turbines to supply 30% of its power and is constructing a 600kW solar farm.
---
10. Learn the Island's History
Like many of Australia's most beautiful locations, Rottnest Island has a grisly and not-so-beautiful past. Here's an overview of the island's history.
Aboriginal History
While Aboriginal artefacts dating prior to the island's separation from the mainland have been discovered on Rottnest, the indigenous people did not have any means to get across the water and did not traditionally live on the island.
It was, however, believed by the indigenous people to be a place of spirits and held a special significance to them.
European History
The first Europeans to discover Rottnest Island were the Dutch in the 17th century, but it wasn't until 1829 that the first settlers took up residence. This didn't last long though: in 1839 it was announced that the island would become a penal establishment for Aboriginal prisoners.
The settlers were moved to the mainland, and for almost a century Rottnest was used to imprison around 3,700 Aboriginal men and boys, with 369 reported deaths (mostly from disease but including five hangings). You can pay your respects to those who perished at the Aboriginal cemetery at the Thompson Bay Settlement.
Modern Australia
During the prison period, the Aboriginal prisoners constructed heritage buildings, lighthouses and, after the prison closed in 1904, the roads.
In 1911 Rottnest Island opened for its first holiday season, and, except during periods of closure for military use during World War I & II, has been used as a place of recreation ever since.
---
11. Weather on Rottnest Island
It was definitely a few degrees colder on the island than in Perth when I visited in springtime! On our first few days the wind was absolutely bitter, and it was so strong during our bike ride that we were almost rolling backwards at times! 
The final day, however, was warm enough to sunbathe on the beach. Just be aware that if you're not yet into summer it might be chillier than expected!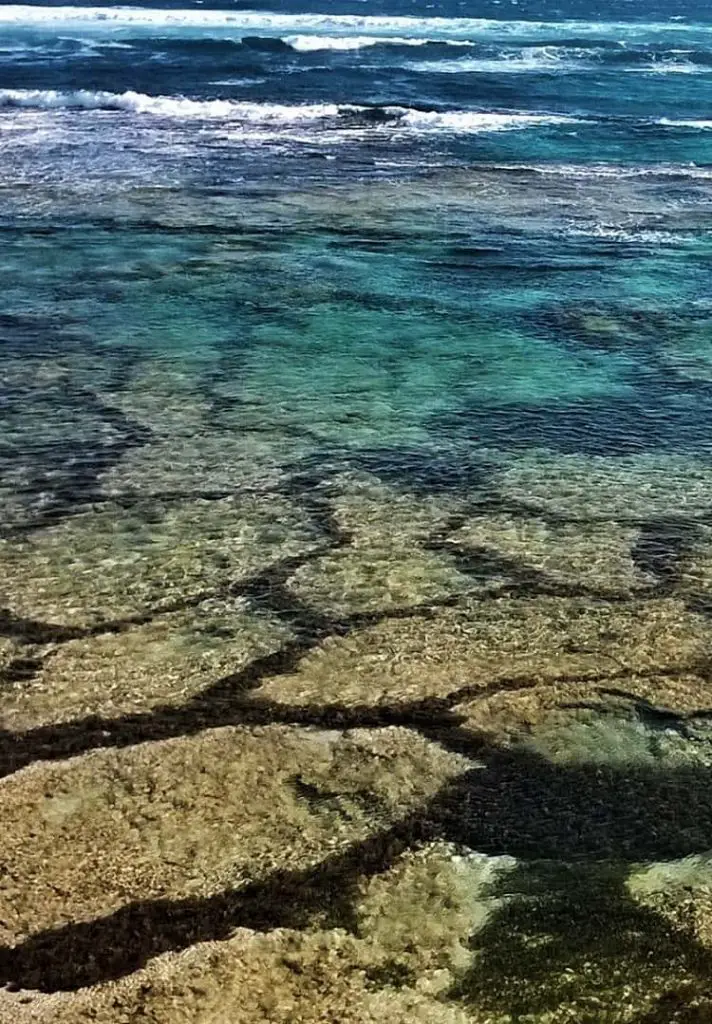 ---
For more ideas on things to do in Perth, check out my guides on Penguin Island, Fremantle and Yalgorup National Park. Happy exploring!
---
Written by Lisa Bull
Lisa Bull, founder of Dreaming of Down Under, has been living in Australia as a British expat since 2015. After travelling to every state and territory in Australia and living in Perth, Brisbane and Sydney, Lisa knows from first-hand experience the best destinations to visit in Australia and the best budget travel tips. Her guides on this blog have been read by over 700k readers and helped thousands of people achieve their dream of living in or travelling Australia.