This post may contain affiliate links. Please see my disclosure policy for more details.
If you're looking to retreat back to nature, this 21-day Tasmania drive itinerary includes lush rainforest walks, mirror-like lakes, rushing waterfalls, pristine white beaches and an abundance of fresh air.
For those who enjoy history and culture, you can also learn about Tasmania's gruesome convict past at sites such as Port Arthur and Sarah Island, as well as peruse galleries and museums in beautiful Hobart.
A self-drive is a fantastic way to enjoy Tasmania at your own pace. With winding country roads cutting through deep forests and skimming mountainsides, Tasmania a fun location to drive around too!
If you have less time available than three weeks, just pick fewer destinations from this itinerary to shorten it down. Let's go!
---
Tasmania Drive Itinerary: Table of Contents
---
Hiring a Car in Tasmania
Make sure you find the best price for car hire in Tasmania by using Kayak as a starting point. They compare hundreds of car hire sites to save you hours of research.
>> Click here to compare car hire prices and book your rental car <<
---
Tasmania Road Trip FAQ
Before planning your Tasmania drive itinerary or holiday, read through the following information to learn about the cost, distance and transport for a Tasmania road trip.
How much is a trip to Tasmania?
The total cost of our 21-day Tasmania road trip by car for two people was AU$2,845. Our average daily costs were $21 per night on camping fees and $16.50 per day on food. Our total petrol cost for 3 weeks driving around Tasmania came to $307, which is equivalent to approximately $485 in 2023 prices.

Note that we brought our own car and camping equipment over from Melbourne by ferry and tent camped in caravan parks most nights. Here is the exact breakdown of our Tasmania road trip costs for two people in Australian dollars.

Camping fees: $414
Petrol: $307
Supermarket food: $347
Restaurants & cafes: $394
Tours & activities: $548
Return ferry with car: $595
Other costs (e.g. laundry, parking, cinema): $240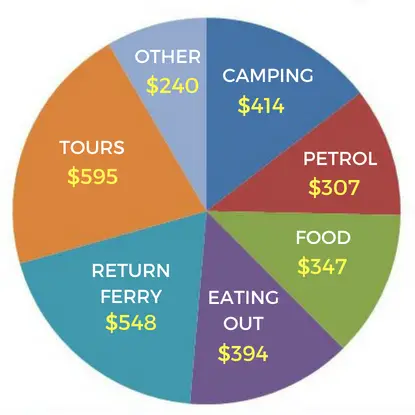 How many days does it take to drive around Tasmania?
I would recommend at least 7 days to drive around Tasmania to fully appreciate the beautiful scenery. This Tasmania itinerary is 1,510km including the detour up to Ross and back (or 1,270km without), which took me 3 weeks (21 days) to complete. You could manage it in 14 days if you plan less drive stops.

If you have extra time, you can definitely spend longer than three weeks in Tasmania without running out of things to do. Another extension of this route would be to add on the north-west corner.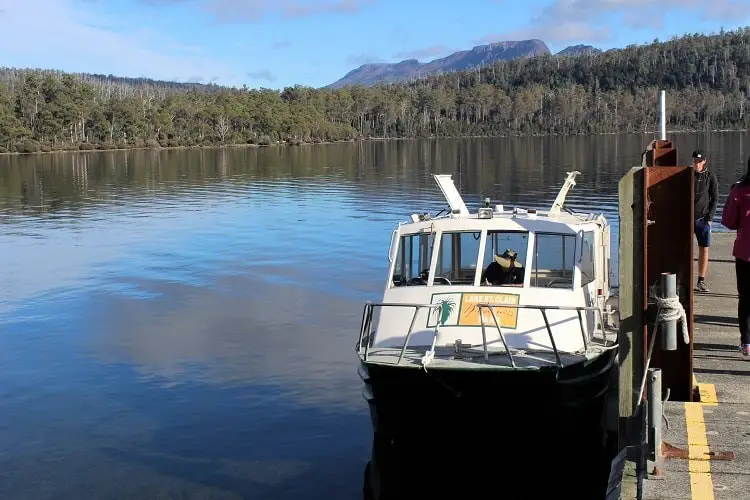 What is the best month to go to Tasmania?
Tasmania has a mild temperate oceanic climate with four distinct seasons.

If you prefer warm, dry weather, the summer period from December to February is the best time of year to visit Tasmania. The average maximum temperature in Hobart is 21.7 degrees in January, the hottest month. Bear in mind the danger of bushfires is higher in the summer though.

Winter in Tasmania runs from June to August. You'll find it less crowded but much colder and wetter than the summer, with snow in the elevated regions. The average maximum temperature in Hobart is 11.7 degrees in July, the coldest month. You can also catch the Huon Valley Mid-Winter Fest or the Dark Mofo arts festival in the wintertime.

If you prefer cool to mild weather, try visiting Tasmania in autumn or spring. Autumn (March to May) is the best time for visiting vineyards, whereas springtime (September to November) is great for seeing flower displays, such as the Bloomin' Tulips Festival.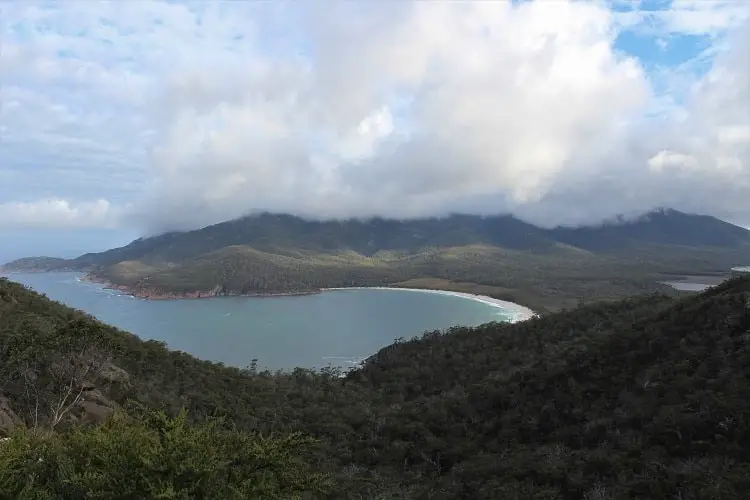 Is it cheaper to fly or get the boat to Tasmania?

When I travelled to Tasmania, it was much cheaper and quicker to fly into Hobart than get the Spirit of Tasmania ferry from Melbourne, since it costs a lot to take the car on the ferry.

However, because we had our own camping equipment, it worked out cheaper for us to pay to take the car over by ferry and camp everywhere than fly and hire a car or campervan. You can check prices for flights to Tasmania on Skyscanner.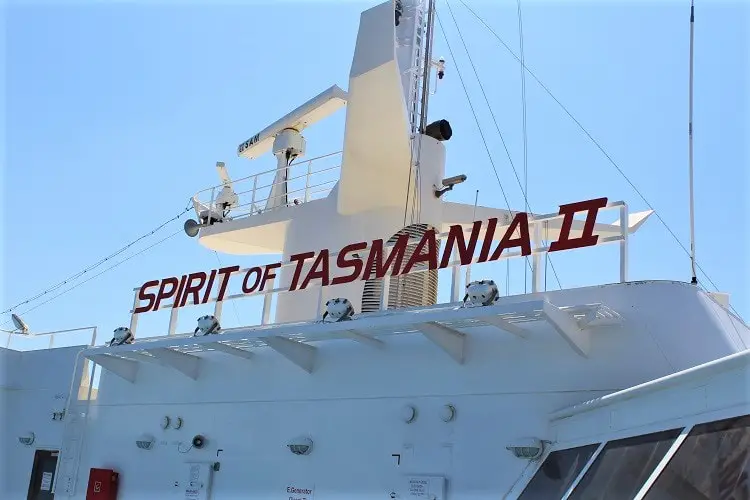 How much does the Spirit of Tasmania ferry cost?

The cost of the Spirit of Tasmania ferry ride varies depending on the time of year, whether you travel by day or overnight and if you wish to bring your vehicle over with you.

We paid $595 return for our ferry ride to Tasmania, which was in the summertime for two people during the daytime with a car.

There's quite a lot to do on the ferry (it takes around 10 hours!). It's huge with a restaurant, bar, lounges and even a cinema! There are also outdoor decks, so you can get some fresh air.

Make sure you check the biosecurity rules for Tasmania before you go, as there are restrictions on bringing things like fruit and vegetables into the state due to the risk of diseases and pests. You'll also need to hand it in your camping stove gas canister when you embark then collect it at the other end.
---
Tasmania Drive Itinerary: 21 Days
Here's a more detailed overview of each area I visited, including campsites, what to see on the way and the incremental distance and driving times between stops to help you plan your journey.
To browse through accommodation in Tasmania, including hotels, hostels, apartments and holiday parks, use the search box below.
Day 1. Devonport
If you're reaching Tasmania by ferry from Melbourne, you'll disembark in the city of Devonport.
We only stayed one night here, but there's a choice of lovely beaches and parks, a coastal walk and opportunities for fishing and kayaking along the Mersey River if you want to stay longer.
---
DEVONPORT ACCOMMODATION:
---
Day 2. Deloraine
We stayed one night in this small town at the foot of the Great Western Tiers mountain range to visit the beautiful, multi-level Liffey Falls. Unfortunately, they were closed due to bushfires.
It was still a quaint town to stop at, with cafes, bakeries and Georgian and Victorian buildings. You can also head down to the Great Lake, a natural freshwater lake and manmade reservoir.
Quamby Bluff, the rural area we camped in was gorgeous too. If you're short on time though, I'd head straight to Launceston instead.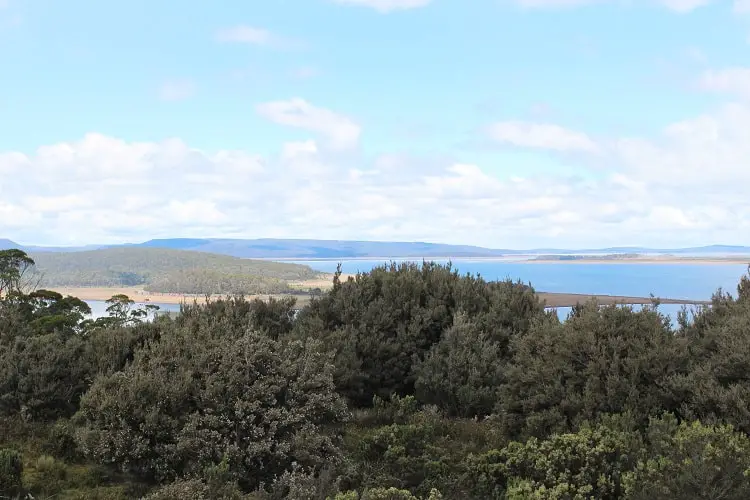 ---
DISTANCE:
Devonport to Deloraine: 40 min (54km)
---
DELORAINE ACCOMMODATION:
Quamby Corner: We camped at this cute caravan park just ten minutes from Deloraine. Set at the foot of Quamby Bluff, it's a peaceful park with beautiful views. There are budget on-site caravans, powered and unpowered camping sites and twin-share huts with bunk beds.
The Empire Hotel: One of the cheaper hotels in Deloraine, the boutique Empire Hotel has Tasmanian timber decor as well as free Wi-Fi, a bar, shared kitchen and log fire.
The Chapel Deloraine: If you're looking for self-contained accommodation, this 2-bedroom house in the Deloraine countryside has a garden and patio, equipped kitchen, washing machine and flat-screen TV.
---
Day 3. Launceston
Launceston, the second-most populated city in Tasmania, is one of Australia's oldest cities, with well-preserved architecture. As well as museums and art galleries, beautiful Cataract Gorge is within walking distance of the city.
Here you can swim in the gorge or open-air pool, laze around in the gardens, refresh yourself at the cafe, stroll across the bridge or even get a bird's-eye view from the chairlift!
There's also a choice of nearby villages to visit in the surrounding area, as well as the Tamar River and wetland area.
DISTANCE:
Deloraine to Launceston: 40 min (53km)
---
LAUNCESTON ACTIVITIES:
Cataract Gorge Cruise (from $33): This 50-minute cruise down Cataract Gorge in Launceston on an 1890s-style vessel includes commentary from the skipper as you pass by historic Kings Wharf, cliffs and the riverside precinct.
Launceston Batman Bridge Luncheon Cruise (from $135): Cruise into Cataract Gorge and along Tamar River to Batman Bridge on this 4-hour trip that includes commentary, morning tea and a light lunch.
Tamar Valley Wine Tour (from $160): Enjoy lunch and sample around 25 wines on this trip from Launceston to four wineries in Tasmania's Tamar Valley.
---
LAUNCESTON ACCOMMODATION:
Arthouse Hostel: This backpacker hostel in a grand heritage mansion has dorms as well as budget single rooms, doubles and triples. There's free Wi-Fi, a shared kitchen and it's only a 23-minute walk to Cataract Gorge Reserve and City Park.
Leisure Inn Penny Royal Hotel & Apartments: This heritage property has large, modern hotel suites and self-contained apartments with 1GB free Wi-Fi and on-site bar and restaurant. It's only a ten-minute walk to Launceston CBD too.
Pod Inn: If you're looking for budget accommodation in Launceston but want more privacy than a dorm, this unique and futuristic accommodation offers rooms and dorms with private sleeping pods that wouldn't look out of place on a spacecraft! There's a common area, laundry room and shared kitchenettes, and each pod has a reading light, mirror, USB port, fan and a locker. Some even have a small desk for your laptop!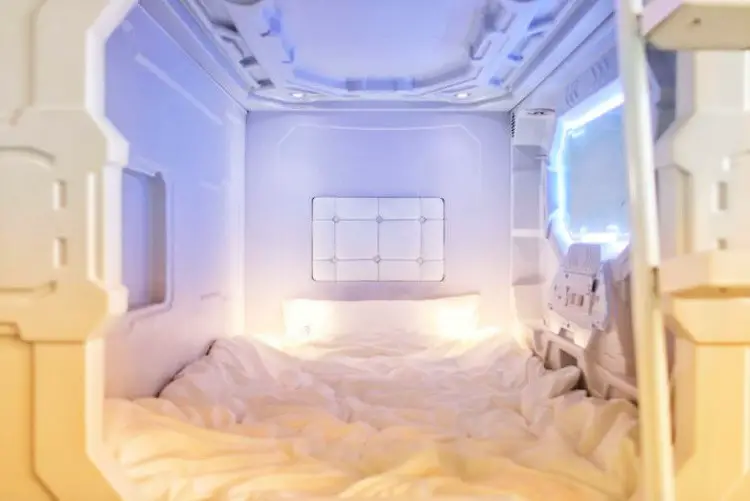 ---
Day 4. Mount William National Park
Our next overnight stop was Mount William National Park, on the stunning far North-East coast of Tasmania.
Just north of Bay of Fires, this peaceful area of beauty has pristine white beaches, turquoise water and amazing views from the summit of Mount William if you take on the 1-hour return walk.
To break up the drive from Launceston, stop in Scottsdale to admire historic buildings or the beautiful fields of Bridestowe Lavender Estate.
---
DISTANCE:
Launceston to Mount William National Park (Stumpys Bay): 2 hr 20 min (153km)
---
MOUNT WILLIAM NATIONAL PARK ACCOMMODATION:
Stumpys Bay Campground

: There are six designated campsites in William Bay National Park. They have pit toilets but no drinking water or power supply, so you'll need to be self-sufficient. We camped at Stumpys Bay Campground 2 and were surrounded by wallabies wanting to see what we were having for dinner!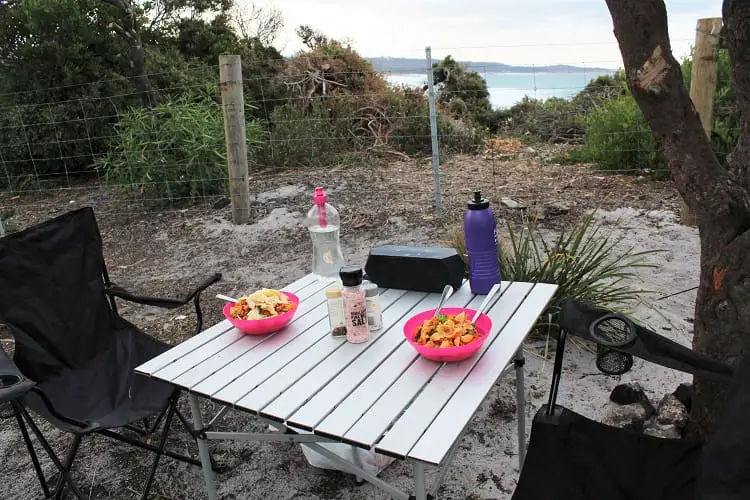 ---
Day 5. Bay of Fires Conservation Area
If you've ever seen the gorgeous Tasmanian pictures of coastal granite boulders patched with bright orange lichen, the Bay of Fires Conservation Area is where it's at! I'm sure most of you will want to add this destination to your Tasmania drive itinerary.
Stretching from Binalong Bay down to Eddystone Point, Bay of Fires is made up of beautiful secluded beaches with clear water and rock-lined inlets. Unfortunately a long spell of heavy rain hit when we reached the area, but we did get a quick look before it started.
On the way there you can also detour to St Columba Falls for a rainforest hike and Pyengana to taste local cheeses!
---
DISTANCE:
Mount William National Park to Bay of Fires: 1 hr 20 min (70km)
---
BAY OF FIRES ACCOMMODATION:
Cosy Corner Campground : There are eight free, beachside designated camping areas in Bay of Fires Conservation Area, and you can stay for up to four weeks! We stayed at Cosy Corner; it was amazing eating dinner overlooking the ocean!
Trails End Hostel :If you're backpacking or on a low budget, this cute hostel in St Helens has private rooms and dorms with en-suite bathrooms.
Bay of Fires Eco Hut: This off-grid eco hut is only 600m from the beach and set on 4.5 acres of private bushland. It sleeps five people and has a private bathroom, living room, kitchenette and barbecue.
---
Days 6-7. Freycinet National Park
Freycinet National Park is one of my top recommendations for your Tasmania drive itinerary. The coastal views are absolutely stunning, and not just those at well-known Wineglass Bay.
My favourite place in Freycinet was Honeymoon Bay, where we camped. The scenery was really unique and almost otherworldly. The water was so still and glassy too!
The beach at nearby Richardson Bay was stunning too, with really white sand. If you enjoy beaches and hiking, pencil in a few days at Freycinet if you get the weather.
---
DISTANCE:
Bay of Fires to Freycinet National Park (Honeymoon Bay): 1 hr 50 min (130km)
---
FREYCINET NATIONAL PARK ACTIVITIES:
Wineglass Beach Hike: Day Trip from Hobart (from $119): If you prefer to visit Freycinet on an organised tour, this full-day trip includes pick-up from your Hobart hotel, visits to viewpoints, oyster tasting at Freycinet Marine Farm and a guided hike to famous Wineglass Beach.
Wineglass Bay and Maria Island Scenic Flight (from $399): This 3-hour tour includes a scenic flight over spectacular Wineglass Bay and Freycinet National Park before landing on beautiful Maria Island for a gourmet lunch
4-Day Guided Freycinet National Park Walk (from $2,800): For the serious hiker, this all-inclusive walking tour covers the entire length of the Freycinet Peninsula and includes snorkelling, two boat trips, experienced guides, food, wine and 3 nights' accommodation at secluded Friendly Beaches Lodge.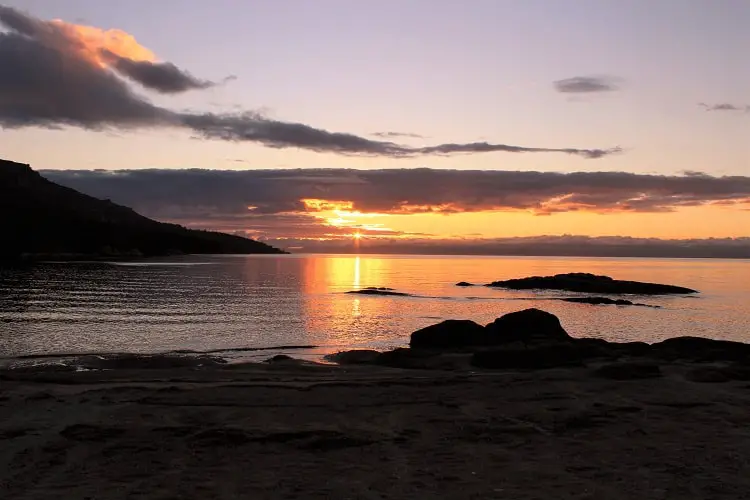 ---
FREYCINET NATIONAL PARK ACCOMMODATION:
BIG4 Illuka on Freycinet: If you prefer the facilities of a holiday park, this BIG4 in Coles Bay has caravan and camping sites as well as self-catering cabins. As you'd expect from a BIG4, there's heaps of on-site facilities including a playground, laundry, barbecues, cafe, convenience store and ATM.
Mayson: This self-contained, two-bedroom house sleeps four people and has a well-equipped kitchen, TV, washing machine and air-con. With a double bed and twin beds, it's ideal for families, couples or a group, and it's conveniently located in Coles Bay.
Honeymoon Bay Campground: There are three campsites in Freycinet National Park. We stayed at Honeymoon Bay, which was my favourite spot to camp on my whole Tasmania road trip! The sunset that evening blew me away, and the whole campsite flocked to see it, as the site's right by the beach!
---
Day 8. Port Arthur
I'll admit I didn't have much interest in Australia's convict history until I visited Port Arthur. This UNESCO World-Heritage listed historic site began as a penal settlement back in 1830, and the real-life stories you get to read and hear walking around Port Arthur are absolutely fascinating.
A mixture of eerie ruins, immaculate gardens and the chilling, well-preserved Separate Prison, where masked and slippered convicts were made to live in complete silence, Port Arthur is certainly a place that moves you.
The site completely changed my understanding of what convicts endured in Australia. I'd thoroughly recommend adding it to your Tasmania itinerary.
You do need to pay for entry (see below), but it's well worth the money. Be sure to stop at the coastal formations on the way too, such as the Tessellated Pavement at Eaglehawk Neck and Tasman's Arch and Devil's Kitchen just south of Pirates Bay.
---
DISTANCE:
Honeymoon Bay to Port Arthur: 3 hr (207km)
---
PORT ARTHUR ATTRACTIONS:
Port Arthur Historic Site Entry Ticket (from $102): This is the option we went with. The tickets include a brilliant guided walking tour of the historic site (the stories are amazing!), a harbour cruise and access to the ruins to explore at your own pace. You can use the ticket on two consecutive days if you want to return and spend longer there.
Port Arthur Day Trip from Hobart (from $129): If you prefer to join a group tour, this day trip from Hobart includes the same Port Arthur entrance, cruise and walking tour as above, but with return transport from Hobart plus a clifftop walk and visit to historic Richmond village.
Port Arthur Tour with Isle of the Dead Cruise (from $155): Learn about Australia's gruesome convict history with this guided tour of Port Arthur, then take a cruise to explore an old graveyard on Isle of the Dead. The tour also includes coastal attractions such as Devil's Kitchen and Eaglehawk Neck.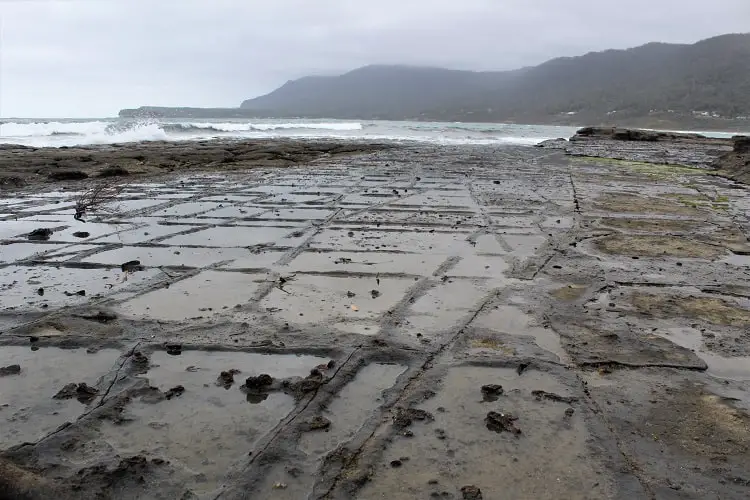 ---
PORT ARTHUR ACCOMMODATION:
---
Day 9-12. Hobart
Hobart, the capital city of Tasmania, certainly exceeded my expectations! Sprawling along the banks of the Derwent River at the foot of Mount Wellington, the city is beautiful to look at, with plenty of history and culture too.
There are plenty of amazing things to do in Hobart, including the colourful botanic gardens, pretty Seven Mile Beach, vibrant Salamanca Markets and historic Battery Point. The highlight was driving up to the lookout at Mount Wellington though. Since we had a few days of rain to wait out, we also spent some time in the city's great restaurants.
To see the top Hobart attractions, try booking the double-decker hop-on hop-off Hobart city explorer bus, which takes you on a loop around the city, with multi-lingual commentary (ticket is valid for two days).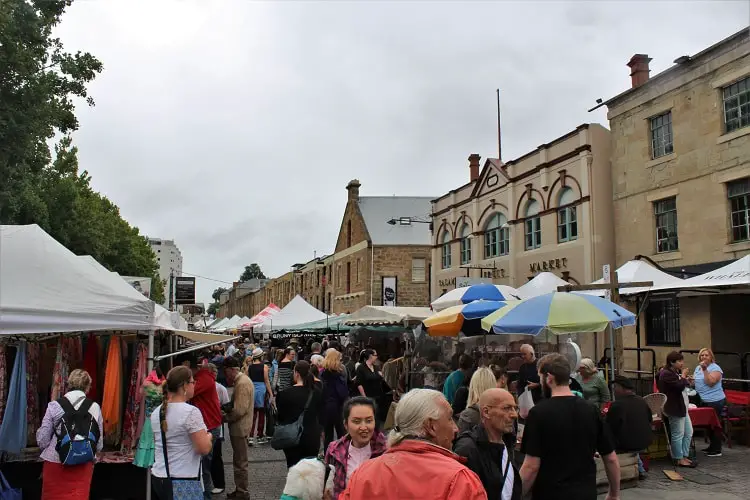 ---
DISTANCE:
Port Arthur to Hobart: 1 hr 30 mins (100km)
---
HOBART ACTIVITIES:
Mt Wellington Explorer Bus Pass (from $35): Enjoy amazing views on this scenic 2-hour return tour to Mt Wellington from Hobart, which includes 30 minutes to explore the summit and the option to hop on and hop off within Wellington Park along the way.
Hobart City Sightseeing Tour including MONA (from $35): This cultural and historical guided tour includes travel by coach tram, visits to Cascade Brewery, Cascade Gardens and Female Factory, entry to the famous Museum of Old & New Art (MONA) and a ferry ride back to the city.
Tasman Peninsula Full-Day Sea Kayak Adventure (from $110): Following a scenic drive to Fortescue Bay in Tasman National Park, enjoy a day of sea kayaking beneath 200m-high cliffs, keeping a look out for seals and dolphins along the way. You'll stop for lunch at a secluded bay then paddle back past a semi-submerged shipwreck.
---
HOBART ACCOMMODATION:
There are plenty of accommodation options in Hobart to choose from, including holiday parks, hostels, B&Bs and hotels. Use the search box below to browse through. I've also picked out some great choices below.
---
Day 13. Ross
If you enjoy history and have the time, make the detour from Hobart up the Heritage Highway to visit the quaint village of Ross. The picturesque town was built by convicts in the early 1800s.
With its pretty stone buildings, this area reminded me of the Cotswolds in England. As well as antique shops and a bakery, Ross also has a beautiful bridge and waterside area.
---
DISTANCE:
Hobart to Ross: 1 hr 30 mins (120km)
---
ROSS ACCOMMODATION:
Oatlands Free Caravan Park: We stayed at this free camping ground in nearby Oatlands. It doesn't have a website, but you'll find it on the Esplanade along Lake Dulverton, next to Callington Park playground. There aren't any showers, but there's a public toilet block very nearby on the Esplanade. You can stay for up to three nights.
Lake Leake Inn: This simple, budget-friendly inn lies between Ross and Freycinet National Park. There's an on-site bar and restaurant, shared bathrooms and free parking. According to the reviews, it's a peaceful place with great food and very welcoming hosts.
Elm Trees Accommodation @ Ross: For groups or families preferring self-contained accommodation, this two-bedroom cottage in Ross sleeps four and has a fully equipped kitchen, mountain views and a log fire.
---
Days 14-16. Bruny Island
Bruny Island is one of the absolute highlights on this Tasmania drive itinerary. We only added it onto our trip after some locals recommended it, (we'd originally planned to visit Maria Island instead) and I was so pleased we did!
For some reason, I was expecting it to be more built up, but it's actually a really pristine, unspoilt wilderness. We camped in Adventure Bay, the main "town" which basically had a small shop and miniscule petrol station!
The island is full of phenomenal beaches and beautiful bush walks, and the view from the Neck is amazing. There's plenty of native wildlife too, so keep your eye out for white wallabies, fur seals and fairy penguins!
---
DISTANCE:
Hobart to Kettering: 35 min (33km)
Kettering to Bruny Island ferry: 30 min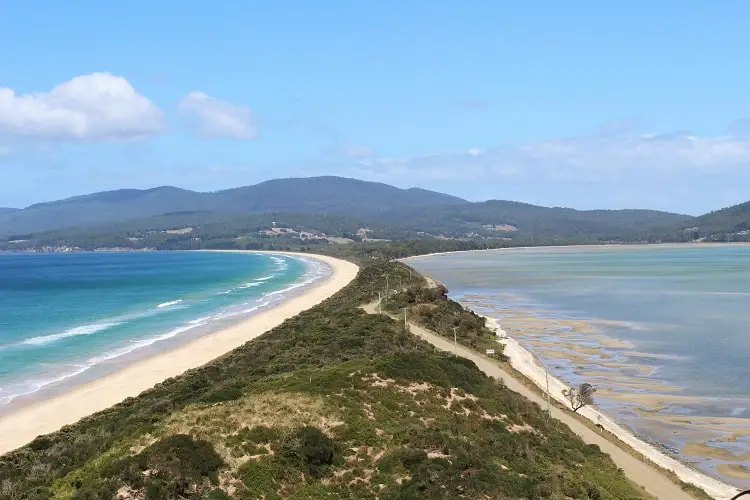 ---
BRUNY ISLAND TOURS FROM HOBART:
Bruny Island Day Trip from Hobart (from $125): This full-day trip to Bruny Island from Hobart includes a rainforest walk, time for a swim, panoramic views from the Neck and lighthouse as well as local food and drink samples along the way.
Bruny Island Full-Day Food, Lighthouse & Sightseeing Tour from Hobart (from $205): Sample the best of Bruny Island with this guided tour including a lighthouse tour, local food tasting, stop offs at lookout points, short rainforest walks and lunch at Hotel Bruny.
Bruny Island Wilderness Eco Tour from Hobart (from $235): This 10-hour eco tour from Hobart includes morning tea and lunch at a local restaurant and a 3-hour, wildlife-spotting wilderness cruise beneath high cliffs and into deep sea caves.
---
BRUNY ISLAND ACCOMMODATION:
Captain Cook Holiday Park: We camped at this beachfront caravan park in Adventure Bay. The location opposite a beautiful beach was amazing, and it was useful to have the shop and petrol station nearby. The site has cabins, villas and a large kitchen and communal area for campers.
43 Degrees, Bruny Island: Each of these unique, domed-shape, timber apartments in Adventure Bay comes equipped with a patio, garden view, kitchen, flat-screen TV, air-con and private bathroom with a hot tub!
South Bruny Camping: If you're self sufficient, you can camp at either Jetty Beach or Cloudy Bay in South Bruny National Park, as well as at The Neck Reserve. We stopped by Jetty Beach, and it was stunning! You'll need your own water and stove, but there are pit toilets there.
---
Days 17-18. Lake St Clair-Cradle Mountain National Park
Part of Tasmania's UNESCO World Heritage site, Lake St Clair-Cradle Mountain National Park is another of my top recommended places to add to your Tasmania itinerary. It was one of my favourite locations on the trip.
We chose to stay at Lake St Clair on the southern edge of the park, which is home to Australia's deepest lake, carved out by ice over 2 million years.
The scenery here is absolutely gorgeous, with lush pine forests, a mountainous backdrop and pink and silver reflections on the mirror-like water. We could also access a multitude of walking tracks from the visitor centre, so it made an ideal base.
You could also stay at Cradle Mountain on the north side of the national park and explore ancient rainforests and glacial lakes. Either way, it's going to be beautiful. It's also worth stopping at Mount Field on the way from Hobart to see some of the waterfalls too.
---
DISTANCE:
Kettering to Lake St Clair: 2 hr 54 min (212km)
Hobart to Lake St Clair: 2 hr 20 min (179km)
---
LAKE ST CLAIR & CRADLE MOUNTAIN TOURS & ACTIVITIES: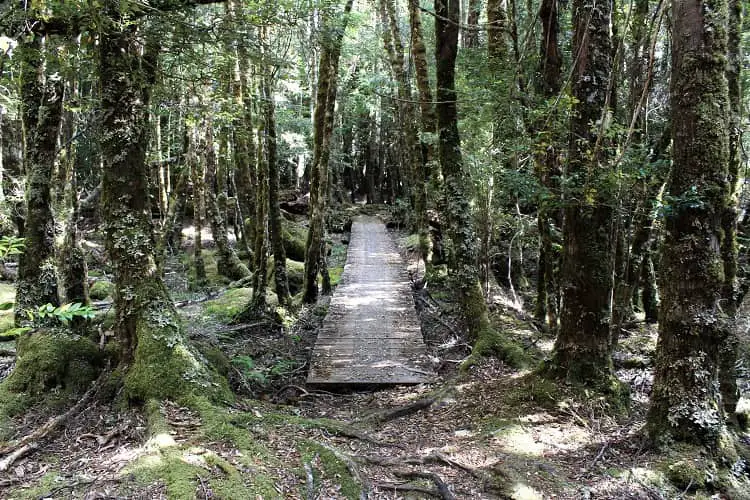 ---
LAKE ST CLAIR ACCOMMODATION:
Lake St Clair Lodge: We camped at this lovely lakeside resort just a one-minute drive from Derwent Bridge. The accommodation has lodges, studios and cottages as well as a bar and restaurant. It's surrounded by nature, and you have immediate access to many walking tracks. I'd highly recommend it.
Derwent Bridge Chalets & Studios: These chalets and studios 5km from Lake St Clair have kitchenettes, en-suite bathrooms, TVs and a cafe next door.
---
CRADLE MOUNTAIN ACCOMMODATION:
Discovery Parks – Cradle Mountain: If you're travelling on a budget, you can camp or stay in dorms at this holiday park, or choose from a range of cabins and villas. The site has free Wi-Fi and parking as well as a laundry and barbecues.
Cradle Mountain Hotel: Set in stunning alpine woodland, this 4-star hotel is a five-minute drive to the national park and has free Wi-Fi, heating and an on-site restaurant and bar.
---
Day 19. Queenstown
The next stop on this Tasmania drive itinerary is Queenstown, the largest town in the west of Tasmania (though still pretty small!). You can learn about Queenstown's mining history in the local museum, visit lookouts, waterfalls and nearby Ironblow Lookout or have fun on the West Coast Wilderness Railway steam train ride like we did!
---
DISTANCE:
Lake St Clair to Queenstown: 1 hr 20 min – 91km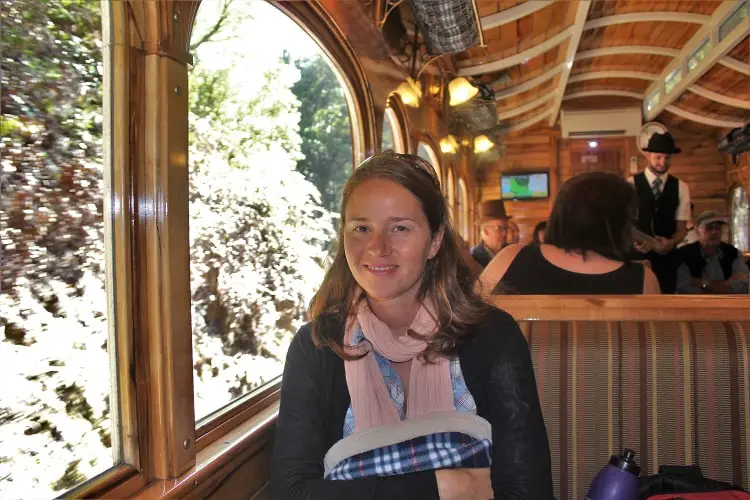 ---
QUEENSTOWN ACCOMMODATION:
Queenstown Cabin and Tourist Park: We camped at this basic tourist park, which has powered and unpowered sites, on-site vans and double and family cabins. Cheap and cheerful!
The Empire Hotel: This 2-star, budget hotel in a heritage building in Queenstown has a mixture of single, double, quadruple (with bunk beds) and family rooms, so it's great for solo travellers or groups of friends. There's free Wi-fi, an on-site restaurant and bar and free parking outside.
Comfort Inn Gold Rush: For a bit more comfort, this lovely 3-star motel is only 1km from the centre of Queenstown and has fantastic ratings. The spacious, heated rooms have free Wi-Fi, parking outside, a flat-screen TV, electric blankets and a kitchenette.
---
Day 20. Strahan
Lying on the shores of Macquarie Harbour, Strahan is a really interesting town to visit, with plenty of history, as well as arts and craft shops to peruse.
The main reason we stayed in Strahan was to join the beautiful World-Heritage Cruise on Gordon River (see below), but you can also stop at Montezuma Falls on the way back up to Devonport; it's the highest waterfall in Tasmania!
---
DISTANCE:
Queenstown to Strahan: 45 min (42km)
Strahan to Devonport: 2 hrs 45 min (223km)
---
STRAHAN ACTIVITIES:
Gordon River World Heritage Cruise (from $135): We loved this relaxing catamaran cruise from Strahan, which includes a buffet lunch, rainforest walk and a guided tour of Sarah Island, Australia's first penal settlement, where the guide will share lots of gruesome tales! The scenery along the tranquil, inky black Gordon River is absolutely stunning!
---
STRAHAN ACCOMMODATION:
Strahan Beach Tourist Park: This beachside tourist park is where we camped. The park has a range of cabins, playground , laundry and barbecues and is only a 15-minute walk into town.
Strahan Wilderness Lodge: You can choose a double, twin or queen-size room at this charming waterside lodge in Strahan. There's free Wi-Fi, parking and a shared garden and lounge.
Strahan Village: This waterfront accommodation is right by Strahan centre, and has an on-site restaurant and bar. The rooms have heating, tea/coffee-making facilities, a fridge and TV.
---
I hope you found this Tasmania self drive itinerary useful! Tasmania really is a stunning state that's really worth visiting. I had an amazing time there.
Make sure you check out my Australian drive itineraries page for more inspiration. I've mapped the coastline from Perth to Brisbane via the south and east coasts. Happy travels!
---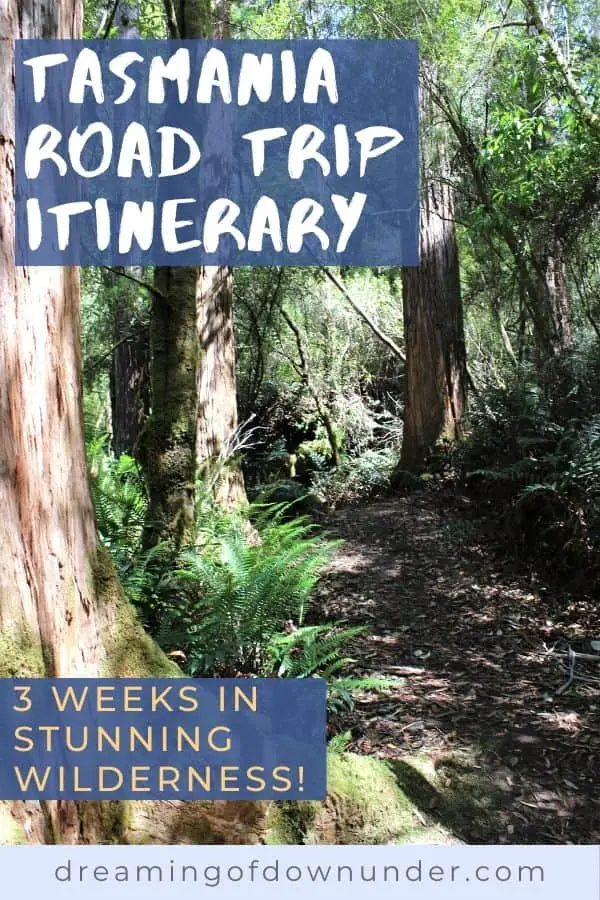 Written by Lisa Bull
Lisa Bull, founder of Dreaming of Down Under, has been living in Australia as a British expat since 2015. After travelling to every state and territory in Australia and living in Perth, Brisbane and Sydney, Lisa knows from first-hand experience the best destinations to visit in Australia and the best budget travel tips. Her guides on this blog have been read by over 700k readers and helped thousands of people achieve their dream of living in or travelling Australia.