This post may contain affiliate links. Please see my disclosure policy for more details.
If you're looking for unique places to visit in South Australia, these unusual Mount Gambier attractions should be high on your list.
Set on the slopes of extinct Mount Gambier volcano, the city of Mount Gambier is vastly different to anywhere else in Australia. And since it lies 450km south-east of Adelaide, it really is a must-see destination on a road trip from Adelaide to Melbourne.
With magnificent sunken cave gardens, a shockingly bright blue lake and beautiful underground caves, you'll find plenty of unusual things to do in Mount Gambier. And since it's the second most-populated city in South Australia, I'd recommend pencilling in a good couple of days or more to explore.
I spent two nights in this unique city myself, after camping in Coorong National Park and later hitting the Great Ocean Road on the way to Melbourne. If you're planning a visit too, here are my top recommended Mount Gambier attractions as well as the best accommodation options.
---
Mount Gambier Accommodation
The most interesting accommodation option in Mount Gambier has to be The Old Mount Gambier Gaol, which is a hostel/hotel inside a converted prison! You can read more about it in my list of unusual attractions below.
There are also plenty of hotels, motels and caravan parks in Mount Gambier to choose from.
Hotels & Motels in Mount Gambier
To find accommodation in Mount Gambier, enter your holiday dates into the search box below.
---
Airbnb in Mount Gambier
If you prefer to hire self-contained accommodation, there's a choice of houses and apartments in Mount Gambier on Airbnb, as well as boutique hotels and private rooms in locals' homes.
---
Holiday Parks in Mount Gambier: Caravan & Camping
If you're tent camping, caravanning or want to hire a private cabin, there's a choice of holiday parks in Mount Gambier. The Blue Lake Holiday Park has cabins, cottages, free Wi-Fi (a rarity in holiday parks) and even an outdoor swimming pool!
Since we were tent camping on our road trip from Adelaide to Melbourne, we stayed at Mount Gambier Central Caravan Park. It also has cabins as well as powered and unpowered camping sites.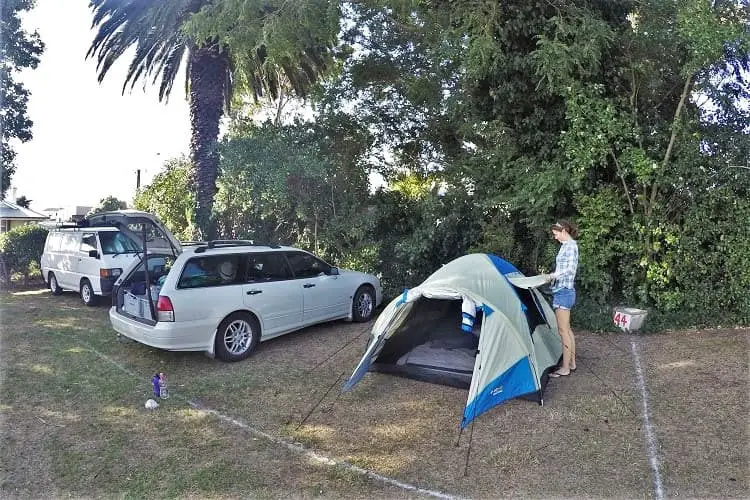 ---
Mount Gambier Attractions List
To skip straight to one of these unusual things to do in Mount Gambier, just click on the relevant link below.
5. Tantanoola Caves Conservation Park
---
1. Umpherston Sinkhole
Formed when the roof of a limestone cave collapsed in, Umpherston Sinkhole is now a well-manicured, sunken garden that visitors to Mount Gambier can admire for free.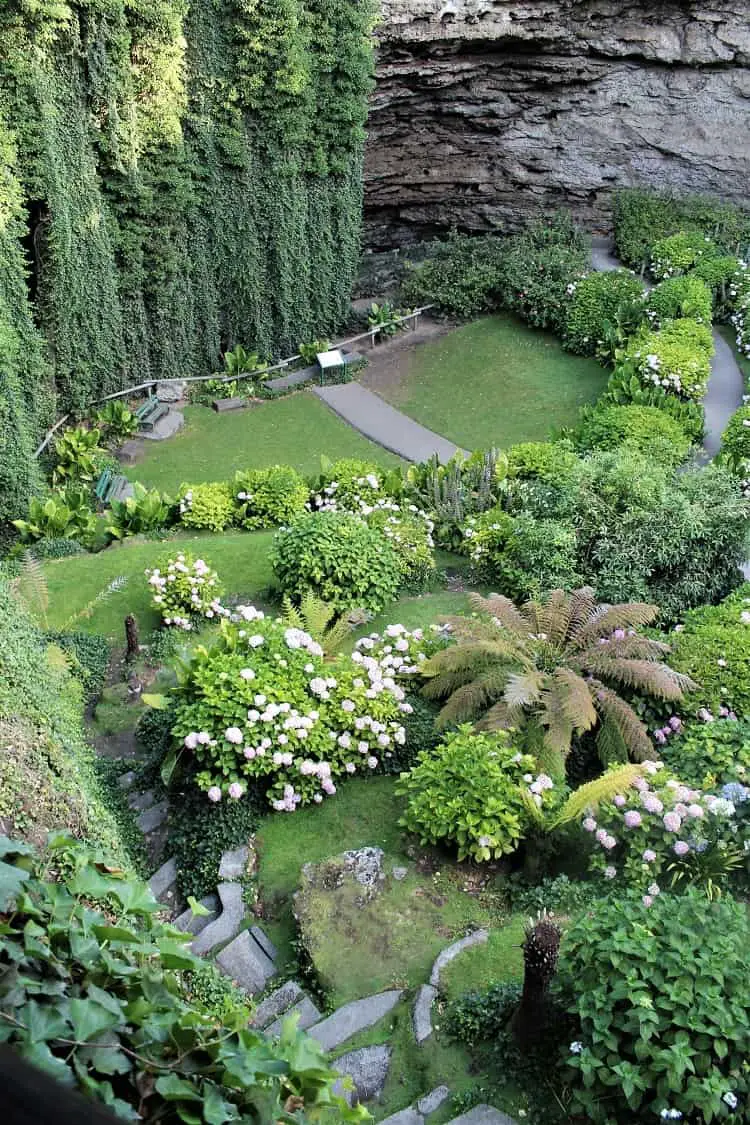 I've travelled almost the whole coastline of Australia, but never seen anything like this sunken garden before; it was completely enchanting! You can climb the steps all the way down and walk behind the overhanging greenery too.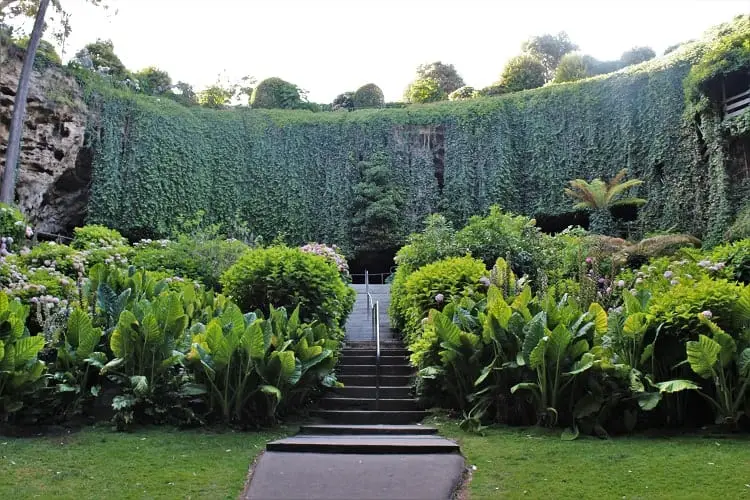 If you come back at dusk you'll also see the very tame resident possums come out to say hello! Just remember not to feed wild animals in Australia!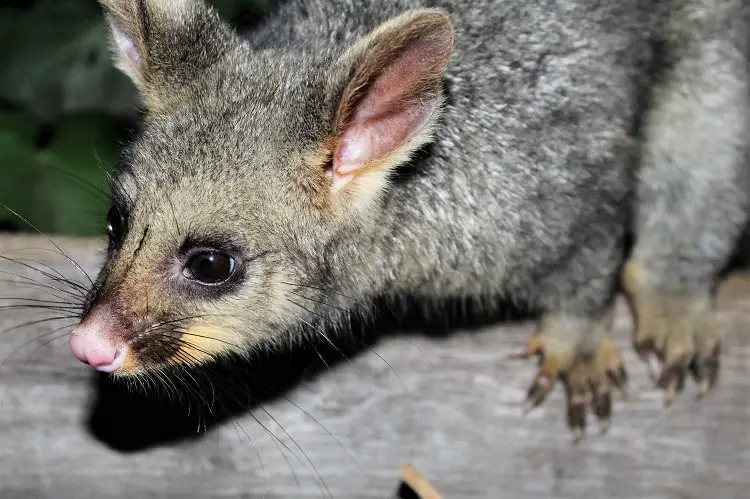 ---
2. Stay in a Converted Prison
If you fancy an accommodation option with a difference, try The Old Mount Gambier Gaol! Yes, a prison!
The historic gaol has been converted into self-contained cottages and hostel dorm rooms inside the old cells. I stayed here over 15 years ago, the first time I travelled Australia, and it still sticks in my mind as one of the most unique places I've ever stayed.
The highly-rated gaol accommodation has free Wi-Fi, heating and shared lounge rooms. It's also only a three-minute drive from the Blue Lake and main shopping street, so conveniently located too.
Stay at The Old Mount Gambier Gaol!
---
3. Blue Lake Mt Gambier
Filling the crater of extinct Mount Gambier volcano, the cobalt-blue water of the Blue Lake really is a sight to behold, and makes the lake one of the top Mount Gambier attractions.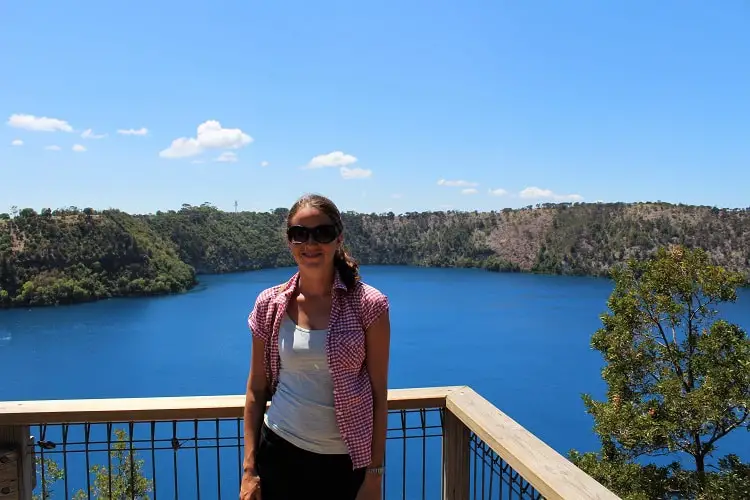 While no one knows for sure why the water looks this colour, it's thought to be affected by the change in temperature, as it turns a darker steel grey between April and November, and turquoise during the summer.
You can best enjoy the lake by walking the 3.6km trail around its perimeter, stopping at the many lookouts.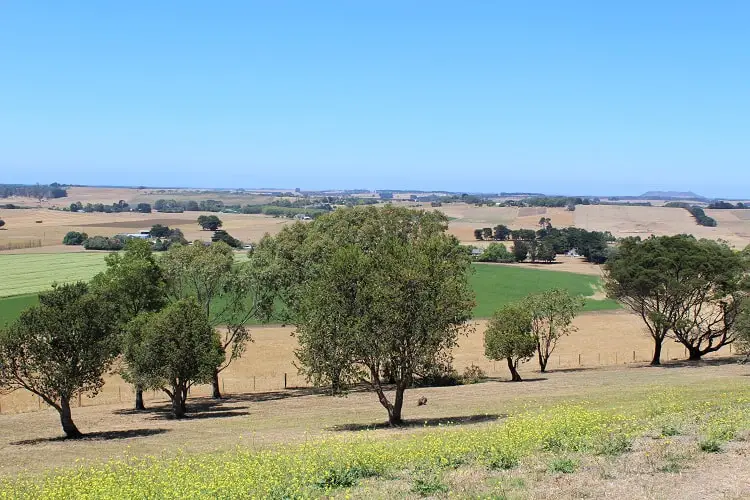 You'll also pass some typical South Australian scenery along the trail, as well as the interesting gardens below!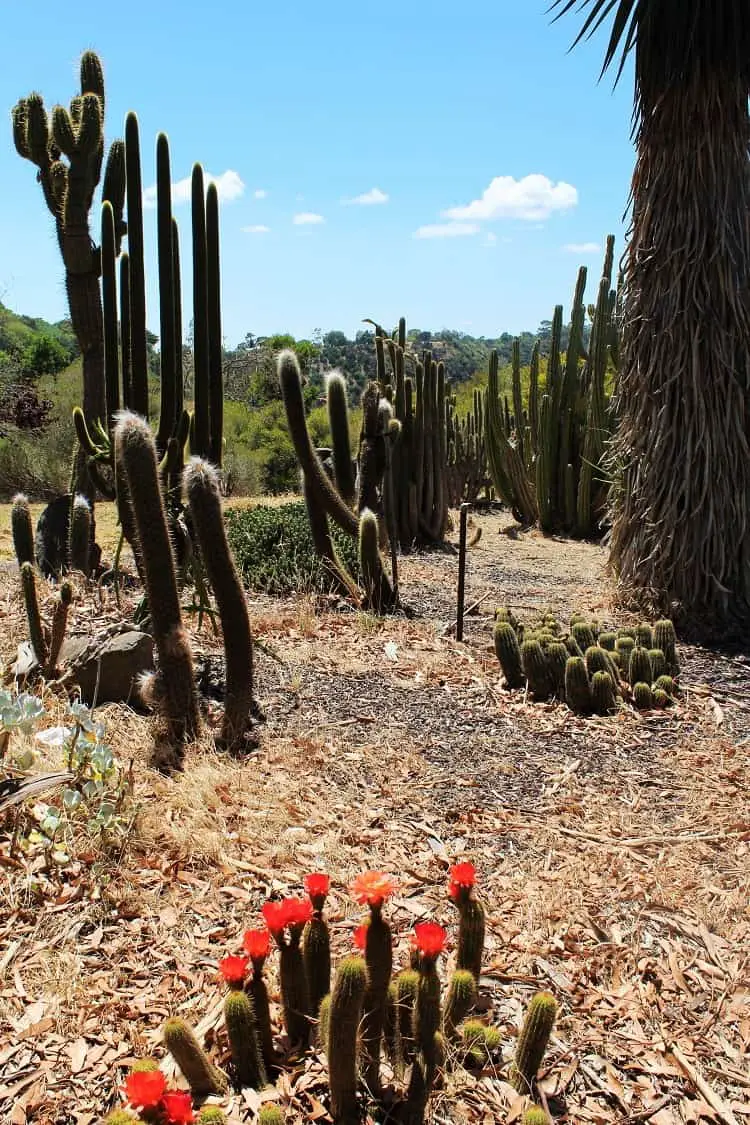 ---
4. Cave Gardens Mt Gambier
One of the most central Mount Gambier attractions is the lovely Cave Gardens, right in the city centre. Sitting inside another sinkhole, you can look down on these gardens from above, and there's also an Evening Light Show telling Aboriginal Dreamtime stories.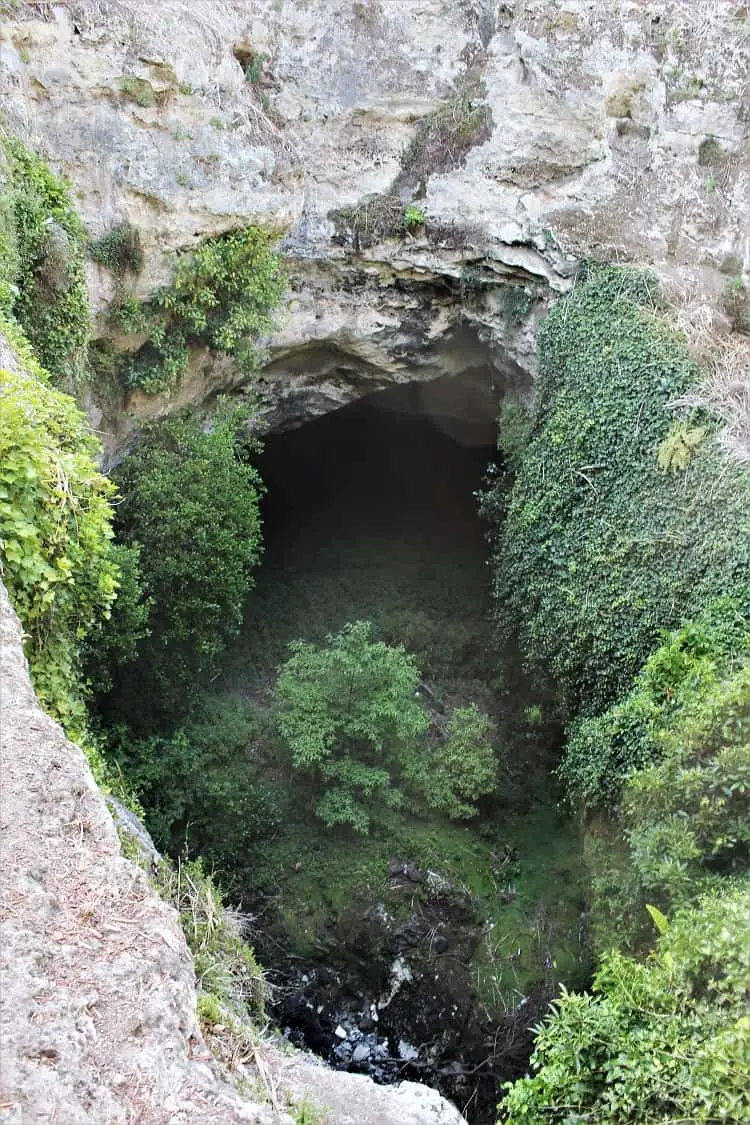 Up on ground level you can roam through the rose garden, which blooms during springtime.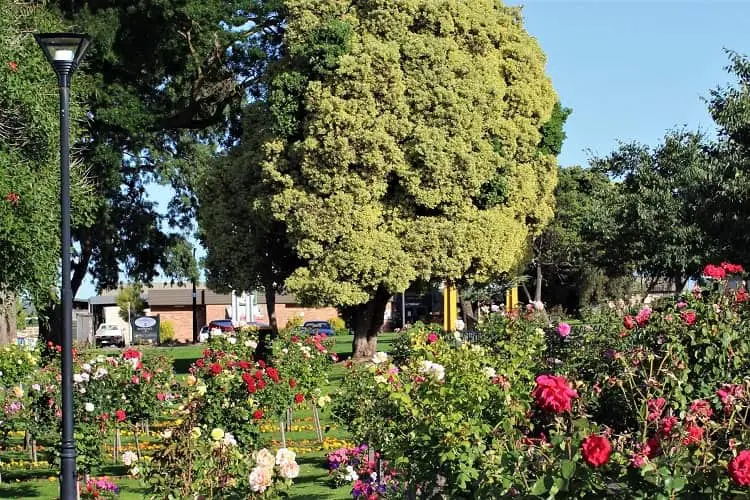 ---
5. Tantanoola Caves Conservation Park
Tantanoola Caves, about 12km out of town, is one of the most-visited destinations in South Australia and one of the most interesting things to do in Mount Gambier.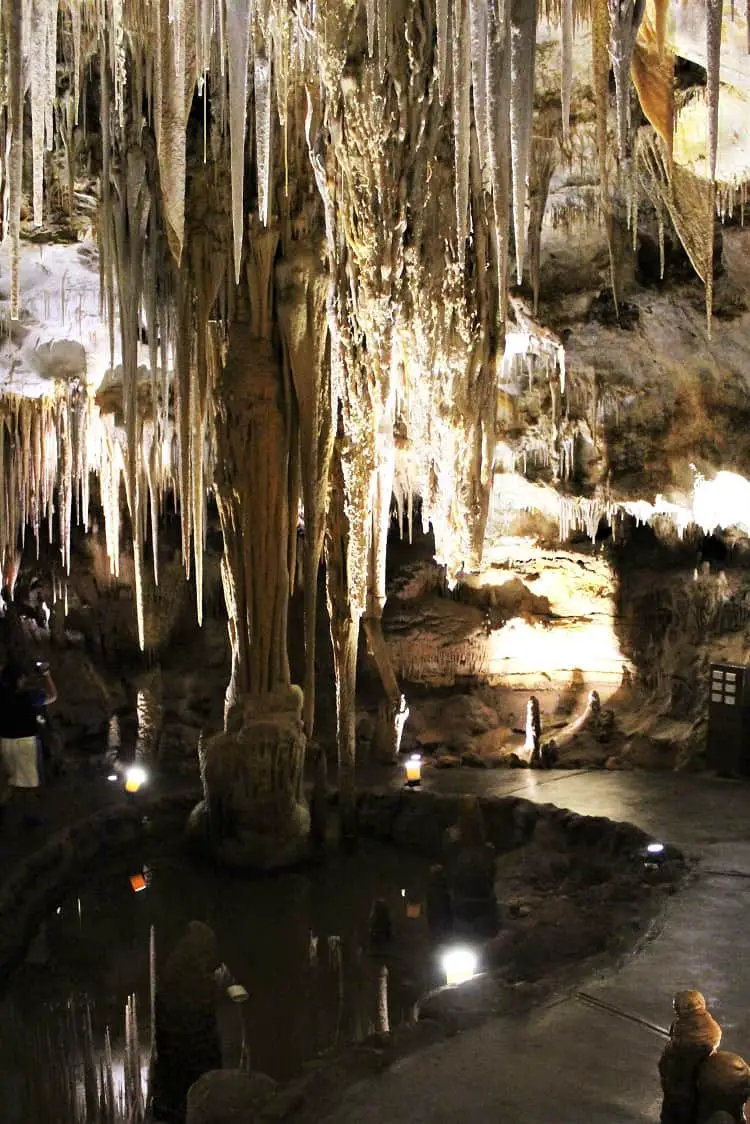 You'll get a guided tour around the 30m-wide, 8m-high caves, with time at the end to quietly look around and take photos.
We'd originally planned to visit some caves in Margaret River at the start of our Perth to Adelaide journey, but they were closed due to a power cut! We were really pleased to be able to see Tantanoola caves instead, and they didn't disappoint.
As you can see, the caves are really spectacular, and they're also wheelchair accessible.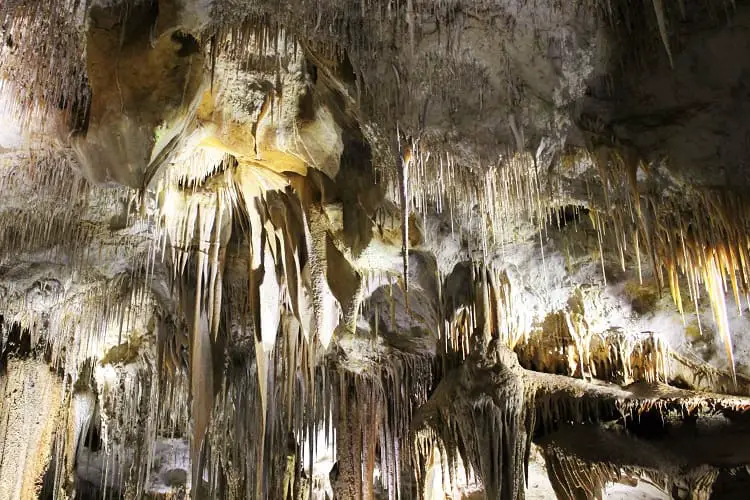 ---
6. Valley Lake Mount Gambier
Valley Lake in Mount Gambier is another crater lake, but much quieter and less touristy than the Blue Lake. With picnic areas and walking trails, it's the perfect spot to relax for a while, and perfect for families as well as backpackers.
There are picnic areas, barbecues and an adventure playground. You'll also get to meet lots of friendly birds like this black swan that sat by my feet for a while!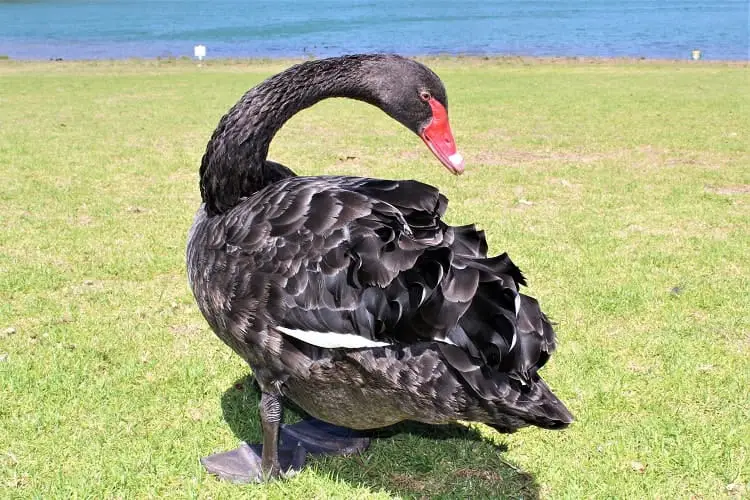 ---
7. Kingston SE Big Lobster
If you're travelling from Adelaide to Mount Gambier, and Australia's Big Things tickle your fancy, be sure to say hi to Larry the Lobster, a whopping 17m-high fibreglass construction. He's situated 157 km (1 hour 40 minute drive) north-west of Mount Gambier, in the beachside town of Kingston SE. Definitely not something you see every day!
Poor old Larry, who's been in the area since 1979, was almost moved interstate until millionaire Tom Brinkworth bought him in 2018.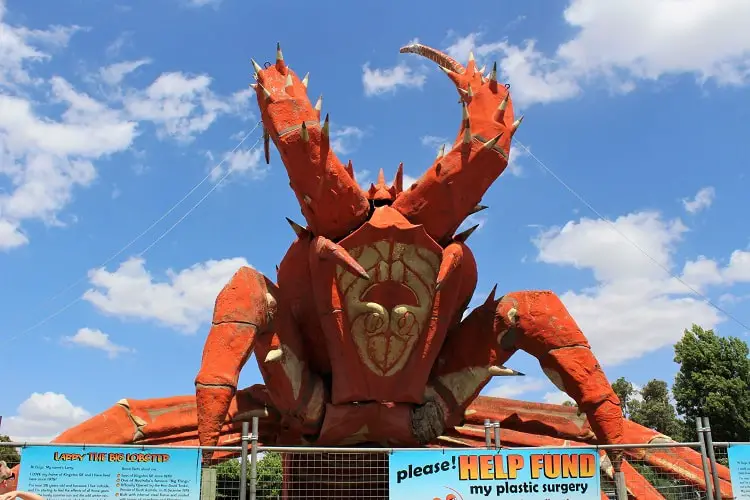 ---
8. The Granites
Twenty minutes' drive north of Kingston SE is The Granites Beach, at the end of Granites Rd off Old Coorong Rd. It's part of Australia's longest beach (known as The Coorong) and can be driven across by 4WD.
We stopped for a quick glimpse of the unusual 2m-high granite boulders that protrude out of the sand. They're the only rocks on the entire 194km stretch of sand, and certainly an unusual sight.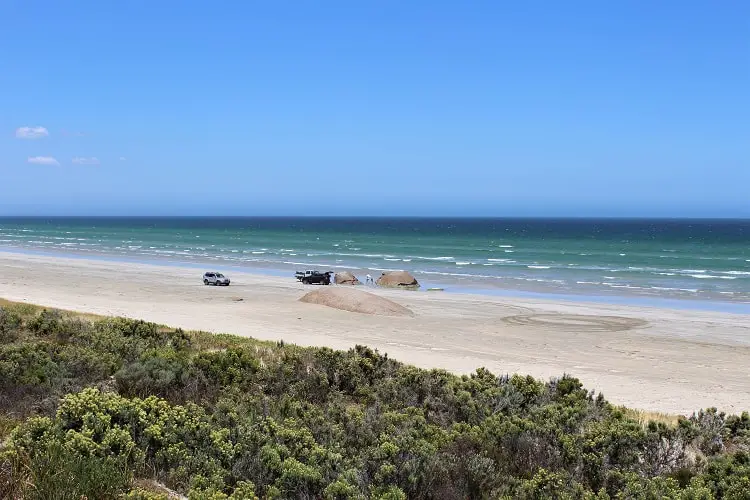 ---
That's it for my unusual things to do in Mount Gambier! If you're travelling from Adelaide to Mount Gambier, a great place for an overnight camping stop is Coorong National Park. It features sand dunes, salt lakes and a 130km-long lagoon running behind the ocean. Read about our night camping there in this blog post:
Camping in Coorong National Park
If you're travelling from Melbourne to Mount Gambier, make sure you read my in-depth guide on what to see along the Great Ocean Road:
12 Attractions on The Great Ocean Road
To read my whole Adelaide to Melbourne road trip plan, which includes attractions, driving times, distances and costs, take a look at the drive itinerary below.
Adelaide to Melbourne Drive Itinerary via the Great Ocean Road
Happy travels!
---
Written by Lisa Bull
Lisa Bull, founder of Dreaming of Down Under, has been living in Australia as a British expat since 2015. After travelling to every state and territory in Australia and living in Perth, Brisbane and Sydney, Lisa knows from first-hand experience the best destinations to visit in Australia and the best budget travel tips. Her guides on this blog have been read by over 700k readers and helped thousands of people achieve their dream of living in or travelling Australia.