This post may contain affiliate links. Please see my disclosure policy for more details.
If you're considering living in Adelaide but haven't quite made up your mind, this blog post will give you a snapshot of what Adelaide lifestyle is like. You will also learn about Adelaide weather, property prices, beaches and things to do!
As one of Australia's most affordable cities, particularly for property, Adelaide is a popular choice for expats or relocating Aussies. Adelaide also has a choice of lovely beaches, bars and restaurants and a beautiful backdrop of hills.
To find out if moving to Adelaide could be the right choice for you, keep on reading! You can also watch my YouTube video on how Adelaide compares to Perth.
---
Living in Adelaide: Table of Contents
To skip straight to a topic on Adelaide lifestyle, just click the links below.
---
1. Where is Adelaide in Australia?
Adelaide is located on the south coast of Australia, about an eight-hour drive north-west of Melbourne. It lies at the end of the popular travel route that runs down the east coast and then west past Melbourne.
Continuing west from Adelaide takes you past a few more settlements then out across the isolated Nullarbor Plain towards Perth. Heading north takes you through the outback to Alice Springs and Ayers Rock.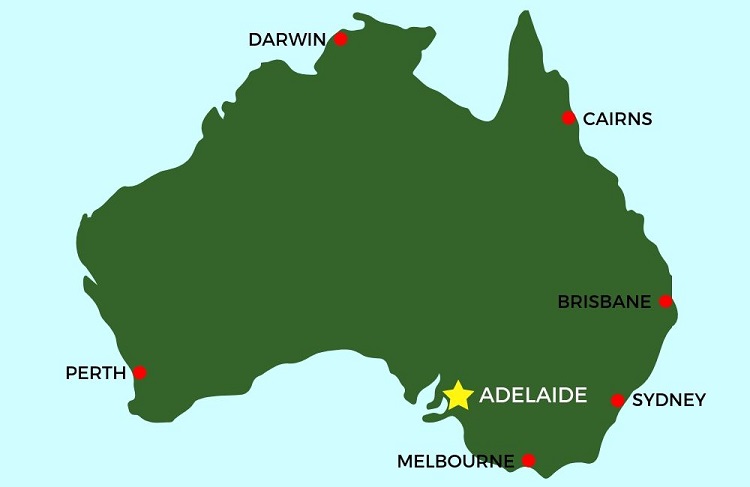 ---
2. Adelaide Population
With a population of 1.3 million, Adelaide is the fifth most-populated city in Australia. It's also the capital of South Australia. It certainly has a smaller feel than Sydney and Melbourne, the two largest cities in the country.
Adelaide CBD (city centre) is fairly compact, but the suburbs sprawl outwards and up into the beautiful Adelaide Hills. I thought the glimpses of the hills between the buildings in the city gave Adelaide a lovely, less urban feel than the larger cities.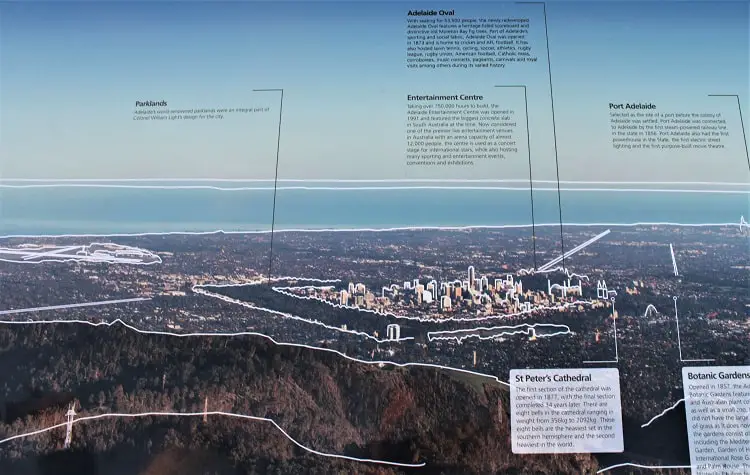 ---
3. Living in Adelaide: Weather & Seasons
Adelaide has a Mediterranean climate, with hot, dry summers and mild, slightly rainier winters. It's less humid than Sydney, and much sunnier than Melbourne.
The average maximum temperature in Adelaide is 29.6 degrees in the hottest month (January), and 15.3 degrees in the coldest month (July).
Overnight, the average minimum temperature in Adelaide is 17.3 degrees in January and 7.6 degrees in July.
Per year, Adelaide has an average of 88 sunny days. As a comparison, Perth has the most with 139, and Melbourne only has 49. Adelaide also has an average of 83 rainy days (of at least 1mm) per year.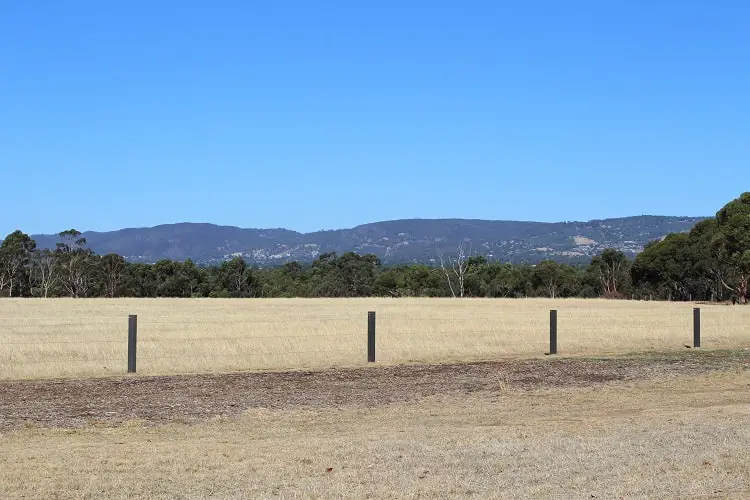 Even though the dry heat in Adelaide can be more comfortable than Brisbane and Sydney's humidity, the city still experiences some extremely hot days. When I spent Christmas and New Year in Adelaide, the temperature exceeded 40 degrees on a few occasions!
I also thought Adelaide looked much less green than much of the east coast. It still had some lovely, tree-lined streets, but some very parched-looking grass! The mean rainfall in Adelaide is only 551mm per year, compared to a whopping 1,216mm in Sydney.
---
4. Daylight Hours in Adelaide
Since Australia is so large and not all states have daylight saving, sunset times vary greatly across the country. Since South Australia has daylight saving, Adelaide benefits from lighter summer evenings than Brisbane and Perth.
In the height of summer in Adelaide, the sun goes down just after 8:30pm, only slightly earlier than Melbourne. In midwinter, the sun sets just after 5pm, as it does in most of the other capitals.
---
5. Adelaide Beaches
The most well-know beach in Adelaide in Glenelg Beach, but the city is actually blessed with over 30km of continuous beaches to the west of the CBD! Perfect for all that warm weather and sunshine.
You can hit the coastline in about 20 minutes from the city, so with the longer summer evenings you'll be able to spend time there after work if you live in the right direction. I remember Henley Beach having a great atmosphere around sunset time.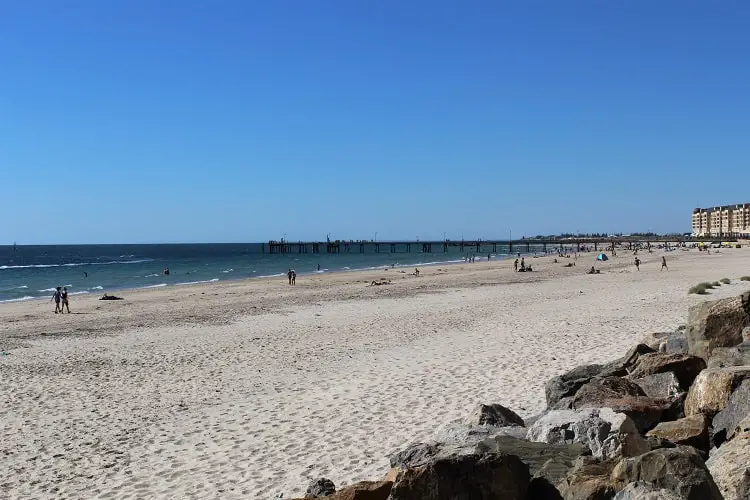 ---
6. Things to Do in Adelaide
With its fine weather, Adelaide is a great city for those of you who love the outdoors. As well as its choice of beaches and parks, the nearby Adelaide Hills region has beautiful botanic gardens, hiking trails and quaint little villages such as Hahndorf.
Adelaide seems to have upped its game in terms of food, arts, live music, cafes and bars since I first visited over 15 years ago. The city that used to be known as a bit of a hole amongst Australians is now nicknamed Radelaide and often referred to as Australia's most underrated city!
Visiting Adelaide's nearby wine regions, such as Clare Valley, McLaren Vale and Barossa Valley, is a popular activity too.
There is also some beautiful old architecture dotted around the city. Try North Adelaide for leafy streets and quirky bars. For more ideas, check out my blog post on the top things to do in Adelaide.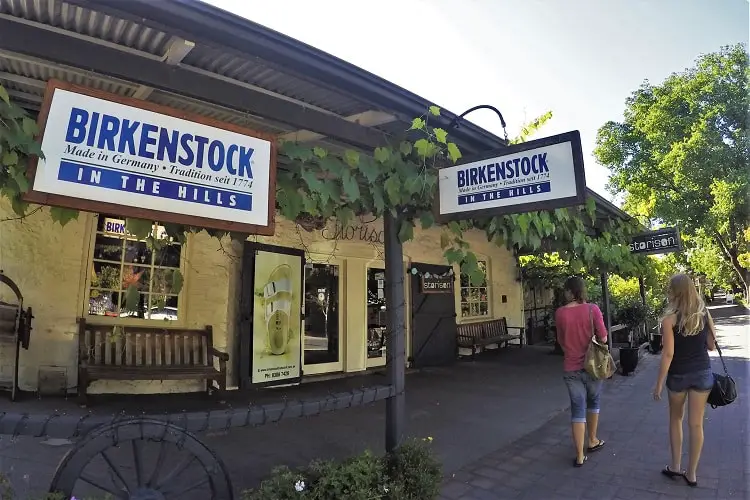 ---
7. Adelaide Property Prices
While many people dream of living in Sydney or Melbourne, their high property prices can be extremely off-putting. In terms of real estate, Adelaide is one of the cheapest cities in Australia.
According to data from the CoreLogic property report in July 2023, the median house price in Adelaide during June 2023 was $712,421, and the median unit (flat) value was $450,569.
As a comparison, the median house price in Sydney was $1,324,396 and in Melbourne, $918,971. Obviously, property prices vary greatly across each city, depending on the size, type and location of the home.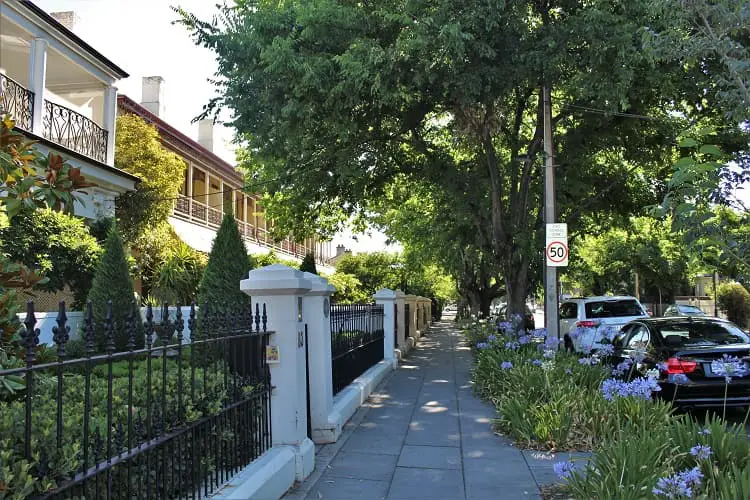 ---
8. Renting in Adelaide
From this June 2023 report on rent.com.au, the median weekly rent in Adelaide was $540 for a house, $430 for a unit (flat) and $190 for a room.
As a comparison, the median weekly rent for a house was $800 in Sydney, the most expensive state capital city, and $532 in Hobart, the cheapest.
---
9. Trips from Adelaide: Holiday Destinations
Despite Adelaide bordering on the long, empty roads to Ayers Rock and the vast Nullarbor Plain, it still has some stunning scenery and holiday attractions nearby.
Directly south of Adelaide lies the beautiful Fleurieu Peninsula, and a ferry ride from there takes you to enormous Kangaroo Island. Both places are high on my list of future holiday destinations, with pristine beaches and coastal scenery.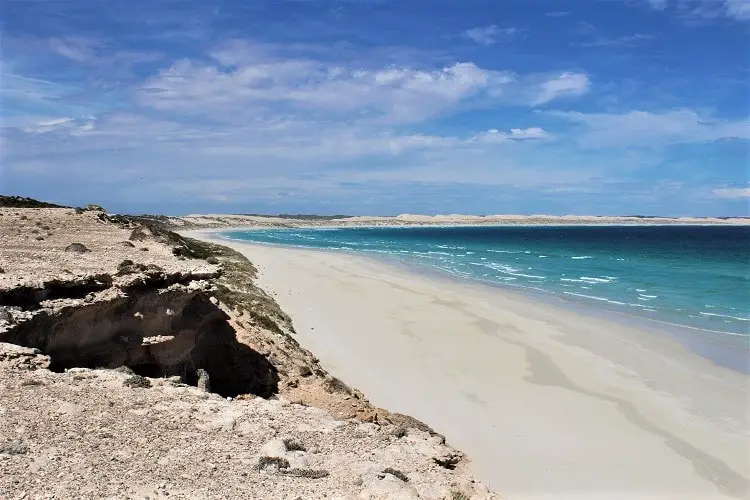 Heading north-west takes you to the Yorke Peninsula and gorgeous Eyre Peninsula, which I loved exploring on my Perth to Adelaide road trip. You can even swim with wild dolphins and sea lions in Baird Bay!
The Clare Valley wine region lies a couple of hours north of Adelaide. You can also easily hop on a domestic flight from Adelaide to plenty of other cities or holiday hotspots in Australia.
---
Hopefully this blog post on living in Adelaide has helped with your potential move!
Good luck with your big move!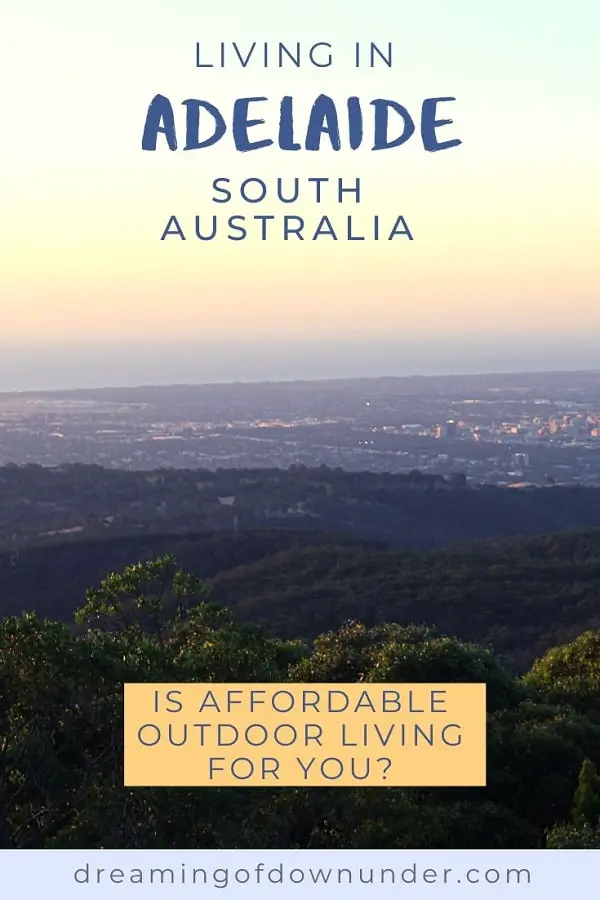 Written by Lisa Bull
Lisa Bull, founder of Dreaming of Down Under, has been living in Australia as a British expat since 2015. After travelling to every state and territory in Australia and living in Perth, Brisbane and Sydney, Lisa knows from first-hand experience the best destinations to visit in Australia and the best budget travel tips. Her guides on this blog have been read by over 700k readers and helped thousands of people achieve their dream of living in or travelling Australia.