This post may contain affiliate links. Please see my disclosure policy for more details.
Trying to decide where to live in Australia can be difficult task. Especially in such a huge and varied country! This Canberra vs Adelaide lifestyle comparison covers many of the differences between the two cities, to help you choose the right place for you.
I personally live in Sydney, but I've travelled most of Australia's coastline and been to all the state capitals. I've visited both Adelaide and Canberra more than once.
If you're thinking of living in Adelaide or living in Canberra, read on to find out some of the differences between Canberra and Adelaide lifestyles! Alternatively, watch my YouTube video below.
---
1. Where are Adelaide and Canberra in Australia?
Both Adelaide and Canberra lie in the south-east corner of Australia, about 1,200 kilometres apart, which takes around 12.5 hours to drive.
Adelaide is a coastal city on the south coast of Australia. Canberra sits a couple of hours inland from the coastline between Sydney and Melbourne, almost directly east of Adelaide.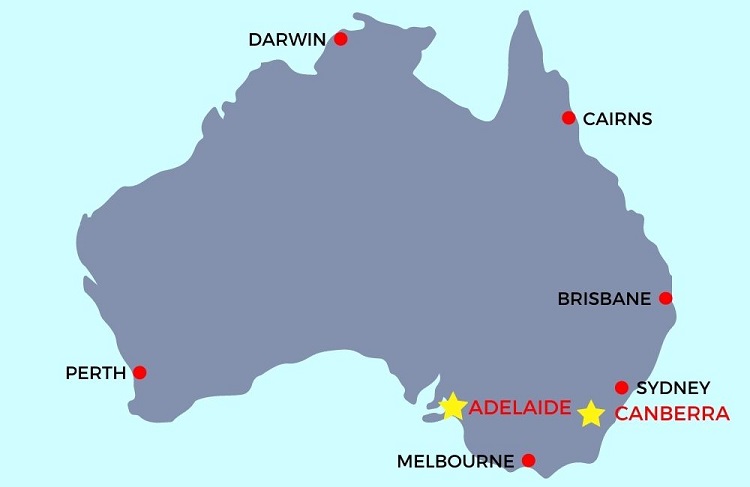 ---
2. What is the Population of Canberra and Adelaide?
Adelaide is Australia's fifth most-populated city, with a population of around 1.3 million people. Sydney, Melbourne, Brisbane and Perth are the top four most-populated cities in Australia.
Canberra is the sixth most-populated of the state capitals, with a population of only 368k. Canberra definitely looks and feels very small compared to the other major cities in Australia, even though it is the country's capital city.
---
3. What Canberra and Adelaide Look Like
What I liked about Adelaide was the view of the hills between the tall buildings in the city. Even though you've got all the conveniences and buzz of a major city, it doesn't feel like a concrete jungle. You know that you're not far away from more rural areas.
Adelaide also has nice parks and botanic gardens around the city, as well as a lovely riverside area. North Adelaide, a suburb just across the river from the city, is really cool to visit too. It's quite leafy with great cafes and bars. It seemed a bit more hipster than the CBD.
Canberra was custom built to be Australia's capital city, since they couldn't choose between Sydney and Melbourne, so it's very different to the "typical" big and bustling capital cities in many other countries. It looks very different from the other cities in Australia that I've been to as well.
There was a competition to design Canberra, and it's got quite an unusual layout. A long, straight road cuts through the city, and at some points, roads span outwards in geometric shapes. It's probably best to look on a map than try and imagine!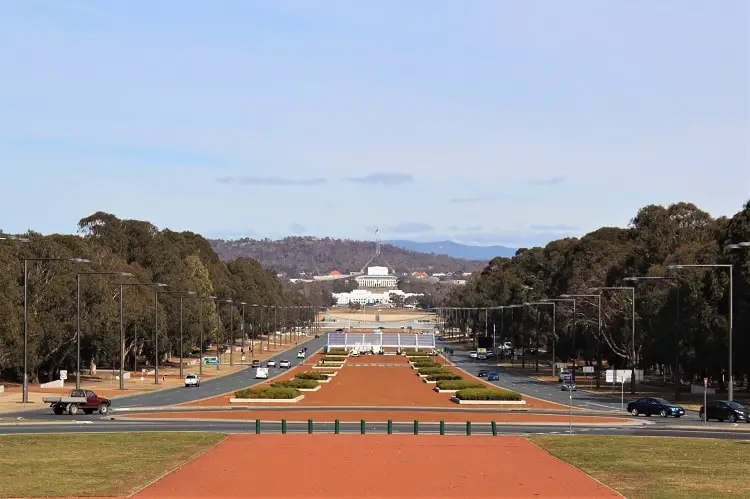 I did think Canberra's city centre looked quite grey, with very uniform, blocky buildings. Whereas Adelaide looks a bit more like most of the other capital cities in Australia, a bit more colourful, with a big variety of buildings.
Canberra does have a lovely lake and parklands by the city though. It's also pretty quiet with very little traffic compared to the bigger cities like Sydney and Melbourne, and it has great mountain views around the city.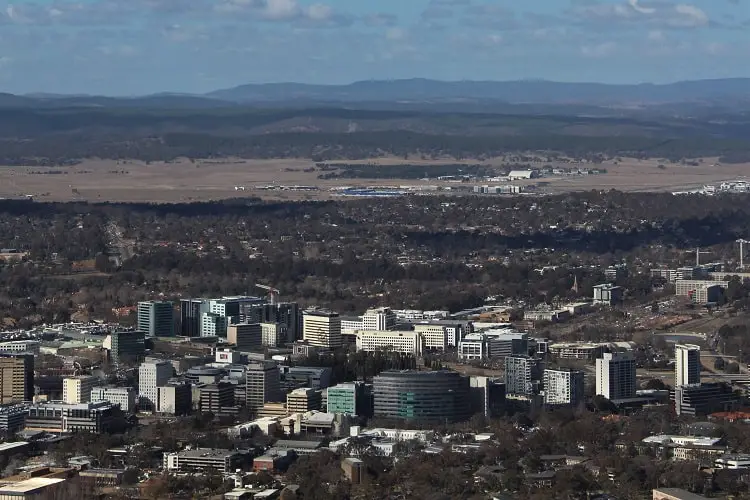 ---
4. Beaches vs Mountains
Being a coastal city, Adelaide has the advantage of having lots of lovely beaches. It also has hot, dry summers, so you'll have plenty of opportunity for beach time. You can also head into the Adelaide Hills to escape the city.
Conversely, Canberra lies inland, so obviously doesn't have beaches. However, it only takes two hours from Canberra to drive to the fantastic beaches in South Coast NSW, so you could easily have a day trip or weekend at the beach.
Canberra also lies close to mountain ranges, so you can reach ski resorts within two hours as well. A friend of mine who used to live in Canberra said one of the things that people like about the city is the easy access to both beaches and mountains.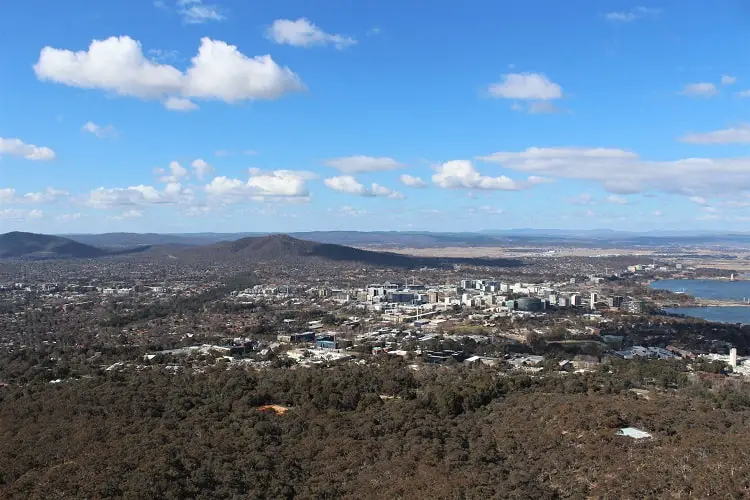 ---
5. What is the Weather Like in Adelaide vs Canberra?
Canberra and Adelaide do have quite different climates. Adelaide has hot, dry summers, with the average daytime temperature being around 30 degrees in January and February.
There's only around two or three days of rain per month on average, at that time of year, and about 12 days of sunshine. Adelaide tends to drop to about 17 degrees overnight in the summer.
In the winter, Adelaide reaches around 16 degrees in the daytime and drops to eight degrees at night, with about 12 days of rain per month. The climate in Adelaide is fairly similar to Perth, only Perth is a couple of degrees hotter through the year with a heavier volume of rain in the winter.
Adelaide does reach some extremely hot temperatures in the summertime, sometimes over 40 degrees. This is apparently due to hot winds coming directly down from central Australia. Like Melbourne, the weather in Adelaide can vary dramatically and change very quickly, as both cities can also have cold winds blowing up from the Southern Ocean.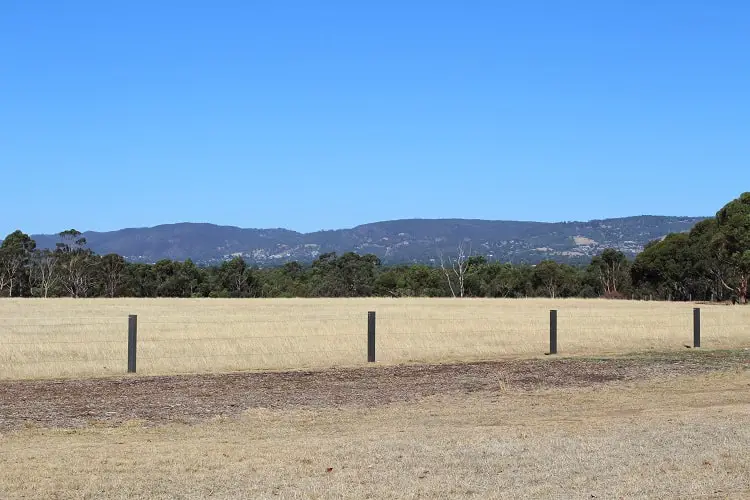 Canberra lies inland and is also quite elevated. The daytime and night-time temperatures in Canberra, as well as the winter and summer temperatures, have a much bigger variation than in Adelaide and the other coastal cities in Australia.
In the summertime, temperatures in Canberra reach around 26 to 28 degrees in the daytime and drop to around 13 degrees overnight. So, Canberra gets quite a bit colder than Adelaide during the night.
Canberra also has slightly more rain in the summertime than Adelaide, with around five rainy days per month.
During the winter, Canberra only reaches around 12 degrees maximum in the daytime and often drops to zero at night! Much colder than in Adelaide and most of the other coastal cities in Australia.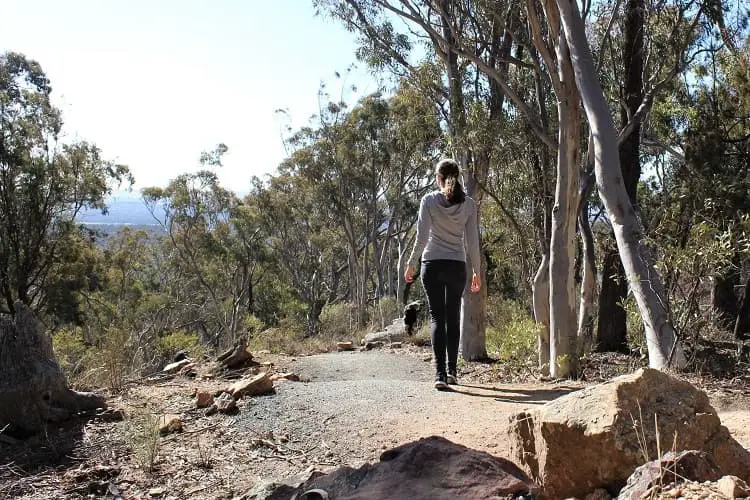 Canberra also stays quite dry during the winter, with only about 6 days of rain a month on average. So, Canberra really is a dry city year-round.
I would say that both Canberra and Adelaide look visibly drier compared to some of the wetter Australian cities like Sydney and Brisbane, which look a bit more green and lush.
In Canberra the grass was extremely brown and frazzled when I visited, but they had suffered a really bad drought that year, so I'm sure it looks much greener now.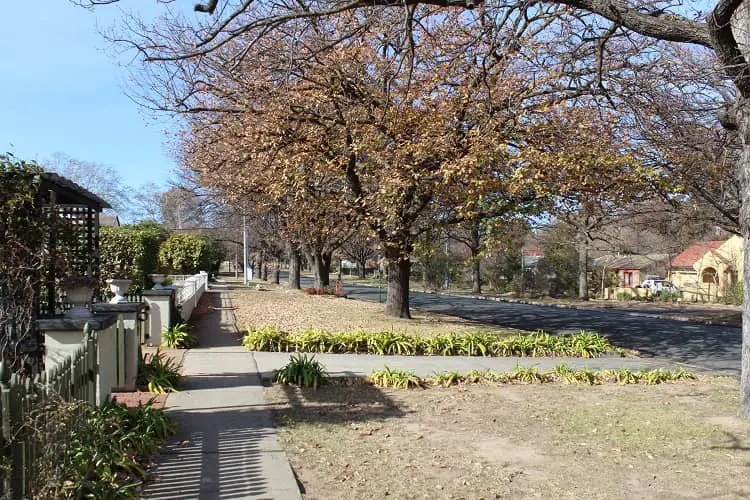 Also note that because of the colder winters in Canberra, it looks a bit more like the UK at that time of year, in that the leaves fall off a lot of the trees. The cities that are warmer in the winter seem to stay fairly green all year round.
If you like very distinct seasons, you might prefer Canberra to Australia's other major cities.
---
6. Property and rental Prices in Adelaide and Canberra
According to this CoreLogic property report from 1 July 2023, the median house value in Adelaide in June 2023 was $712,421, compared to $954,079 in Canberra. The median value of a unit (flat) in June 2023 was $450,569 in Adelaide and $597,580 in Canberra.
Obviously, Canberra is significantly more expensive to buy property in than Adelaide; only Sydney has higher property values in Australia.
From this June 2023 report on rent.com.au, the median weekly rent in Adelaide for a house was $540, compared to $650 in Canberra. The median weekly rent for a unit (flat) in was $430 in Adelaide and $520 in Canberra.
---
7. Things to Do in Adelaide and Canberra
Here are some of the different things to do in Adelaide vs Canberra.
Being a bigger city, Adelaide has all the standard attractions you would expect in terms of bars, restaurants and cafes. And, as I've covered, Adelaide has some lovely beaches too and the weather to enjoy them.
Glenelg Beach is probably the best-known beach in Adelaide, and there's plenty to do around that area in terms of shops and cafes. Some quieter beaches in Adelaide include Henley Beach and Semaphore Beach.
Elder Park in Adelaide is also a lovely spot, right on the riverside. You can chill out on the grass or even hire a paddle boat. I spent New Year in Elder Park a few years ago, which was great fun and much more chilled and family friendly than the famous fireworks display in Sydney.
In the Adelaide Hills, you can visit quaint villages like Hahndorf, which has a strong German influence. At Christmas, head to Lobethal to see the impressive light displays that locals put on in their front gardens and homes.
There are also botanic gardens in Adelaide, and I'd highly recommend visiting Mount Lofty for the fantastic views across the city. Find out more in my blog post on things to do in Adelaide.
In Canberra, there are some great botanic gardens, and you can hike up to Telstra Tower from there, which has fantastic, elevated views across the city and surrounding mountains.
You can walk or cycle around Lake Burley-Griffin and also bush walk in the surrounding hilly areas.
One of the best things to do in Canberra, at least for visitors, is check out the cultural attractions. There are plenty of great museums and art galleries, and you can also take a look around the government buildings. Since there's a top university in Canberra, I'm sure there's lots of student nightlife too.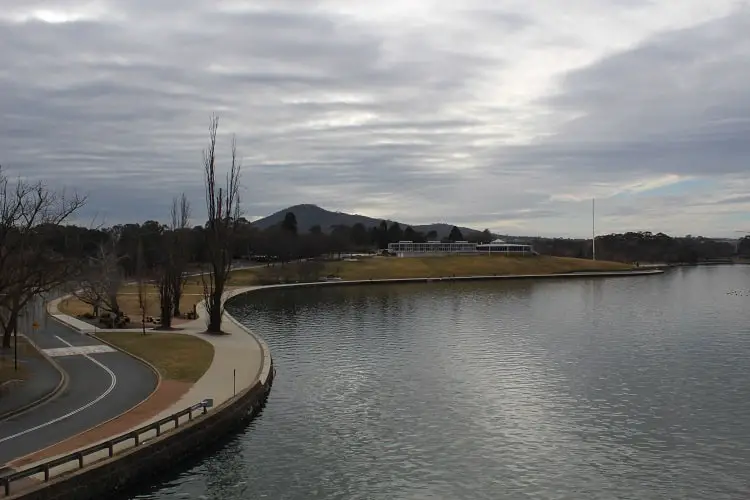 ---
8. Nearby Holiday Destinations
From Adelaide, you can choose from plenty of holiday destinations in South Australia. Nearby, you can go camping or walking in Coorong National Park, which has salt lakes stretching along the coastline. Further to the east is Mount Gambier, which is a really unique volcanic city with a bright blue lake and sunken gardens.
For a longer road trip, you can head west to visit the stunning beaches in Coffin Bay or Port Lincoln on the Eyre Peninsula. To the east is the Great Ocean Road near Melbourne.
A couple of places in South Australia that I'd love to visit are Kangaroo Island and the Fleurieu Peninsula. They both look like they've got fantastic coastal scenery.
From Canberra, a two-hour drive south-east takes you to beautiful Batemans Bay in South Coast NSW, from where you can head up and down the coastline to explore.
A two-hour drive south is Jindabyne in Kosciuszco National Park, a popular skiing destination in the winter. Two hours north-east of Canberra lies the Southern Highlands, which has some fantastic old towns, waterfalls and beautiful bush walks in the national parks.
Sydney is also a 3.5-hour drive from Canberra, or you can visit by train. From Sydney you can explore Wollongong, Kiama and lots of other New South Wales destinations.
So, even though Canberra lies inland, you still have easy access to plenty of places to visit on the weekends.
---
That's it for my differences between Adelaide and Canberra. I really enjoyed visiting both cities and like them much more than I thought I would!
I think Adelaide gets a bit of a bad rap from people living in other cities, and people often say it's boring. I liked it much more than I expected though, and I think it's really been modernised since I first visited about 20 years ago.
While I don't think Canberra is a place that many expats think about moving to, if you had the opportunity to move there because of work, you can still explore plenty of places and use it as a base.
To learn more about Australian cities, check out my page on where to live in Australia. You'll find lifestyle overviews of lots of Australia's major cities, as well as city comparisons. To find out more about Adelaide, read my lifestyle comparison of Adelaide vs Perth.
---
Written by Lisa Bull
Lisa Bull, founder of Dreaming of Down Under, has been living in Australia as a British expat since 2015. After travelling to every state and territory in Australia and living in Perth, Brisbane and Sydney, Lisa knows from first-hand experience the best destinations to visit in Australia and the best budget travel tips. Her guides on this blog have been read by over 700k readers and helped thousands of people achieve their dream of living in or travelling Australia.