This post may contain affiliate links. Please see my disclosure policy for more details.
If you're looking for a nature-filled trip from Sydney and love the outdoors, Mungo Brush camping ground is just a three-hour drive north of the city, in beautiful Myall Lakes National Park.
I camped at Mungo Brush on my Sydney to Brisbane road trip and would definitely class it as one of the most scenic campgrounds in Australia that I've seen so far.
Myall Lakes National Park forms part of the Great Lakes region on the Barrington Coast. With 40km of beaches and one of the largest coastal lake systems in New South Wales, it's a nature-lover and water-baby's dream! Read on to find out where to stay and what to see in Myall Lakes.
---
Mungo Brush Camping Ground
Mungo Brush camping ground is set on a the banks of White Tree Bay slightly south of Myall Lake. The view across the water is absolutely stunning, and my personal highlight was watching the sunset after we arrived.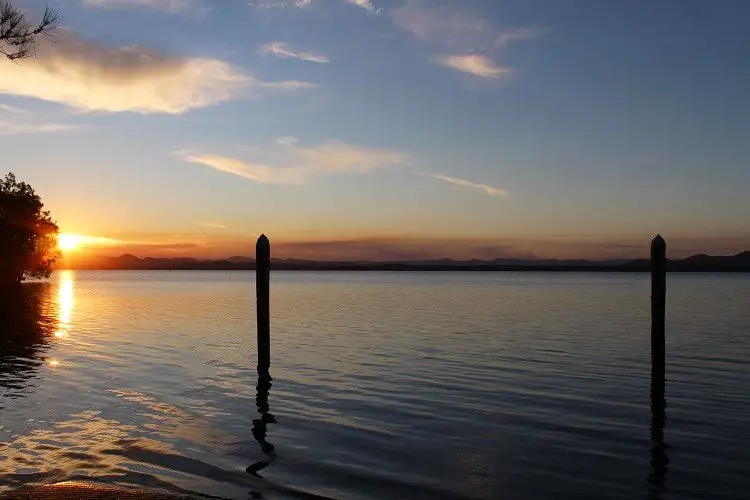 The campsite itself is open and grassy, with lots of tall trees. So it's very picturesque and peaceful. It's literally right by the water's edge too, so you don't have to walk anywhere to enjoy the view.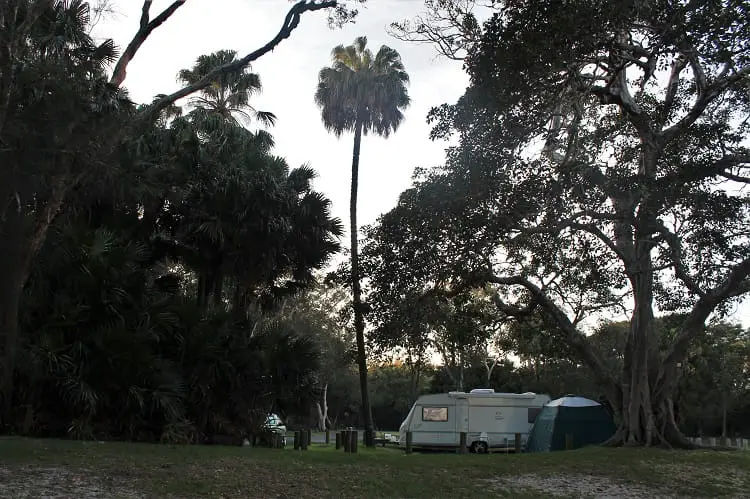 Look out for the Australian wildlife, being in such a rural area. This cheeky kookaburra enjoyed watching us eat breakfast!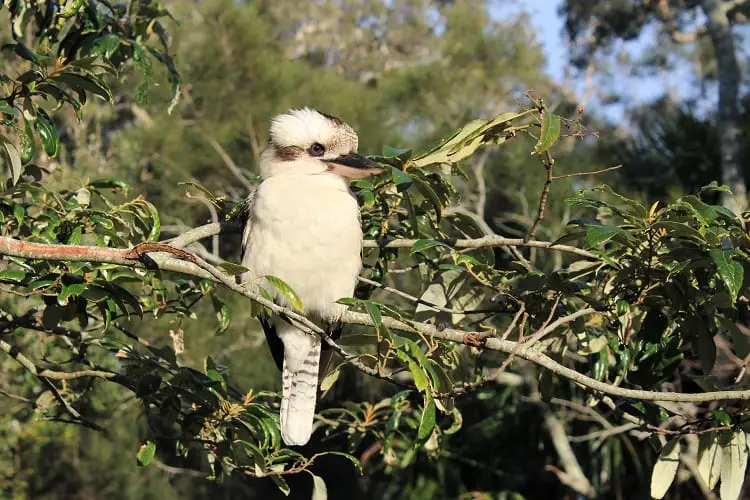 Facilities at Mungo Brush Campground
The facilities include compost toilets, picnic tables and barbecues (no showers). So you'll need to be well prepared with your own water etc.
Make sure you bring your camping stove too, as there aren't any kitchen facilities at Mungo Brush. It's a pretty isolated area, so you can't nip out to the takeaway!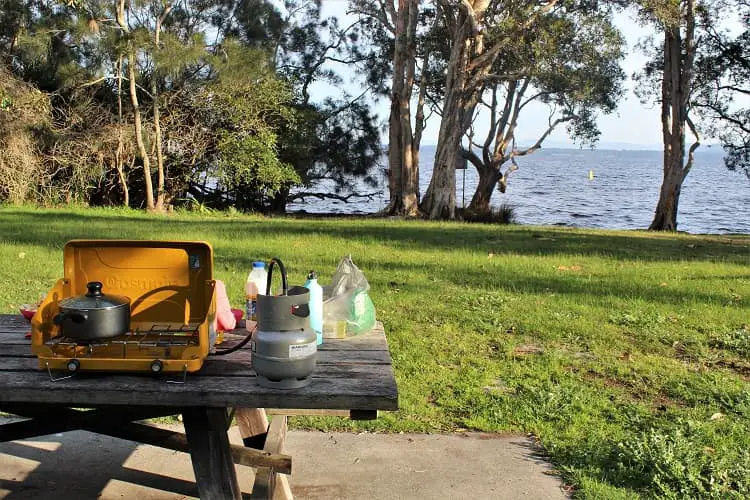 How to Book Mungo Brush Camping Ground
You'll need to book via the NSW National Parks and Wildlife Service website. Fees are currently $24 per night for up to two people during peak time ($17 off peak) plus $12 per additional adult 16 or over ($8.50 off peak), and $6 per additional child under 16 ($4 off peak).
There are also a few other national park campsites along the same road that you could book instead, including Banksia Green, Dees Corner, The Wells and White Tree Bay. I'll cover alternative Myall Lakes accommodation options (if you don't want to camp) at the end of the post.
Walk to Mungo Beach
Mungo Brush campsite is on a very narrow strip of land between White Tree Bay and the ocean. I'd highly recommend crossing Mungo Brush Road and walking along the short forest track to Mungo Beach.
The track comes out at the top of some beautiful sand dunes, where you can look right up this huge, rugged beach.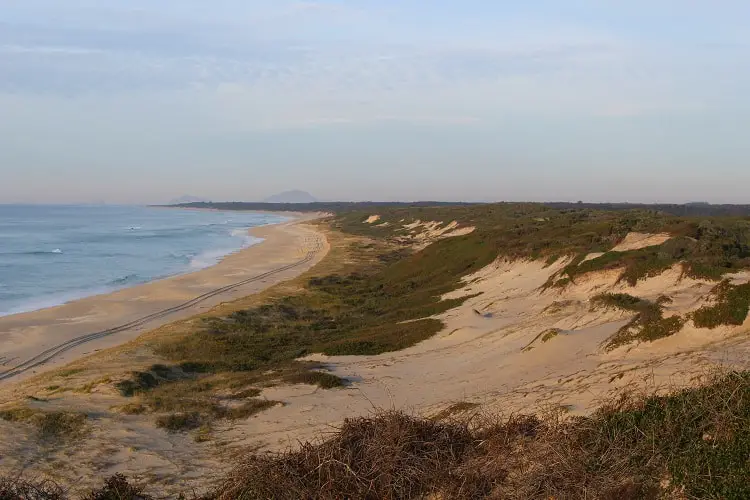 ---
Places to See Around Myall Lakes National Park
There are plenty of attractions in the Myall Lakes area if you want to get out and about exploring. Here are some of the spots I visited.
Hawks Nest
Hawks Nest is the gateway to Myall Lakes National Park, about 20 minutes south of Mungo Brush. You can visit Hawks Nest Beach or continue right down to Yacaaba Headland, which has a walking track and views across the water to Port Stephens.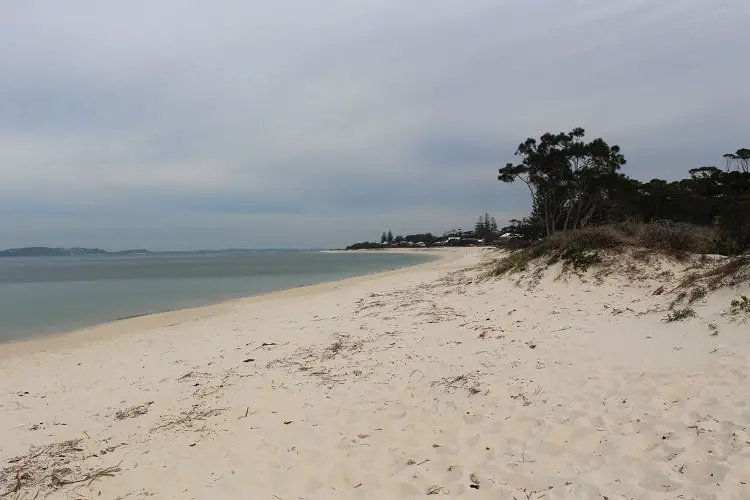 Tea Gardens & Nelson Bay
From the nearby Tea Gardens area you can hire a kayak to explore the Myall River, or take the Port Stephens Ferry Service to Nelson Bay which takes one hour each way.
There are lots of things to do in Nelson Bay and Port Stephens. It's a great holiday area for a weekend away or day trip from Myall Lakes.
Booti Booti National Park
Return to the highway and head north, then take The Lakes Way back to the coastline on the other side of Myall Lake. You'll pass a road that leads to Seal Rocks, another campsite that's meant to be beautiful, before reaching the 8km peninsula of Booti Booti National Park.
You'll be able to detour to a few beautiful beaches on the way, such as Elizabeth Beach. Continuing north takes you onto the narrow strip of land between Lake Wallis and the ocean.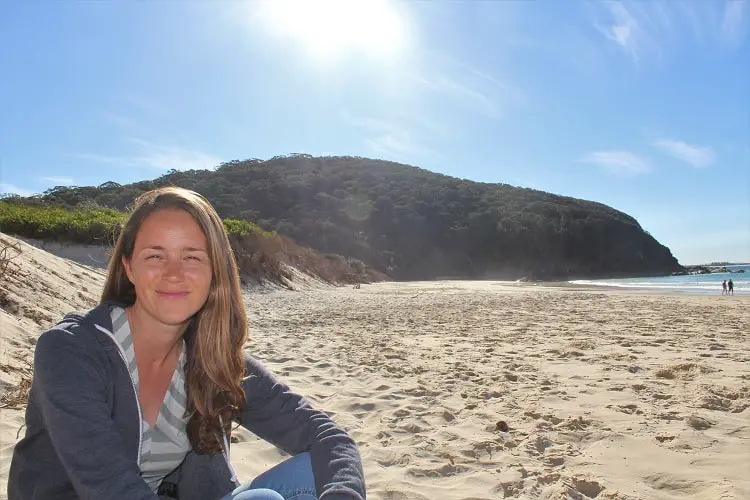 The Green Cathedral
Make sure you stop at the Green Cathedral in Tiona as you drive along The Lakes Way. It's a beautiful and fascinating outdoor chapel on the edge of the lake, with timber pews and a rainforest canopy!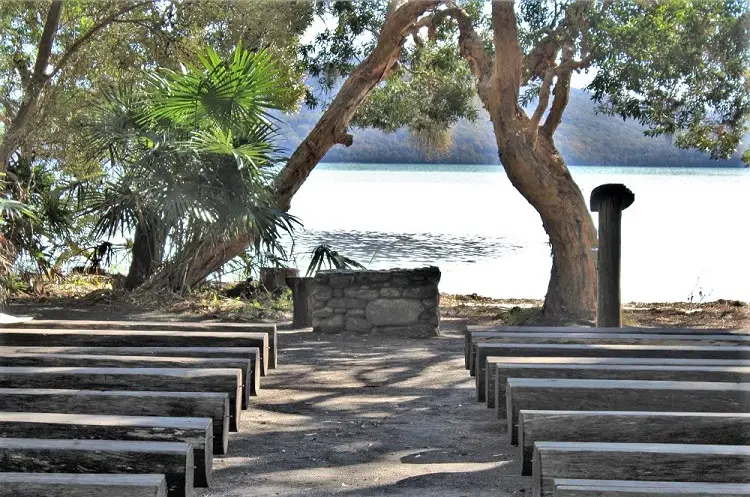 Forster
About 15 minutes' drive north of Tiona is the popular holiday town of Forster. We stopped here for a picnic on the edge of the creek, which was beautiful and also very popular with pelicans!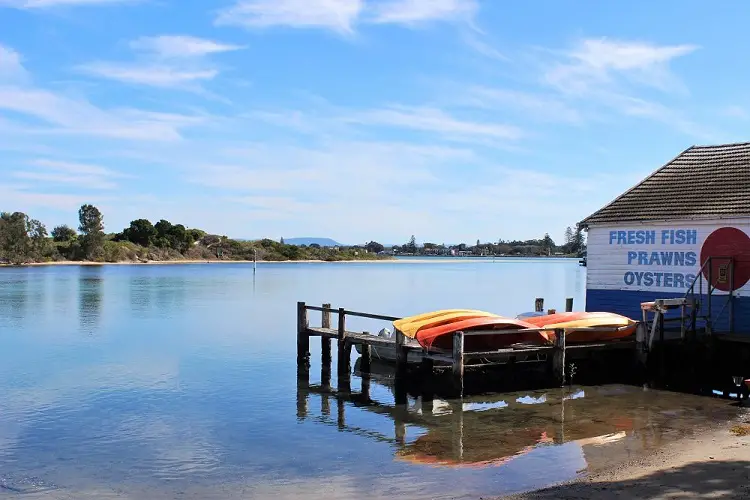 Forster also has some lovely beaches, such a Main Beach in the town. And there are plenty of shops and places to eat. If you want to spend time somewhere less isolated than Mungo Brush, it's a great day trip option!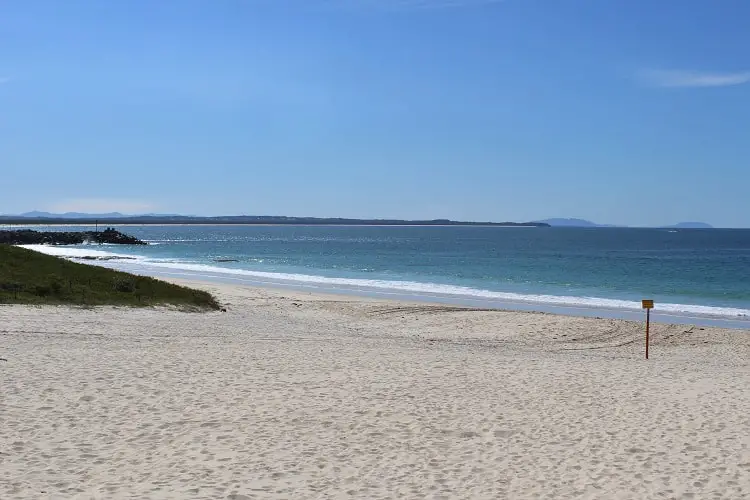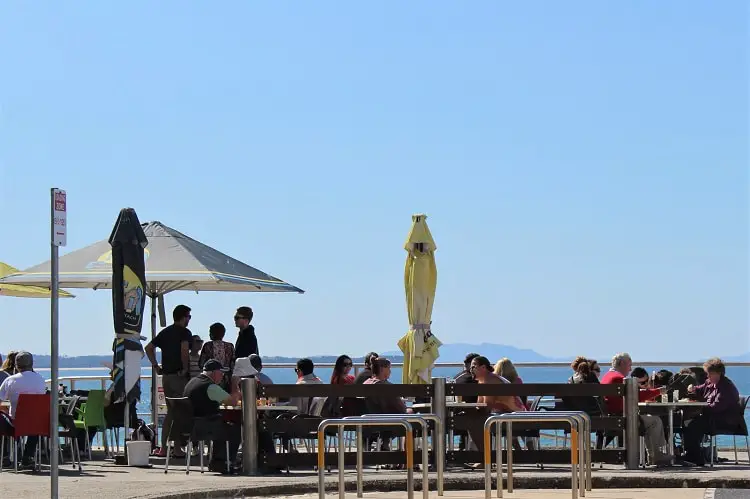 ---
Alternative Myall Lakes Accommodation
If bush camping isn't your thing, or Mungo Brush camping ground is full, there's plenty more accommodation in Myall Lakes to choose from. We had a quick look at Myall River Camp too, but opted for Mungo Brush instead.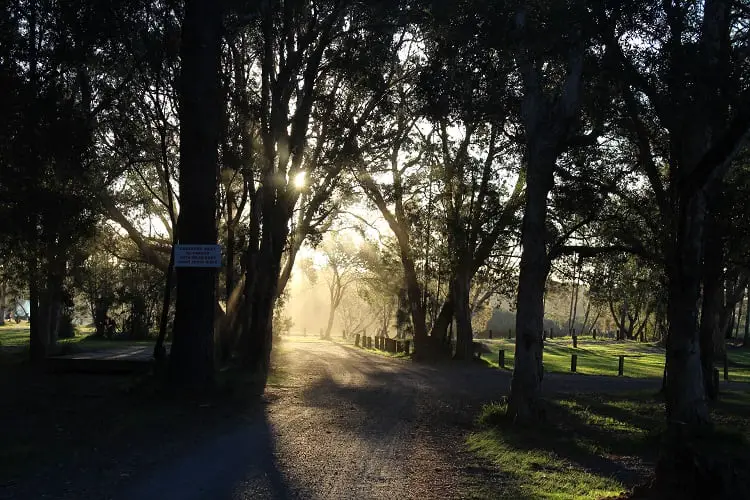 ---
I hope you have a fantastic time in Myall Lakes! For more ideas, check out my top weekend escapes from Sydney. If you're on a road trip to Brisbane, make sure you stop at Port Macquarie next. Happy travels!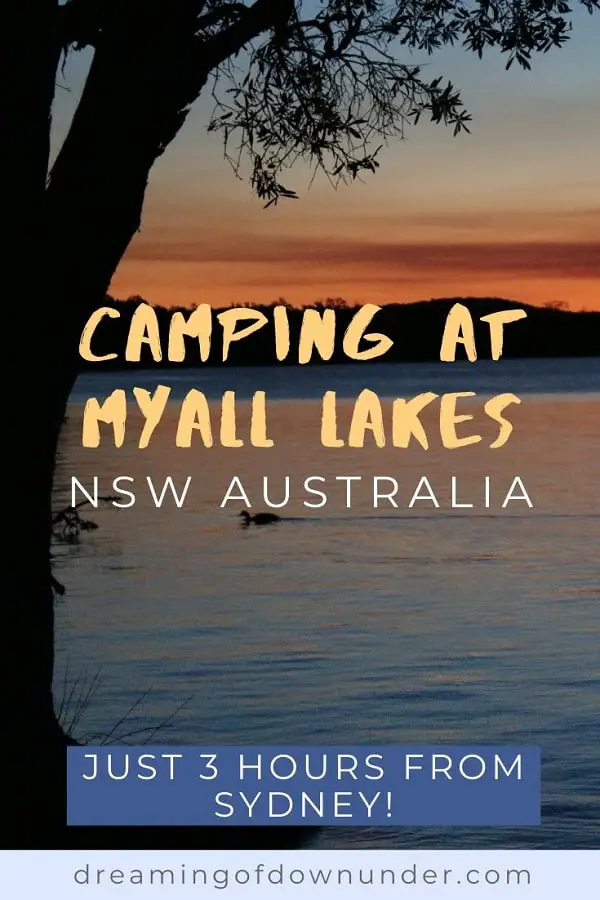 Written by Lisa Bull
Lisa Bull, founder of Dreaming of Down Under, has been living in Australia as a British expat since 2015. After travelling to every state and territory in Australia and living in Perth, Brisbane and Sydney, Lisa knows from first-hand experience the best destinations to visit in Australia and the best budget travel tips. Her guides on this blog have been read by over 700k readers and helped thousands of people achieve their dream of living in or travelling Australia.