This post may contain affiliate links. Please see my disclosure policy for more details.
Tucked between tranquil waterways, beautiful beaches and lush national parks, the twin towns of Forster Tuncurry lie at the centre of the Great Lakes area of Mid North Coast NSW. Things to do in Forster include coastal hikes, kayaking, beach days and visiting great cafes and restaurants.
Forster is a 3.5-hour drive north from Sydney, situated on the Barrington Coast between Myall Lakes and Port Macquarie. It's a great area for a Sydney weekend getaway or a drive stop on a Sydney to Brisbane road trip.
I recently spent a brilliant weekend up in the Great Lakes, so read on to find out what to do in Forster, including outdoor activities, top attractions and places to eat! Scroll to the bottom to read my recommended Forster accommodation options too.
---
1. Have Fun at Forster Beach
If you're looking for fun things to do in Forster with kids, Forster's Main Beach is patrolled during swimming season and also protected from large swells. There's also ocean baths with a little park. The beach is right in the town centre too, so easily reached.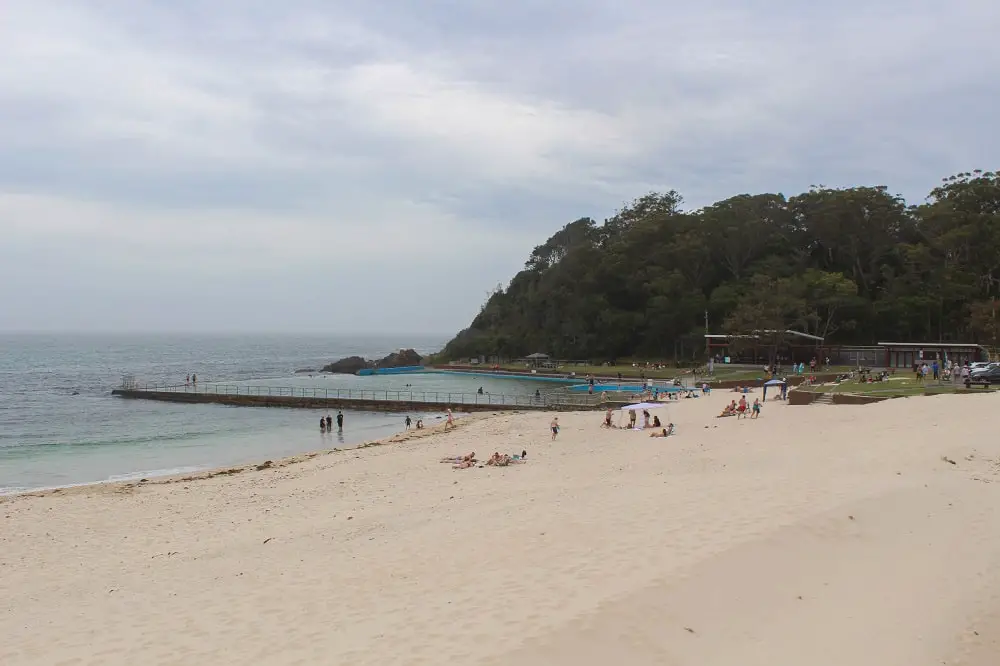 ---
2. Eat Italian at Cafe Toscano
There are plenty of places to eat in Forster, but Cafe Toscano really caught my eye, with the beautiful flowers adorning the front! Open from early morning until late, you can grab a traditional Italian breakfast, lunch or dinner, or just sit in for a coffee or cocktail.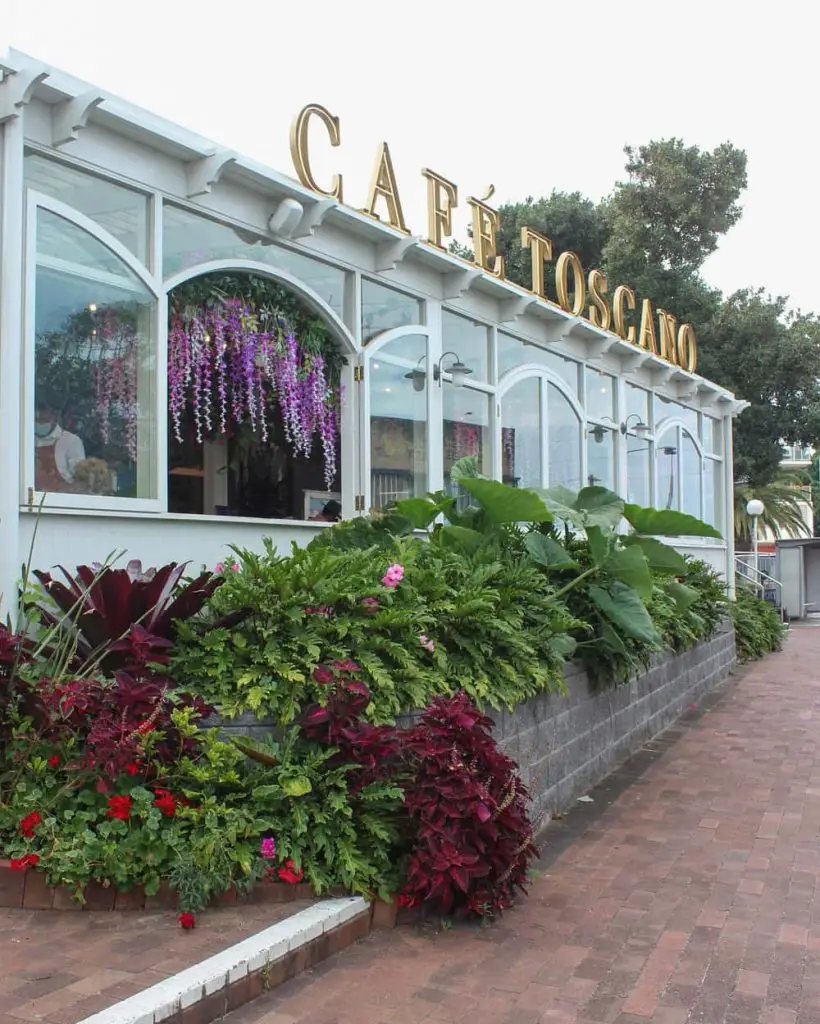 ---
3. Grab a Coffee by the Beach in Forster
Forster has plenty of places to grab lunch or a coffee, including Beach Bums Cafe, which is right on the beachfront at Main Beach, with outdoor seating.
---
4. Kayak on Wallis Lake
Just a short walk from Foster's Main Beach is beautiful Wallis Lake. If you're looking for water activities in Forster, you kayak, canoe or SUP to your heart's content!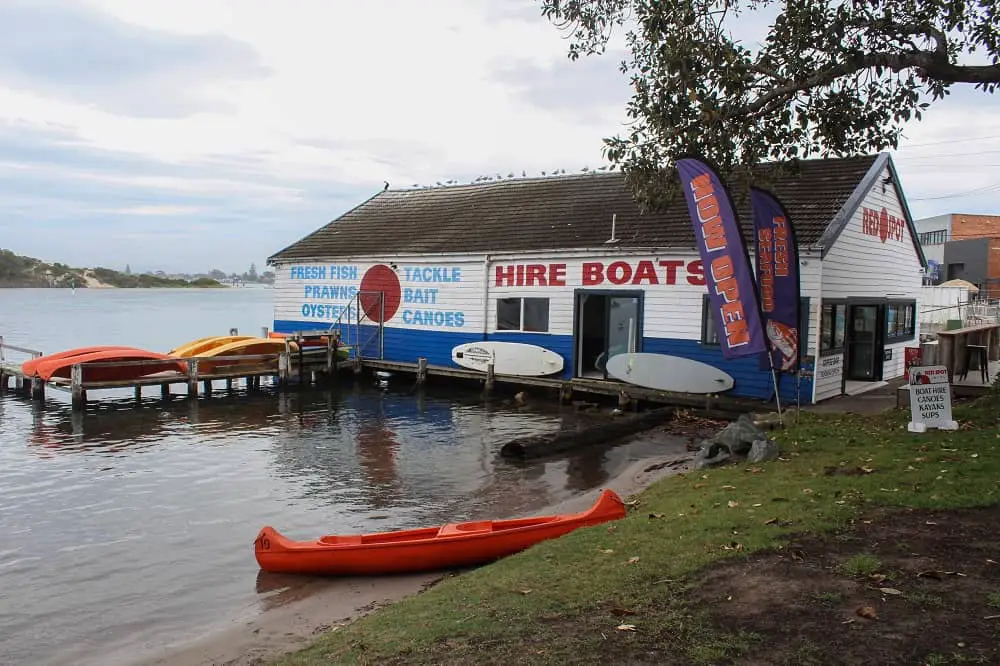 ---
5. Do the Bicentennial Walk
The Bicentennial walk is a picturesque track starting in Forster town. The 4km coastal path stretches from Forster Ocean Baths all the way to Burgess Beach, and passes some phenomenal views on the way.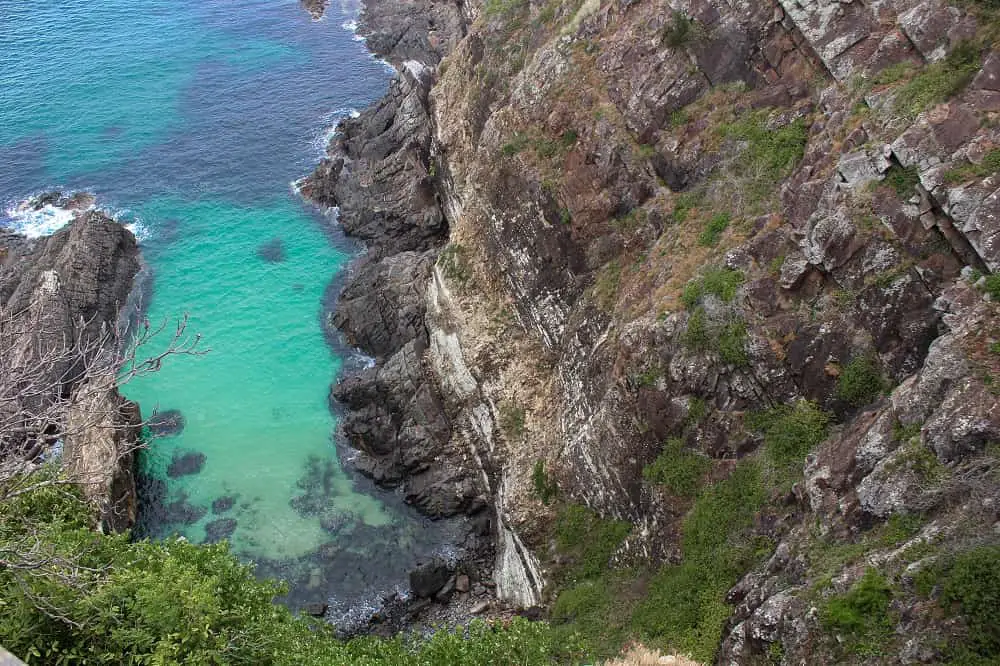 You can do as much or as little of the Bicentennial walk as you like. We parked at Bennetts Head lookout just to see the views. Then we noticed the track and walked to Bennetts Head and One Mile Beach.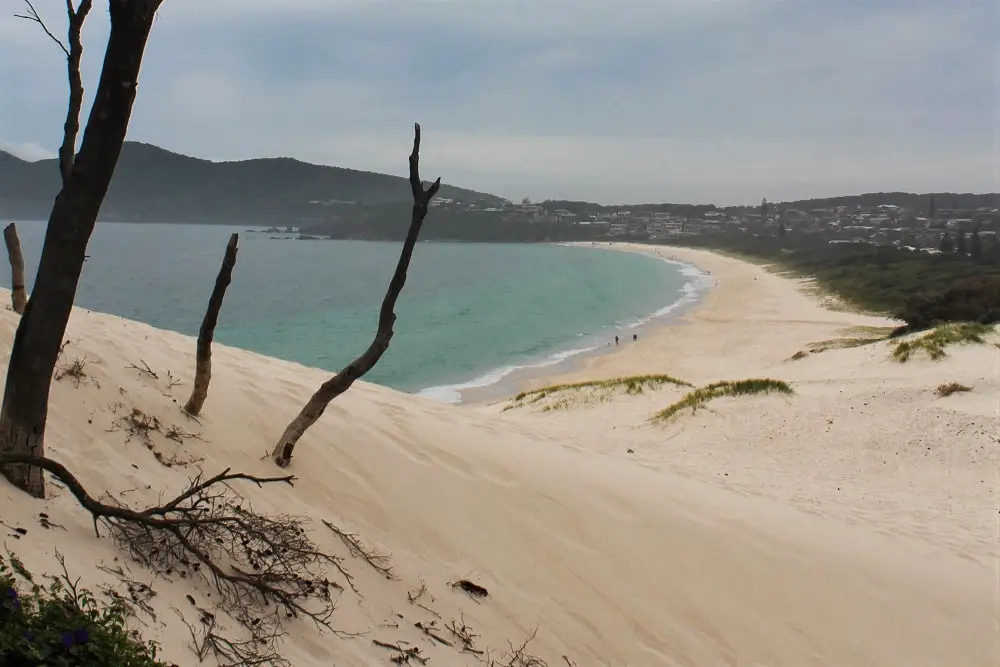 ---
6. Take a Scenic Drive along The Lakes Way
Stretching 8km along a narrow peninsula between the ocean and Wallis Lake is gorgeous Booti Booti National Park. Jump onto The Lakes Way, heading south from Forster, and you'll soon find yourself winding through the forest.
Along The Lakes Way scenic drive, you can stop at beautiful beaches, walking tracks, camping spots and lookouts, or continue inland past Smiths Lake and Myall Lake. Read on to find out some of the top attractions in Booti Booti National Park.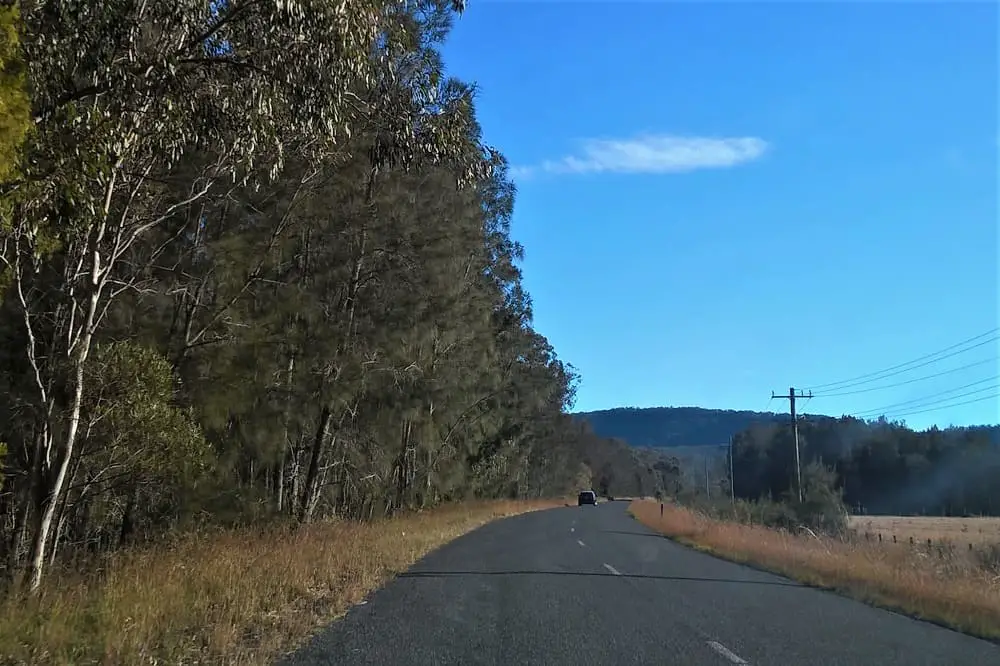 ---
7. Watch the Sunset at Green Point
Detour off the northern end of The Lakes Way, and you'll find pretty Green Point village. There's a little picnic area here, on the shores of Wallis Lake, that faces west and would be perfect for sunset.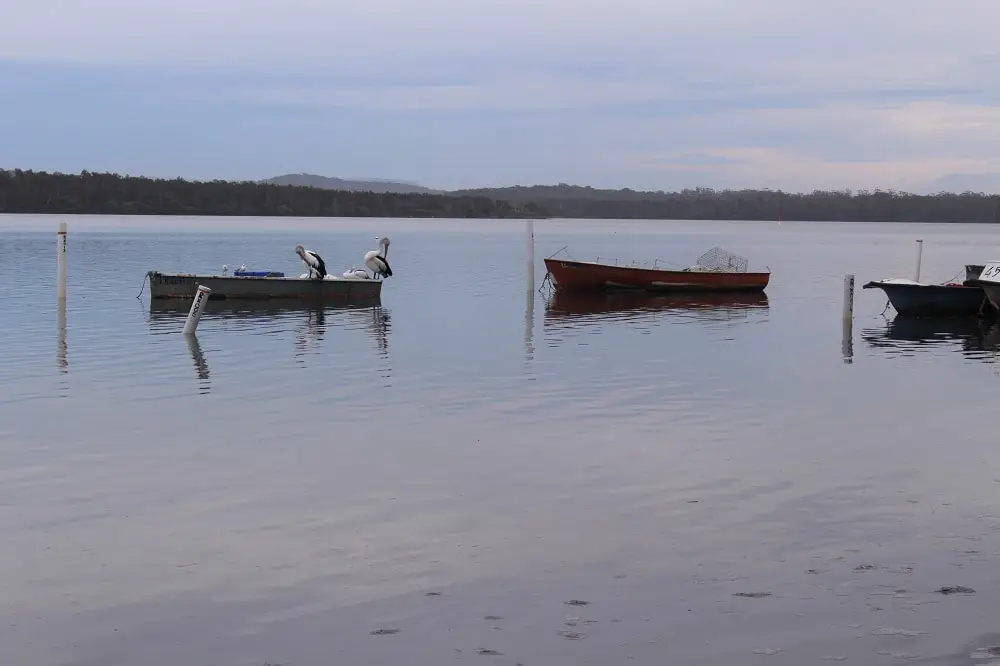 ---
8. Stop at Seven Mile Beach
Stretching along the eastern edge of Booti Booti National Park is vast and beautiful Seven Mile Beach. We stopped off at Santa Barbara picnic area to check out this stunner!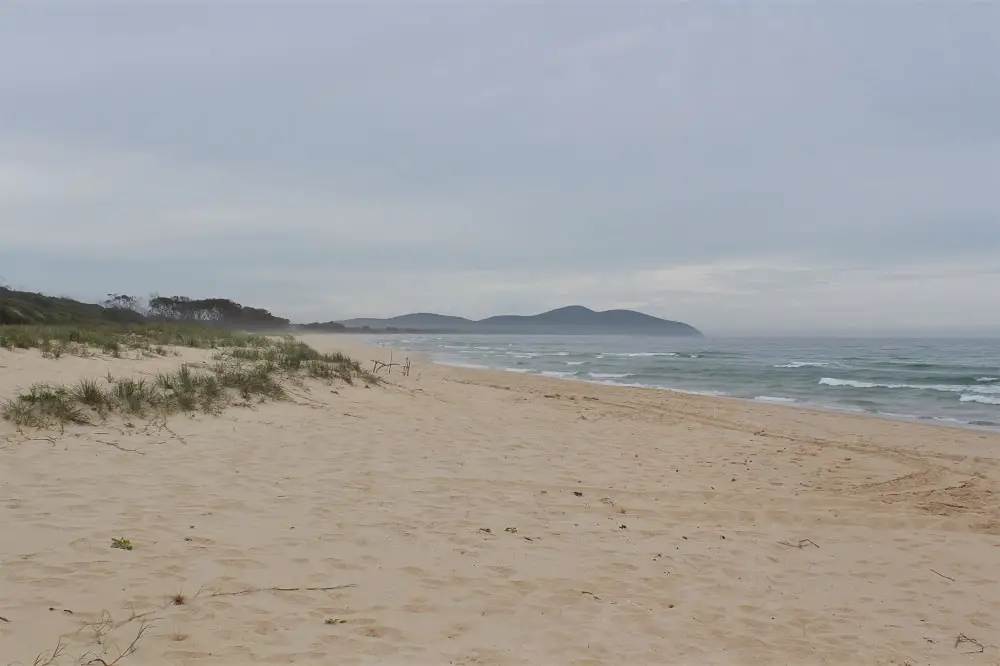 ---
9. Visit The Green Cathedral in Tiona
If you'd like to see a really unique attraction near Forster, continue further south along The Lakes Way and stop off at The Green Cathedral in Tiona.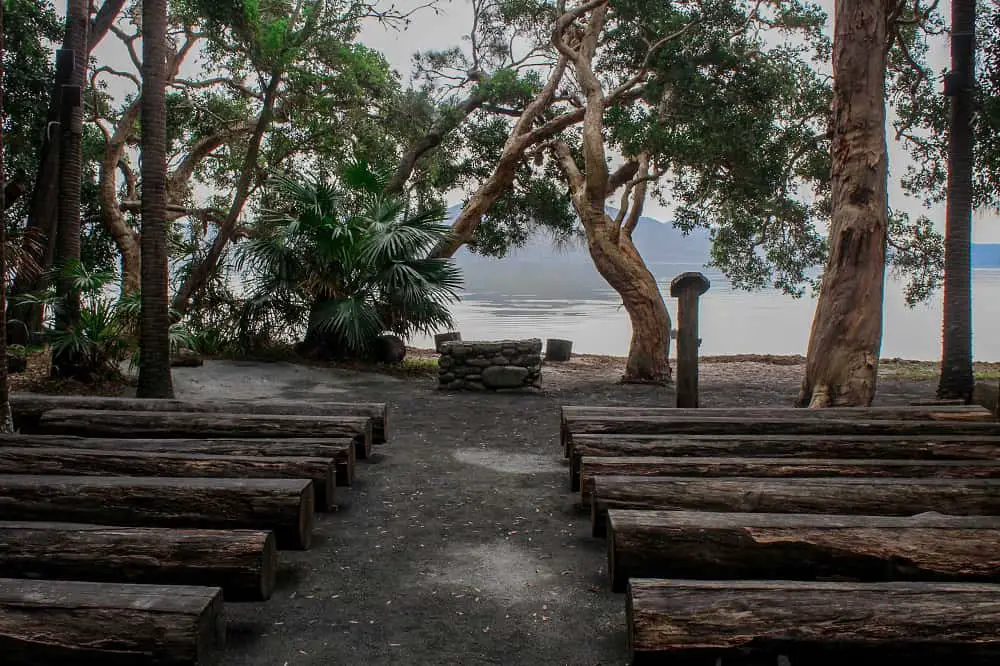 This open-air church is set on the tranquil banks of Wallis Lake underneath a canopy of palm trees. The pews are made from logs, and the stone altar has the gorgeous lake view behind it! What a place to get married!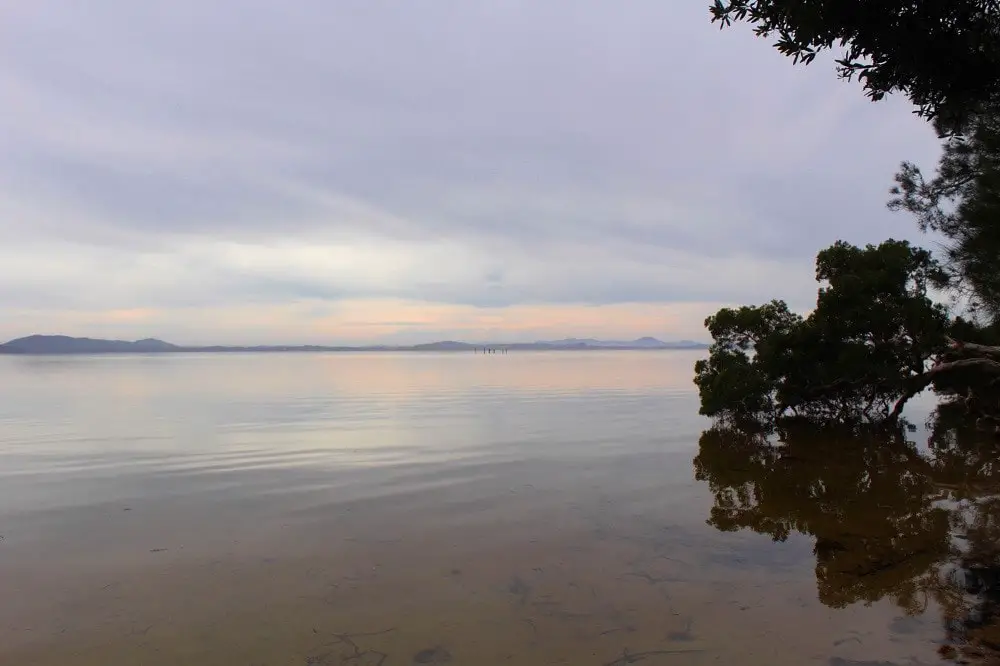 ---
10. Relax on Elizabeth Beach
Beautiful Elizabeth Beach is at the southern end of Booti Booti National Park and makes a great location for a day out. The beach has fantastic views, a picnic area and is even patrolled during summer.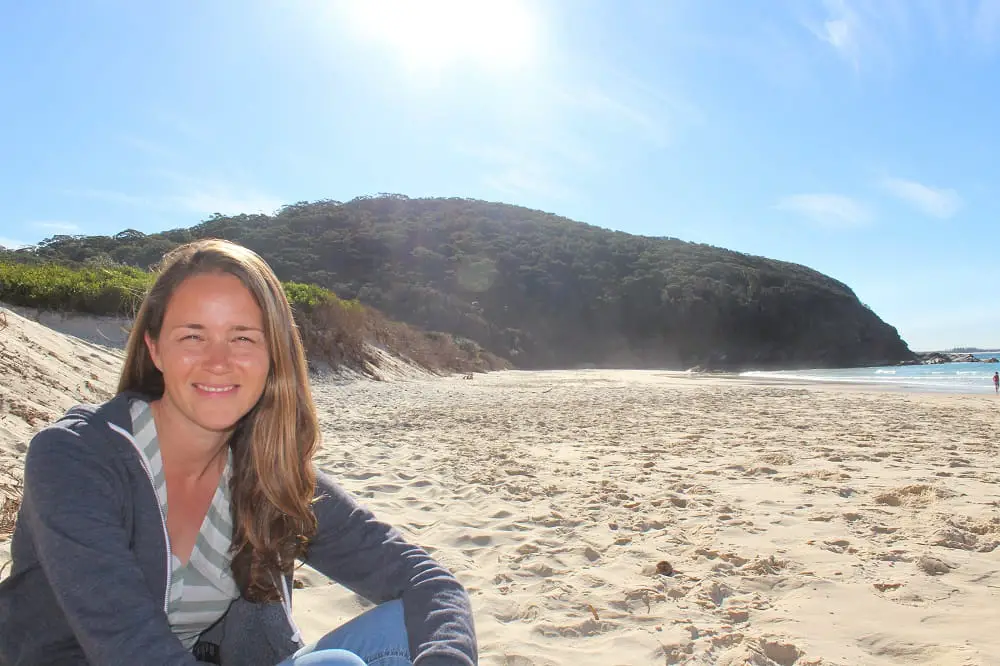 ---
11. Brunch at Blueys Beach
We made a detour to Blueys Beach, as I'd heard a lot about it and wanted to know what all the fuss was about. I can confirm that this area of North Coast NSW is well worth visiting!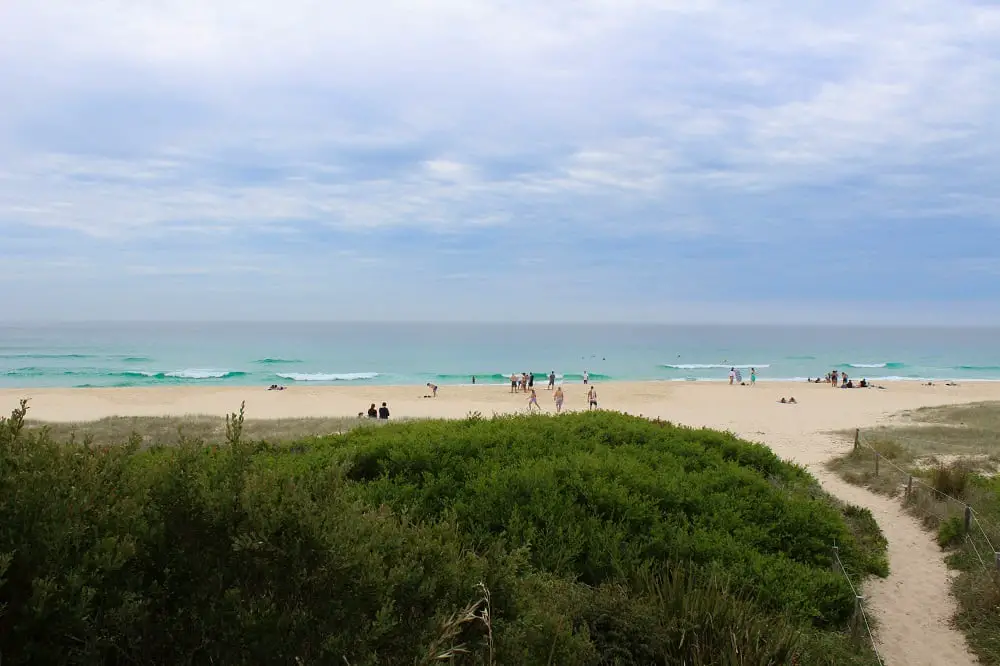 Blueys Beach itself is absolutely lovely, with turquoise water and lots of surrounding greenery. It almost reminded me of the English coastline, with a backdrop of rolling green hills!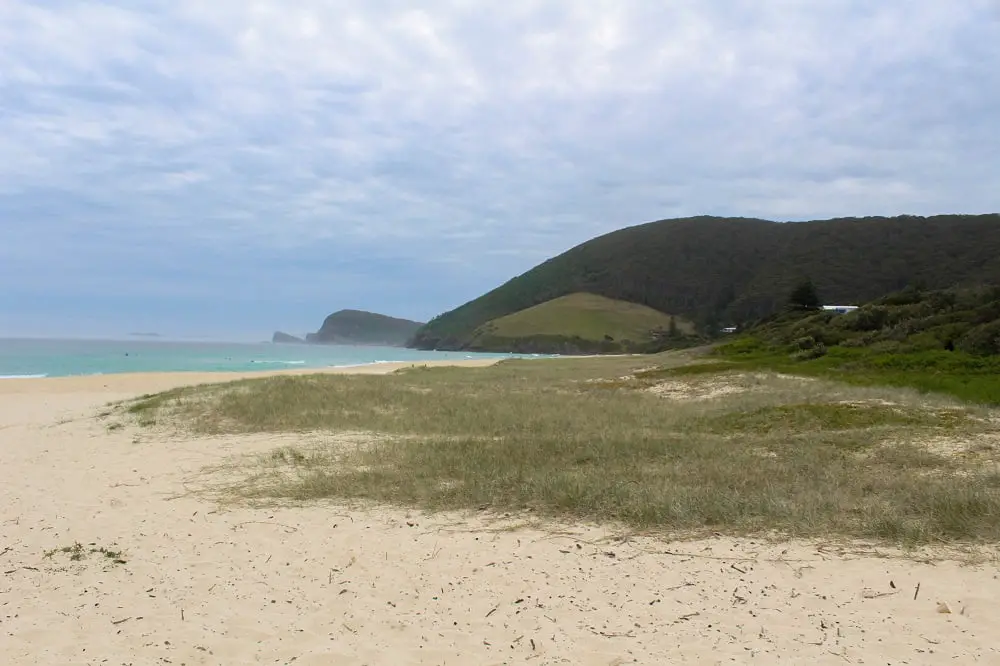 The Blueys Beach shops and restaurants have a very bohemian feel too; the area is like a mini Byron Bay! We had a lovely lunch at Kembali Cafe. While Blueys Beach village is much smaller than Forster, it's much prettier in my opinion.
Thigs to do at Blueys Beach include surfing, eating at a choice of restaurants and cafes on Boomerang Drive, boutique shopping and yoga, meditation and more at Blueys Beach Natural Health Centre.
---
12. Relax on Boomerang Beach
Just north of Blueys Beach, above Boomerang Point, is huge and beautiful Boomerang Beach. This is is meant to be the best surfing beach in the Pacific Palms region!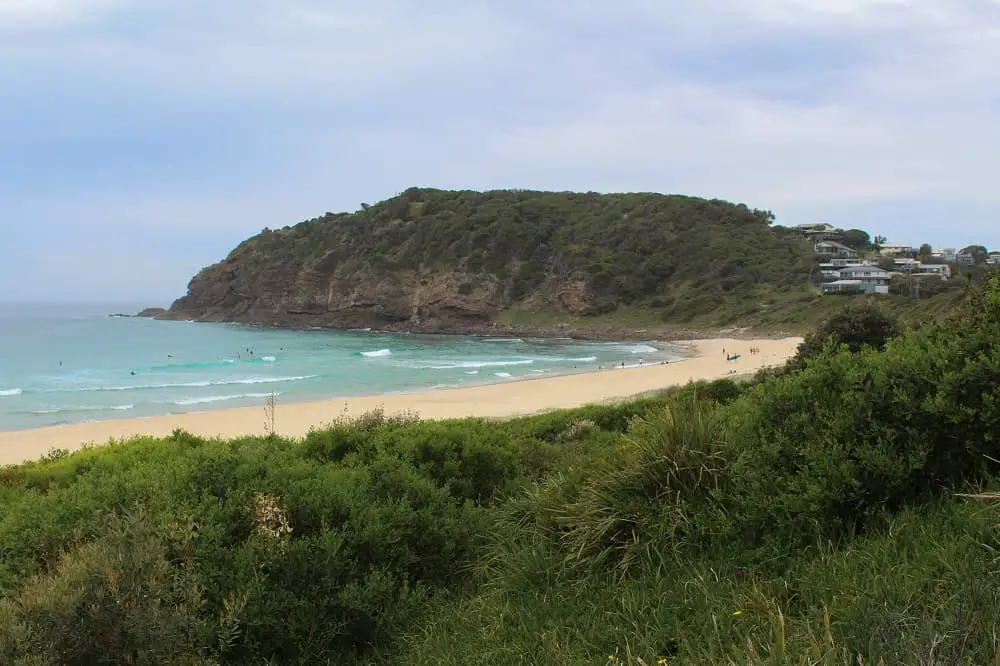 Boomerang Beach is dog friendly (on leash at specific times) and is also home to well-known Moby's Beachside Retreat, a resort with a swimming pool and beachfront bar and restaurant. You can easily get to Blueys Beach restaurants from Boomerang Beach too.
---
13. Camp at Seal Rocks
Seal Rocks is a coastal village in NSW with a real hippy vibe, similar to Blueys Beach or Byron Bay, but on a much smaller scale. It was another New South Wales holiday destination that I'd heard good things about.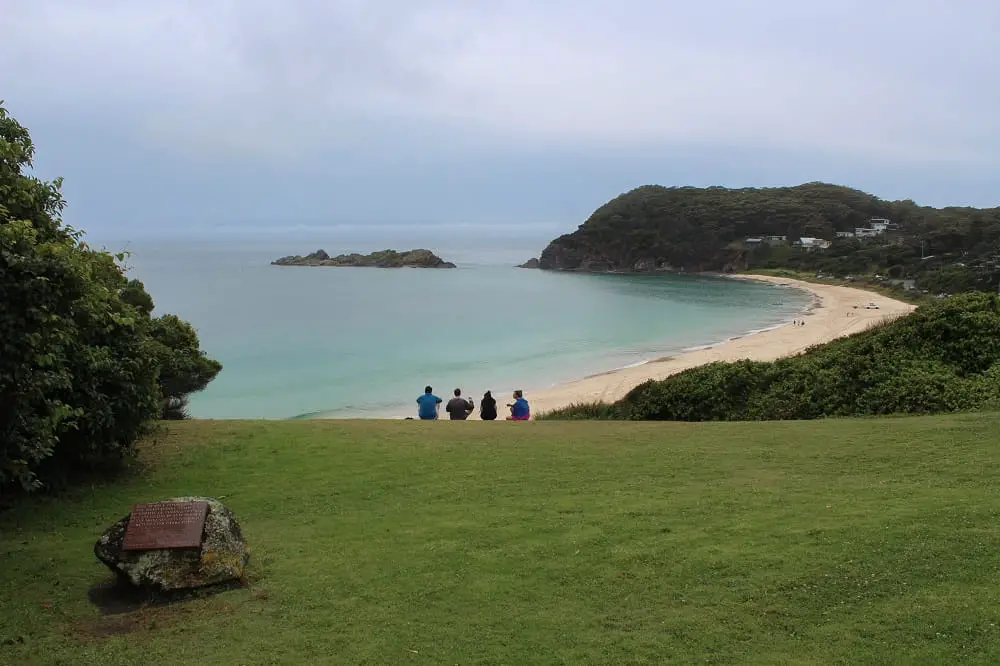 You can go glamping, camping or stay in cabins at Reflections Holiday and Caravan Park in Seal Rocks, which is right by the beach. It would be the perfect spot to stay in a van for a while, if you're looking for somewhere rural.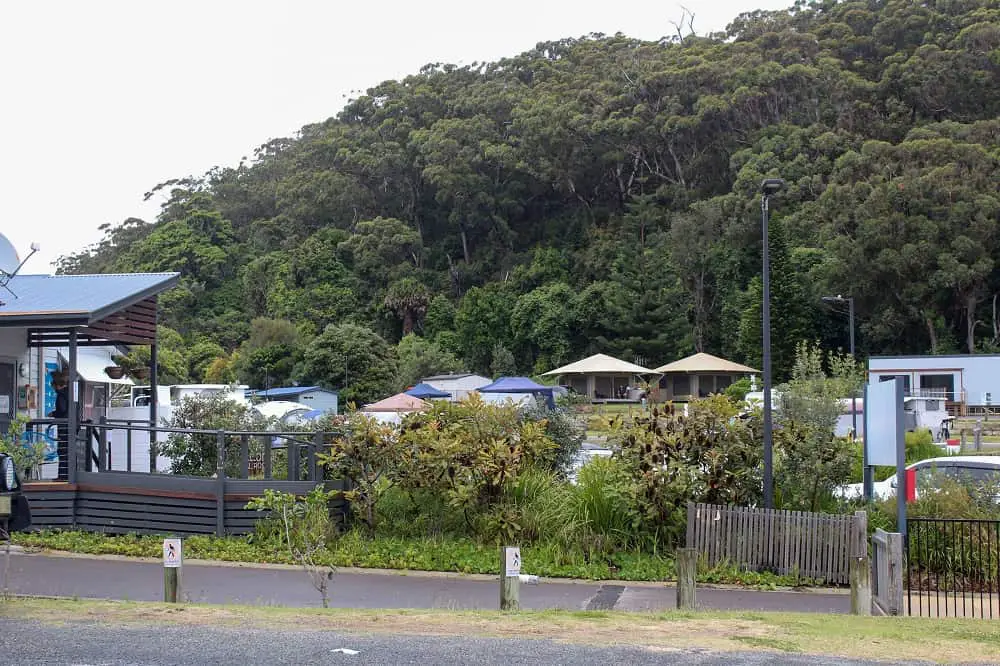 The only shops in Seal Rocks are a tiny post office and a coffee van, so the area is only for those who are self sufficient or don't mind driving around. I would stay in Blueys Beach instead if you prefer more facilities.
---
Forster NSW Accommodation
If you're looking for accommodation in Forster Tuncurry or surrounding Mid North Coast NSW, here are some of your best options, including caravan parks, motels and the amazing B&B that I stayed in.
Forster NSW Bed and Breakfast Accommodation
We stayed in the beautiful Palmyra B&B, which is a traditional bed and breakfast in a picturesque setting just a ten-minute drive north of Forster. I was absolutely blown away by how lovely this accommodation was, particularly as we booked very last minute and only had about three options!
We paid $120 per night for a twin room, which was the same price as a very basic motel in town. If you're looking for pet friendly accommodation near Forster, you can even bring your dog!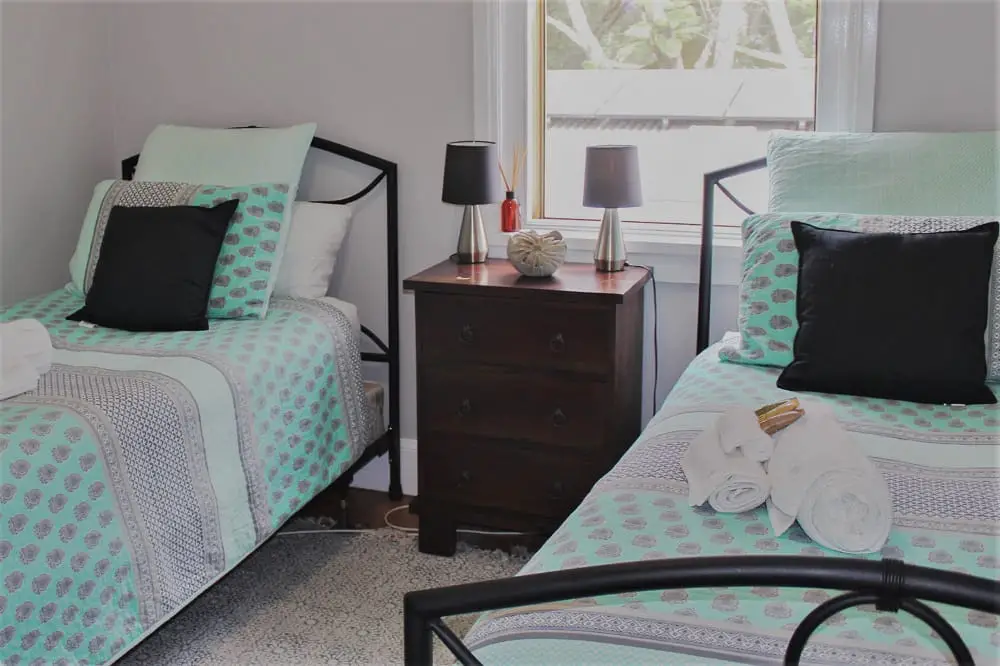 We had a beautiful shared bathroom (there are en suite rooms available though) and shared living room with a TV, sofa and wrap-around balcony facing onto the lovely grounds.
There was a fully-equipped kitchen, where you help yourself to the free breakfast (hot or cold). You can also store your food in the fridge and cook your own meals if preferred. This was great when we had an evening of torrential rain and didn't want to go out!
There was also a beautiful newly built swimming pool with a large patio area and barbecue. I'd actually forgotten about that until I arrived! We had a lovely swim before the rain set in.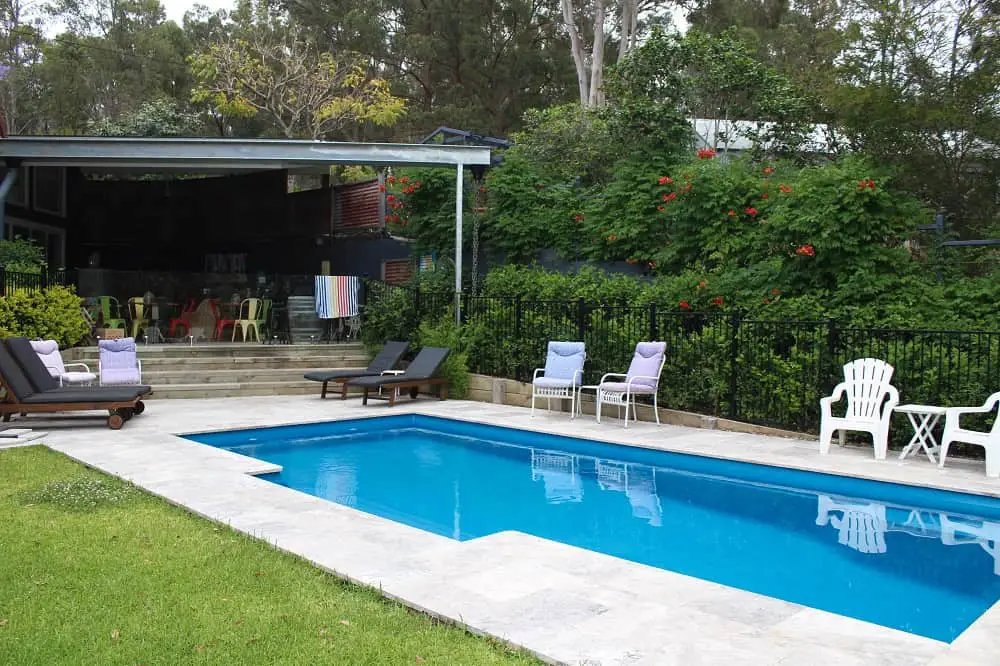 The best part about Palmyra B&B was the huge grounds that the house is set in. The property is well set back from the main road with a lawn, gardens and even a big pond!
With the shared kitchen and balcony, the accommodation had a nice social atmosphere. It was like having the benefits of a hostel but with much nicer facilities and a small number of guests. The owners were absolutely lovely too.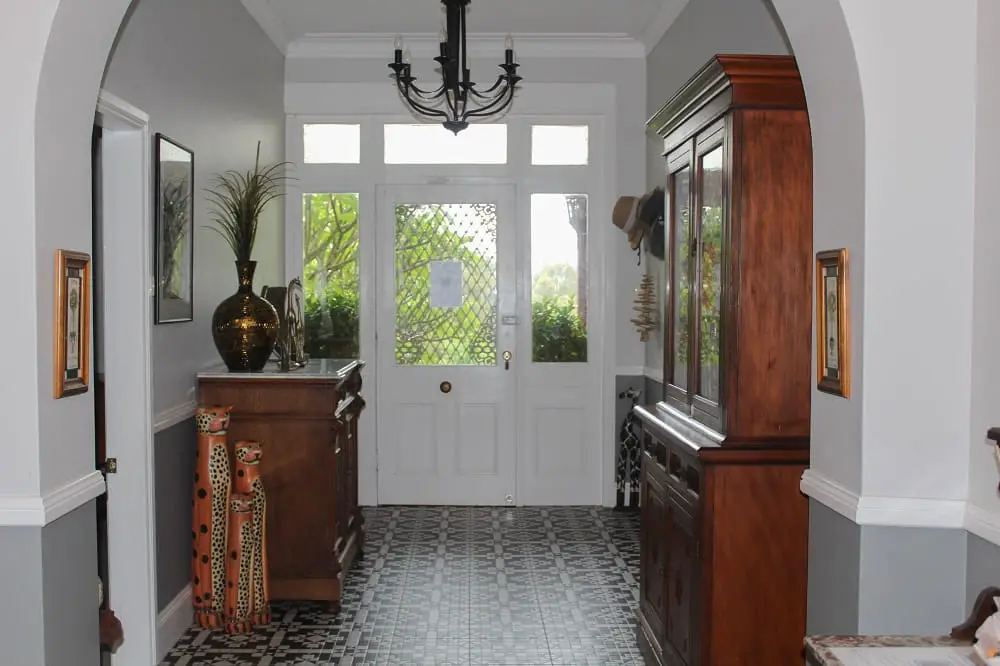 Hotel Accommodation in Forster Town Centre
If you would like to stay in the heart of Forster and have easy access to shops and restaurants, 3* Hotel Forster has a rating of 8.9/10 on HotelsCombined. The accommodation is situated near the shores of Wallis Lake and has a beautiful swimming pool, free Wi-Fi, parking and shuttle around the area.
Holiday Park at Seal Rocks
For beachside camping or cabins in a peaceful setting, try Reflections Holiday Parks Seal Rocks. The site has powered and unpowered camping sites, glamping options and beach bungalows with amazing views!
Blueys Beach Luxury Retreat
If you're on a higher budget, 4* Blueys Retreat offers luxury accommodation in self-contained, 2-storey townhouses in Blueys Beach. The site has a swimming pool, heated spa, tennis court, Wi-Fi and is just a three-minute walk to the village shops and cafes.
---
I hope that's helped you discover the best activities and attractions in Forster! Happy travels!
Written by Lisa Bull
Lisa Bull, founder of Dreaming of Down Under, has been living in Australia as a British expat since 2015. After travelling to every state and territory in Australia and living in Perth, Brisbane and Sydney, Lisa knows from first-hand experience the best destinations to visit in Australia and the best budget travel tips. Her guides on this blog have been read by over 700k readers and helped thousands of people achieve their dream of living in or travelling Australia.