This post may contain affiliate links. Please see my disclosure policy for more details.
Situated at the mouth of the Clarence River in the Northern Rivers region of North Coast NSW, the seaside town of Yamba is blessed with a mild climate, gorgeous coastal scenery and a very relaxed atmosphere.
After spending a couple of days exploring the beautiful city of Coffs Harbour on my Sydney to Brisbane road trip, our next stop was smaller but equally picturesque Yamba.
Our arrival was a bit more dramatic than usual, as we passed some controlled burning. Since everyone else seemed to be casually driving by, we followed suit and arrived safely at our destination! Read on to learn about things to do in Yamba NSW and nearby Angourie!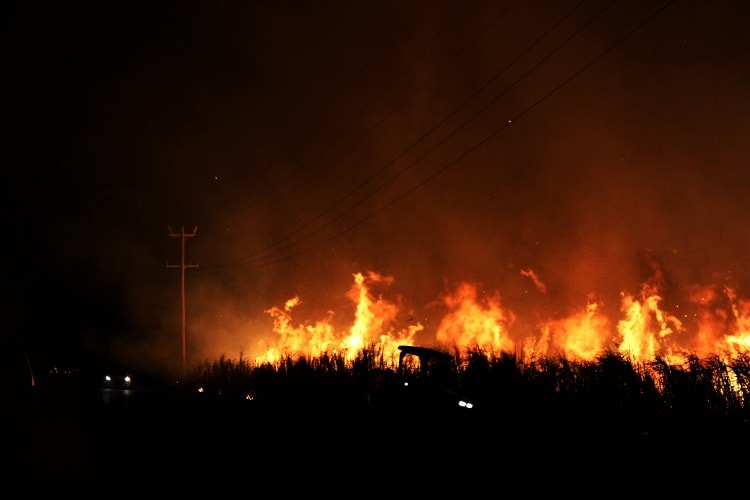 ---
Yamba Beaches
For such a small town, Yamba has a fantastic selection of beaches. It's also famous for its world-class surf breaks. Five of its beaches are in walking distance from the town centre, including sheltered ones along the river as well as those facing onto the ocean and elements.
Yamba Beach has a large rock pool if you fancy a proper swimming session; Spooky Beach is meant to be great for snorkelling; and Pippi Beach has 4WD access. We started off our explorations with a picnic on the reservation behind Pippi Beach. While it's huge and certainly stunning, it's very exposed and the wind was immense! We didn't stop long!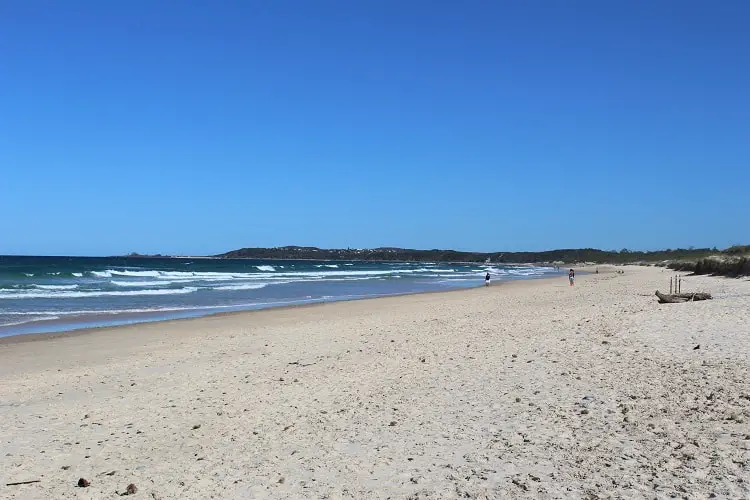 Next we ventured to Hickey Island, which juts off the mainland between the town and the mouth of the Clarence River.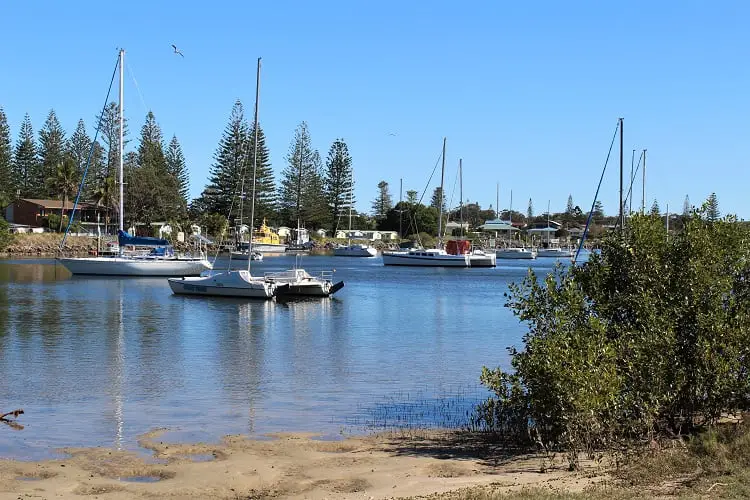 Whiting Beach, along the northern side of Hickey Island, was much more sheltered than Pippi. If you're looking to surf, nearby Turners Beach has wind protection from the breakwall, making it a safer option for beginners than some of the other surf beaches in the area.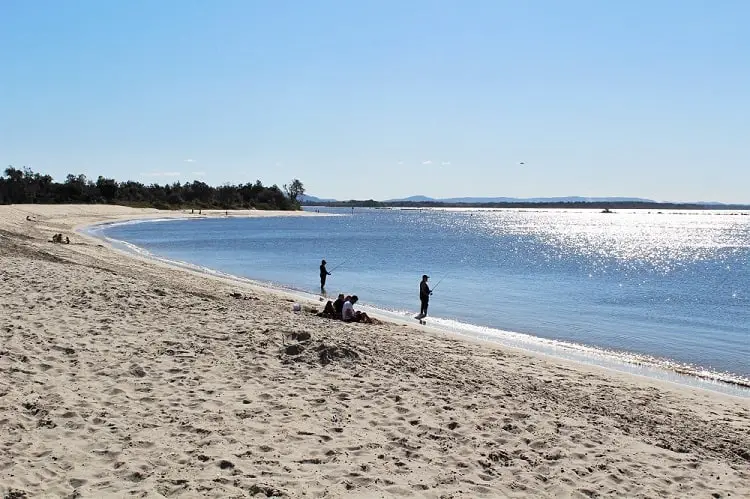 ---
Yamba Town Shops & Cafes
Yamba town centre is much smaller than nearby Coffs Harbour, but has more of a relaxed, holiday feel. It's big enough to find a variation of places to eat, yet small enough to still feel quaint. There's even Yamba Cinema if you happen to get a rainy day!
---
Angourie & Yuraygir National Park
Angourie is a little coastal village about 5km south of Yamba, at the northern tip of Yuraygir National Park. It's a scenic spot to visit while you're in the area, with great beaches and swimming spots.
Angourie Blue Pool & Green Pool
Angourie Blue Pool and Green Pool are a well-known attractions. To find them, head to The Crescent; there's parking at the end, and a path leads through to Blue Pool. Although they're meant to be great for swimming, they can sometimes contain dangerous blue-green algae, so keep an eye out for council signs. It was advised not to swim there when we visited.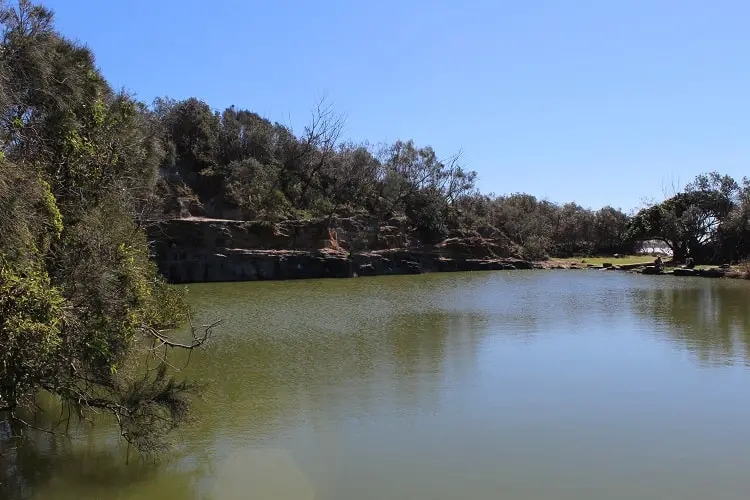 The pools were formed in the 1890s when bluestone was mined to construct the training wall at the mouth of the Clarence River. The quarries flooded with water in 1899 and became popular swimming spots! Green Pool is a short walk south along the coastline from Blue Pool.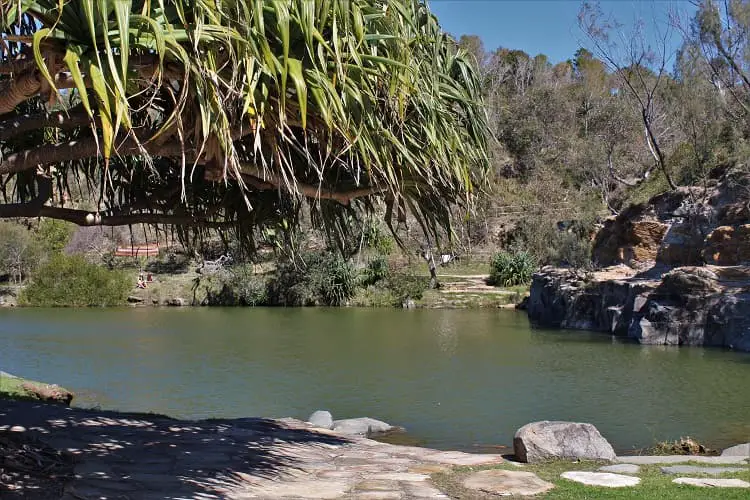 I actually thought the natural rock pools by the ocean were prettier than the blue and green pools!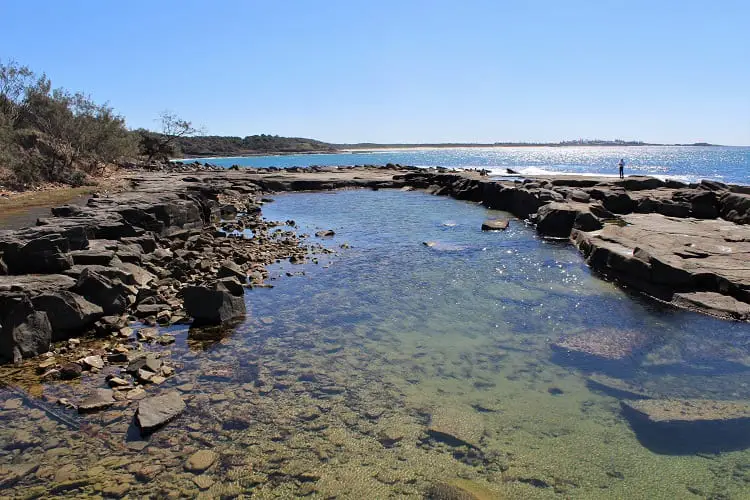 Angourie Beaches & Coastal Walk
Slightly south of the pools is Angourie Point, a well-known surfing spot. While the beach and rocky headland are stunning, the waves are fierce, and there's a 150m rock shelf known as "Life or Death"! Definitely not a beginner's surfing area!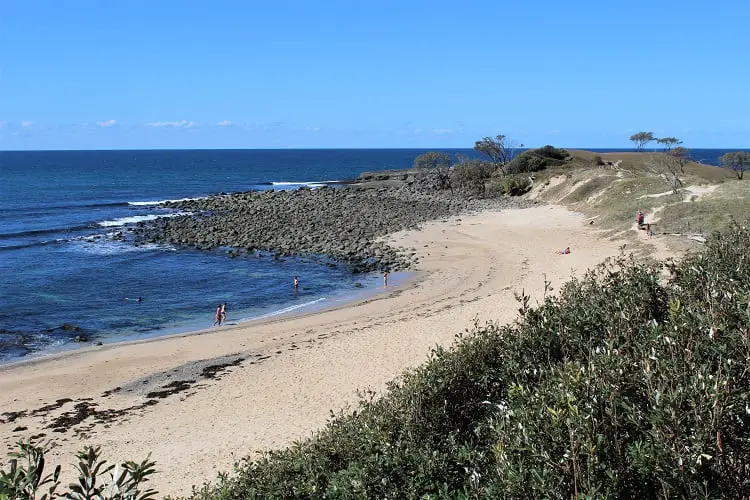 Continuing around Angourie Point is beautiful Back Beach. This was much more protected from the wind on my visit! Angourie Point is also the start of the 65km Yuraygir Coastal Walk, that follows the longest stretch of protected coastline in NSW right down to Red Rock!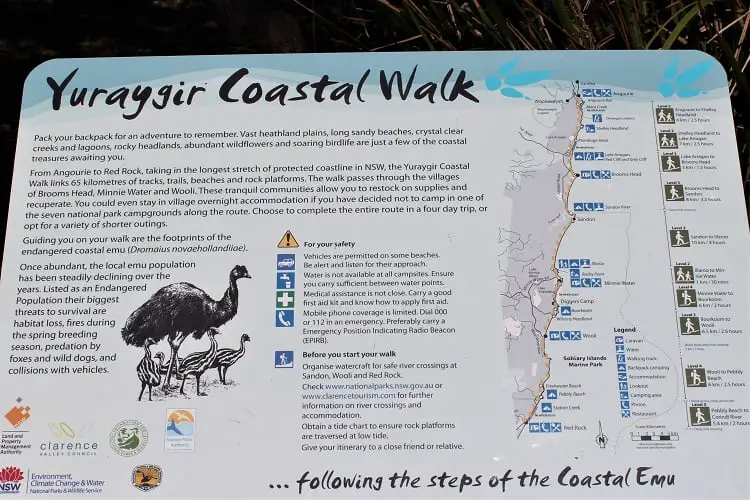 ---
Yamba Accommodation
Yamba and Angourie have a wide range of accommodation options, including hotels, motels, apartments, a hostel and caravan parks. Follow the link below to browse options.
Browse Yamba accommodation on Booking.com
Camping at Fishing Haven Holiday Park
I camped at Fishing Haven Holiday Park, an idyllic spot on the banks of the Clarence River on Palmers Island. It's only a five-minute drive from Yamba, but feels like a rural escape!
The park has riverside camping spots as well as cabins. There are also barbecues, a camp kitchen (although small with no hobs) and fantastic sunset views! Here are a few pictures from my stay.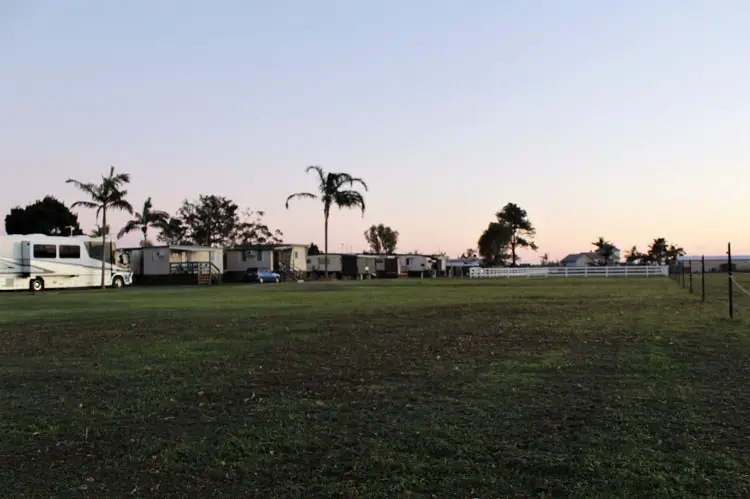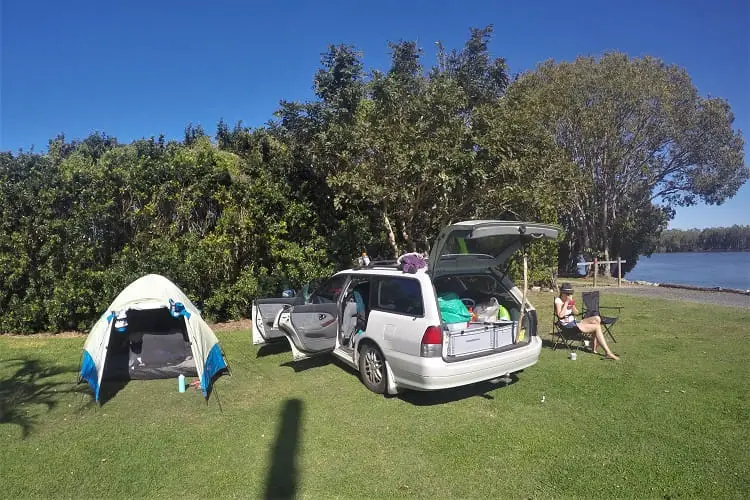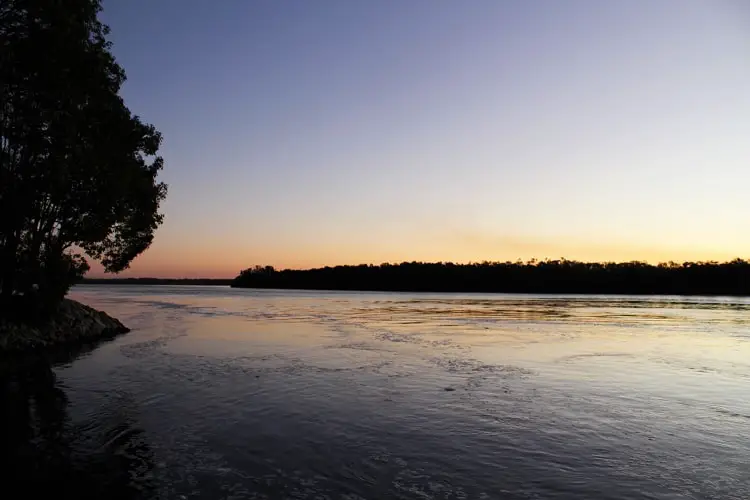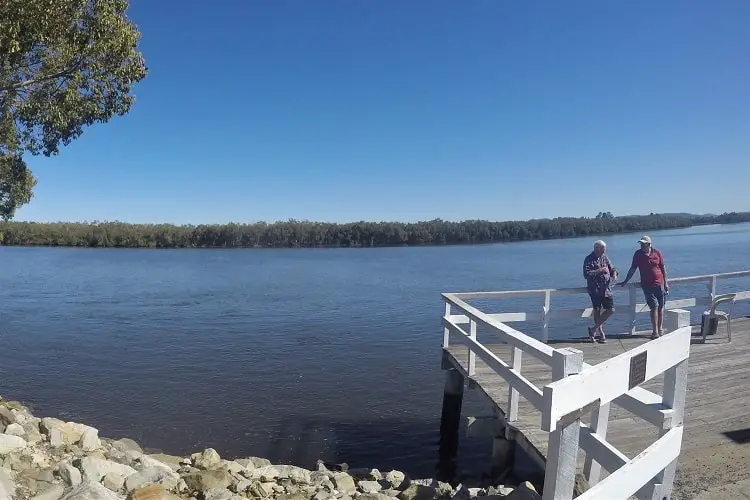 Yamba YHA Backpacker Hostel
If you're backpacking and don't want to camp, there's a centrally located YHA hostel in Yamba with free Wi-Fi, a bar/cafe and rooftop terrace.
---
I hope Yamba's on your list if you're heading on an east coast road trip! Read my guide to Byron Bay if you're heading north.
To read my whole Sydney to Brisbane drive itinerary, which includes costs, campsites, distances and recommended places to visit, check out this blog post:
Sydney to Brisbane Drive Itinerary
Happy travels!
Written by Lisa Bull
Lisa Bull, founder of Dreaming of Down Under, has been living in Australia as a British expat since 2015. After travelling to every state and territory in Australia and living in Perth, Brisbane and Sydney, Lisa knows from first-hand experience the best destinations to visit in Australia and the best budget travel tips. Her guides on this blog have been read by over 700k readers and helped thousands of people achieve their dream of living in or travelling Australia.