This post may contain affiliate links. Please see my disclosure policy for more details.
If you're looking for a NSW holiday with beautiful beaches, amazing scenery and plenty of things to do, Port Stephens attractions should tick all your boxes. And since it's less than three hours drive north of Sydney, the town is an easy escape from the city.
The many Port Stephens attractions include over 100 dolphins in a beautiful inlet twice the size of Sydney Harbour, the huge Stockton Bight Sand Dunes and a multitude of beaches and bush hikes.
There are also lots of fun activities on offer, such as sand boarding, camel riding and four-wheel driving across the sand dunes, or heading out across the water on a whale-watching or dolphin-spotting cruise.
I first visited Port Stephens on my amazing Sydney to Brisbane road trip, but it was wintertime and quite cold and rainy. I knew I had to return in better weather, and I finally made it up there last week to properly explore the area.
Continue reading to find out the top things to do in Port Stephens NSW, as well as a guide to each area!
---
1. Nelson Bay
The main hub in Port Stephens is Nelson Bay, which lies along the north-eastern edge of the peninsula. You'll find shops, cafes, beaches, a marina and a few other attractions nearby.
Nelson Bay Town: Shopping & Cafes
Head to Stockton Street and its surrounds for the main strip of shops in Nelson Bay. You'll find a mixture of beach-style boutiques and homeware stores mixed in with cafes and the usual high street stores. There's also a Woolworths supermarket if you're self-catering.
Nelson Bay Marina: Eating & Drinking
Follow Stockton Street north towards the water, and you'll come to the visitor centre and a big complex of places to eat and drink at Nelson Bay Marina.
The eateries range from fast food joints to proper restaurants, and a couple of nice-looking cafes with waterside seating. To the west of the complex are a few seafood places too.
Little Beach: Great for Swimming
To the east of Nelson Bay Marina, along Beach Road, is Little Beach. It's not tucked away behind trees like some of the other beaches, but it has a reserve with toilets and barbecues, as well as calm, deep water that's great for swimming.
Nelson Head Lighthouse & Tea Rooms
From the car park on the north side of Little Beach (where the boat trailers park), there's a narrow road leading up to Nelson Head Lighthouse. There's a free, small car park up there, but it's not too far to walk up.
You'll find a little museum and gift shop, as well as the lovely Inner Light Tea Rooms, which have outdoor seating overlooking Shoal Bay. It's worth heading up there just for the views.
Short Walk to Bagnalls Beach
To the west of Nelson Bay Marina, there's an old bridle path that follows the coastline to Dutchmans Bay. Stay on the footpath next to the road, looking down on the marina and visitor centre from the top of the steps, and the path starts on your left and goes into the trees.
It's a fairly flat and easy walk, and you can finish up at Bagnalls Beach, which has lovely white sand and some afternoon shade from the trees. The water's too shallow to swim, but you'll probably spot some beautiful black swans swimming down the river!

Gan Gan Lookout
From Nelson Bay town centre, drive south along Nelson Bay Road and turn right at the "Lookout" sign onto Lilly Hill Road. At the top of the steep hill is Gan Gan Lookout, which has spectacular views out across the water.
---
2. Shoal Bay
To the east of Nelson Bay is beautiful Shoal Bay, which has some amazing beaches as well as the well-known Tomaree Head Summit Lookout and a few shops and restaurants. There's also a choice of accommodation, and the area has a real holiday feel.
Shoal Bay Beach
The 2.5km-long curve of sand at Shoal Bay is absolutely stunning, particularly with the patchy, turquoise water that's calm enough to swim in. There are also barbecues and picnic tables on the reserve behind.
Shoal Bay Shops, Restaurants & Bars
You'll find a little precinct of shops and a few takeaways along Shoal Bay Road, the main road that runs along the seafront. There's also the lovely-looking Shoal Bay Country Club, which has food, drink and entertainment, and stays open until 2am (12am on Sundays).
Tomaree Head Summit Walk
The steep, 2.2km-return walk up to Tomaree Head Summit is well worth the effort, as the views across the water and down onto the beaches are amazing. It's one of the more well-known Port Stephens attractions.
The track climbs up 161 metres, passing World War II gun emplacements before reaching the lookout at the top. There's even a picnic table if you want to stay a while.
Tomaree Coastal Walk: Zenith Beach, Wreck Beach & Box Beach
The three glorious beaches you'll look down on from Tomaree Head Summit lookout are Zenith Beach, Wreck Beach and Box Beach.
There's a car park at Zenith Beach, where you can either head straight to the sand or start the Tomaree Coastal Walk to Wreck Beach (1.5km) and Box Beach (2.2km from Zenith).
Alternatively, you can park on Verona Road and walk 1km to Wreck Beach, or there's a car park at Box Beach with a short path to the beach.
The beaches are gorgeous, but quite open to the elements, as they face out onto the ocean rather than being tucked inside a bay. I got totally blasted with sand when I visited!
---
3. Fingal Bay
South of Shoal Bay is yet another enormous, beautiful curve of sand: Fingal Bay. It's a bit quieter in terms of shops etc, but the beach is beautiful, and there's also Fingal Spit and Fingal Island to explore.
Fingal Bay Beach
There's plenty of space on the beach at Fingal Bay, and it's not quite as narrow as Shoal Bay. The water's pretty rough, but there's a lifeguard station. It's also popular with kite-surfers when it's windy.
Fingal Spit & Fingal Island
The big, sandy spit that joins the beach to Fingal Island is beautiful to look at. Locals told me it's possible to walk across to Fingal Island (where you'll find Port Stephens Lighthouse) at low tide, but it is meant to be dangerous, so I wouldn't attempt it unless you've checked if it's safe with the lifeguards on the beach first.
It's worth just walking along the beach to the spit and exploring it without crossing over, like I did.
---
4. Anna Bay
About a ten-minute drive southwest of Nelson Bay is Anna Bay, which has access to the magnificent Stockton Bight sand dunes, as well as Birubi Beach.
You'll find a few shops, including an IGA supermarket, on Gan Gan Road, and some smaller coastal settlements and beaches to the south.
Stockton Bight Sand Dunes
The Port Stephens sand dunes, officially known as the Stockton Bight sand dunes, are the largest moving coastal dunes in the southern hemisphere. They're one of the main Port Stephens attractions, so I'd definitely pay them a visit if you're in the area.
To get to the sand dunes, follow James Paterson Street next to the shops on Gan Gan Road, and follow signs to the carpark at Birubi Beach. Note that the dunes form part of the Worimi Conservation Lands, which include ancient Aboriginal cultural sights.
You'll find a lookout point next to the car park, as well as Crest café and a surf club. From here you can just walk across to explore the sand dunes, or join one of many tours, such as the cultural quad bike riding tour, where Aboriginal guides take you to ancient sites to learn about their culture. You can also join a 4WD tour, go sand boarding, or even ride camels across Birubi Beach!
Fishermans Bay & Boat Harbour
To the east of Birubi Beach, also accessed off Gan Gan Road, are the small, coastal settlements of Fishermans Bay and Boat Harbour. You'll find some rocky scenery, small parks and little beaches such as Kingsley Beach.
One Mile Beach
To the east of Anna Bay is the area of One Mile. Follow Hannah Parade off Gan Gan Road to visit the huge One Mile Beach. It has a beautiful, dune-backed setting as well as a lifeguard station and café next to the caravan park.
The next beach north is Samurai Beach, a popular nudist beach.
---
5. Salamander Bay
Heading back up to the northern edge of the peninsula, Salamander Bay has a large retail park as well as some sandy areas along the foreshore.
Salamander Foreshore
The river's edge at Salamander Bay is mostly backed by houses, but Bob Cairns Reserve, where Cook Street meets Foreshore Drive, has a playground, barbecues, toilets and access to the water. It's a quiet, local spot that would be great for a picnic.
Salamander Bay Shopping Centre
Next to the roundabout where Salamander Way crosses Bagnalls Beach Road is the Salamander Bay Square shopping mall, which has supermarkets, shops and a couple of cafes. Outside the mall are petrol stations, takeaways and a library (great if you need Wi-fi).
---
6. Soldiers Point
North-west of Salamander Bay is a little finger of land called Soldiers Point, which is perfect to visit at sunset as the beach faces west.
Sunset Beach & Soldiers Point Marina
Behind Sunset Boulevard is a lovely beach, as well as Soldiers Point Marina. Make sure you check out the sunset; I even saw dolphins! The Point Restaurant, looking out over the water, looks amazing too.
---
How to Get From Sydney to Port Stephens
It takes about 2.5 hours to drive from Sydney to Port Stephens along the motorway. For a scenic detour, you could head east and follow the coastline through the Central Coast up to Newcastle. There are lots of gorgeous beaches to visit, such as Budgewoi and Caves Beach.
By public transport, it takes just over four hours to get to Port Stephens from Sydney. There's a train up to Hamilton in Newcastle and then a bus to Nelson Bay. Check the NSW trip planner for schedules.
---
Port Stephens Accommodation
Browse through Port Stephens accommodation options on Hotels Combined to find the best price. They compare prices across all the major booking agents.
Port Stephens Hostels
There are a couple of backpacker hostels in Port Stephens. I stayed at the Samurai Beach Bungalows YHA in Anna Bay, which is a beautiful, Balinese style hostel in the rainforest!
They have both dorms in the bungalows as well as private cabins, a swimming pool and decent Wi-Fi. Click here to check availability.
Port Stephens Caravan Parks
The first time I stayed in Port Stephens, I camped at the Shoal Bay Holiday Park, which is right between Little Beach and Shoal Bay. It had pretty good facilities, including an enclosed kitchen and TV room, which is useful in the evening if you're tent camping!
Click here to check availability.
---
For more ideas, don't miss my post on the best weekend trips from Sydney and my many other New South Wales travel guides.
If you're heading north on a road trip towards Brisbane, make sure you stop at the stunning Myall Lakes National Park. Happy holidays!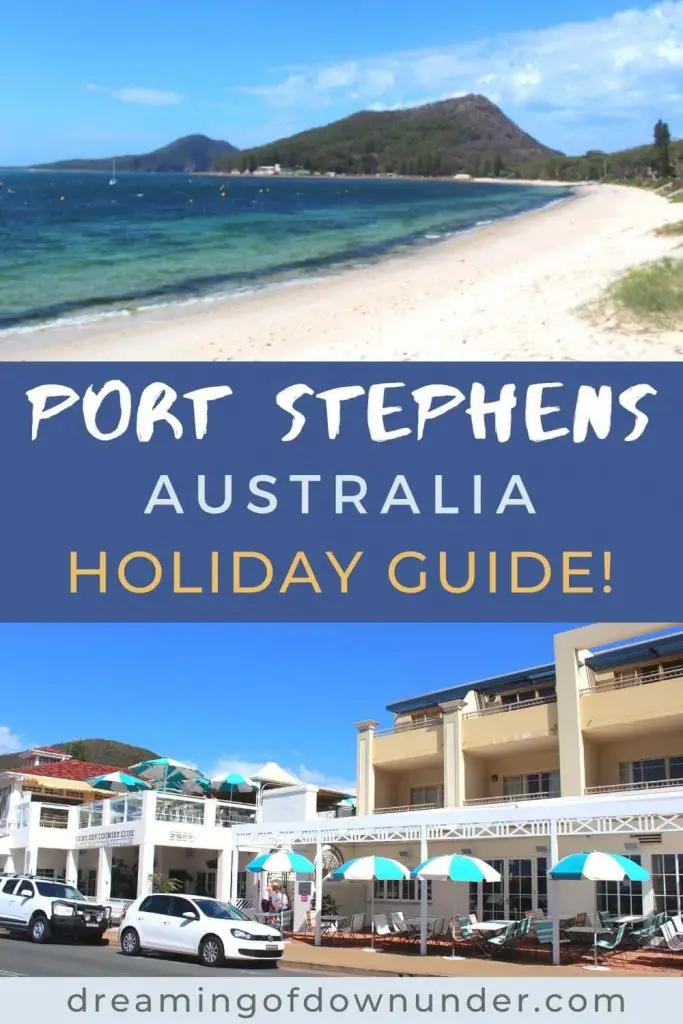 Written by Lisa Bull
Lisa Bull, founder of Dreaming of Down Under, has been living in Australia as a British expat since 2015. After travelling to every state and territory in Australia and living in Perth, Brisbane and Sydney, Lisa knows from first-hand experience the best destinations to visit in Australia and the best budget travel tips. Her guides on this blog have been read by over 700k readers and helped thousands of people achieve their dream of living in or travelling Australia.