This post may contain affiliate links. Please see my disclosure policy for more details.
If you're planning on moving to Sydney, you've no doubt got lots to organise. But while exciting times lay ahead, choosing where to live in Sydney can seem an utterly daunting task.
With over 600 suburbs to choose from, it's hard to know where to start if you're not familiar with the city. I remember doing research on the best suburbs in Sydney before I left the UK, but found it so hard to choose!
I needn't have worried though, as I ended up becoming a house sitter (where you live in people's homes while they're on holiday and look after their pets). I've been able to experience life first-hand all across the city, as well as avoid paying rent in Sydney!
To help those of you as clueless as I was, I've used my house sitting experience to write this guide on where to live in Sydney. Hopefully it'll take some of the stress out of your big decision!
---
Diversity of Sydney Suburbs
First of all, be aware that Sydney is known as the city of villages. It reminds me of London in the way that suburbs often have their own strip of shops and restaurants and their own sense of community and local culture. You can pretty much get everything you need without ever going into the city. In fact, I find the choice of cafes in particular much better out in the suburbs than in the CBD (central business district – the Aussie term for city centre).
Sydney is very diverse culturally and made up of people from all over the world. Certain nationalities tend to group in certain suburbs, as seems to be the way with expats. This is great cuisine-wise. Want British curry sauce on your chips? Head to Coogee. Fancy a Lebanese takeaway? Drive out west to Lakemba. Vietnamese? You'll be spoiled for choice in Cabramatta.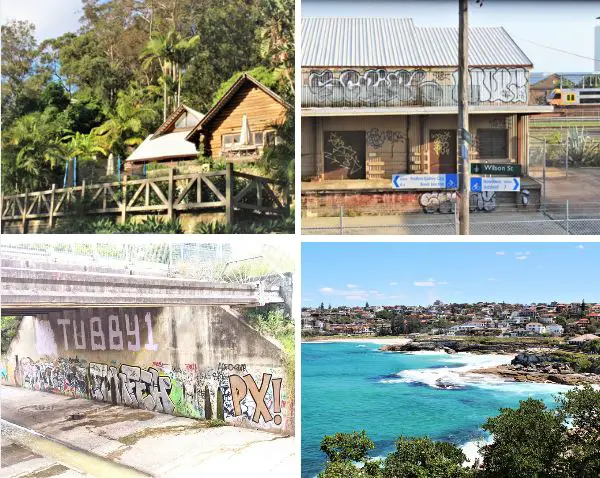 Sydney is also very diverse in terms of landscape and the types of activities and lifestyles it can offer. Sydney is a place where you can go home after work and swap the board room for your board shorts.
It's a place where you can spend Saturday nights sipping cocktails on the roof of a glittering skyscraper or watching the sky turn from flawless blue to orange with sand between your toes and a blanket around your shoulders. Sydney has something for everyone.
Sydney has mountains, rivers, beaches and forests. It has botanical gardens, palm trees and birdlife so colourful you'll think you've come to paradise. It also has graffiti, ugly tower blocks and mosquitos. It has drugs, dubious bars and prostitutes. Like I said, Sydney has something for everyone.
---
Sydney Suburbs  – Things to Consider
Before you read on and get too excited over particular suburbs you like the sound of, there are a few important things to consider when choosing a suburb and property in Sydney.
PROPERTY PRICES – The advantages of Sydney have not gone unnoticed by the rest of the world, and demand to live here is exceptionally high. Couple this with foreign investors who purchase homes here purely for the rapidly increasing capital value (often keeping them empty) and you've got a city with disproportionately high property prices – in fact, the

second most expensive in the world

if you compare those average prices against the average salary. Most of my friends pay $250-$350 per week for rooms in fairly central share houses or apartments, and you're looking at about $500 per week for a studio if you want your own place.

PUBLIC TRANSPORT

 – Sydney is well-serviced by trains, light rail, buses and ferries, but it doesn't have a tube network like London where you can easily hop on a train from anywhere to get into the city centre; the train network in Sydney is quite sparse in comparison. If you'll be using public transport don't just look at a suburb's distance from your workplace, but use the Transport NSW trip planner to check how long the journey will actually take.
TRANSPORT NOISE – Living very close to a train station or main road that heads to the city is very useful in practical terms, but obviously may be a bit too noisy for some people. Aircraft noise is also a big issue in some areas of Sydney. It is not so much the proximity to the airport but whether you're underneath the flight path. I've found the Inner West the worst affected by this. I have to pause the TV every time a plane goes over!
TRAFFIC CONGESTION – The traffic in Sydney is notoriously terrible unfortunately; most journeys across the city usually take me almost double the time my sat nav predicts. There are also traffic lights absolutely everywhere, so even if the roads are clear you'll be slowed down by a lot of red lights.

HEATING/COOLING

– Be aware that central heating isn't standard in Sydney. The winters get much colder than foreigners expect; having one gas heater in the living area is the most common heating method. Conversely, a lot of places don't have air con, but I would definitely want it if I was living somewhere long term. I've written a whole guide on Sydney weather in this blog post, including what to pack.
PARKING – Off-road parking is a luxury for Sydneysiders, not a necessity. And if you live very close to the city  or a popular shopping area there are likely to be parking restrictions on the roads during the daytime so you may need to get residents' parking permit.
---
Where to Live in Sydney: A Guide to Sydney Suburbs
Let's get on with it then! The areas below aren't officially bounded; every website I've looked at defines them differently, but you'll get a good idea of what lies where. So here's my guide to the wonderful and varied regions of Sydney. Enjoy!
Sydney CBD/Inner City
These are the suburbs around the centre of Sydney (CBD), such as Ultimo, waterfront Woolloomooloo and Pyrmont, which is in the Darling Harbour area. These are busy areas, as you would expect, but an easy walk to the city for urbanites who want to be in the heart of it.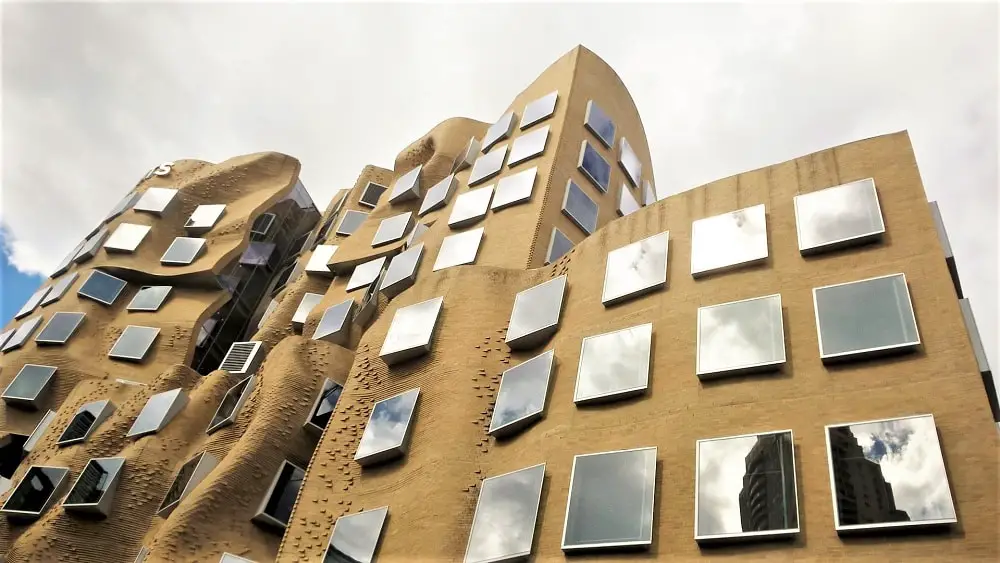 Just south of the city is Surry Hills, which has transformed over the years from cheap and crime-ridden back in the 'olden days' to an expensive,  gentrified suburb full of hipster cafes. To the east is the similarly lovely Paddington, with great shops and weekend markets, and north of there is Darlinghurst, another suburb with a dodgy past (think slums and 'ladies' of the night) that is now a vibrant, eclectic area with the bustling, gay-friendly Oxford Street running through it.
Just be aware that parking may be a problem in these areas, and they're likely to be pretty busy.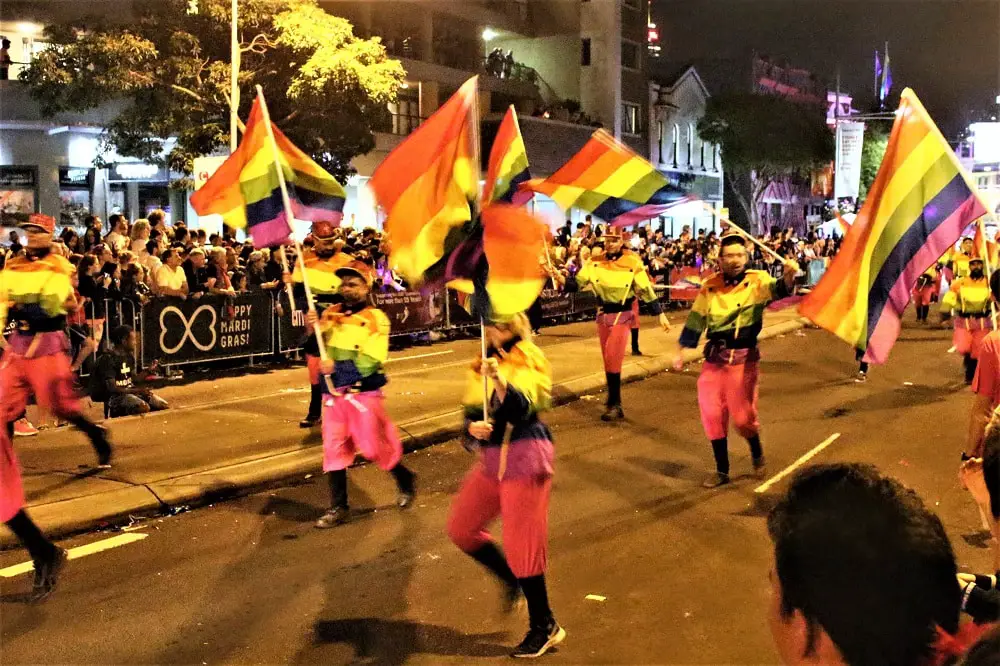 ---
Eastern Suburbs
If you draw a line roughly from Sydney CBD down to the airport (so basically the M1 motorway), the suburbs to the east of that line make up the area known as Sydney's Eastern Suburbs. This area is known for its affluency, and you do pay a premium for being so close to the coast.
The harbourside suburbs at the top, like Point Piper and Vaucluse, are seriously expensive and full of multi-million dollar mansions – I had a house sit there recently and I can't even describe the level of luxury! It's basically Sydney's Bel Air. The beaches are gorgeous with great views of the city skyline and you don't have the traffic noise like further south. Neighbouring Watsons Bay, right at the tip, has some very cool bush tracks, seaside restaurants and clifftop views – perfect for watching the city light up after sunset.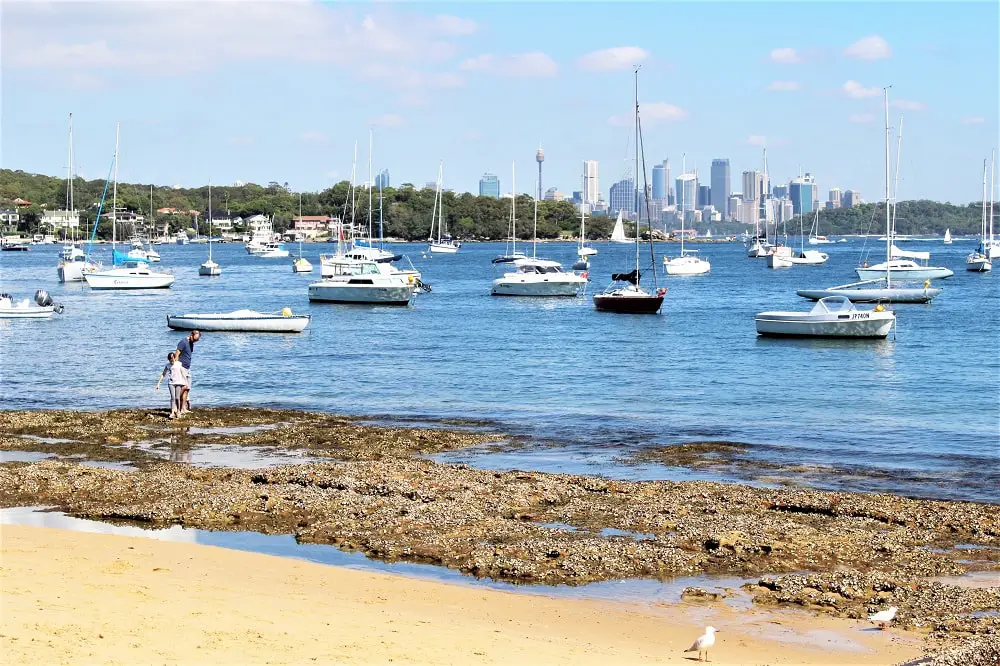 Closer to Sydney CBD, but still on the harbour's edge, you've got the lovely Rose Bay and Double Bay, which have a nice family feel and their own beaches. Then there's Potts Point and Elizabeth Bay, which are close enough to Kings Cross and the city to enjoy the nightlife and attract younger residents, yet still feel quiet and well-to-do, with some large, terribly expensive properties too.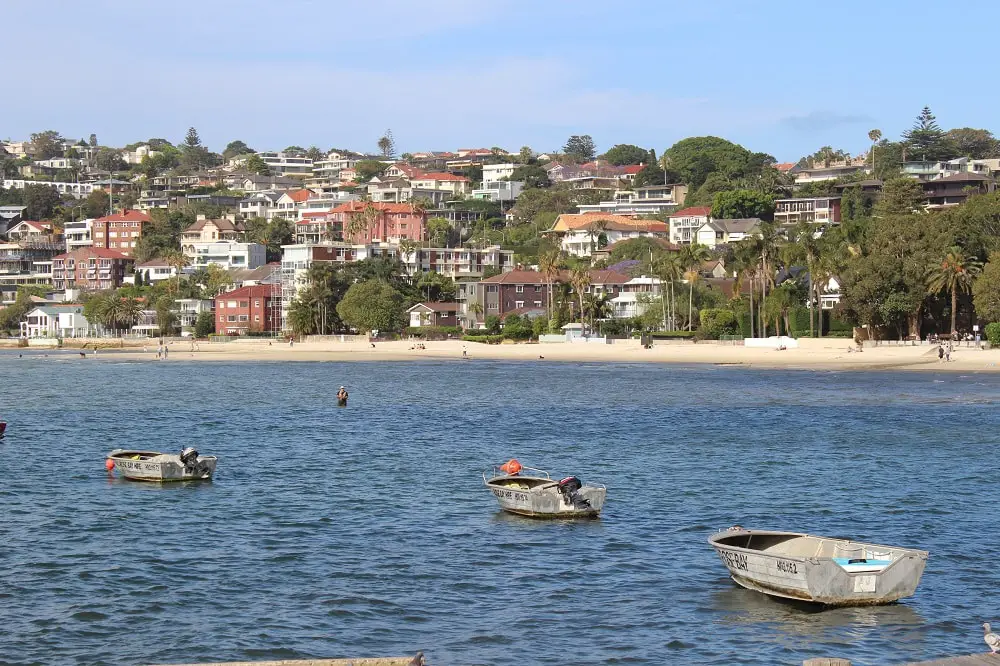 Places like Bondi and Coogee along the eastern coast have a young, energetic vibe – think 6am exercise classes on the beach, trendy cafes and lively pubs. They're also very popular with British and Irish expats who've moved here for the beach lifestyle. They're lovely big beaches, but also have a lot going on.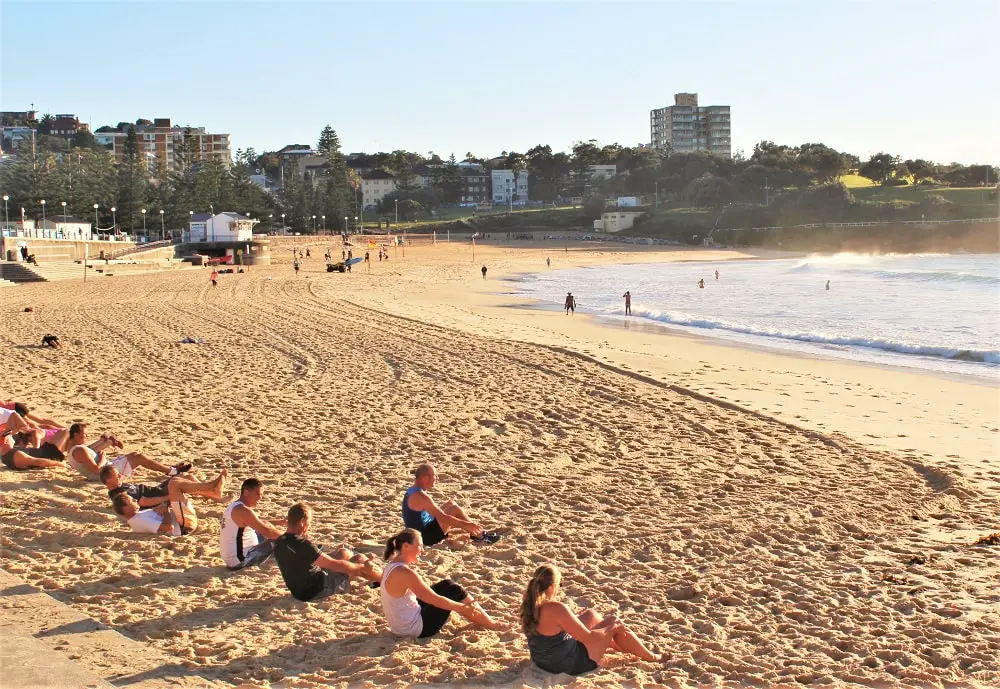 Heading south along the coastline you've got quieter and more family-orientated Sydney suburbs. Maroubra has a huge and beautiful beach with lots of activities on offer – read my post on Maroubra Beach here. Further down, Malabar is really serene and La Perouse has stunning white beaches with clear and calm water.
Click here for my overview of Sydney's south-eastern beaches. Just be aware that the trains don't run along the eastern coastal suburbs any further than Bondi Junction so you're looking at bus journeys into the city if you move here.
---
Lower North Shore
From Sydney CBD head north over the Sydney Harbour Bridge and you'll find what's known as the Lower North Shore – and much of it is very, very lovely. The Lower North Shore has a less hectic feel than the Eastern Suburbs, yet it's still only a quick train or bus ride from the city. Areas like North Sydney and Kirribilli are so convenient for city workers.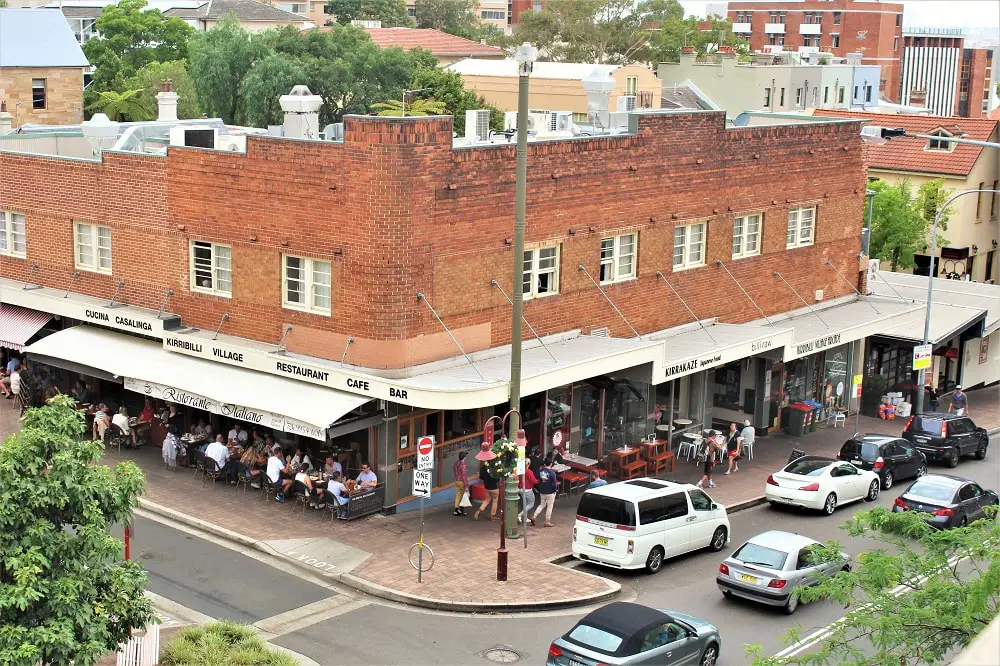 Further west you've got suburbs with quiet leafy streets and killer views of the city; a few of my friends live here and love it. Waverton has its own train station and easy access to Balls Head Reserve, the perfect place for a picnic at sunset. Greenwich is a beautiful waterside suburb. I went on a weekend art trail there once and nosed around inside lots of artists' homes – I was sick with envy!
Then heading inland a little bit there's St Leonards and Crows Nest, which has lots of cafes and restaurants and quite a lot of high rises. Lane Cove, close to Lane Cove National Park, is quieter and great if you want to do some bush walking on your weekends and summer evenings after work.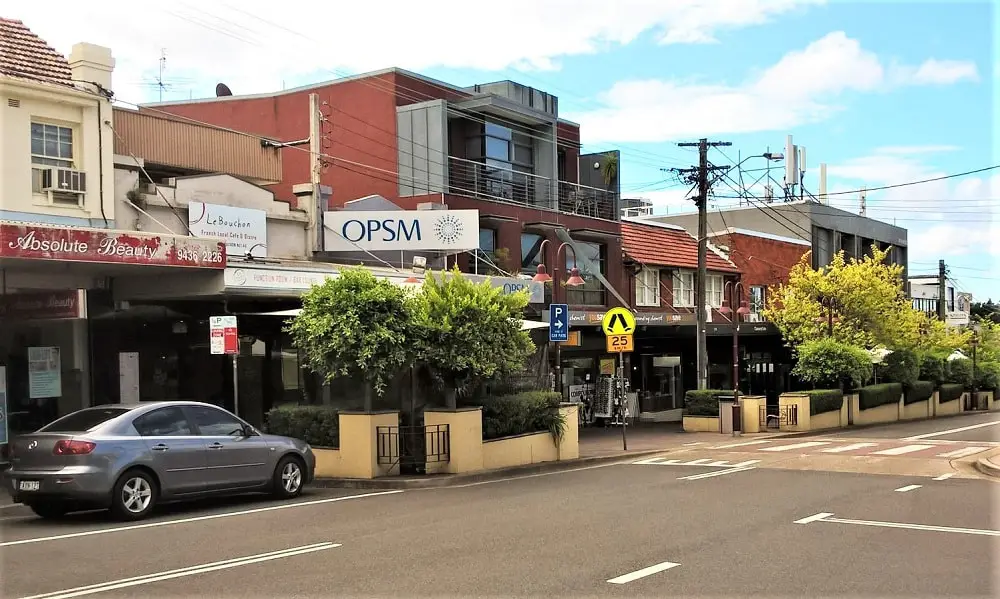 Head east along the harbour's edge and you've got Cremorne Point and Mosman – pretty but very pricey Sydney suburbs with lots of larger homes. There's also the lovely Balmoral Beach nearby. So many places to choose from!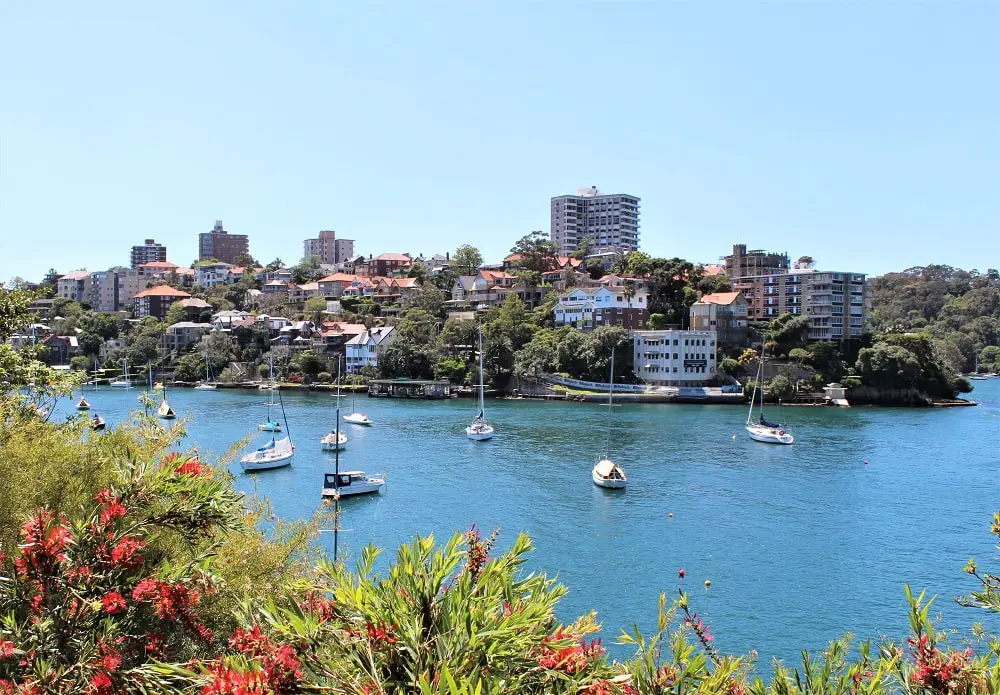 ---
Upper North Shore
The inland area from Chatswood up to Hornsby is Sydney's Upper North Shore. I haven't spent much time in this area but it's known for clean, leafy streets and stately homes. Hornsby has some great walking tracks. Chatswood, however, is very busy with some large shopping centres and tall buildings; it's almost a little city within itself.
---
Northern Beaches
Go back down to Mosman and head north-east across the Spit Bridge – you're now in Sydney's Northern Beaches. The most famous beach here has to be Manly, with its fitness fanatics and beach lifestyle. The ferry ride to Manly from Circular Quay is on every list of Sydney tourist attractions, and rightly so.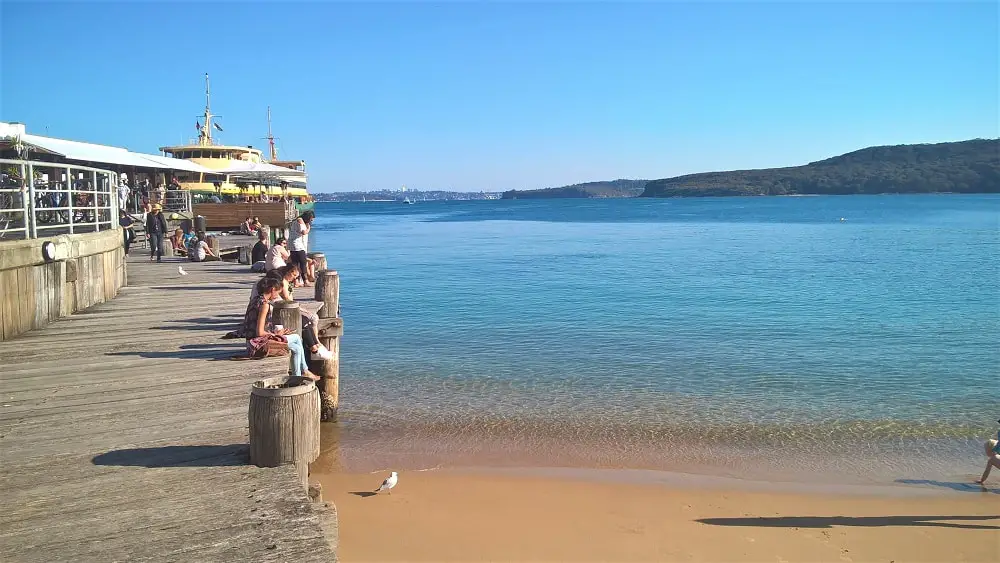 Heading north you've got beaches like Queenscliff, Curl Curl and Dee Why – watch the sand turn from white to gold as you head further north! I once had a luxury house sit inland at North Balgowlah which was such a pleasure: lovely detached, beach-style houses on quiet leafy streets.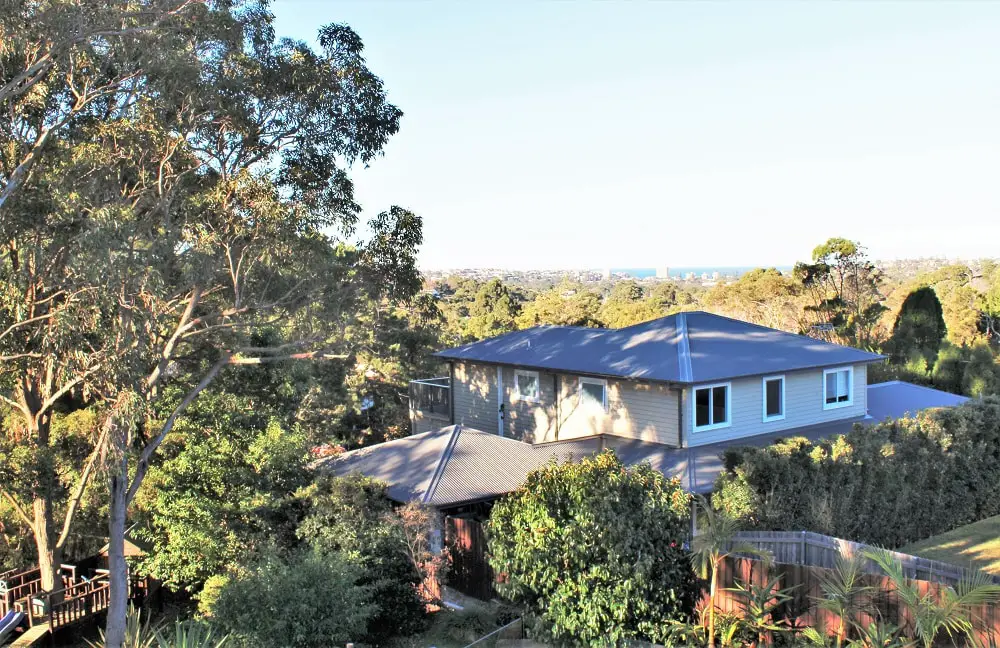 Continue north from Mona Vale and you're on a narrow peninsula with the ocean waves crashing in to the east and Pittwater serenely flowing between here and the Ku-ring-gai Chase National Park to the west. If Sydney is the UK then this upper northern beaches peninsula would be Devon and Cornwall: beach-style houses on steep, narrow streets that wind down through tall forests and emerge onto friendly, local beaches like Clareville and Paradise Beach.
On the downside (for city workers anyway) it is over an hour to Sydney CBD and has no trainline, so it may be too far for those needing to commute every day. It's beautiful but kind of its own little world; its nickname is the insular peninsula!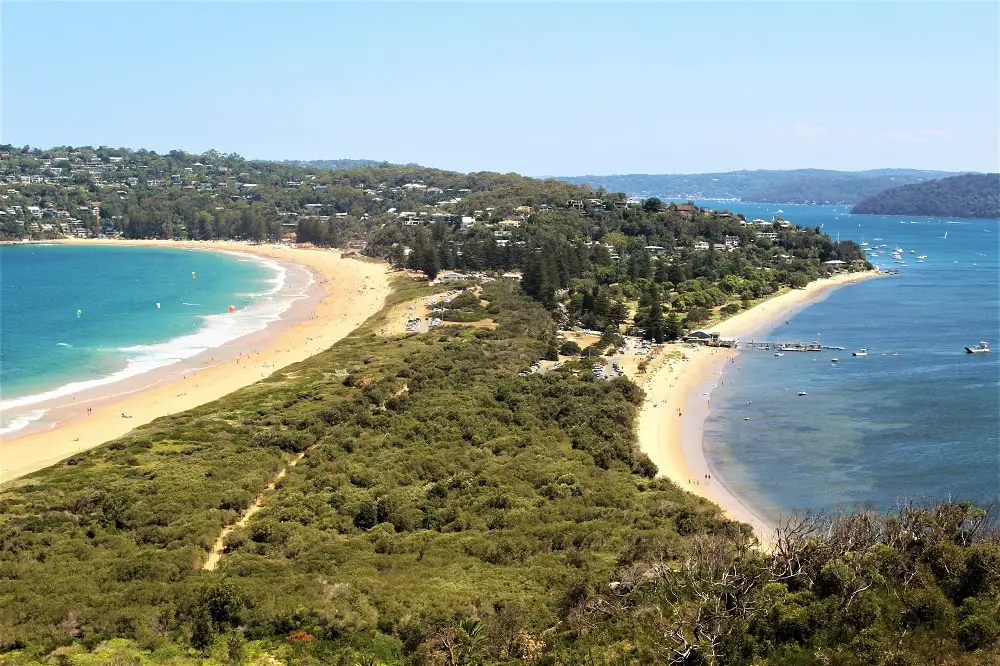 At the very tip of the peninsula you have Palm Beach, where Home and Away is filmed: a beautiful suburb full of millionaires' weekend mansions. I've house sat slightly further down the peninsula, between Avalon Beach and Clareville, which is absolute paradise and probably my favourite place in Sydney in terms of living.
This area is popular with earthy, bohemian sorts – oh, and the stereotypical blond-haired surf dudes! I actually thought these were mythical creatures until I visited Avalon Beach. Kombi vans and wetsuits galore! There's a range of different property types here, from beachfront mansions to small apartments.
To the west of Sydney's Northern Beaches you've got the Forest District, with suburbs in the Ku-ring-gai Chase National Park and Garigal National Park, for those who like a less urban lifestyle than down in the city.
---
Inner West
Go back to that line you drew south from Sydney CBD to the airport, and the area to the left of that, stretching roughly as far as Strathfield, is Sydney's Inner West. I've had lots house sits in this region, and if I had to sum it up in three words they would be urban, artistic and gentrified. You'll see a lot more warehouses and tightly packed terraces, but also more creative spaces, street art and a real community feel. There are larger homes and wider streets in places too; it's quite varied.
Just to the west of the city is bustling, student-filled Glebe, known for its weekend markets and colonial architecture. This is so close to the city you could really class it as city centre. North of Glebe sit Balmain and Rozelle: pleasant, trendy suburbs with a long strip of shops, cafes and restaurants running through the centre, historical buildings and lots and lots of pubs! It's only 10-15 minutes on the bus to the city from here so very convenient.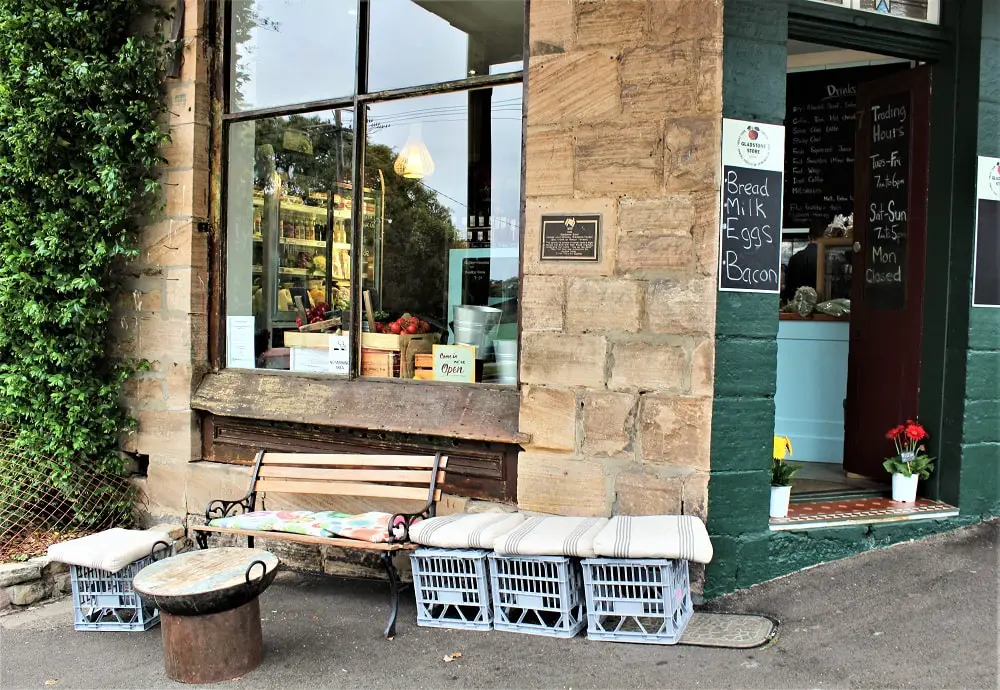 Following the Parramatta River west you've got waterfront Sydney suburbs like Drummoyne (home to Birkenhead Point Outlet Centre) and Canada Bay, then there's nearby Lilyfield, which is close to the famous Bay Run. Heading south you've got Leichhardt, a suburb with cute houses and Italian heritage, which is reflected in the cafes along busy Norton Street.
Going south-west you've got suburbs that conveniently lie along the trainline like Lewisham, Summer Hill and Ashfield. These have a mixture of property types, from Federation-era homes to Victorian terraces. Summer Hill has a lovely village feel, and Ashfield is popular with Asian residents and has many Chinese supermarkets.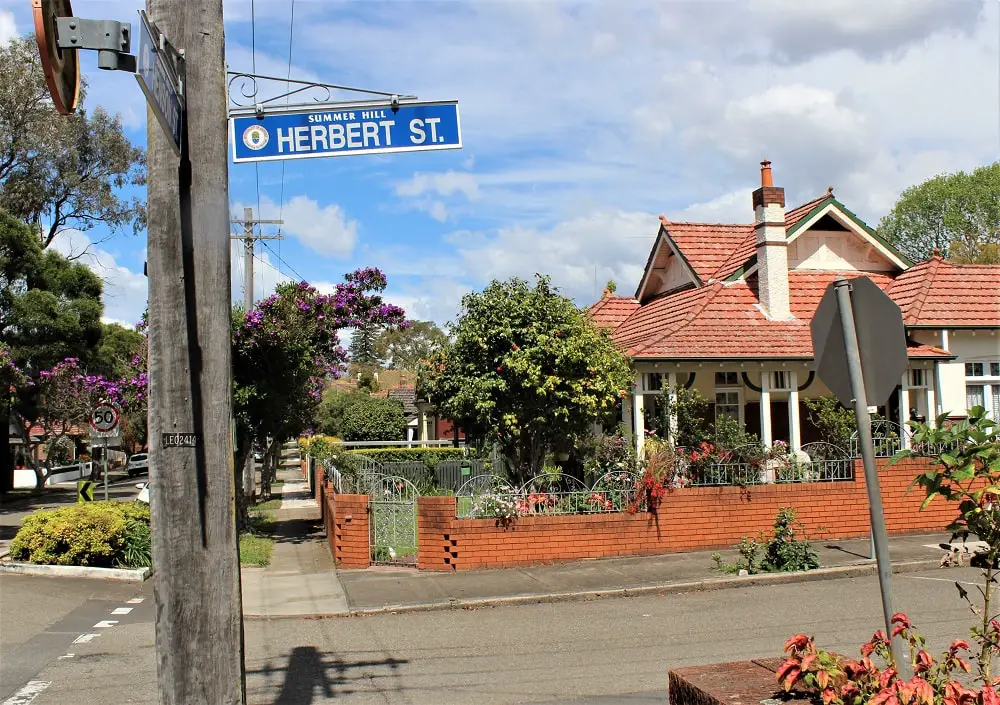 Last but not least is one of my favourite places to visit: Newtown. This is a really quirky and alternative suburb with the thriving Kings Road running down the centre, which is packed with boutiques, charity shops, antique stores and independent cafes and restaurants. The houses tend to be smaller and more tightly packed, making the parking a bit of a nightmare. However, it does have a train station. Overall it's very artistic, very colourful and very lively! Great for younger people.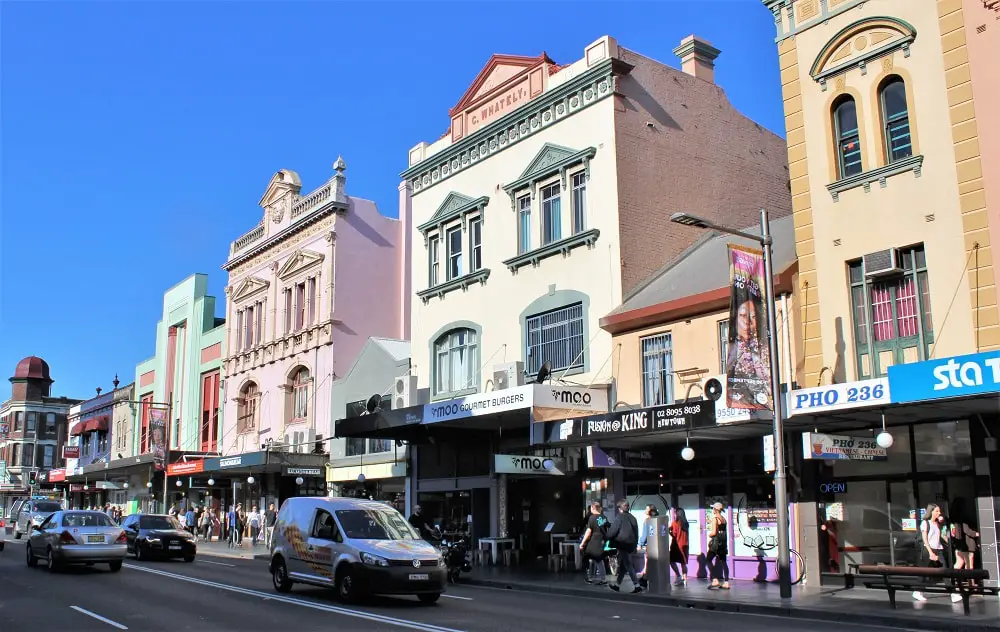 ---
Greater Western Sydney & The Blue Mountains
Heading even further west (23km from the CBD) along the Parramatta River leads you to, unsurprisingly, Parramatta, which is a major business centre and almost like a whole other city. It's the oldest inland European settlement in Australia and has some lovely historical buildings. You can also get the ferry into the city for a more scenic ride.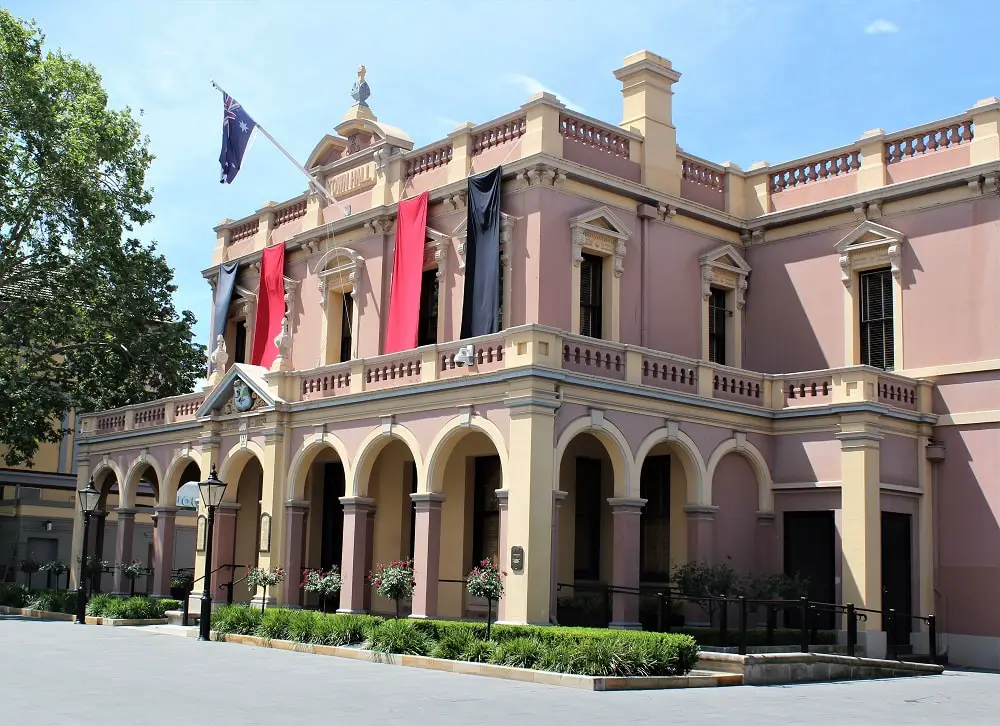 I haven't spent that much time this far west but there are heaps of suburbs stretching down from Parramatta to Georges River, and it's known as being more affordable than the east. I have house sat in Peakhurst and Milperra near George's River, which were fairly quiet areas.
To the north of Parramatta is the Hills District, an elevated area with higher rainfall than the rest of Sydney. I house sat in North Rocks once which was lovely and quiet with big houses and bush reserves to go walking in.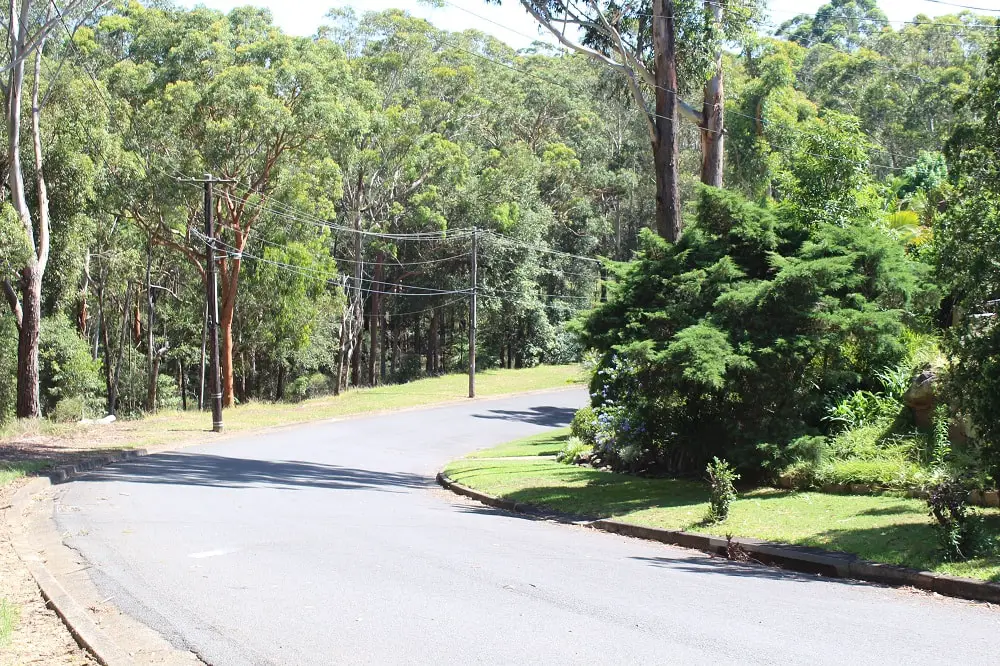 At the foot of the Blue Mountains and also on the trainline is Penrith, a large Sydney suburb with cheap property prices. The Blue Mountains themselves are absolutely gorgeous, and full of quaint little villages. Katoomba is a good two-hour train ride from Sydney CBD though so won't be an option for everyone, and obviously you're nowhere near the beach. The weather out there is quite different from Sydney and they have four distinct seasons; they even get snow! Check out my Blue Mountains blog post for more information and pictures.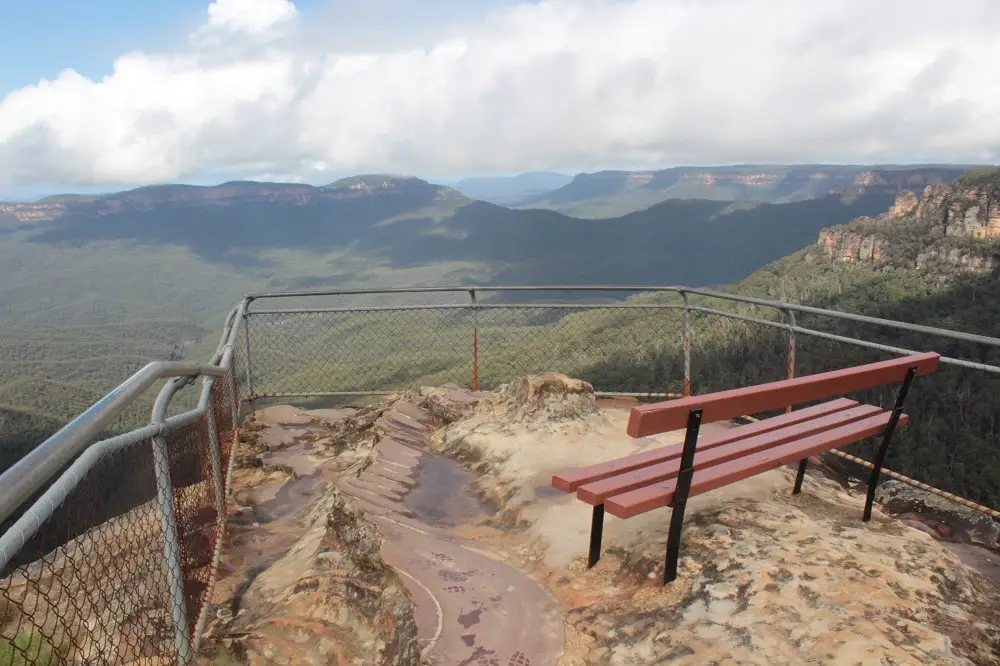 ---
St George Area
To the south-west of Sydney Airport lies the St George Area. You've got a long strip of beaches along Botany Bay; they're very lovely but do have the view of the airport and Port Botany (a huge industrial site) which might put some people off.
Brighton-Le-Sands is the busiest beach area with shops and restaurants and a Mediterranean influence. Dolls Point further down is really pretty with some large houses, and the industrial view is cut off once you get round the corner.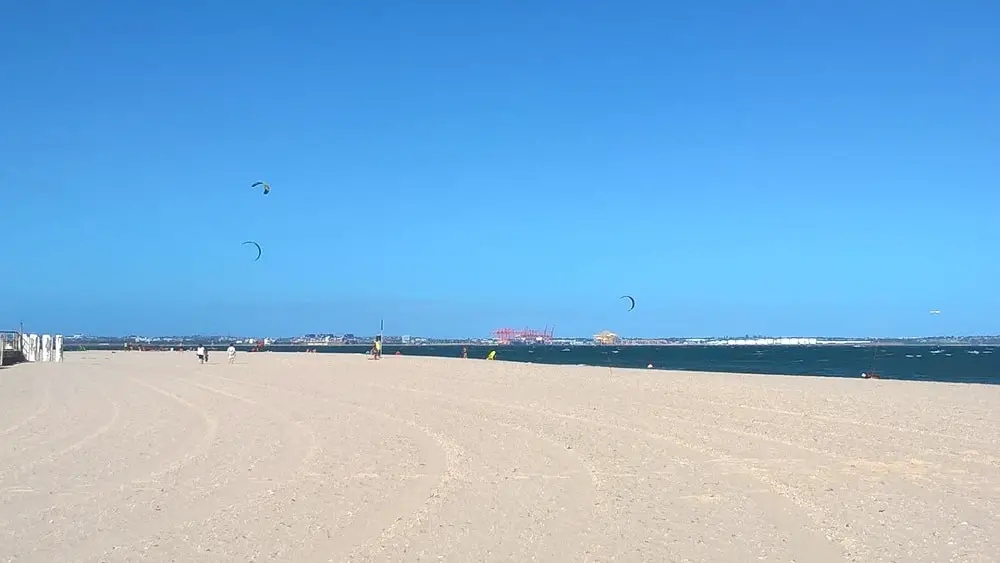 I house sat in Carlton last year, which was quiet with wide leafy streets and lots of low-rise apartments. Kogarah and Hurstville are busier areas with shops and restaurants. They're all on the trainline and about 25 minutes to Sydney CBD. I would say this area is cheaper but a little bit scruffier than the eastern suburbs.
---
Sutherland Shire
South of Botany Bay and Georges River is the Sutherland Shire, or as the locals call it, 'The Shire'. To the very east you've got Kurnell, a beachside suburb with easy access to Kamay Botany Bay National Park. It does have quite an isolated feel and the close view of Port Botany across the water may be off-putting for some.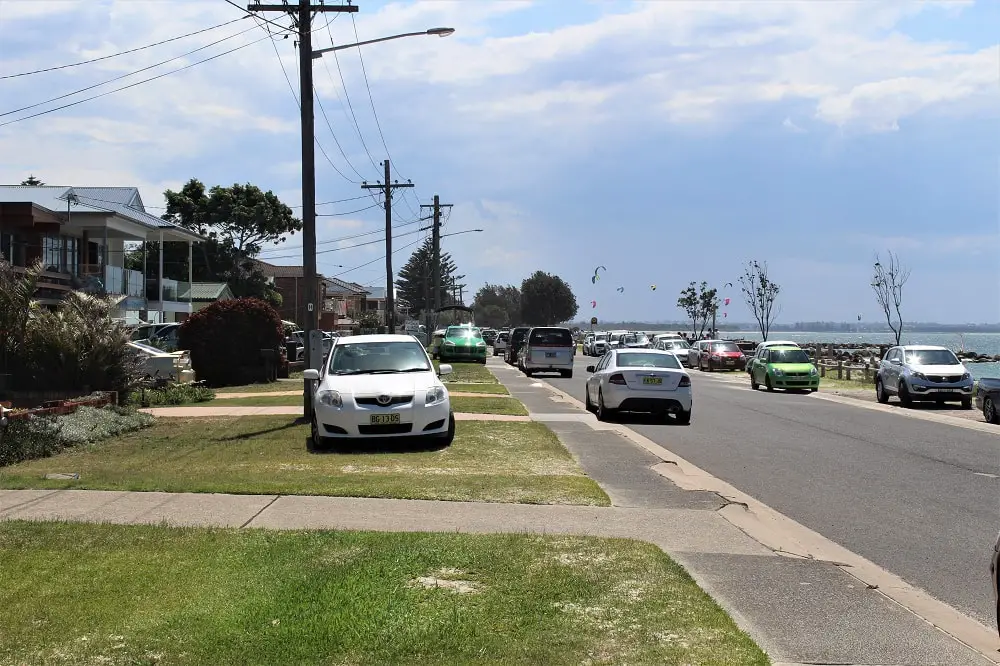 Heading west you've got Cronulla, a popular beach suburb with a fairly large shopping area and huge beach. It's about an hour on the train to the city from here.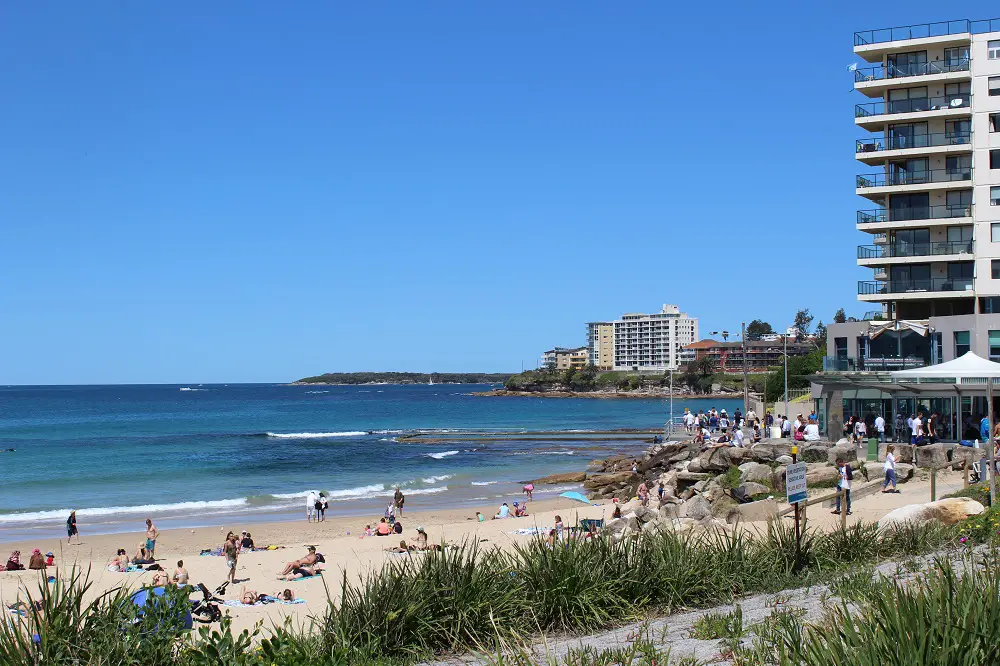 Heading west there's Caringbah, conveniently lying on the train route and home to a lot of industry and commerce. And up by the water you've got Taren Point, which I once had a wander around and gawped at the huge mansions!
If you head south across Port Hacking there are also the gorgeous little villages of Bundeena and Maianbar, which sit at the top of the Royal National Park. They're very picturesque but extremely remote. You can read all about my camping trip there in this blog post.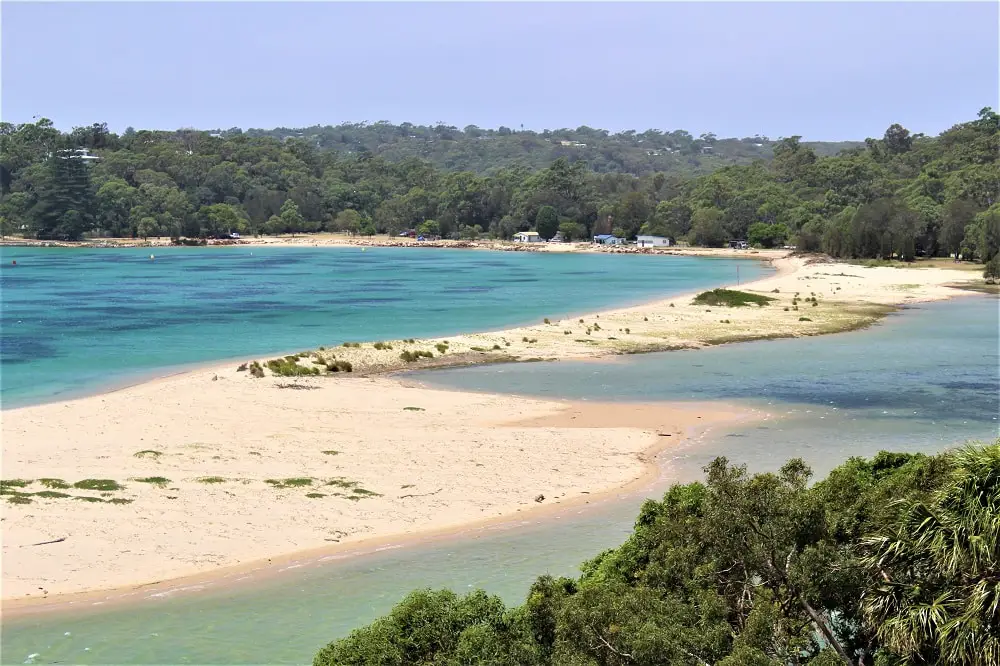 ---
 If  you want further reading, here are links to some useful articles:
I hope this was useful for anyone trying to decide where to live in Sydney and trying to get to know the many Sydney suburbs. To look at properties and prices I'd check out Domain or Google the areas you're interested in. Thanks for reading!
---
Like it? Pin it!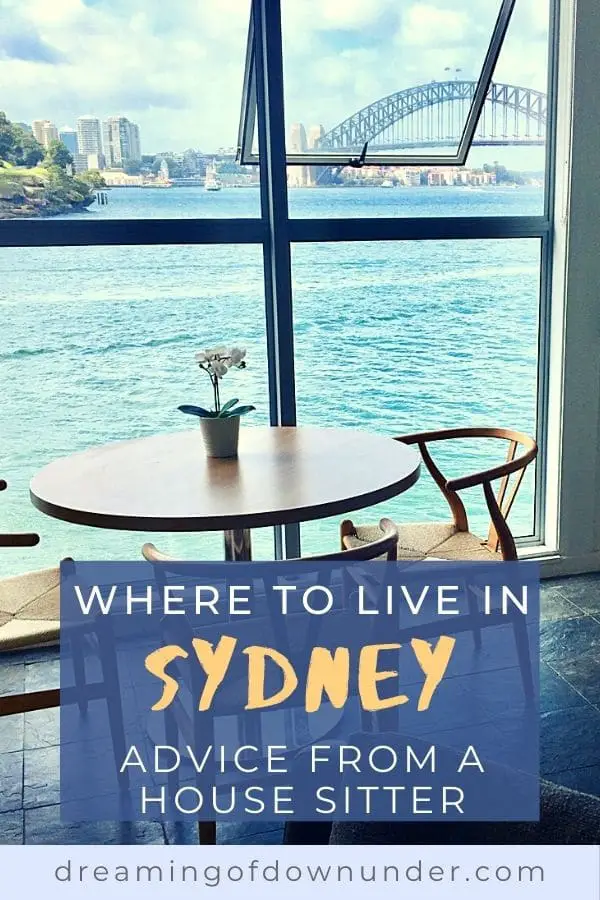 Written by Lisa Bull
Lisa Bull, founder of Dreaming of Down Under, has been living in Australia as a British expat since 2015. After travelling to every state and territory in Australia and living in Perth, Brisbane and Sydney, Lisa knows from first-hand experience the best destinations to visit in Australia and the best budget travel tips. Her guides on this blog have been read by over 700k readers and helped thousands of people achieve their dream of living in or travelling Australia.