This post may contain affiliate links. Please see my disclosure policy for more details.
Sydney life can be hectic, and there are times when you just want to put the traffic noise on mute and retreat back into nature for a little bit of peace and tranquility. If you're looking to escape the hustle and bustle of the city, Bundeena is the ideal weekend getaway from Sydney.
Just 29km south of Sydney CBD, cradled by the north-eastern tip of the Royal National Park and bordering on the southern shore of Port Hacking, lie the picturesque neighbouring villages of Bundeena and Maianbar.
With just a handful of cafes, one supermarket and a population of less than 3,000 between them, this really is a world away from Sydney.
I recently spent two nights at Bonnie Vale campground in the Royal National Park, nestled between the two villages, and liked it so much I returned the following Sunday to explore the monthly Bundeena Markets and Art Trail. Here's the lowdown on where to stay and the top things to do in Bundeena and Maianbar.
---
 Bundeena Ferry & Village
Bundeena is made up of a tiny network of streets that you can wander around in no time. You can either drive down from Sydney (approximately 1 hour from the CBD; a 52km journey as you have to loop back on yourself) or take the 30-minute trip on the vintage Bundeena ferry across from Cronulla.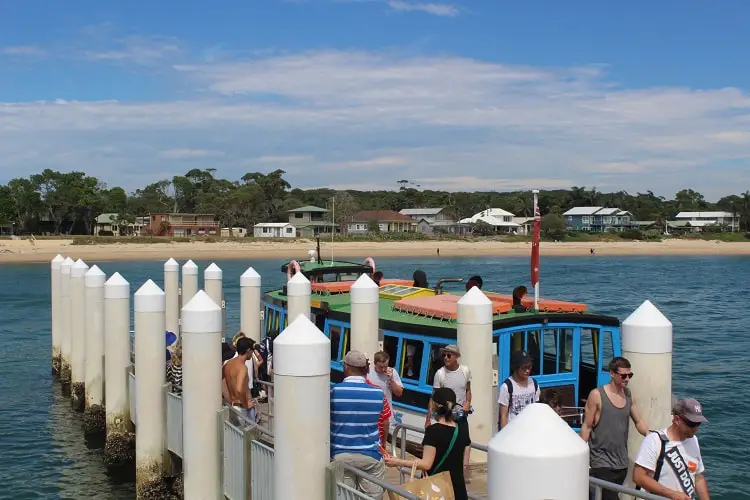 The village is centred around Brighton St, where you'll find an IGA supermarket, three cafes (they close at 3pm – so don't leave it too late for your latte like I did on my first day!) and a few small shops.
If you continue wandering up Brighton St away from the beach, keeping to the path on the left-hand side, you'll find yourself surrounded by greenery and some very impressive houses set behind lush gardens; a refreshing change if you're used to the more urban areas of Sydney.
---
Bundeena Beach
The main draw of a coastal village is, of course, the coastline! Even though it's tiny, Bundeena actually has four lovely beaches within walking distance of the town centre. Starting from the west you have:
Bonnie Vale Campground & Beach
Bonnie Vale campground has its own beach, and day visitors can use the toilets, showers, barbecues and picnic tables; you can even rent kayaks on the beach. Note that in the morning the tide comes right up to the grassy edge of the campground, and the water is very calm, so if life gets too much you can easily loll around on an inflatable like this lady in my picture!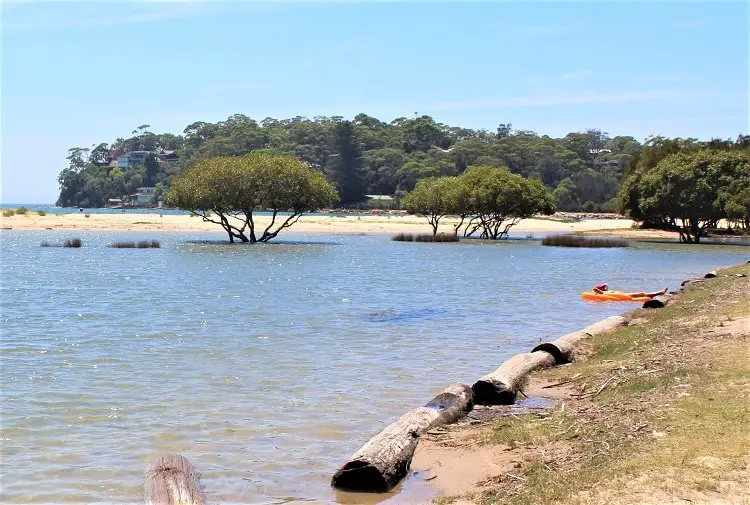 There's a sandier area on the eastern side of the campsite, which is where you'll park as a day visitor anyway. The tide then goes out very far later in the day, resulting in sand flats i.e. it's a bit squishy and muddy.
To get to Bonnie Vale just follow Sea Breeze Lane on the western side of Bundeena village. Note that there's a $12 parking fee per vehicle per day as Bonnie Vale is part of the Royal National Park (this isn't payable if you're parking in Bundeena or Maianbar villages).
Horderns Beach
Horderns Beach is a lovely stretch of sand right next to the village centre in Bundeena, and great if you want easy access to the public toilets and cafes. It's also where the ferry comes in from Cronulla, so you only have to walk a few metres from the wharf to flop down onto the soft white sand.
The sea here is much calmer than at the big surfing beaches on Sydney's east coast, so it's great for swimming.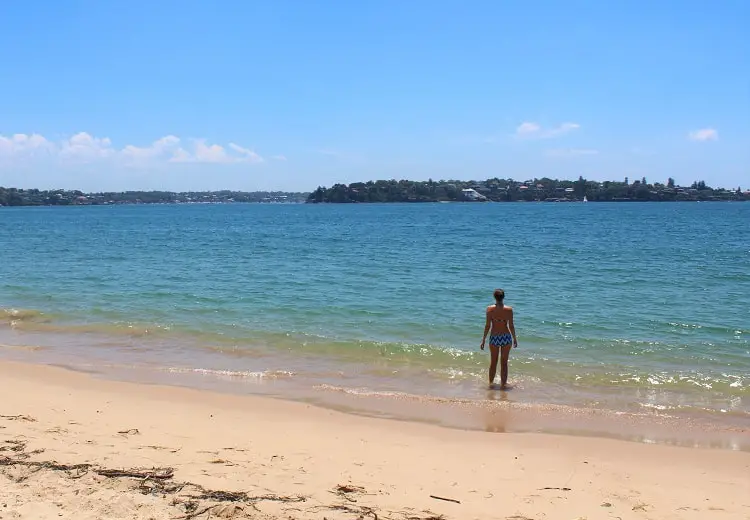 If you feel like stretching your legs, saunter along the water's edge and admire the beachfront houses nestled amongst the trees.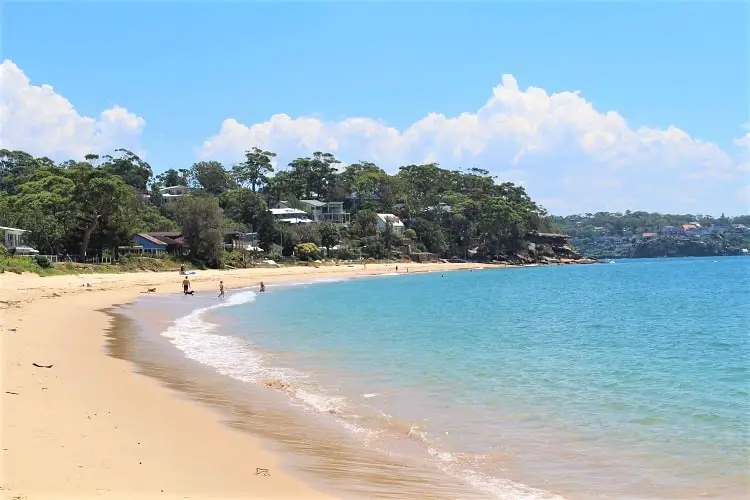 Gunyah Beach
A small rocky beach next to Horderns on the opposite side of the wharf.
Jibbon Beach
Follow the coastline east and you'll come across Jibbon Beach, a gorgeous 700m crescent of sand in the Royal National Park that stretches up towards Jibbon Head. It's also the official start of the 26km Coast Track that skirts through the Royal National Park down to Otford – highly recommended for serious hikers.
Jibbon Beach can be reached by following a pathway that juts off the corner of Neil St and Loftus St in Bundeena (or by water if you have your own boat!).
Like at Horderns Beach, the water's pretty calm, but a really strong current pulled at my feet when I went for a paddle. It also gets deep very quickly so do take care as there are no lifeguards.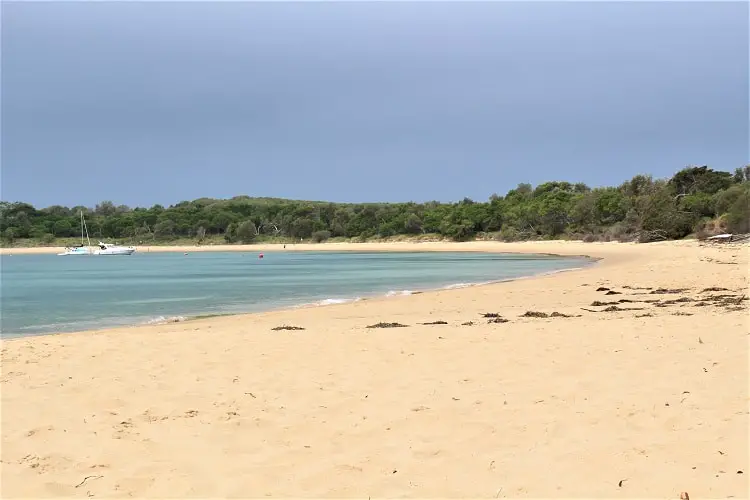 As you can see above, when I visited Jibbon Beach on a weekday it was almost totally deserted; if it hadn't been for the view of Cronulla across the water I would have felt like I was on my own desert island, Lost-style! 
It was a very different story when I came back on a Sunday since many people had come across by private boat and set up camp for the day with gazebos, stereos and picnics. One party even had their own shisha pipes going on! It was still quite empty compared to the weekend madness of Bondi and Coogee though.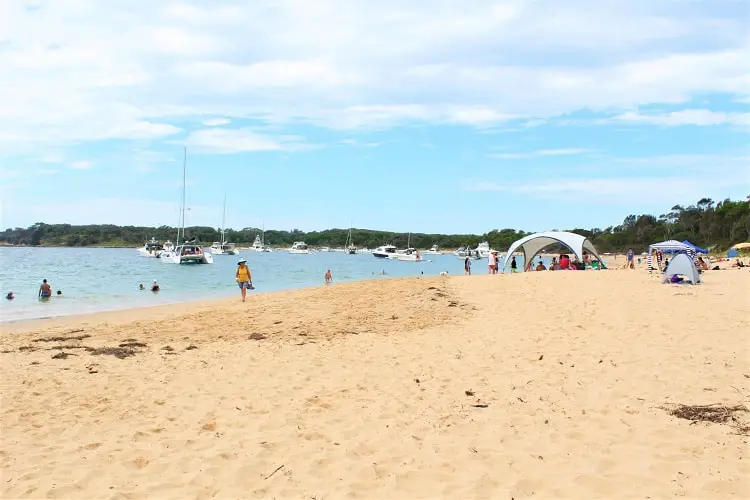 ---
 Maianbar Village
Maianbar is another tiny village, even smaller than Bundeena, that sits to the west of Bonnie Vale. From Bonnie Vale campground there's a sign just to the left of the toilet blocks marking the start of the 1km Maianbar-Bundeena walking track.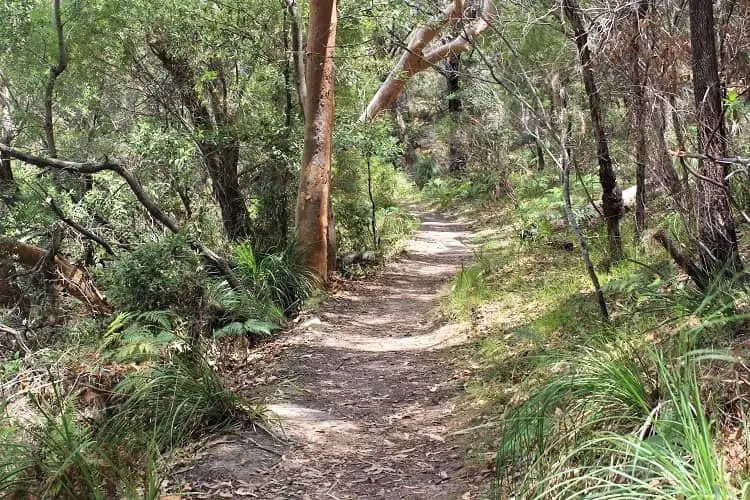 It's a very easy and pleasant ten-minute walk to Maianbar from Bonnie Vale, passing over a bridge with gorgeous views of the turquoise water and mangroves then heading up through the bush.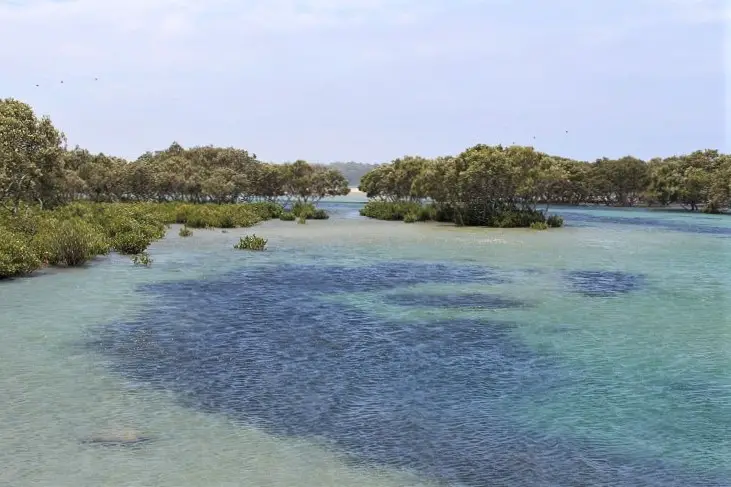 There are a few steep sections, but the ground is fairly even so it's fine to do in flip-flops (or thongs if you're Aussie!). Once you reach the top you'll be rewarded with stunning views over the water from between the enviable hilltop houses!
As it was a sweltering 36 degrees when we did the walk, we didn't go down to the beach but stopped off at the friendly Maianbar Beach Cafe at 50 Pacific Crescent for a cooling smoothie instead!
---
Bundeena Accommodation
So, where to stay in Bundeena and Maianbar if you're coming for more than a day? You can choose from the beach houses and B&Bs listed on the Bundeena Info website, or, if you prefer the great outdoors, you can camp at Bonnie Vale campground like I did.
Bonnie Vale Campground
Bonnie Vale campground is a really beautiful and open grassy spot right on the water's edge. It's surrounded by trees, and there's plenty of wildlife roaming around, from the Kookaburras that laugh you out of bed in the morning to the ducks taking a paddle at twilight to the resident goanna, traipsing leisurely around the grounds like he owns the place (I suppose he does really)! Just beware of the mosquitoes that arrive in droves in the evening. You will definitely need repellent!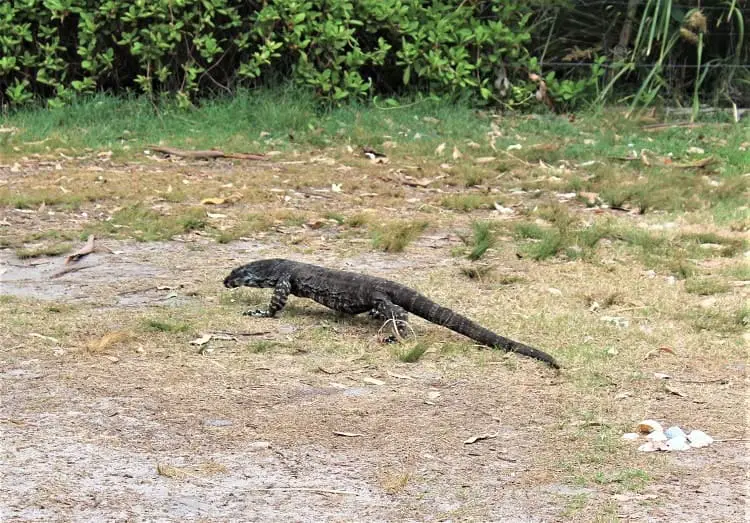 Facilities:
The facilities were pretty good at Bonnie Vale compared to other National Parks I camped in on my road trip across the south coast of Australia, which is reflected in the higher price of $33 per pitch (compared to $10-$15 at the more basic ones in Western Australia). Facilities include:
FLUSHING TOILETS – i.e. not compost, and complete with toilet paper, mirrors & lights (oh the luxury!). There are separate male, female and disabled blocks.
HOT SHOWERS – yes, they really are hot, although a little rusty and definitely not 5 star!
WASTE BINS – these can be a rarity in Australian National Parks.
DRINKING WATER – we filled our bottles up at the washing-up station or the drinking fountains outside the toilets, which are all hooked up to the Sydney town water supply.
BARBECUES– the typical Aussie hot plates.
PICNIC TABLES
WASHING-UP STATION – two large sinks plus a laundry sink.
POWER SOCKETS – these are inside the toilet blocks; the sites themselves are all unpowered though.
DECENT MOBILE PHONE COVERAGE– between us we had Optus and Telstra and neither of us had a problem.

---
What to Take:
ESKY & CAMPING STOVE: there's no kitchen at the campground, just sinks, so you'll need an ice-filled esky to store your food. Bundeena only has daytime cafes, so if you want to cook dinner in the evening you'll need your own camping stove unless you plan on using the barbecues. There is an IGA supermarket in Bundeena village for food supplies.
WASHING-UP EQUIPMENT: you'll need to provide your own detergent, cloths and tea towels to do your dishes.
INSECT REPELLENT: a must in the summer.
---
Cost:
We paid $33 per tent site per night to stay at Bonnie Vale camping ground, based on two people sharing, which was in Feb 17 (late summer) plus a 2.5% booking fee and a $12 National Park fee per vehicle per day. This is payable at a machine at the campsite entrance; there's also a manned station at the entrance to the national park when you arrive.
---
How to Book Bonnie Vale Camping Ground:
Bookings for Bonnie Vale campground can be made through the NSW National Parks and Wildlife Service website. The site consists of 74 unpowered spaces, and you can choose your spot on the map when booking.
Just click on each number and the website will tell you some basic information about the space and whether it has shade or not.
Different spots are allocated for tents and vans so make sure you read the coloured-coded key on the map carefully! Most of the waterfront spots are allocated to trailers, campervans and caravans due to it being a high-wind area.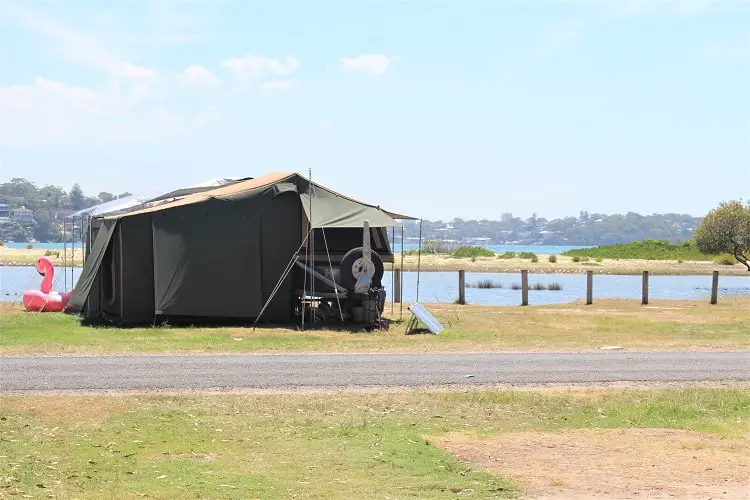 We had the whole 35–40 area to ourselves so pitched up in spot 36 which had good morning shade from the tall trees (always a good idea to choose morning shade when you're camping unless you want to wake up at 5am feeling like you're in a sauna – just look at the map and choose a spot where the trees are to the east of you).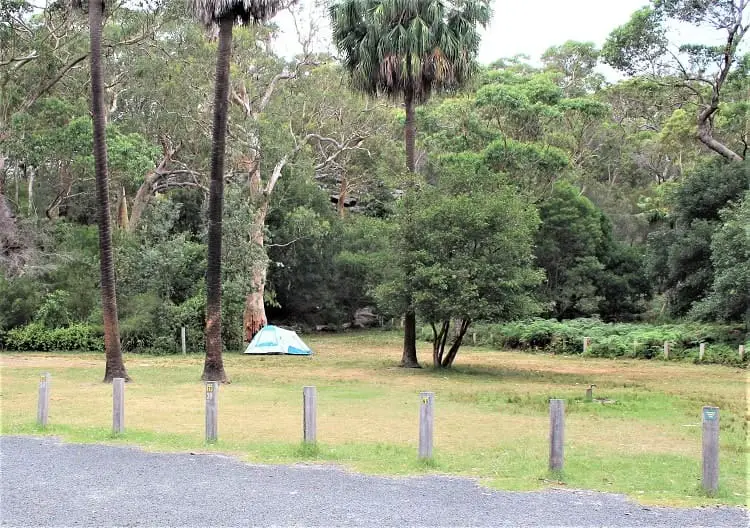 Be aware that Bonnie Vale does get very booked up at weekends in the summer and during school holidays, so you'll need to book well in advance.
---
For more ideas, check out my blog post on the best Sydney day trips. Happy exploring!
---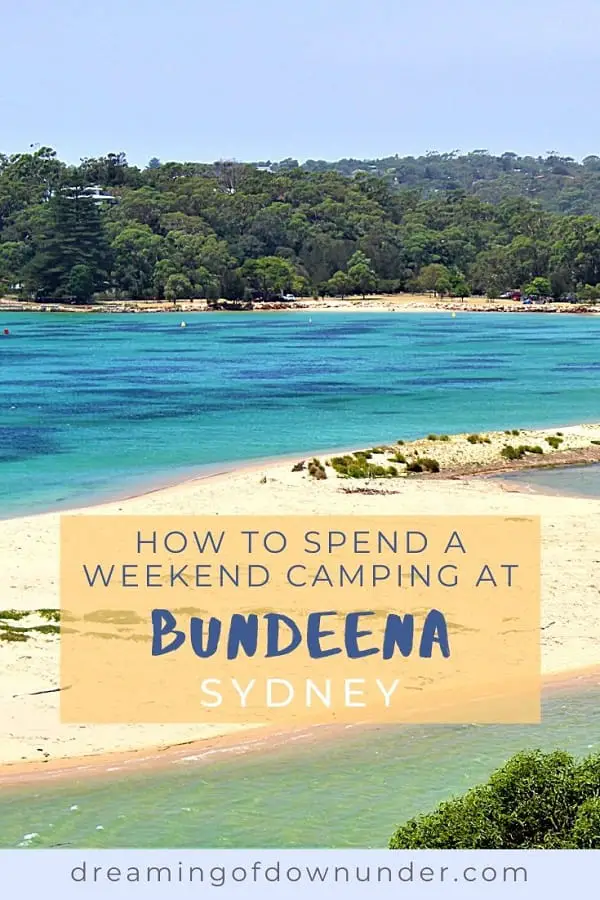 Written by Lisa Bull
Lisa Bull, founder of Dreaming of Down Under, has been living in Australia as a British expat since 2015. After travelling to every state and territory in Australia and living in Perth, Brisbane and Sydney, Lisa knows from first-hand experience the best destinations to visit in Australia and the best budget travel tips. Her guides on this blog have been read by over 700k readers and helped thousands of people achieve their dream of living in or travelling Australia.