This post may contain affiliate links. Please see my disclosure policy for more details.
One of the best things about living in Sydney is being able to head out to national parks at the weekend to hike through the beautiful scenery. This stunning two-hour Cape Solander walk from Kurnell down to Cape Baily Lighthouse feels a world away from the city.
The Kurnell section of Kamay Botany Bay National Park – lying at the southern entrance to Botany Bay, east of Cronulla – actually has multiple walking tracks. There's a mixture of heathland, birdlife and even whale watching from the Cape Solander viewing platform (best in June & July).
Keep reading to find out how to find and complete the cliffside Cape Solander walk along Cape Baily Track, plus an inland detour along the Cape Solander Track and the Polo Trail.
---
Information on the Cape Solander Walk in Kurnell
How to Get to Kurnell
You can catch the 987 bus from Cronulla to Kurnell, (use the NSW trip planner to check times) but this only runs once every hour or two and stops about 5pm, so it is best to visit Kurnell by car.
How to Find the Cape Baily Walking Track
If you don't mind paying for parking, you can park at the end of Cape Solander Drive (point 9 on the map) and head straight onto the Cape Baily Track to do the coastal section of the walk only.
For free parking, head to Polo Street in Kurnell (point 1 on the map below), which is a residential street with lots of space, usually. This is where the route in this blog post starts.
Toilets in Kurnell
 Note that there are no toilets on the walking track, but you can use the public toilets in Kurnell before you start. Park on Captain Cook Drive and walk through the park by Captain Cook's landing place.
Food & Drink in Kurnell
Kurnell is a tiny suburb, but there is a store/take away where Polo Street meets Captain Cook Drive. There's also Endeavour Café on the corner of Prince Charles Parade and Captain Cook Drive, and the very cool Cook at Kurnell café operated from a vintage truck at 306-308 Prince Charles Parade.
What You'll Need for the Walk
It gets quite windy on the cliffs, and you'll also be exposed to the sun and walking on a flat but uneven surface. Make sure to take sunscreen, a hat, a warm top, decent walking shoes or trainers, and enough food and water to keep you going. Oh, and your camera of course!
Distance & Safety
The walk is approximately 7km (5.4km if you're starting at point 9) and should take 2-2.5 hours depending on your pace. Much of the walk is on open cliff edges – although you don't need to get very close to the edge – so be careful if you have children with you.
Cape Solander Walk: Map
The walk in this post follows the points on the map below, from point 1 at Polo Street to point 12. Alternatively, you can pay to park inside the national park and start at Cape Solander lookout at point 9.
---
1. Polo Street, Kurnell: Kamay Botany Bay National Park Entrance
Time: 5 minutes
The walk starts at the south-eastern end of Polo Street in Kurnell, where you'll see a gate and a sign for Botany Bay National Park.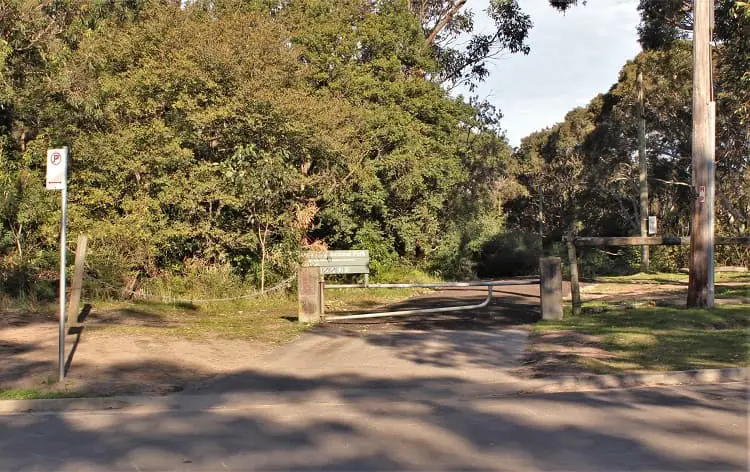 Follow the wide gravel path through the trees, and a tall white tower and large green water reservoir will come into view. If you get lost at any point during the day, these are good markers and can be seen for miles!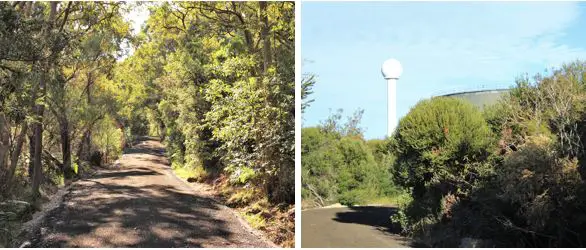 A few minutes later – shortly before the gravel track comes to a dead end – the pale, sandy, clay-like Polo Trail will appear on your left.
---
2. Polo Trail
Time: 5 minutes
Turn left down the Polo Trail. Almost immediately, the Yena Track (a very narrow, sandy track with trees arching over it and a green pole marker) forks off to the left . Ignore this and continue on the Polo Trail.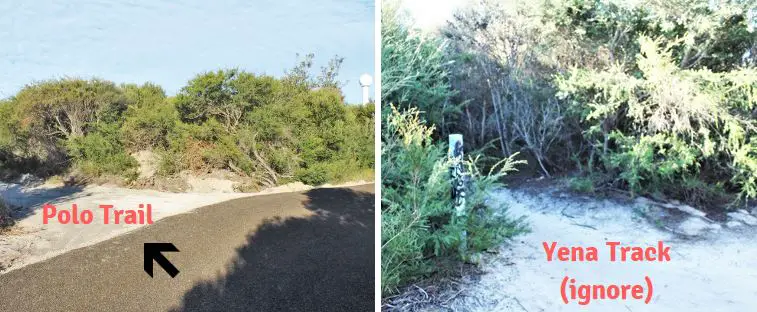 You'll pass rocky and sandy areas with low trees and bushes either side before coming out perpendicular to the Yena Gap Trail after about five minutes.
---
3. Crossroads
Time: 5 minutes
To your left and right is the Yena Gap Trail (left leads to Cape Solander Drive). Cross over and take the track opposite you (lying slightly to the left). You'll soon get a glimpse of the ocean!
After a few minutes you'll come out at an open, rocky area where the path forks in two directions.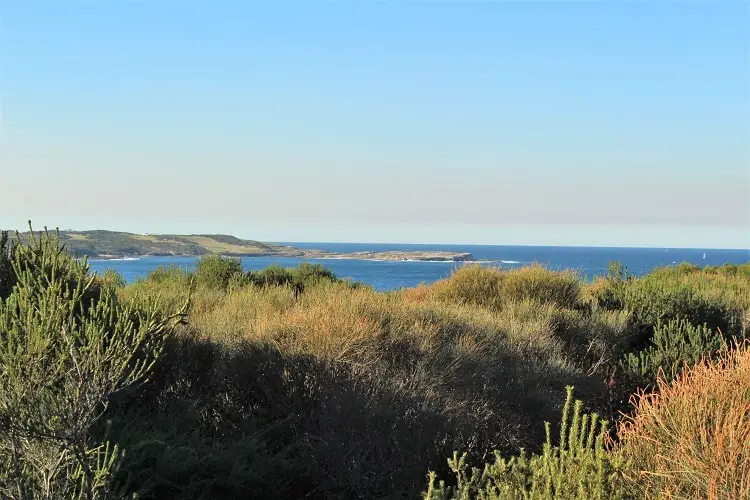 ---
4. Cape Solander Track
Time: 15 minutes
The path forking left is the Cape Baily Track, the coastal path along the cliffs. To the right is the Cape Solander Track, which runs parallel to the coast but inland.
On this walk we'll turn right and take the wide Cape Solander Track (but we'll return via the Cape Baily Track). Note that there can be muddy areas on the Cape Solander Track, so if it's been raining you may prefer to turn left and take the coastal path both ways.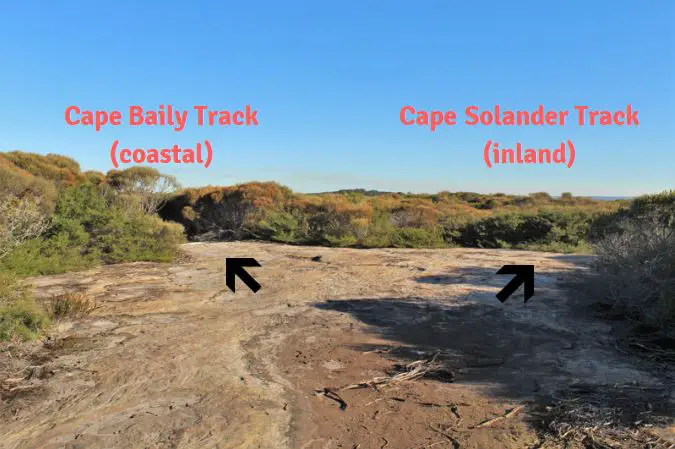 The path is ridged, winding and uneven, with shrubland either side. Keep an eye out for birds flitting around!
Keep walking and you'll pass a large, open area, then a section that may be muddy.
The track opens out again, then veers to the left and becomes narrower. You'll get a glimpse of the Cape Solander viewing platform and car park through a gap in the bushes to the left. Continue on the path to the right.
After about 15 minutes in total – just before reaching the Tabbigai Gap – the Cape Solander Track joins back onto the Cape Baily Track.
---
5. Tabbigai Gap
Time: 15 minutes
The boardwalk veering off to your left is the Cape Baily Track that heads back to Cape Solander along the coastline instead of inland (we'll take this route back on the return journey). Ignore the boardwalk and continue forward on the Cape Baily Track heading south.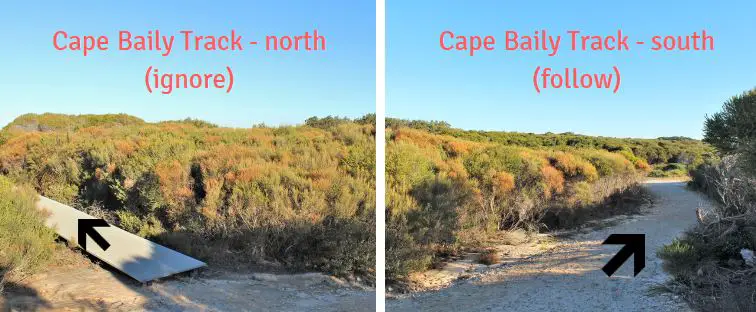 About three minutes later you'll join onto the winding boardwalk which takes you to the Tabbigai Gap.
Keep right when the track splits off and you'll come to another boardwalk.
You'll emerge onto the open cliffs and be able to see Cape Baily Lighthouse in the distance. Follow the boardwalks and clifftops until you reach Blue Hole Gap.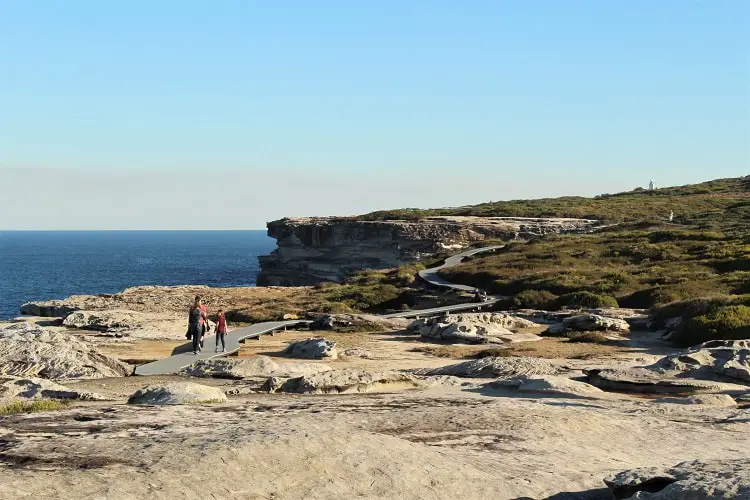 ---
6. Blue Hole Gap
Time: 20 minutes
Take some time to explore the beautiful, swirling rock formations at Blue Hole Gap, then follow the boardwalk around to the other side.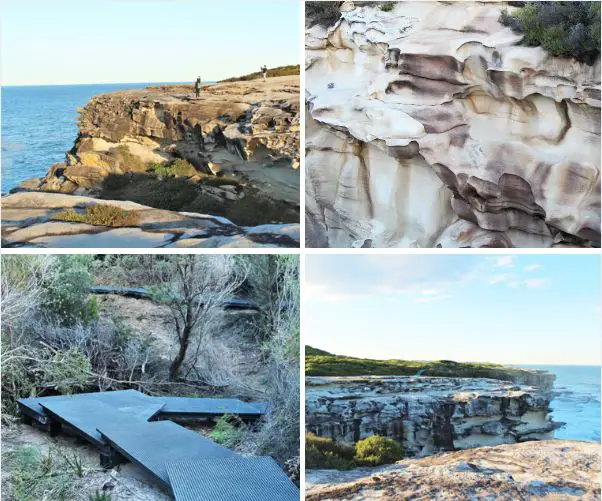 Keep going and you'll pass some stunning rock formations and wet areas on the clifftops before reaching the sandy track up to Cape Baily Lighthouse.

---
7. Cape Baily Lighthouse
Time: 2 minutes
Follow the short sandy track up to the lighthouse, and you've arrived at your destination!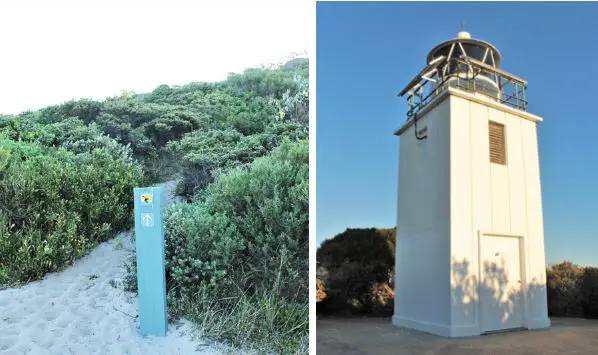 ---
8. Tabbigai Gap
Time: 35 minutes
To begin your hike back, retrace your steps to Tabbigai Gap.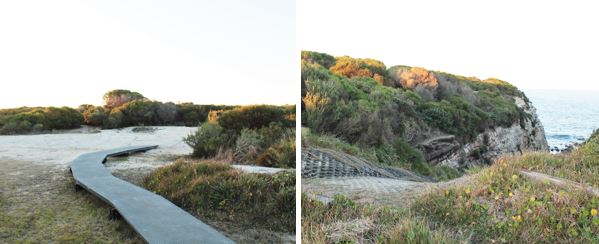 This time, rather than turn left back onto the inland Cape Solander Track, turn right onto the coastal Cape Baily Track boardwalk.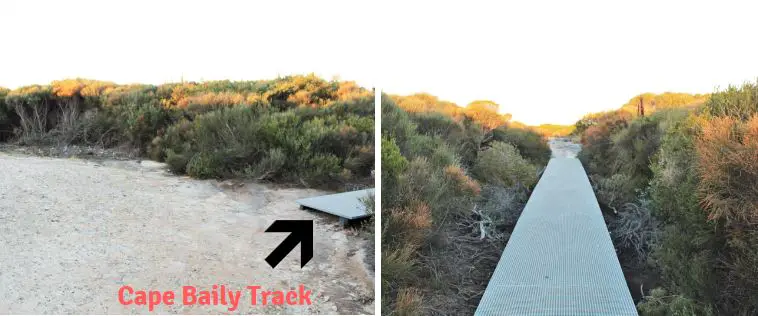 Enjoy the beautiful clifftop walk all the way to Cape Solander Drive.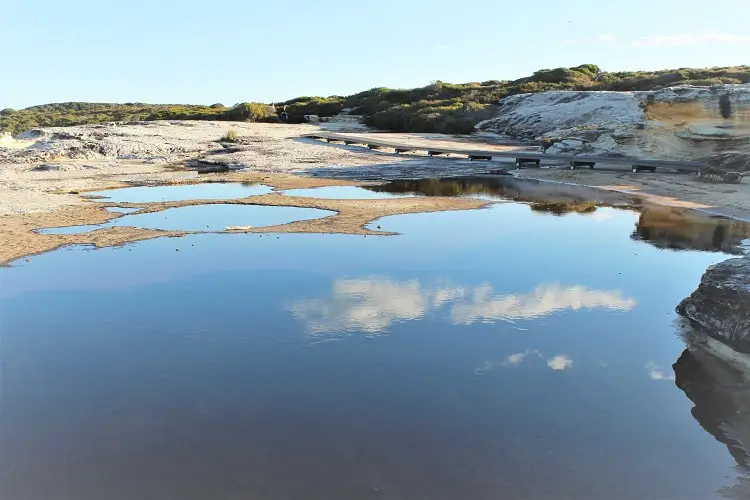 ---
9. Cape Solander Viewing Platform
Time: 5 minutes
Near the end of Cape Solander Drive is the Cape Solander viewing platform. This is one of Sydney's best whale-watching spots; you may see volunteers keeping count of whale sightings in the winter.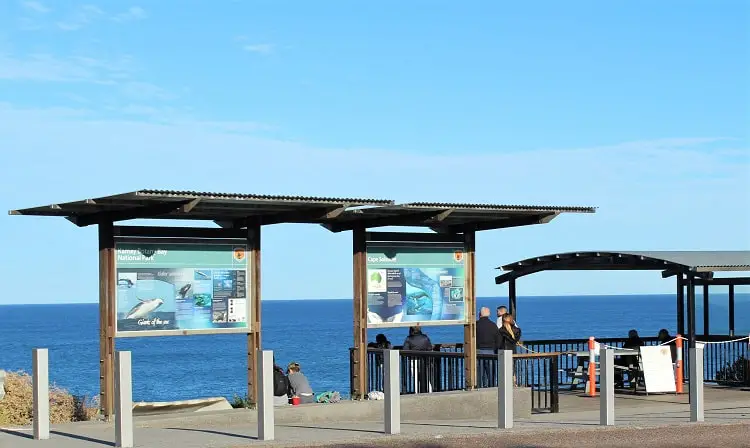 Walk up Cape Solander Drive for a few minutes (look out for the Sydney CBD views!) until you reach the gated entrance to the Yena Gap Trail on your left.
---
10. Yena Gap Trail
Time: 5 minutes
Head down the Yena Gap Trail and you'll come out at the cross roads we passed at point 3.
---
11. Polo Trail
Time: 5 minutes
Turn right to get back onto the Polo Trail and you'll come out on the gravel track again by the water reservoir.
---
12. Polo Street, Kurnell
Time: 5 minutes
Turn right and follow the gravel track back to Polo Street in Kurnell. Depending what time of day it is you could grab a coffee from Endeavour or Cook at Kurnell, or watch Port Botany light up from Silver Beach at sunset.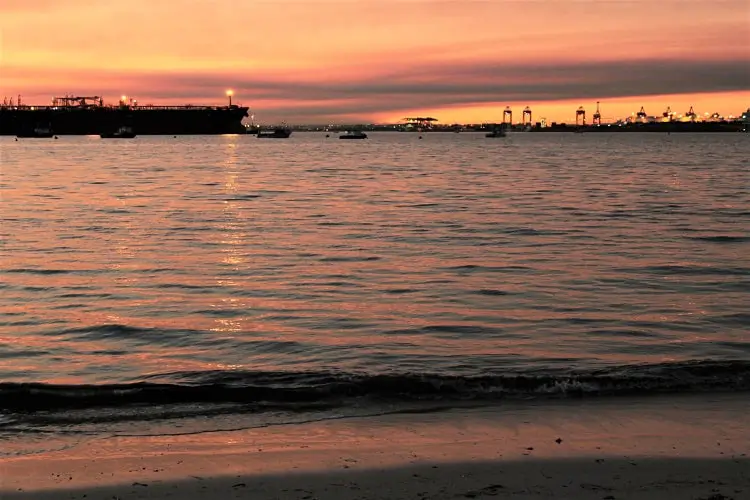 ---
For more ideas for beautiful walks in Sydney, check out the blog posts linked below. Happy hiking!
Cronulla Beach Walk: Sydney's Paradise Peninsula
Bondi to Coogee Walk& Sculptures by the Sea
Cremorne Point Walk: Gardens, Mansions & Amazing City Views
Stunning Walk to West Head Lookout in Ku-Ring-Gai Chase National Park
Written by Lisa Bull
Lisa Bull, founder of Dreaming of Down Under, has been living in Australia as a British expat since 2015. After travelling to every state and territory in Australia and living in Perth, Brisbane and Sydney, Lisa knows from first-hand experience the best destinations to visit in Australia and the best budget travel tips. Her guides on this blog have been read by over 700k readers and helped thousands of people achieve their dream of living in or travelling Australia.