This post may contain affiliate links. Please see my disclosure policy for more details.
If you haven't ventured beyond the CBD and Bondi Beach yet, it's easy to believe that Sydney is little more than a bustling metropolis full of buildings, traffic and tourists.
But nestled between its urban attractions, Sydney offers plenty of peaceful green pockets to transport you away from city life. Crossing the Sydney Harbour Bridge and exploring the lower north shore is a must-do for any visitor wishing to discover the more peaceful side of Sydney.
Just a short ferry ride from Circular Quay lies the beautiful peninsula of Cremorne Point – once an amusement park, almost a coal mine, and now a leafy, waterside suburb featuring tucked-away gardens, grand heritage mansions and killer views of the city.
The stunning 3km circuit from Mosman Bay to Cremorne Point is an easy stroll, and even features a free swimming pool and perfect picnic locations.
I first discovered this walk purely by accident when I got on the wrong bus one day shortly after moving to Sydney last year. I got off at Cremorne Point when I realised my mistake, but when I saw the amazing view of the city across the water I decided to look around some more and ended up walking all the way to Mosman Bay. I'd only seen the city centre and urban areas of the Inner West at that point, and I couldn't believe that such a beautiful, peaceful area existed so close to the city! I couldn't even hear any traffic noise!
I returned recently to do the whole circuit from Mosman Bay to Cremorne Point and back, and I'd highly recommend it. Here's an overview of what you'll see and do on this easy, stunning walk.
Ferry to Mosman Bay
The most scenic way to get to Mosman Bay is to hop on the ferry from Circular Quay. You'll get to enjoy twenty minutes of unparalleled views of Sydney Harbour Bridge, Sydney Opera House and the city skyline from the water, as well admiring leafy Cremorne Point from afar as you sail around it.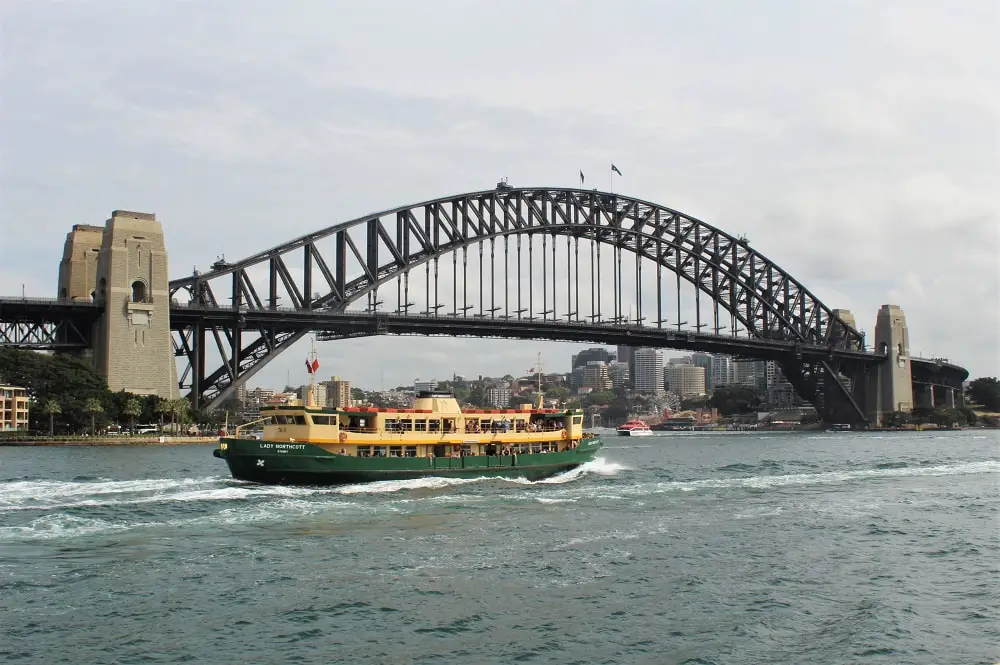 Jump off the ferry at pretty Mosman Bay; there's a small café at the wharf if you need a drink or snack beforehand.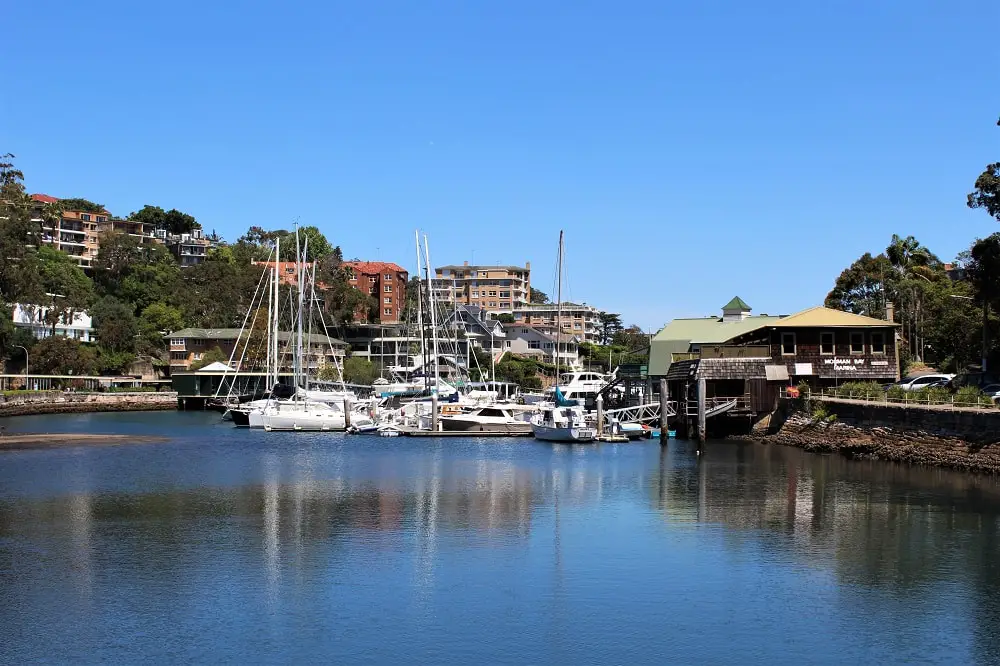 Follow the path north and cut across Centenary Drive, below Reid Park, to get to the other side of the bay. Ignore the paths that lead up to the roads (they're signed) and keep going until you see the sign for "Pathway to Cremorne Point". It's a very easy route to follow, and you'll see maps like the one below every now and then.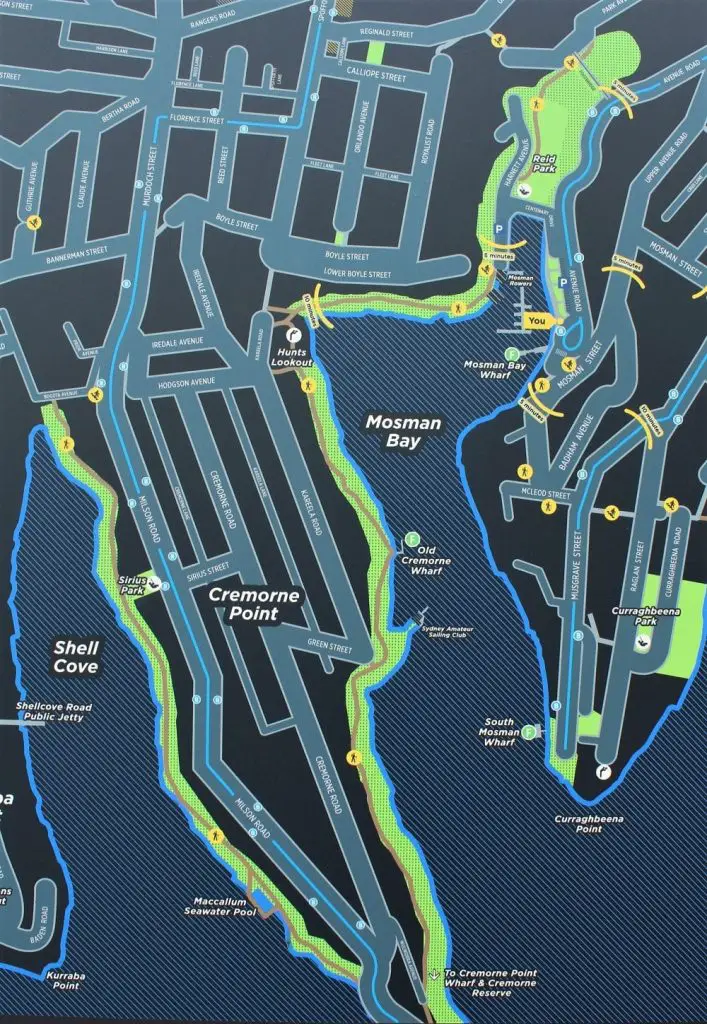 You'll get a lovely view looking down onto Mosman Bay as you walk along, and pass by this impressive back garden and swimming pool!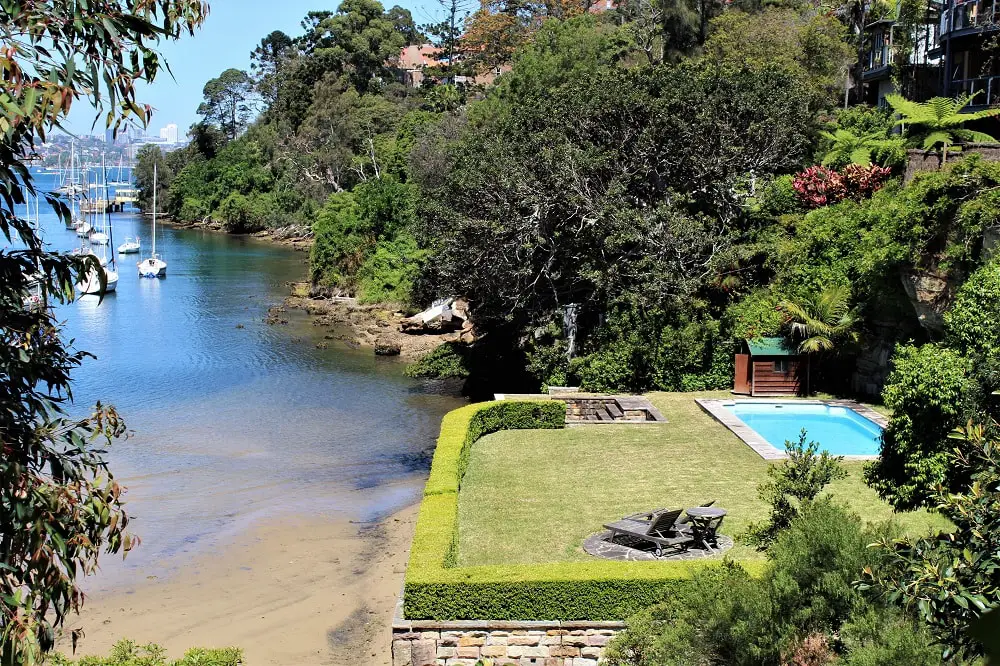 Join onto the beautiful green bush track and cross the wooden bridge.
The view across Mosman Bay is stunning!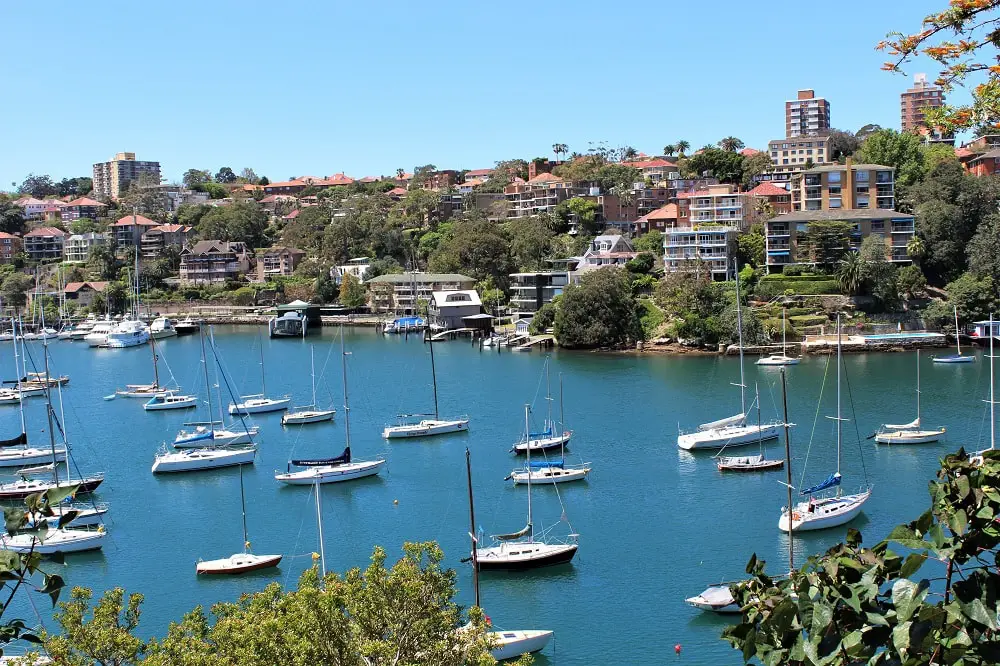 The flat path then runs between the water and lots of impressive, early 20th-century mansions. You won't miss The Laurels in the picture below, which was originally two separate houses.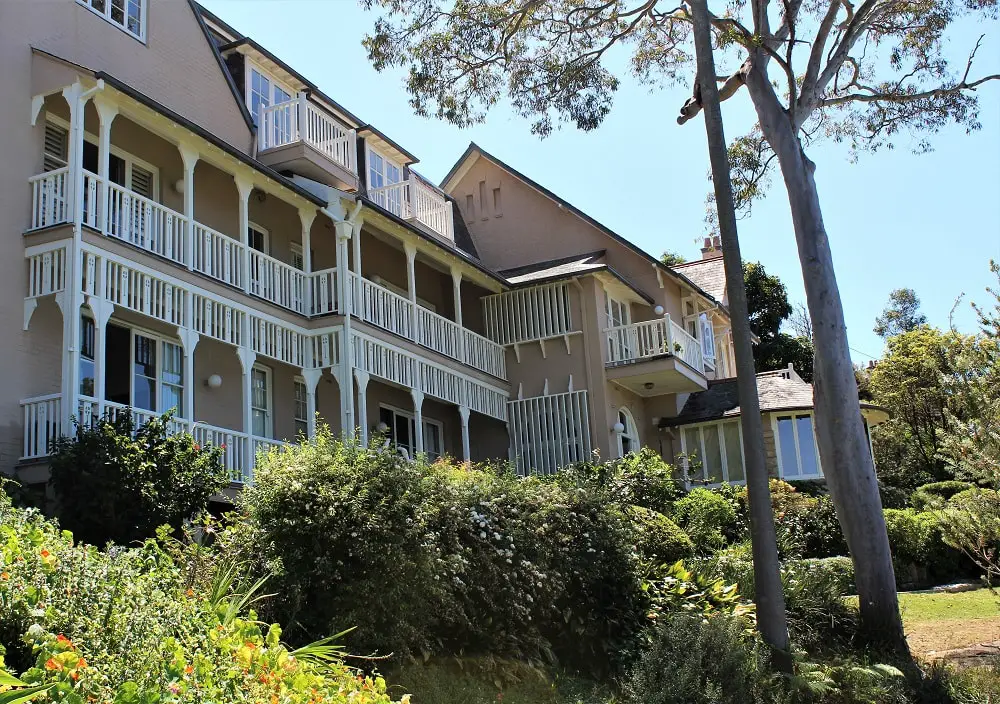 Lex and Ruby's Garden
Once you've passed Old Cremorne Wharf and the Sydney Amateur Sailing Club, you'll see a set of stone steps leading down towards the water. These take you to Lex and Ruby Graham's Garden, which is well worth exploring. These lush gardens began when Lex planted an elephant's ear bulb that floated past him as he swam one day. Over time, Lex and Ruby cleared what was then a rubbish tip and developed these beautiful, waterside gardens for everyone to enjoy. There are quite a few sets of steps leading down there and an information board on the main path halfway along. Make sure you have a wander down.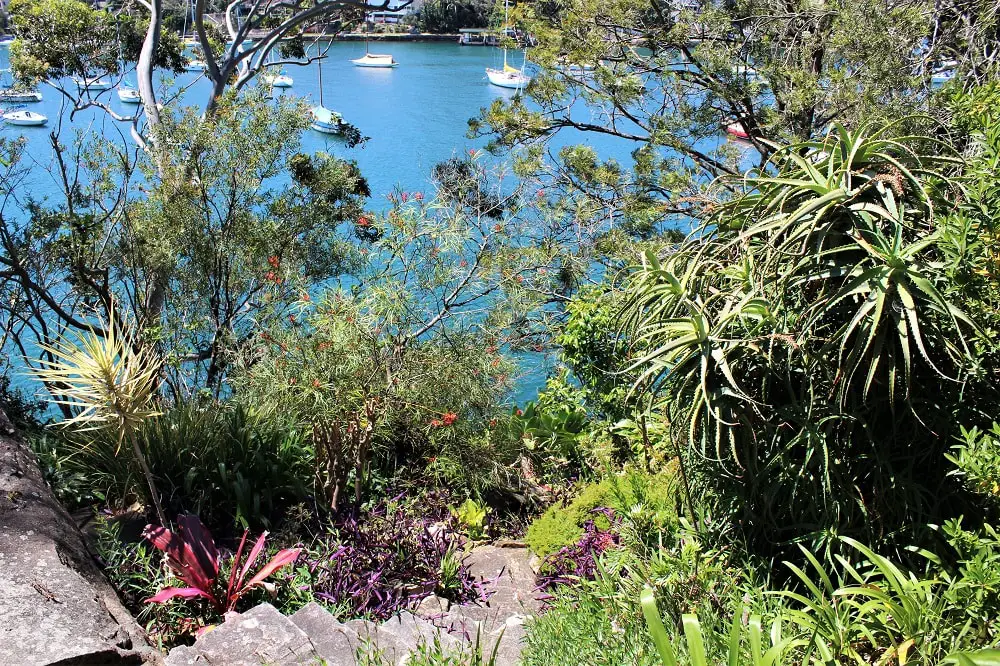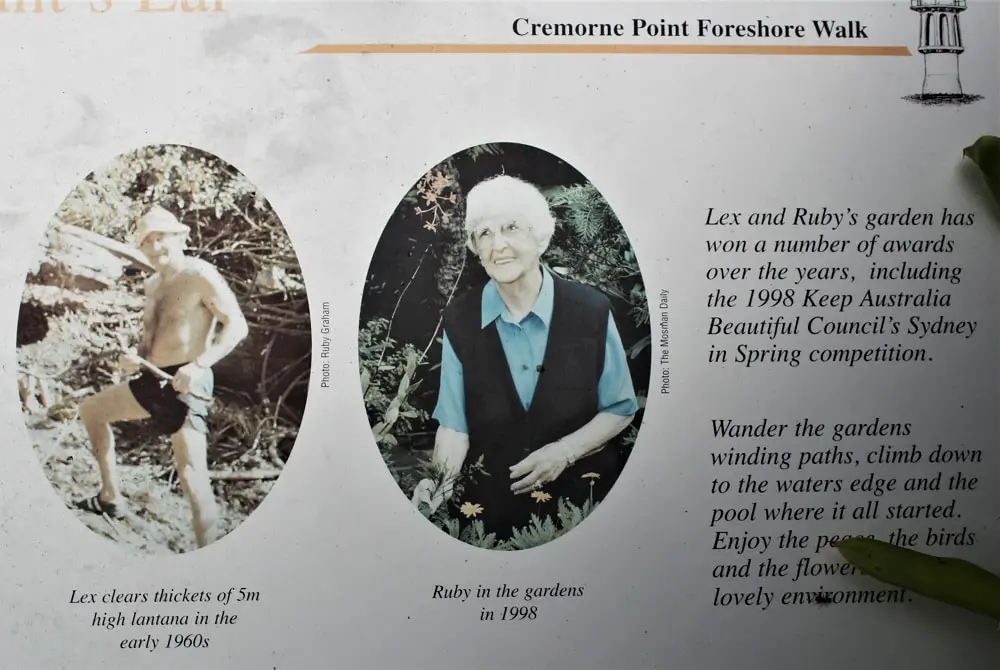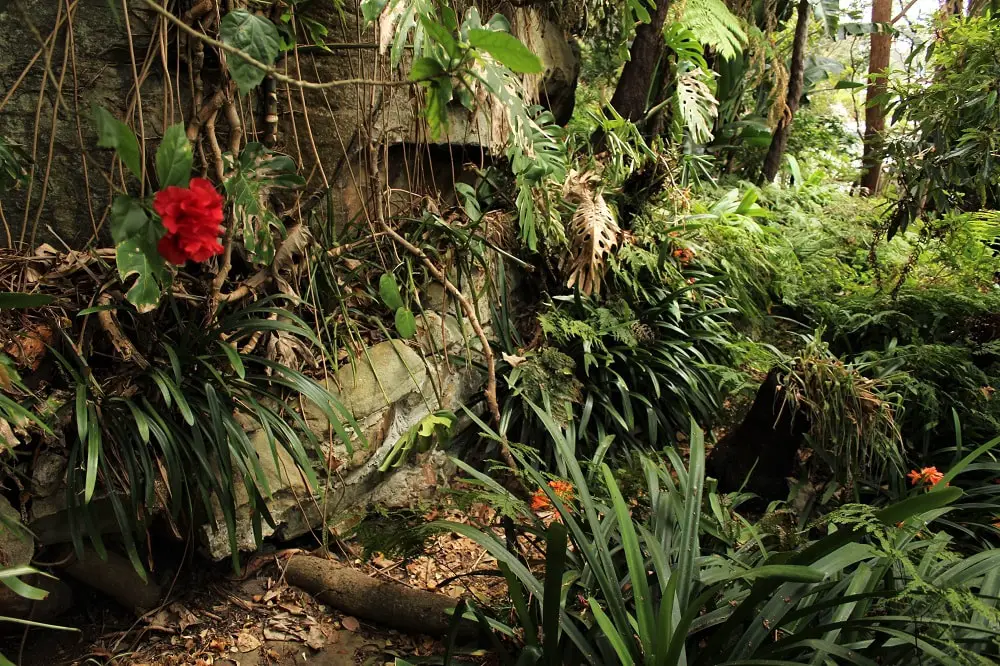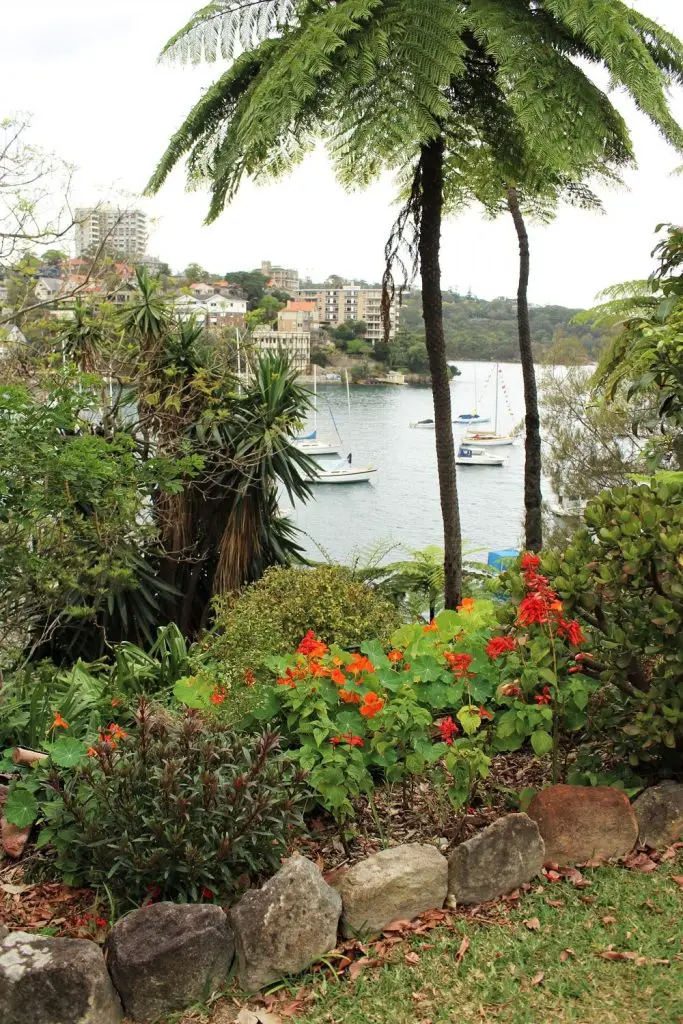 Cremorne Point Wharf
After the gardens, the main path passes by plenty more enviable mansions before reaching Cremorne Point Wharf near the bottom of the peninsula. You can get the ferry back from here if you don't want to do the full walk back to Mosman Bay.
Robertsons Point Lighthouse
Follow the path into Cremorne Reserve, and you'll pass a set of public toilets and a children's playground. You'll get some amazing views of Sydney CBD across the water as you head through.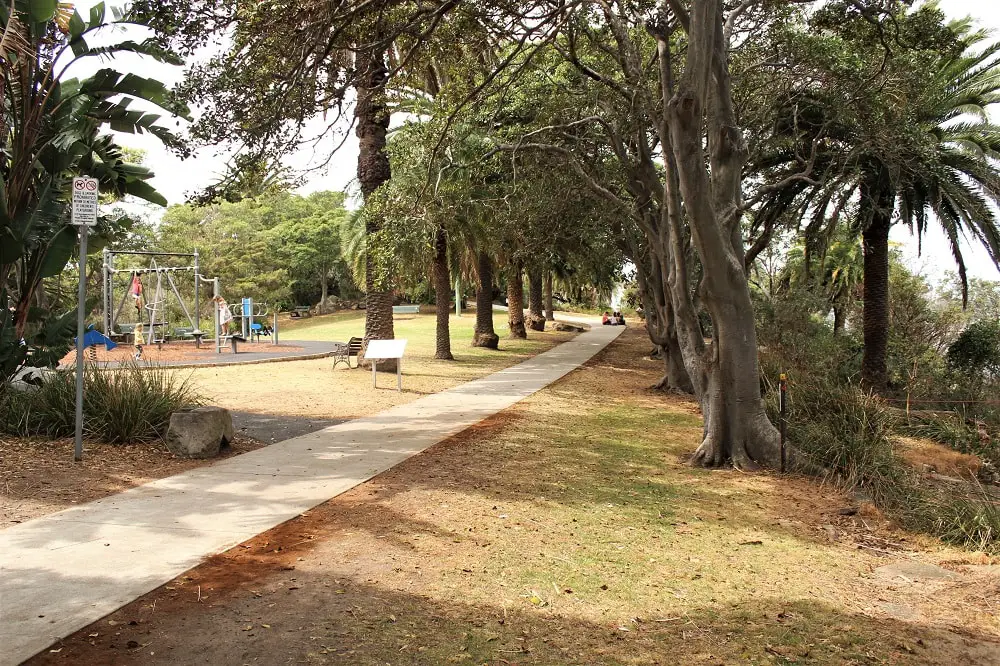 At the end of the reserve there's a narrow set of steps leading down to Robertsons Point Lighthouse. If you're brave there's a metal ladder to climb down onto the rocks below where these fishermen are!
Cremorne Point Picnic Area
Head back to Cremorne Point Wharf and the walk continues along the city-facing side of Cremorne Point. There's plenty of grass along the edge that's perfect for picnics with a view, as well as being the ideal spot if you want to get the Sydney Harbour Bridge, Opera House and CBD all in one photo.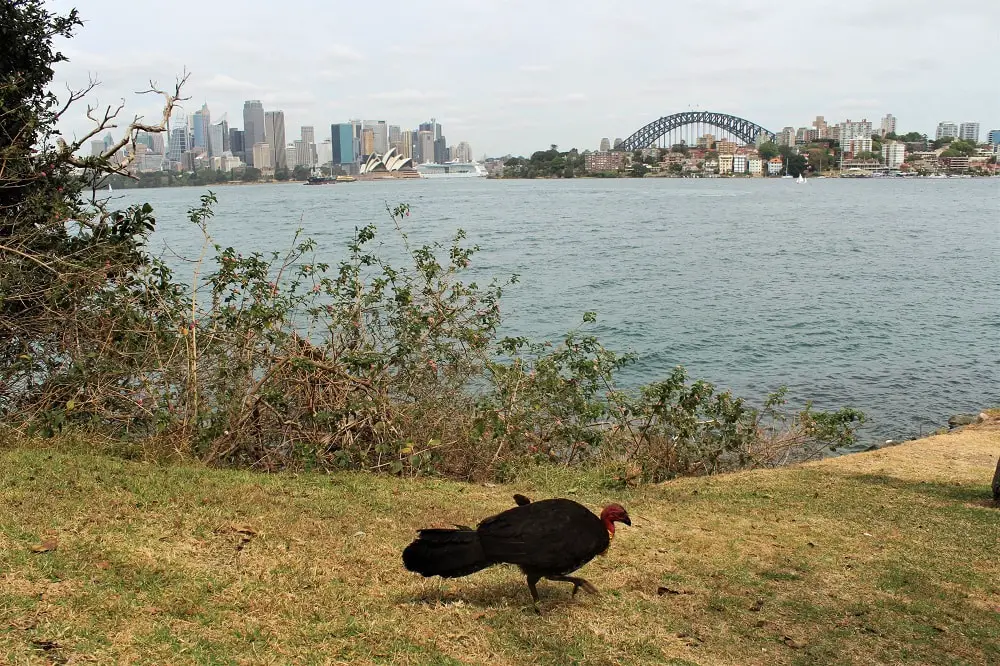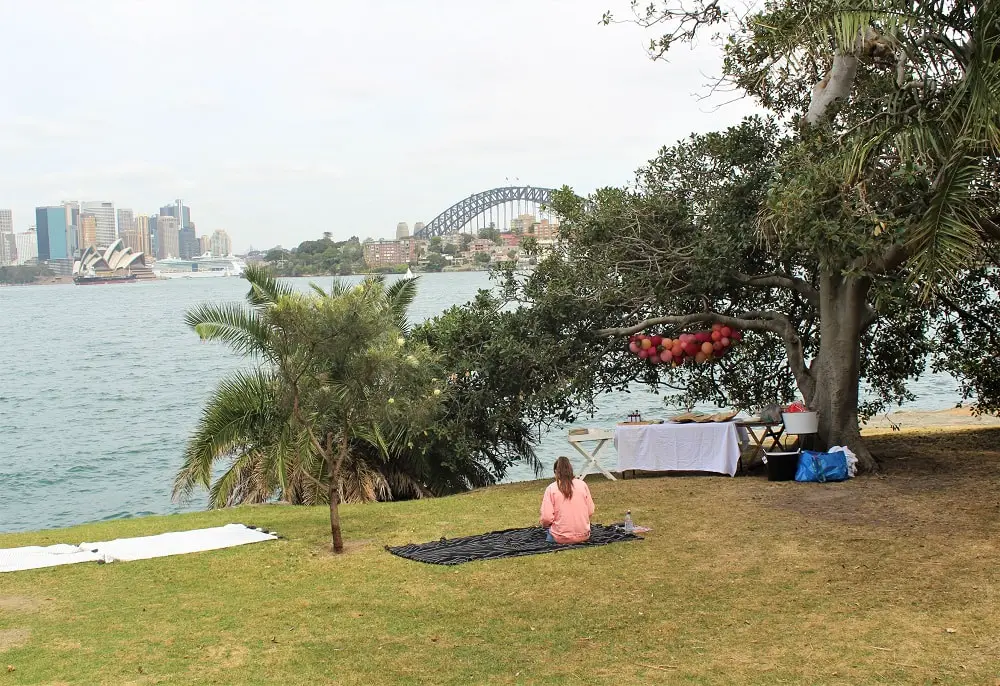 MacCallum Pool
Carry on and you'll reach MacCallum Pool, a sea-water swimming pool built in the 1920s with amazing harbour views. It used to cost five shillings a year, but it's now free to use!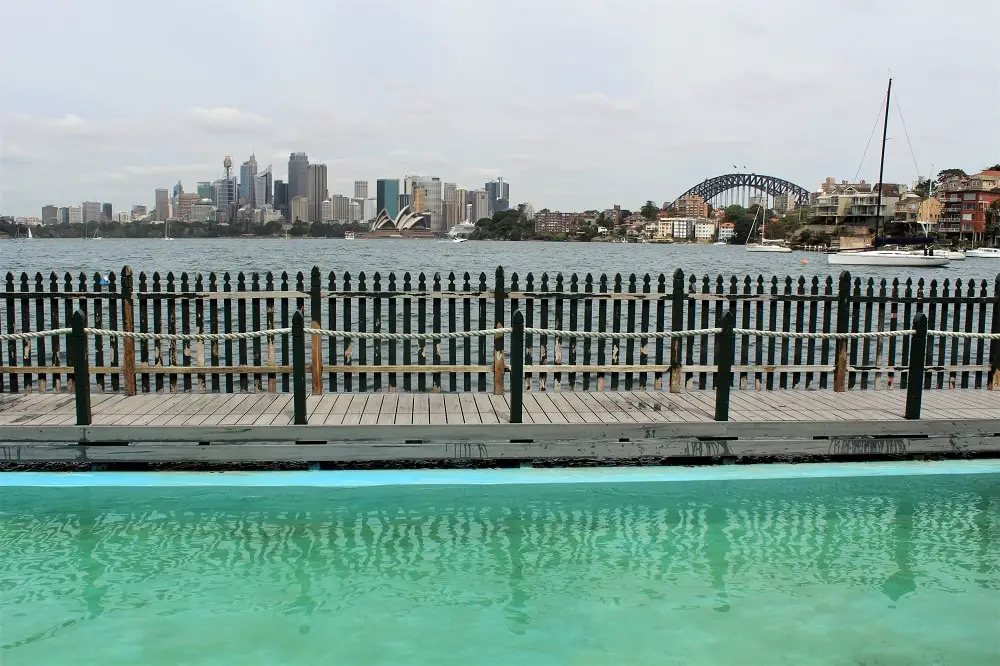 The Top of Cremorne Point
Continue along the tree-lined track and you'll pass some interesting caves and see glimpses across Shell Cove as you pass through the trees.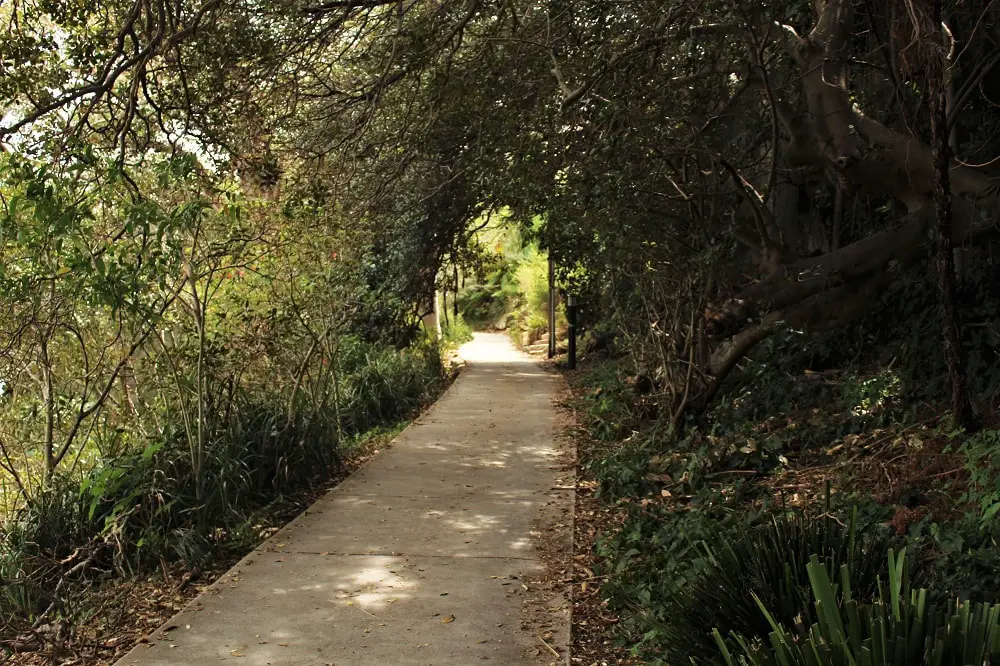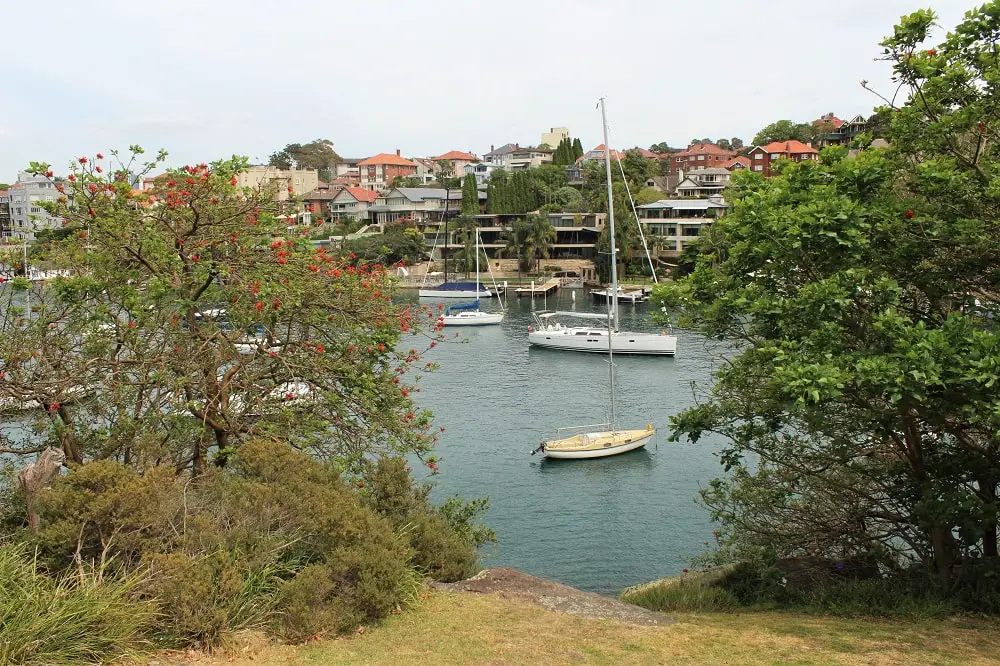 Completing the Mosman Bay to Cremorne Point Circuit
At the end of the track, head across Bogota Avenue and follow the steps to cut through to Hodgson Avenue. Follow the sign to Cremorne Reserve and you can retrace your steps along the water's edge back to Mosman Bay Wharf.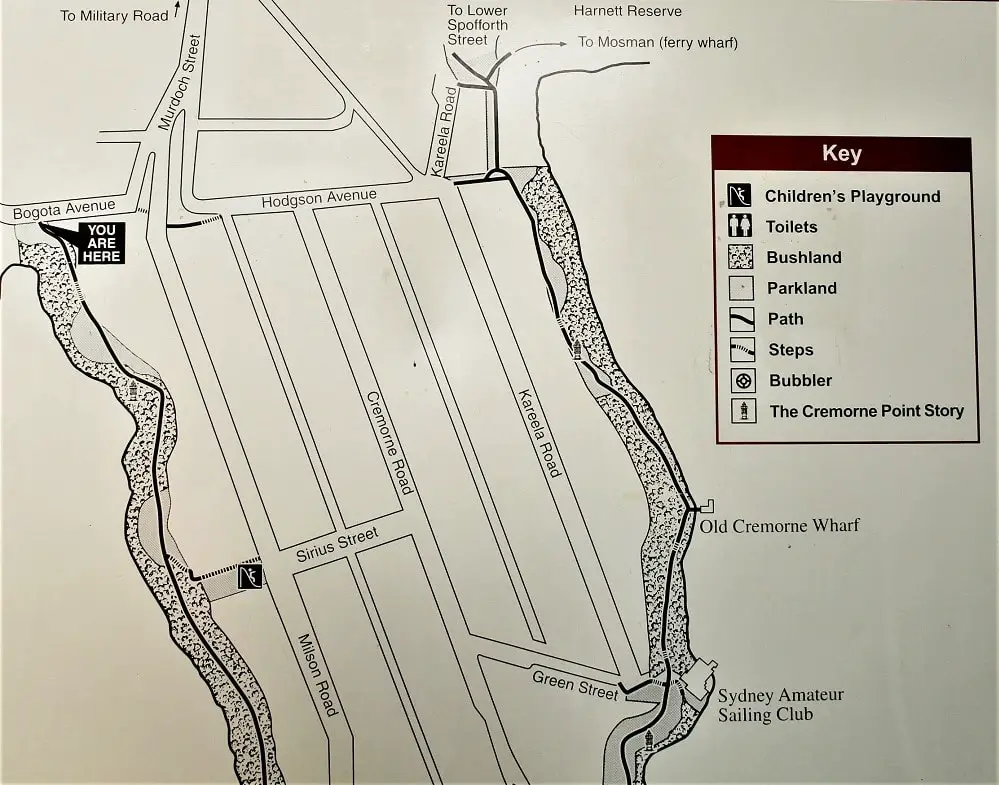 From here you can enjoy the ferry ride back to the city, and maybe even a sunset if you time it right! For a longer walk in Sydney, check out my post on the cliffside Cape Solander walk down in Kurnell. If you're planning a trip to Sydney, use my Sydney weather guide to help you decide what to pack for each season!
---
Like it? Pin it!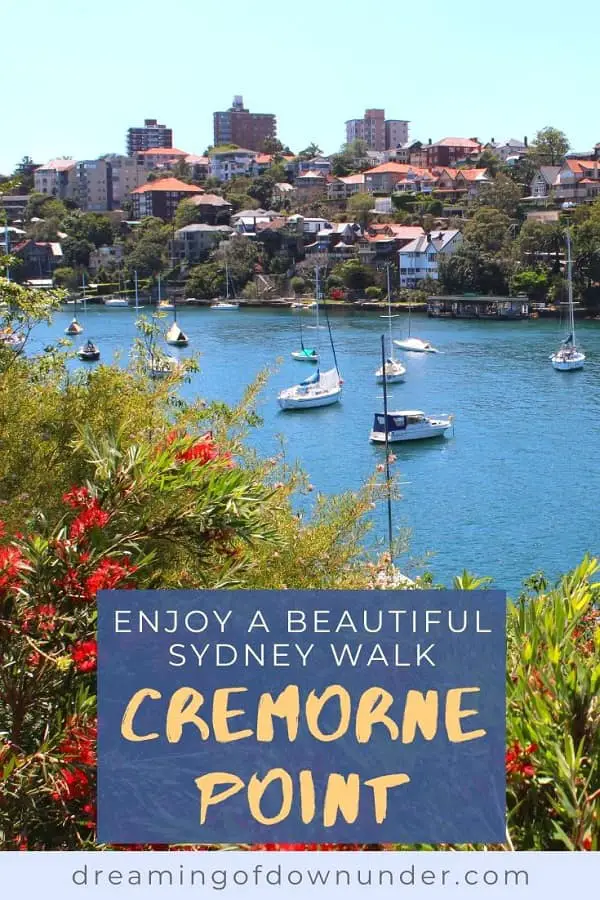 Written by Lisa Bull
Lisa Bull, founder of Dreaming of Down Under, has been living in Australia as a British expat since 2015. After travelling to every state and territory in Australia and living in Perth, Brisbane and Sydney, Lisa knows from first-hand experience the best destinations to visit in Australia and the best budget travel tips. Her guides on this blog have been read by over 700k readers and helped thousands of people achieve their dream of living in or travelling Australia.