This post may contain affiliate links. Please see my disclosure policy for more details.
If you're looking for a fun day trip to the seaside, you'll find plenty of things to do in Watsons Bay, Sydney.
With five beaches to choose from, an easy walking trail through Sydney Harbour National Park to Hornby Lighthouse and multiple waterside restaurants, Watsons Bay is one of the top day trips from Sydney.
One of the best things about Watsons Bay is the variety of amazing views. Since the suburb sits at the tip of a narrow peninsula, you're treated to towering cliffs, crashing ocean and a clear view of North Head and Manly in one direction and the city skyline and Sydney Harbour Bridge in the other.
In this blog post I'll run through all the beautiful Watson Bay beaches, as well as where to find the best views and where to eat and drink, so that you can make the most of your day in Watsons Bay!
---
1. How to Get to Watsons Bay Sydney
If you follow the edge of the harbour east from Circular Quay, or the coastline north from Bondi, you'll find Watsons Bay at the tip of the peninsula at South Head, the southern entrance to Sydney Harbour.
You can either catch a bus there or hop on a ferry at Circular Quay for a scenic 25-minute journey. The cheapest day to visit is a Sunday, when travel is capped at a maximum of $2.60 all day.
If you're driving, parking can be tight around the central area as the roads are narrow, but there's lots of parking along Cliff St, which is up near the heritage trail and Camp Cove Beach.
Alternatively, you can park on Old South Head Road or the residential streets off there such as Russell St and Derby St, which usually have space. These are closer to Gibsons Beach at the southern end and the cliffside walking track through Gap Park.
If you approach Watsons Bay by taking Old South Head Road you'll get an amazing view across the ocean; just make sure you don't crash as you gawp at it!
---
2. Watsons Bay Beaches
Watsons Bay has five beaches to choose from. They all lie on the harbour side of the peninsula, so the water is very calm and great to swim in. They also face west, so you get brilliant sunsets with the city skyline in the background. 
If you want to sunbathe, I'd choose either Gibsons Beach or Camp Cove, as these have a bit more space than the beaches next to the wharf, and they feel less exposed as they're away from the main centre. If you're into a different sort of exposure, head to the beach at Lady Bay where clothing is optional!
Gibson's Beach
Head south from Watsons Bay Wharf to the end of Marine Parade, past the ocean baths and Tea Rooms and around the Watsons Bay Pilot Club, and you'll come to Gibson's Beach, a 120m stretch of sand backed by a grassy reserve. The city views are cut off here, but it has a more private feel than Wharf Beach.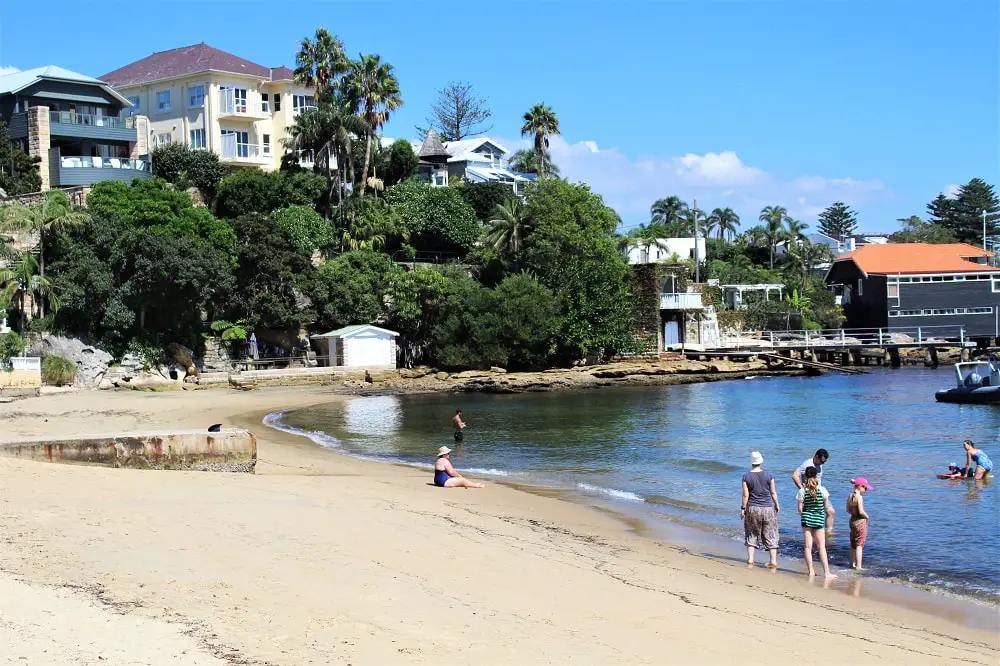 Residential houses are nestled into the trees at the southern end of the beach, and the Vaucluse Yacht Club juts out into the water, separating the bay from Kutti Beach in Vaucluse around the other side. It's a popular beach for dog walking and kayaking.
Wharf Beach South
This is the beach immediately south of Watsons Bay Wharf, on your right if you're stepping off the jetty. It's a narrow strip of sand stretching down to Watsons Bay Baths with awesome views of the Sydney skyline and Harbour Bridge. Doyle's Fish Bar sits at the northern end and it's backed by Robertson Park.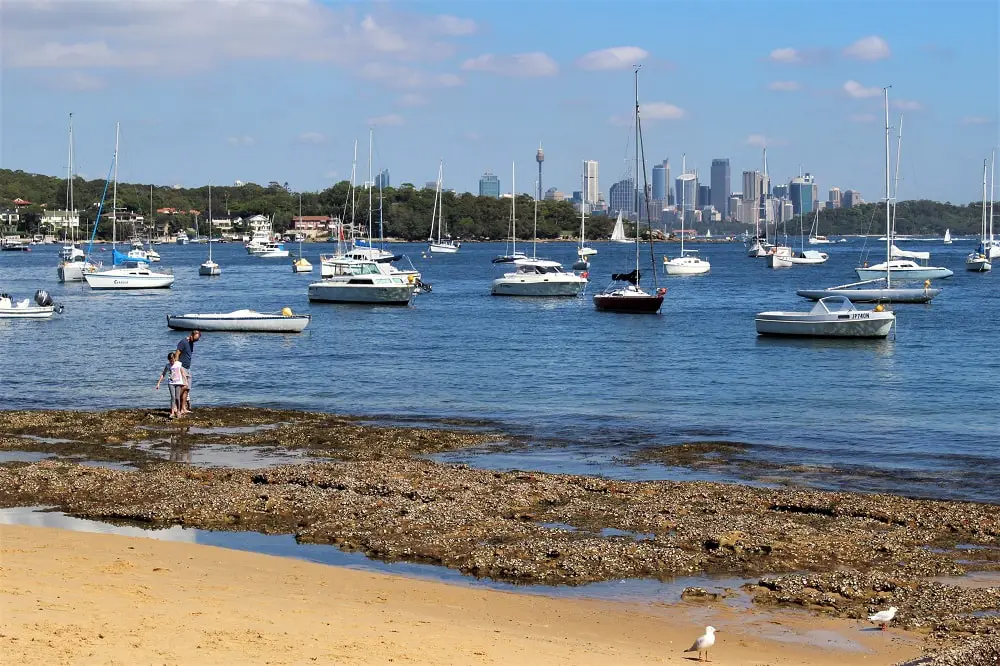 Wharf Beach
Immediately north of Watsons Bay Wharf is the main section of Wharf Beach, which stretches 200m up to the rocks at Laing Point. It's lined with colourful dinghies and pretty coastal homes and has a real seaside promenade feel, but it's a bit narrow and stony for lying on.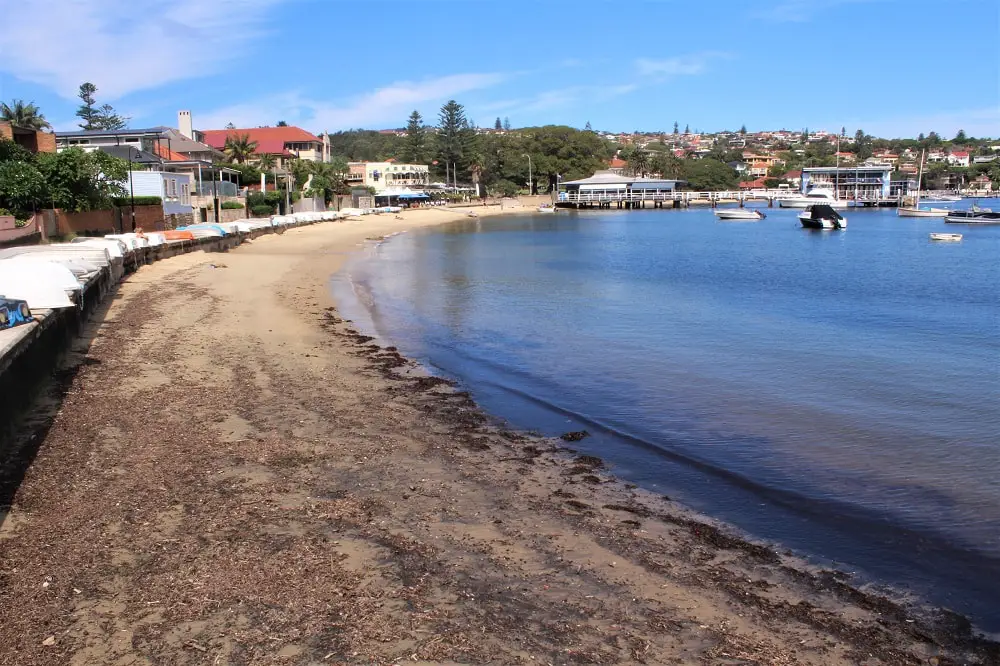 Camp Cove Beach
North of Wharf Beach lies Camp Cove Beach, which you can access from Laing Point or Cliff Street. It's a wider beach than Wharf Beach so better for sunbathing, and a bit less busy as it's away from the main hub. There's a little kiosk at the Cliff St end if you need refreshments. The sand is a lovely golden colour and it's backed by some impressive homes.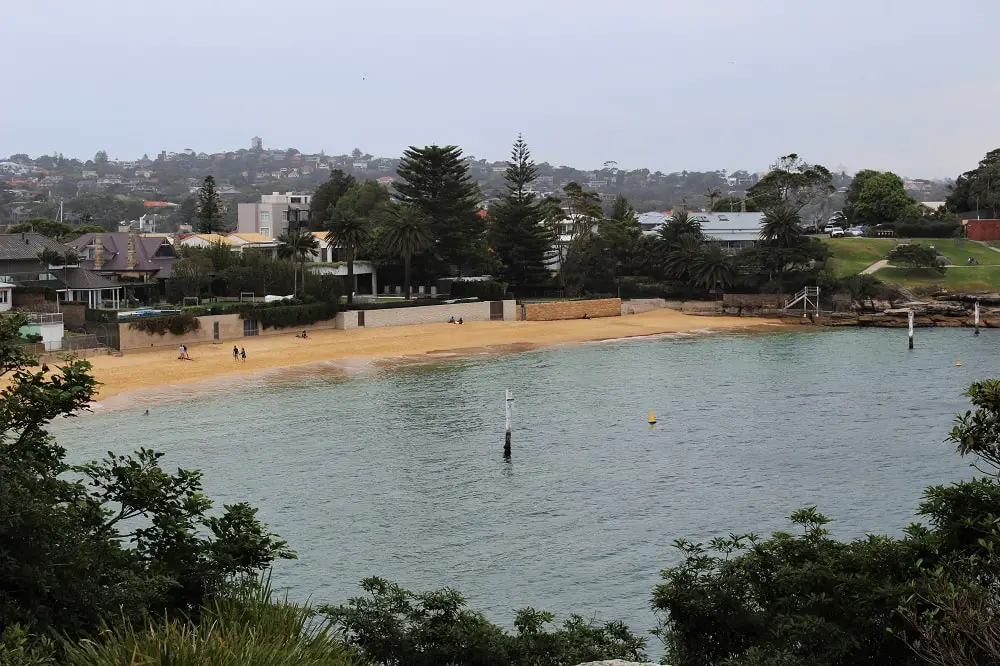 Lady Jane Beach/Lady Bay
Follow the walking track north of Camp Cove Beach and join onto Lady Bay Road. You'll spot Lady Jane Beach at Lady Bay at the bottom of the sandstone cliffs. It's a popular nudist beach so I don't have any photos!
---
3. Watsons Bay Baths
If you want to enjoy a swim inside a netted area, try the Watsons Bay Baths between Wharf Beach South and Gibsons Beach. You can even bask in the sun on the platform at the end.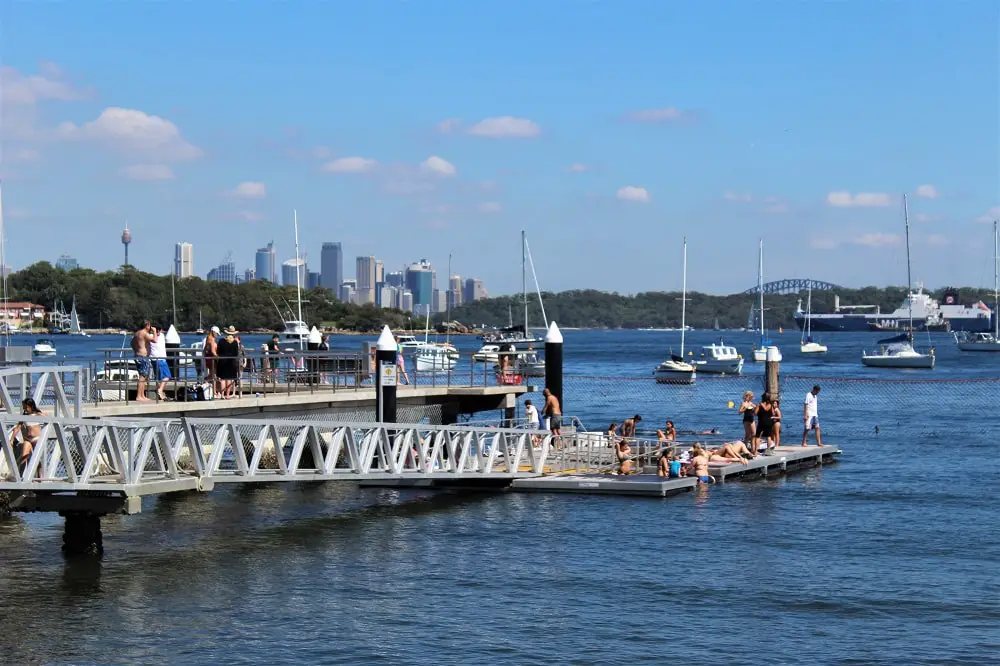 ---
4. South Head Heritage Trail to Hornby Lighthouse
Join onto the South Head Heritage Trail from the steps at the northern end of Camp Cove Beach, and keep going until you pass Lady Bay. From here there's a 470m loop track passing by the 1858-built Lightkeeper's Cottages, 19th-century gun enplacements and the recognisable red and white Hornby Lighthouse.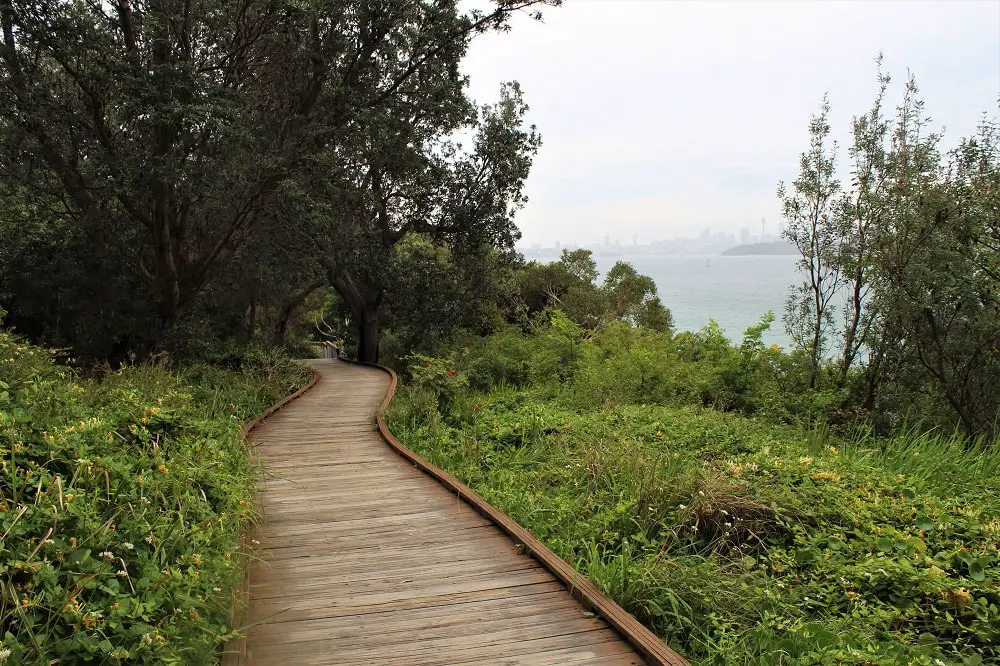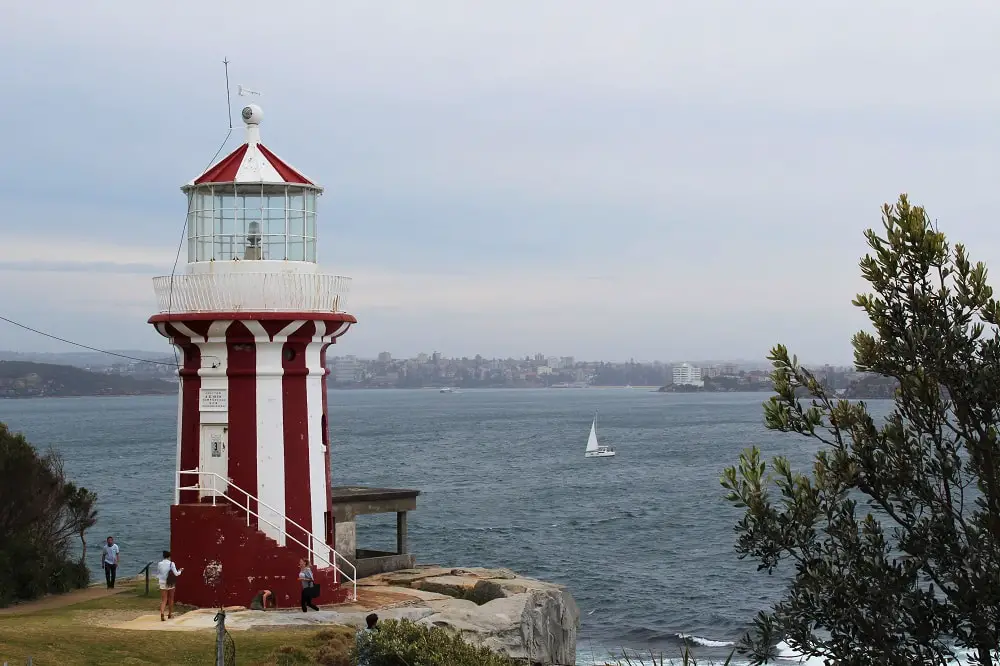 ---
5. Robertson Park
Robertson Park sits behind Wharf Beach South and has great views of the city. It's a good alternative to the beach if you want some shade. It also has toilets and a children's playground.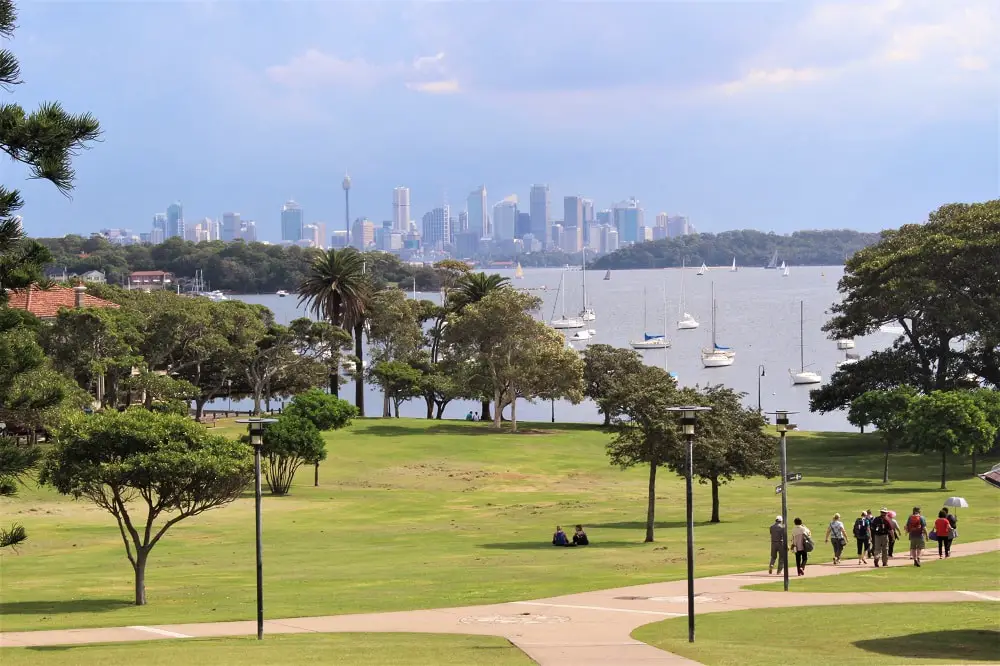 ---
6. Watsons Bay Clifftop Views at The Gap
From Watsons Bay Wharf, it only takes a few minutes to walk up through Robertson Park to the The Gap Viewing Area, where you can watch the ocean waves crashing onto the cliffs below and see all the way across to North Head. You can also catch the bus from up here and access the restaurants on Military Road.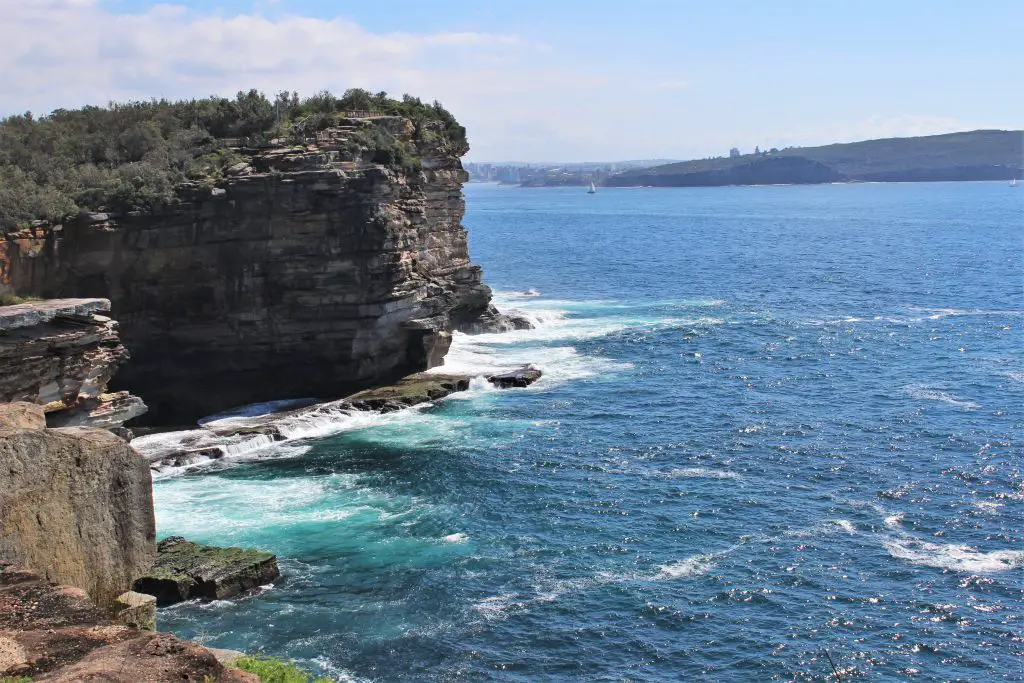 In the other direction, you'll look down over Watsons Bay Sydney and across to the city. For an even better view, walk along the path towards Gap Park for a couple of minutes (keeping the cliffs on your left), and the trees will open out, giving you the perfect sunset spot.
---
7. Where to Eat and Drink in Watsons Bay Sydney
For such a small suburb there's plenty of choice of places to eat and drink in Watsons Bay, whether you feel like waterside dining, an evening cocktail or a casual coffee. Here are some of your options.
Beach Club at Watsons Bay Boutique Hotel
You won't miss the large outdoor eating area of Watsons Bay Boutique Hotel opposite the wharf, with its big balcony and stripy umbrellas. The Beach Club at the hotel has been voted Sydney's most Instagrammable venue and serves breakfast, lunch, dinner and cocktails with amazing sea views, as well as hosting events and pop-up parties!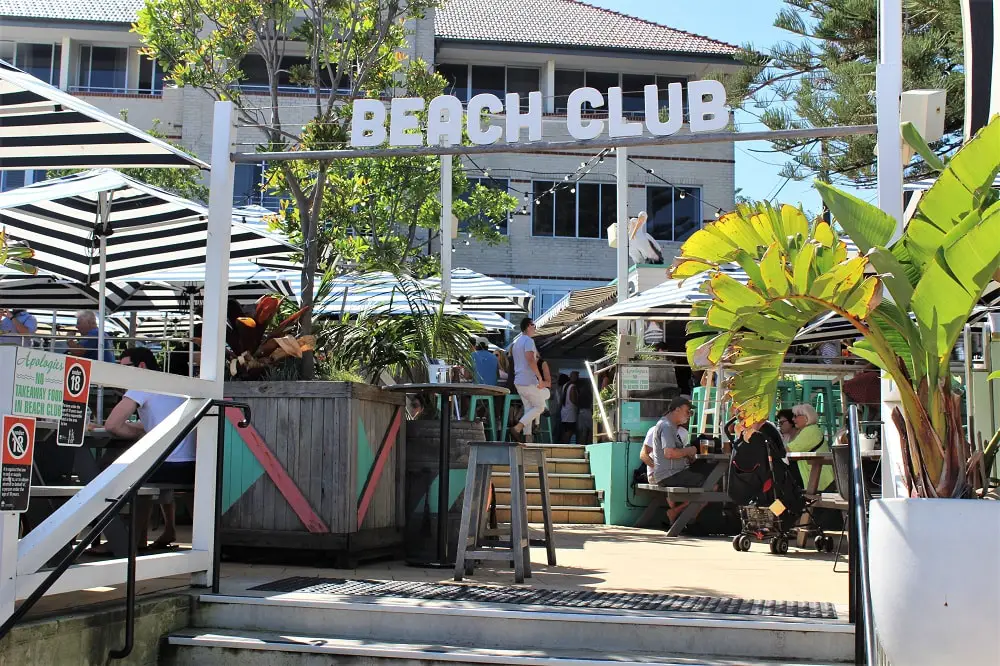 Doyles on the Beach
Doyles on the Beach is the original site of the first seafood restaurant in Australia, opened in 1885 and run by the Doyle family for over five generations. It's located at 11 Marine Parade directly behind the main Wharf Beach, in the cute heritage building next to Watsons Bay Boutique Hotel. It's quite rare to have a restaurant directly on the beach like this in Sydney, and it would be the perfect place to sit and watch the sunset if you eat outside.
Doyles on the Wharf
The closest eatery when you step off the ferry is Doyles on the Wharf Seafood Takeaway (a fish and chip shop in everyday terms!), which is located, as the name suggests, right on the wharf. Perfect if you want a casual sunset dinner on the sand.
Dunbar House
Dunbar House is the beautiful building next to Robertson Park. It's a popular venue for weddings and events but also houses a fully licensed café open on Sundays for breakfast and lunch.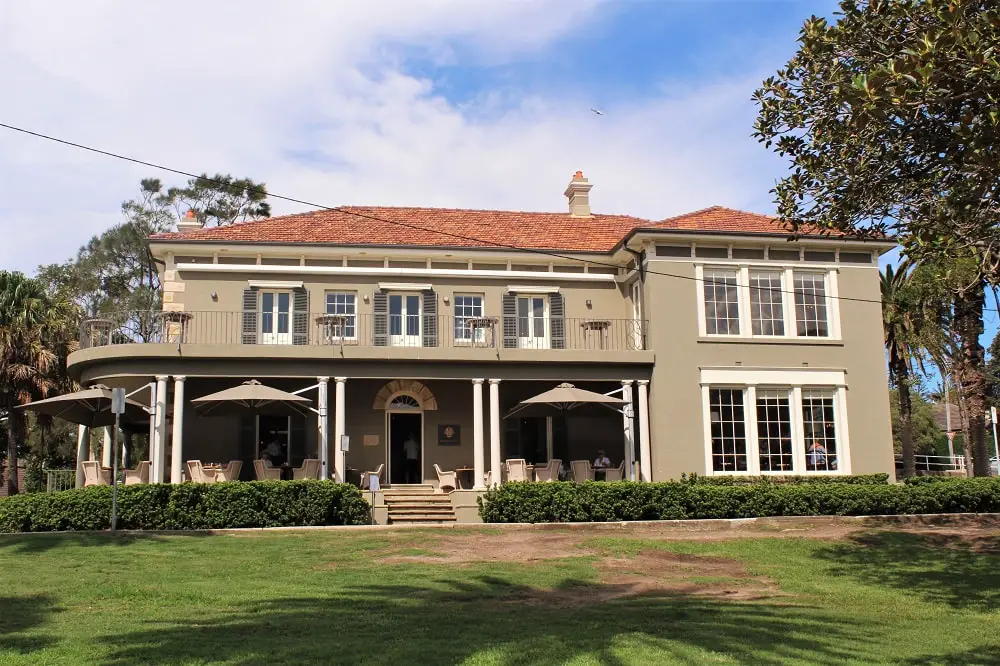 Watsons Bay Tea Gardens Cafe
If you head south from the wharf you'll come to the Watsons Bay Tea Gardens, a cute little café situated opposite the harbour pool with indoor and outdoor seating.
Military Road
For more choice, but further from the water, head up to Military Road by the back of Robertson Park where you've got the Eastern Bay Thai restaurant and takeaway, Nautica Greek restaurant, Tucker Bar pizza and burgers and a general store and café.
---
I hope you enjoy your day in Watsons Bay. If you're looking for more beach ideas in Sydney, make sure you look through my list of the top Eastern Suburbs beaches in Sydney!
Alternatively, check out my post on the best weekend getaways in Sydney for more ideas. Don't forget your bucket and spade!
---
Like it? Pin it!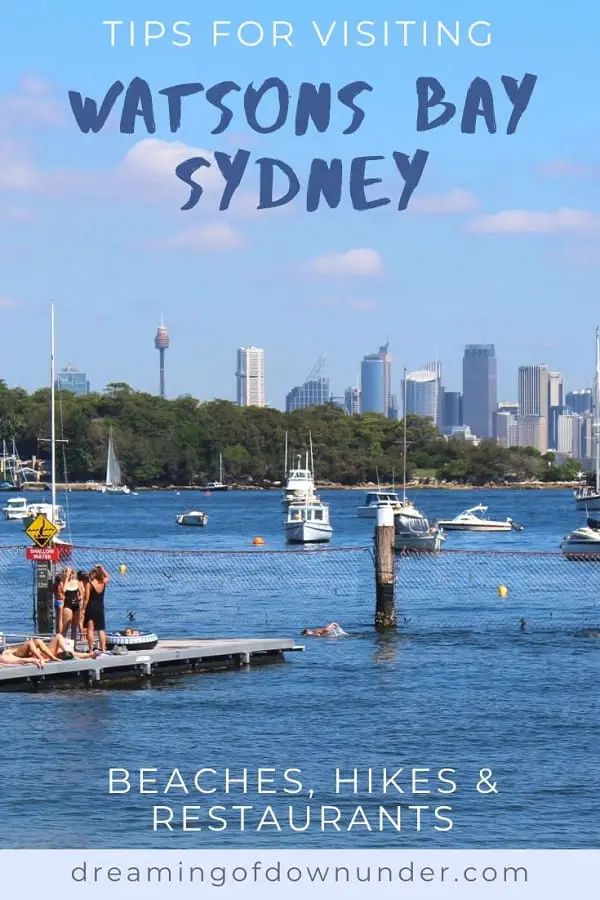 Written by Lisa Bull
Lisa Bull, founder of Dreaming of Down Under, has been living in Australia as a British expat since 2015. After travelling to every state and territory in Australia and living in Perth, Brisbane and Sydney, Lisa knows from first-hand experience the best destinations to visit in Australia and the best budget travel tips. Her guides on this blog have been read by over 700k readers and helped thousands of people achieve their dream of living in or travelling Australia.