This post may contain affiliate links. Please see my disclosure policy for more details.
While Palm Beach, Sydney is well known as the filming location of Australian soap opera Home and Away, you'll find plenty more things to do in Palm Beach than take a selfie outside the surf club!
With golden sand and huge crashing waves to the east, and serene Pittwater beaches to the west, a day trip to Palm Beach should be high on any Sydney visitor's agenda.
Since I now live in the Northern Beaches, I've been able to spend lots of time exploring the area. Here's my guide on things to do in Palm Beach beyond the tourist attractions like Barrenjoey lighthouse.
---
Palm Beach Accommodation
If you fancy extending your trip to a Sydney weekend getaway, here are some accommodation options.
Note that although the area is popular with tourists, it's a small, residential suburb and not packed with hotels. There are still quite a few options for accommodation in Palm Beach though, from mid-range to luxury.
Palm Beach Apartments & B&Bs
Here are a few apartments and bed and breakfasts in Palm Beach, which all have great reviews:
Palm Beach Bed and Breakfast – this traditional B&B has rooms with balconies and water views starting from $260 per night for two people;
Canara at Palm Beach – apartment with fully equipped kitchenette starting at $250 per night for two people;
Iluka Retreat Apartments – these lovely holiday apartments start at $320 per night for four people and have a swimming pool, barbecue and free parking.
Airbnb in Palm Beach
Airbnb is one of my favourite travel accommodation options, as it can often be cheaper than hotels (particularly as a solo traveller), and you also get all the facilities of a home.
You could also consider staying in nearby suburbs Whale Beach or Avalon Beach. Avalon has much more going on in terms of cafes, restaurants and shops than Palm Beach, and is only a ten-minute drive away.
---
How to Get to Palm Beach, Sydney
You'll need to allow at least an hour to get to Palm Beach from Sydney CBD. You can get there by bus, but if you want to have a big day trip and stop at places along the way, you could consider hiring a car.
Driving
Palm Beach from Sydney CBD is a 43km drive, which takes just over an hour.
Palm Beach Parking
The main roads to park on are Ocean Road to the east and Barrenjoey Road to the west. There's also loads of parking in Governor Phillip Park, to the north of Beach Road. There is some unrestricted parking south of the wharf, but it does fill up quickly.
Note that most of the parking is metered and time-limited. I would avoid driving there during school summer holidays (December/January) as it can get extremely busy. I once made that mistake and had to spend about an hour sitting in traffic just to get out of the suburb, as there was no parking left!
Palm Beach by Public Transport
From Wynyard Station in Sydney, you can hop on an L90 bus, or a B1 and then 199 bus, changing at Mona Vale. It takes around an hour and a half. Use the NSW Trip Planner to plan your journey.
---
Things to Do in Palm Beach, Sydney
Things to do in Palm Beach, Sydney include the Barrenjoey Lighthouse walk, swimming in the rock pool, waterside dining at The Boathouse and visiting Home and Away sites. To jump to a Palm Beach attraction, just click on the links below.
3. Swim at Palm Beach Rock Pool
4. Walk to Palm Beach Lighthouse
6. Visit Home and Away landmarks
7. Picnic in Governor Phillip Park
10. Eat at Palm Beach Restaurants and Cafes
11. Explore the Boutique Shops
12. Enjoy a Palm Beach Ferry Trip
13. Admire Palm Beach Mansions
---
1. Relax at Palm Beach
On the eastern side of the peninsula, next to Ocean Road, is the main beach people visit. You'll recognise it from Home and Away if you've ever watched the programme.
With 2.3km of golden sand, amazing surf, a green backdrop and Barrenjoey Lighthouse up on the hill, it's certainly a beach worth visiting.
---
2. Visit Pittwater Beaches
If crashing surf waves aren't your thing, cross over to the western edge of the peninsula. You'll find calm water as well as beautiful views of Ku-Ring-Gai Chase National Park across Pittwater.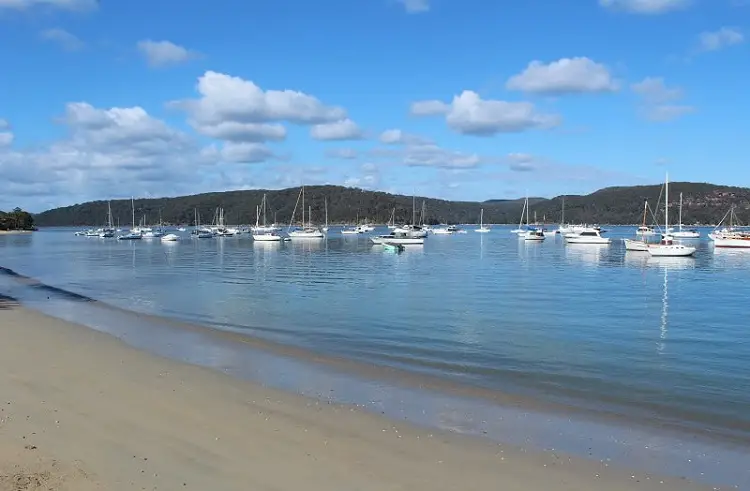 For an even quieter spot, head south along Barrenjoey Road, past Palm Beach Wharf, and relax at quieter Snapperman Beach. You can also park for free on Illuka Road and nip down the walkway next to number 100.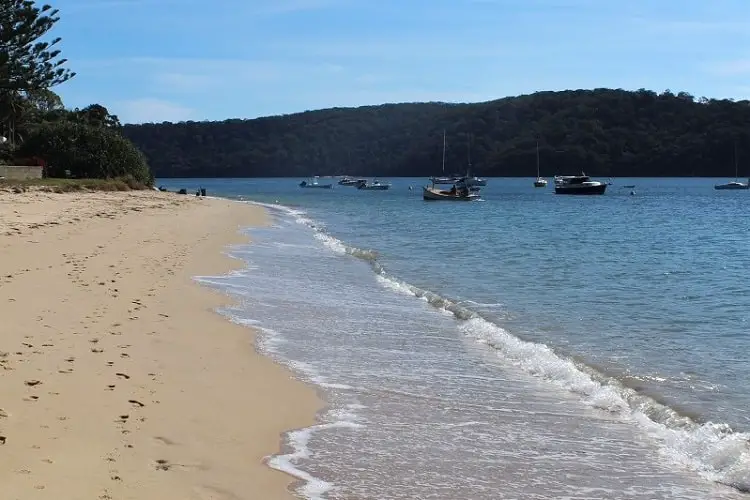 ---
3. Swim at Palm Beach Rock Pool
At a whopping 50m long, Palm Beach rock pool at the bottom of the eastern beach is impressive indeed! The pool has changing rooms and toilets as well as great views all the way to the lighthouse.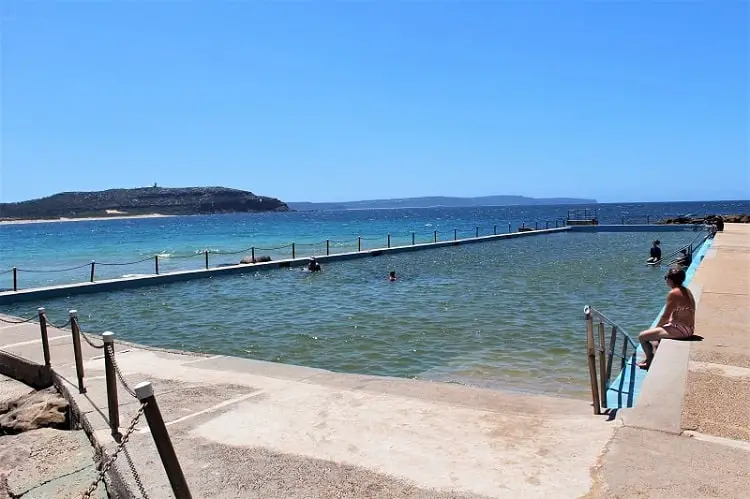 Continue walking past the pool to see the brightly painted pillars beneath the rocks.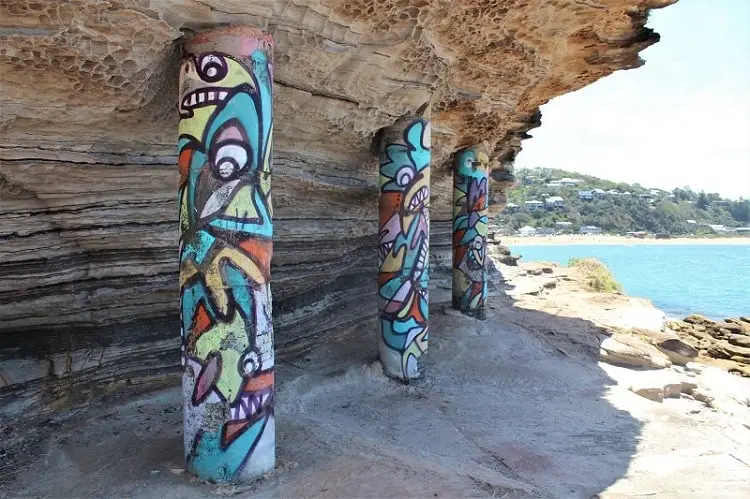 ---
4. Walk to Palm Beach Lighthouse
The stunning view across the narrow tip of the Northern Beaches peninsula is well worth the hike. Just follow the short but steep walk up to Barrenjoey Lighthouse. The track starts at the northern end of the beach on the Pittwater side of the peninsula.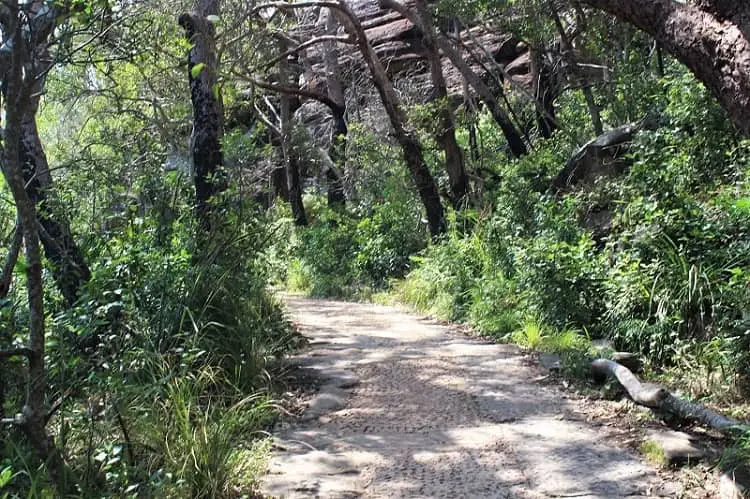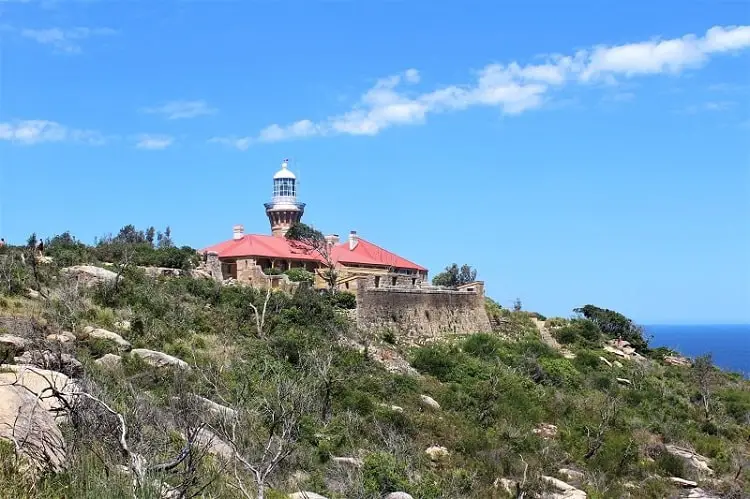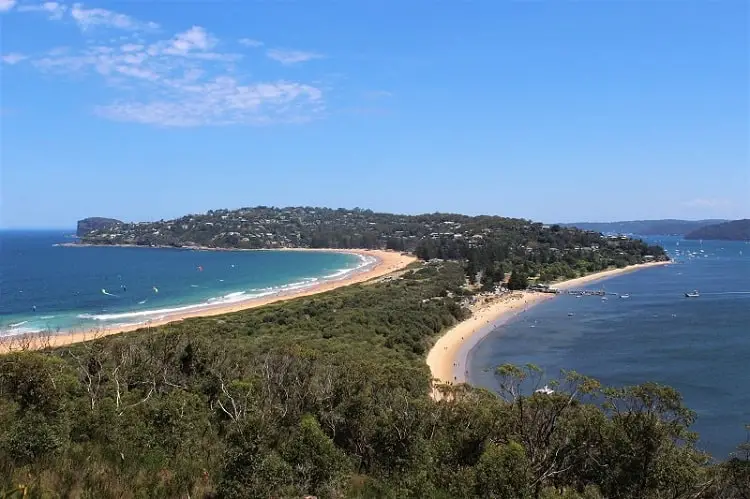 ---
5. Drive to the Bible Garden
To enjoy elevated views without the sore calves, drive up to the suburb's best-kept secret, the Palm Beach Bible Garden.
Established in the 1960s by South African native Gerald Hercules Robinson, the garden was created after Robinson visited a Bible garden in the grounds of Bangor Cathedral in Wales.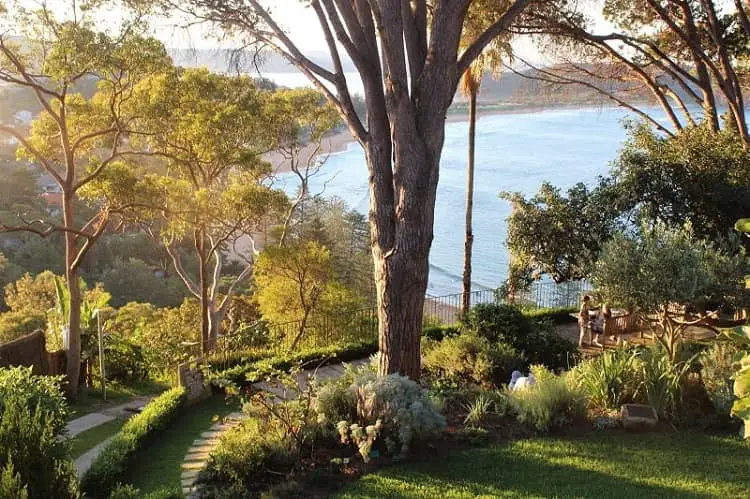 Palm Beach Bible Garden was designed to be a 'comprehensive reflection of biblical meanings and to serve as a collection of Holy land plants'. The garden descends in biblical chronological order with plants at the top of the slope mentioned in the book of Genesis, and a Helichyrisum oriental plant at the lowest point representing immortality.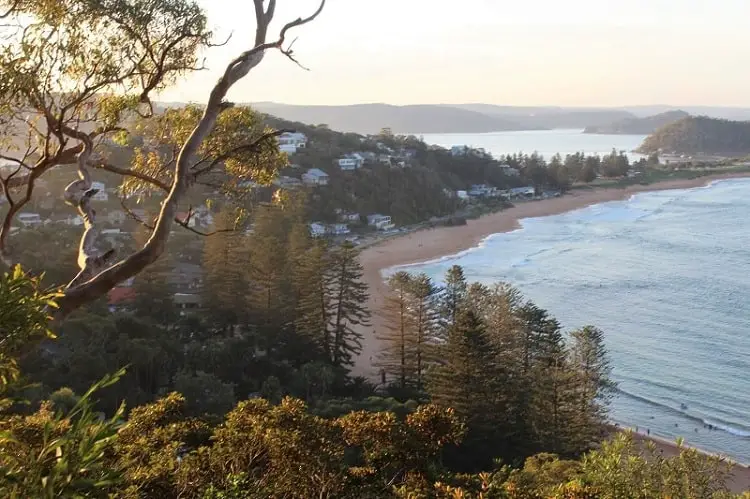 You can find the well-hidden Bible Garden at 6a Mitchell Road. There are only few parking spaces, but it's always been empty when I've visited.
---
6. Visit Home and Away Landmarks
If you've ever wondered where popular Australian soap opera Home and Away is filmed, this is the place! Visiting the landmarks has to be one of the most interesting things to do in Palm Beach for British people!
As well as the recognisable golden beach to the east, you can visit the Summer Bay Surf Club to the north! If you prefer to visit with a group and a guide, the official Home and Away tour to Summer Bay below is a half-day trip and includes a guided tour of the area, transport on an air-conditioned bus and the chance to watch filming take place on certain days!
---
7. Picnic in Governor Phillip Park
On the western side of the peninsula, north of Beach Road, is Governor Phillip Park. With barbecues, tables and a children's playground, it's the perfect spot for a picnic.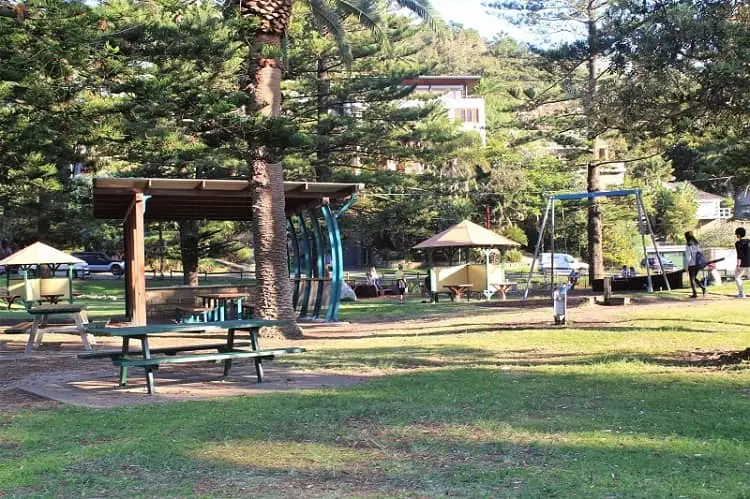 ---
8. Peruse Weekend Markets
Held underneath the Norfolk Pines of Governor Phillip Park between 9am and 3pm on the fourth Sunday of every month (except November and December, when it's held earlier), the iconic Palm Beach Market has been running since 2008.
You can buy high quality homeware, fashion and jewellery as well as specialist food items.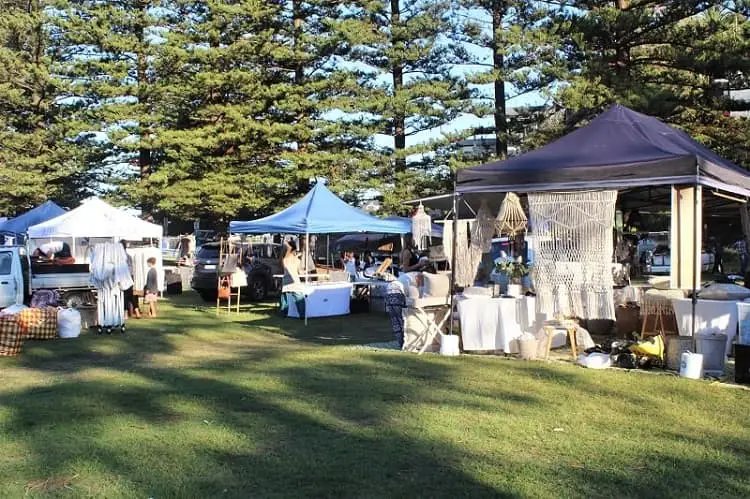 ---
9. Hike the Coast to Bay Walk
The walk to Barrenjoey Lighthouse isn't the only hillside walk in the suburb. I stumbled across the 'Stairway to Heaven' hike at the start of the lesser-known Coast to Bay track completely by accident!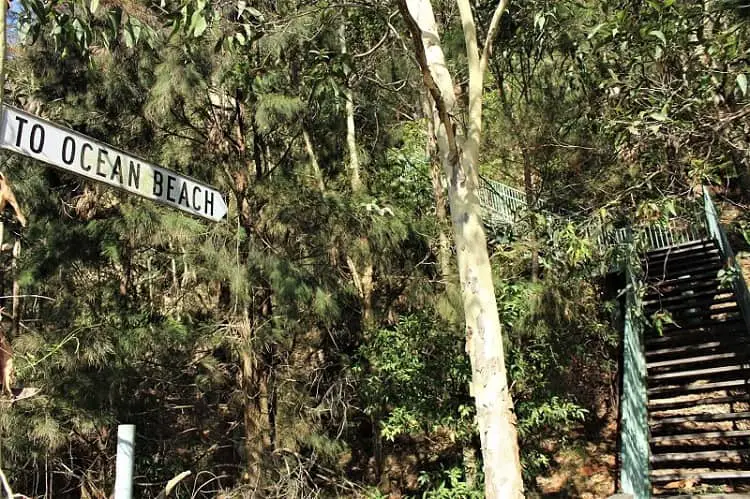 Starting from either Hordern Park on the eastern side or Barrenjoey Road on the Pittwater side (see the map below), you can cross from one side to the other via elevated McKay Reserve.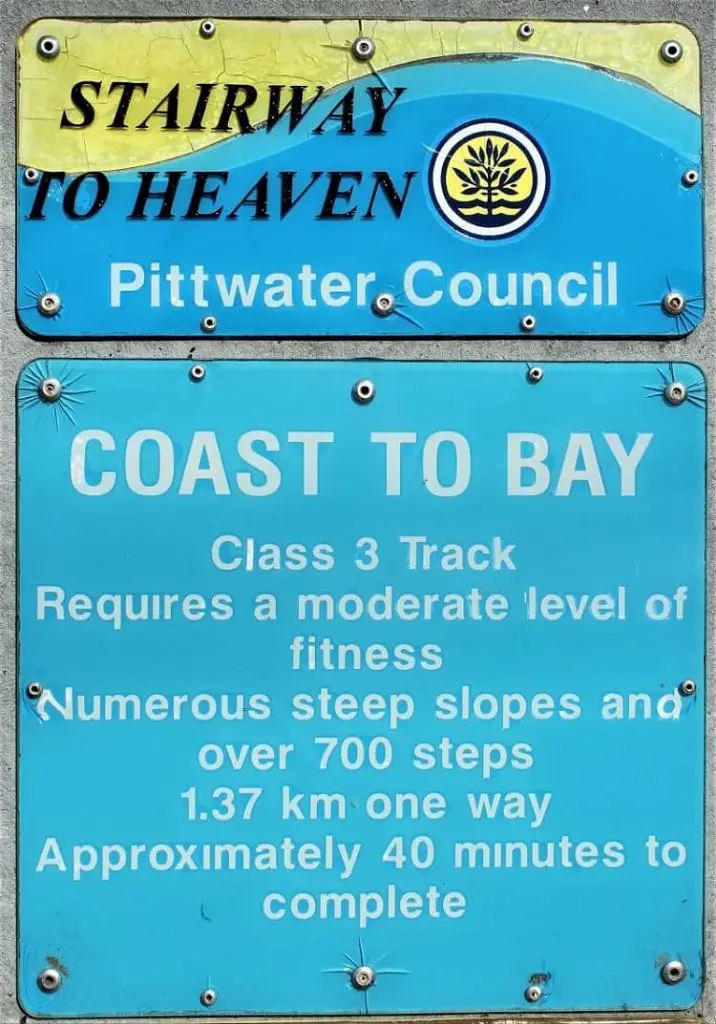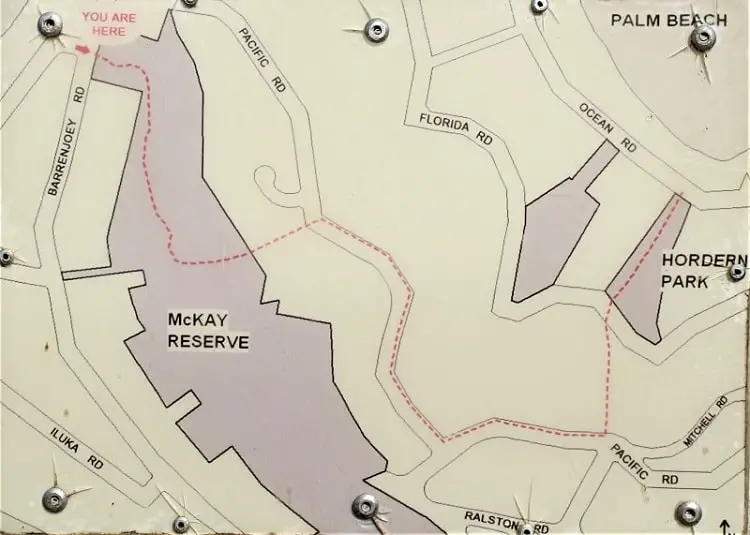 ---
10. Eat at Restaurants & Cafes
If you fancy a bite to eat or a coffee, there plenty of options here. The most well known restaurant, with pretty Pittwater views, must be The Boathouse over at Governor Phillip Reserve, with outdoor seating on the jetty out the back.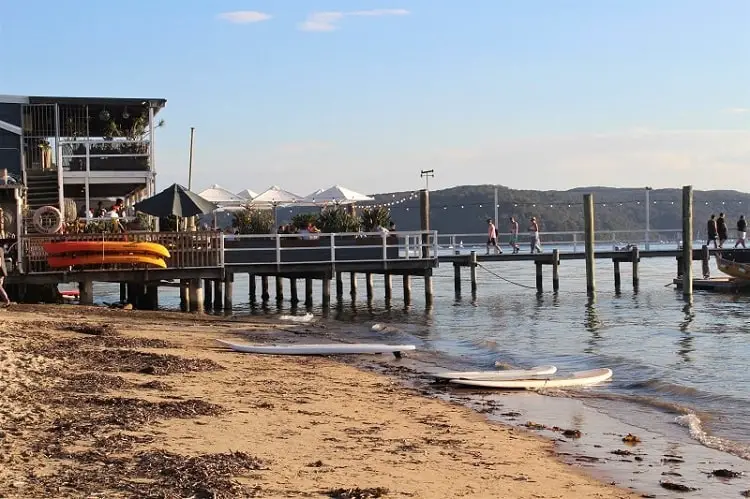 At 1108 Barrenjoey Road near the wharf, is the almost-100-year-old  Barrenjoey House, which offers guesthouse accommodation in addition to a café, bar and restaurant.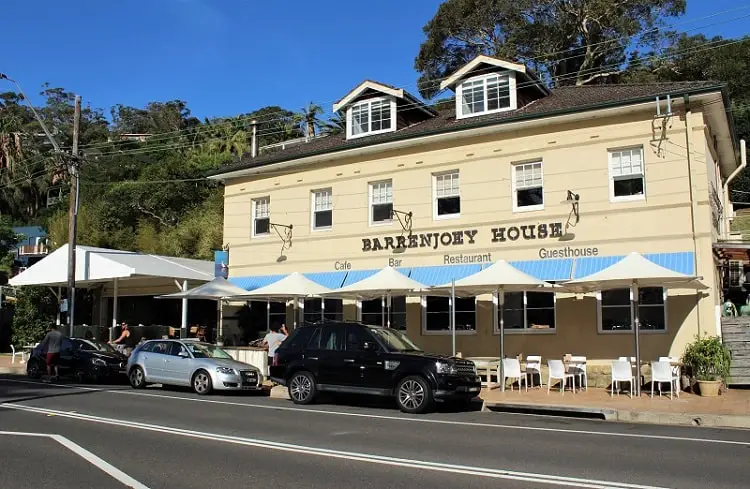 If you're visiting the surf club, you'll be able to grab refreshments from the adjoining kiosk, as well as Summer Bay merchandise.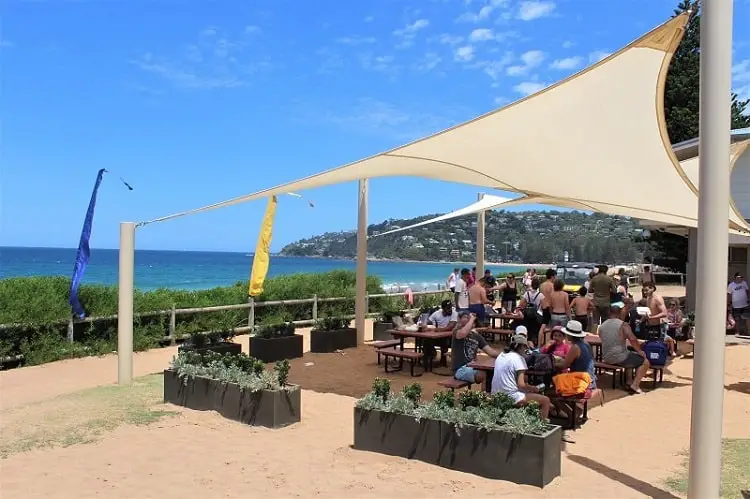 ---
11. Go Boutique Shopping
If you feel like perusing some shops, walk south down Barrenjoey Road, just below the northern end of Illuka Road. You'll find a sprinkling of shops, cafes and cute boutiques that most visitors don't know about.
For beautiful, beach-inspired items for your home, try The Boathouse Home Pop Up store at 1 Beach Road.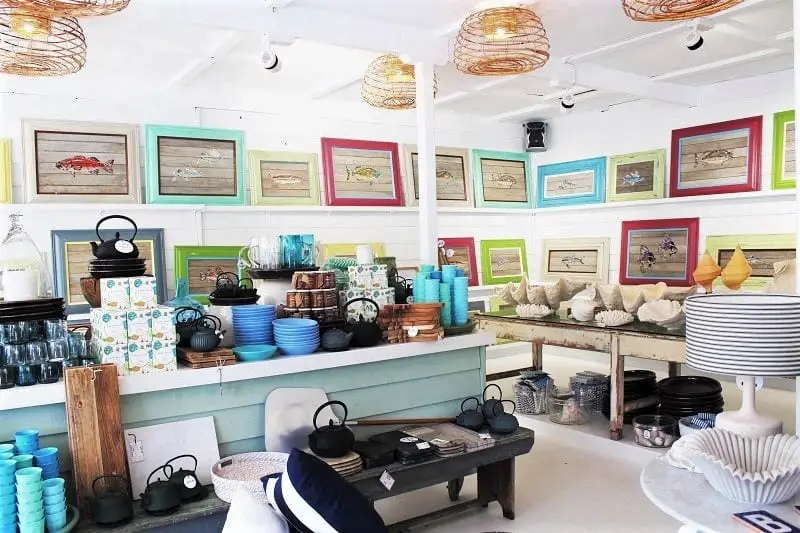 ---
12. Enjoy a Palm Beach Ferry Trip
While you can't catch a ferry from Circular Quay to Palm Beach, there are some great ferry rides available once you're up there. Just make sure you allow enough time.
On the Pittwater side of the peninsula, you'll find iconic Palm Beach Wharf, where many an Instagram shot has been taken. From here you've got a couple of options with Fantasea ferries and Palm Beach River Cruises.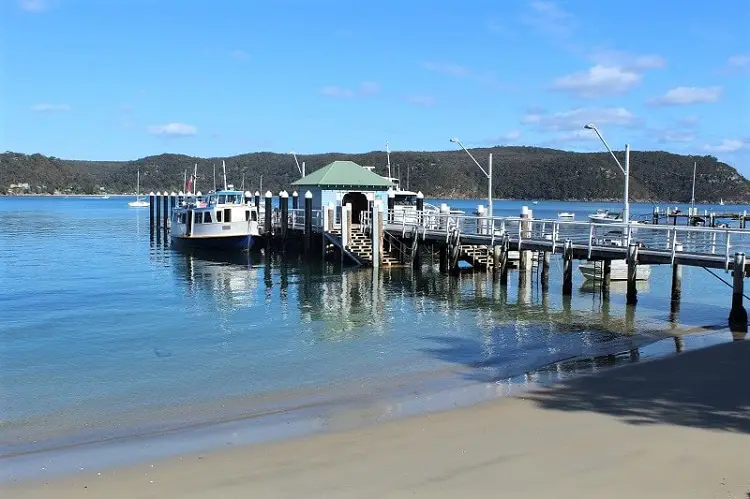 1. Fantasea Ferry to Ku-Ring-Gai Chase National Park (Basin Service)
It's a 45-minute round trip from Palm Beach Wharf to Ku-Ring-Gai Chase National Park and back. You can hop on and off at a few places along the way too.
Make sure you allow enough time though, and don't miss the last ferry back. It's pretty remote over there!
To make a day of it, hop off at Mackerel and do the beautiful walk to West Head lookout, or the shorter walk to stunning Resolute Beach. Read more details in my blog post below.
Beautiful Walk from Mackerel to West Head Lookout
You can also hop off and go camping at The Basin if you're self sufficient!
2. Fantasea Ferry to Ettalong, Central Coast
You can also catch a ferry to Ettalong at the Central Coast, which is a quicker option than driving! This is a lovely beach town with a great holiday atmosphere. You can find out more about Ettalong Beach in the blog post below.
What to See at Umina Beach & the Woy Woy Peninsula
3. Palm Beach River Cruise Ferry to Patonga, Central Coast
Patonga is a small but scenic suburb on the Central Coast with a great pub, Patonga Beach Hotel. You can see a few pictures of the area in my Umina Beach post above.
---
13. Admire Palm Beach Mansions
If you're not aware already, the area is one of Sydney's most affluent suburbs and popular with celebrities. If you're into architecture, go for a wander along the residential streets up in the hills. There are some fascinating mansions hiding behind the trees!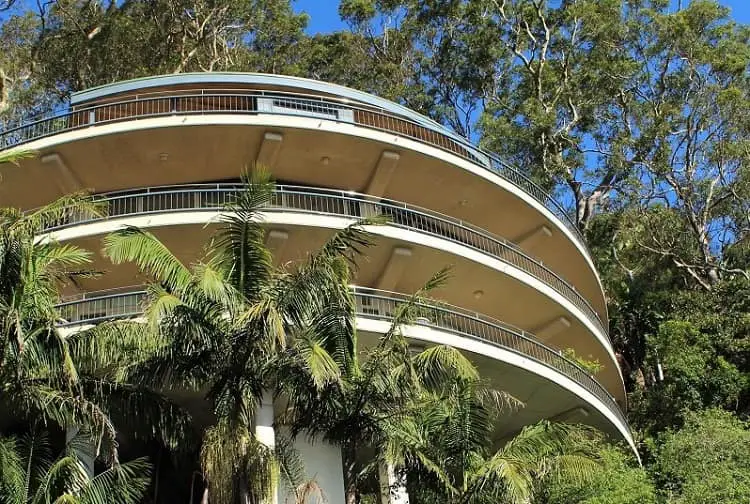 ---
For more ideas on days out in Sydney, have a read of these posts:
How to spend a day in Watsons Bay
Things to do in La Perouse, Eastern Suburbs
Guide to Wattomolla Beach in the Royal National Park
For day trips and weekend getaways from Sydney, here are my top recommendations:
---
10 Best Weekend Getaways from Sydney
Have a great time exploring Sydney!
---
---