This post may contain affiliate links. Please see my disclosure policy for more details.
Sydney is well known as being one of the most picturesque cities in the world, so it's no surprise that there's an abundance of beautiful Sydney lookouts dotted around its beaches, harbour and national parks.
If you think Sydney is all skyscrapers and traffic, this list of the best views in Sydney will prove you wrong!
You'll discover craggy peninsulas, forested headlands and peaceful spots to view those famous icons like the Sydney Opera House and Sydney Harbour Bridge. Places to listen to ocean waves, smell salty air and watch the sunset as the city skyline starts to sparkle.
To discover the calmer, more scenic side of Sydney, read on to find out my top 20 beautiful lookouts in Sydney.
---
1. Mrs Macquarie's Chair, Botanic Gardens
One of the most well known Sydney lookouts is Mrs Macquarie's Chair in the Royal Botanic Gardens. It takes in the harbour bridge and Sydney Opera House all in one shot, and also faces west, so you'll get a pretty nice view at sunset.
It's easy to access from the city, so it does get busy with tourists and photographers. The surrounding area is also a highly popular place to watch the fireworks from at New Year.
You can read more about my Sydney New Year experience in this blog post comparing it to New Year in Adelaide.
---
2. Milk Beach, Vaucluse
Further east along the harbour lies the fairly hidden Milk Beach in well-to-do Vaucluse. I stumbled across this gem of a Sydney lookout purely by accident when I was due to start a house sit in the area, and the owners were running late.
I walked to Shark Beach, curiously wandered along the track towards Rose Bay, and before I knew it had my toes in the sand and my eyes glued to a beautiful silhouette of the city, Opera House and Harbour Bridge with the setting sun behind it.
Despite being hidden away, Milk Beach is a popular lookout, and it had quite a party atmosphere when I came across it on a Friday evening. People had even set up speakers!
---
3. South Head, Watsons Bay
At the northern tip of the eastern beaches peninsula, where Sydney harbour meets the ocean, sits popular seaside suburb Watsons Bay. To get there, take the picturesque ferry ride from Circular Quay and head north onto the South Head Heritage Trail from Camp Cove Beach.
You'll soon come to the iconic red-and-white stripes of Hornby Lighthouse, where the view stretches out across the Pacific Ocean as well as taking in North Head, Middle Head and Sydney Harbour.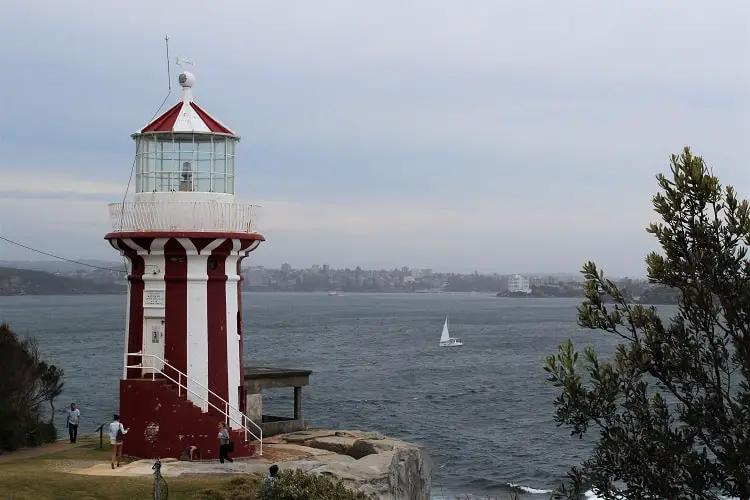 ---
4. The Gap, Watsons Bay
South Head isn't the only viewpoint in Watsons Bay. While most visitors head straight to the lighthouse, there's actually another spectacular lookout closer by. Just walk to the top of Robertson Park behind the wharf, and you'll come to The Gap.
The peninsula is so narrow at this point that you can look down at the waves crashing against the cliffs to the east, and gaze all the way to the city to the west.
For a slightly better view of the city, keep the cliffs to your left and walk a minute or so along the track until you come to an opening in the trees. You'll get the marvellous view in the picture below.
---
5. Ball's Head Reserve, Waverly
A beautiful spot to enjoy harbour views without the crowds is Balls Head Reserve in Waverly. North of the bridge, but slightly further west than Milsons Point, this quiet parkland is the perfect place for a picnic during the summer months.
It rarely seems to be busy, even on weekends, and looks even more beautiful as darkness falls and the city begins to light up. It's definitely one of my favourite Sydney lookouts.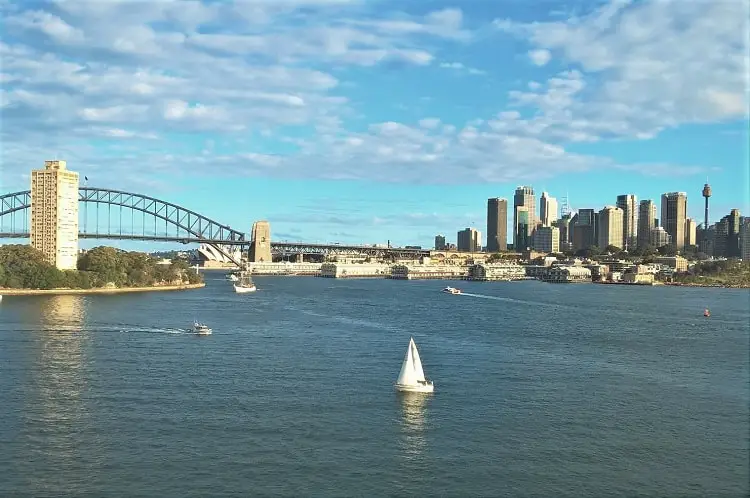 ---
6. Milsons Point
An easy Sydney lookout to reach from the city is Milsons Point, the area at the base of Sydney Harbour Bridge on the north side of the water. You can get there by train, ferry or just walking across the bridge.
There are all sorts of possible angles to get a picture from here, including the underside of the bridge. From here you can also visit Luna Park or Sydney Olympic Pool. Swimming with a view of the city is amazing!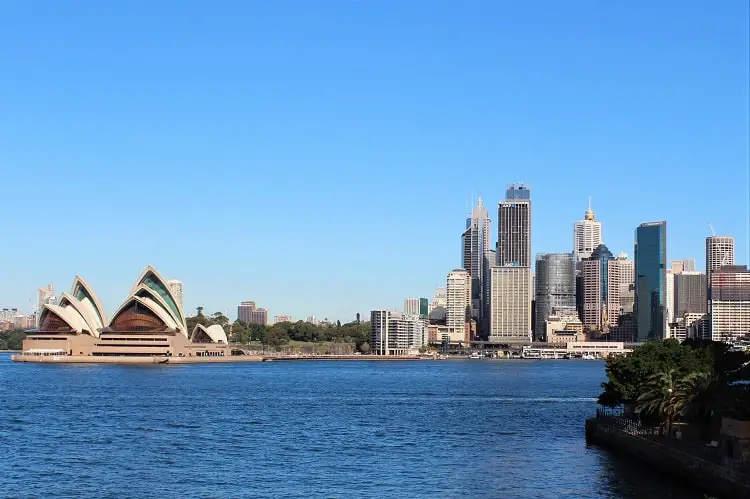 ---
7. Taronga Zoo
Taronga Zoo has some of the best viewpoints in Sydney for sure! It's a huge place dedicated to wildlife conservation with lots of interesting information boards scattered around; you can easily spend a whole day there. It's certainly the zoo with a view!
You can either get the ferry from Circular Quay (and a bus or cable car to the main entrance), catch the bus or drive. It's $18 to park at the zoo, but there's plenty of free, unrestricted parking in the surrounding roads to the north.
One of the best ways to enjoy the scenery at Taronga Zoo is to sit down and watch the free-flight bird show. The backdrop of the city and Sydney Opera House is amazing!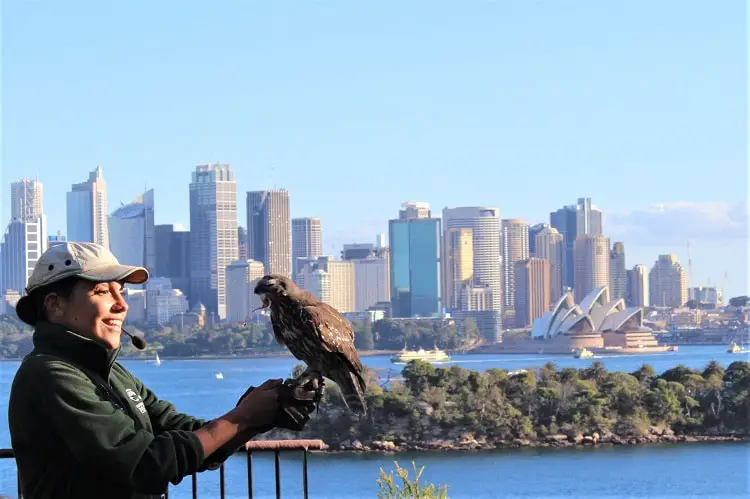 ---
8. Cremorne Point
One of my absolute favourite things to do in Sydney is to whack on my walking shoes and head out on the short and easy walk from Mosman Bay to Cremorne Point. It's amazing to be so close to the city, yet still be surrounded by so much peace and beauty.
Just hop off the ferry at Mosman Bay and admire the boats and waterside houses as you set off down the track.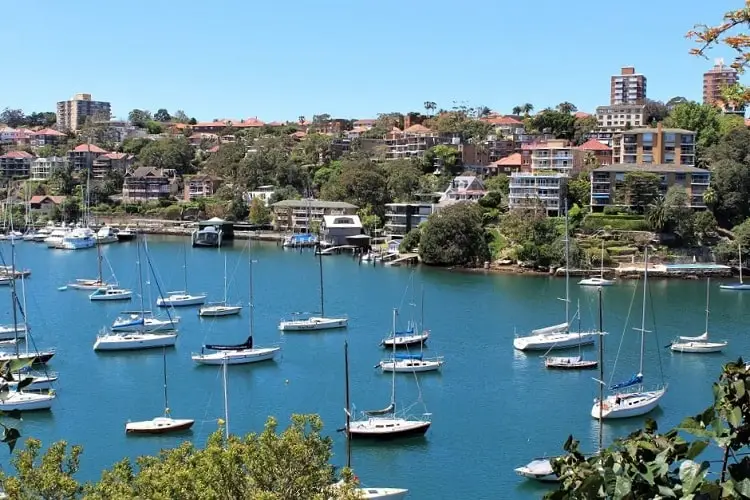 Once you reach the other side of Cremorne Point you'll be able to stroll around on the grass and enjoy a picnic with amazing views across the harbour. You can even swim for free at MacCallum Pool.
---
9. Fairfax Lookout, North Head
It was a recent visit to Fairfax Lookout at North Head that inspired me to write this blog post. I'd just been on a trip back to the UK and gone straight to a house sit in the suburbs on my return.
Looking out across the vast harbour reminded me just how beautiful and green much of Sydney is, and I was kind of blown away. You can also see a lot of different areas from this viewpoint and understand the layout of the city a bit more.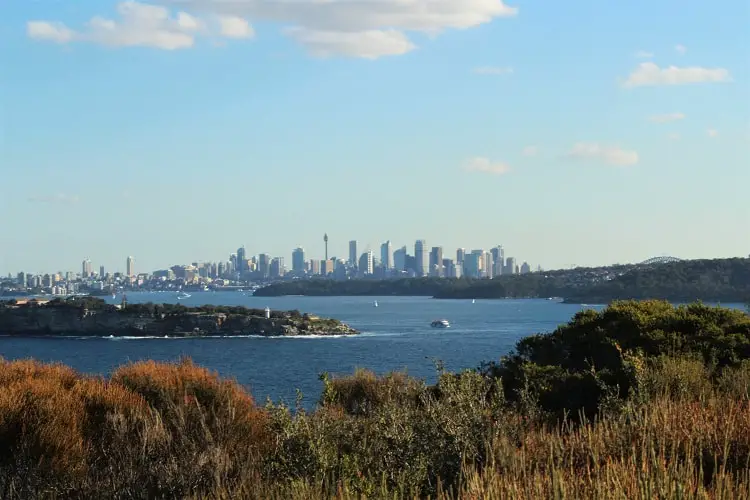 That piece of land jutting in from the left is Watsons Bay – you can just make out Hornby Lighthouse at the tip – and following it down takes you all the way past The Gap to Bondi and beyond.
Behind it you've got Bradleys Head (near Taronga Zoo) stretching out from the right, and the city behind it across the water.
To get to North Head either walk from Manly or drive and park inside for $5 all day. Get onto the Fairfax walk to enjoy these beautiful views. At certain points you can look directly down to the very clear ocean and watch the waves swirling around the rocks.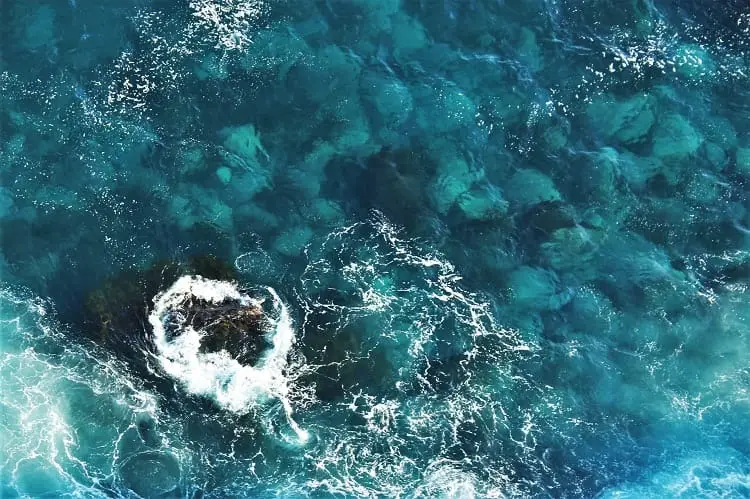 ---
10. Bondi Icebergs
One of the most classic Sydney viewpoints is Bondi Icebergs Swimming Club overlooking, you guessed it, Bondi Beach. You don't need to be a member or use the pool; just head upstairs for a drink or dinner, and if you're lucky you'll get a balcony seat with this view.
You can listen to the waves and look down on the beautiful people taking selfies around the pool while you sip on your vino in the sun.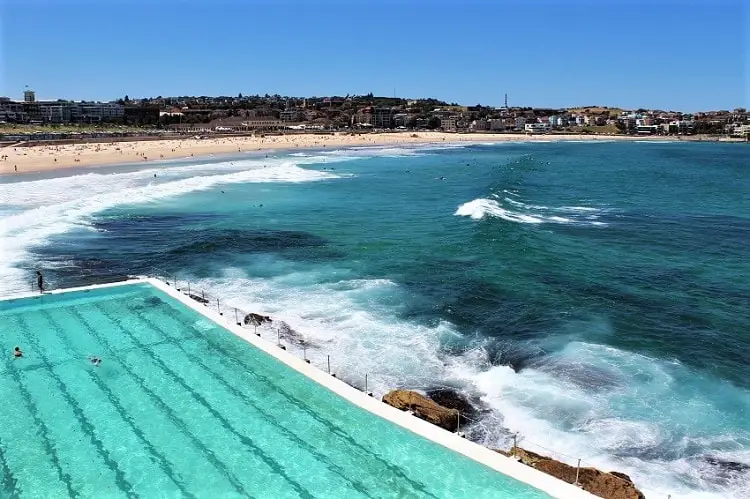 ---
11. MacKenzies Point, Bondi to Coogee Walk
Slightly south of Bondi Icebergs is MacKenzies Point, one of the best viewpoints on the famous Bondi to Coogee walk in my opinion.
Looking back across the turquoise ocean and rugged cliffs to Tamarama Beach and Bronte Beach on a sunny day is simply glorious, and makes you realise why so many people want to live in Sydney's eastern suburbs.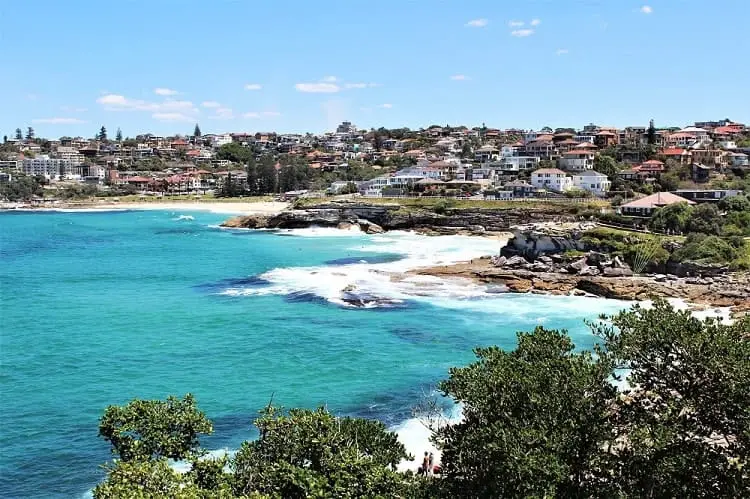 ---
12. Palm Beach Lighthouse
Right up at the northern tip of Sydney is the gorgeous area of Palm Beach. With golden sand and bright blue surf to the east, tranquil Pittwater to the west and million-dollar mansions built into the forested hillside, it's no wonder this photogenic suburb is used as the filming location for Aussie soap opera Home and Away.
For a view that will take your breath away, climb up to Barrenjoey Lighthouse to look down on the green and curving isthmus from above. To find out what to do on a day trip to Palm Beach, read this blog post: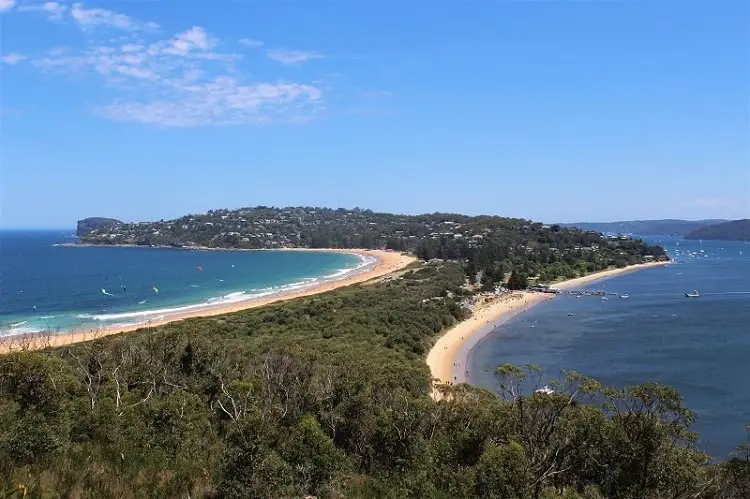 ---
13. Bible Gardens, Palm Beach
Barrenjoey Lighthouse isn't the only impressive viewpoint in Palm Beach. To escape the crowds (and save your legs from getting sore), drive up to the little-known Bible Gardens on Mitchell Road, where you can view the isthmus from the opposite direction and enjoy your picnic in peace.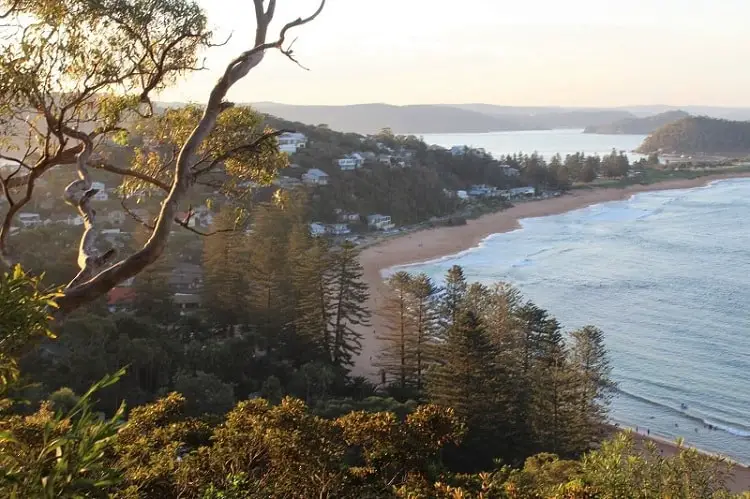 ---
14. West Head Lookout
One of my favourite lookouts in Sydney is on the walk from Mackerel to West Head in Ku-Ring-Gai Chase National Park. Catch the ferry to Mackerel from Palm Beach wharf and head north on the track through the hills.
After passing beautiful, isolated beaches such as Resolute Beach, you'll come to West Head lookout. On a clear day you'll feel like you're in the Greek islands, with views of the Central Coast stretching north and Palm Beach across the bright blue water.
Alternatively, you can drive up to West Head lookout from Sydney.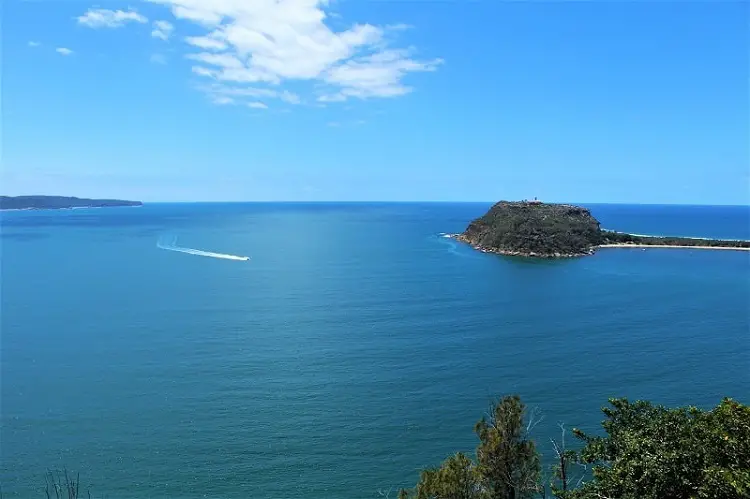 ---
15. Echo Point, Blue Mountains
A must-do Sydney day trip is to head out to the beautiful Blue Mountains, which lies two hours west of the city. To plan your trip, use my Blue Mountains itinerary, which can be followed by car or public transport.
While the most famous Blue Mountains lookout is the Three Sisters rock formation at Echo Point, there are plenty more amazing Blue Mountains viewpoints to explore.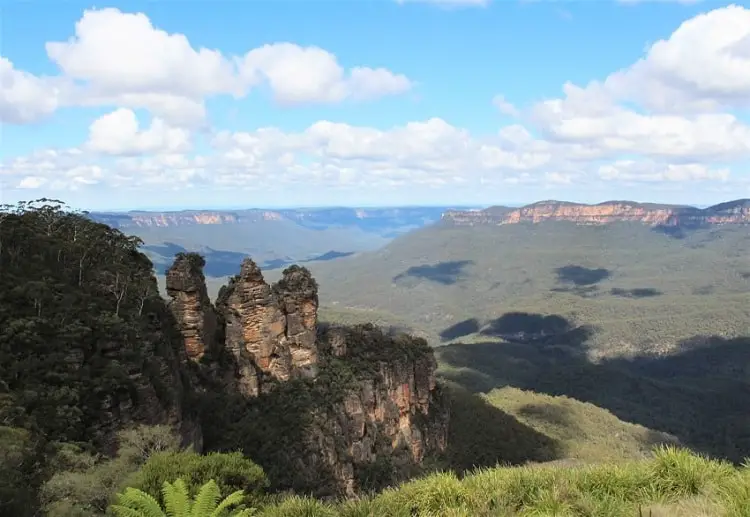 ---
16. Glebe Point
While the Sydney Harbour Bridge is the most famous, Anzac Bridge joining Pyrmont and Rozelle is certainly something to look at. Take a stroll around Glebe Foreshore Parks up to Glebe Point, and you'll get a great view of interesting Anzac Bridge and the city.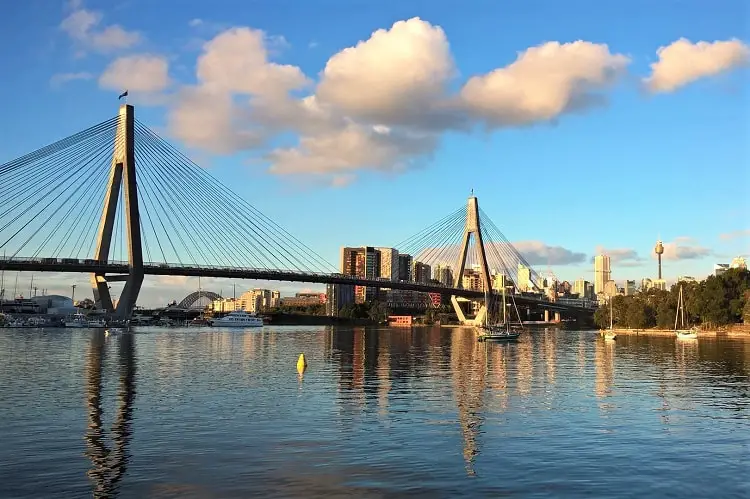 ---
17. Ewenton Park, Balmain East
This was another lookout I found by accident. Balmain in Sydney's Inner West is a great suburb to wander around, and full of cute heritage buildings, funky cafes and pubs.
Once you've finished exploring, head over to Ewenton Park in Balmain East to enjoy this view of Barangaroo and the city.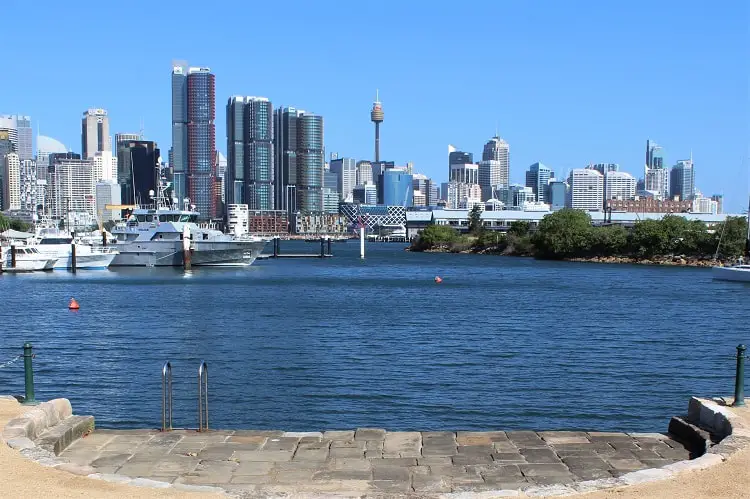 ---
18. Cape Solander, Kurnell
You probably won't find Cape Solander down in Kamay Botany Bay National Park listed in your guide book; it's definitely more of a locals' place to visit. But if you're up for a day trip filled with fresh air and the sound of the ocean, it's a spot worth pencilling in.
You'll need to head down to the Sutherland Shire in the south of Sydney, then east to Kurnell, on the southern edge of Botany Bay. Here you'll be able to access the beautiful cliffside walk from Cape Solander to Cape Baily Lighthouse.
It's a popular area for whale watching in the winter, as well as wedding photography.
---
19. Bundeena & Maianbar
Another trip with beautiful scenery is a day or weekend at the picturesque villages of Bundeena and Maianbar at the tip of the Royal National Park.
Just catch the train to Cronulla and hop on the vintage ferry to Bundeena to enjoy beautiful beaches, Bundeena Art Trail, coastal scenery and the laidback lifestyle that the local artistic community gets to enjoy. 
The lookout below is on the short walk to Maianbar from Bonnie Vale campground in Bundeena.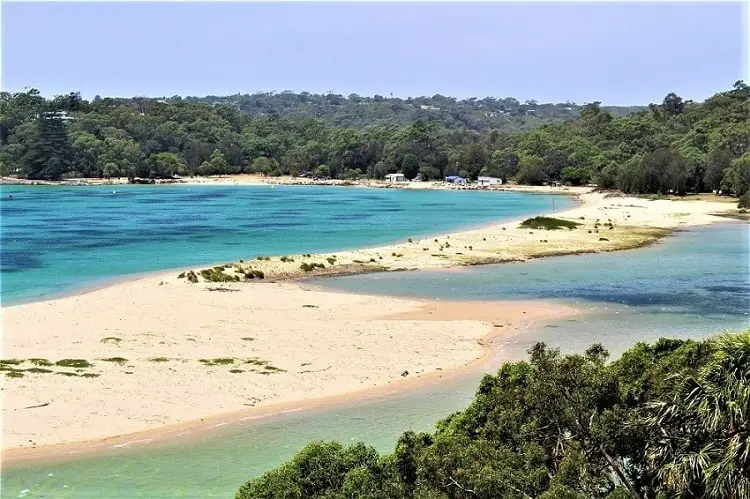 ---
20. Bald Hill Lookout
Bald Hill lookout at Stanwell Tops is technically part of north Wollongong, but it's only an hour's drive south of Sydney CBD and so impressive that I just had to squeeze it in.
If jumping in the car and cruising the coastline on a weekend is your sort of thing, you'll love this trip.
Bald Hill lookout takes in miles of the craggy Wollongong coastline along the Grand Pacific Drive and has the best view of the iconic Sea Cliff Bridge snaking out over the water.
---
For more inspiration, read my list of top things to do in Sydney. If you want to explore outside of the city, find out my top 10 day trips from Sydney and the best weekend getaways from Sydney.
If you're visiting Sydney and aren't sure where to stay, you'll find my guide on the best places to stay in Sydney really helpful. Have fun!
---
Pin it for later!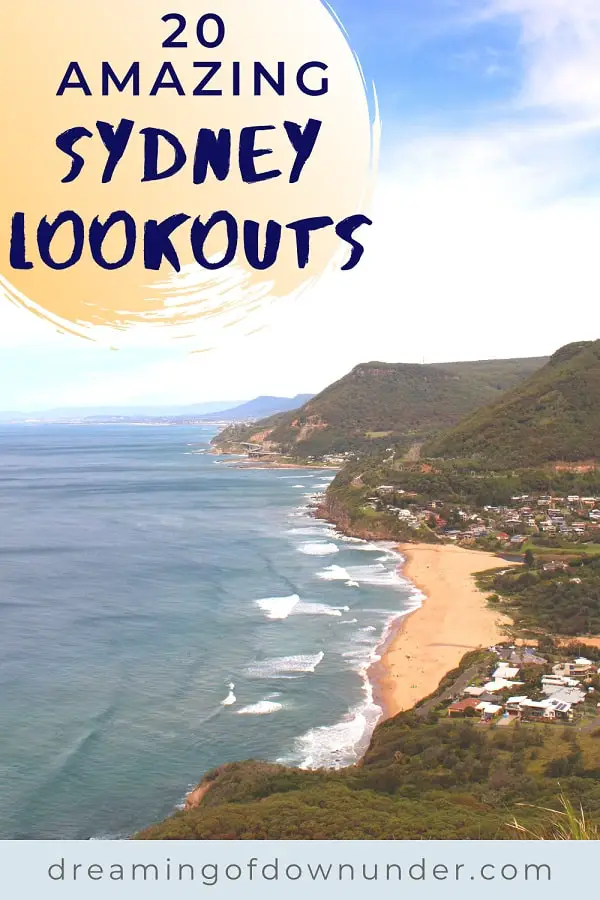 Written by Lisa Bull
Lisa Bull, founder of Dreaming of Down Under, has been living in Australia as a British expat since 2015. After travelling to every state and territory in Australia and living in Perth, Brisbane and Sydney, Lisa knows from first-hand experience the best destinations to visit in Australia and the best budget travel tips. Her guides on this blog have been read by over 700k readers and helped thousands of people achieve their dream of living in or travelling Australia.