This post may contain affiliate links. Please see my disclosure policy for more details.
With beautiful beaches, quiet leafy streets and easy access to the Royal National Park's famous Coast Track, the abundance of natural beauty in Bundeena and Maianbar make these neighbouring south-Sydney villages a hotspot for creative types.
On the first Sunday of every month, there's not only the beachside Bundeena Market to peruse, but the Bundeena Art Trail also takes place. Local artists open up their homes and allow visitors to wander around their studios, observe how they work, ask questions and purchase the beautiful paintings, sculptures and jewellery they create. Every art lover's dream!
If you're looking to escape the city, get back to nature and indulge your creative side, a trip to Bundeena makes an amazing day trip from Sydney.
Pin it for later!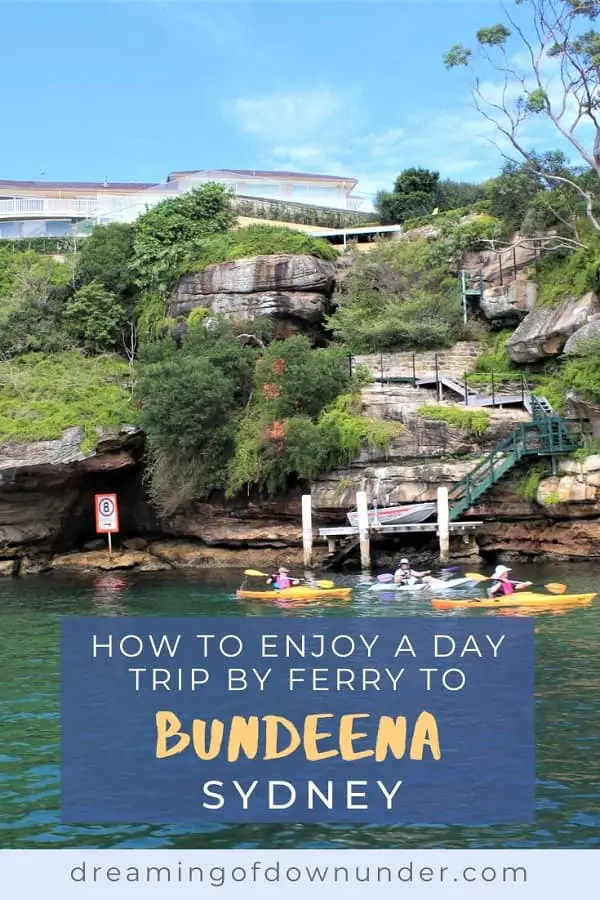 ---
How to Get to Bundeena
You can either drive the 52km from Sydney CBD, sail across Port Hacking and moor at Jibbon Beach or Horderns Beach, or get the train to Cronulla and hop on the vintage Bundeena ferry that leaves from the wharf behind the railway station ($6.40 cash each way – no Opal cards accepted).
Taking the ferry is a very relaxing way to start the day, bobbing past towering clifftop houses and eager kayakers slicing through the jade-green water. You'll arrive at Horderns Beach in Bundeena village 30 minutes later.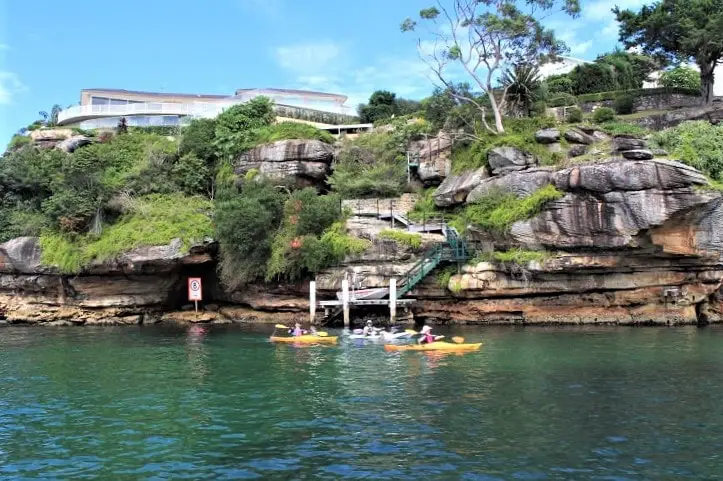 ---
Bundeena Village
Pick up an Art Trail map from the transparent plastic box as you walk from Bundeena Wharf up Brighton St or from one of the local cafes. Bundeena Village is very compact: you'll see public toilets to your left behind the carpark, an IGA supermarket across the road, and a handful of shops and cafes lining Brighton St straight ahead.
Continue up Brighton St and you'll spot the Bundeena markets set up on Summer Reserve, the grassy area behind Horderns Beach.
---
Bundeena Markets
The Bundeena markets are pretty small, but definitely worth a browse. Like many of Sydney's weekend markets, it has a relaxed, bohemian vibe, and sells mainly arty clothes and jewellery, shoes and handbags, and art and crafts. 
There was even a man playing the bongos when I visited, which took me back to sunsets at Byron Bay! The markets are open from 9am – 2pm on the first Sunday of every month.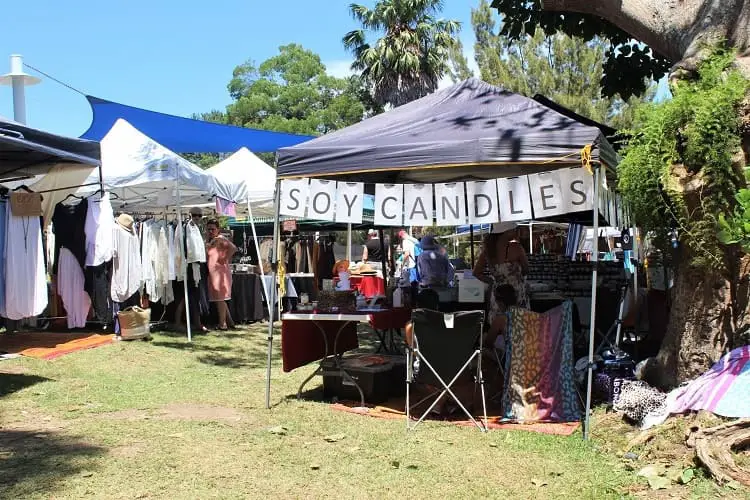 ---
Where to Eat in Bundeena
Whilst the market does sell a few food items to take home, it isn't set up like a food court, so you'll want to either pack a picnic for the beach or grab lunch at one of the three cafes on Brighton St, which all have pleasant indoor and outdoor seating.
There's also the Maianbar Beach Café if you plan on heading over to the nest village. 
---
Bundeena Art Trail
Held on the first Sunday of every month, between 10am and 4pm, the Bundeena Art Trail is a unique way to explore Bundeena and Maianbar and appreciate the artistic talent of these small communities.
I can't recommend this day enough if you're an art lover. But even if you're not, the artists' homes alone are worth visiting, with many having luscious, mature gardens and even uninterrupted sea views for the houses on Eric St. This is a very different side of Sydney than what most of us are used to seeing!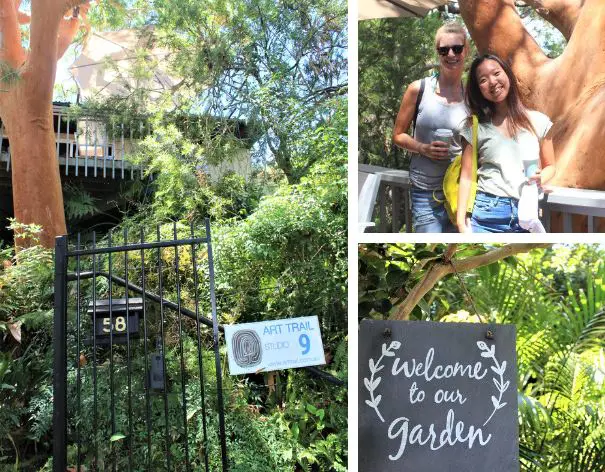 The Art Trail is free and very easy to follow using the downloadable map. Each of the participating houses is marked with a flag and numbered sign out the front to make them easy to find. We visited nine of the fourteen artists involved and did the trail by foot, which took a couple of hours. Allow longer if you want to see all fourteen.
The artists were very all friendly, offering us iced water and chatting away. One lovely lady, Regina Nazar, even gave us a free postcard of her landscape painting of the clifftop views at The Balconies as we'd decided to take the short walk there afterwards on her recommendation!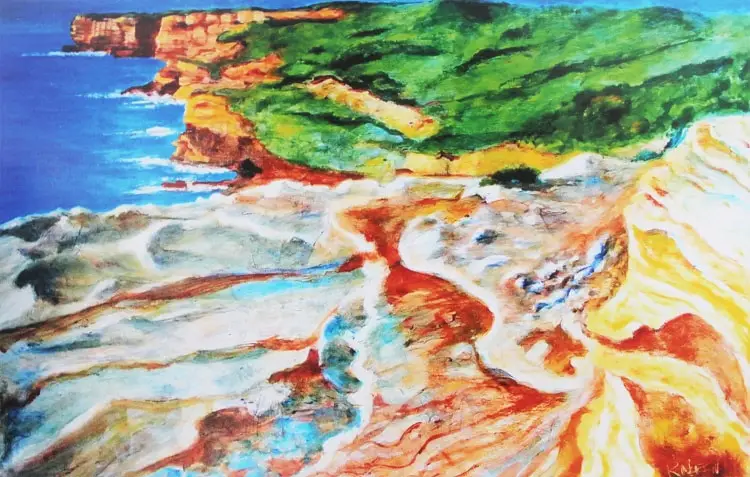 Regina also showed us the huge exotic flower in her garden that had just come into bloom!
Many of the artists incorporate nature into their work, from the intricate seed-and-sliced-paper designs of Lee Bethel, to the jewellery designs of Yvette Linton-Smith.
Being a fan of all things pastel-coloured, I loved the ceramic tiles and swirling 3D paper constructions by Liz Borghero.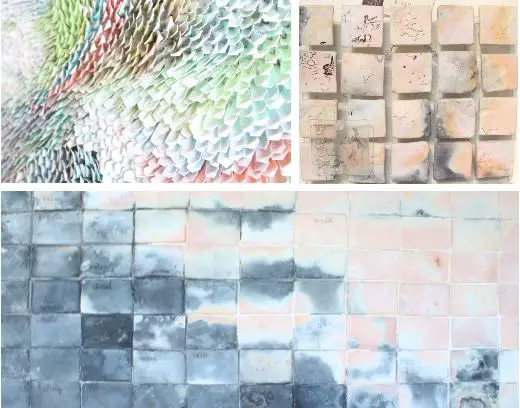 After we'd had our fill of art, we set off for the short walk along the Royal Coast Track to The Balconies.
---
 Bundeena Walks on the Royal Coast Track
If you're spending the day in Bundeena, it's well worth the ten-minute walk to the clifftop views at The Balconies, or further if you have the time and inclination!
Head to the southern end of Beachcomber Avenue and you'll see a small carpark, a gate and an information board marking the access point to the Royal National Park.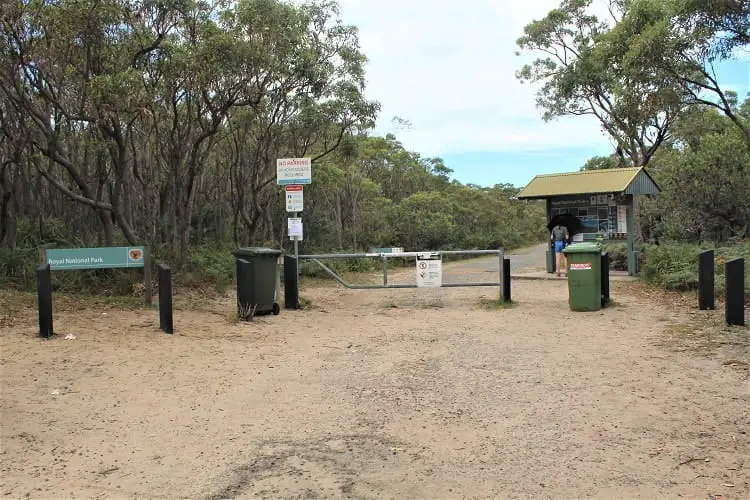 Follow the wide pathway for a few minutes and you'll reach the marked turn-off for the famous 26km Coast Track that runs all the way from Jibbon Beach down to Otford. While there are plenty of attractions to see along the Coast Track, after traipsing around the Art Trail on a 36-degree day the most we could manage was the short 700m walk to The Balconies.
It was definitely worth the effort though, and we even caught a glimpse of the city skyline in the distance on the way, reminding us that we really weren't as far from Sydney as we felt!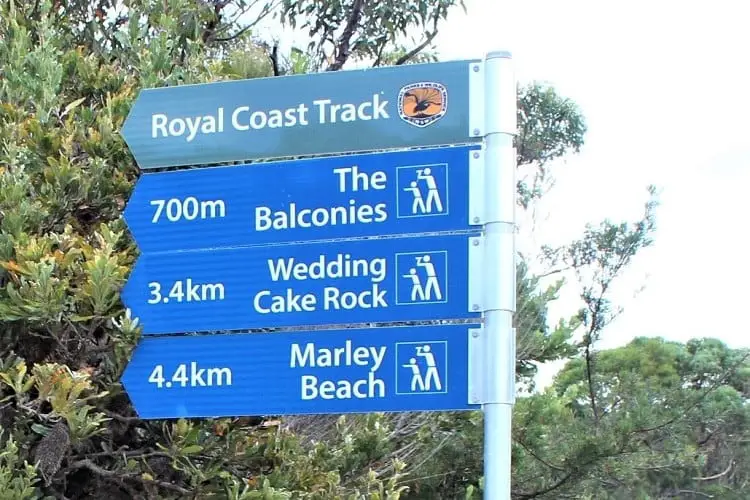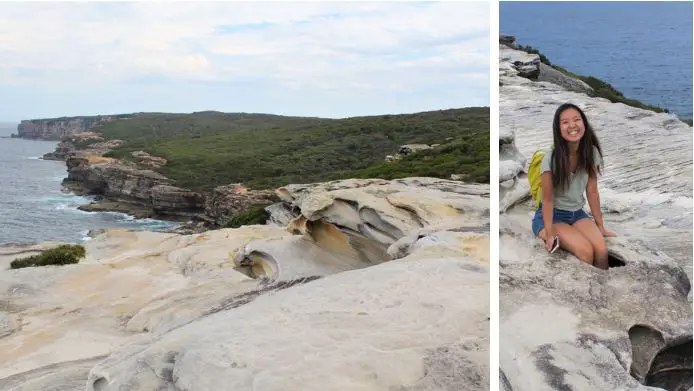 Once we arrived at The Balconies we didn't want to leave! Sitting on the white cliffs with the wind in our hair and the ocean crashing down below transported us a world away from the city. I felt like I was back on my road trip along the unspoilt Australian south coast!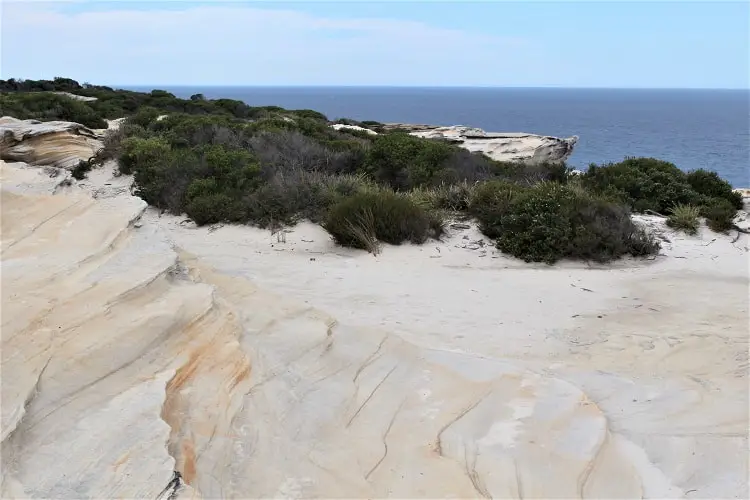 N.B. if you want to see cliffs like this without travelling all the way to Bundeena, there are very similar ones at Cape Solander in the Kurnell section of Kamay Botany Bay National Park.
Further Walks along the Coast Track
Visit the NSW National Parks and Wildlife Service website for more information on the 26km Coast Track through the Royal National Park. From The Balconies, the track heads up towards Jibbon Beach in one direction, passing Shelley Beach (2.9km), Port Hacking Point (3.5km), Jibbon engravings (3.8km) and reaching Bundeena again at 5km. 
In the other direction the track heads south down the coast to Otford, passing Wedding Cake Rock (3.4km), Marley Beach (4.4km) and plenty more such as Wattamolla Beach further on.
If you're heading south, just remember these distances are one-way. Unless you're doing a multi-day hike and camping trip, or planning on walking the full 26km in one go, you'll need to walk back again to return to Bundeena for transport home, and the ferries don't run in the evening! Plan well in advance and stock up on food, water and sunscreen before you set off.
---
If you fancy a weekend camping in Bundeena or want to read about the different beaches there, take a look at this blog post:
Bundeena, Maianbar and Bonnie Vale Campground
For more great ideas on Sydney day trips or weekend escapes, find out my top recommendations in these posts:
10 Scenic Day Trips from Sydney
10 Best Weekend Getaways from Sydney
Have fun exploring Sydney!
Written by Lisa Bull
Lisa Bull, founder of Dreaming of Down Under, has been living in Australia as a British expat since 2015. After travelling to every state and territory in Australia and living in Perth, Brisbane and Sydney, Lisa knows from first-hand experience the best destinations to visit in Australia and the best budget travel tips. Her guides on this blog have been read by over 700k readers and helped thousands of people achieve their dream of living in or travelling Australia.