This post may contain affiliate links. Please see my disclosure policy for more details.
A trip to Blue Mountains National Park should be on everyone's Sydney bucket-list. And no trip is complete without stopping to admire some of the breathtakingly beautiful Blue Mountains lookouts.
This vast area of natural beauty is less than two hours from Sydney CBD, accessible by train and features rivers, waterfalls, sandstone cliffs and a seemingly never-ending blanket of eucalyptus trees.
Dotted throughout the national park are quaint little towns and villages such as Katoomba and Leura, quiet picnic areas and a multitude of walking tracks to suit every level of walker.
Many of these towns have beautiful Blue Mountains lookouts with sweeping valley and mountain views. Some are best reached by car, others sit along walking tracks, and many are an easy walk from local train stations.
I've spent quite a bit of time exploring the Blue Mountains since I've been living in Sydney, so here's my round up of my favourite Blue Mountains lookouts, including maps and instructions on how to find them.
---
Blue Mountains Accommodation
If you're planning on staying in the Blue Mountains overnight, use the search box below to check out your accommodation options. I usually stay in Katoomba, which is the main hub with lots of shops and cafes, but Leura is also cute and very quaint!
---
List of Blue Mountains Lookouts
To skip straight to a particular Blue Mountains lookout, click on the list below.
1. Echo Point Lookout, Katoomba
3. Narrow Neck Lookout, Katoomba
4. Elysian Rock Lookout, Leura
5. Sublime Point Lookout, Leura
7. Jamison Lookout, Wentworth Falls
8. Den Fenella Lookout, Wentworth Falls
9. Govetts Leap Lookout, Blackheath
10. Mount Piddington Lookout, Mount Victoria
11. Sunset Rock Lookout, Mount Victoria
12. Mitchell Ridge Lookout, Mount Victoria
---
Blue Mountains Lookouts in Katoomba
The main town in the Blue Mountains, Katoomba, not only has quaint shops, art galleries and cafes, but plenty of nearby walking tracks and lookouts, including the famous Three Sisters rock formation. Here are three great Blue Mountains lookouts to visit in Katoomba.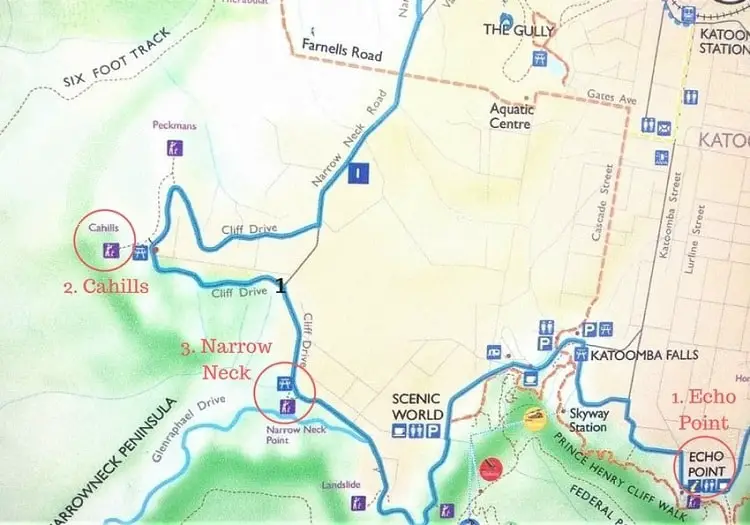 1. Echo Point Lookout – The Three Sisters
Probably the most well-known of the Blue Mountains lookouts in Katoomba is Echo Point, which has amazing panoramic views across the Jamison Valley and the famous Three Sisters rock formation. It is a busy lookout, and lots of tourist buses pull in here, but there's a large visitor information centre, toilets, a café and plenty of walking tracks heading out into the mountains.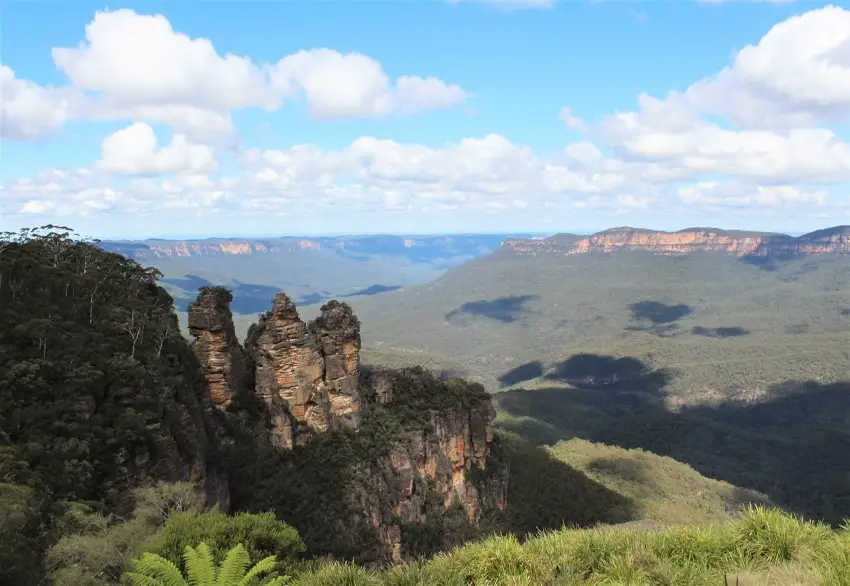 How to Get to Echo Point
From Katoomba town centre, walk or drive south down Lurline St until it becomes Echo Point Road and meets with Cliff Drive. You won't miss the buses, viewing platform and visitor centre at the end. There is a car park, but for free parking head back a couple of streets and park on a residential road such as Raymond Road.
2. Cahills Lookout
This lovely Blue Mountains lookout lies on a residential street in Katoomba and faces west, so it's perfect for sunset and doesn't get as crowded as Echo Point. The short track leading from the car park takes you through an archway and down to Cahills Lookout, passing Boars Head lookout on the way, and offers sweeping views across Megalong Valley. There's also a 1.1km return walk to Peckmans Lookout if you fancy a short stroll.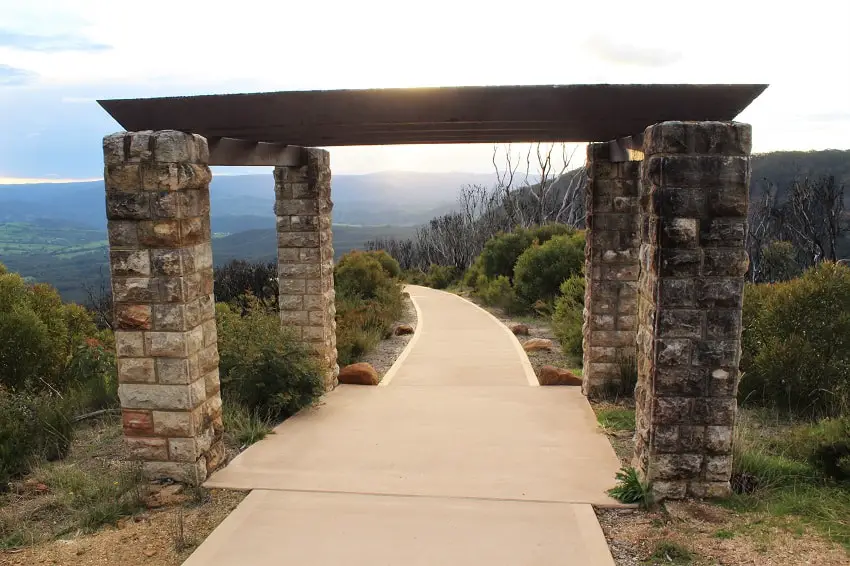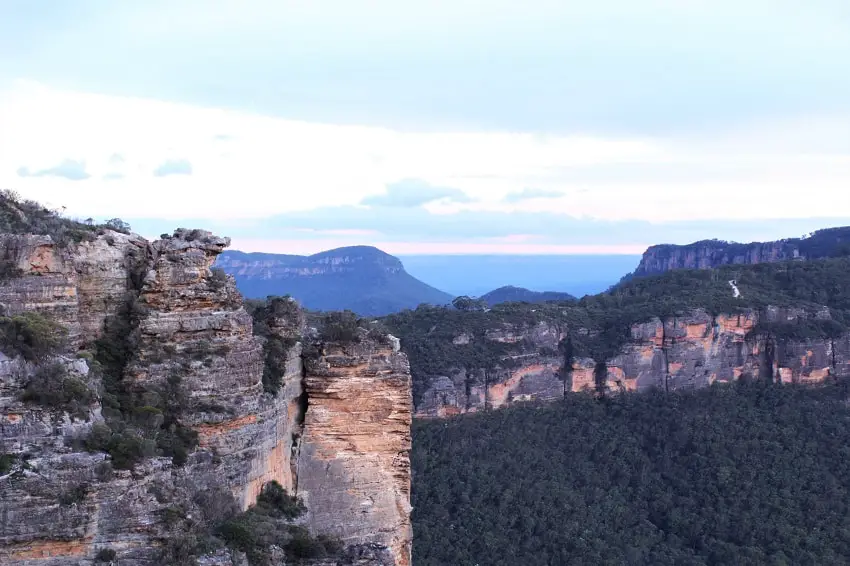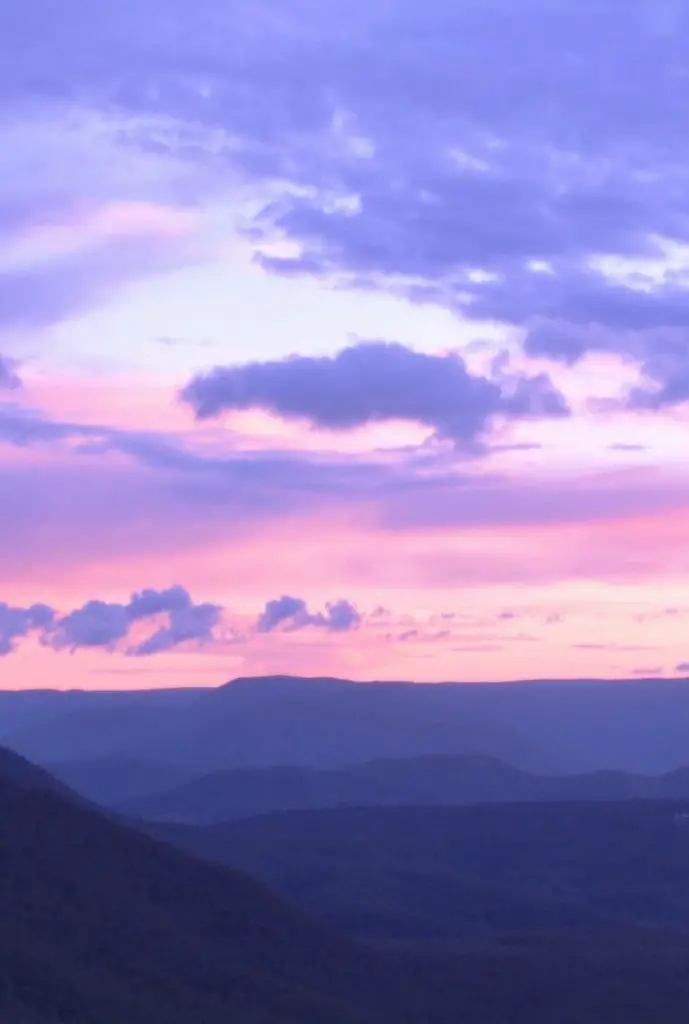 How to Get to Cahills Lookout
There's a small parking area on the bend on Cliff Drive on the western edge of Katoomba, close to the corner of Essendene Road.
3. Narrow Neck Lookout
Narrow Neck in Katoomba does have an official lookout, which I've marked on the map above, but the pictures below are from a nearby spot I found by accident whilst trying to follow some vague directions in a brochure for a different viewpoint! The views across Narrow Neck Plateau that divides Jamison and Megalong Valleys, are amazing!
You'll get the same view from the proper lookout, but the secret spot I found was my absolute favourite as I had it all to myself and sat on the rocks watching the sunset with nothing but the sound of waterfalls and birds of prey. I wouldn't normally advise going off the main walking tracks somewhere like the Blue Mountains, but this is on a proper road with a building at the bottom, so you're not navigating through forest or anything!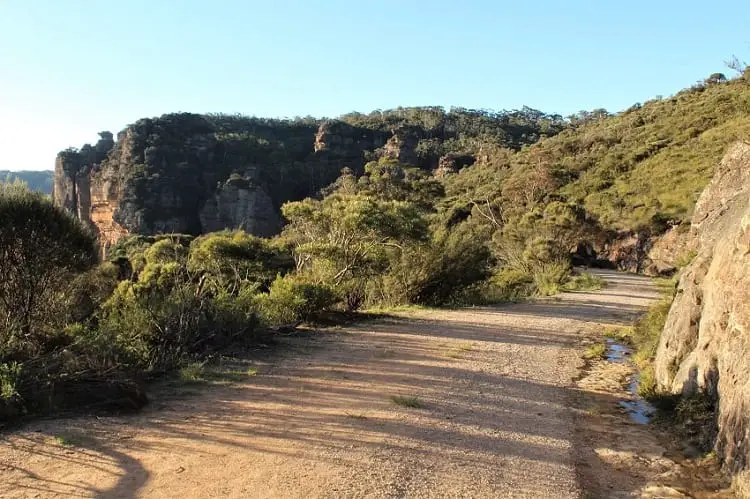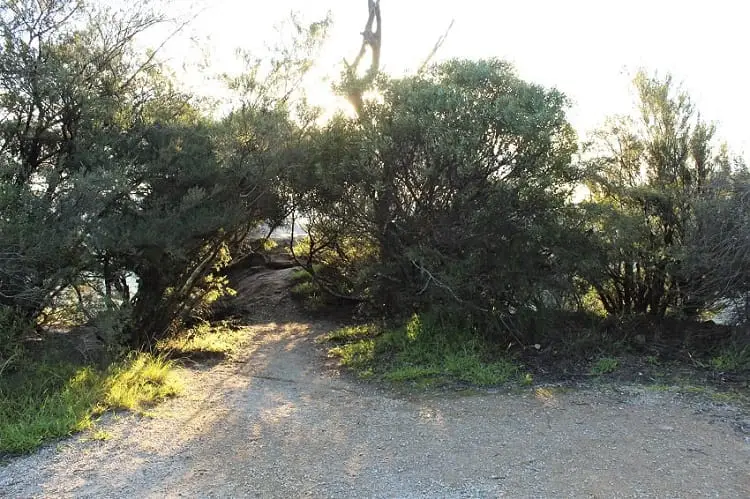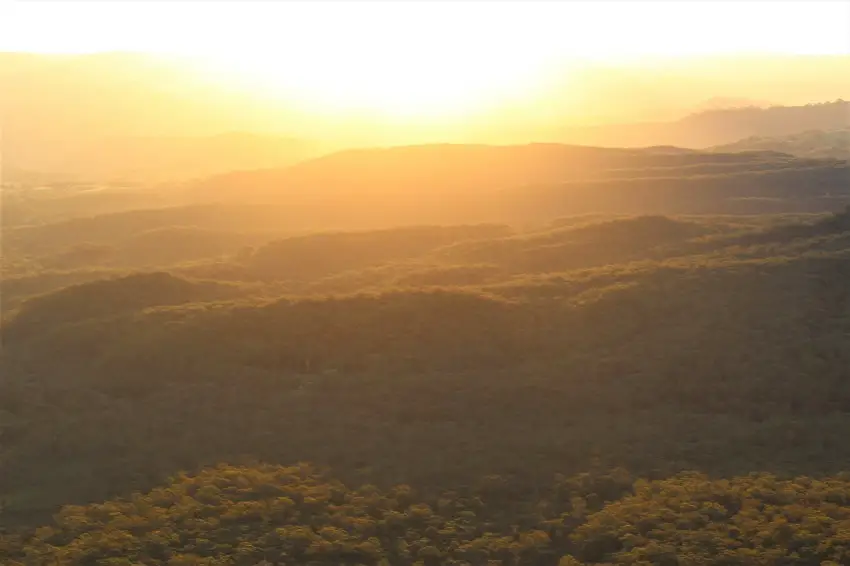 How to Get to Narrow Neck Lookout
Narrow Neck Lookout: Head to Cliff Drive in Katoomba between Cedar St and Oak St.
Secret Lookout: Take the track behind the second gate on your right on Glen Raphael Drive, and follow the gravel road downhill. On the hairpin bend, there's a small track through the bushes that opens out to give beautiful views. Be careful as there's no barrier at the edge; I wouldn't advise bringing children. If you continue along the gravel road there are some interesting rocks too.
I drove down Glen Raphael Drive, which is narrow, unsealed, and in terrible condition, with huge holes and ridges. Unless you're confident your vehicle is made for this kind of driving I'd park on Cliff Drive and walk down instead. I really regretted taking the car!
---
Blue Mountains Lookouts in Leura
Lovely Leura, to the east of Katoomba, is a really quaint little town with a few Blue Mountains lookouts that are worth seeing. It also has a lot to offer in terms of walking tracks, as well as a very cute village centre. Here are my favourite lookouts in Leura.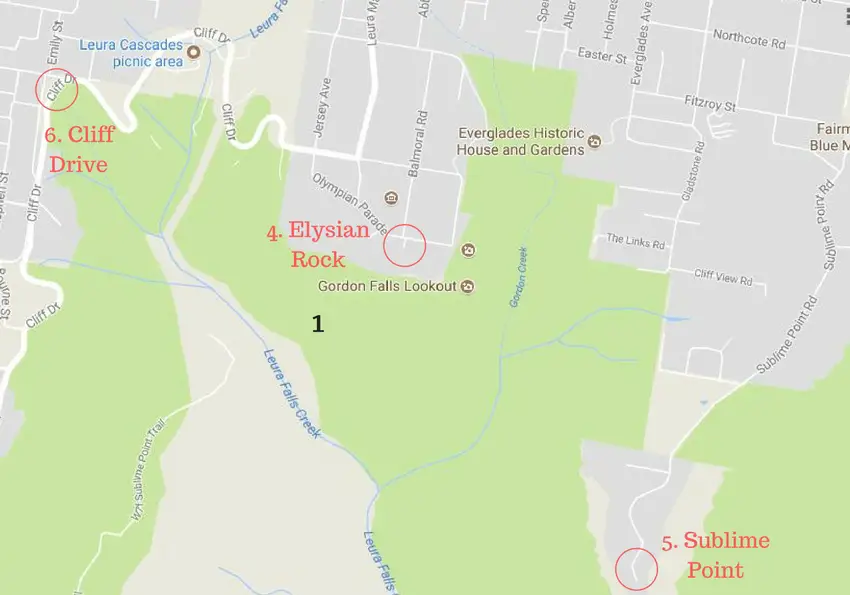 4. Elysian Rock Lookout
This pretty lookout in Leura is a beautiful spot, easily accessible from the road or walking tracks, and features a handy bench to sit on while you look out across Jamison Valley.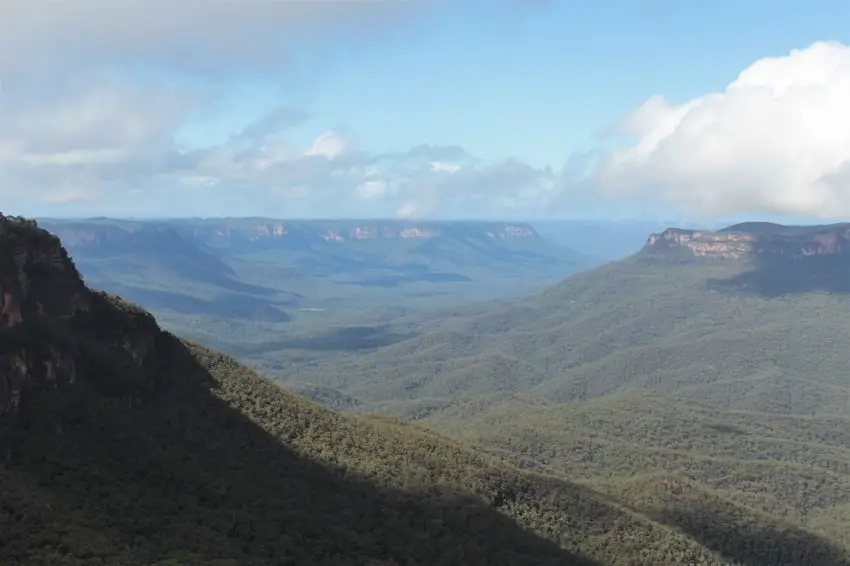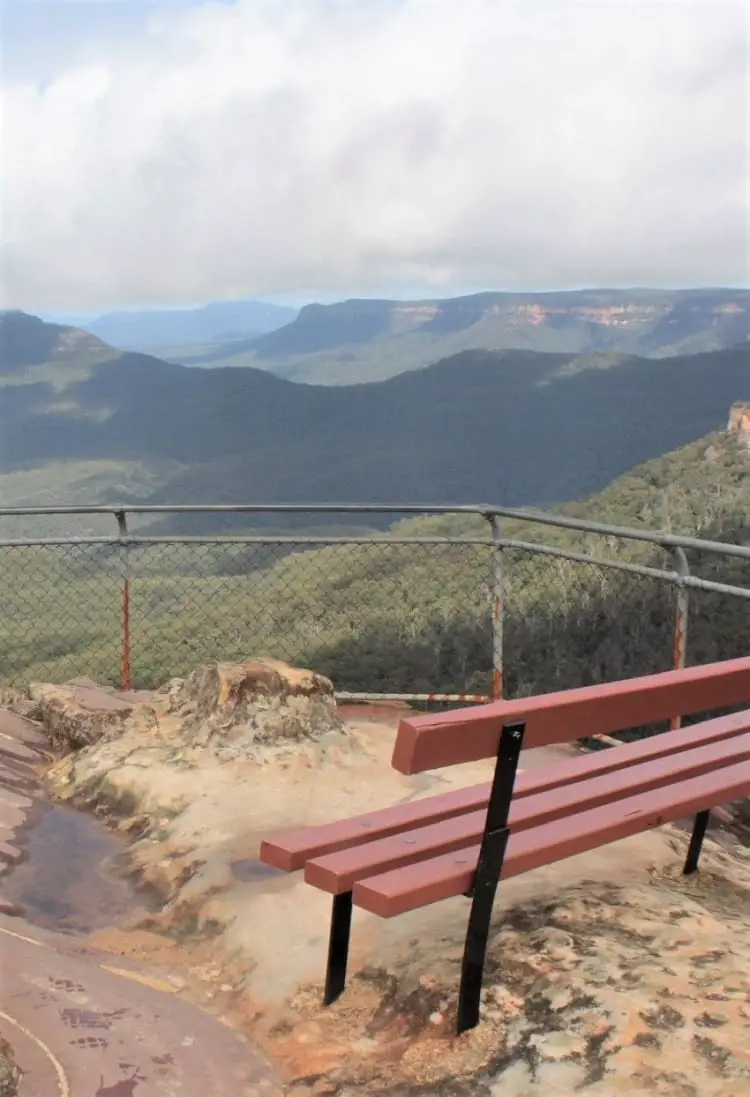 How to Get to Elysian Rock Lookout
You can either take the short access path from Olympian Parade (opposite Balmoral Road, near the Leuralla Gardens and Toy and Railway Museum), or park at the car park on the corner of Lone Pine Avenue and Olympian Parade and walk there via the Prince Henry Clifftop walk, crossing Buttenshaw Bridge.
5. Sublime Point Lookout
As the name implies, the vista across Jamison Valley from this viewpoint is pretty impressive. It's an easy one to reach too without any hiking required, just some steps.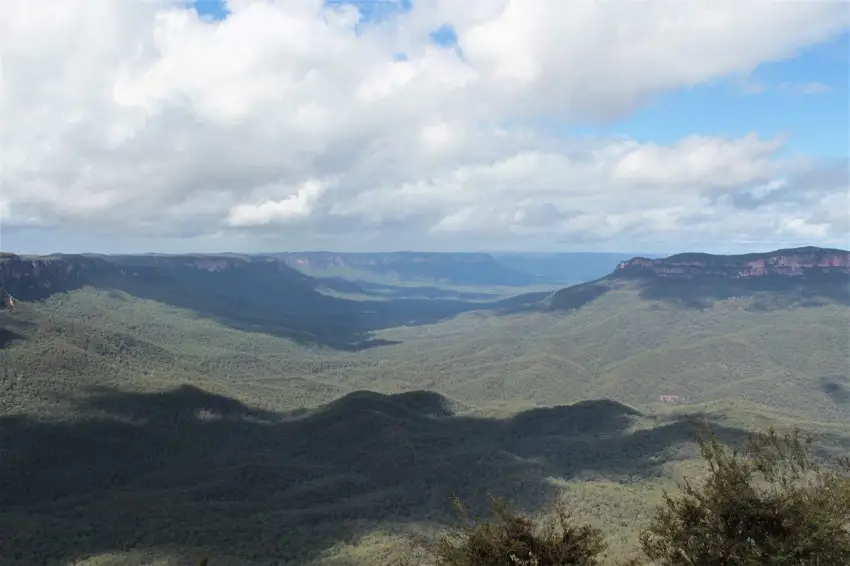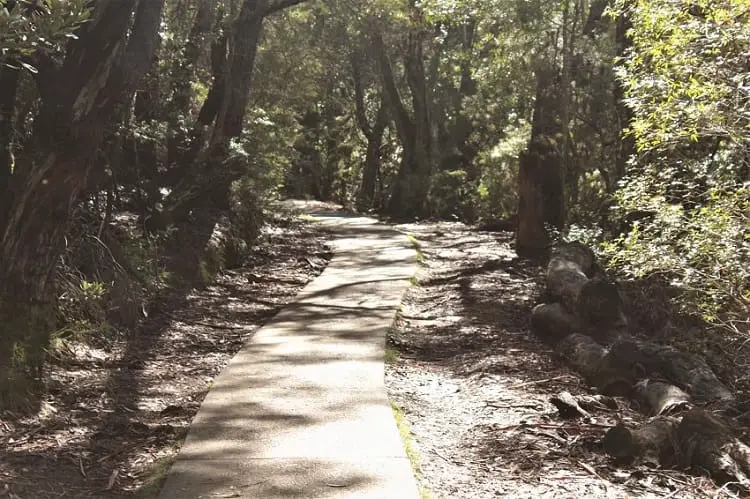 How to Get to Sublime Point Lookout
Park at the end of Sublime Point Road and follow the easy 175m track down to the lookout.
6. Cliff Drive Unofficial Lookout
This spot is technically in Katoomba, but it's very close to Leura Cascades. It isn't an official lookout – it's just on the roadside – but I drove past it a couple of times and had to pull over as the view was so amazing! You could easily walk from Katoomba if you don't have a car. It's the only lookout I went to where I stood above masses of clouds, so it's one of my favourites!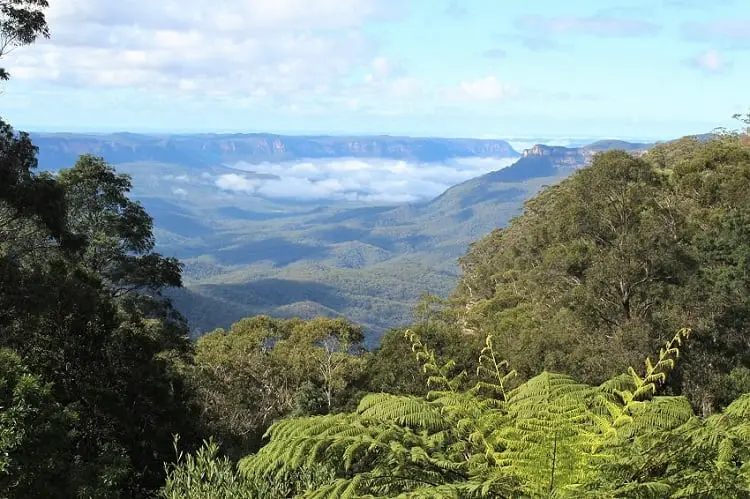 How to Get to Cliff Drive Lookout
Head to where Merriwa St and Warne St meet Cliff Drive on the eastern edge of Katoomba. If you're walking from Katoomba, walk down Lurline Street and follow Merriwa St to the end. Note that this is a different Cliff Drive to the one on the western edge of Katoomba where Narrow Neck is.
---
Blue Mountains Lookouts in Wentworth Falls
There's a multitude of walks and on offer in the popular Wentworth Falls area, as well as plenty of Blue Mountains lookouts. Here are a couple of my favourites.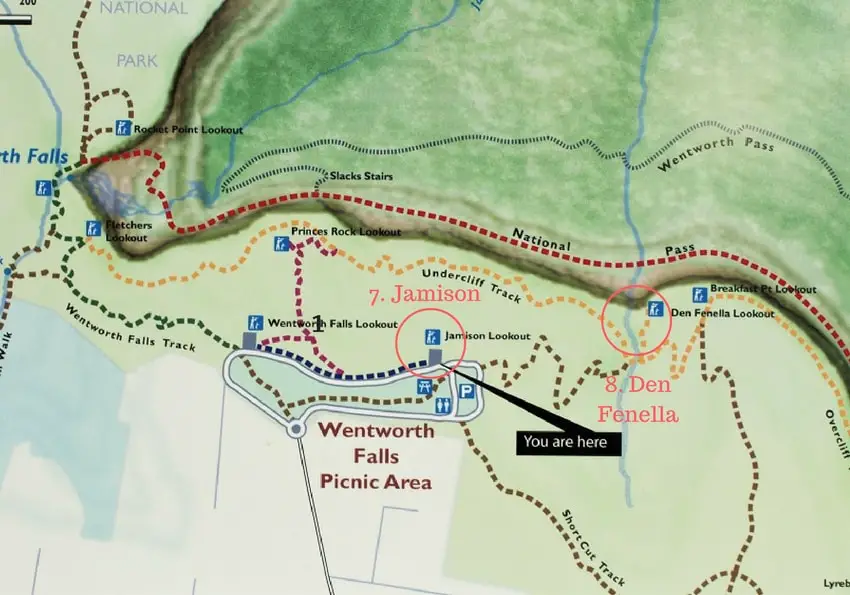 7. Jamison Lookout
This lookout is at the main Wentworth Falls Picnic Area, where you'll find a large car park, toilets and information boards. Lots of walking tracks start from here, so it's a busy place. Jamison Lookout doesn't requite a hike, so it's easily accessible for everyone.
How to Get to Jamison Lookout
Head to Sir H Burrell Drive in Wentworth Falls.
8. Den Fenella Lookout
This is a great little spot that lies at the end of a short walk through lush forestation. Although it's on the map at busy Wentworth Falls Picnic Area, it's not listed amongst the walks, so it doesn't seem to be known about. I had the whole track to myself and got to enjoy the view in total peace at the bottom! It took me about half an hour each way and passed through beautiful forest and by a small waterfall.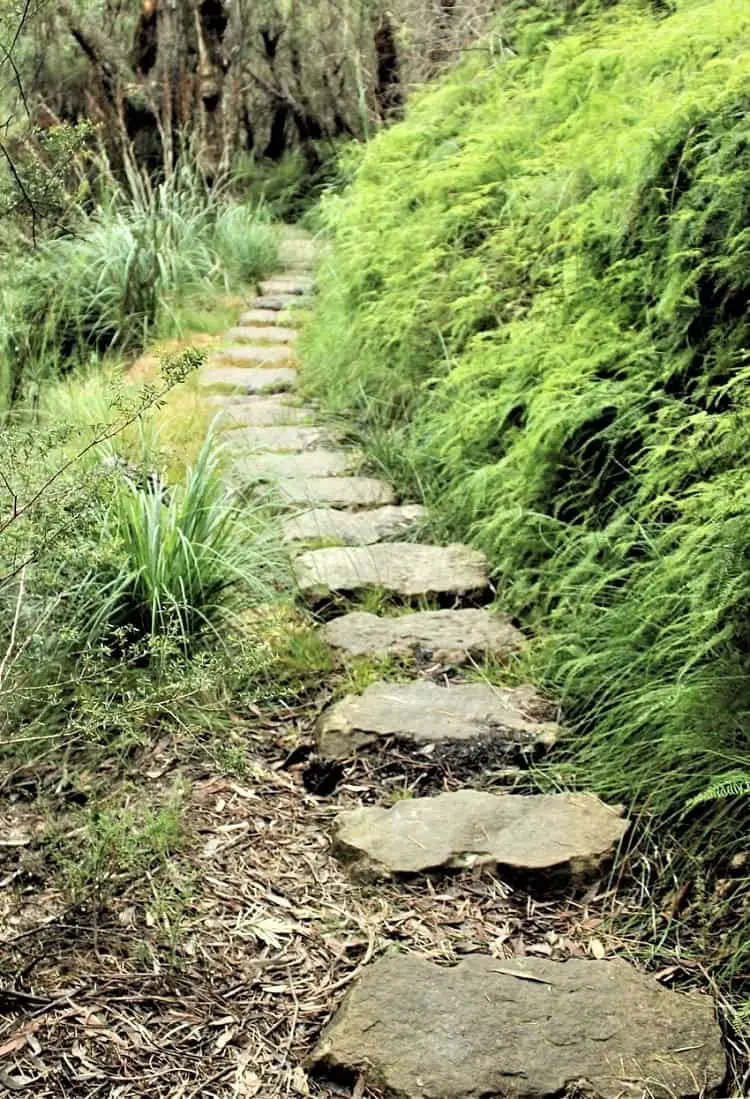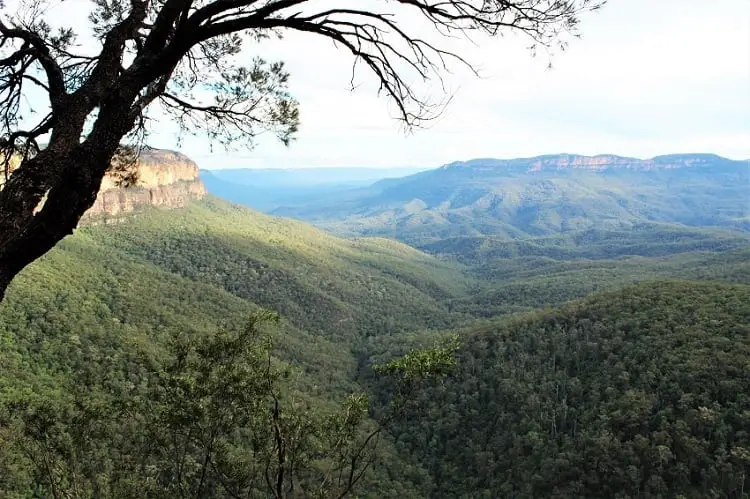 How to Get to Den Fenella Lookout
From the car park at Wentworth Falls Picnic Area, head over to the Den Fenella Track (see the map above). It's on the opposite side of where most of the walking tracks start, but you'll pass a picnic table by a dilapidated shed and then the sign for the track and lookout.
---
Blue Mountains Lookouts in Blackheath
Just 11km north of Katoomba lies the historic town of Blackheath, another interesting place to visit in the Blue Mountains National Park with some quirky shops and antique stores. This lookout can be reached by car, or foot from the train station, and has the option of adding on a short walk.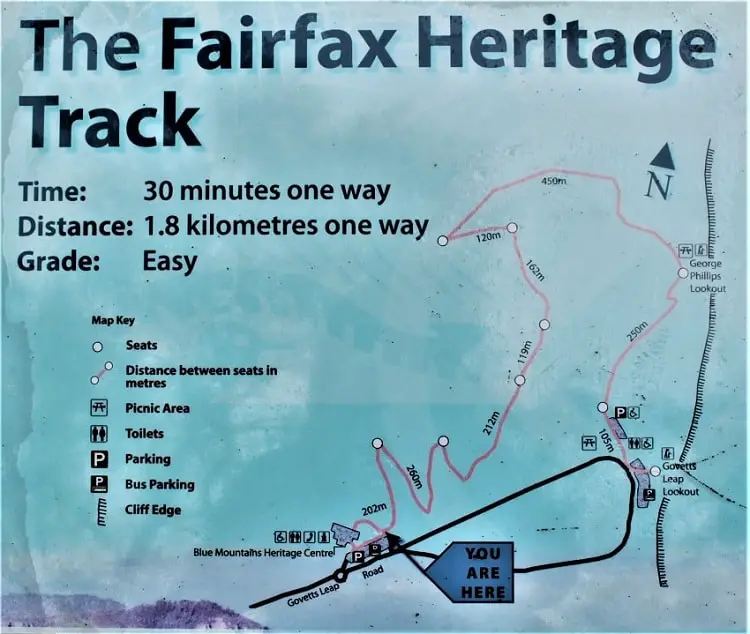 9. Govetts Leap Lookout
At Govetts Leap Lookout there's a car park, large picnic area, and choice of walks, including the Fairfax Heritage Track that passes the George Phillips Lookout if you want an additional viewpoint.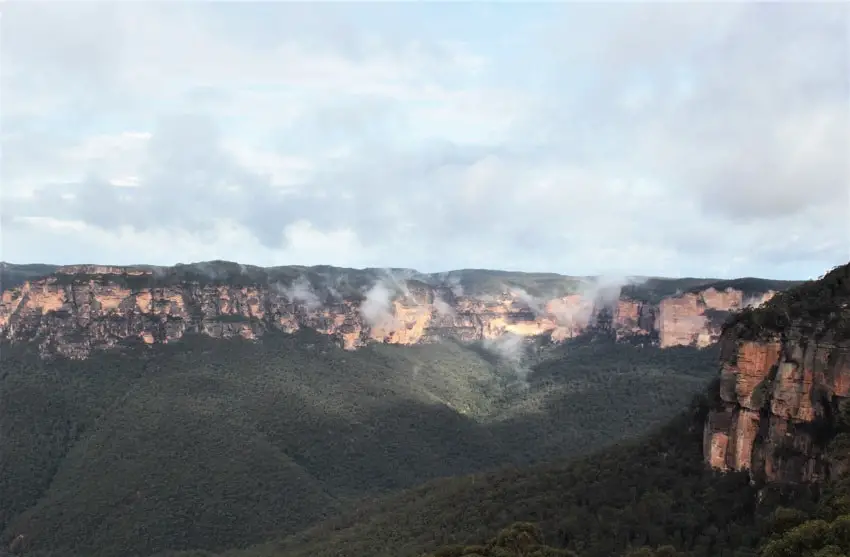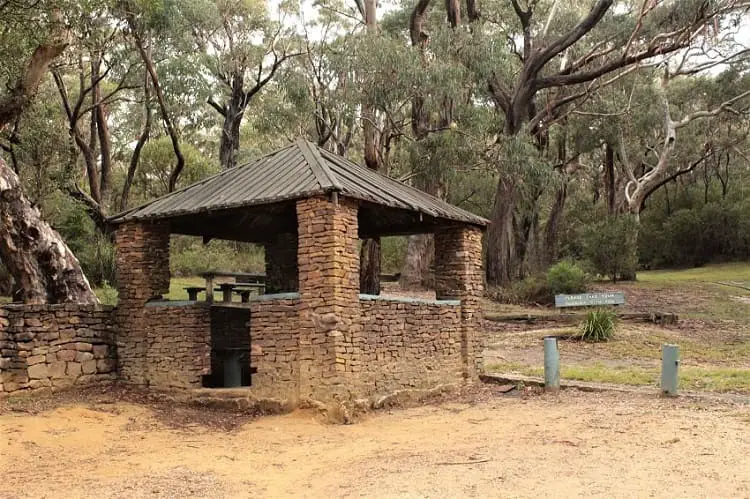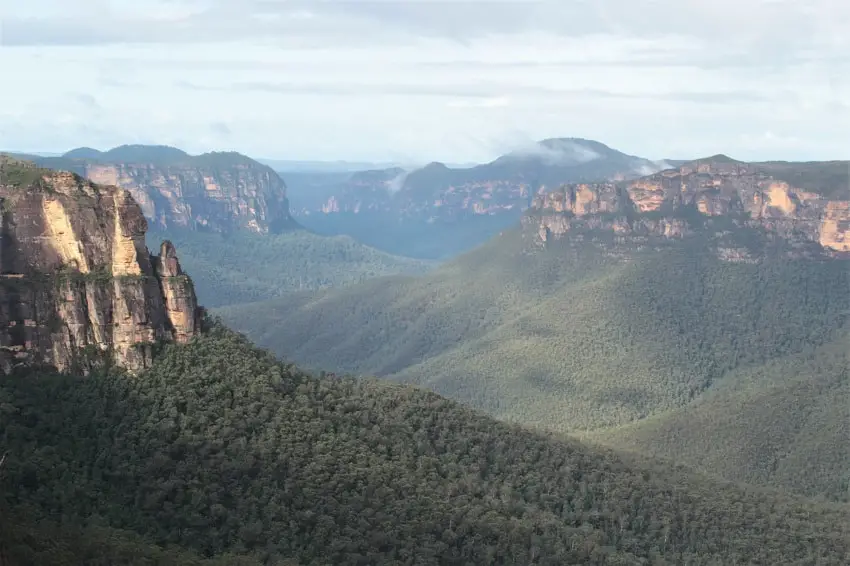 How to Get to Govetts Leap Lookout
Head to the end of the loop on Govetts Leap Road, and you'll find a car park, picnic area, Govetts Leap Lookout and access to various walks.
Alternatively, park at the Blue Mountains Heritage Centre, where Lyndsay Lane meets Govetts Leap Road, follow the 1.8km Fairfax Heritage Trail to Govetts Leap Lookout, and return along Govetts Leap Road.
---
Blue Mountains Lookouts in Mount Victoria
Continuing a further 7km north of Blackheath takes you to the town of Mount Victoria. The views here are slightly different from in the areas I've mentioned so far, as there's quite a lot of flat countryside below the mountains.
Here are my top picks of viewpoints in Mount Victoria, which you can reach by car or by walking from the train station.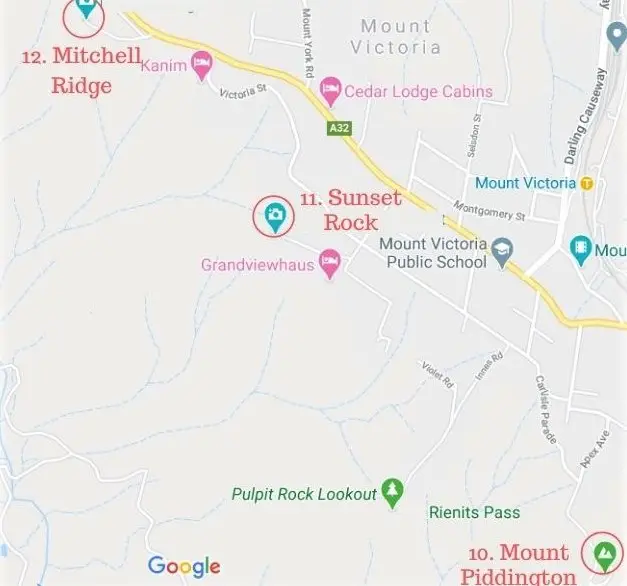 10. Mount Piddington Lookout
At the top of Mount Piddington you'll find a few parking spaces above the loop road, as well as a shaded picnic table. There are a few hiking trails setting off from here, but it's quite close to the highway and pretty noisy. I just checked out the view and continued on.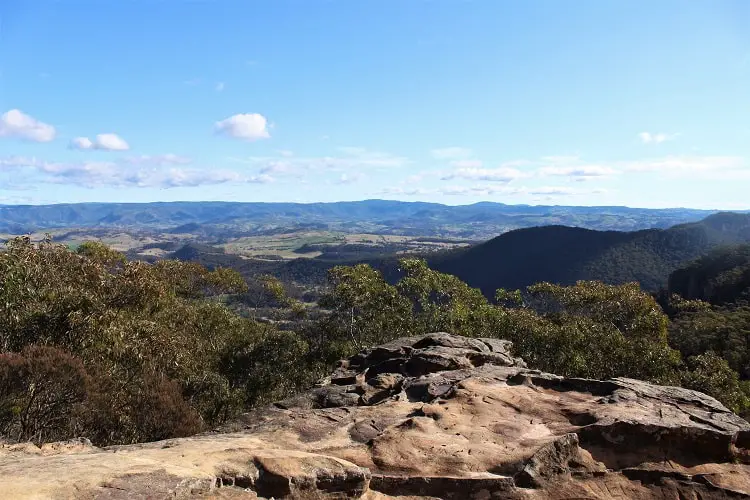 How to Get to Mount Piddington Lookout
From the highway, head up to Mount Piddington Road, and you'll climb steeply up to a loop road at the top. The parking area juts off at a kind of backwards angle, so make sure you don't miss it! I had to drive around twice.
11. Sunset Rock Lookout
This is my favourite viewpoint in this area, as it's not really an official lookout, so you can have it all to yourself. There are no barriers, so I wouldn't take children. But if you want to sit a while on your own admiring the view, turn up and choose a rock to sit on!
As the name suggests, it faces west, so would be perfect to visit at sunset time. It's quite a large area too, so you can explore off the beaten track a little bit.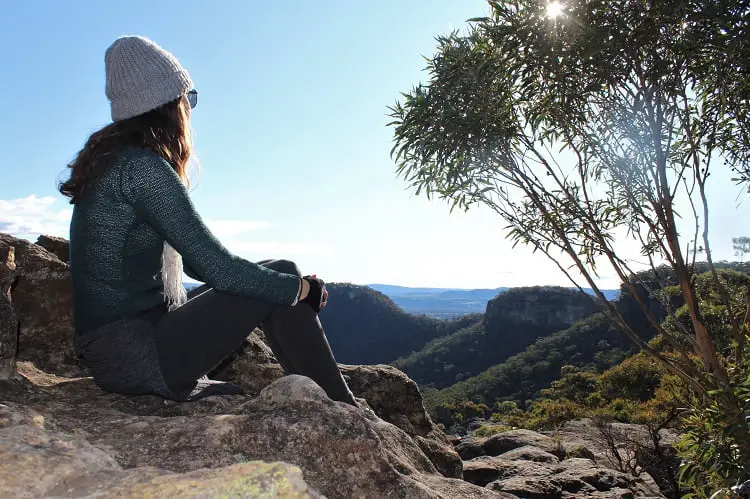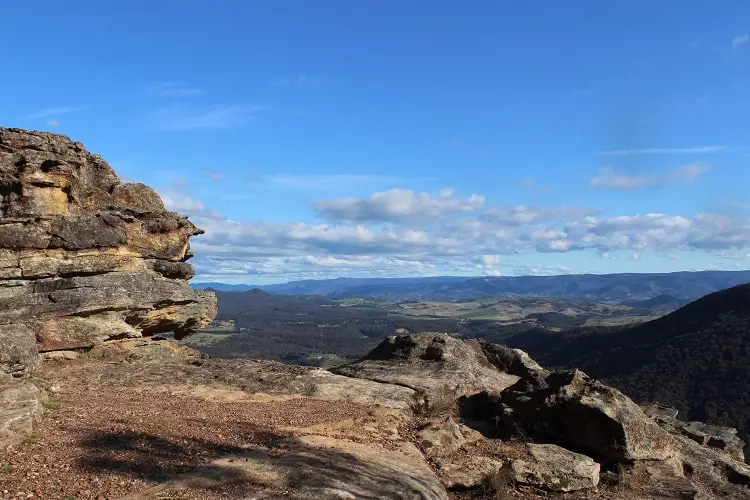 How to Get to Sunset Rock Lookout
Sunset Rock lies at the end of Beaufort Avenue, a residential road in Mount Victoria. There's no parking there, so if you've come by car just park up on Grand View Road.
When you get to the end of Beaufort Avenue, just continue walking along the track. (Make sure you don't go up anyone's driveway, as it's a bit hard to tell the difference!)
12. Mitchell Ridge Lookout
Mitchell Ridge lookout has similar views to Sunset Rock, but slightly wider. It also has a large parking area and barriers, so if you've got children with you, it's a safer option. There's a sheltered picnic table too.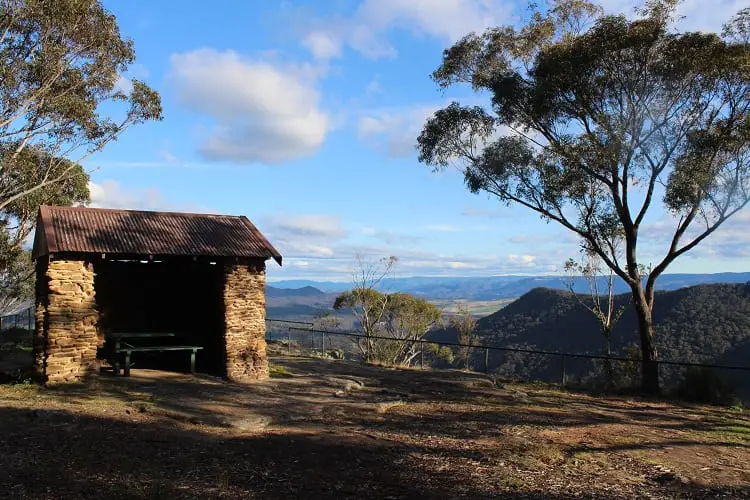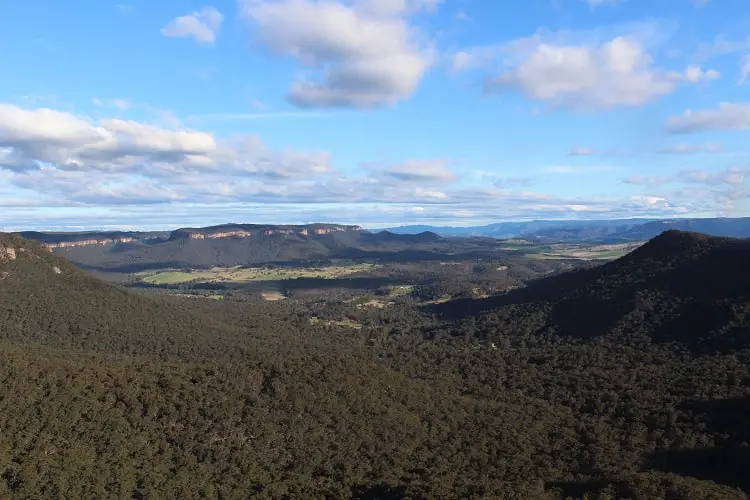 How to Get to Mitchell Ridge Lookout
This is a really easy viewpoint to get to by car, as it's literally just off the highway. If you're driving north take the next left after Victoria Street. There's plenty of parking.
---
That's it for my recommended beautiful Blue Mountains lookouts! For more ideas, check out my recommended Blue Mountains day trip itinerary and my favourite nine short walks.
Happy exploring!
---
If you liked this post, pin it!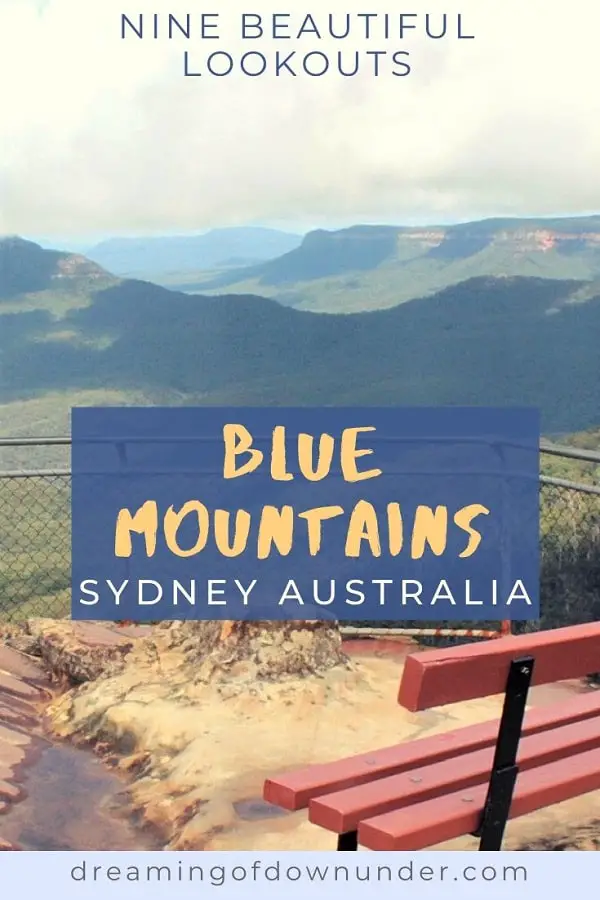 Written by Lisa Bull
Lisa Bull, founder of Dreaming of Down Under, has been living in Australia as a British expat since 2015. After travelling to every state and territory in Australia and living in Perth, Brisbane and Sydney, Lisa knows from first-hand experience the best destinations to visit in Australia and the best budget travel tips. Her guides on this blog have been read by over 700k readers and helped thousands of people achieve their dream of living in or travelling Australia.