This post may contain affiliate links. Please see my disclosure policy for more details.
No trip to Sydney would be complete without doing the famously beautiful Bondi to Coogee walk! If you happen to visit during late October or early November, you'll also be treated to the Sculpture by the Sea exhibition! (24th October to 10th November for 2019.)
This annual event is the world's largest free-to-public sculpture exhibition, and has been running since 1997. It features artwork from all over the world, displayed along the beautiful craggy coastline between Bondi Beach and Tamarama Beach.
No matter what time of year you're in Sydney, and whether you choose to do the whole Bondi to Coogee walk or a shorter section, the route is really scenic; I'd highly recommend giving it a go.
To help plan your day, here are some helpful details on the distance, how to get there and what to expect along the way. Note that the walk is hilly in sections and open to the elements, so bring comfortable shoes, a hat, sunscreen and plenty of water. There are lots of toilets and cafes along the way, so you won't get stuck.
---
Bondi to Coogee Walk: How to Get There
If you're using public transport, you can plan your journey to the walk using the NSW travel planner. There are lots of places to eat and drink after the walk at both Bondi and Coogee beaches, as well as a few small cafes at Bronte.
Here are your approximate journey times from the city. Expect to queue for buses at Bondi Junction during Sculpture by the Sea, particularly on weekends.
City to Bondi Beach: 35 minutes on the 333 bus.
City to Bondi Junction: 10 minutes by train from Town Hall Station.
Bondi Junction to Bondi Beach: 15 minutes on the 333 bus.
Bondi Junction to Bronte Beach Terminus: 15 minutes on the 379 bus.
City to Coogee Beach: 30 minutes on the 373 bus from Museum Station or 30 minutes on the M50 bus from Central Station.
---
Bondi to Coogee Walk Distance
If you want to do the full Bondi to Coogee walk, the distance is about 6km. Allow at least two hours, particularly if it's busy or you're going to see the sculptures.
From Bondi, walk to the southern end of the beach (right if you're facing the water) and walk up towards Bondi Icebergs (where the pool is) to get onto the track. From Coogee, head north towards the track through the reserve on the headland.
If you just want to do the shorter Bondi to Bronte walk, it's only 2km. If you're starting at Bronte, head north to get onto the track towards Bondi.
---
Bondi Beach
Bondi Beach is definitely the most famous beach in Sydney, if not Australia. If you're new to the city, Sydney actually has over 100 beaches, so don't think that Bondi is the most we have to offer!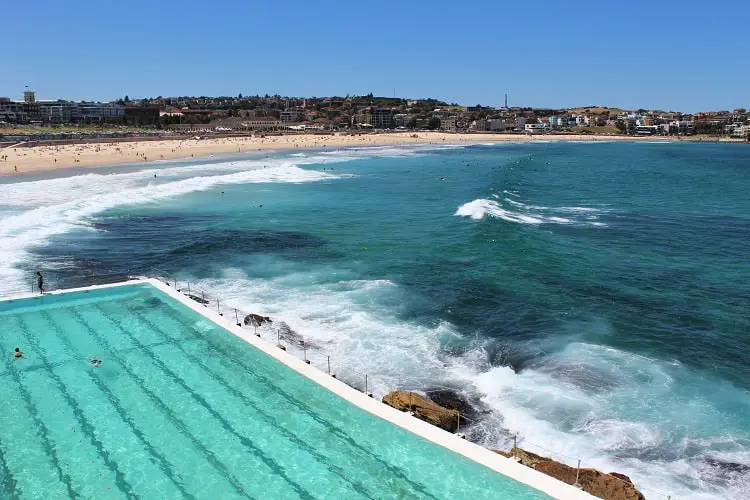 There's plenty to do at Bondi Beach, including t shops, restaurants and bars behind Campbell Parade, street art along the back of the beach, skate park, ocean pool and Bondi Markets on a Saturday. (Oh, and watching all the muscly people working out at the outdoor gym!) Once I even saw Father Christmas there, but I'll stop showing off.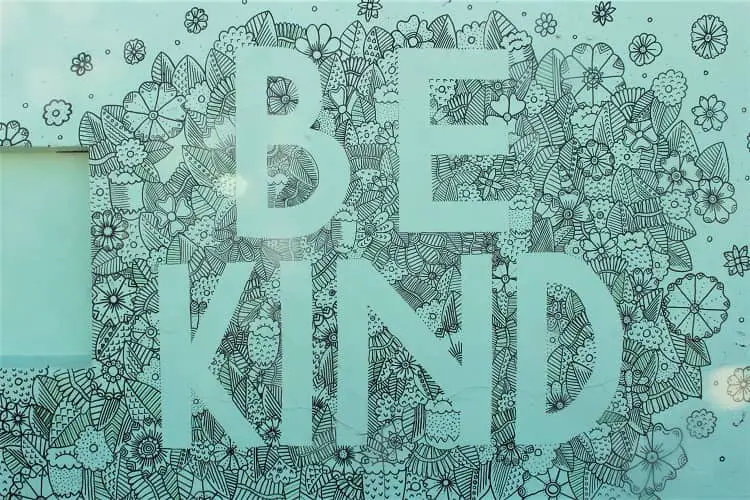 Bondi Icebergs is an iconic bistro with beautiful sweeping views from the balcony, as well as an outdoor pool. It's a great spot for a drink or meal, and surprisingly not that expensive to eat at.
---
Mackenzies Point
Once you head south from Bondi Beach you'll climb up and walk around the headland at Mackenzies Point. From here there are fantastic views up and down the coastline, as well as some enviable mansions on the southern side.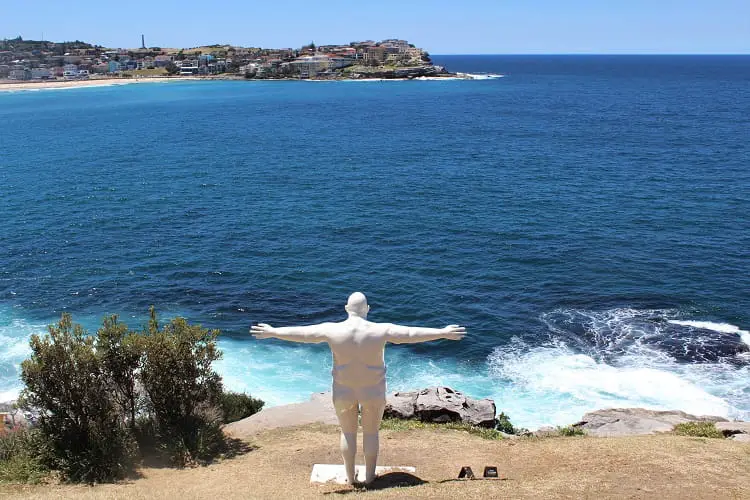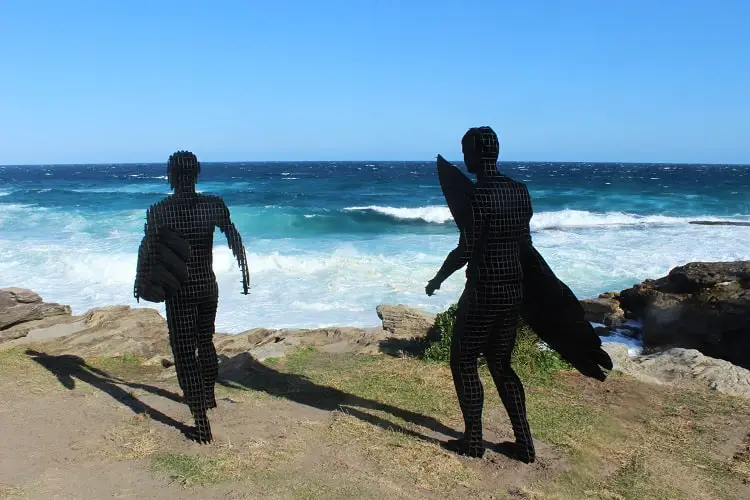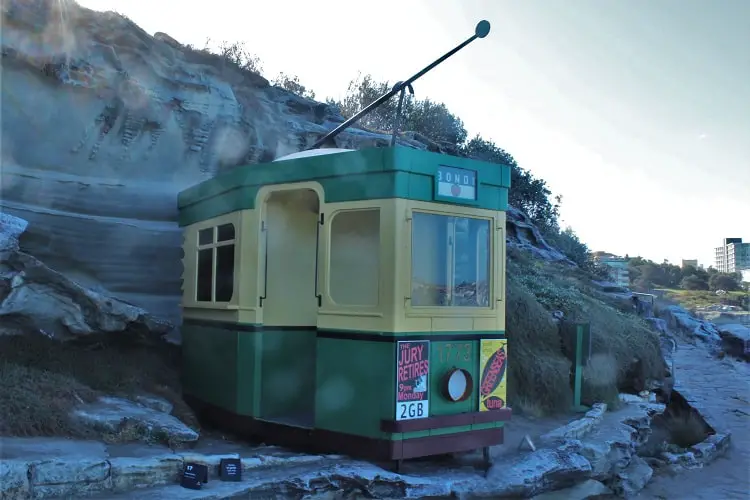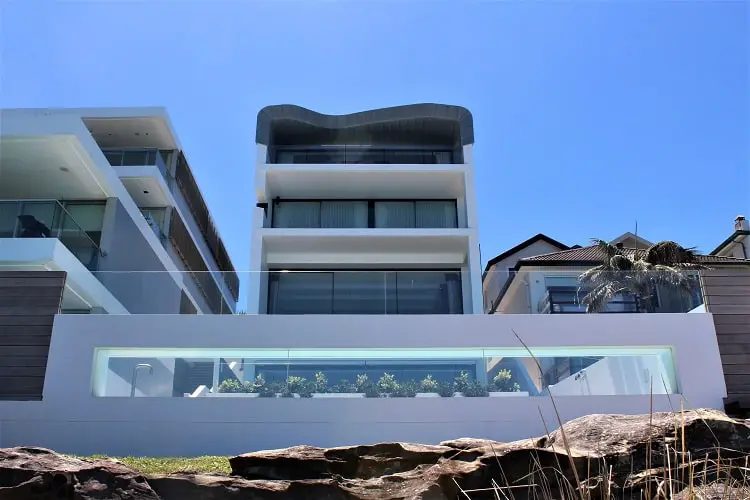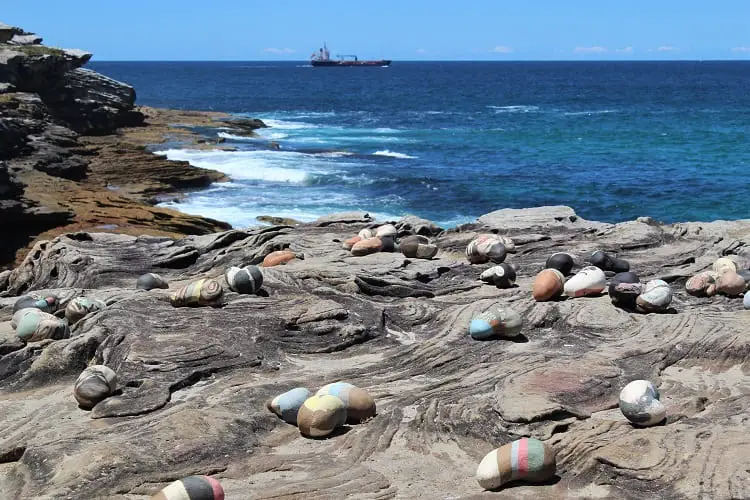 ---
Tamarama Beach
Just over 1km south of Bondi Beach is pretty Tamarama Beach. It's apparently known to locals as "Glamarama", as it's where the beautiful people like to go! I've never noticed a difference between here and the other Eastern Suburbs beaches though!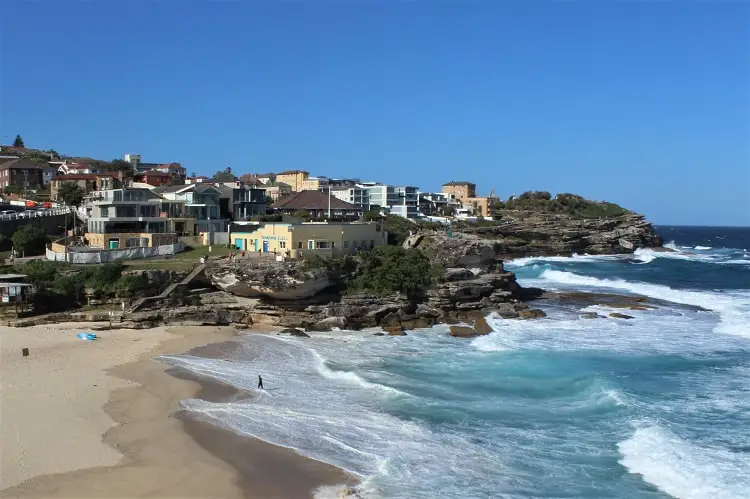 If you visit during Sculpture by the Sea, much of the exhibition will be on the sand at Tamarama Beach itself, so allow time to explore!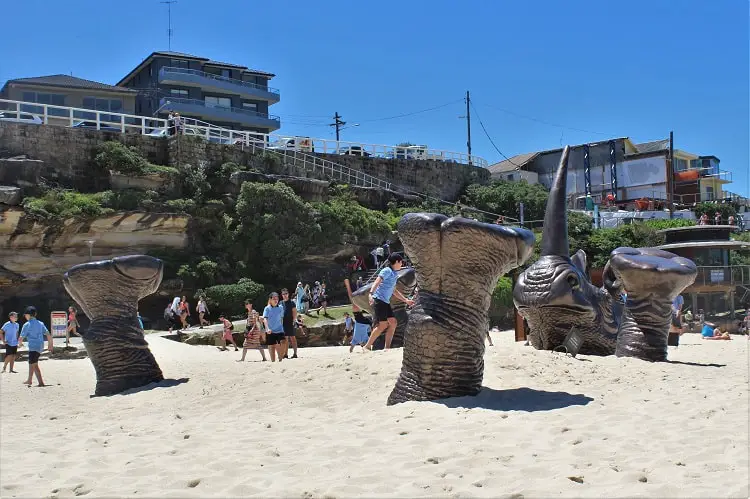 There's a beach cafe and toilets at Tamarama Beach, but it's a much smaller area than Bondi and Coogee. Very pretty though!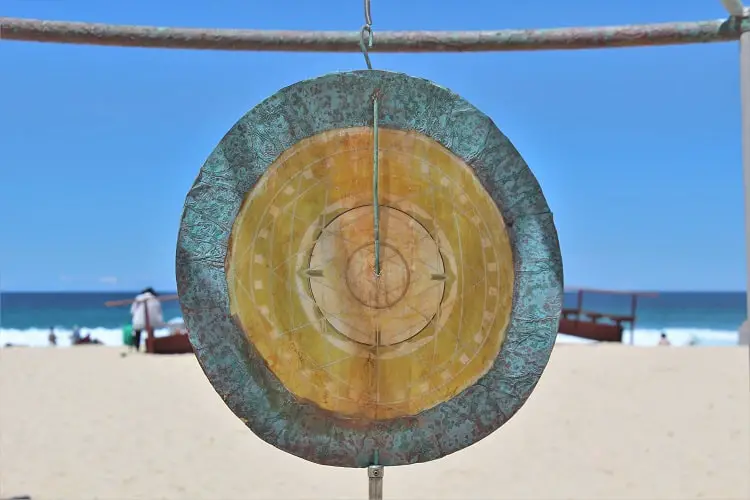 ---
Bronte Beach
About 700m south of Tamarama Beach is Bronte Beach. This is one of my favourite beaches in the Eastern Suburbs, as it's got cute cafes, a bit of afternoon shade from the cliffs, an ocean pool and a lovely, social grassy area with shelters.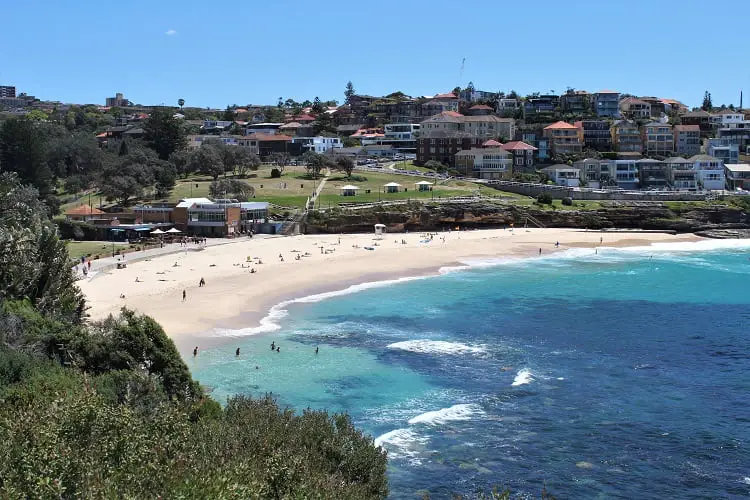 ---
Waverley Cemetery
One attraction on the Bondi to Coogee walk you probably won't be expecting is enormous Waverley Cemetery! It's an odd sort of place, where palm trees are interspersed with ornate memorials, but definitely a unique spot to visit!
This iconic graveyard, which opened in 1877, is heritage listed and fascinating to explore, particularly with the dramatic ocean backdrop!
---
Clovelly Beach
Once you've passed the cemetery, about 2.2km from Bronte, is little Clovelly Beach. It's a popular swimming and snorkelling beach as the water in the long, narrow bay is so protected.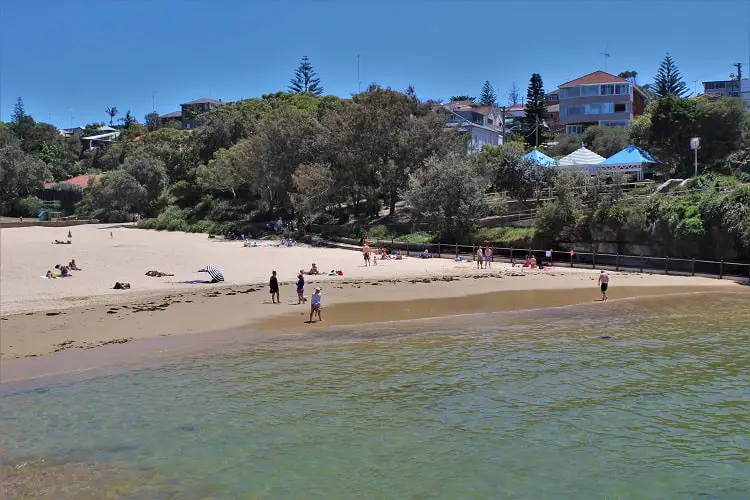 There's also a 25m saltwater pool and concrete promenades along the sides of the beach.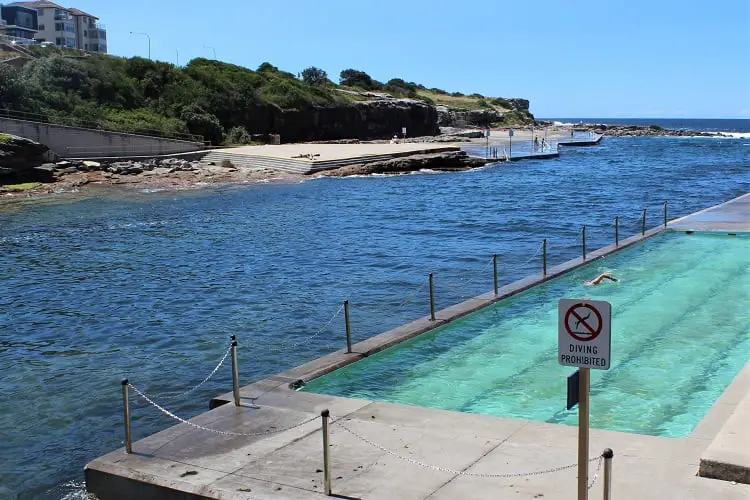 ---
Coogee Beach
The walk to Coogee Beach from Clovelly is just under 2km, and you'll pass more stunning scenery as well as small, secluded Gordons Bay, a popular spot for snorkelling.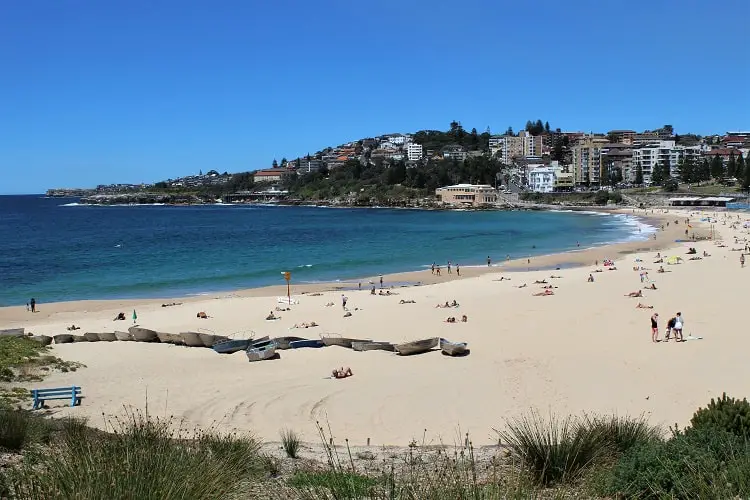 Coogee Beach itself is gorgeous and surrounded by grassy areas that get pretty busy. You've got a wide choice of cafes, restaurants and bars as well as shops and a number of ocean pools at either end.
It is a very popular beach, but feels a bit more low key than Bondi with a great atmosphere. For lunch or drinks try Coogee Bay Hotel, a large bar/restaurant/hotel right opposite the beach that's been running since 1873. The bar and restaurant opposite, Little Jack Horner, always catches my eye too, with its big open windows and live music.
---
To discover more amazing walks in Sydney (there are absolutely loads!), check out my top 15 recommendations in this post:
For a longer walk, you can continue south from Coogee to Maroubra Beach and beyond. To find out about the less-touristy beaches from Maroubra down to La Perouse, have a read of this blog post:
Guide to Sydney's South-Eastern Beaches
Happy hiking!
---
Written by Lisa Bull
Lisa Bull, founder of Dreaming of Down Under, has been living in Australia as a British expat since 2015. After travelling to every state and territory in Australia and living in Perth, Brisbane and Sydney, Lisa knows from first-hand experience the best destinations to visit in Australia and the best budget travel tips. Her guides on this blog have been read by over 700k readers and helped thousands of people achieve their dream of living in or travelling Australia.