This post may contain affiliate links. Please see my disclosure policy for more details.
While the Great Ocean Road between Melbourne and Adelaide is probably the most famous coastal drive in Australia, the Grand Pacific Drive and Sapphire Coast Drive between Sydney and Melbourne are pretty spectacular too. This coastal Melbourne to Sydney drive itinerary includes so many beautiful beaches, national parks and seaside holiday villages, that you'll never be short of things to do and amazing sights to see.
While tours can be a safe and easy way to travel, a great way to explore this beautiful area is on a self-driven road trip where you'll have the freedom to stop at any attraction you like on your own timescale. This part of Australia is well-populated, and the roads are sealed and in good condition, so it's a pretty easy journey to do by yourself or with a group of friends.
This great coastal drive itinerary will highlight the most beautiful places between Melbourne and Sydney, the distance and drive times between stops, plus petrol and accommodation costs. So plan carefully to make sure you don't miss out on any hidden gems along the way!
Pin it for Later!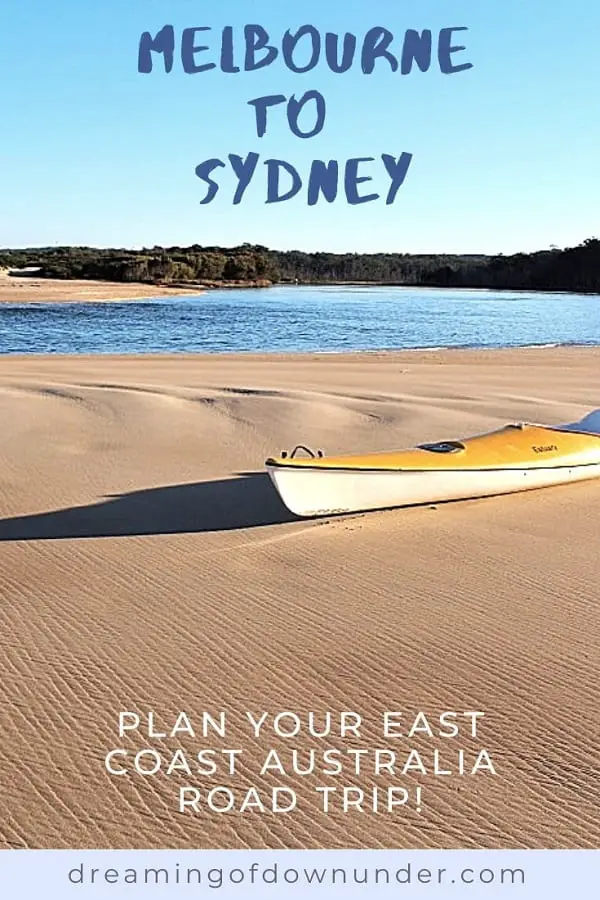 ---
Coastal Melbourne to Sydney Drive Itinerary Destinations
Here's a summary of my recommended highlights on your Melbourne to Sydney road trip. To skip straight to a destination, just click on the links below.
3. Wilsons Promontory National Park
---
Melbourne to Sydney Distance, Drive Time and Cost
The total distance from Melbourne to Sydney, following the coastal route detailed below, is 1,123km, and the driving time is around 14.5 hours. If you plan to take detours into national parks or Phillip Island, you'll need to add extra time on. If you just want to get from Melbourne to Sydney as quickly as possible, the inland route is quicker.
The total petrol cost came to around $230, and since it was winter and I was travelling solo, I stayed in a mixture of hostels and cheap motels rather than campsites, which I've detailed the prices of below.
If you're doing this journey in winter, note that the temperatures can drop to about 2 degrees overnight in this part of Australia – personally, I don't think that's camping weather!
For a detailed cost breakdown of all the road trips I went on in Australia, plus typical costs in the cities, check out this blog post:
The Cost of Backpacking Australia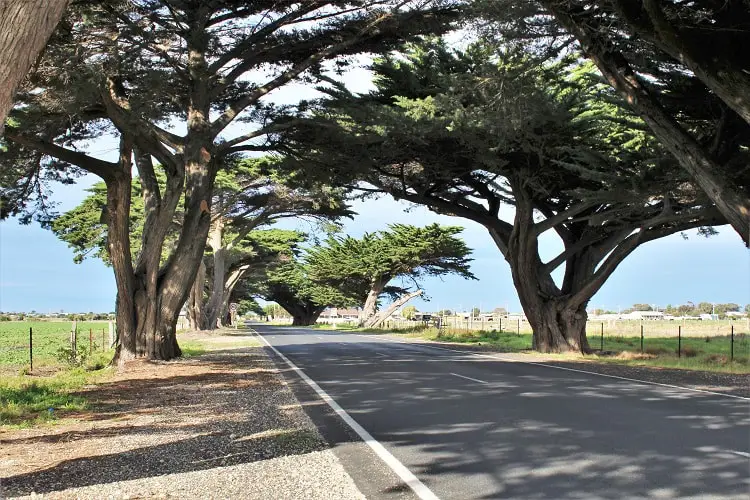 I spent a week on this journey, and if you really want to appreciate the sights, I'd set that as your minimum timeframe. There are some beautiful national parks and beaches to explore; two weeks would have been perfect.
---
---
Melbourne to Sydney Drive Stops
Here are the details of each of my recommended drive stops from Melbourne to Sydney, along with budget accommodation options.
1. Melbourne
Melbourne's a very cool and popular city with lots of street art and quirky cafés. I'd spend at least a week here exploring if possible. Top Melbourne attractions include Eureka Skydeck, Hosier Lane street art and St Kilda Beach. Read my post linked below for more ideas!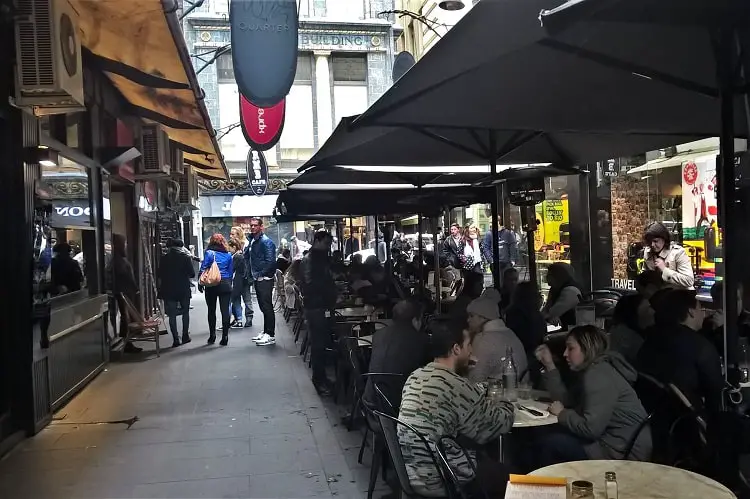 Melbourne Accommodation:
Melbourne accommodation gets booked up pretty fast, particularly in the summer; make sure you book in advance. I almost got completely stuck when I returned from Tasmania and hadn't booked anywhere to stay that night. I ended up in a homestay as all the hostels were full!
MELBOURNE HOTELS:
Use the map below to search for Melbourne hotels, apartments and hostels.
MELBOURNE HOSTELS:
Here are a couple of Melbourne hostels that I've stayed at and recommend.
The Nunnery – a quirky, converted nunnery in buzzing, arty Fitzroy with dorm beds from $36 as well as private rooms. This is definitely one of the more unique hostels in Australia.
HabitatHQ – a modern hostel in beachside St Kilda, with awards for sustainability and dorm beds from $19. This is a great location of you want to be near the beach.
AIRBNB:
Airbnb is a brilliant option in Melbourne if you're a couple or two friends who don't mind sharing a double bed. It actually worked out cheaper for two of us to share someone's spare room on Airbnb in Melbourne than to stay in a hostel dorm. Make sure you use my discount link below if you haven't already signed up.
Up to $76 off your first Airbnb booking
---
2. Phillip Island
If you haven't already visited Phillip Island on a day trip from Melbourne, do add it onto your Melbourne to Sydney road trip itinerary.
It's a beautiful, rugged place home to over 32,000 little penguins, and the Phillip Island penguin parade is a well-known, nightly event where you can watch the little penguins waddle in from the ocean at sunset to set up camp for the night. I'd definitely recommend it!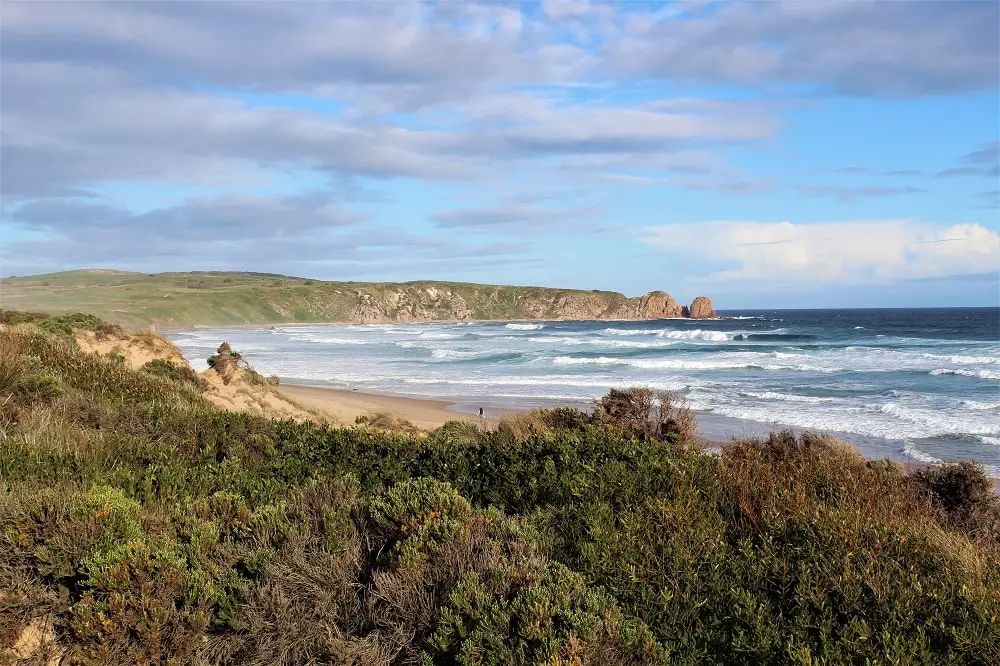 Distance:
Melbourne to Phillip Island: 145km – 2 hrs 15 min
Accommodation:
The Island Accommodation – modern eco-friendly hostel with private rooms and dorms from $30 per person per night. I was really impressed with this place.
---
3. Wilsons Promontory National Park
Wilsons Prom, as it's known to the locals, is a great place to spend a day or two, with plenty of great walks and beaches. Be sure to check out the iconic Squeaky Beach, with its turquoise water, famously white, squeaky sand and granite boulders; and Tidal River, Wilsons Prom's only township, which has camping, accommodation and some beautiful walking tracks.
Guide to Wilsons Promontory National Park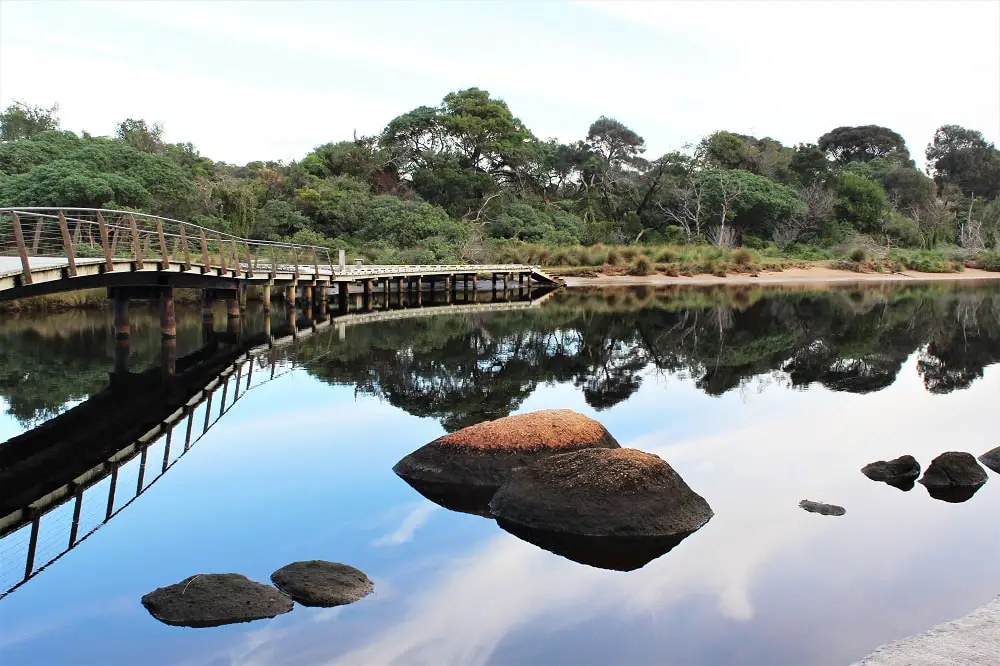 Distance:
Philip Island to Foster: 104km – 1 hr 25 min
Melbourne to Foster: 178km – 2 hrs 50 min
Accommodation:
Prom Central Caravan Park – the YHA I stayed at in Foster has closed down now, but this caravan park has camping sites from $25 and budget cabins from $90.
Tidal River Campground – from $57 per site per night. (I didn't stay here and must say I've never seen a campsite so expensive!)
---
4. Lakes Entrance
Lakes Entrance is a popular coastal holiday town at the northern end of the Gippsland Lakes, and a good base to explore East Gippsland from. I only spent one night here – it was pretty cold and windy in the winter – but there are plenty of walks, cycling tracks and water activities such as kayaking available if you want to spend longer. Find out more in the post below.
Discover Gippsland Lakes: Coastal Beauty near Melbourne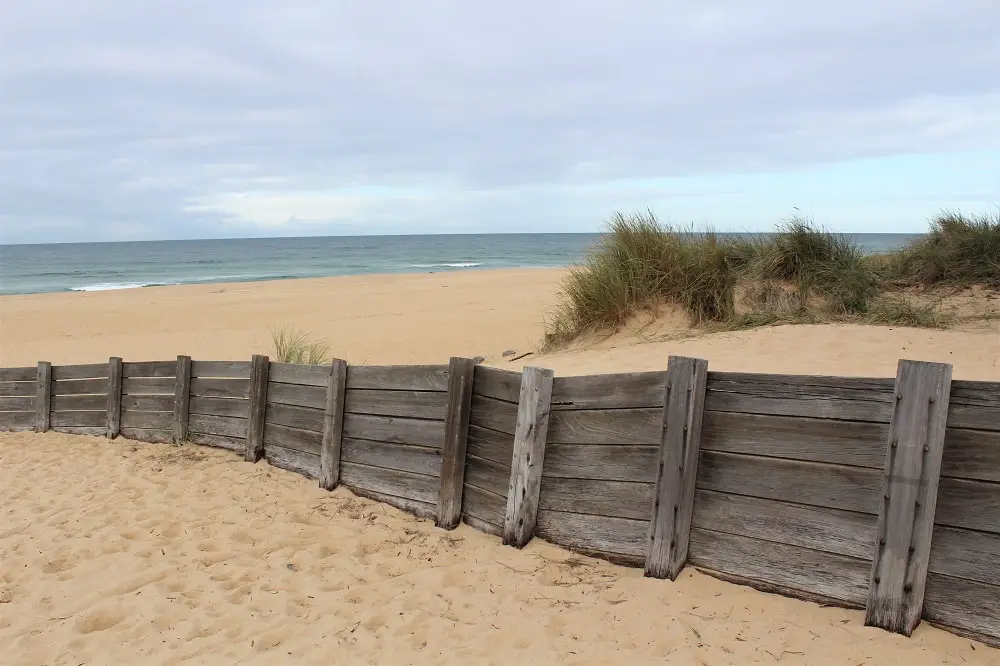 On the way:
Sale: This is a nice city to stop at if you need a coffee break. The Wild Honey Café was lovely!
Shoreline Drive: I took a detour down to the beach at Seaspray and drove along the coastal road to Golden Beach and 90 Mile Beach before heading back inland to head east.
Eagle Point & Paynesville: For another scenic detour, check out the views from Eagle Point and the pretty little seaside town of Paynesville before carrying on to Lakes Entrance.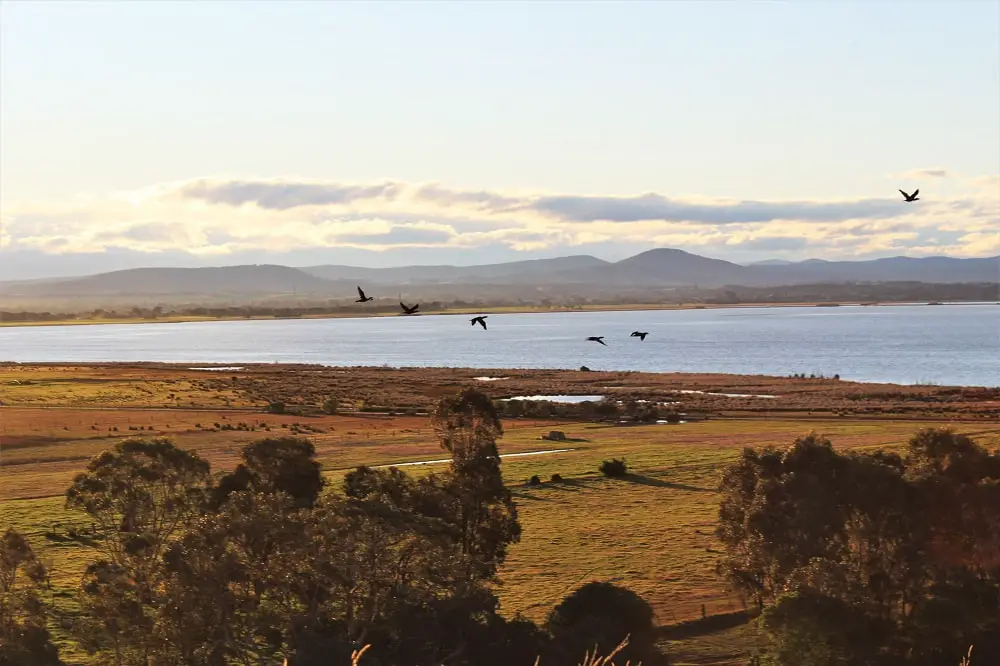 Distance:
Foster to Lakes Entrance: 226km – 2 hrs 50 min
Accommodation:
Koonwarra Holiday Park – this caravan site that I stayed at offers camping from $25 per site per night and 1-bedroom cabins (sleeping 3 people) from $85 per night.
---
5. Eden
Eden is one of my favourite places on this Melbourne to Sydney drive itinerary, and a place I wish I'd scheduled in more than one night at. Lake Curalo is beautiful and Aslings Beach has a wonderful serenity to it. This area would be great in summer. Make sure you check out the lookouts on the Eden Rotary Walk too.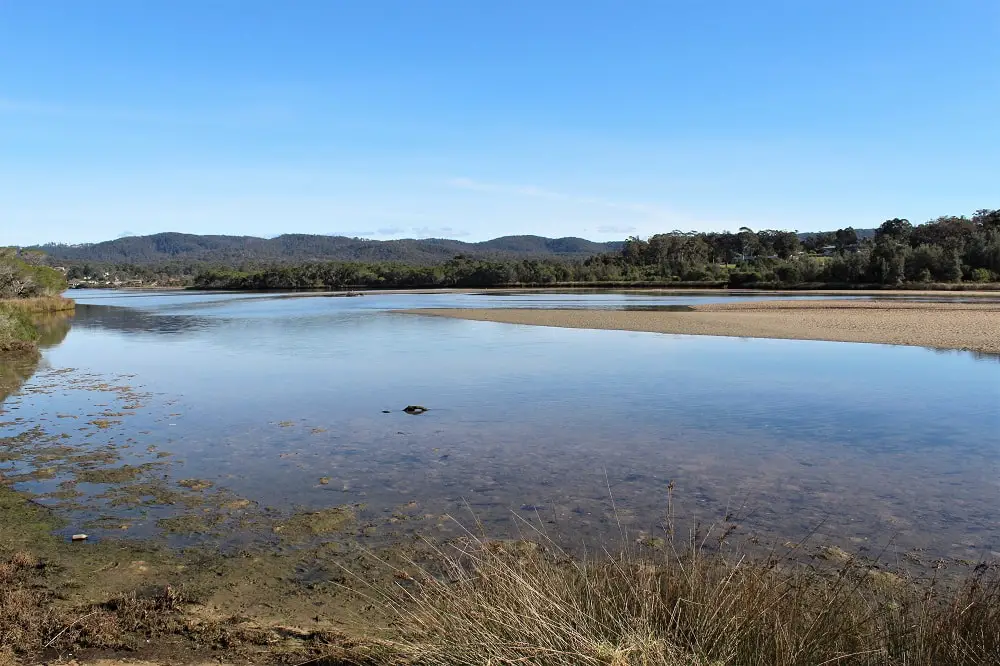 On the way:
Cann River: A lovely little town for a lunch break, and the gateway to Croajingalong National Park if this is on your itinerary.
Mallacoota: A small holiday town that's worth exploring. Head to Panoramic Drive (the coastal road off Allan Drive) for beautiful ocean views; you might even spot a seal basking in the sun like I did! The beach at Bastion Point is great to stroll along too.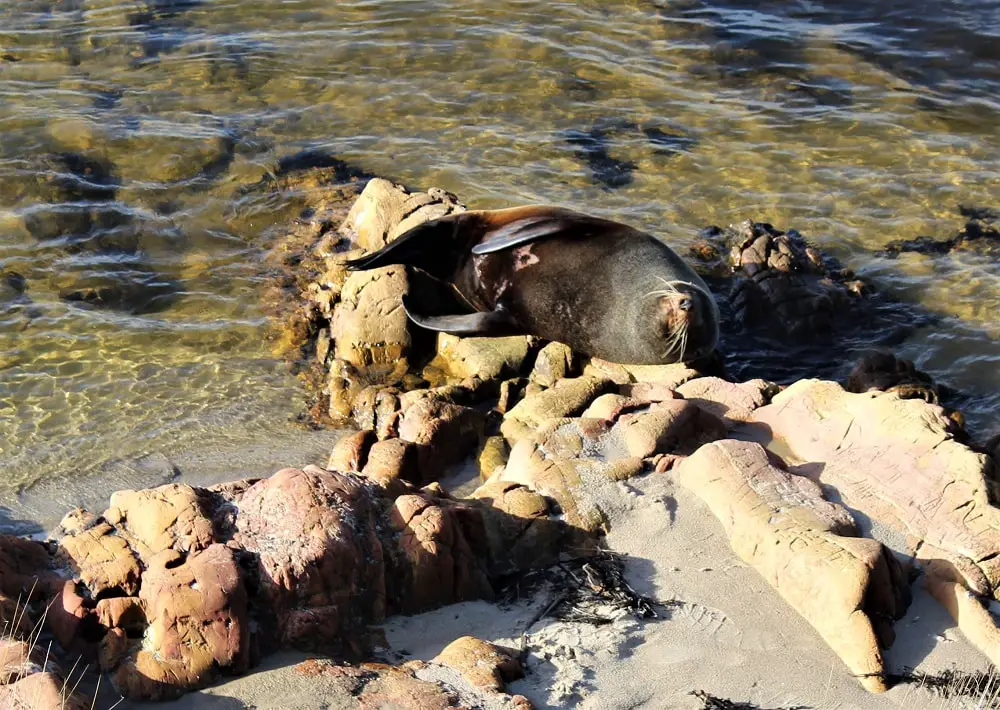 Distance:
Lakes Entrance to Eden: 242km – 2 hrs 45 min
Accommodation:
Eden Nimo Motel – there aren't any hostels in Eden, but I stayed at this cheap motel, which has has double and twin rooms starting from $55.
---
6. Batemans Bay
The drive from Eden to Batemans Bay is particularly scenic, and there's lots to see and do in Batemans Bay; I ended up having two nights here as the driving had burnt me out, and I'm really glad I did.
The town itself is lovely, set on the entrance to the Clyde River on Australia's Oyster Coast, with beautiful views from the waterside cafes. It also makes a great base to explore the Eurobodalla region.
I'd thoroughly recommend exploring Murramarang National Park to the north of the town; it's packed with beautiful beaches. An absolute must-see is Pebbly Beach: it's not only extremely pretty with the grassy area behind it, but lots of wild kangaroos live there and it's full of Rainbow Lorikeets and Australian King Parrots. One even landed on my arm!
Explore Murramarang National Park: Wilderness near Batemans Bay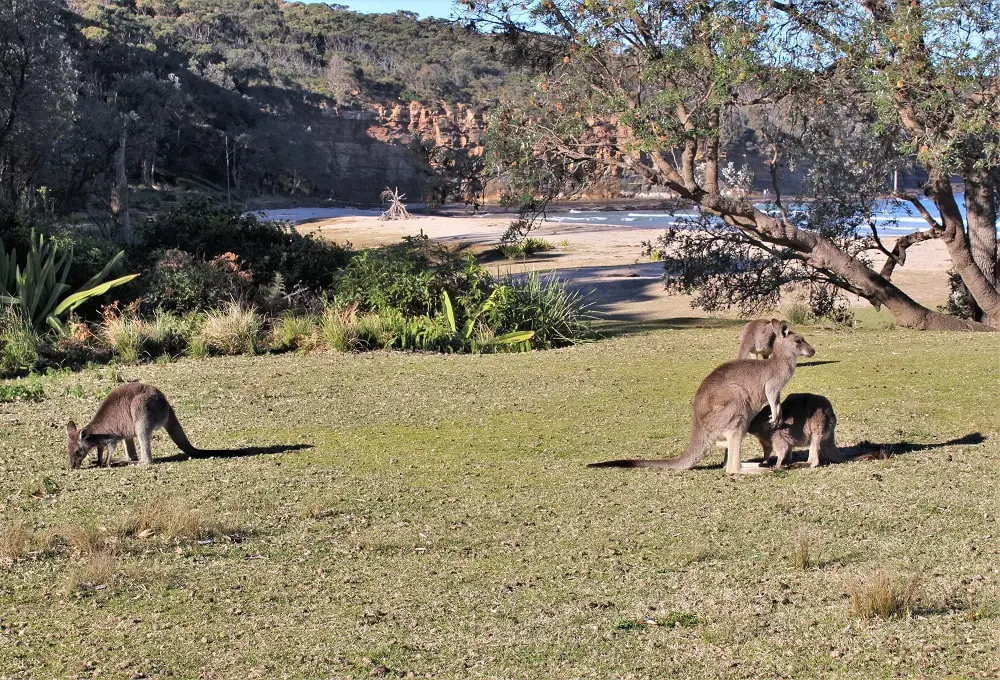 Durras North Beach was particularly beautiful too, with enviable beachside houses where kangaroos lazed around in the front gardens!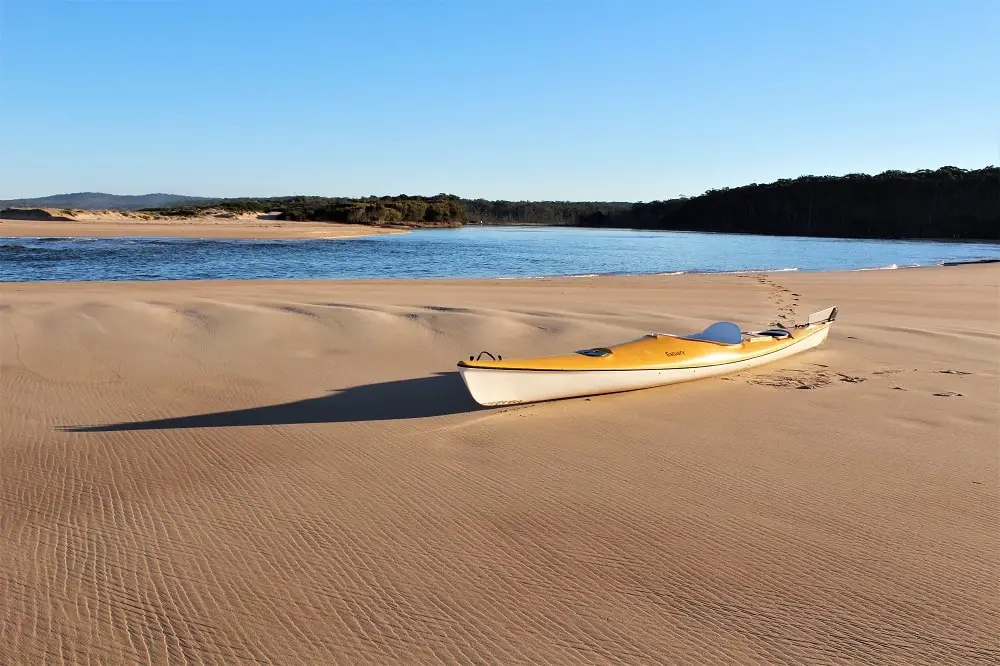 On the way:
Ben Boyd National Park: make sure you check out this national park just north of Eden. The stripy cliffs at the Pinnacles are stunning!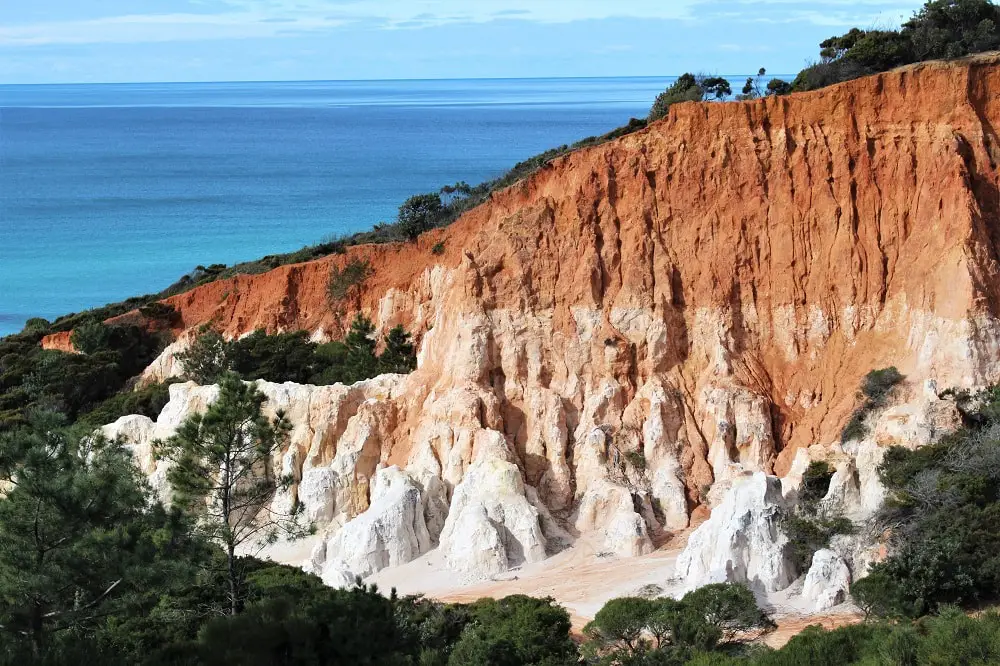 Tathra: for a more scenic journey, leave the Princes Highway and take the Sapphire Coast Drive through the forest instead, starting in Merimbula. Stop by at the Tathra Wharf Lookout for pretty views across Boulder Bay.
Sapphire Coast Drive NSW: Merimbula to Bermagui
Cuttagee Lake: heading north on the Tathra-Bermgui Road, you'll wind through forest and come to the bridge at Cuttagee Lake. There's lots of parking spaces here, and it's a pretty spot to get out and take a few photos.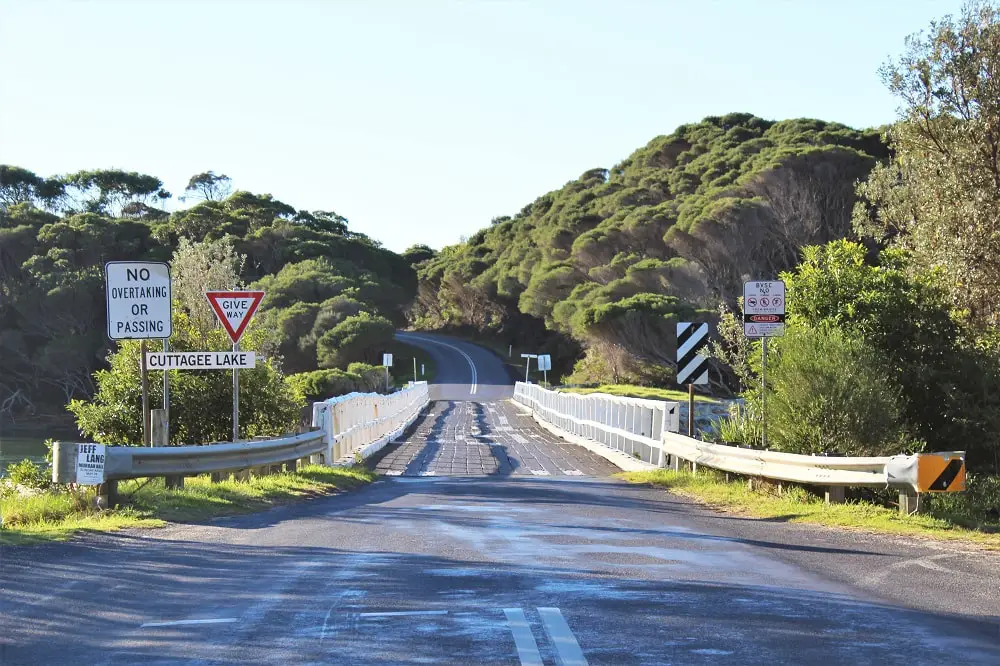 Bermagui: after a few more bridges you'll drive right along the coastline for a while before reaching Bermagui, which is lovely around the Fishermen's Wharf at the mouth of the river.
Narooma: pass by the pretty Wallaga Lake and the road will rejoin the Princes Highway and take you up to Narooma, a popular holiday town in the Eurobodalla region known for its clear blue water.
Distance:
Eden to Batemans Bay: 197km – 2 hrs 30 min
Accommodation:
Batemans Bay YHA – an old-school YHA with dorm beds starting from $25 and an adjoining camping and caravan park.
---
7. Jervis Bay
Renowned for its string of beautiful white beaches and clear turquoise sea, Jervis Bay is my absolute highlight of this Melbourne to Sydney drive itinerary, and a popular holiday destination for Australians too.
I was lucky enough to return here a few times on house sits after my road trip, so I've explored the area really well. To find out what to do there, check out this blog post:
Things to Do in Jervis Bay: Beach Paradise in NSW
Jervis Bay Beaches Guide: Hyams Beach to Huskisson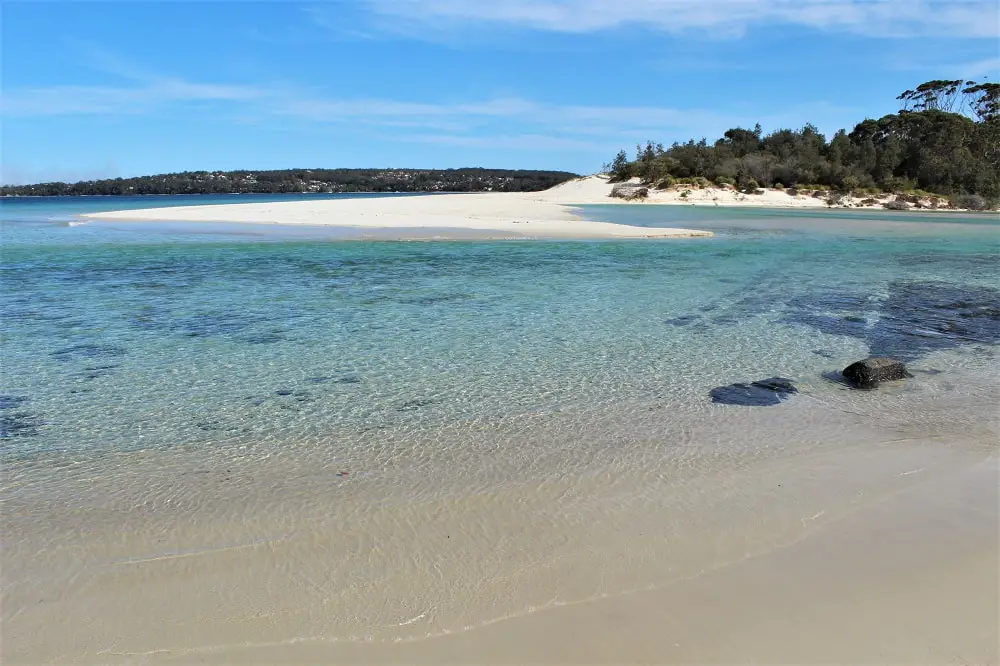 Distance:
Batemans Bay to Jervis Bay: 108km – 1 hr 25 min
Accommodation:
There's very little backpacker accommodation in Jervis Bay unless you're camping. The cheap Airbnb I stayed in is no longer running, and it's mostly pricey holiday cottages and hotels there.
Jervis Bay Holiday Park – this holiday park in Huskisson has budget cabins starting at $90 which would be quite cheap between a few of you.
You can also have a look through Airbnb options. Here's my discount link if you haven't signed up already:
Up to $76 off your first Airbnb booking
---
8. Wollongong
Wollongong is the third-largest city in New South Wales and has great beaches, plenty of restaurants and a mountainous backdrop. It's a busy city with a big university and plenty to do, so worth exploring if you're not in a rush to get to Sydney.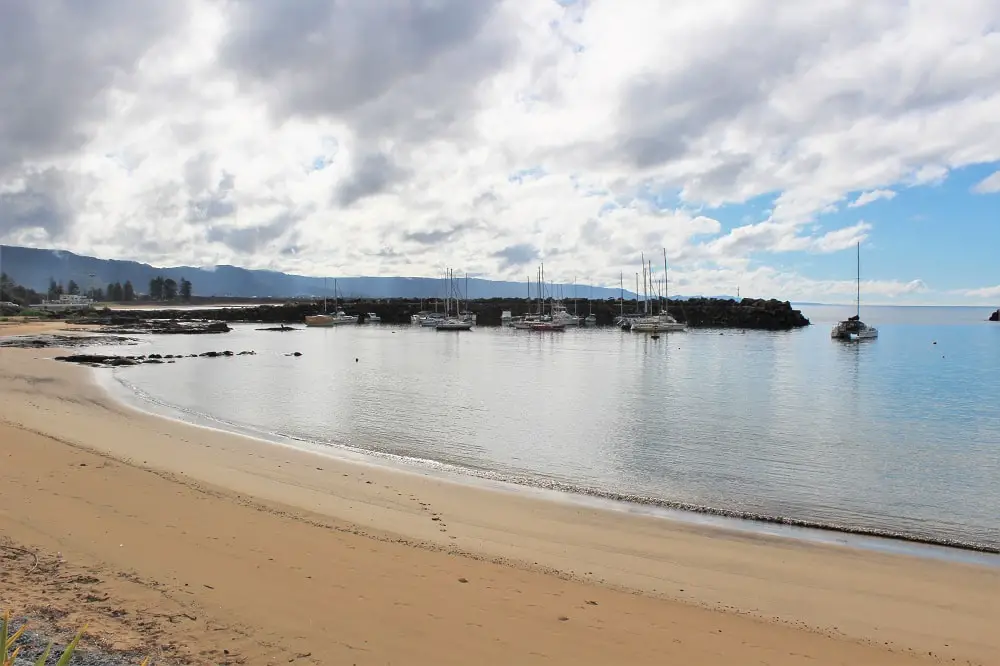 On the way:
Kiama: A lovely seaside town with beautiful beaches and a very famous blowhole!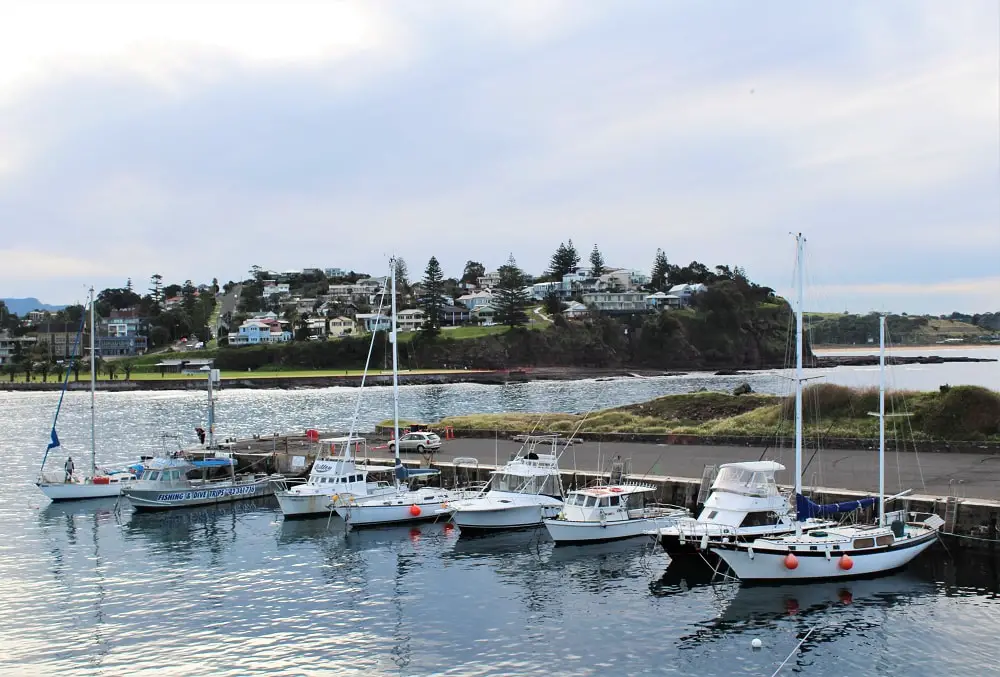 Distance:
Jervis Bay to Wollongong: 102km – 1 hr 20 min
Accommodation:
Keiraleagh Backpackers – dorm beds from $25. This is the only hostel in Wollongong now (the YHA closed down). It does have a certain charm and the staff are friendly, but parts of it are quite run down. It's well located though and the garden is lovely.
---
9. Sydney
The final stop on your Melbourne to Sydney drive itinerary! Sydney is an absolutely beautiful city with over 100 beaches, great weather and so much to do. I fell in love with it the first time I visited back in 2001 and now finally call it home!
I'd schedule in some time to see the Sydney Opera House and Harbour Bridge, do one of the many beautiful Sydney walks and of course visit the amazing beaches in Sydney. Read about more attractions in the post linked below.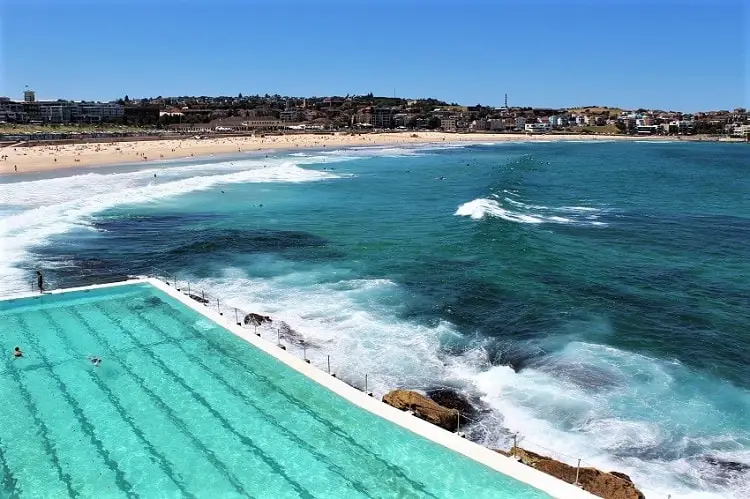 On the way:
Grand Pacific Drive and Sea Cliff Bridge: Make sure you take the coastal route north of Wollongong so you don't miss the iconic Sea Cliff Bridge, a 665m bridge between Clifton and Coalcliff that snakes around the coastline and overhangs the ocean.
To see the stunning view in the picture below, stop at Bald Hill lookout at Stanwell Tops. To walk across the bridge itself, there are a few parking spaces on the ocean side of the road at Clifton, or a road leading to a carpark at Coalcliff (signed "Sea Cliff Bridge Parking") – you'll need to walk to Paterson Road and past Leeder Park and Coalcliff rock pool from the car park.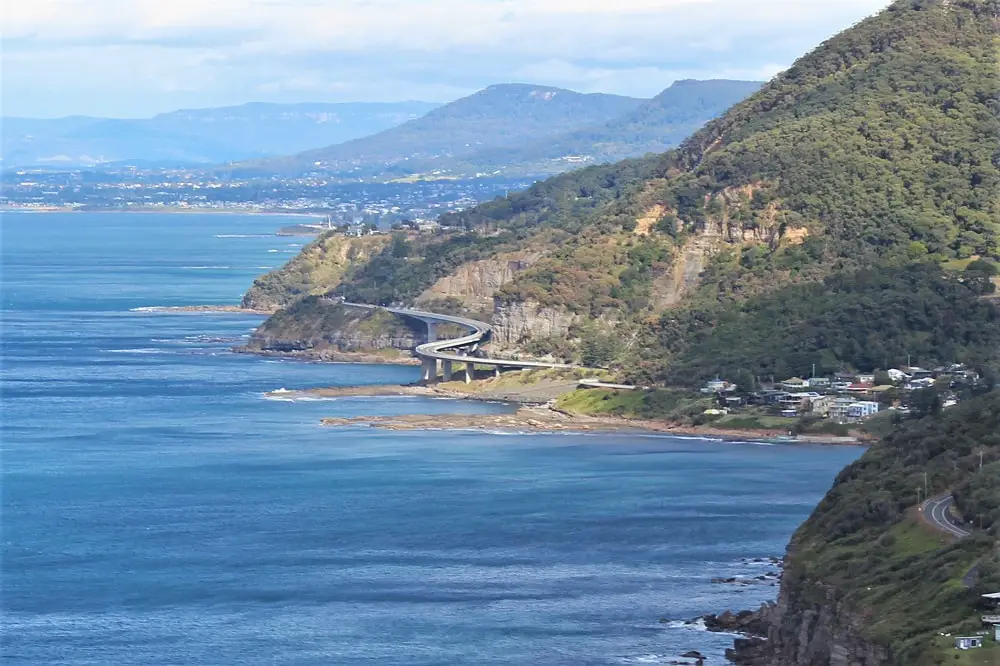 It is worth getting out of the car to appreciate the bridge as the views from inside the car aren't great with the railings either side of the road!
For more information about the Grand Pacific Drive and all its beautiful seaside suburbs, read this blog post:
Exploring the Grand Pacific Drive via Sea Cliff Bridge
Royal National Park: There are plenty of great walks here if you have the time, but it's also easily accessible as a day trip from Sydney. There's a car park at the Otford Lookout on Lady Wakehurst Drive where you can get onto the start of the Royal Coast Walk and head down to Werrong Beach.
Here are some ideas on places to see in the Royal National Park:
Bundeena and Maianbar Villages and Camping
Distance:
Wollongong to Sydney: 86km – 1 hr 30 min
Sydney Accommodation:
There are hundreds of accommodation options in Sydney. My recommended areas for visitors would be the CBD, The Rocks or Sydney Harbour to see all the well-known city sights; Bondi or Coogee Beach to be in a backpacker beach area; Newtown for cool, quirky nightlife and boutiques (a five-minute train ride to the city); or Darling Harbour for waterside dining walking distance to the city.
SYDNEY HOTELS
Browse through Sydney hotels, apartments and hostels using the map below.
SYDNEY HOSTELS
Here are a few of my recommended hostels in Sydney.
Casa Central – Chippendale, Sydney
If you're looking for a small, homely hostel rather than a party place, I've stayed at this family-run hostel a couple of times, which has dorm beds from $30. I'd absolutely go back there, and it's walking distance to the city.
Wake Up! Sydney Central – Sydney CBD
II stayed here years ago, when I did my working holiday. It's a large, modern hostel with a bar and nightclub, so great if you want to party. It's also right in the city and has dorm beds starting from $32 as well as private rooms.
Rooftop Travellers Lodge – Glebe, Sydney
This is one of the cheapest hostels I've found in Sydney, with dorm beds starting at $26. It is pretty huge, and the kitchen gets packed, but the facilities are quite new and the rooms are really well-equipped. The city view from the rooftop is awesome too!
Sydney Harbour YHA – The Rocks
This amazing hostel has a rooftop terrace looking right out across Sydney Harbour! You can also walk to the city and all the sights like the Sydney Harbour Bridge and Opera House. I'm a big fan of YHAs in general; the standards always seem to be pretty high compared to other hostels.
SYDNEY HOUSE SITS
I house sat in Sydney full time for over three years! Check out my blog post on how to become a house sitter if you fancy free luxury accommodation instead of forking out for hostels. Or sign up with Aussie House Sitters (house sits in Australia only) or Trusted House Sitters (worldwide house sitting) to get saving ASAP.
---
All the best for planning your Melbourne to Sydney drive itinerary. For more advice on road trips along Australia's stunning coastline, take a look at these blog posts too!
Perth to Adelaide Drive Itinerary
Adelaide to Melbourne Drive Itinerary
Sydney to Brisbane Drive Itinerary