This post may contain affiliate links. Please see my disclosure policy for more details.
Dotted with beautiful beaches, peaceful forests and charming seaside towns, the Sapphire Coast drive through far south coast New South Wales is one of the most memorable and picturesque sections of the Melbourne to Sydney road trip.
Lying between tranquil Eden and popular holiday spot Narooma, this route offers a slow and scenic alternative to the Princes Highway and winds its way up the stunning coastline through Pambula, Merimbula, Tathra and Bermagui.
I spent one day travelling the Sapphire Coast drive, with overnight stops either side in Eden and Batemans Bay, which are just under 300km apart. There are plenty of other little towns to spend longer in though if you've got the time!
If you're planning a road trip through far south coast NSW, this blog post runs through my recommended drive stops to help you on your way!
---
Hiring a Car in NSW
Make sure you find the best price for car hire in New South Wales by using Kayak as a starting point. They compare hundreds of car hire sites to save you hours of research.
>> Click here to compare car hire prices and book your rental car <<
---
1. Eden
Pretty Eden and nearby Ben Boyd National Park lie about halfway between Sydney and Melbourne, and it's somewhere I wish I'd spent longer than one night in. The coastal town lies on beautiful Twofold Bay, a famous whale-watching area in the springtime, and is surrounded by beautiful scenery.
---
2. Merimbula & Tathra
About 20km north of Eden, you can pull off the highway at Pambula to begin your coastal journey. Follow Arthur Kaine Drive, and you'll cross the bridge into popular Merimbula, a seaside town with great surf, watersports, walking trails and a beach that stretches on for over five kilometres!
The Sapphire Coast Drive heads north out of Merimbula town centre, and passes through the forest before reaching Tathra, 23km further on.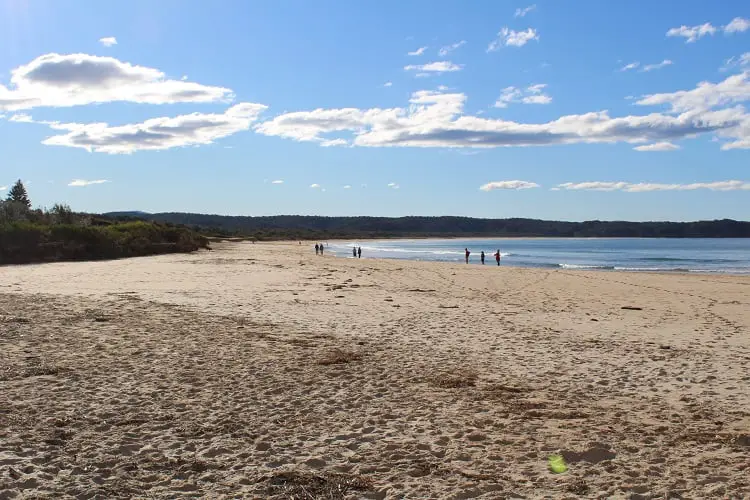 Head to Andy Poole Drive to relax on the big, beautiful beach in Tathra. Make sure you also check out the stunning view across Boulder Bay from the lookout at Tathra Memorial Garden on Wharf Road.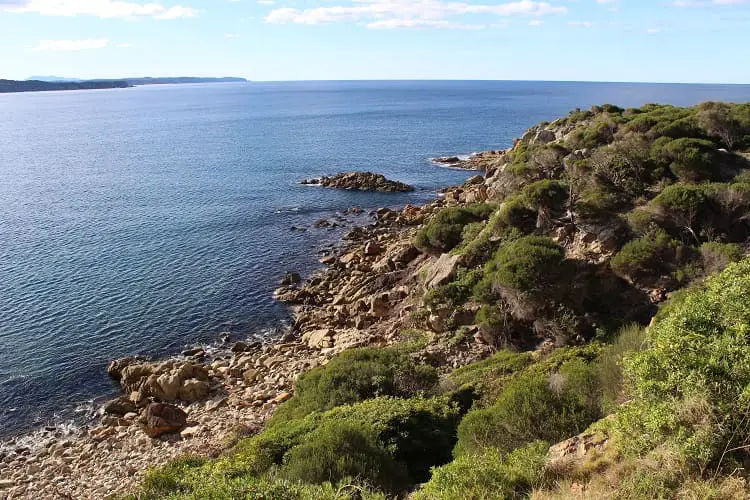 ---
3. Bega River
Heading on from Tathra, follow the Tathra-Bermagui Road for about another ten minutes, and you'll cross the bridge over the Bega River.
Pull over just after the bridge at the Ray Whyman Reserve in Mogareeka to get out and enjoy the stunning views!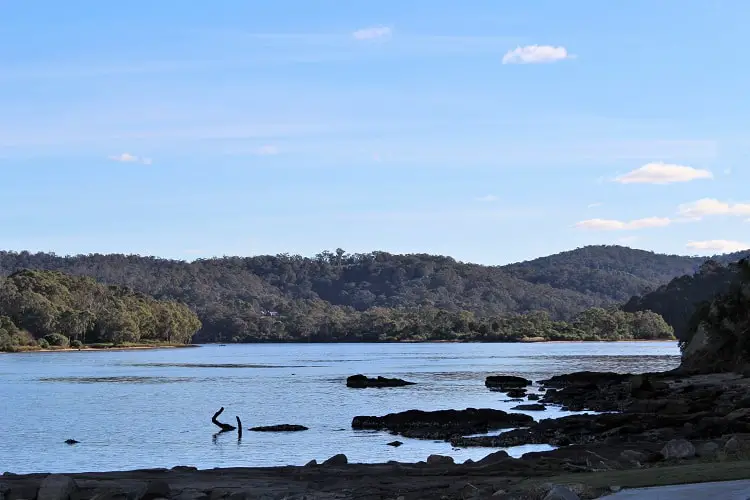 ---
4. Cuttagee Lake
The Sapphire Coast drive then winds through the forest in Mimosa Rocks National Park before reaching scenic Cuttagee Lake around 33km further north.
There's plenty of parking around the bridge, so you can hop out and stretch your legs on the beach next to the creek.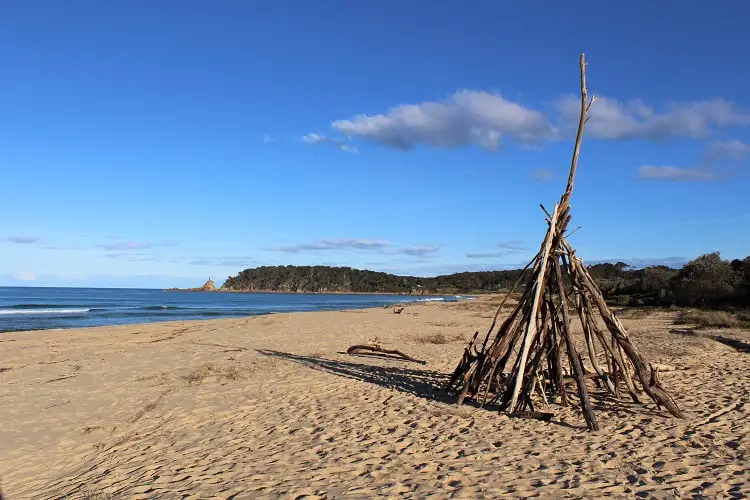 ---
5. Bermagui
For the next 8km you'll pass through more forest and then skim the ocean just before the pretty harbourside town of Bermagui.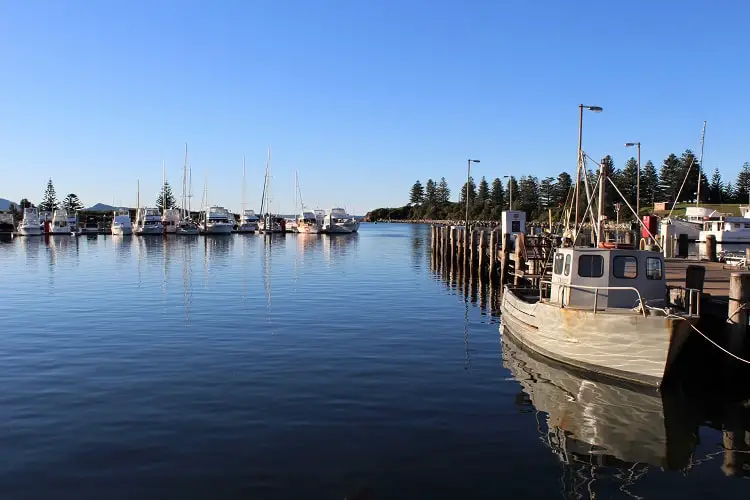 Visit Bermagui Fishermens Wharf complex to try the town's famous seafood whilst enjoying the beautiful waterside view!
---
6. Wallaga Lake
The next little place you'll come to is Wallaga Lake. To see the lake up close, pull off onto Beauty Point Road. (Australia has very literal road names so it's always worth going down roads with names like this!)
You'll pass some beautiful houses and be able to walk right up to the water's edge of this mirror-like lake.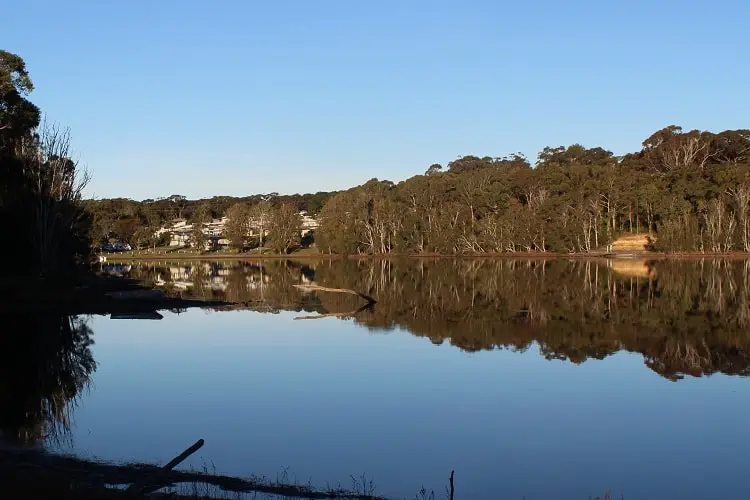 ---
7. Narooma
North of Wallaga Lake you'll leave the Sapphire Coast behind and rejoin the Princes Highway to reach Narooma about 18km further on. Narooma is a little seaside town set on a beautiful estuary. Its name means 'clear blue water' which says it all!
Unfortunately I didn't get to spend much time here as darkness was falling, but I did manage to catch this beautiful sunset before continuing up through the Eurobodalla region to Batemans Bay!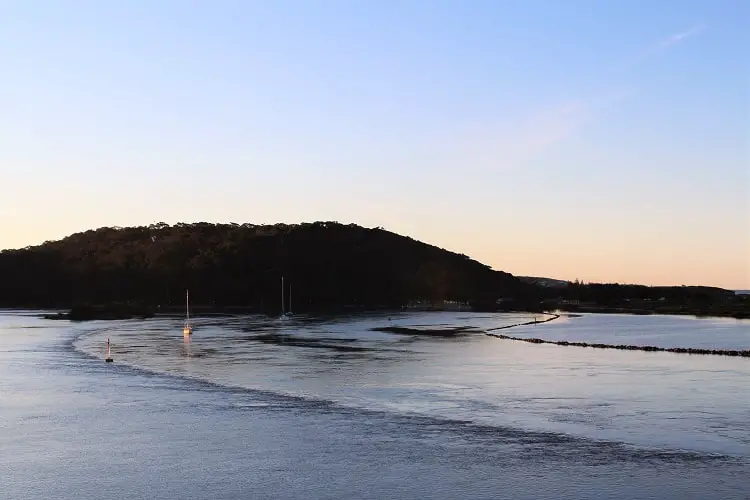 ---
I hope you have fun on your Sapphire Coast road trip! If you're thinking of heading north, check out my North Coast NSW drive itineraries! Happy travels!
---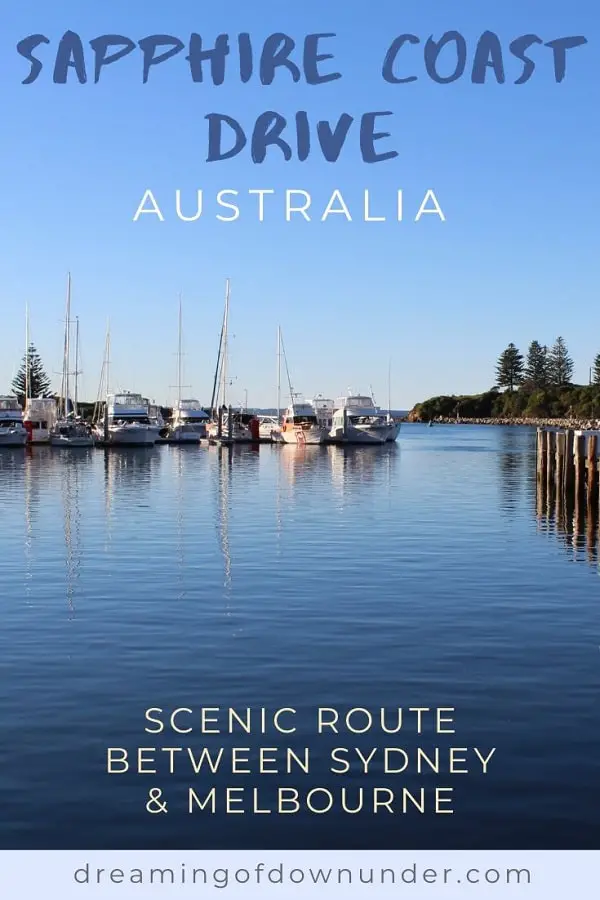 Written by Lisa Bull
Lisa Bull, founder of Dreaming of Down Under, has been living in Australia as a British expat since 2015. After travelling to every state and territory in Australia and living in Perth, Brisbane and Sydney, Lisa knows from first-hand experience the best destinations to visit in Australia and the best budget travel tips. Her guides on this blog have been read by over 700k readers and helped thousands of people achieve their dream of living in or travelling Australia.