This post may contain affiliate links. Please see my disclosure policy for more details.
Situated on the calm blue waters of Twofold Bay, along the aptly named Sapphire Coast, Eden makes an ideal drive stop if you're planning a Melbourne to Sydney road trip. Even though it's a small town, there are plenty of attractions in Eden NSW to keep you occupied.
Eden lies about halfway between Sydney and Melbourne, in far South Coast New South Wales. I stayed a night in the picturesque seaside town after visiting the beautiful Gippsland Lakes region in Victoria.
With stunning coastal scenery, hikes in nearby Ben Boyd National Park and brilliant whale-watching opportunities in the springtime, there are lots of things to do in Eden NSW. I regretted only pencilling in one night there!
To discover my recommended attractions in Eden NSW, keep on reading!
---
Aslings Beach
The main beach in Eden is Aslings Beach, which is a beautiful long curve of sand tucked into scenic Twofold Bay. There are plenty of amazing beaches in New South Wales, but Aslings Beach in Eden has a really tranquil feel with its calm water lapping the shore.
---
Lake Curalo Trail
Directly behind Aslings Beach lies beautiful Lake Curalo. Make sure you take a look, as the scenery is stunning. And if you're feeling energetic, there's also the 3.75km Lake Curalo trail around the perimeter that you can walk or cycle. Someone unicycled past me in hi-vis gear when I visited!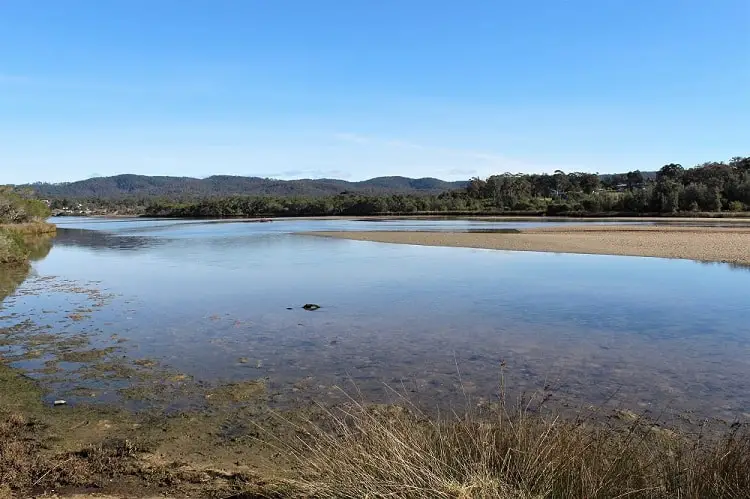 ---
Whales in Eden NSW
Since Twofold Bay is where the north and south currents of the Pacific Ocean collide, the waters in the area are nutrient rich, meaning Humpback whales stop and feed during their southern migration in the spring.
Whales are one of the major attractions in Eden NSW, and have played a big part in the town's history since its whaling days. Here are some of the ways you can enjoy and learn about Eden's whales.
Eden Killer Whale Museum
To learn about the relationship between humans and killer whales back in the days when Eden was a whaling town, pay a visit to Eden Killer Whale Museum. It overlooks the Pacific Ocean, and displays the skeleton of famous killer whale, Old Tom, along with other whaling memorabilia.
Whale Watching in Eden
The best time to spot whales in Eden is between mid-August and early November. Whale-watching vantage points include Aslings Beach, Rotary Park Lookout (see below) and Eden Killer Whale Museum, which sounds a horn when whales are in sight.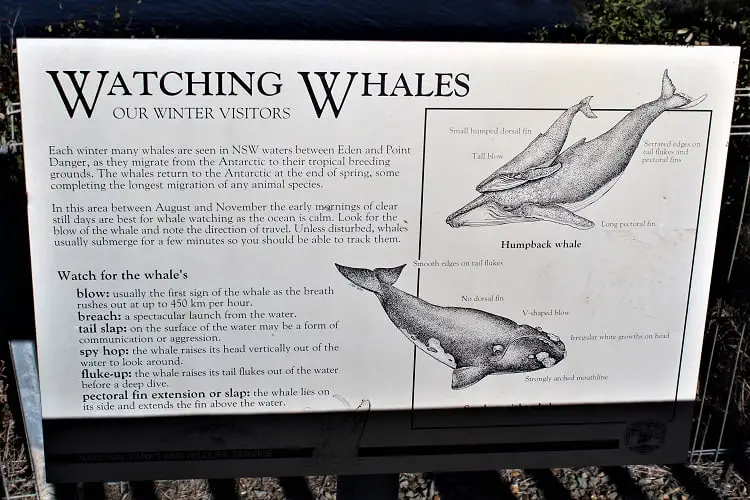 You could also coincide your visit with the Eden Whale Festival, which has plenty of fun and entertainment for all ages!
Whale Watching Cruise
If you want to make a day of it, a few companies offer whale-watching tours from Eden.
---
Eden Lookout & Rotary Walk
For a brilliant view of Twofold Bay, visit the headland just south of Eden town, where you'll find Rotary Park, which has barbecues, toilets and a map of the easy Rotary Walk.
Along the walk you'll pass the lookout point below, a great spot for whale watching over Twofold Bay.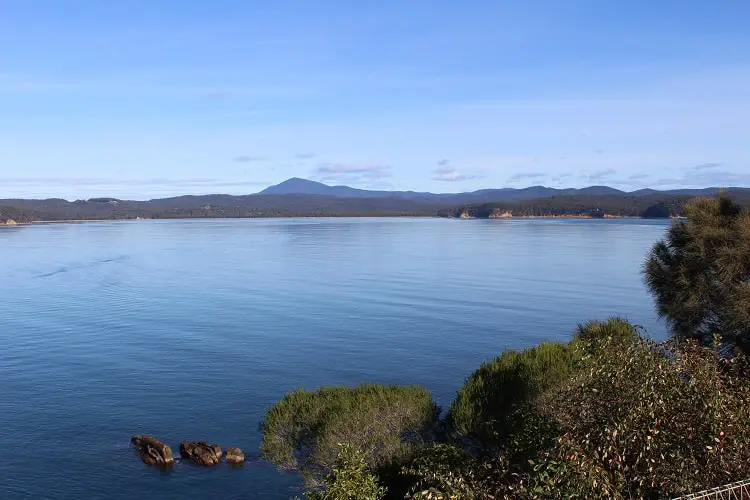 ---
Snug Cove Wharf
On the western side of Middle Head you'll find Snug Cove, a picturesque working port where fishing trawlers leave from daily.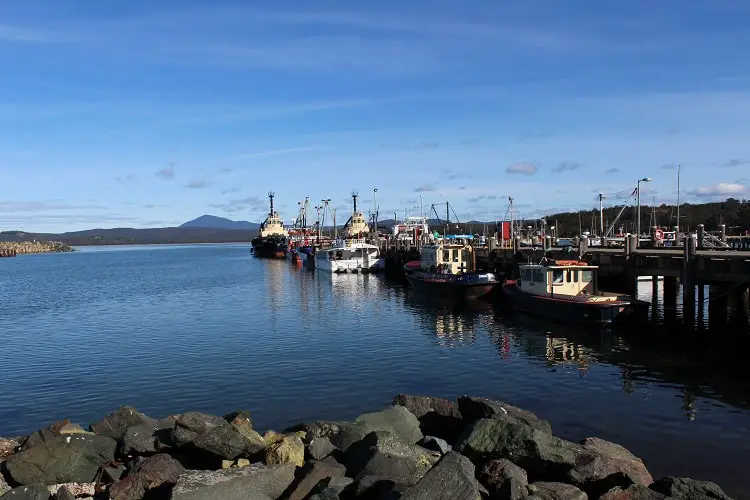 There are a couple of cafes at the wharf, as well as the Sapphire Coast Discovery Marine Centre.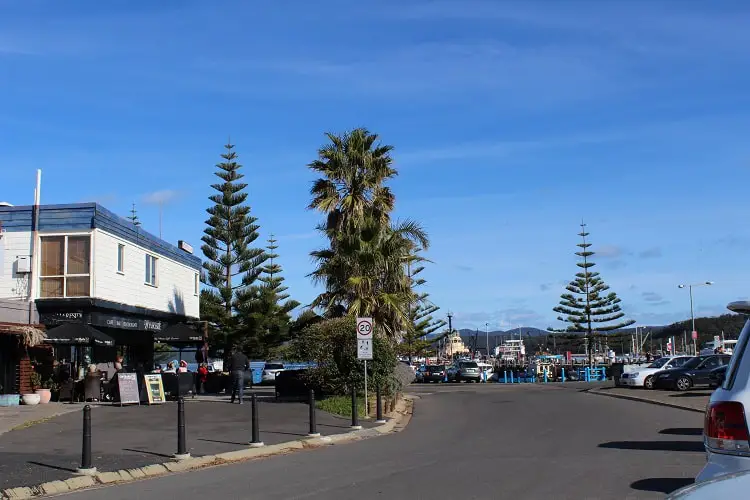 ---
Ben Boyd National Park
Another one of the many scenic attractions in Eden is picturesque Ben Boyd National Park, which is split into two sections, one north and one south of the town.
To the south, you can visit Boyd's Tower, yet another great lookout point for whales. I decided to check out the northern section of Ben Boyd National Park, which has the unusual rust-coloured Pinnacles formation, as well as a stunning beach at Haycock Point.
The Pinnacles Walk
Drive about ten minutes north of Eden, and you'll see the sign for Ben Boyd National Park. Turn onto Haycock Road, then take the first turn-off to the car park at the start of the Pinnacles Loop Walk.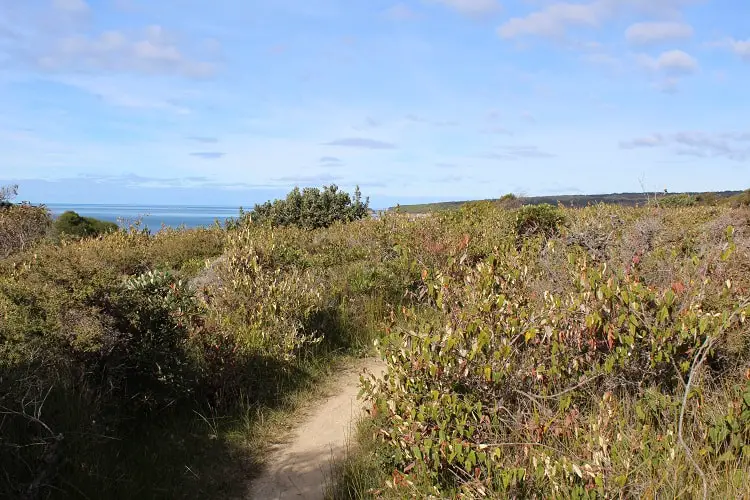 It's only 600m to walk to the Pinnacles lookout, where you can see the colourful Pinnacles erosion feature below! There's also a 1km loop track.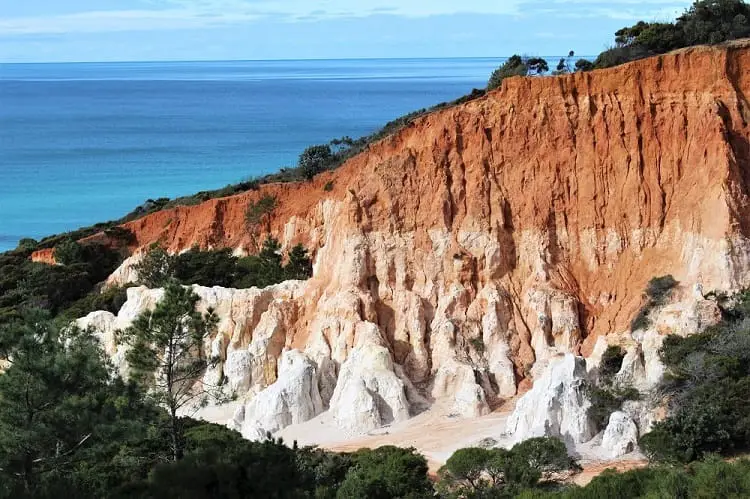 In the other direction, it's only 325m to the lookout over stunning Pinnacles Beach.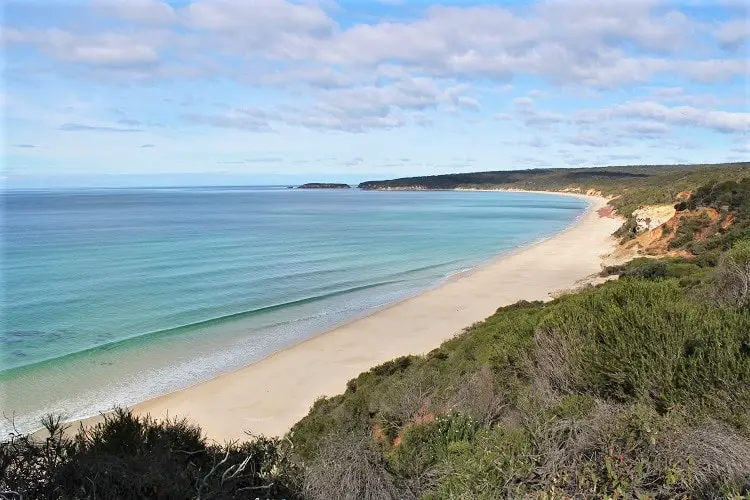 Haycock Point
Continue along forested Haycock Point Road and you'll come to the picnic area at Haycock Point.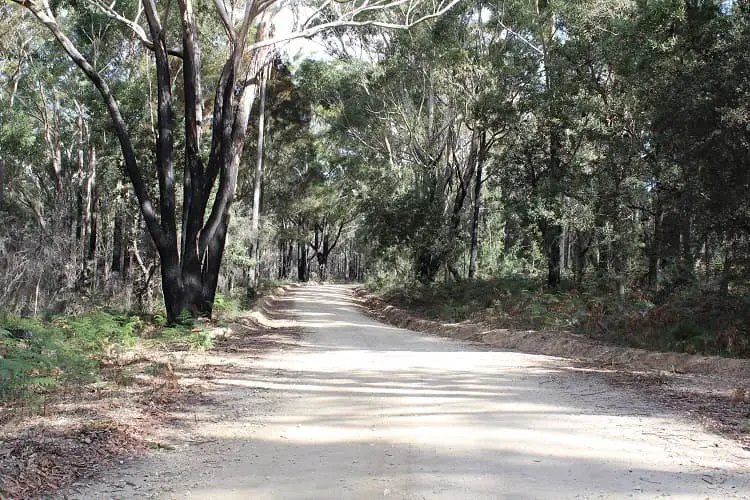 From the picnic area you can easily walk down to Long Beach, or go on a longer walk to Haycock Point or Barmouth Beach (5km return).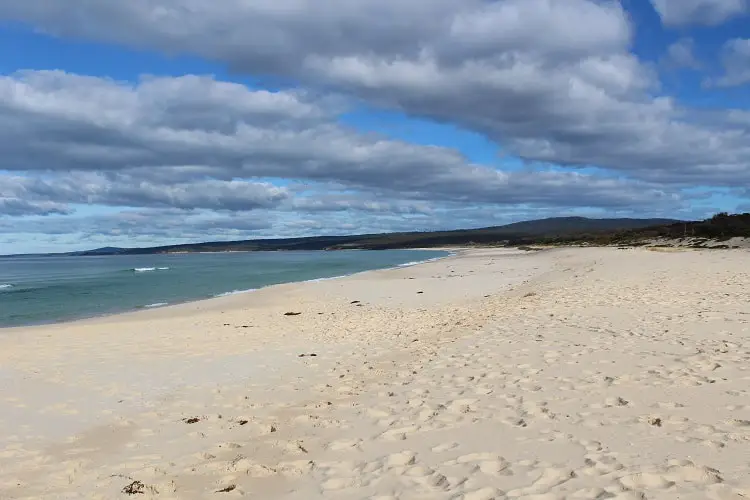 ---
Eden Accommodation
If you're backpacking or on a low budget, there aren't any hostels in Eden unfortunately. I stayed at a very low-cost motel instead, called Eden Nimo Motel.
Prices start at $55 for a double or twin room and $65 for a triple room. That's cheaper than a hostel if there's two or three of you! The motel was very basic, but clean, quiet and well-equipped.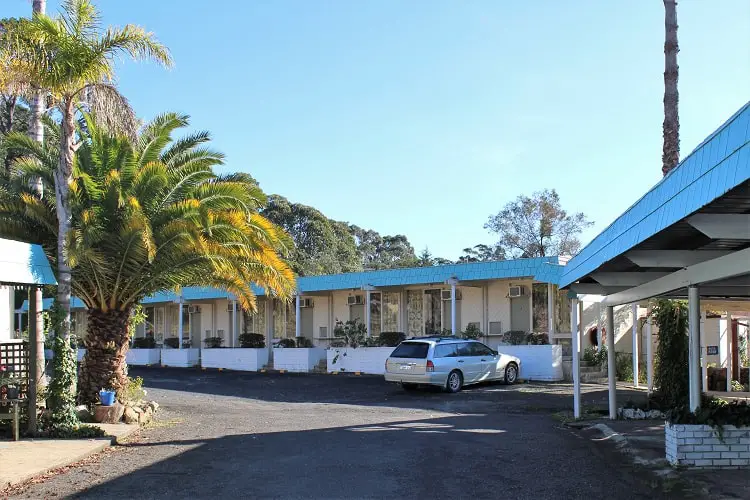 If you're camping, caravanning or prefer to stay in a self-contained cabin or villa, there are lots of holiday parks in Eden. BIG4 Beachfront Eden Holiday Park is in a stunning location right behind Legges Beach and has a rating of 8.5/10 on Booking.com.
Browse Eden accommodation options on Hotels Combined to get the best price. They compare prices for each hotel for all the major booking providers.
---
Mallacoota, Victoria
About an hour's drive south of Eden, surrounded by Croajingolong National Park, is the pretty holiday town of Mallacoota in Victoria. If you're heading to or from Melbourne, it makes a scenic drive stop before Eden.
From the town centre, head to Panoramic Drive (running along the water's edge parallel to Allan Drive) to look across beautiful Mallacoota Inlet.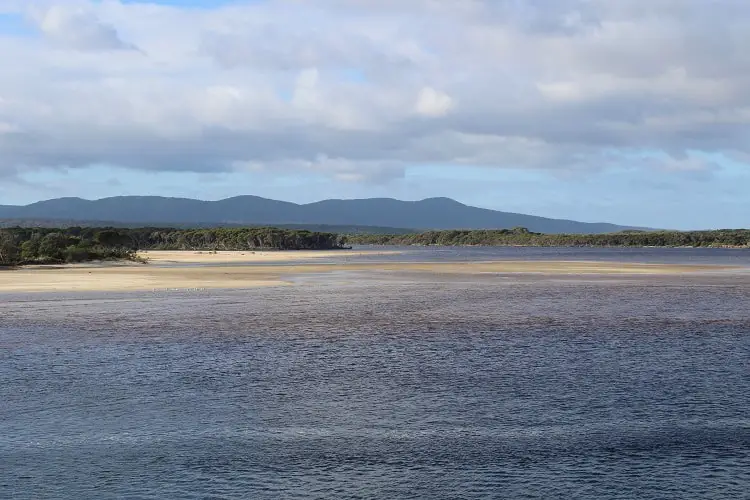 Make sure you look down on the rocks as you just might spot a sunbathing sea lion! I wouldn't have seen this one if someone hadn't pointed him out!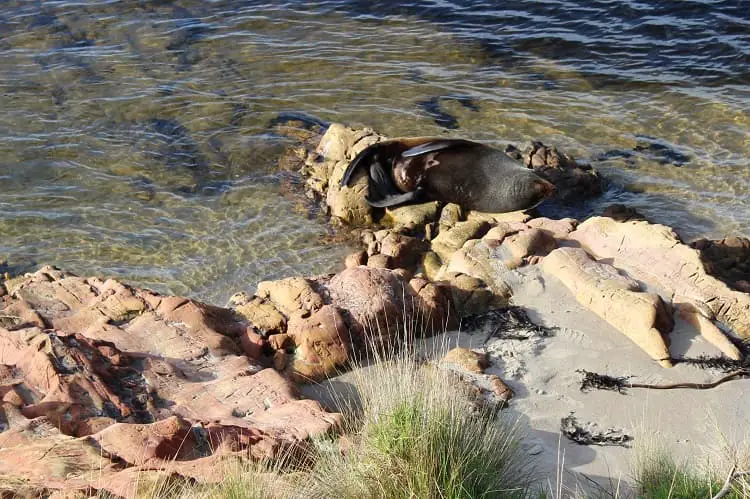 Next, follow Bastion Point Road to Bastion Point, where you can take the steps down to the beautiful beach and explore the mouth of the inlet.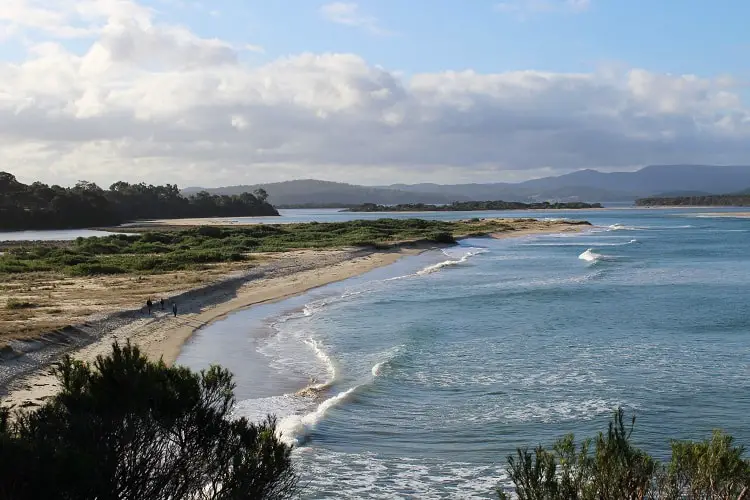 ---
If you're continuing a road trip towards Sydney, read my post on the scenic Sapphire Coast drive from Tathra to Bermagui next, or head straight to beautiful Batemans Bay! Enjoy all the beautiful attractions in Eden NSW if you're planning a visit! Happy travels!