This post may contain affiliate links. Please see my disclosure policy for more details.
If you're looking for a fun Australian beach holiday with access to cafes, restaurants and activities, you'll find plenty of things to do in Jervis Bay NSW.
Just a three-hour drive south of Sydney, beautiful Jervis Bay is blessed with a mild climate, stunning white beaches and crystal-clear water. Attractions include stunning white beaches such as famous Hyams Beach, camping in Booderee National Park, enjoying coastal scenery on a dolphin cruise and marvelling at the steep Point Perpendicular cliffs.
I first passed through Jervis Bay during my Melbourne to Sydney road trip, after a couple of nights in Batemans Bay, and knew I had to return to explore the area properly. I've since been back multiple times, as I genuinely believe it's one of the most beautiful parts of Australia.
If you're planning a visit too, here's my guide on where to stay and the best things to do in Jervis Bay, New South Wales.
---
How to Get to Jervis Bay
So, where is Jervis Bay exactly? You'll find it on the south coast of New South Wales, a three-hour drive south of Sydney. If you're doing a Melbourne to Sydney road trip, make sure you pencil it in.
To get to Jervis Bay from Sydney, it's an easy 198km drive down the Princes Highway. For a scenic detour, turn left down Lawrence Hargrave Drive just after Helensburgh and pass by the pretty seaside villages of north Wollongong, such as Stanwell Park, Austinmer, Thirroul and Bulli. For more information, take a look at my blog post on the beautiful Grand Pacific Drive via Sea Cliff Bridge.
If you decide to stay on the highway, you can still stop at Sublime Point Lookout or a couple of other places you'll see signed to enjoy the elevated view from the top of the Illawarra escarpment. Kiama also makes a pretty stop-off point. There's plenty of parking around the blowhole.
Alternatively, head west from Sydney onto the M31 and take the inland route through the Southern Highlands. You can stop at quaint little historical towns such as Mittagong and Bowral as well as Fitzroy Falls. You'll then pass through Kangaroo Valley before winding back down to join the highway just before Nowra.
---
Jervis Bay Beaches
Jervis Bay NSW is  best known for its endless run of pristine white beaches and amazingly clear and calm water. The most famous of them, Hyams Beach, is actually just one of many, and not even the best in my opinion! Chinamans Beach just north of it is absolutely stunning too!
There are so many amazing beaches in this area that I've written a separate blog post on them, which includes maps, facilities and details of the White Sands Walk. You've also got more lovely beaches inside Booderee National Park, such as Murrays Beach and Greenpatch.
Jervis Bay Beaches Guide: Huskisson to Hyams
Here are a couple of pictures to whet your appetite. There isn't normally a huge fire in the background, but there was a bushfire in Booderee National Park when I visited during the summer and I thought it looked quite dramatic! Basically the whole bay is lined with beaches, so head to the water anywhere between Huskisson down to Hyams Beach and you'll be rewarded.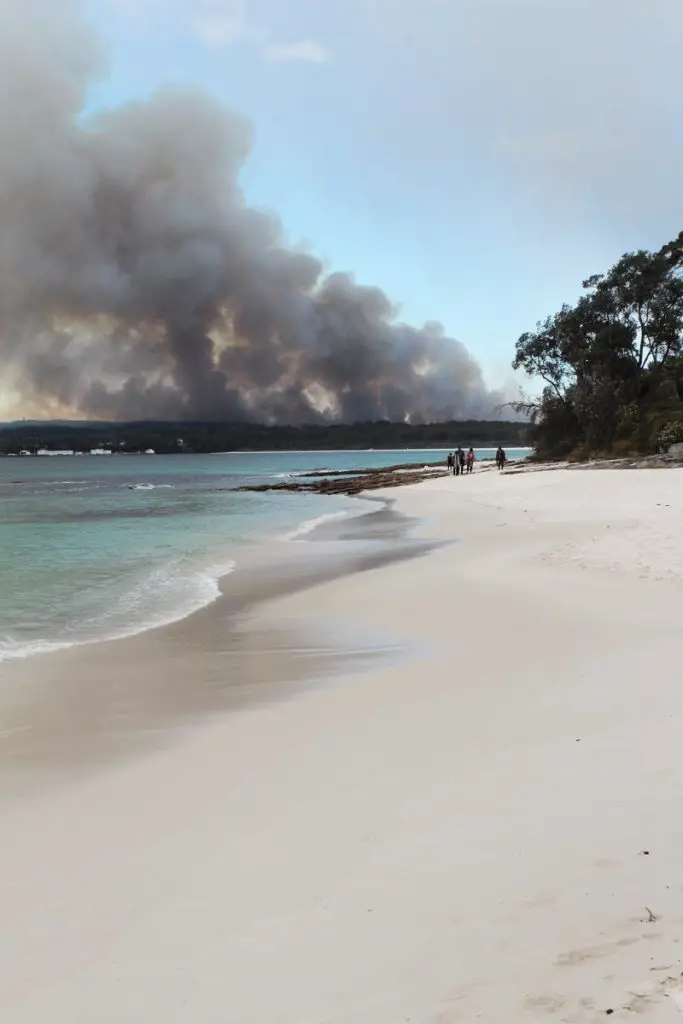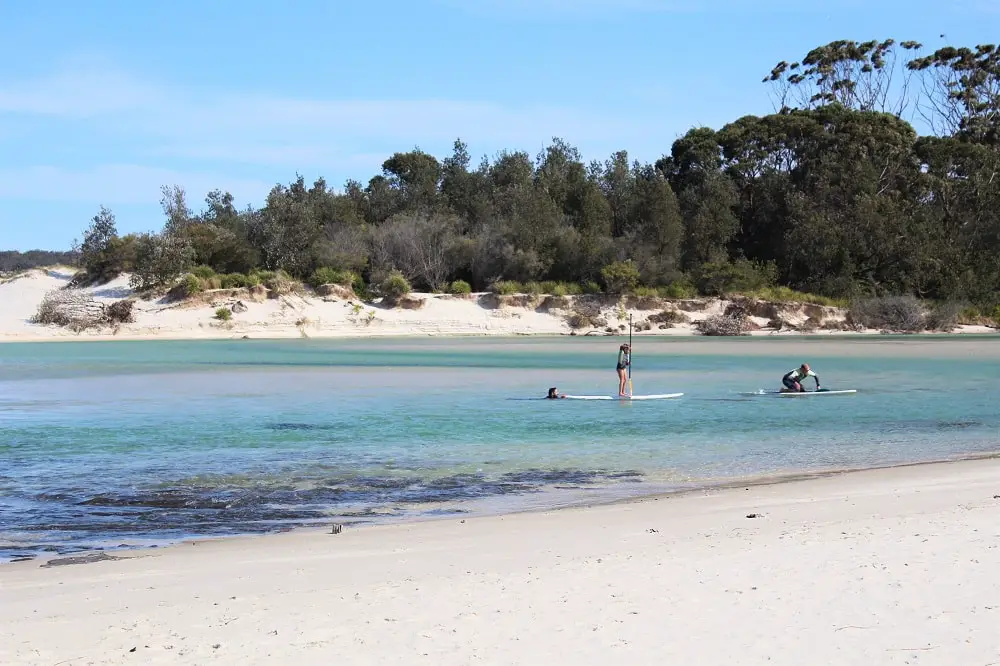 If you do head down to the Hyams Beach area and fancy lunch or a coffee, try the Hyams Beach Store and Café and enjoy its cool, white seaside look and chill-out music.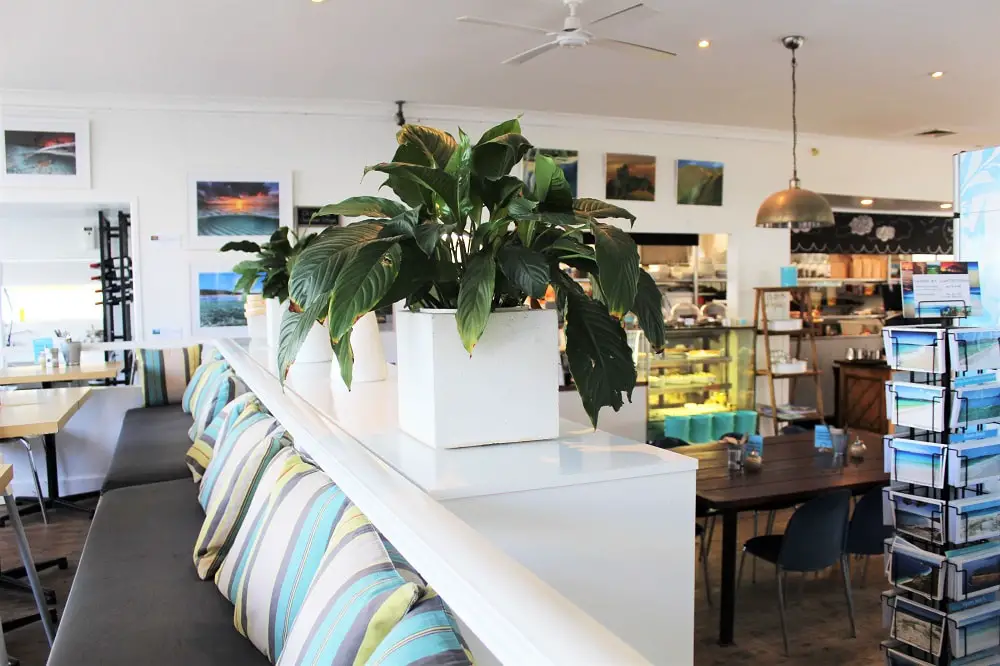 ---
Huskisson Village – Eating, Drinking & Shopping in Jervis Bay
Owen Street in Huskisson is where you'll find the main strip of shops, cafes and restaurants in Jervis Bay. There's an art gallery, some lovely boutique clothing and homeware stores with a beachy style, and places to book whale-watching and dolphin cruises. It's a small street, so you'll find your way around.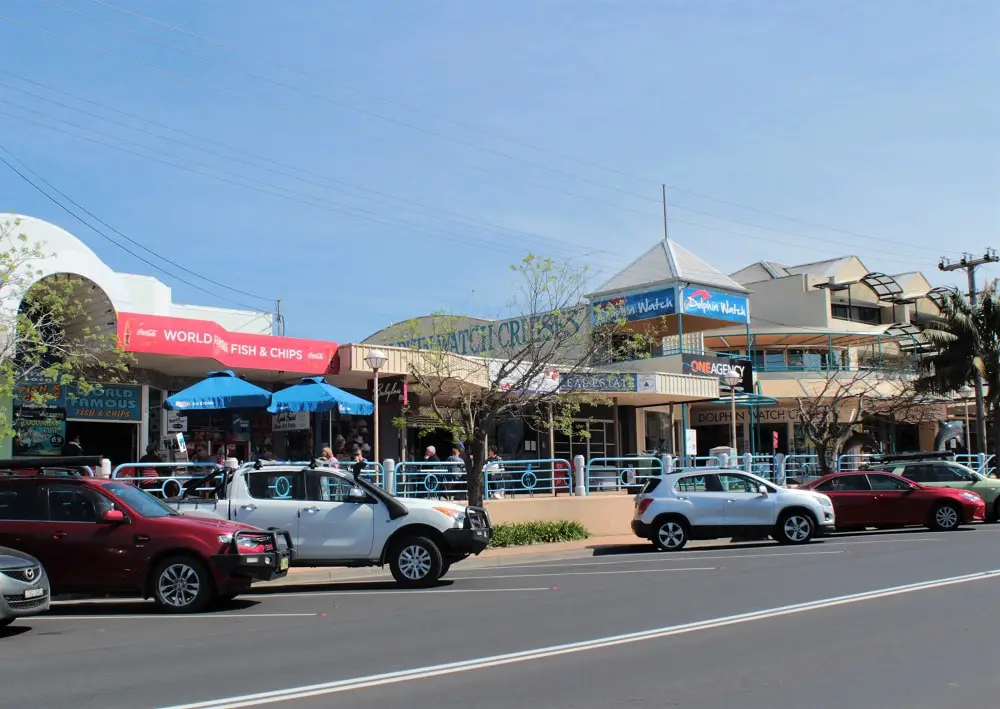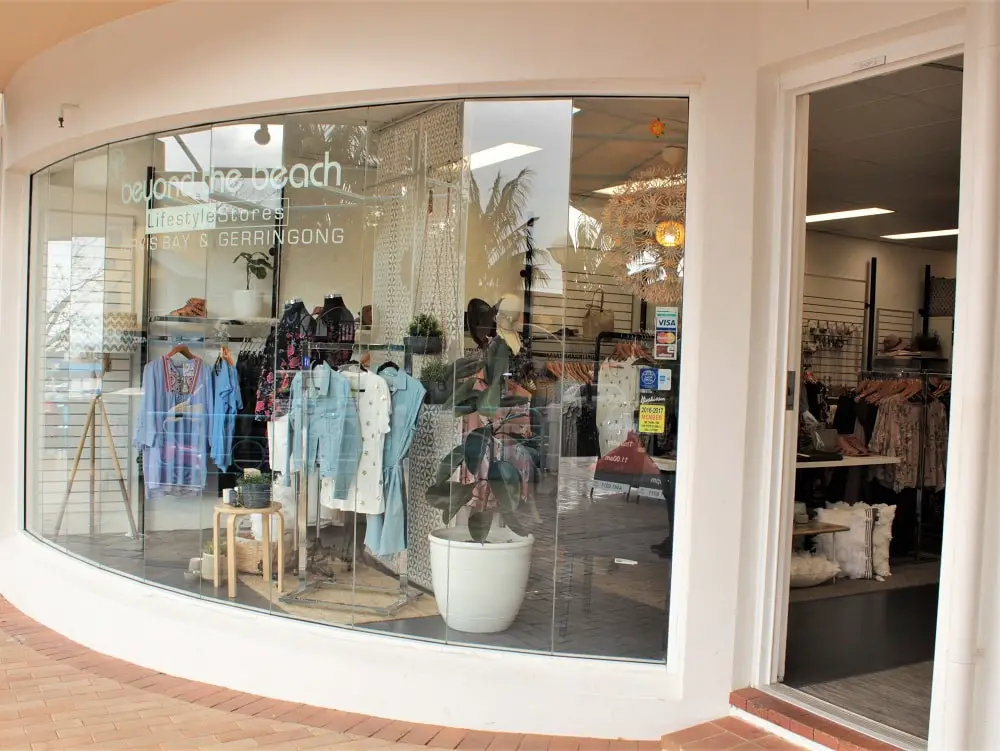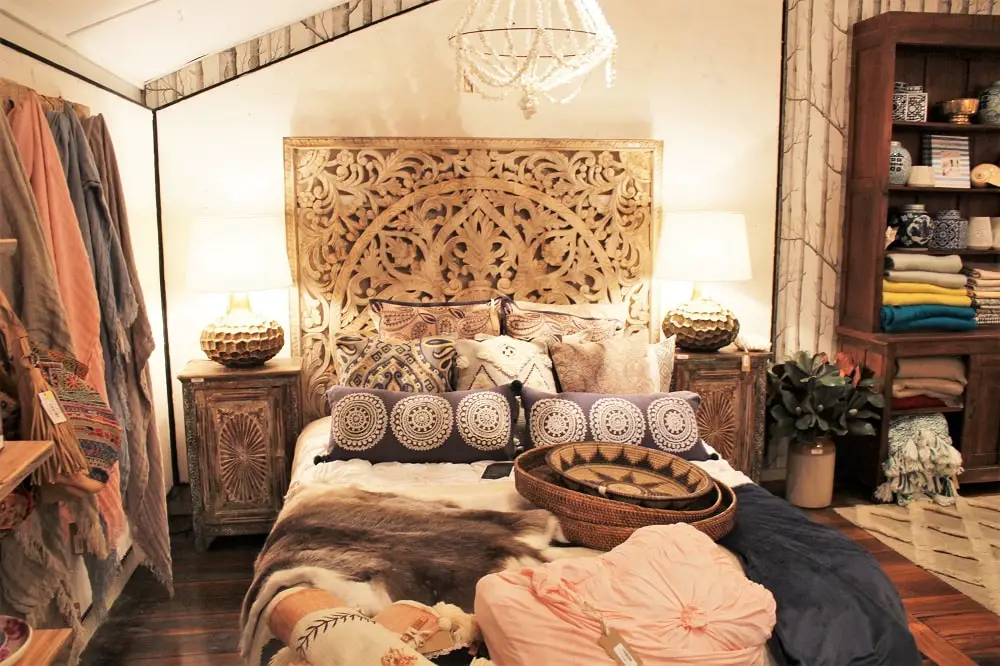 If you're looking for things to do in Jervis Bay after dark, head to the big pub on the corner, The Huskisson Hotel, which has indoor and outdoor seating. If you visit during the daytime there's a beautiful view across the Currambene Creek out the back.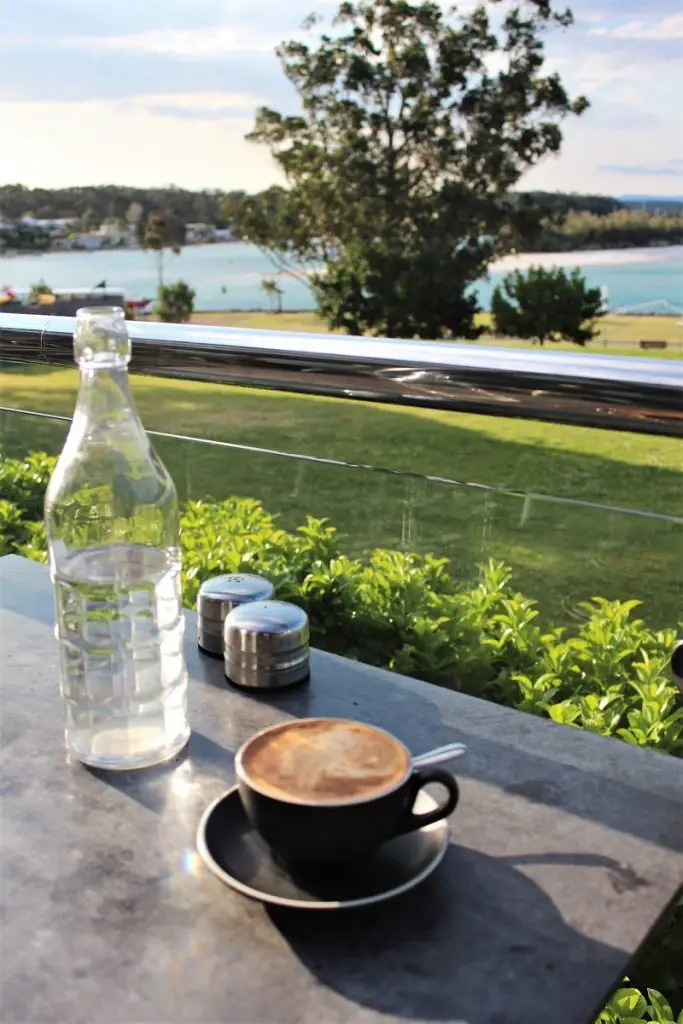 Farther along the creek you'll also spot the pretty Portside Café right on the waterfront, run by Jervis Bay Wild who offer dolphin and whale-watching eco-tours.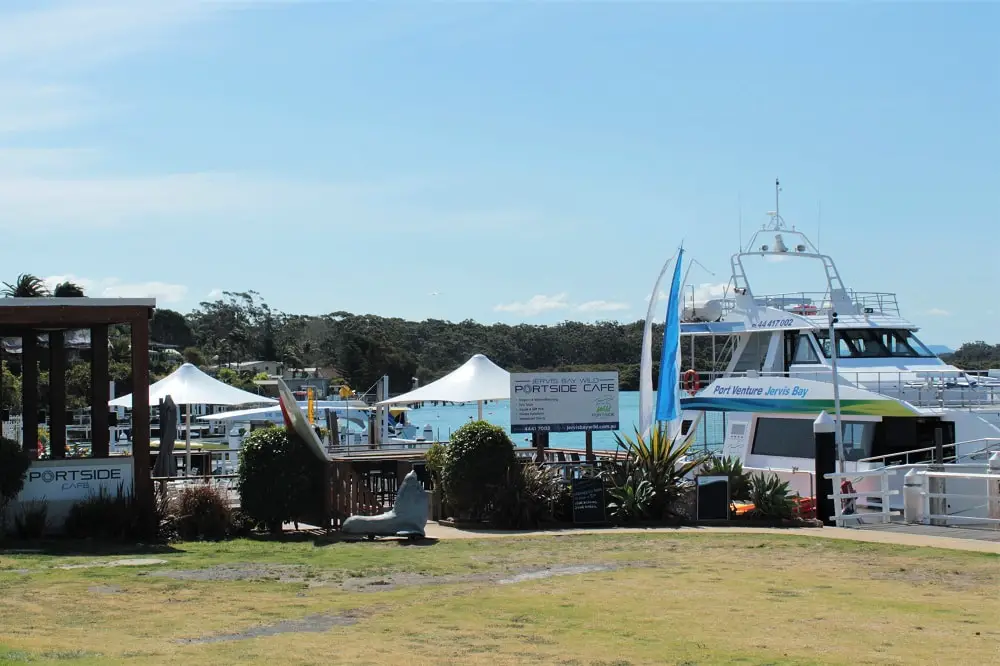 There's even a vintage cinema, Huskisson Pictures, just round the corner on Sydney Street. If you're stuck for things to do in Jervis Bay in the rain, this can go on your list!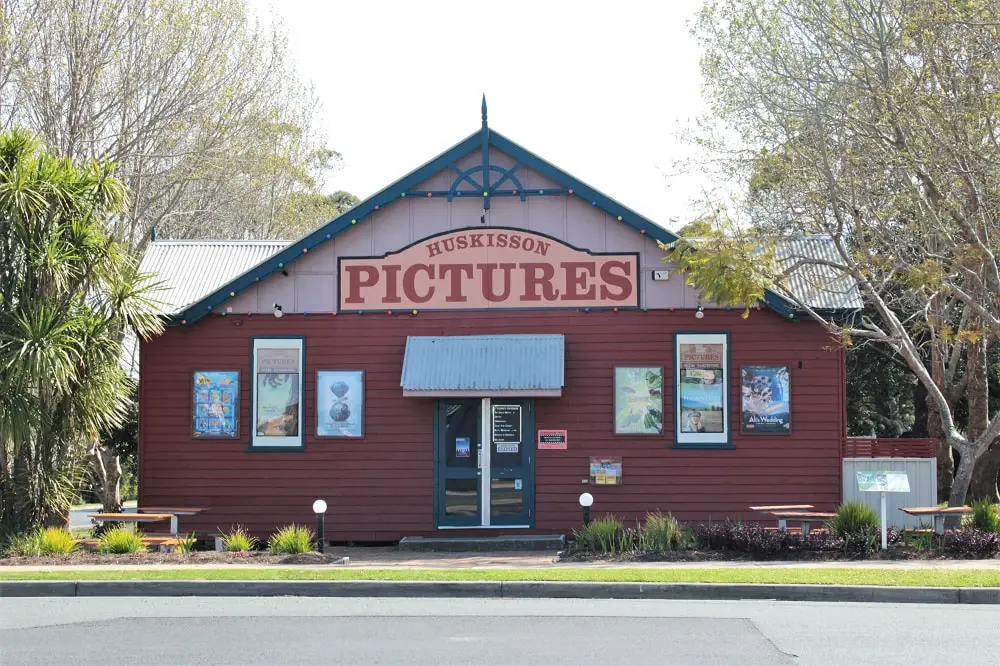 ---
Currambene Creek & Voyager Park in Huskisson
Curving around the top of Huskisson is the pretty Currambene Creek. Make sure you go for a stroll around Voyager Park behind The Huskisson Hotel to appreciate the view. It also has a children's playground and a sea pool (this was empty when I visited, but I would imagine gets filled up in summertime)!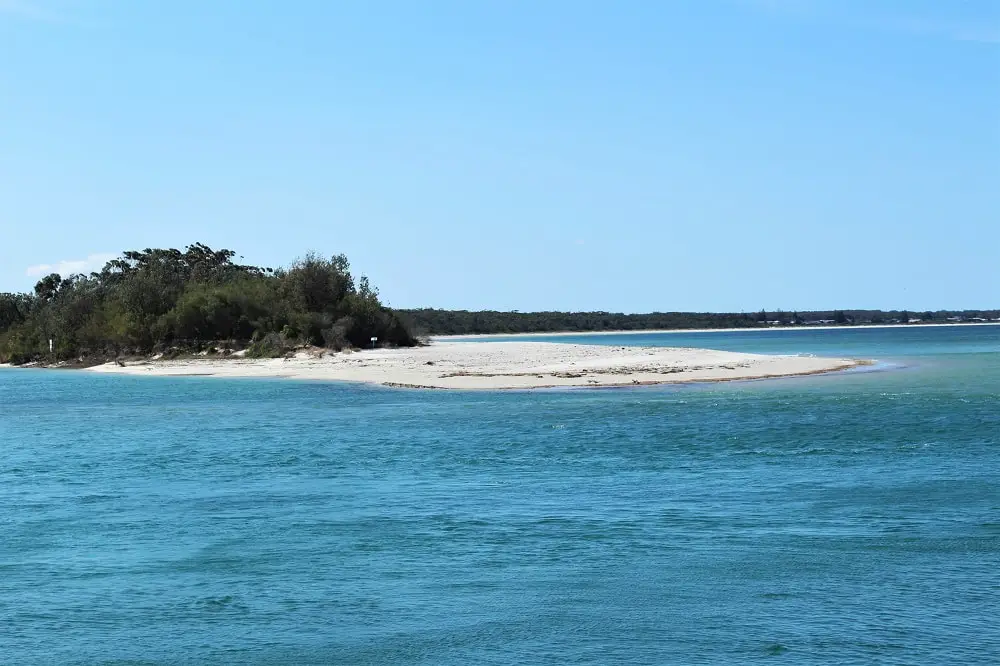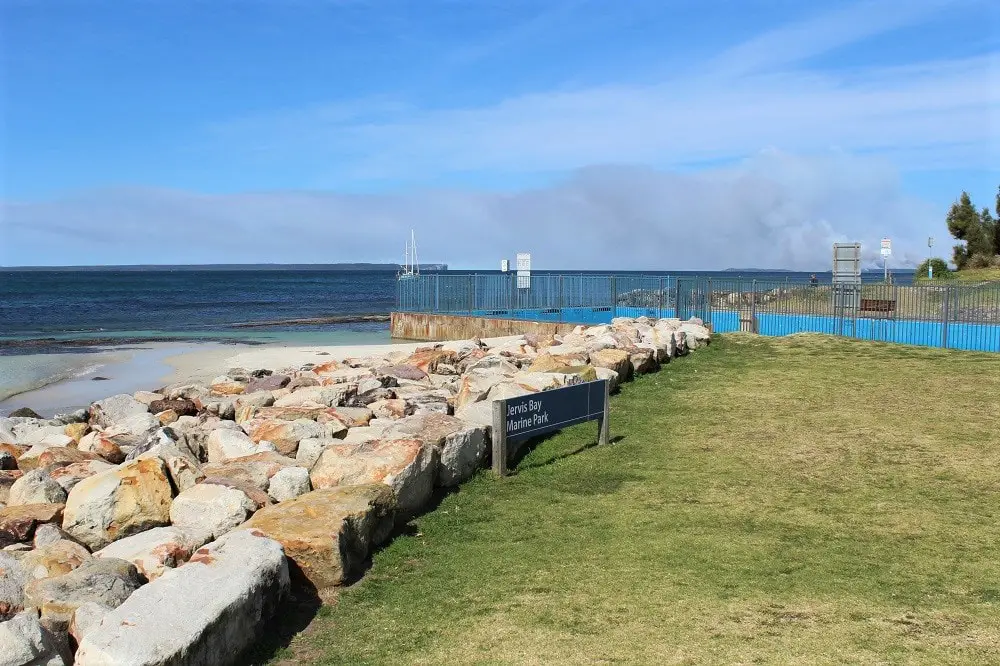 If you look along the creek from Voyager Park, you'll see it's backed by houses, so you can't just walk along the water's edge. I did a bit of exploring and discovered a car park at Woollamia Boat Ramp at the end of Frank Lewis Way. From here you can stroll right along the waterfront; I even spotted pelicans and herons!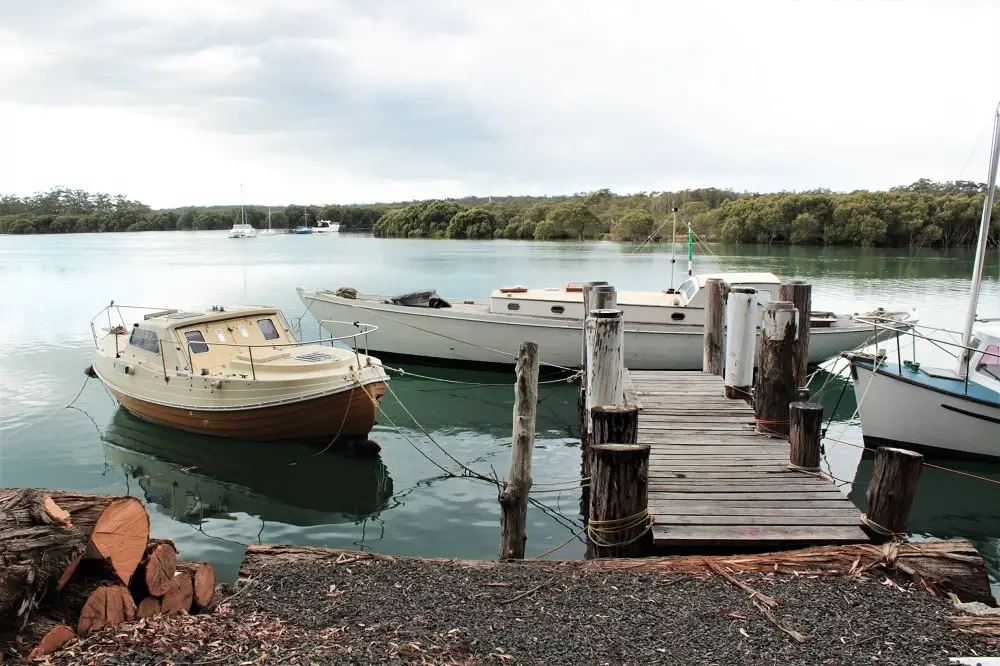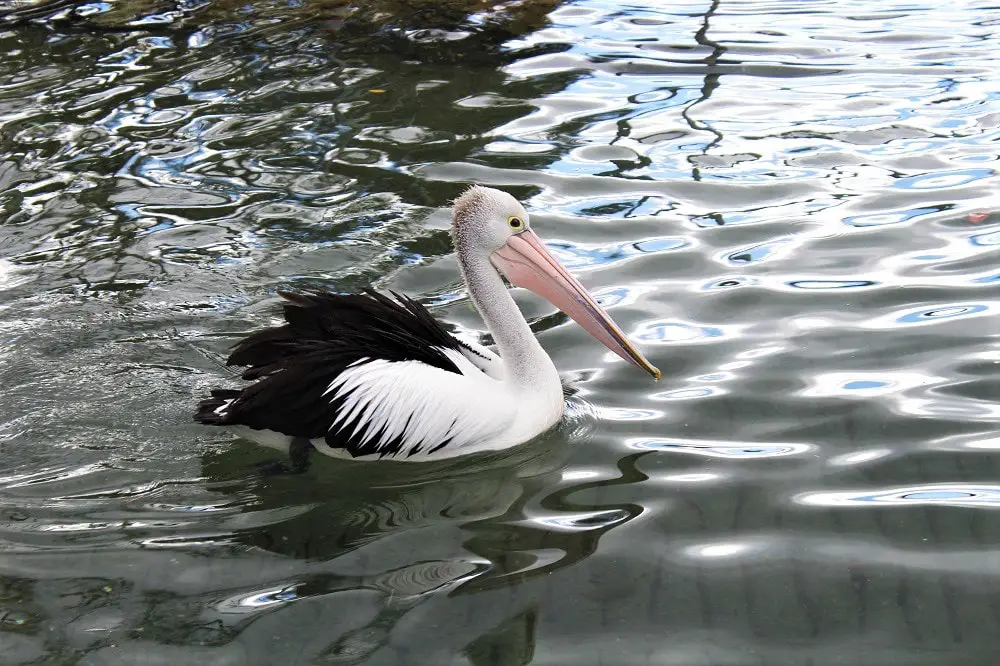 ---
Vincentia Shopping Village in Jervis Bay
Vincentia lies between Huskisson and Hyams Beach, and is described as the main shopping area of Jervis Bay on one of the tourism websites. When I visited Jervis Bay last year I didn't realise Huskisson existed after reading that!
Vincentia Village definitely seems like more of a locals' shopping area -it's just a little precinct – while Huskisson is aimed at tourists with its waterside cafes and pretty, beach-style boutiques.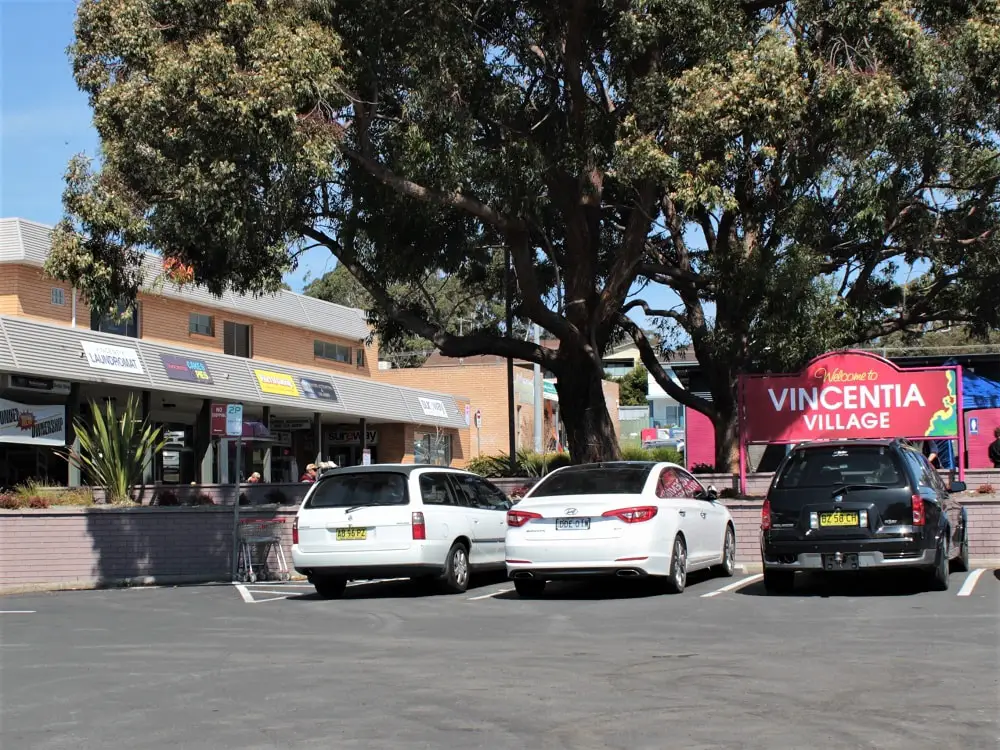 If you're heading to the beaches in Vincentia though, or doing the full White Sands Walk from Plantation Point down to Hyams Beach, Vincentia Village is really close to the bottom of Collingwood Beach (on Burton St off the roundabout) and has a few cafes and a bakery if you need a refreshment stop. There's also a Coles supermarket and a petrol station; though the petrol was much cheaper along the highway in South Nowra if you're heading back up to Sydney.
If you head inland from the roundabout down The Wool Road, and then right onto Naval College Road, you'll find Vincentia Marketplace, a big, modern indoor shopping centre with a Woolworths, Aldi and Caltex petrol station.
---
St George's Basin
St George's Basin is the huge, coastal lake behind Booderee National Park, popular for boating, fishing and kayaking. To the north of the water, there's also a town called St George's Basin, home to The Pelican Waterside Café and Restaurant.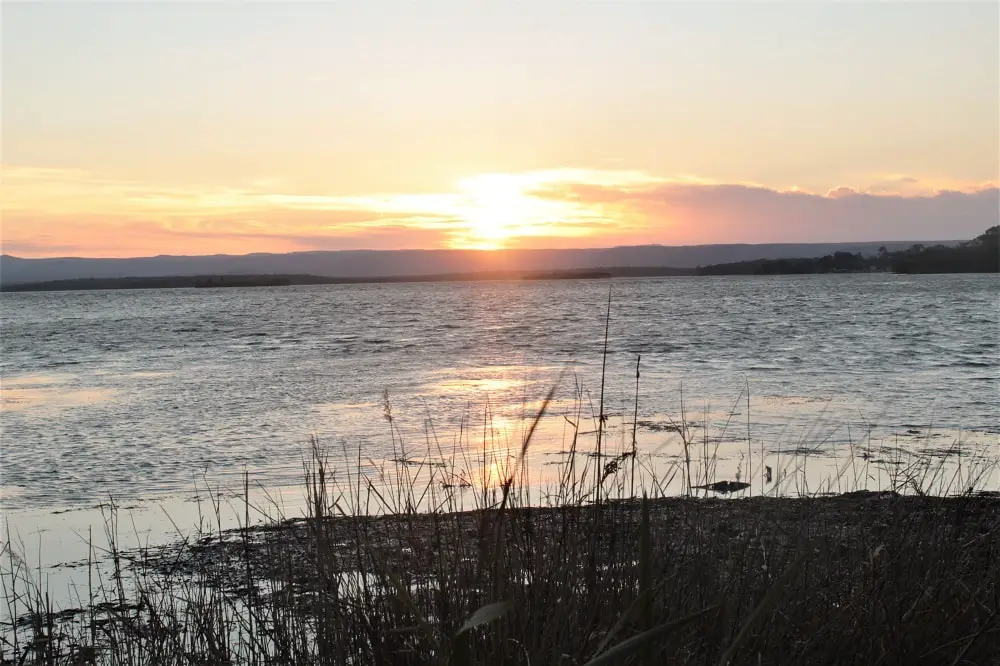 Since I stayed in an Airbnb at nearby Sanctuary Point, I popped over to the eastern edge of the basin a couple of times to watch the sunset, which was absolutely beautiful.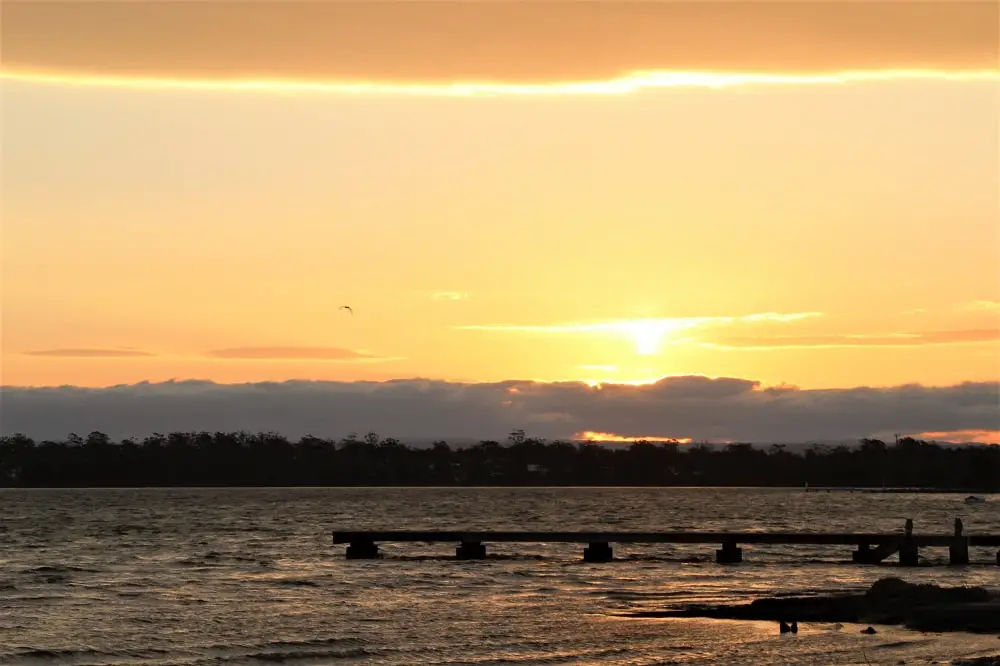 ---
Booderee National Park
Despite being evacuated by the police because of the bushfire, I did get to explore some parts of Booderee National Park! I've also returned a couple of times on visits since then.
Booderee is home to a choice of beautiful beaches, such as Murrays Beach and Green Patch, as well as three campsites, scenic hikes and the Booderee Botanic Gardens. For detailed information, read this blog post:
Booderee National Park Guide: Beaches, Hiking & Camping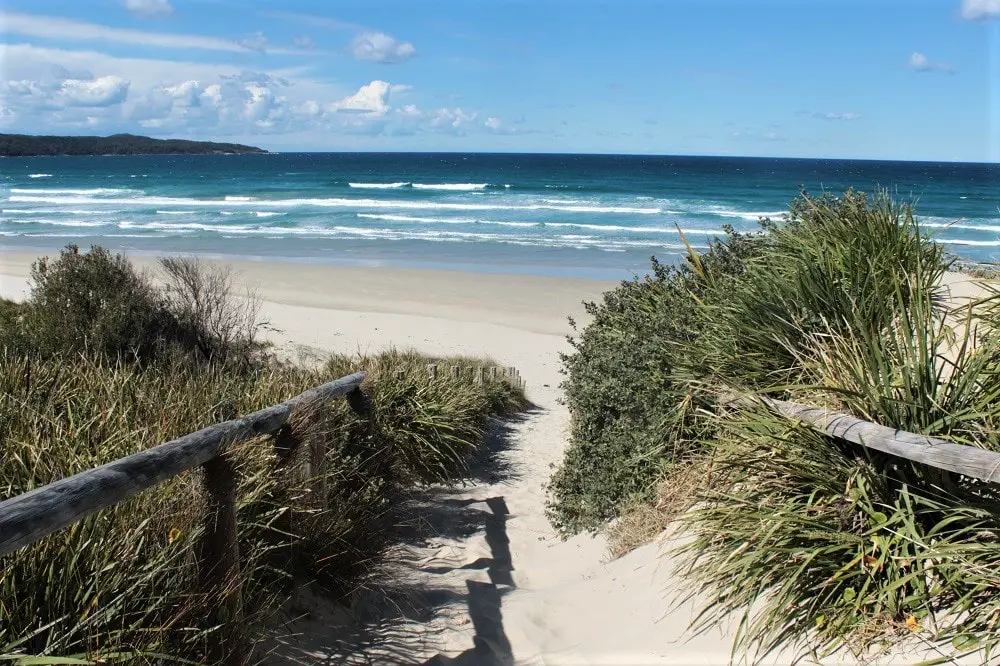 ---
Beecroft Peninsula
The land curving around the northern side of Jervis Bay is the Beecroft Peninsula. You'll find lots of attractions there, such as stunning at Honeymoon Bay which you can camp at.
There's also Point Perpendicular Lighthouse, Abrahams Bosom Reserve and Callalla Bay on the way there. For more information, check out this blog post:
Beecroft Peninsula: Scenic Day Trip in Jervis Bay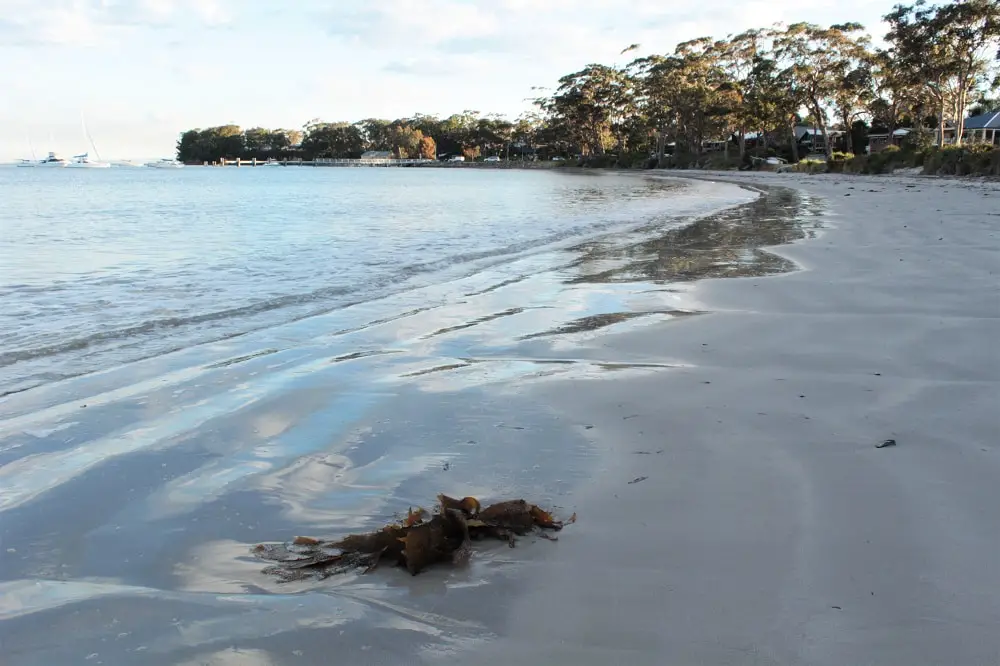 ---
Jervis Bay Accommodation
Jervis Bay is a major holiday destination for both tourists and locals, so it has a wealth of accommodation available. If you're backpacking, there's unfortunately no hostel, but there are lots of campsites and caravan parks if you're well equipped.
If you're on a road trip in Australia, check out my guide on cheap accommodation in Australia as it lists lots alternative options to hostels.
Here are some of your choices of accommodation in Jervis Bay:
Jervis Bay Camping
There are three campgrounds in Booderee National Park: Green Patch, Bristol Point and Cave Beach. You can read about the facilities and make bookings on the Australian Government Parks Australia website. Just note that they're so in demand that during the summer school holidays (December/January) you have to book months in advance via a ballot system.
There's also a campsite at Honeymoon Bay on the Beecroft Peninsula, available most weekends and school holidays. The area is sometimes closed for military training though so check in advance.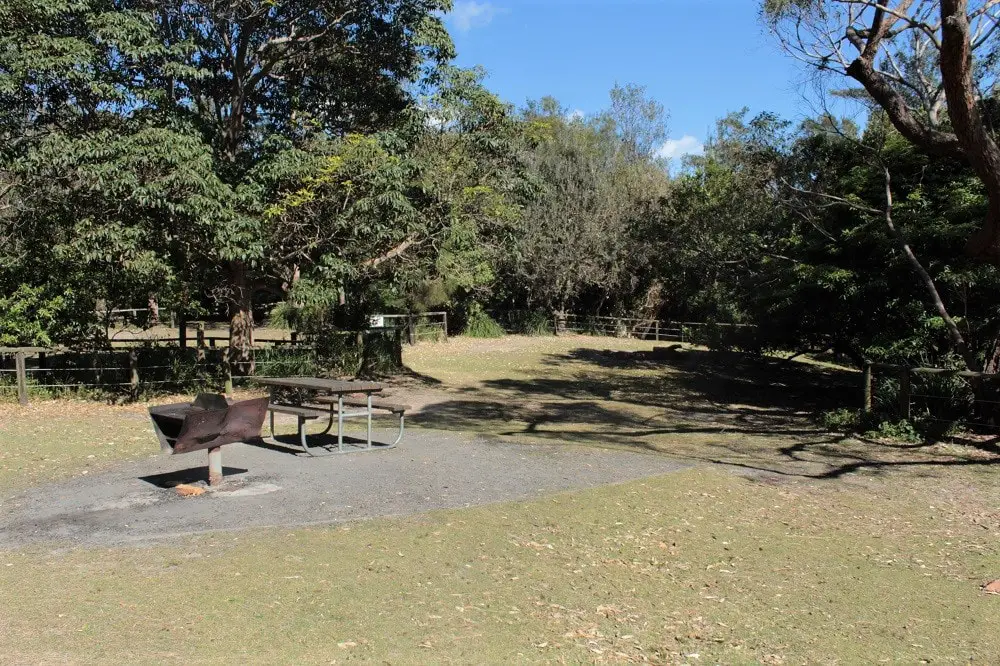 Jervis Bay Caravan Parks
There are also quite a few holiday parks in Jervis Bay if you want a campsite with with more facilities, or to stay in cabins instead. These two are directly behind Huskisson Beach (confusingly on the same road and owned by the same company!): Huskisson Beach Holiday Park and Huskisson White Sands Holiday Park.
There's also this one in Huskisson right on Currambene Creek: Jervis Bay Holiday Park. And also Palm Beach Caravan Park in Sanctuary Point, which would be a nice quiet area.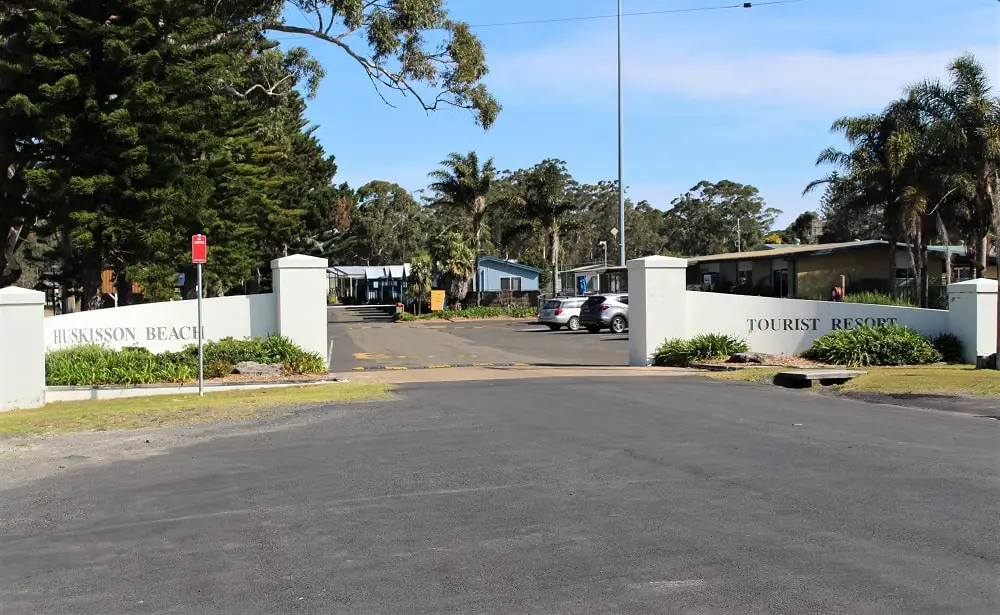 Jervis Bay Holiday Rentals & Hotels/Motels
Browse Jervis Bay accommodation options on Hotels Combined to find the best deal. They compare prices across all the major booking agents.
You won't miss all the holiday rentals as you walk around Jervis Bay, as they have signs out the front. It's a wonder there are actually any residents living there during the off-season!
The cutest ones I've seen are these pastel-coloured, couples-only cottages behind Hyams Beach, called the Hyams Beach Seaside Cottages!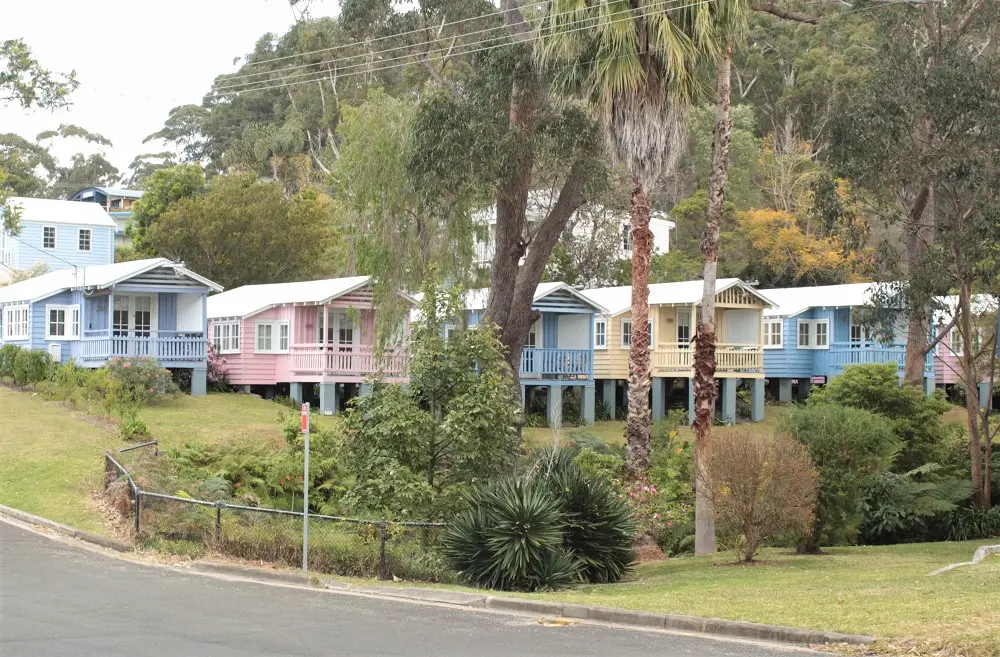 Airbnb in Jervis Bay
Since most of the accommodation in Jervis Bay is quite expensive if you're travelling alone, I stayed in an Airbnb house-share on my first visit.
---
I hope you enjoyed reading my guide and now have lots of ideas for things to do in Jervis Bay. If you're continuing on a road trip to Sydney, make sure you check out my recommended Kiama attractions and the top things to do in Wollongong!
For more ideas, read through my list of top weekend trips from Sydney, or browse my New South Wales travel guides. Enjoy your break!