This post may contain affiliate links. Please see my disclosure policy for more details.
With water so clear you can watch your toes wiggle, a natural backdrop of greenery, and sand so white you need your sunglasses, Jervis Bay beaches are some of the best I've seen in Australia.
Following on from my guide to Jervis Bay, where I covered what to see and do, where to eat and drink, and the accommodation options available in the area, I thought it was only right to dedicate an entire post to the endless stretches of ivory sand that make Jervis Bay such a sought-after destination in the first place.
Spanning 102 square kilometres and pretty much lined with sand the entire way round, Jervis Bay is blessed with a mind-boggling amount of beaches. Since Booderee National Park was on fire when I visited (hence the smoke in some of my pictures!), I spent the day exploring the Jervis Bay beaches around the more central areas instead, from Huskisson down to Hyams Beach.
To help you choose which beach is best for you and whether you want to do the White Sands Walk, I've created this directory of beaches from Huskisson down to Hyams, including practical information such as where to find parking, toilets, picnic areas and access paths. So grab your swimmers, hat and sunscreen and get going!
---
Jervis Bay Beaches: Huskisson to Plantation Point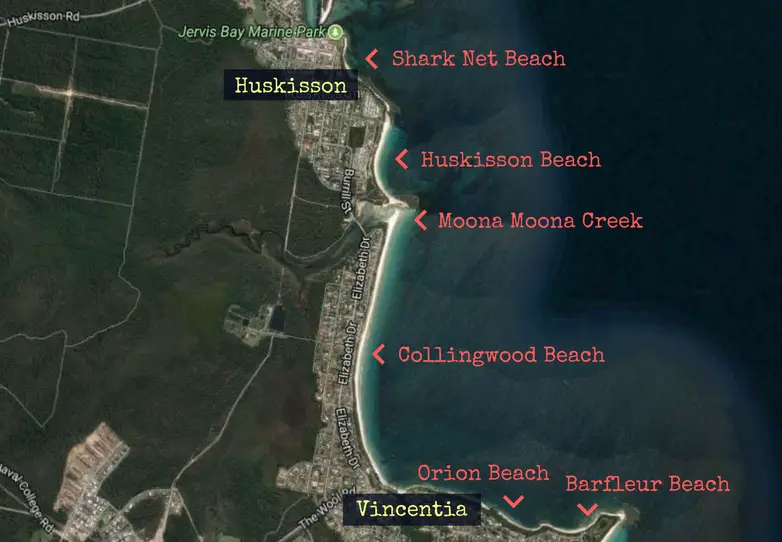 1. Shark Net Beach
This is the closest beach to Huskisson town centre and the first one you'll come to as you head down the coastline from Currambene Creek towards Hyams. If you stroll around Voyager Park at the mouth of the creek (near the sea pool behind The Huskisson Hotel) you'll come to a little track leading down to the northern end of the beach.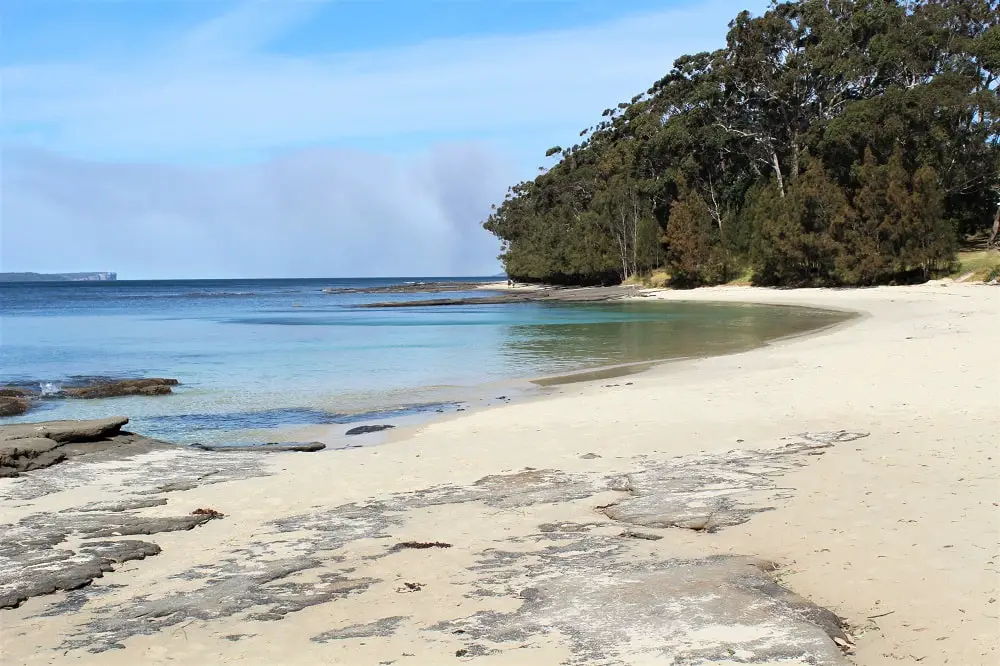 There's a second section to Shark Net Beach behind Bowen Street and Hawke Street, backing onto the White Sands Park (which has toilets if you need them). You've got some shade from the overhanging tress here, and the rocky areas are great for taking interesting photos!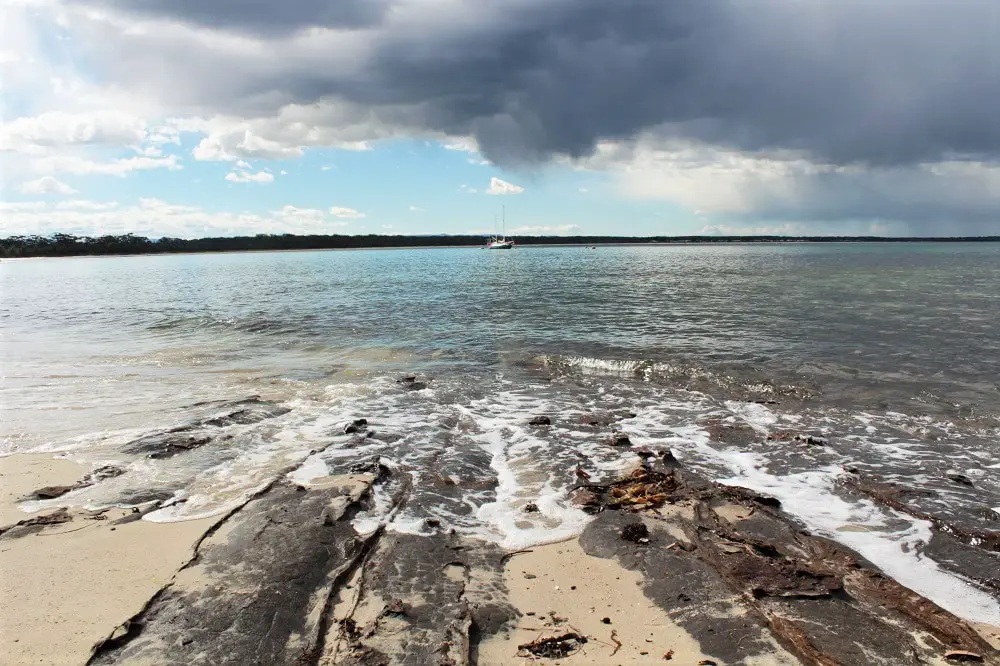 If you haven't quite grasped how clear and calm the water is in Jervis Bay, here's a close up!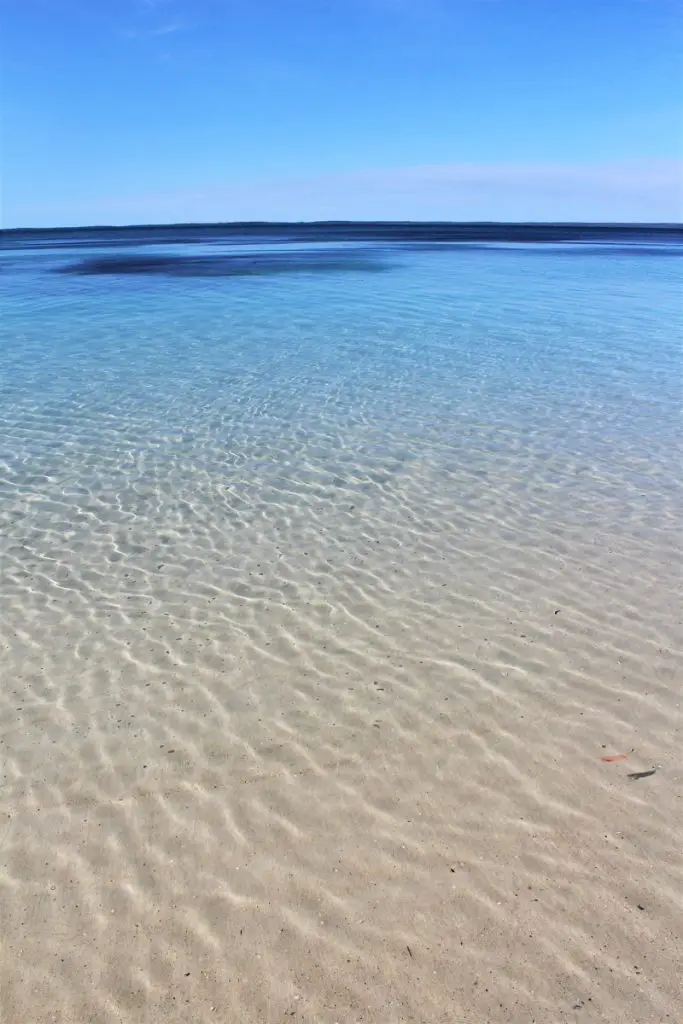 PARKING:
Huskisson town centre (on the street, or there's a car park on the corner behind The Huskisson Hotel) – just check the signs for time restrictions.
Bowen Street to access the southern end of the beach through White Sands Park.
---
2. Huskisson Beach
Once you pass Tapalla Point, the long arc of Huskisson Beach stretches all the way down to the mouth of Moona Moona Creek. This beach goes back really far as well as being very long, so there's plenty of space for everyone.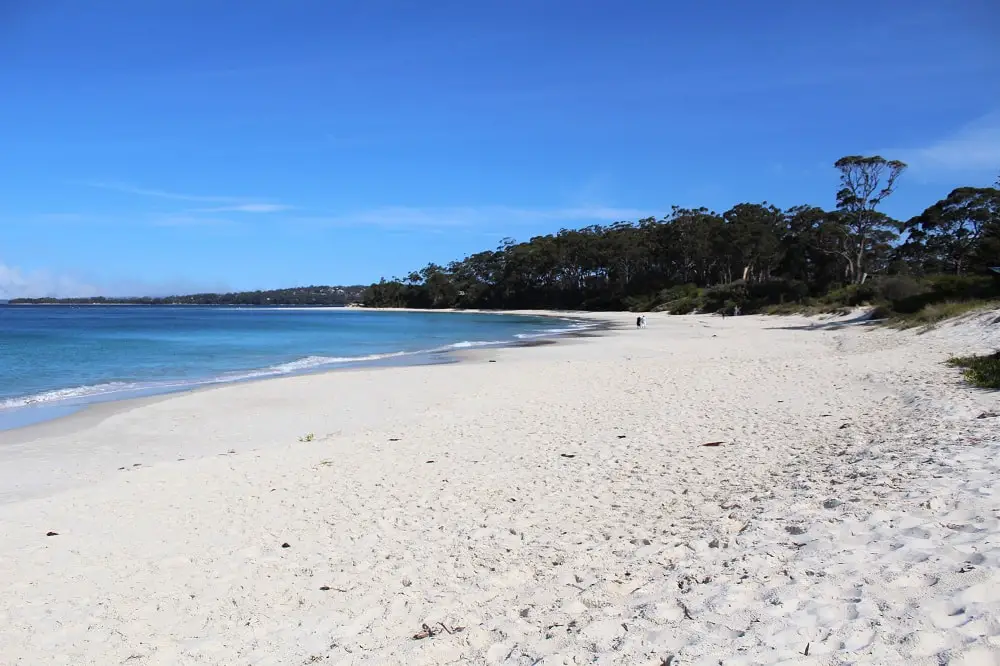 PARKING:
Beach Street off the end of Nowra Street
Beach Street off Jervis Street (the reserve at Moon Moona Creek) for the southern end of the beach.
---
3. Moona Moona Creek
Moona Moona Creek is an absolute gem and my favourite find in Jervis Bay. It's not an obvious place to come across if you don't know about it as you have to keep walking round the corner once you reach the bottom of Huskisson Beach.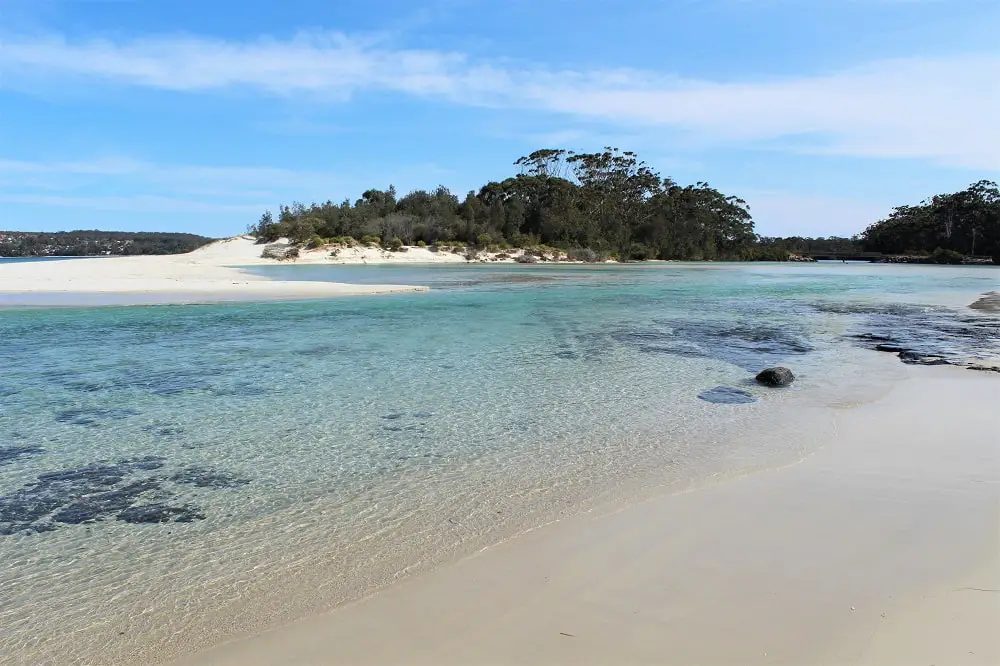 As you can see, the swirl of sand curving out of the southern side of the creek looks almost like a little desert island, and the water is completely calm and shallow, making this a popular spot for families. I saw a few children paddle-boarding here, as well as pelicans floating around.
There's a little bit of traffic noise from the bridge that crosses the creek, but it's still absolutely stunning to look at. There's also a grassy reserve directly behind the beach with toilets, barbecues, picnic tables and a children's playground, so it's a great spot for a day out.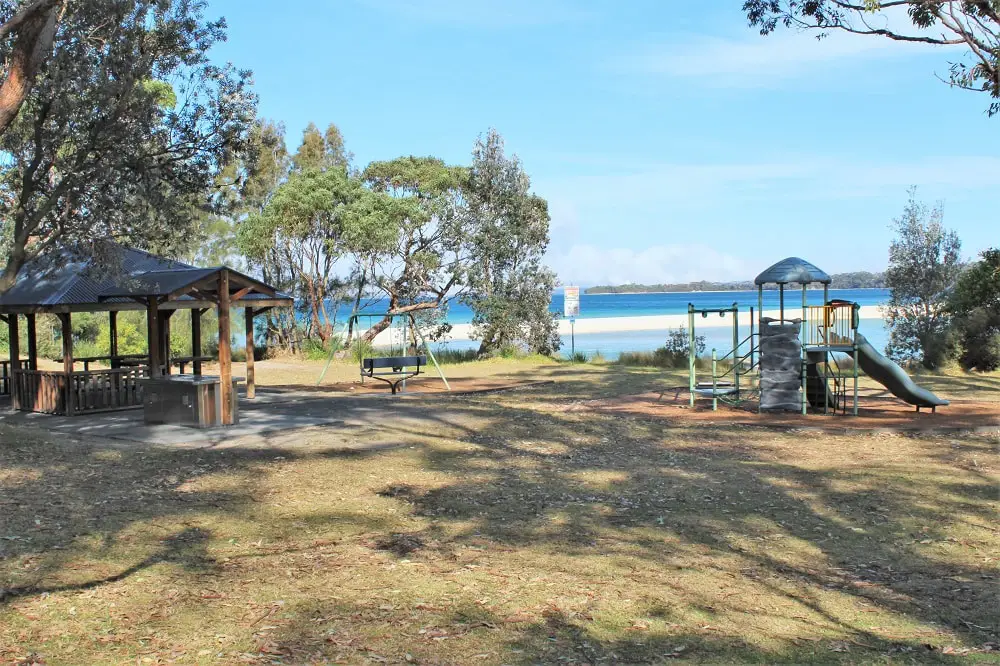 To top it all off, when the tide goes out a patchwork of criss-crossed ridges on the rocky area between Huskisson Beach and Moona Moona Creek become exposed, which looks very similar to the Tesselated Pavement formation in Tasmania. Even though the beach faces east the pink light after sunset looks beautiful reflected in the pools of water.
PARKING:
Beach Street off Jervis Street, next to the reserve.
---
4. Collingwood Beach
Collingwood Beach is the 2.2km stretch of white sand running all the way from Moona Moona Creek down to the roundabout on Elizabeth Drive in Vincentia. It's quite a thin strip of sand, but it's so long I can't imagine it gets too crowded.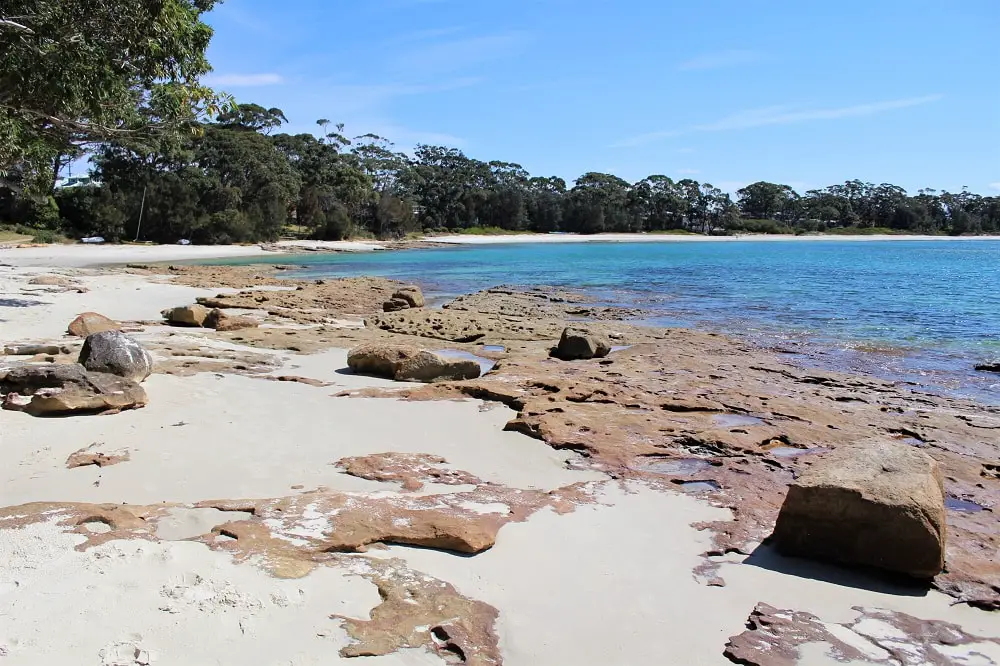 PARKING:
Ilfracombe Avenue for the northern end.
Elizabeth Drive south of Albion Street. There are plenty of access roads leading to the beach from here.
---
5. Orion Beach
This gorgeous beach with extremely calm water stretches from the bottom of Collingwood Beach in Vincentia across towards Plantation Point. The overhanging trees mean there's shade available; something you rarely get on Sydney beaches.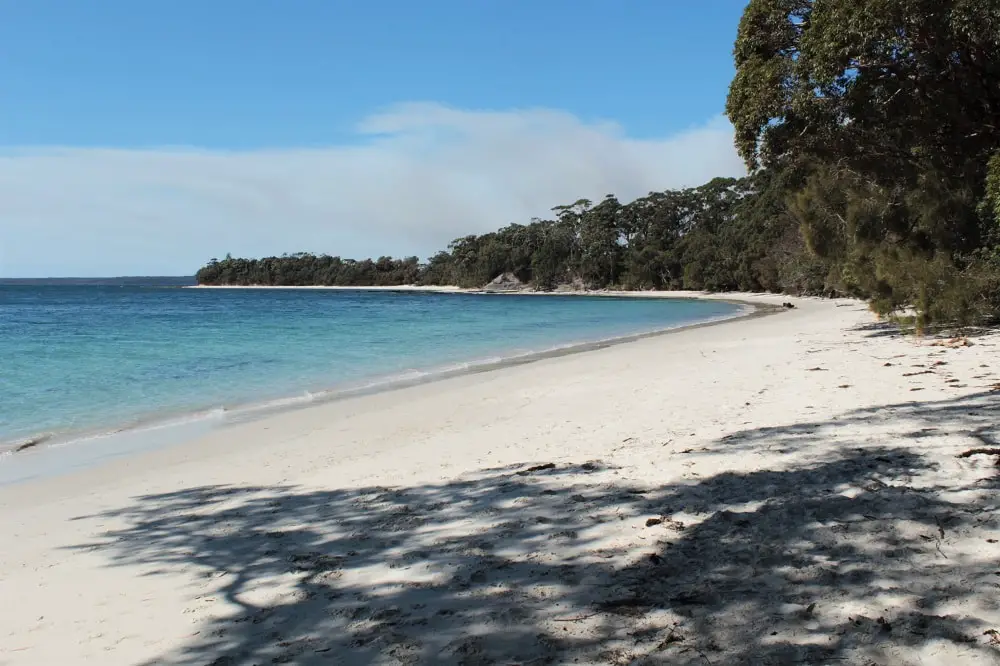 There are also lots of rocky areas to explore, separating Orion Beach into a few different sections. If you take a look around you'll find secret little spots like this one below. Perfect if you want your own private beach!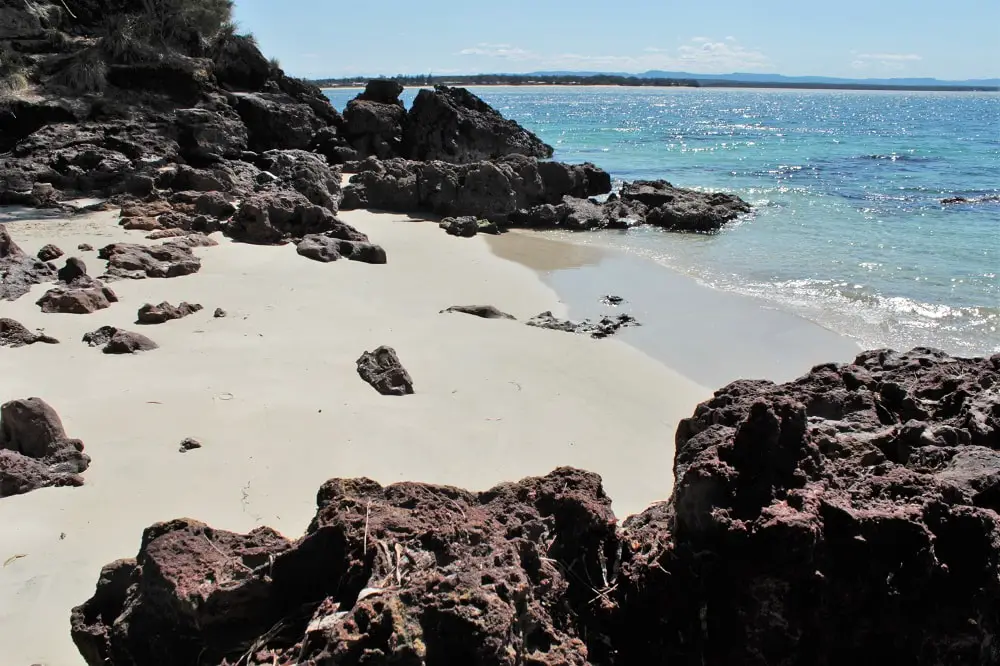 PARKING:
Twyford Street
Elizabeth Drive – there's a beach path between numbers 322 and 324.
Plantation Point Parade – another beach path lies opposite number 10.
---
6. Barfleur Beach
Between Orion Beach and Plantation Point you'll find Barfleur Beach. It feels quite rugged and isolated here. If you want to be close to amenities, Plantation Point Reserve sits behind it with picnic areas, toilets and a children's playground.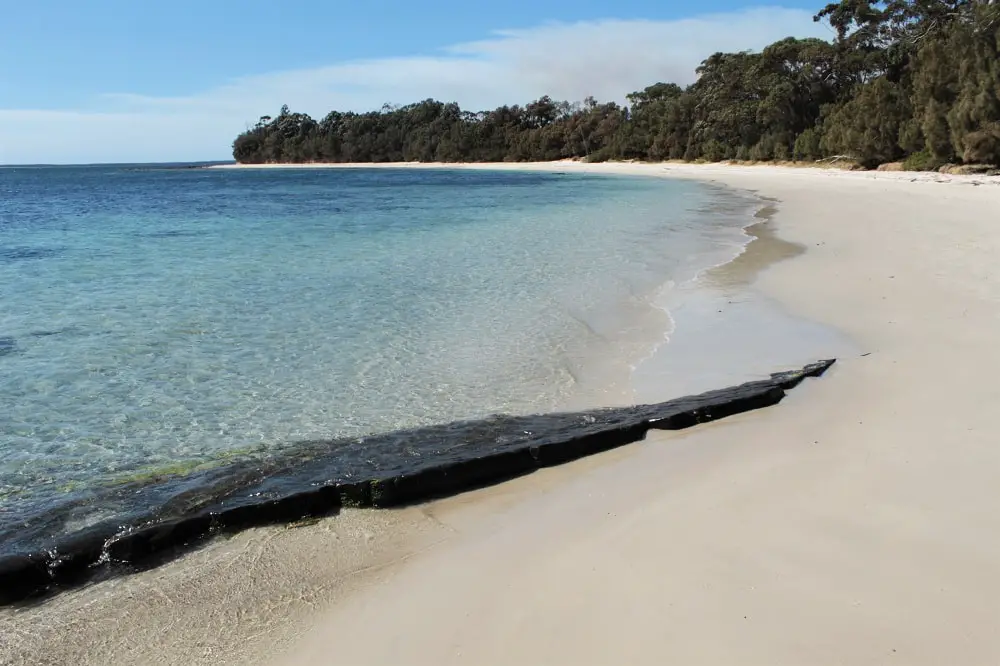 PARKING:
Plantation Point Parade – there's a beach path opposite number 30, as well as the road jutting off the corner by the reserve.
---
Jervis Bay Beaches: White Sands Walk
If you fancy some exercise, the White Sands Walk runs all the way from Plantation Point down to Hyams Beach village, and passes beach after beautiful beach. 
To save any confusion, the White Sands Walk is described on the NSW national parks website as the 2.5km return journey between Greenfield Beach and Hyams Beach village, with the option to extend it further north to Plantation Point. But be aware that the total distance from Plantation Point to Hyams Village is almost 4km each way.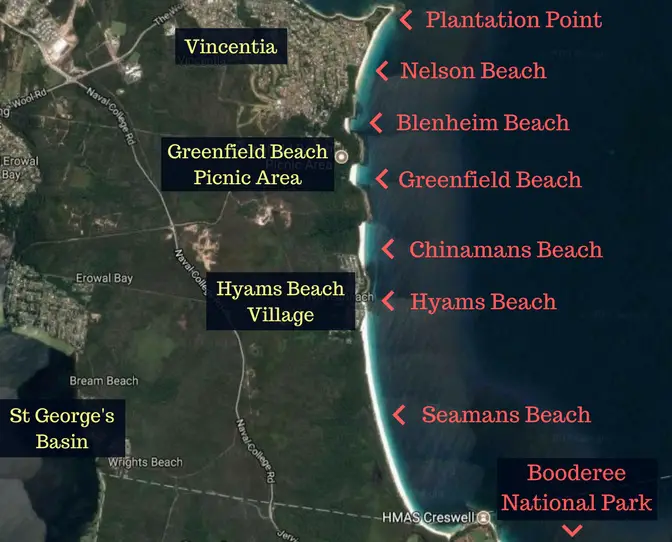 If you don't want to do the full walk, I'd recommend parking at Greenfield Beach Picnic Area on Sutton Drive and doing the 2.5km loop down to Hyams Beach and back, as you get spectacular elevated views from the wooded areas and rock platforms.
You can return to Greenfield along the slightly longer Scribbly Gum Track if you want to head further inland. The beaches north of there can all be reached by car so you can easily visit them without a hike.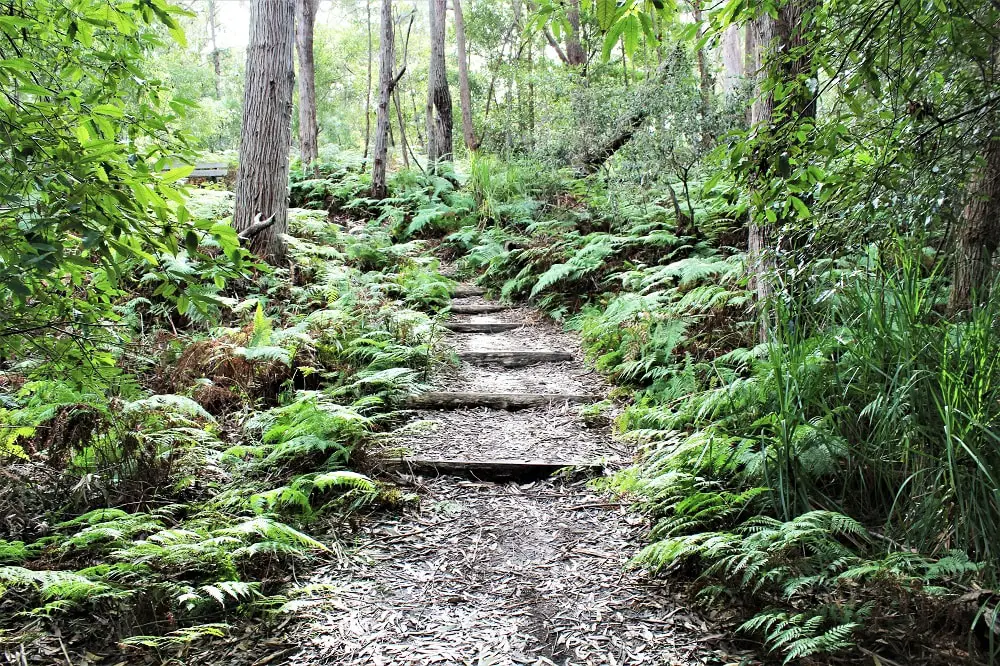 Here are the beaches you'll get to admire if you do the full White Sands Walk from Plantation Point down to Hyams Village.
7. Nelson Beach
Head south from Plantation Point and you'll hit the long and lovely Nelson Beach. There's plenty of space as it's deep as well as long, with beautiful calm water and a backdrop of trees. You can also access Plantation Point Reserve from the northern end of the beach.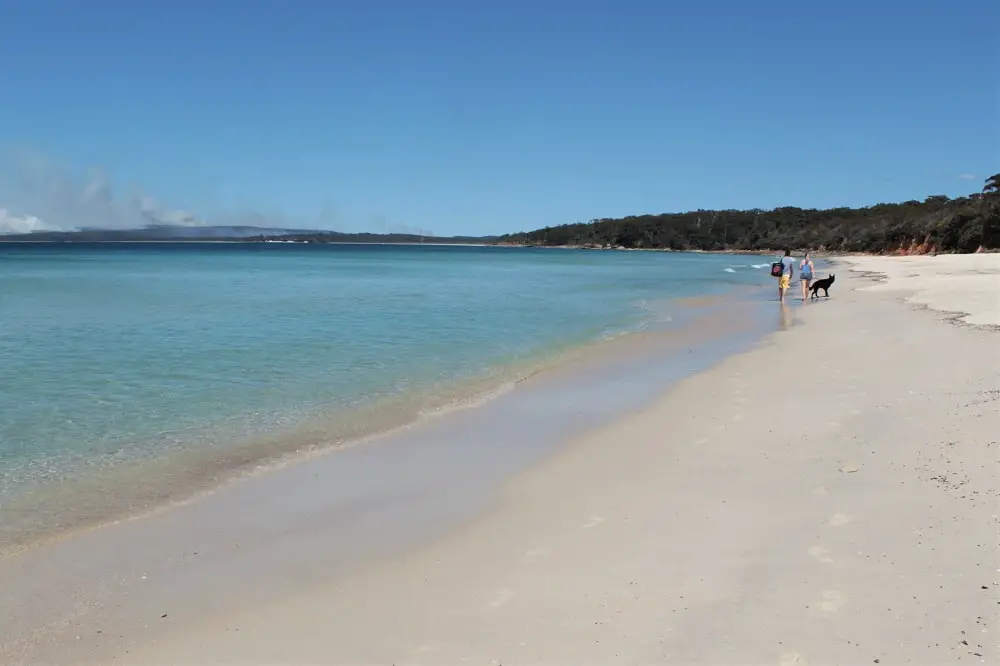 PARKING:
Plantation Point Parade – the section running south from the corner at Plantation Point
Frederick Street – you can park at the Blenheim Beach reserve , but take the White Sands Walk track north instead.
---
8. Blenheim Beach
I got to this beach quite late in the day, so you can't see the colours as well as in my other pictures. The sand is just as white though and you can tell how still and glassy the water is.
The tall trees and sloping edges sheltering this fairly short beach give it a really rugged, isolated feel. It's definitely somewhere I want to return to on a sunny day!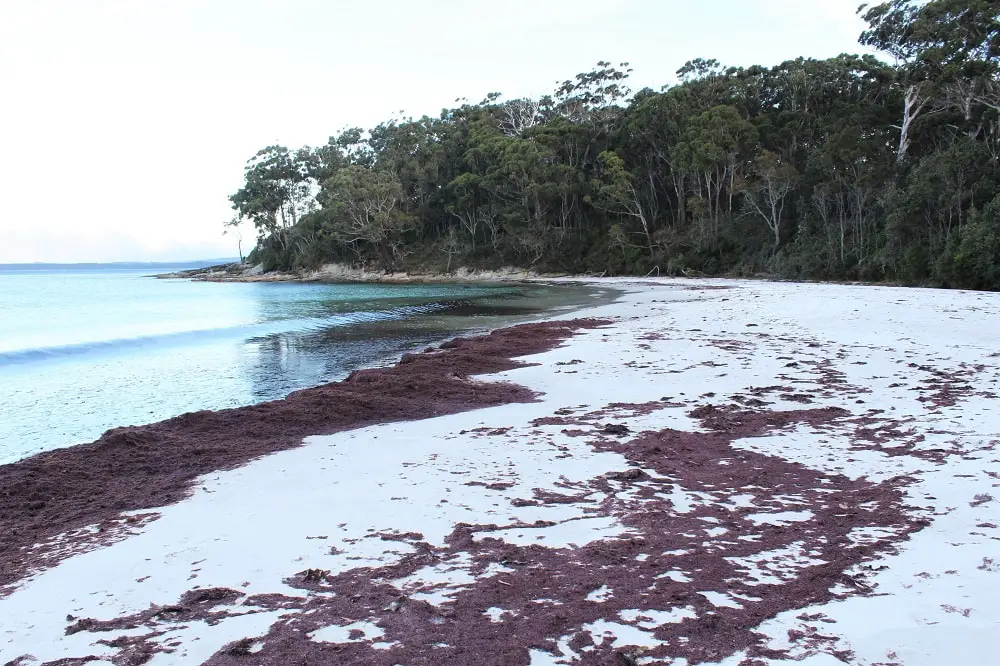 There's also a picnic area behind Blenheim Beach with toilets and barbecues, and it's meant to be a great spot for snorkelling.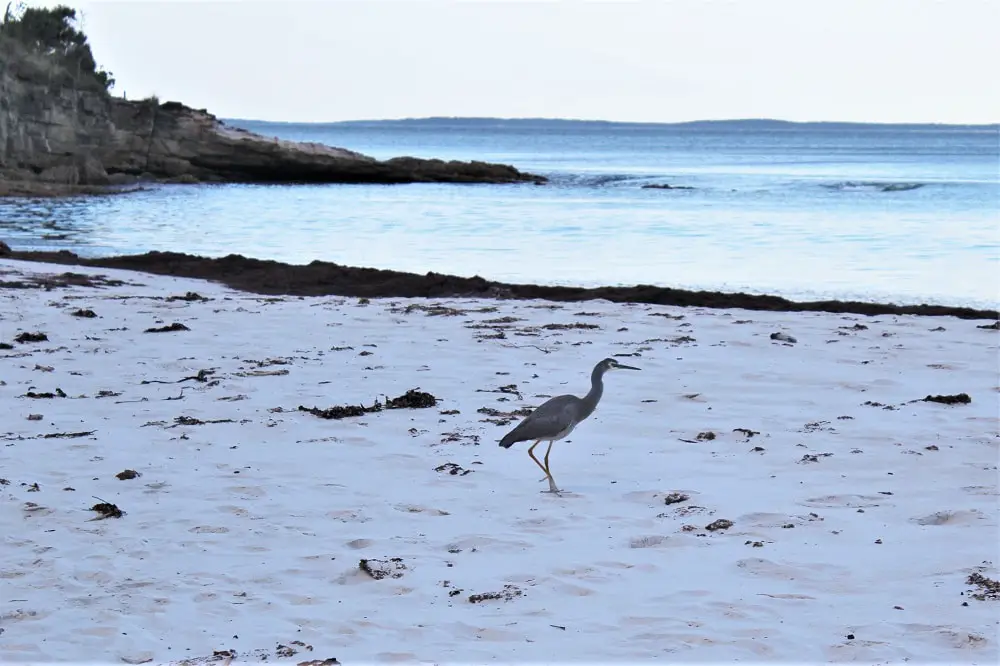 PARKING:
Frederick Street off Elizabeth Drive
Captain Street (a short, unsealed road with limited parking)
---
9. Greenfield Beach
Greenfield is a stunning beach with blindingly white sand that stretches back really far. If you visit on a sunny day the water out in the distance is mega sparkly! There's also plenty of parking and a large reserve behind the beach with picnic tables, barbecues, toilets and information boards.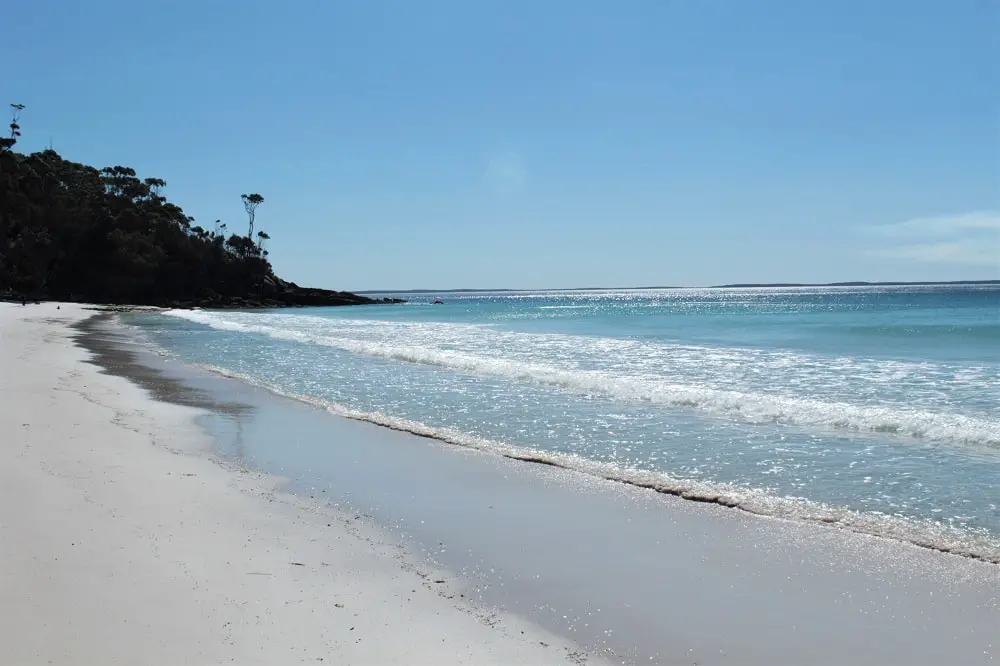 There's a track from the reserve down to Greenfield Beach, and another path heading towards Chinamans Beach on the White Sands Walk. The views across the ocean along this section of the walk are absolutely amazing; I felt like I was on a Greek island!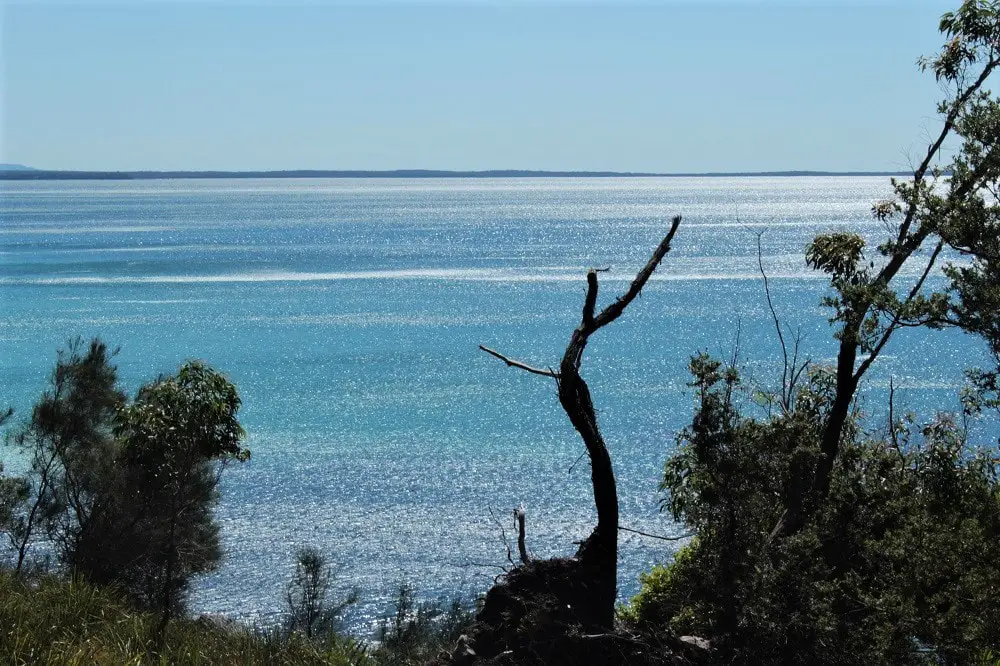 PARKING:
Greenfield Beach Picnic Area at the end of Sutton Drive has plenty of spaces.
---
10. Chinamans Beach
All of the beaches I've seen in Jervis Bay are pretty spectacular, but Chinamans Beach is up there with the best. It's a huge area of bright white sand with amazing turquoise water.
If you're doing the White Sands Walk from Greenfield Beach, don't miss the signed detour to the viewpoint along the way, as you can walk out across the rocks and get a great aerial view of Chinamans Beach.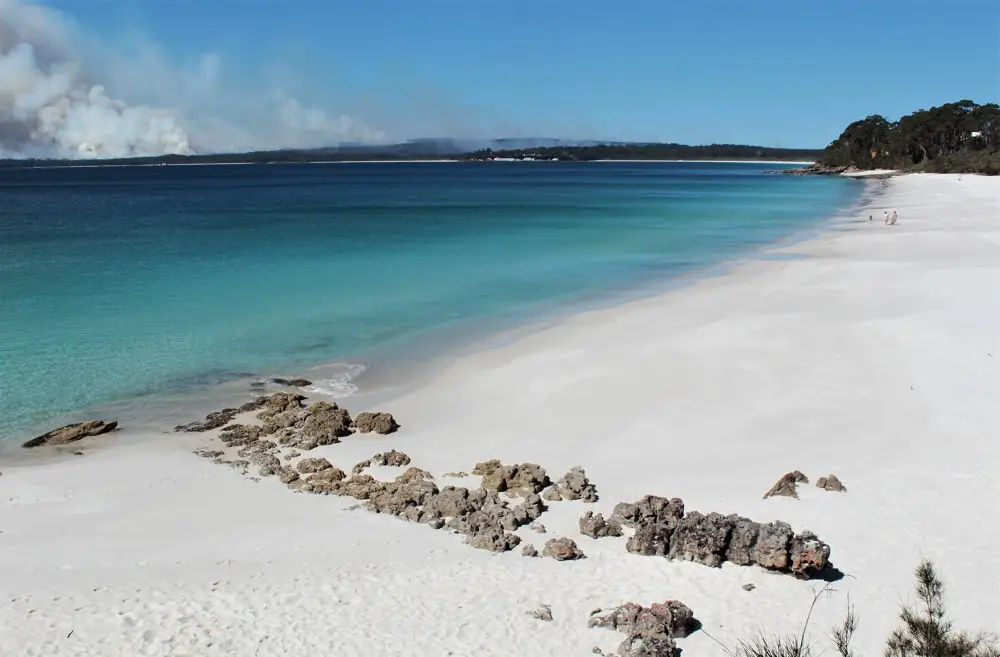 You'll walk down a set of steps to the beach, and the track continues next to the little lagoon at the back of the beach. Look for the markers.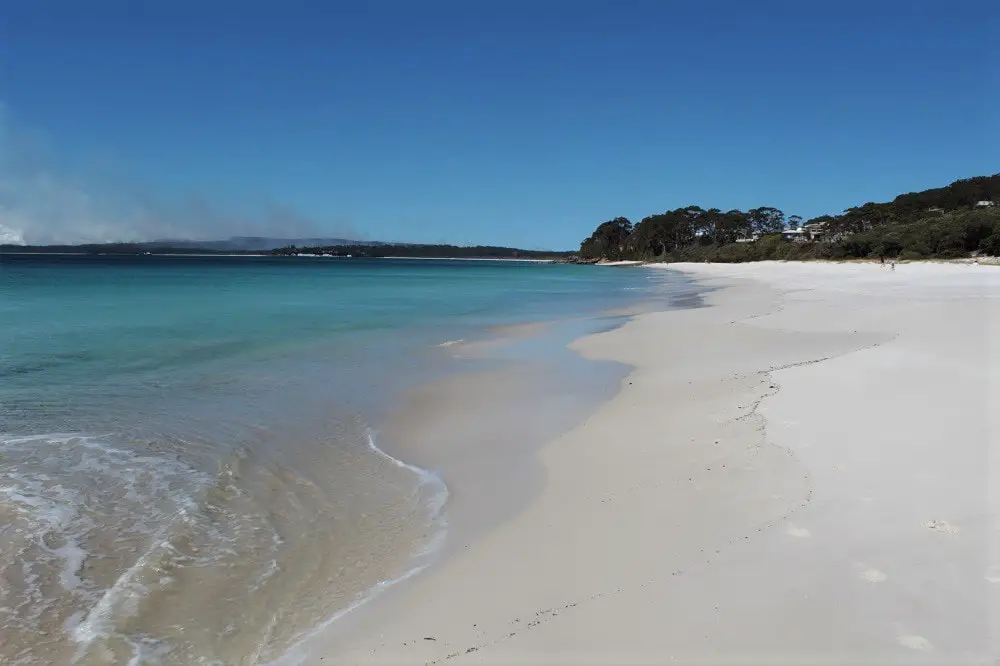 PARKING:
Greenfields Beach Picnic Area on Sutton Drive – the walk to Chinamans Beach from here along the White Sands Walk in stunning.
Cyrus Street in Hyams Beach. You can take a track on the corner of Aster Street that runs behind the beach and comes out at the northern end.
---
11. Hyams Beach
Hyams Beach has to be the most famous beach in Jervis Bay, as it apparently made it into the Guinness Book of Records for having the whitest sand in the world (although I have heard that this is an urban myth)!
Hyams Beach is also the name of the seaside village behind the beach, home to the lovely Hyams Beach Store and Café, which is well worth a visit.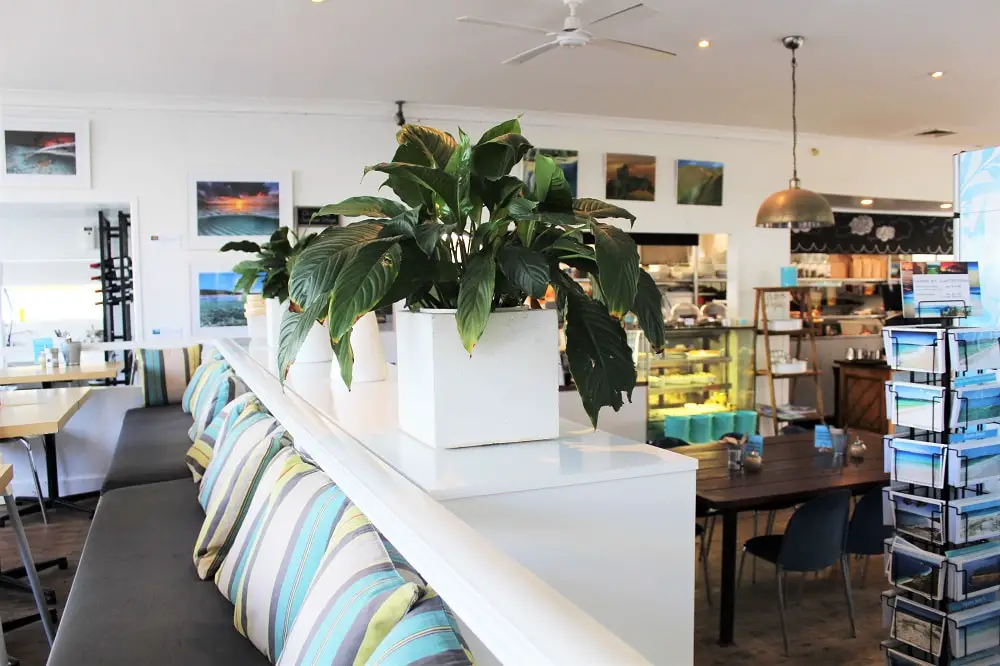 You might be a bit confused on arrival, as Hyams Beach is always described as an endless stretch of white sand, and all the pictures online show an enormously long beach, whereas it's actually really small! 
According to the maps on the walk, the huge beach in all the photos is actually Seamans Beach, and Hyams is the small one above it (opposite Hyam Road).
Either way, the small beach is still very lovely, and I got to watch a great sunrise from there. It's only a short stroll across the rocky area to get to the huge Seamans Beach that you're probably expecting to see.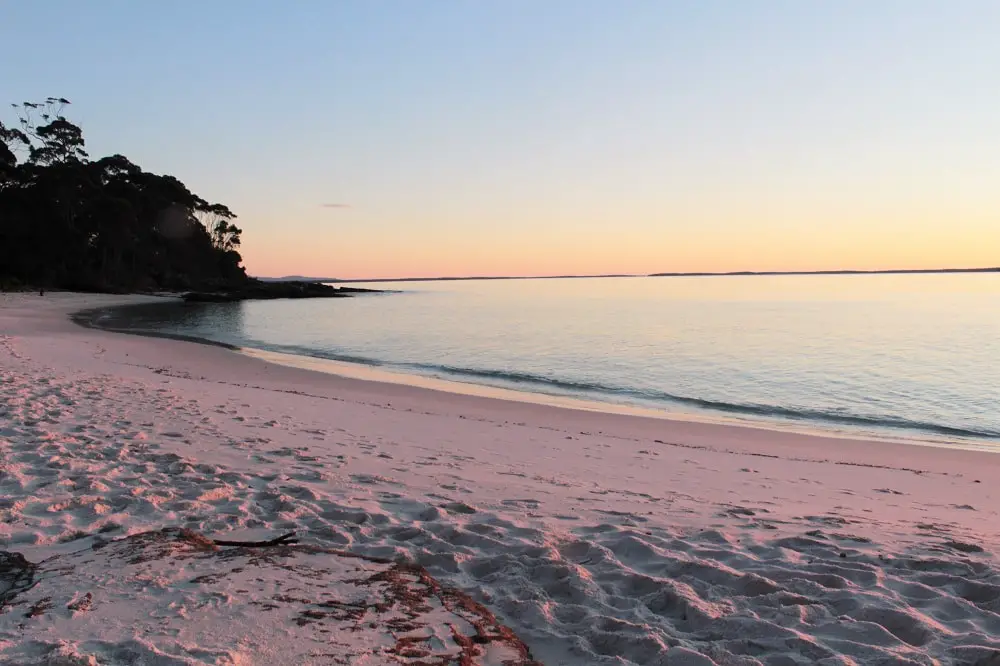 PARKING:
Cyrus Street – around Hyam Road.
---
12. Seamans Beach
This is the huge stretch of sand south of Hyams Beach that you'll see in all the pictures of Jervis Bay. There are no houses behind here – it's totally backed by forest – so it has a really natural feel and stretches all the way down to Booderee National Park. It's definitely worth strolling down from the smaller Hyams Beach.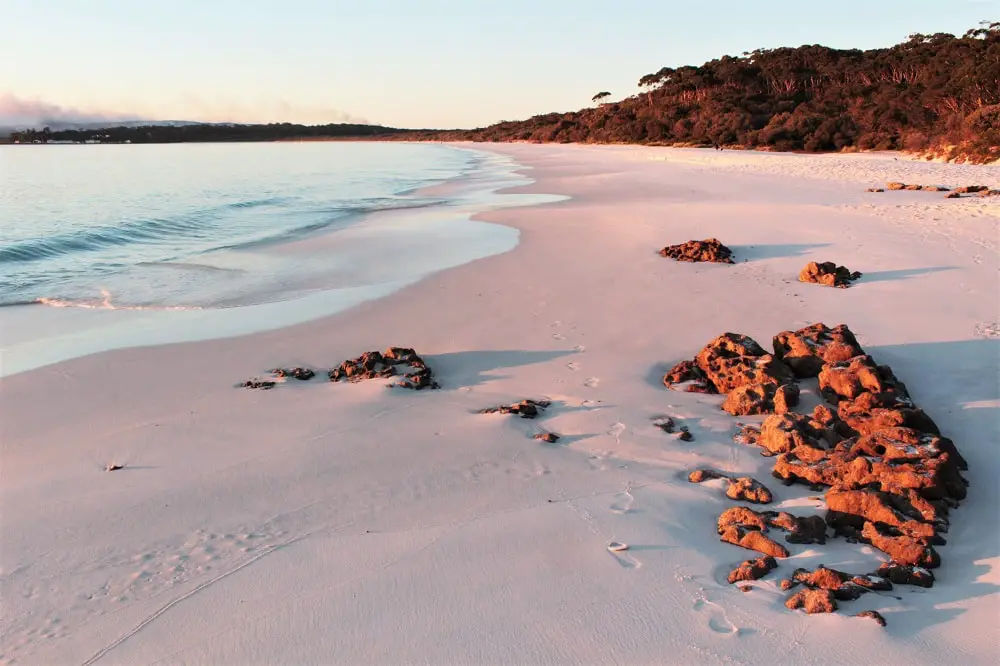 PARKING:
Cyrus Street – anywhere towards the southern end
---
Jervis Bay Beaches: Which One to Choose?
It's a tough decision, I know: which beautiful beach should you visit first? Jervis Bay beaches are all pretty amazing, but if my guide has left you beach-boggled, here's a summary to help you make an informed decision!
Easy access to toilets & picnic areas:
Shark Net Beach
Moona Moona Creek
Barfleur Beach
Nelson Beach (northern end)
Blenheim Beach
Greenfield Beach
Access to cafes:
Shark Net Beach (northern end)
Collingwood Beach (southern end)
Hyams Beach
Big, white & beautiful (the beaches, not the visitors!):
Huskisson Beach
Nelson Beach
Greenfield Beach
Chinamans Beach
Rugged feel:
Orion Beach
Barfleur Beach
Blenheim Beach
Seamans Beach
---
Remember to check out my guide to Jervis Bay.
I've also written the following blog posts on Jervis Bay attractions:
Booderee National Park Guide: Camping, Hiking & Beautiful Beaches
Beecroft Peninsula: Scenic Day Trip in Jervis Bay
To browse over 200 Jervis Bay accommodation options, follow the link below:
Jervis Bay accommodation on Booking.com
For more ideas on amazing trips from Sydney, take a look at my top recommendations in these blog posts:
---
10 Best Weekend Getaways from Sydney
Enjoy your holidays!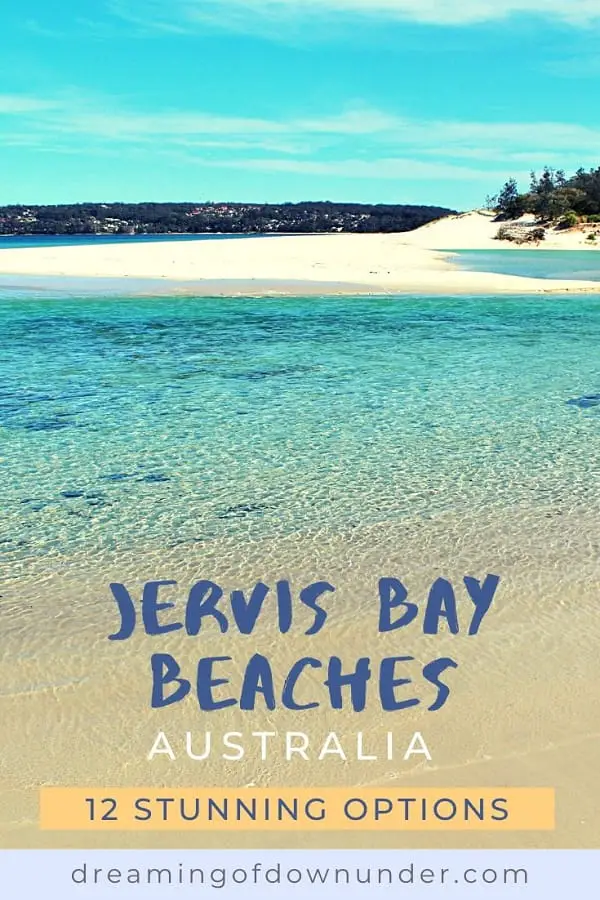 Written by Lisa Bull
Lisa Bull, founder of Dreaming of Down Under, has been living in Australia as a British expat since 2015. After travelling to every state and territory in Australia and living in Perth, Brisbane and Sydney, Lisa knows from first-hand experience the best destinations to visit in Australia and the best budget travel tips. Her guides on this blog have been read by over 700k readers and helped thousands of people achieve their dream of living in or travelling Australia.